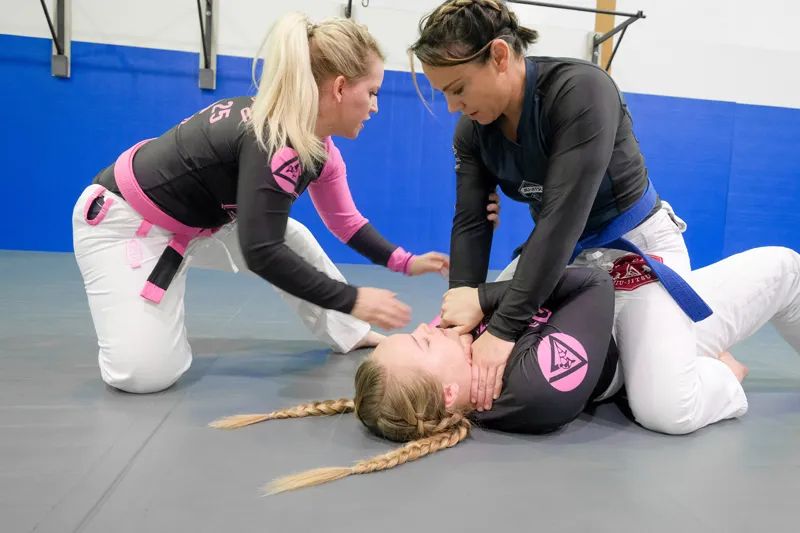 Women Empowered
This class delivers self-defense tactics, a pink belt & a lot of confidence
Marissa Henthorn used to work at a casino, and she couldn't help but realize the risks her job involved. Late at night, after the casino closed, she would stay sometimes until 3 a.m. to reconcile deposits and count what was often large amounts of cash, only to step out into a dark, empty parking lot and walk, alone, to her car. She was always looking over her shoulder, scanning the area for danger.
Then, a robbery at a nearby casino moved Marissa to take action. She attended a women's self-defense seminar put on by SK Martial Arts last spring and joined the Gracie Jiu-Jitsu Women Empowered course they offered. She's learning simple yet effective self-defense techniques. She now has a sense of security she didn't have before. Although Marissa is no longer working at a casino, the lessons she learned will be valuable no matter where she goes.
Gracie Jiu-Jitsu is a style of Brazilian Jiu-Jitsu that's ideal for women because the techniques it employs work no matter how large or strong your opponent may be. The Women Empowered program teaches 20 different techniques to neutralize attacks, ranging from having your hair grabbed to being pinned to the ground in a choke hold. The class took the most common assaults against women that are reported to law enforcement and crafted the techniques to give women a fighting chance.
"You have to learn it before you need it," says Tanya Weinreis, the Women Empowered instructor. "A lot of people just don't think about it, or they think it's not going to happen to them – until it does."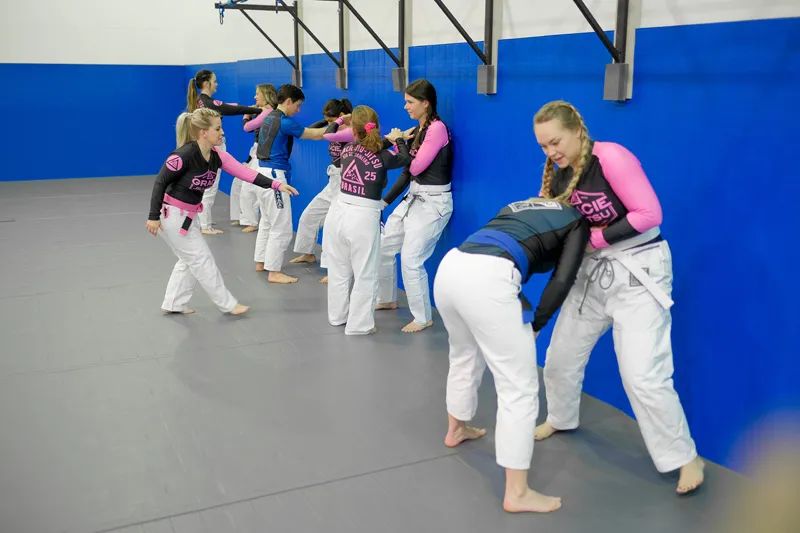 The Women Empowered program welcomes women of all sizes, of all fitness levels, and all ages.
"It's a welcoming community and it's judgment-free," Marissa says.
Ann Jones is in her 60s. She's successfully learned almost all the techniques, honing her skills as she works toward earning a Pink Belt.
"It's about leverage and smarts," Ann says. "Hopefully, I'm never in a bad situation, but I have confidence I can get away. I can be a little person and knock someone down if I remember the techniques."
Through the 15-session course, women gain not only self-defense skills, but confidence as well.
"It trains your mindset," says Ellise Nienaber, 22, "I tend to freeze in stressful situations, but now I have a lot of options. It's muscle memory now. Even if you're not able to think in a stressful situation, your muscle memory will kick in."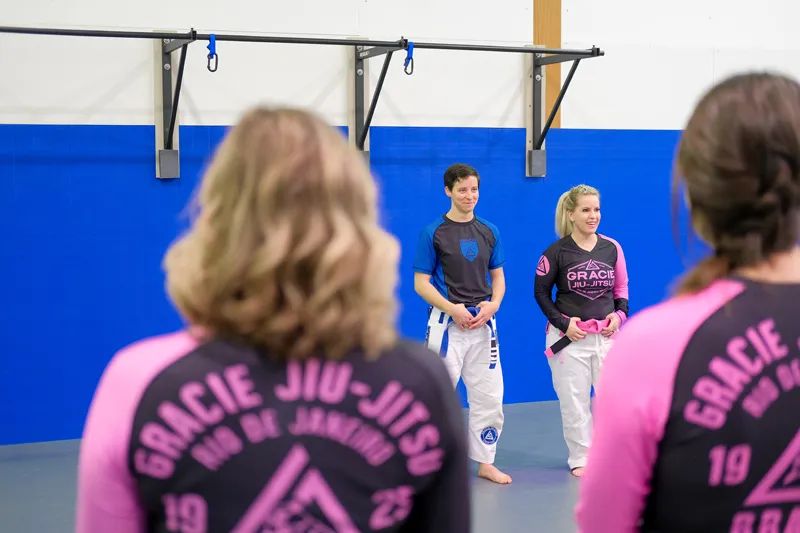 Ashlee Fritzler's father always encouraged her to take up martial arts. Ashley, 27, was curious but never made the leap – until the stars aligned and she met Tanya while getting a pedicure last spring. At Tanya's suggestion, Ashlee tried Gracie jiu-jitsu in the Women Empowered class. Now she's hooked.
"I wish I could go back in time and learn this when I was a teenager," Ashlee says. "It's really given me a lot of confidence I didn't have before."
Every woman on the mat has a different reason why she was drawn to the class, but for Tanya, the reason she's an instructor is extremely personal. A childhood friend was abducted, raped and killed while she was in college in 2003. Her murderer was found guilty and sentenced to life in prison, but Tanya can't shake the thought that if her friend, Dru, had been trained in the techniques offered in the Women Empowered program she might still be alive.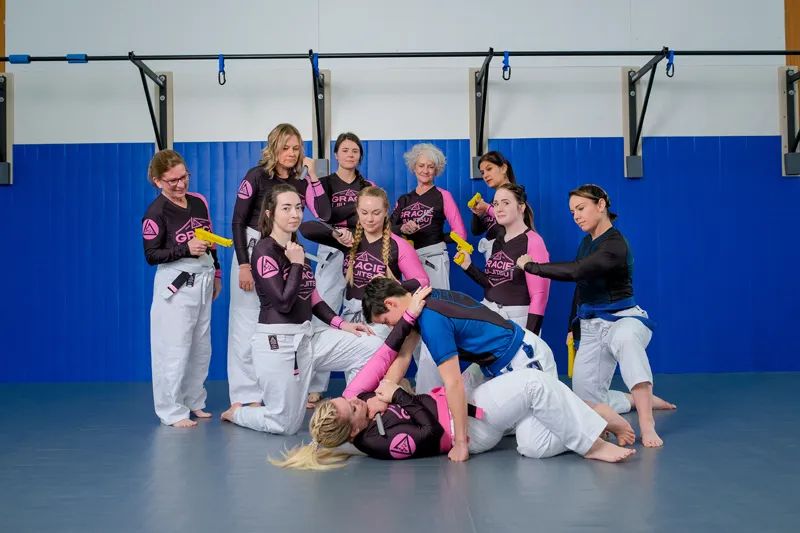 It's not unusual for women who are survivors of assault to be drawn to the Women Empowered program. In the class, they find a safe, empowering place to learn to defend themselves — but it can be an emotional journey. To become a certified as an instructor, Tanya studied the effects of trauma and has modifications to the various techniques to deal with any triggers her students encounter.
"It's OK to come just the way you are," Tanya says.
Many of the women in the class are studying to earn a pink belt — a jiu-jitsu achievement that's exclusive to the Gracie Women's Empowerment program. Earning a pink belt is no easy task. Participants must demonstrate that they are proficient in all 20 techniques and must improvise using those techniques during two, two-minute fight simulations.
Participants are encouraged to keep their skills up by continuing to come to classes even after they've learned the techniques. Some pink belt graduates choose to take the Adult Combative Jiu-Jitsu also offered by SK Martial Arts. The co-ed class is taught by Tanya's husband, Shane Weinreis.
During his 18 years in law enforcement, Shane investigated numerous assaults and wholeheartedly believes in the Women Empowered program. The techniques participants learn could save their life, but the confidence they gain while learning them will help them live a fuller, more satisfying life no matter what may happen.
"Life's too short and too good for you to live in fear," Ashlee says.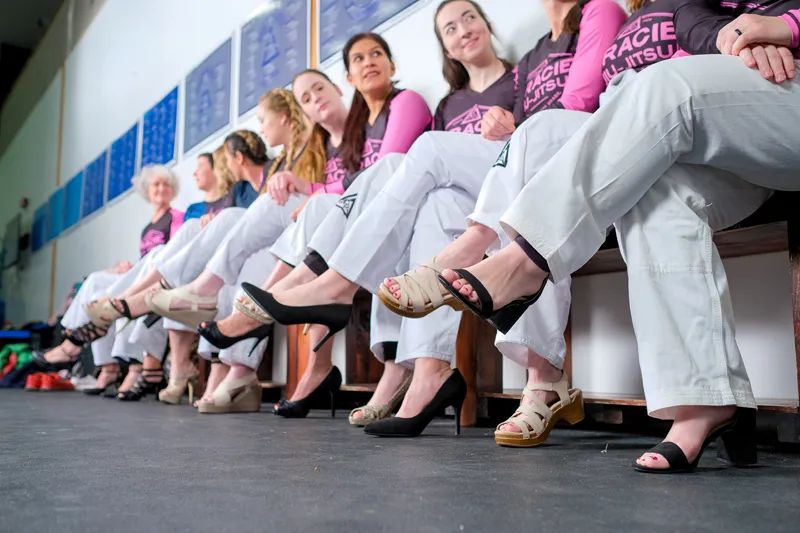 aRE YOU CURIOUS ABOUT THE GRACIE JIU-JITSU WOMEN EMPOWERED PROGRAM?
SK Martial Arts is offering a free women's self-defense seminar on Friday, March 11, from 5:30-7:30 p.m. at 777 Fitness Center, located at 777 15th St. W. in Billings. To register, call 406-696-8021.
Gracie Jiu-Jitsu Women Empowered classes are offered three times a week and women can join anytime. For details, call 406-696-8021.