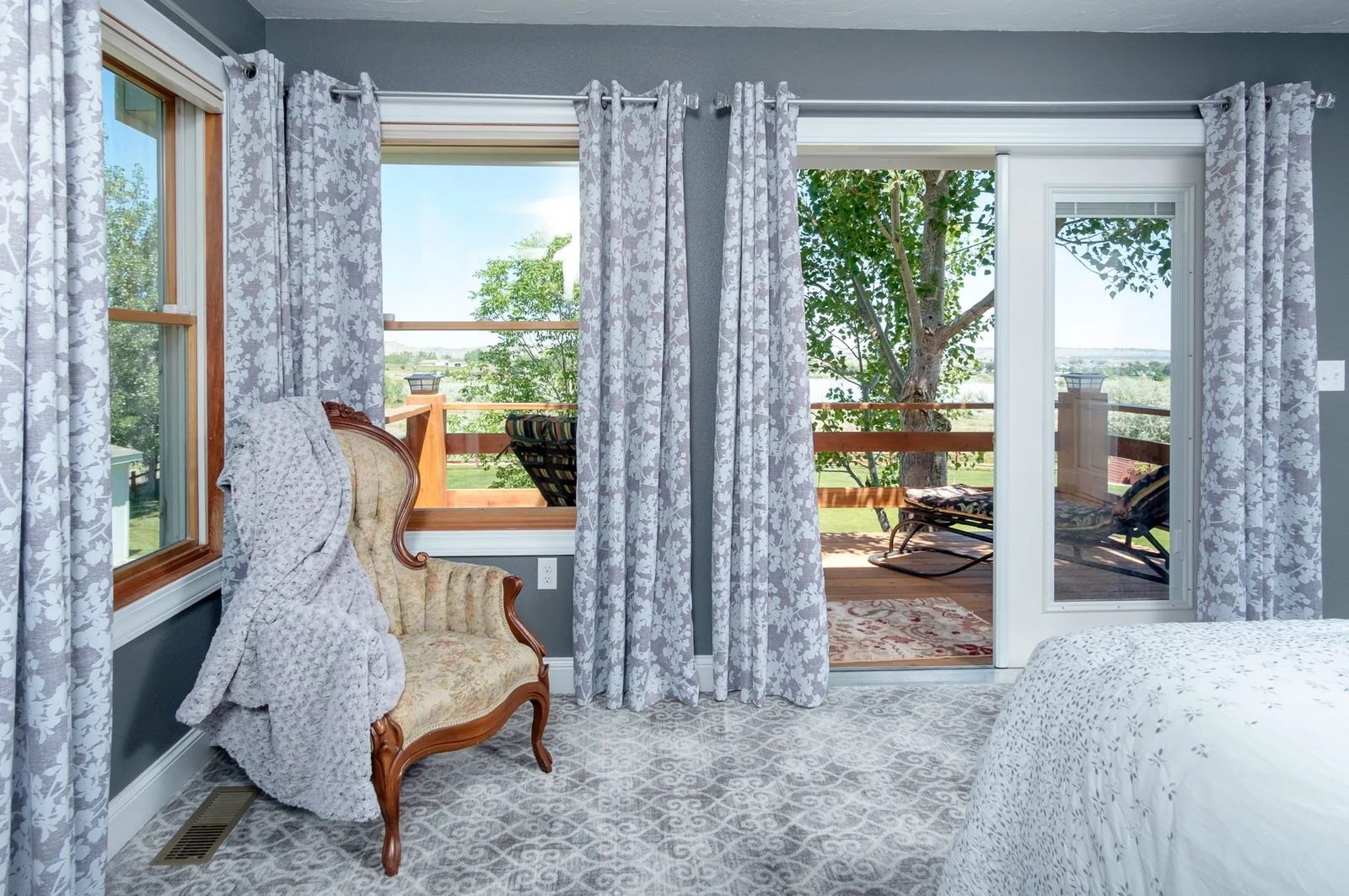 "When I saw the water, it was all over for me!" exclaims Holly Malloy Flack, recalling her first glimpse of Lakeside from inside a two-level dwelling on Longmeadow Drive. A year ago, this self-professed "water girl" and her husband of one year, Dan Flack, were searching for a home. Taking a chance-peek at this unique piece of property, she knew instantly this was the one.
"Even though my husband was out-of-town for two weeks, the same day I saw this house, I made an offer – immediately!" she laughs. "I made the offer contingent on Dan seeing it, of course. I knew he would love it. It'd be just what he wanted." Holly envisioned a space where Dan could plant trees and build a deck.
The couple's beguiling home sits on an acre-or-so. A canopy of trees frames the manicured landscape. Built a couple of decades ago, it overlooks Lakeside, a picturesque body of water on the far west end of Hesper Road. Defining it as a "Montana lake," with its "bushiness," Holly says the lake is enjoyed by people living in Lakeside Development.
The serene vista of water and rolling hills seen through stunning floor-to-ceiling windows imparts ample charm to this spacious two-level ranch-style home. "I love this open concept," Holly notes about the main floor living and kitchen area. White marble countertops, along with white cabinets and a modern farm-style sink, lend an air of sophistication to the rustic nuance of the space.
"It was remodeled in 2014 and remodeled again this year," shares Holly. The recent transformation turned two small bedrooms, a bathroom, and an office on the main floor into an elegant master suite. This distinguished, yet relaxed, retreat now brings a more unified look and feel to the home.
"There was a lot of upheaval," admits Holly about the project. "Part of the ceiling in the downstairs piano room had to be torn out to remodel the upstairs bath." However, this was a must-do for Holly.
Interior Designer Luci Wollschlager and her husband, Jeff Wollschlager, owners of A-LINE Drafting and Design, drew the new layout. "We came out and measured and did about three or four versions," says Luci.
"Luci knew what I wanted," cites Holly.  The women's friendship dates back 20 years with Luci's parents and Holly having been friends all this time. "My daughter, Chelsea, and Luci were friends growing up," adds Holly.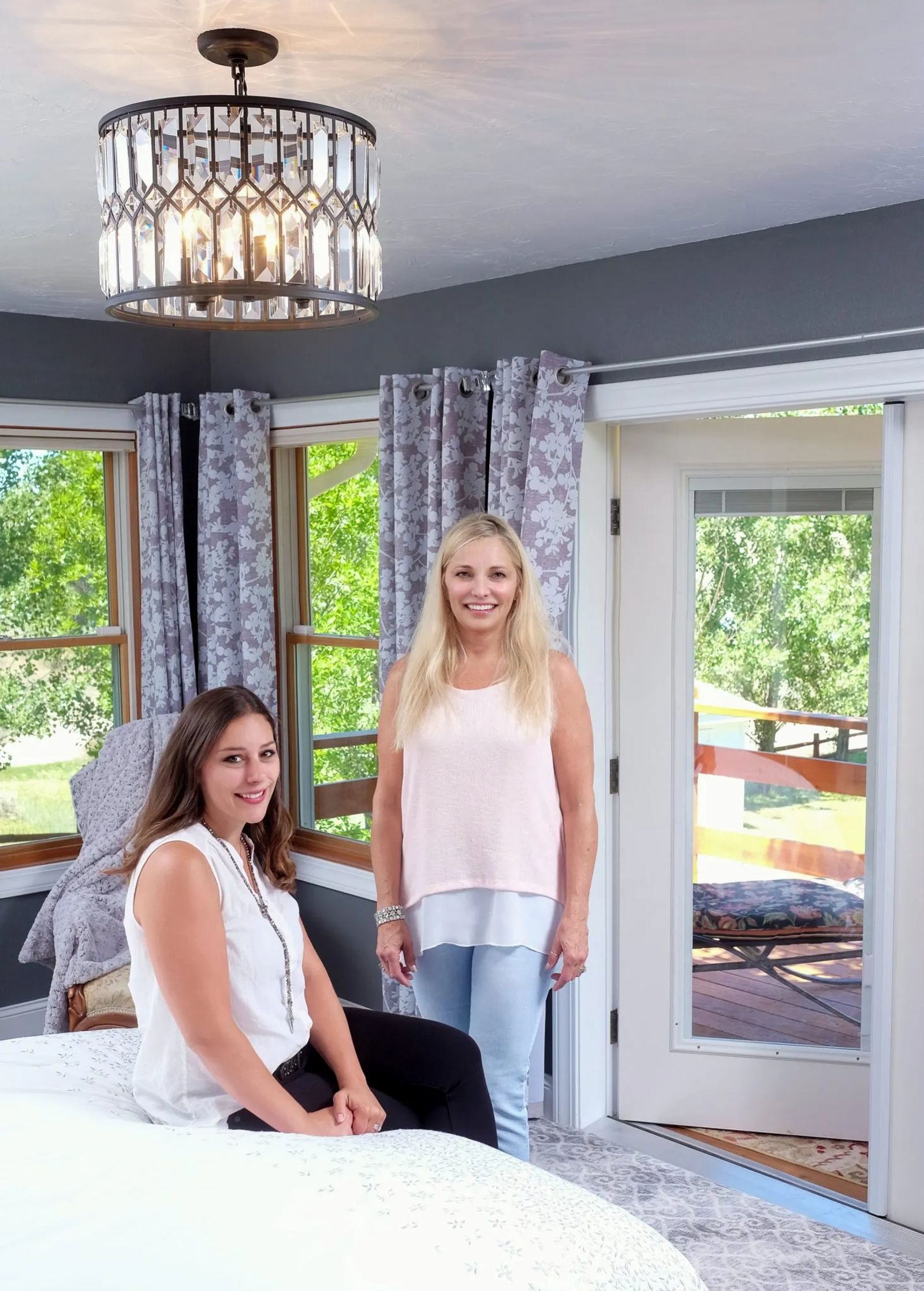 Knowing Holly's "style," Luci easily worked out the details with her client. "Like when I said you'll save some money if the plumbing shares the same wall," chides Luci referring to the new location of the upstairs bathroom. Agreeing with this, Holly laughs and excitedly points out, "Luci also drew into the plans French doors off the bedroom."
French doors serve as the pièce de résistance to the newly-expanded room. "It adds a whole new look," praises Holly. Through the French doors sits the deck Holly knew her husband would want to build. The new deck extends the master suite into the great outdoors. The couple relishes the view of Lakeside and a grand overview of their immense back yard. "We now have coffee or cocktails out here. It's another area for us. We love it!"
Blooming plants paint the yard with vivid color, while, inside the master suite, the color is more subdued. A neutral blue-gray wall color sets the vibe. A patterned blue carpet, with tones of gray, from Carpet One enhances the mood.
Window coverings in the same shade ties the room together. "I already had these drapes," mentions Holly, "and they match perfectly in the room with the carpeting."
"Holly has that knack," states Luci. "Holly knows her style. She'd go shopping and she'd fill her cart and bring it to my office."
Holly's flair for putting things together seems to come naturally. "I did my research and found what I liked," she confides. "I had help from my girlfriends, too. I'm just saying. It was imperative I had their opinions, like LaVerne's (owner of Cricket Clothing Co.).
"Holly did her own research," affirms Kyle Newmiller, owner of BlackTimber Builders, general contractor for the Flack home remodel. "She did a great job. Both she and Dan did. Holly was in this project from the beginning. We started by knocking out walls (with Dan assisting in the demolition) and we stripped it down to nothing."
Created from "nothing," a 475-square-foot romantic sanctuary evolved. "There was a lot of expectation in this," says Kyle. "It went above and beyond. Holly, who's so outgoing and is a firecracker, has told me that."
The renovation beautifully showcases a classy, modern master bedroom. Its refinement focuses on simplistic quality, subtle color, and minimal wall décor, engaging the senses and calming the soul. The chic en suite pairs with the master boudoir like a glass of white Burgundy enjoyed with a slice of Brie de Meaux.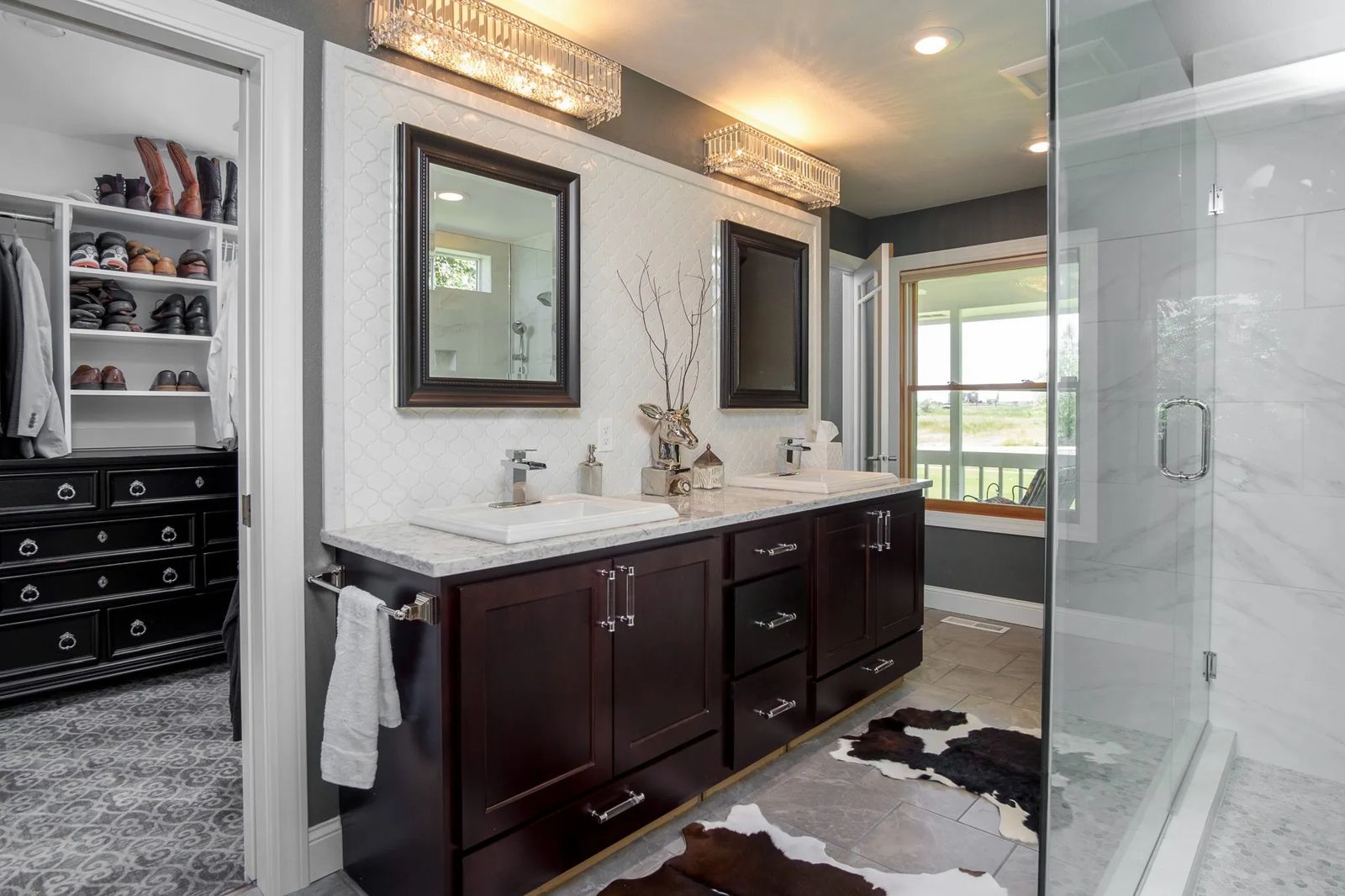 A floating dark vanity from Kitchens Plus highlights the dramatic granite countertop from Magic City Countertops. A white tile backsplash puts a spotlight on dark-trimmed mirrors hanging above double sinks. Polished chrome and glass handle hardware from A & H Turf finish it in high fashion. Crystal lights add the 'bling.' "I have to have my bling," laughs Holly.
A spectacular custom glass-enclosed walk-in shower installed by BlackTimber Builders achieves recognition with brilliant porcelain tile from Pierce Flooring & Design. Radiant floor heating adds the Midas touch.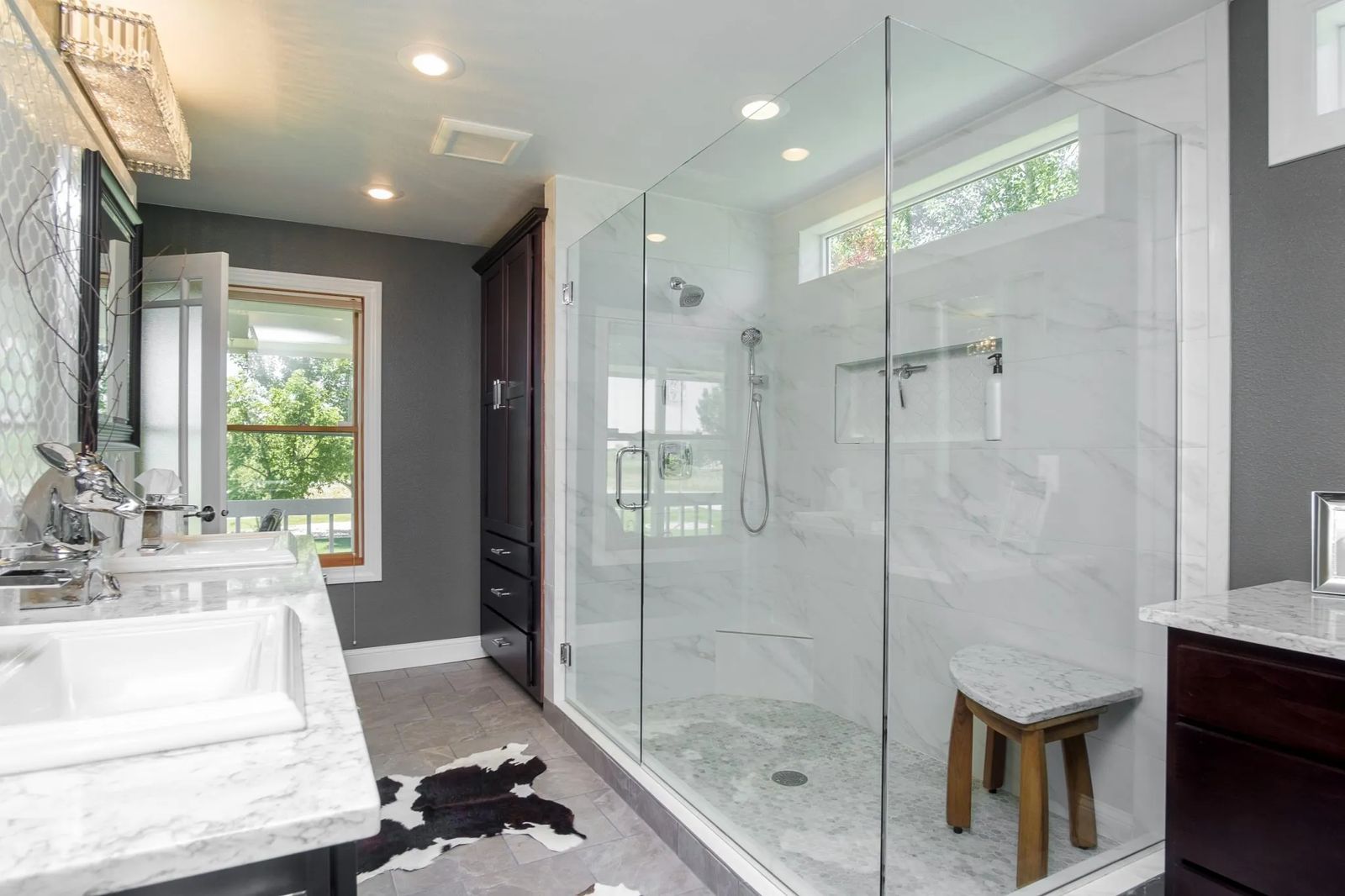 "The bath is very rich, indeed," concedes Kyle. It's definitely a room to feel completely relaxed in. Two calf-hide rugs lie in front of the vanity, balancing this glamor with a hint of country panache.
The to-die-for walk-in closet packs a spirited punch, as well. "With the closet came the inspiration from Holly," remarks Kyle. "Collaborating with her, there needed to be a place for her shoes so they weren't on the floor, a place for dresses, space above to keep things stacked high and deep. She sent me a few Pinterest ideas."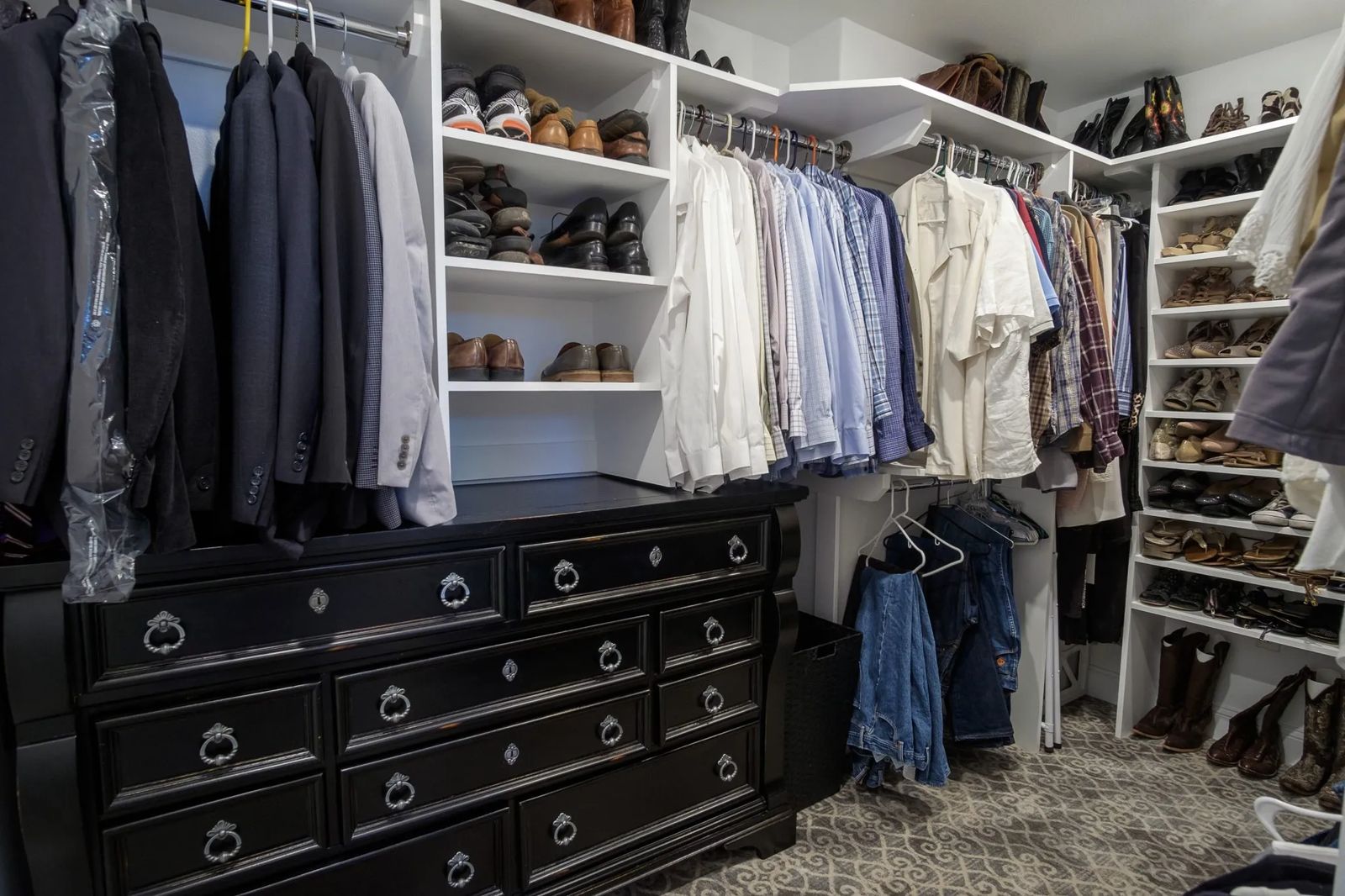 This savvy homeowner supplied ideas and plenty of input in how she wanted her master suite to look and to function. Holly knew her style. As a result, this tasteful redesign and remodel at Lakeside gave birth to one sweet master suite.