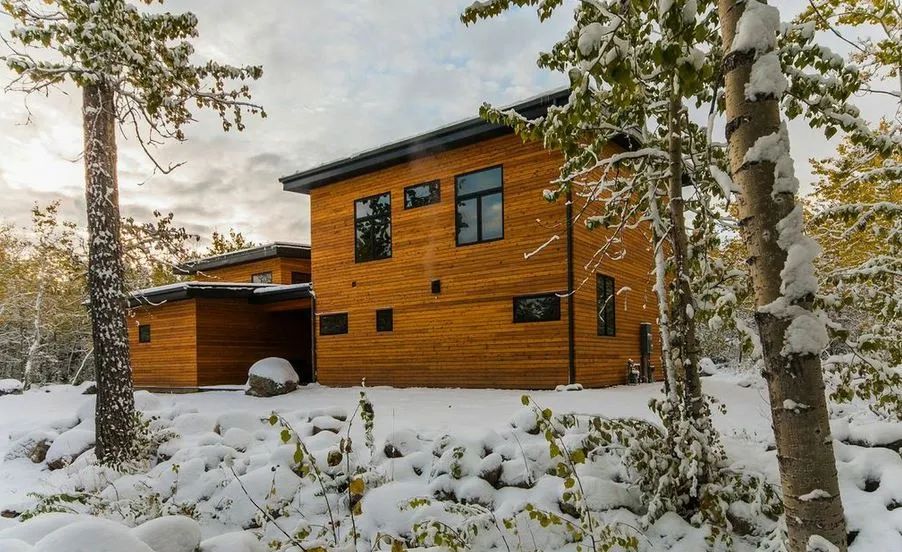 A Long Way from Charlotte

Building a Mountaintop Dream
Homeowners Philip and Chris Zulick love their new vacation home, as they currently refer to it. It's a secluded escape just a mile or so south of Red Lodge in Beartooth Estates subdivision.  It's a dream come true, especially for Philip who discovered this part of the country eight years ago when a college friend invited him out for a visit.
"We used to ski in Montana but never in Red Lodge," says Philip. After seeing the Red Lodge area for the first time, he was hooked. "It's a long way from Charlotte, North Carolina, but I thought I'd like to retire here."
The accomplishment of retirement as a nurse anesthetist happened just recently for Philip. Chris still works part-time. She's also a nurse anesthetist. The couple has raised two daughters – Margaret, a 22-year-old teacher, and Kay, a 19-year-old college student. And this summer they completed building their new 1900-square-foot cedar-sided high mountain retreat.
"It's been challenging to find time for all four of us to make the trip (to Montana) together," notes Chris. They plan on taking the time this coming year to spend some family time here. With the girls at the ages they are now it'll eventually come down to calling their new place their retirement home instead of vacation home.
"I'm more relaxed about it now," laughs Chris. "It took me about five years to even be 80 percent in on building this home as our daughters weren't grown yet. But now I love it and feel so good about the house. If one person has a dream in a marriage, you have to realize that. It's turned out to be a great house and a great town for us."
Red Lodge Homebuilder Glenn Sukut of Sukut Custom Home Building worked with Chris and Philip for an extended period of time making sure southwestern colors and design that the couple liked were infused with modern country atmosphere. "The home is a contemporary style with southwestern flair," says Glenn.
The construction started over a year ago but not until after a few grueling weeks of cutting trees on the property. "It's very secluded," muses Glenn, "there were trees and boulders everywhere. There are moose and black bear running around all the time, too!"
"It's a learning experience," agrees Philip. "We have to learn to be bear-aware and be conscious of wildlife."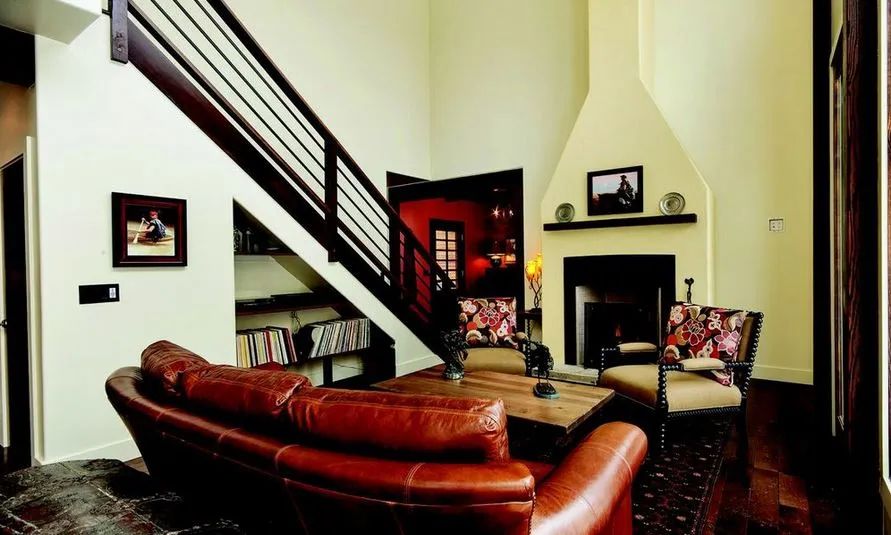 Discovering the wildness of their surroundings adds the icing on the cake to the thrill of having a dream turn into reality. The ruggedness of the outdoors ignites the coziness of the interior. A textured fireplace in the great room creates an inviting space while keeping an eye out for bear through two levels of picture windows from Lake Glass in Bozeman. This expanse of glass dominates the back of the house providing abundant light and panoramic sights.
A rustic touch, yet, reflecting a modern tone is the open poplar hand-railing leading up to the second level. The landing at the top of the stairs provides a birds' eye view of the room below and an outstanding view of the vista outside. Two bedrooms and a bath complement the upstairs. All-nylon Berber carpeting in a decadent dark chocolate color from Covering Broadway adds sophistication to the perfectly private sanctuary of Margaret and Kay.
The master suite commands attention on the main level where there's also a laundry room and an enchanting powder room. The space is high, wide and handsome boasting an 18-foot beamed ceiling. It's open and airy featuring plenty of closet area and an en suite that celebrates luxurious Montana-style living.  A walk-in oversized slate shower is separated from the big soaking tub by glass blocks that softly caress the ample amount of stone. The earthy tones accentuate the clean look.
Tall French doors open out from the suite to a 368-square-foot covered patio complete with colored concrete floor and mammoth wood-burning fireplace. The sandstone fireplace lights up the evenings and lavishes its warm glow into the night.
Extraordinary masonry was done by John LoPresti of LoPresti Masonry out of Luther. "It's the real deal," says John, about the two tons of Montana rock it took for him to build this artistic piece of comfort.  The outdoor fireplace edges on contemporary with nuances of western rural life.
"I like the mix of contemporary with country," states Philip, referring to the overall design of the home. "I wanted something a little different than a log or A-Frame so we looked at different designs. We started tweaking them a bit and then we found our own builder. We saw a few of the beautiful homes that Glenn has built and thought he had good ideas."
Excellent ideas embrace all the exterior overhangs. The patio, the front porch and the interior foyer all feature tongue and groove ceilings. This custom-built home serves well the picturesque landscape of this ideal mountain villa. It all comes together in the details.
Hallmark engineered flooring of Hacienda maple is approved for the radiant floor heat in the home," says Sandy Brajcich of Covering Broadway. "The color of the maple is called 'Bootstrap.'" The foyer, laundry and mechanical rooms are covered with 18-inch porcelain tile aptly named, 'Papyrus,' also from Covering Broadway.
While the living space succeeds in well-appointed comfort, granite countertops from Countertoppers enhance the irresistible classiness to the kitchen cabinetry.  A stainless steel farm sink fits in appealingly with the rest of the silver appliances. It's a modernized blast from the past.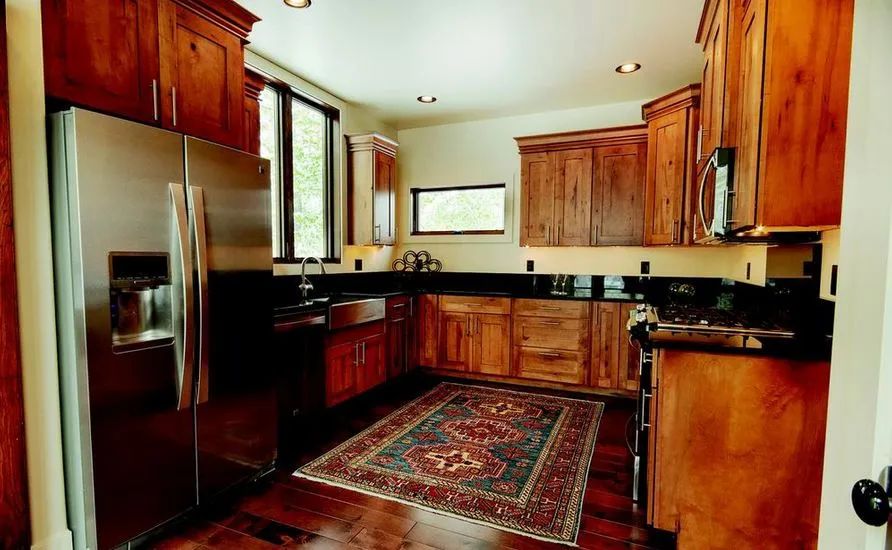 "We needed everything to blend in and look Montana," projects Philip. "Yes, there's the farm sink and then there are contemporary drawer pulls! We also brought in some antique pieces."
"I'm so visual," chimes in Chris. "Phil had good judgment. He could visualize it so I relied on him and it worked. It's the first home we've built. Being 2,000 miles away, I had to have a lot of faith in Phil and in Glenn."
From the clean lines of the kitchen to the sleekness of the open great room to the combo of cedar and stone on the exterior, the Zulick home affords its owners the quality and sumptuousness they had desired.
Even the cedar-sided two-vehicle garage doesn't disappoint. It sits separate from the house. This design paints a picture of bygone times, perhaps, more on the pastoral side than on the urban side of things.
The energy of the warm southwestern colors they've chosen to paint the smooth walls of their home resonates with the spirit of the overall grandeur contemporary design. The couple credits trips to Mexico that so enamored them with the colors of the earth. What a better location to incorporate these hues than in a natural setting close to the flow of Rock Creek with a view of the majestic Beartooths.
"I want to spend my last years here," reflects Philip. "I love the feel of Montana – it's worth every second."
It took some time for Philip and Chris to decide to build a home here. It took a good chunk of time for Glenn to construct it. Once winter comes to the mountains, it's easier to wait for spring thaws before continuing certain outdoor projects.
"It did take a long time from start to finish," concurs Chris. "It was a blessing though as it gave us time for it to percolate and evolve into what we wanted."
Granted, Red Lodge is a long way from Charlotte. It takes time and patience to build a mountaintop dream. If you ask Philip and Chris, watching their dream come true was well worth the wait.
For more photos on this picturesque home and more on the businesses involved, please visit the full story in our magazine HERE and click on page 82.