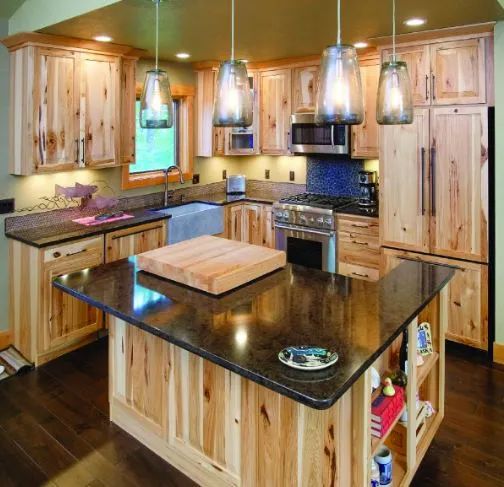 A Purpose-Driven Transformation
Long-time home gets a family friendly facelift

Monte Waite sits back on the sofa, gazing around the newly-remodeled kitchen and living space of the home where he and Theresa raised their children, Jenifer, Jesica and John. The updated open concept expresses a completely different look and feel from the era when the home was built. "My wife and I talked about remodeling but we hadn't done anything since we built it in 1989," muses Monte. "Every time we went to remodel, we put it off." There were just too many wild adventures this couple enjoyed, like fishing in the 'Land of the Midnight Sun.'
The large framed picture hanging on the wall of Theresa holding a silver salmon affirms their exploits. Her beautiful smile radiates the thrill of catching what Monte describes as "an exceptionally big one!" Theresa, "a teacher at Sky View forever," lost her battle with cancer just over a year ago.
"She really enjoyed fishing," Monte reminisces. "We took a trip of a lifetime in 2000 to Alaska and we went back every year. This picture of Theresa was taken about six years ago during one of our last times there. I was an incredibly fortunate guy. She was my wife and my best friend. It wasn't Alaska, it was her. It was fun being together."
Other family photos and some incredible wildlife art adorn neutral-color walls here on the main floor. What used to be a boxy-type of layout now features a wide-open expanse of rustic simplicity. "After Theresa passed, I thought, 'I'm going to get some things done that we had discussed,'" says Monte. "I was not sure how to start to make it look nice."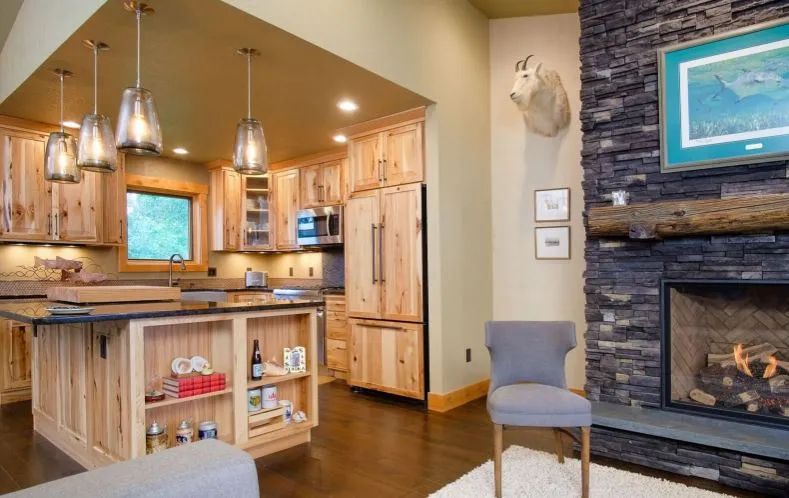 The biggest consideration Monte and Theresa had talked about was opening up the small kitchen. With three children, spouses and three grandkids, the tiny space made it almost impossible to congregate in the kitchen, their home's most popular room.
Thankfully, a friend introduced Monte to Bret Christensen, owner of Calder Creek Cabinetry & Design. "Bret came over. I started to tell him what I wanted and he said, 'We can do anything, but you need a contractor.' He recommended Rich (Rich Naylor of My Handyman Service)."
Rich readily responded to Monte's call. Due to the home's vaulted ceiling, however, Rich wanted a structural engineer to look in the attic, making sure the kitchen's lower ceiling could withstand having a load-bearing wall knocked out. "Rich did it right," says Monte. "I was comfortable with it so I said, 'Let's go!'"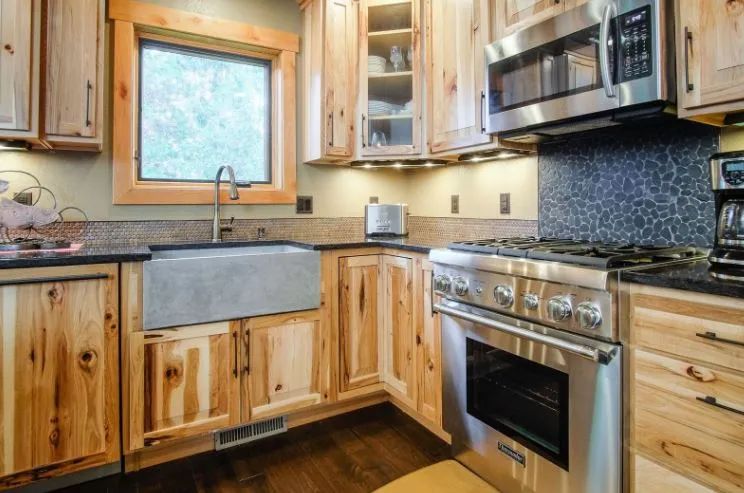 With the structural aspect of the project reinforced, the box-style design underwent a metamorphosis. The wall blocking access from the kitchen to the front living room disappeared. "We gutted the kitchen down to the studs," acknowledges Rich. "It's now an open space that feels bigger and grander. The area is more family dynamic, making it a very engaging environment."
The kitchen, dining room and great room came together with pieces Monte and his daughter, Jesica, a Seattle-based interior designer, had chosen. "When Jes came home for Christmas," notes Monte, "we picked out all the specifics. She was all over it!"
One thing was certain, they knew they wanted a fireplace that would give a "lodge" feel to the space. Featuring a floor-to-ceiling dark stacked-stone gas fireplace from R&T Services Inc., this "super relaxed" great room now fulfills their every expectation. "Tim O'Brien (owner of R&T Services) did a beautiful job building it," says Monte, "and they suggested James McGregor (owner of McGregor Designs) for the cement hearth."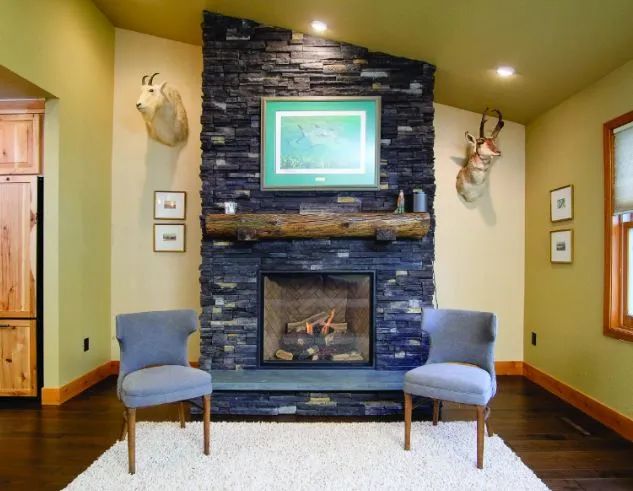 The earthiness of gray mixed with sparse undertones of black and tan lends a subdued "movement" to the seven-foot-long hearth. "James and his wife (Tressa) came and installed it," says Monte. It's a stunning piece of work, fitting in perfectly with the rest of the décor.
A yellow spruce mantle, a piece from a log cabin built well over a century ago, rests above. "The yellow spruce is from a lady my wife had taught with, Peggy Bergsagel. The homestead had belonged to her grandparents."
Wilson Cabinetry fashioned the mantle from the reclaimed wood. Its top offers a flat surface for displaying items. "They cleaned and sealed it," adds Monte. "And, the braces holding the mantle on are oak, made from the cabin's door frame."
Monte and Jes enjoyed gathering sentimental pieces like this to be included in the home's overall design and renovation. They took pleasure, as well, in finding black quartz countertops for the kitchen, which ties in perfectly with the dark stone color of the fireplace.
The kitchen glows with the warmth of hickory cabinets from Calder Creek Cabinetry & Design. A hickory center island with built-in shelving provides that "extra workspace" as Bret knew Monte would need.
The fridge and dishwasher are cabinet-faced, while the mix of penny-sized copper and pebble tile in the backsplash showcases rustic sophistication. Four smoky-glass Edison bulbs handmade in Italy hang over the isle. A cement farm-style sink adds the finishing touch with a new Pella window overhead allowing in the natural light.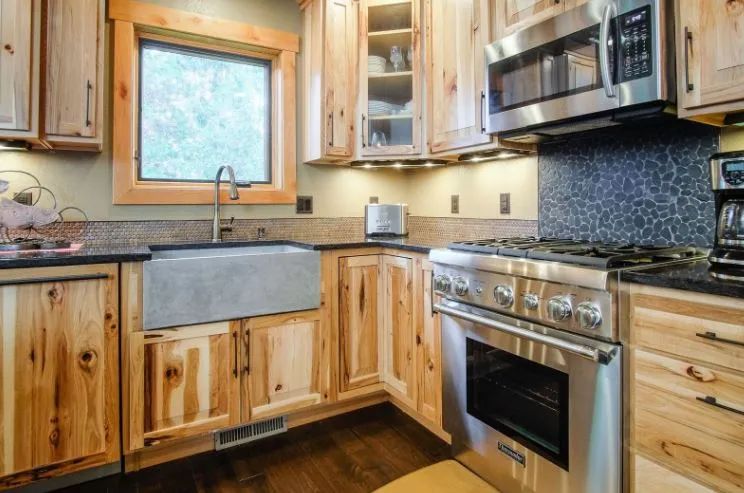 "We created plans from what Monte wanted," states Bret. "We worked within constraints of place, budget and time and used our resources to make his home and life better. When Monte sits in his chair and the family is over with all the different generations talking, it's about how it feels. Even when you're increasing the value of the house, you want it to feel comfortable."
"It's so functional," comments Monte as he walks over to pull out the soft-close drawer where the pots and pans are stored. Standing at the island, Monte takes hold of the sleek hardware on another cabinet and adds, "I even have a pull-out garbage. It's awesome. It really spoils me."
On the other side of the island sits a long reclaimed oak dining table. "It easily fits the ten of us in the family," beams Monte. A cut-out in the wall alongside the table exposes the downstairs of this four-level home that sits just off Central  Avenue on the city's west end.  This opening enhances the newly-crafted spacious abode.
Details abound throughout the 800-square-foot main floor, revealing a high-end designer look.
Dark maple wood flooring from Rich's Flooring Abbey Carpet runs throughout contrasting nicely with the light-colored walls. "The planks are different sizes and widths," points out Monte about the flooring. "I like it. It has texture." The stairs sport the dark wood, as well, complemented with a carpet runner flowing over each step.
The entire remodel process came together one step at a time. "It was amazing," states Monte. "When Rich came over he put together a calendar and it was Boom! Boom! Boom! The day we needed the hearth it was here, or, whatever we needed, the people were here. It was priceless."
Priceless, too, is Monte sitting back on the sofa, saying with conviction, "It was fun and therapeutic." For Monte, a purpose-driven transformation does wonders for the soul.