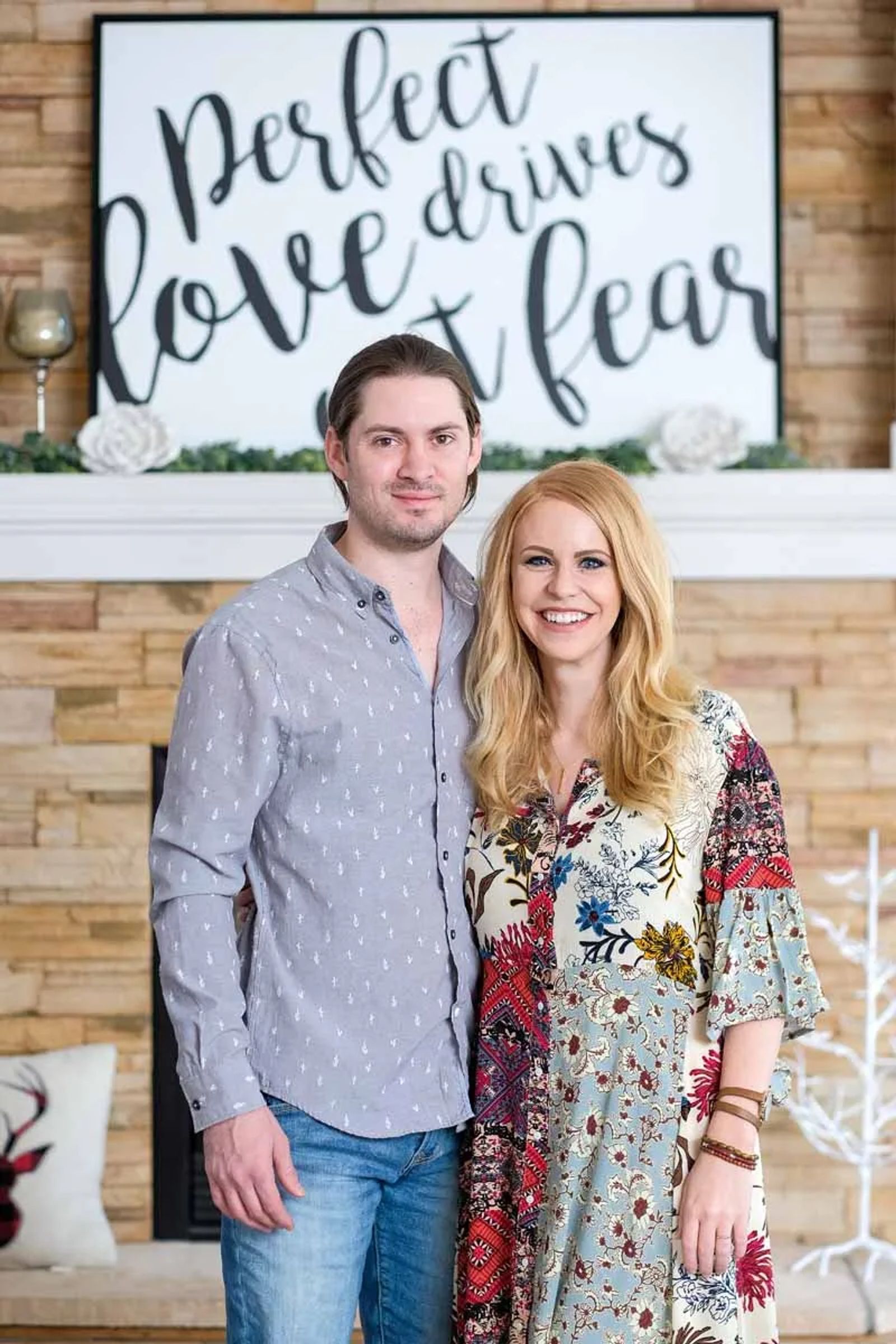 A Refuge for Her
Couple sells everything to shelter victims of human trafficking
Above the rustic fireplace in the home of Sammy and Britney Higgs, the words on a hand-painted wooden sign pretty much sum up their work these days.
It reads, "Perfect love drives out fear."
They have had to drive out their share of fear over the past 14 months. Their home, which sits on a pastoral piece of land on the outskirts of town, is also, at any given time, home to a handful of women trying to escape the abusive and dangerous life of human trafficking.
"It's like soldiers coming home from war. It's similar to that detox," Sammy says. "They just can't slow down." Britney adds, "Their bodies literally have to detox from the adrenaline."
Her refuge, as this safe house for sex-trafficked women is known, opened in December of 2017, but the seeds of the operation were planted years earlier.
"Six years ago, Kristin Steingraber, a friend of mine went with an organization over to India to the red-light district," Britney says. "There is a salon that is a front to help the girls who are working in the brothels. They go over, do their hair and help these girls plan their escape." After Kristen got back, she shared some of the stories she witnessed and told the couple how some of these young girls hadn't seen the light of day for years. Britney says. "It just broke my heart in a way that it hadn't been broken."
Four years ago, Britney reached out to All Things Possible Ministries. With a career in documentary filmmaking, she wanted to offer her skills to help shine a light on the dark and disturbing world of human trafficking.
"They do high-risk missions overseas to help women and children who have been taken by extremists like ISIS," Britney says. She remembers telling Victor Marx, the founder of the organization, that if he ever needed a documentary filmmaker, she was in.
"Two weeks later, I got this cryptic email that said, 'Hey, do you want to go over and play in the sandbox for a while?' I had no idea he was talking about the Middle East." Brittany adds, "We immediately hit our knees and just started to pray about it."
Within weeks, Brittany was on a plane headed for Iraq, to the ISIS hotbed just outside Mosul.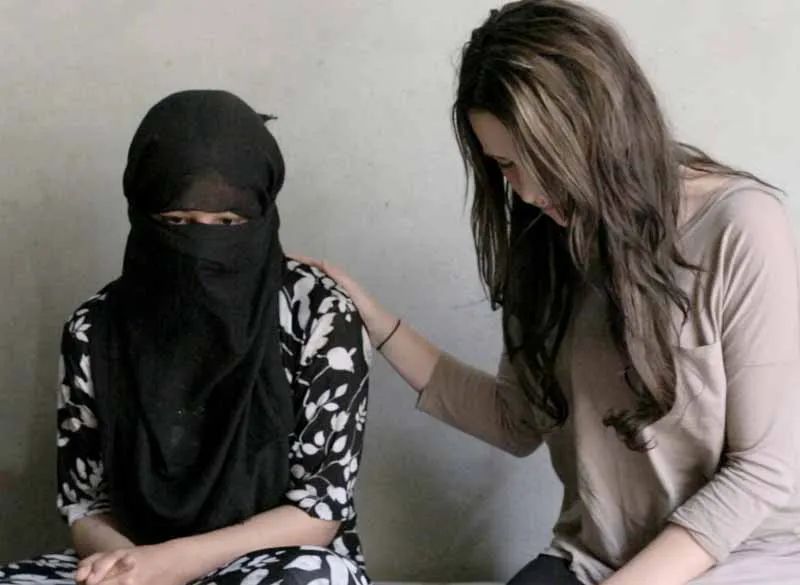 "We sat down with girls that had just been newly rescued. We heard their stories and it was devastating," Britney says. "The youngest girl we interviewed was 8. She had just been rescued a few days before. You could tell there was a wall up and she hadn't hit reality yet about what had happened to her. That broke my heart even more. I was wrecked."
After coming home, Britney says, "I really felt the Lord was telling me to be still."
In that stillness, Britney and Sammy felt God speaking to both of them. During a visit to her family's eastern Montana farm, Britney was watching her two young boys run wild in the fields. "It was out of nowhere, I just stopped in my tracks." She remembers turning to her husband and saying, "'We need to start a safe house.' At the time, I didn't even know what that was or what that looked like."
Seeing the effects of human trafficking abroad, Britney says, "How can you turn a blind eye to what is happening in your own backyard?"
The Higgses launched Her Campaign, thinking it would be a nonprofit formed to spark awareness, but by December of 2017, they had the keys to a duplex that would soon be home to women in desperate need.
"We could talk for days about all the connections. It's miraculous," Britney says as she goes on to explain how she and Sammy acquired the home.
"My grandpa was visionary," Britney says. "He had files upon files of business plans and dreams for different things." Six years ago, her grandfather died tragically in a car accident. When the check from his life insurance policy was sent to her grandmother afterward, she ended up paying cash for the safe house and gave the couple her blessing to follow their dream. "We ended up selling our house, selling everything we owned and quitting our jobs," Britney says. But perhaps one of the most stunning facts in this evolving story was the file folder Britney's dad found among her grandfather's belongings.
"He found a business plan for a place of refuge for people who needed it," Britney says in awe. "My grandpa had the vision before we did and we didn't even know it. Because of his death, we have this house. His vision is carried on through us."
In a little more than a year, five women have found refuge here.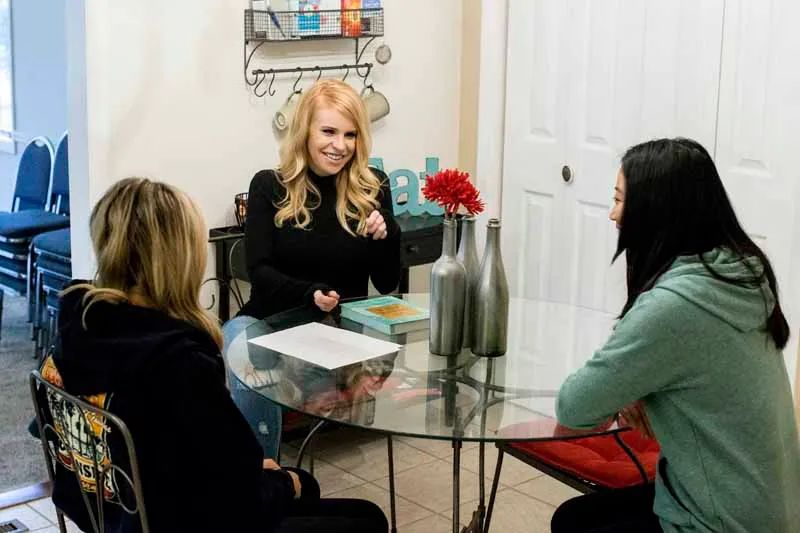 "With most cases, the abuse starts way before the trafficking happens," Britney says. "Trafficking is a by-product of what has already been done. These girls are vulnerable. They are usually sexually abused by a family member o
r someone they know and that creates this desperate need for love."
One of their first residents was a 35-year-old woman who escaped from her trafficker and walked through the doors at Her Refuge. "This was the first time in 20 years that she had been out of the life of trafficking," Britney says. "She was abducted when she was 15 years old. When she got here, slowing down was too hard for her and she ended up running after being with us for only five days."
The Higgses know that not every woman who walks through their door will walk out a success. They know healing can take not years but, in some cases, decades.
"A woman might be with us for two days or two years, depending on how much she is willing to walk towards personal healing and growth," Britney says. "There is a sad statistic that the average a victim will get out and go back to her trafficker five times before she stays out of the life." No matter how long a woman stays, Britney says, "We are literally just walking through life with these girls, serving them and loving them unconditionally because they have never experienced that before."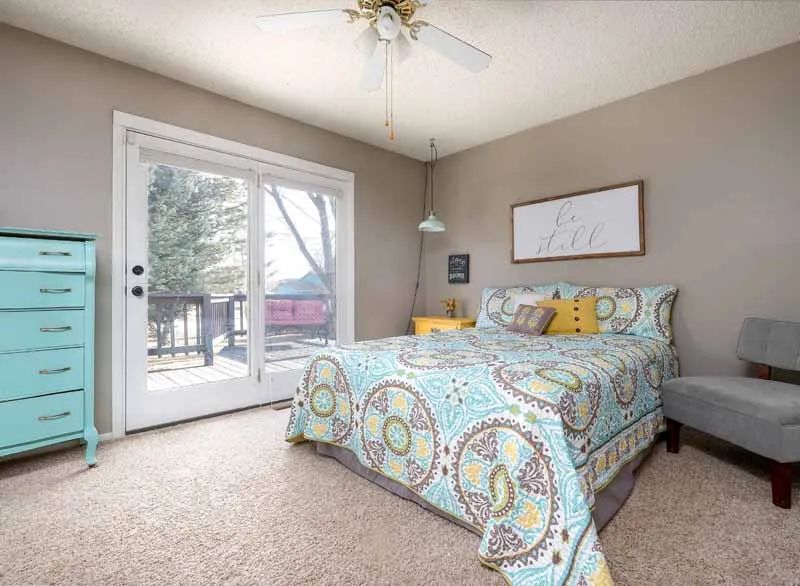 Since Her Refuge opened, Britney and Sammy have solidified a network of resources to serve these women. For the first month of a woman's stay, however, the biggest mission is for the woman to simply "be still."
"That first month is hard on everyone because of the paranoia and their sleep patterns," Britney says. "They don't sleep at night and so you are hearing them up at all hours of the night. Learning to rest is so crucial for their healing journey."
And every day, the message is shared with the women that they are safe here.
"Every girl that we meet will say, my trafficker is going to find me. My trafficker is going to find me," Britney says. "More than likely, a trafficker will not spend the time and resources to track down one girl, but even after they have gone through so much healing, there is still this thought that if their story is out there, someone might find them."
The Higgses have housed a few girls who escaped the human trafficking network of a notorious international gang. In those cases, they have taken measures to keep the women's identities secure.
"We have had a couple girls from very notorious gangs where it is actually a danger and we need to help them get a new identity," Britney says.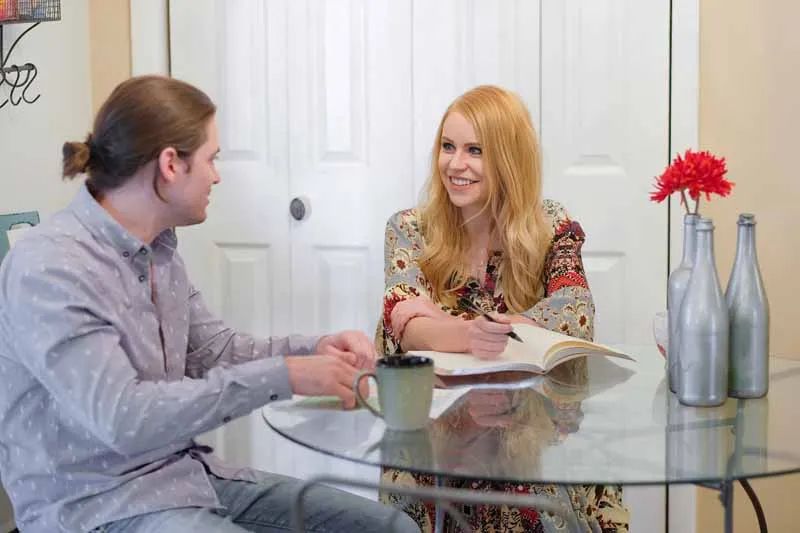 As the women heal, they are encouraged to finish their education. They are set up with medical services and therapists to help them with their post-traumatic stress. In time, they are asked to share their life's goals. And, on the most basic level, they learn how to cook for themselves.
"A lot of these girls, they have lived off gas station and fast food," Sammy says.
While four rooms on the first floor of the home offer space for the women, the basement is the Higgses' sacred family space where they raise their three kids. While some might question mixing a young family with this kind of ministry, Britney says, "One of our mentors who did a safe house before us told us, these girls are not a danger to you, they are a danger to themselves because they struggle with suicidal thoughts and depression."
It's why Sammy and Britney openly share the love they have for their family, every chance they get.
"We see, day to day, just by loving these women and allowing them into our lives and allowing them to see our family, it's healing and hope," Britney says. "Every girl that has come here tells us that there is something different here."
With only a little more than a year under their belt, the Higgses already have bigger dreams. This summer they are planning to construct a garden for the women. In time, they would love to expand to either a ranch setting to involve animal therapy or use this framework to create additional safe houses. "Our program is here for the long haul," Sammy says.
Right now, the couple partners with a network of safe houses across the nation. Sometimes they take in women from other states. Sometimes they send women to other areas to help them leave Billings behind.
"Getting them out is good because it is too easy for them to get back into the lifestyle. It is too easy for their trafficker to find them," Britney says.
When you hear some of the women's stories, healing seems like such an insurmountable challenge. Britney and Sammy used to feel that way, but after witnessing the growth and change, Britney says, "It's miraculous." Both Sammy and Britney say they honestly can't see themselves doing anything other than what they are doing now.
"It has opened our eyes to the miracles that can happen," Britney says. "There is hope and healing for these women."
Helping Her Refuge
Buy a statement piece and help women heal, grown and find purpose. Her Campaign is selling handmade "Hope" necklaces and "Be Brave" T-shirts to spark awareness and raise operating expenses. Buy online at hercampaign.org/shop or buy at Ebon Coffee, MoAv Coffee or at Faith Chapel's Atrium Espresso. On Sept. 7, 2019, the charity will be hosting its fourth annual Run for Her, which will also serve as a fundraiser for the mission.