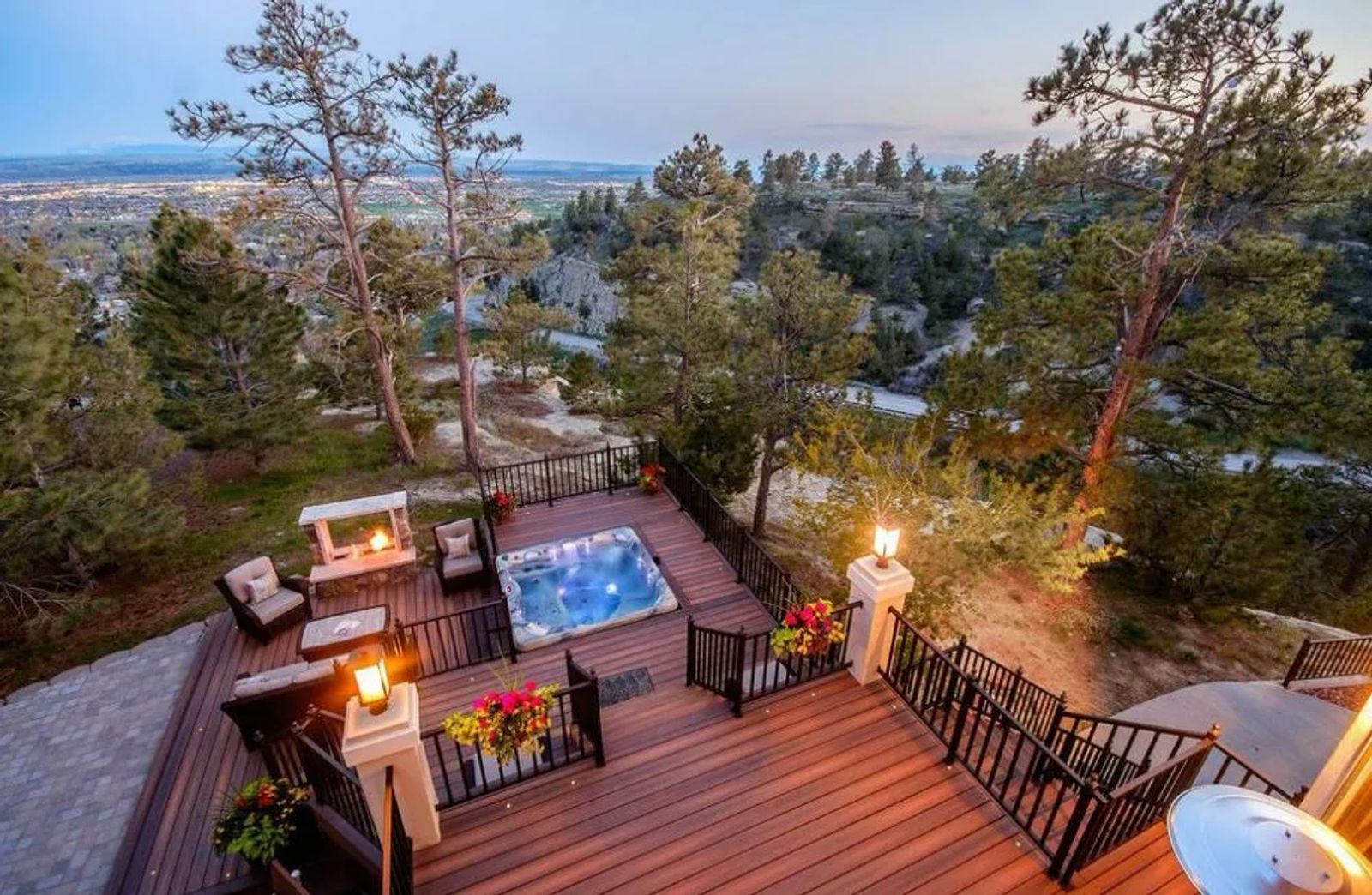 A Slice of Relaxation
Gorgeous views & functional living spaces
Nestled among the pine trees at the top of Zimmerman Trail sits an oasis for entertaining. It's roughly 1,100 square feet of outdoor living and it's safe to say that it was a monumental job to design and construct.
"Digging down into the bedrock on top of the rims here was our biggest challenge," says Rich Naylor, owner of My Handyman Service and Construction, the contractor on the job. He laughs when he says, "It seemed like we found about two dump truck loads of sand under the deck." And being that this home literally sits on the edge of the rims, Rich says, "We got to shovel by hand, move and relocate."
To see the craftsmanship in this deck, you have to understand how much this space improved. Homeowner Rohnn Lampi says, before the construction, he had a stained wooden deck that in his words, "was a maintenance nightmare." Rohnn says, "The paint was peeling and nails were popping up. It was rough to walk on and it was an eyesore. We spent a lot of money to redo the finish to the deck and in nine months, it was right back to where it was before. I said, 'I can't do this every year.'"
After calling on Rich Naylor's company for a few small handyman projects, Rohnn decided it was time to seek Rich's help with a brand new deck. "The design was really a collaborative effort," Rohnn says. "The way it was set up before, it wasn't really user friendly. The space wasn't as open. Rich did some drawings. We looked at them and made a few tweaks to get to this design."
Today, a Fiberon composite deck will help Rohnn and his partner, Dawn Ruby, enjoy this space maintenance free for many seasons to come.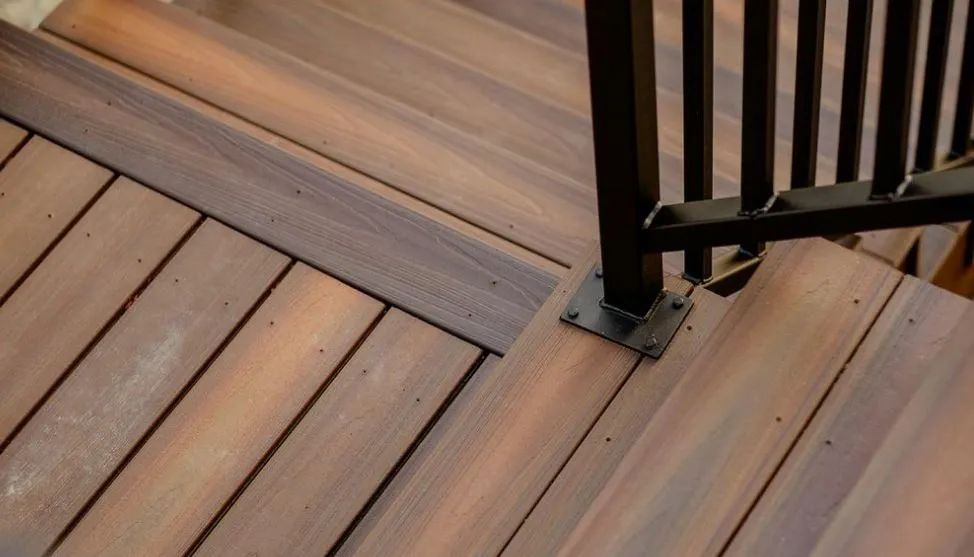 "I can see us coming out here every evening, just sitting and relaxing after dinner," Rohnn says. "We walked out here a couple times and said, you know, this is like a resort! Why do we need to go anywhere?"
In many ways, this space is better than a resort. Here, you get a serene space with all the comforts of home. Thanks to Rich Naylor's coordination with the couple on the design, the deck truly frames the amazing view of the city of Billings below and provides a peaceful easy feeling as you sit and soak up either the sun or the stars.
Each level of the deck offers its own unique space. At the top, you'll find a wonderful shaded area that serves as an outdoor dining and grilling space. The area is surrounded by lighting from One Source Lighting and even has an outdoor patio heater for use when the temperature takes a dip.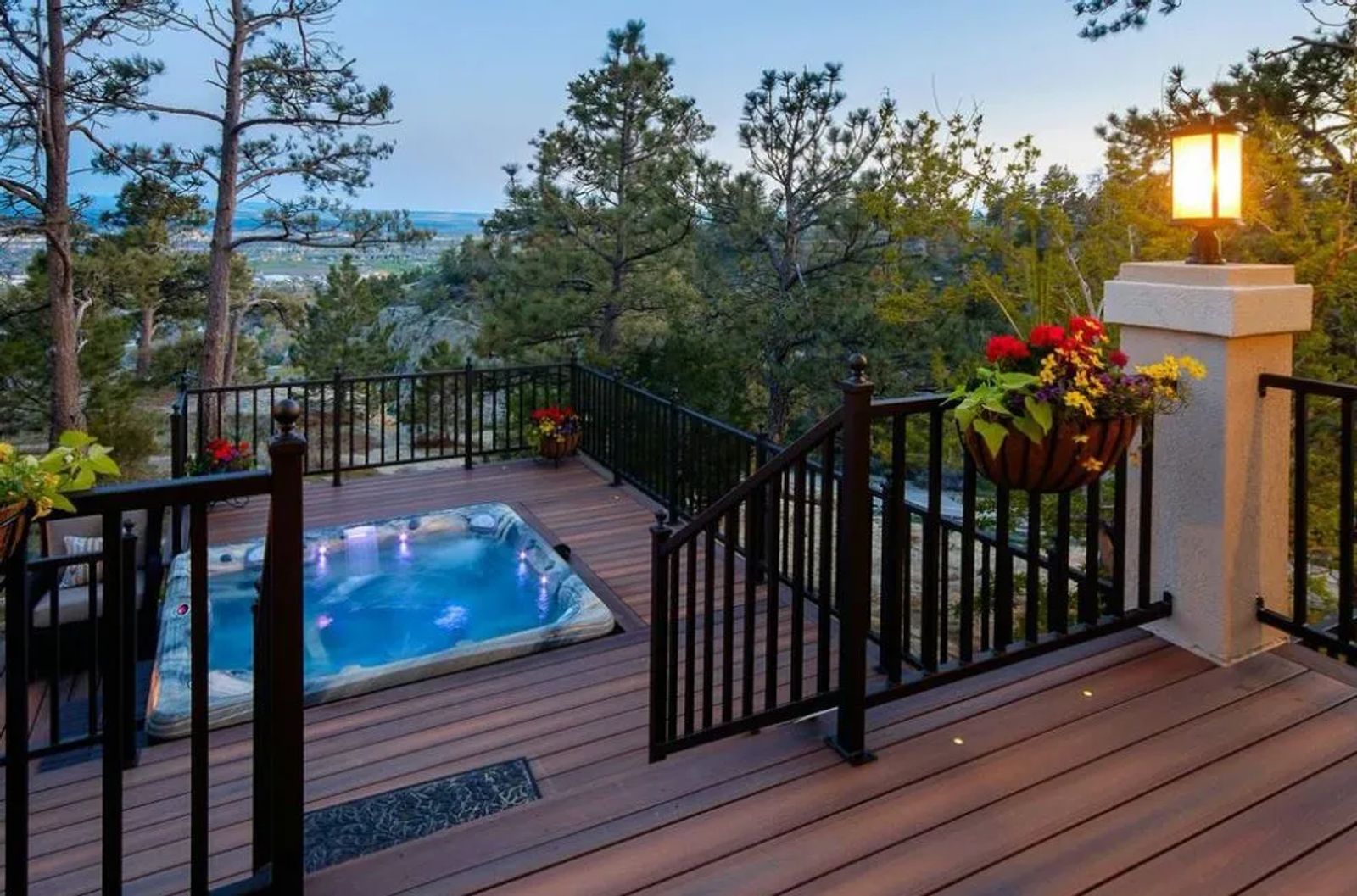 The center set of stairs leads you straight to the sunken hot tub, making this little piece of relaxation from Montana Hot Springs Spa the center of attention. "I love the access to the hot tub," Rohnn says. "It's just a few steps out the door and you pop off the lid." Being so close to the house and so easy to access, Rohnn says he and Dawn will easily use it all year round.
Off to the left and down a few more stairs you'll find the equivalent of an outdoor living room. There's an all-weather couch plus two comfy chairs that sit on each side of a natural stone fireplace. Guests can enjoy the fire and the view with its unique design. Rohnn says, "It was really Dawn's idea to do the fire place so that it didn't have a solid back. This way, you can see through the fire to the view of the valley below."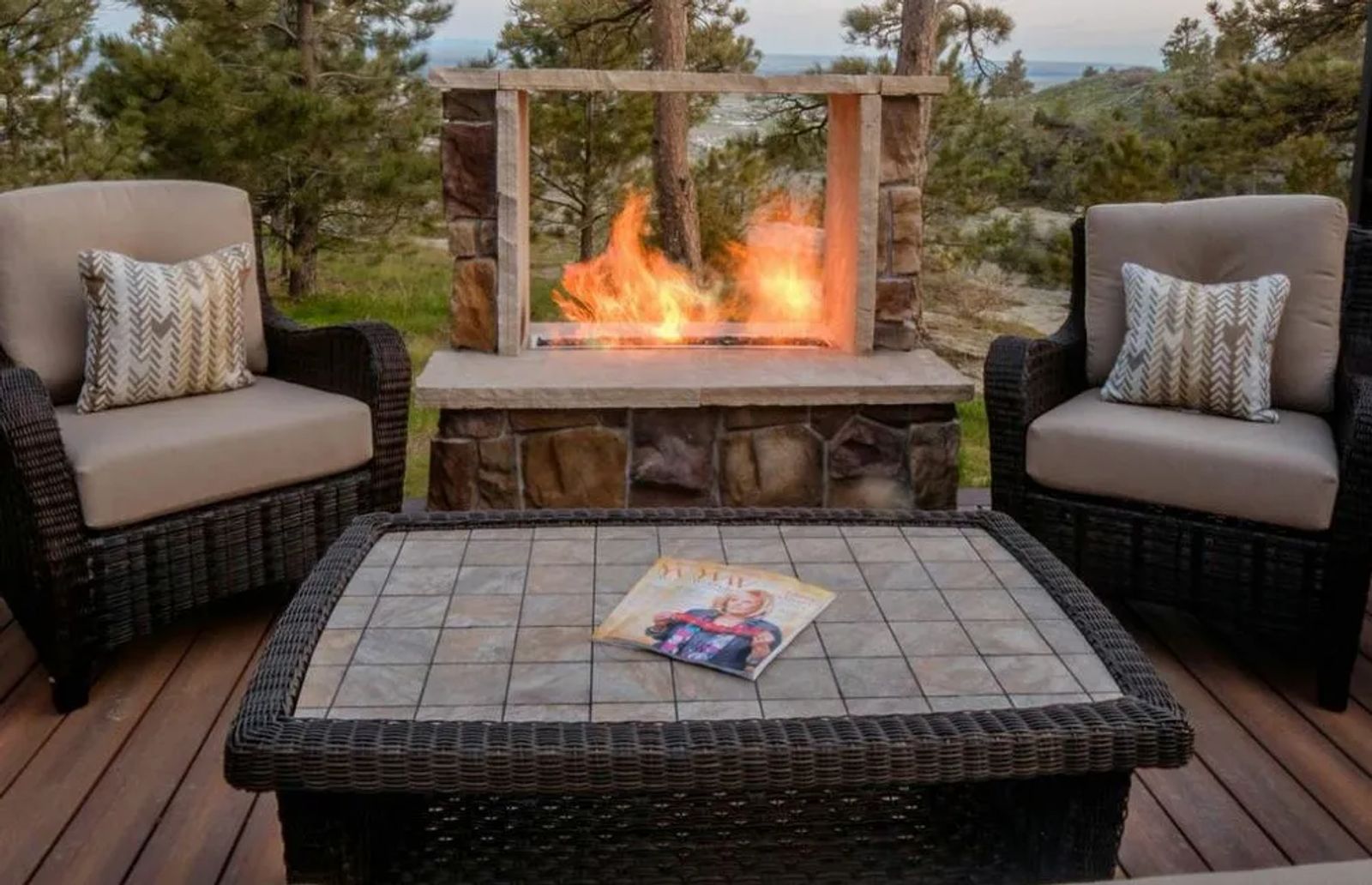 It took upwards of eight weeks to construct this space, and now, looking at the finished design, Naylor says he couldn't be happier. "I'm on cloud nine. I am so proud of my guys. They did a bang up job. There were challenges with framing and some of the angles of the different tiers. They just knocked it out of the park." Rohnn and Dawn couldn't agree more. "We are thrilled. This will be our first summer to really use it." And this couple knows that this is where they will "live" and enjoy Billings' beautiful summer nights. Rohnn says, "It is so relaxing, it's unbelievable."
PHOTO GALLERY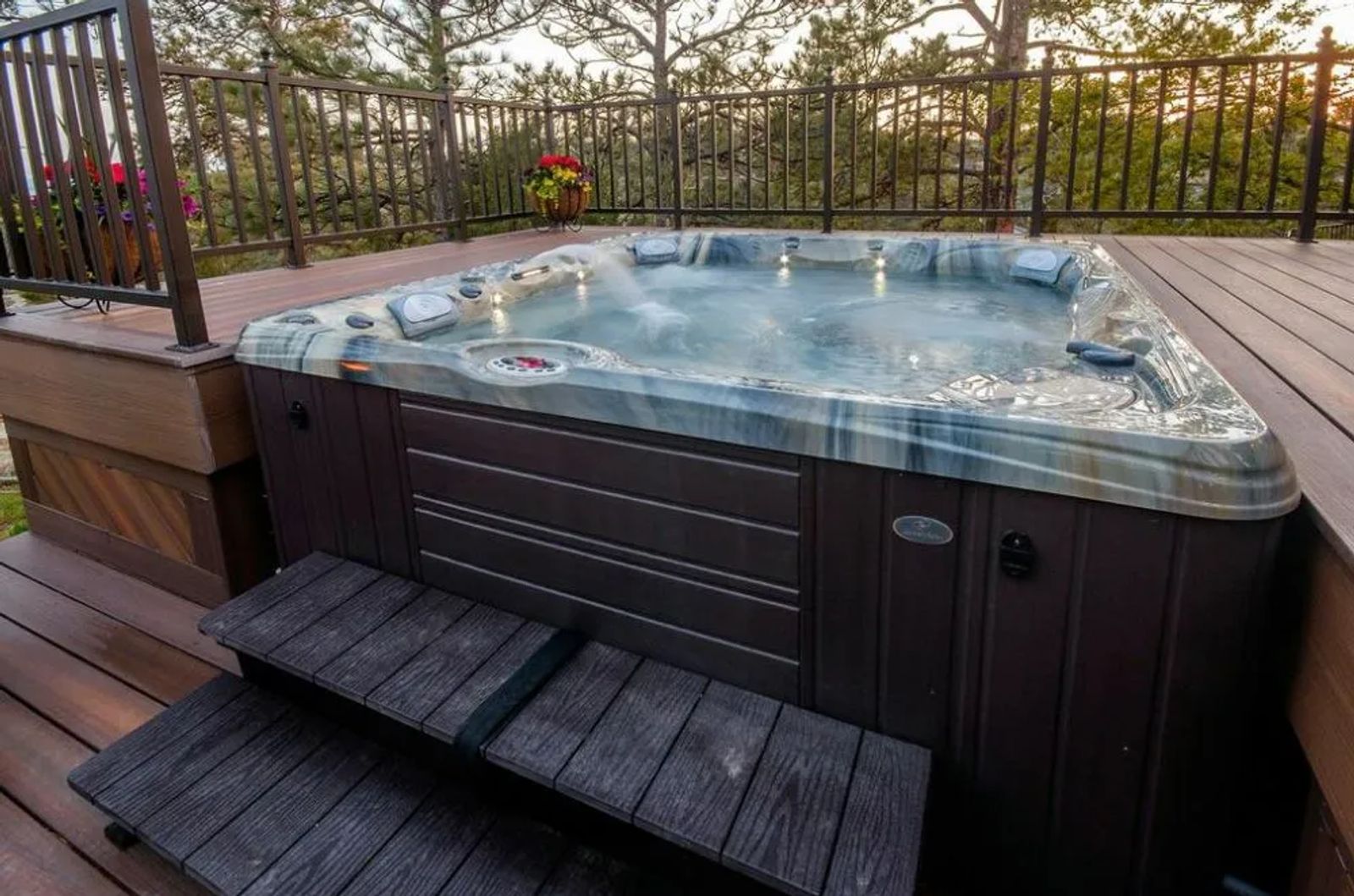 With the updated deck design, the Montana Hot Springs Spa Hot Tub truly takes center stage. Rohnn and Dawn not only love the LED lighting and waterfall effect that a trio of jets creates, but the fact that they don't have to worry at all about the hot tub's upkeep. Rohnn says, "Montana Hot Springs' Valet Service is incredible. They come out and I don't have to worry about the chemicals and balancing. They take care of all of that."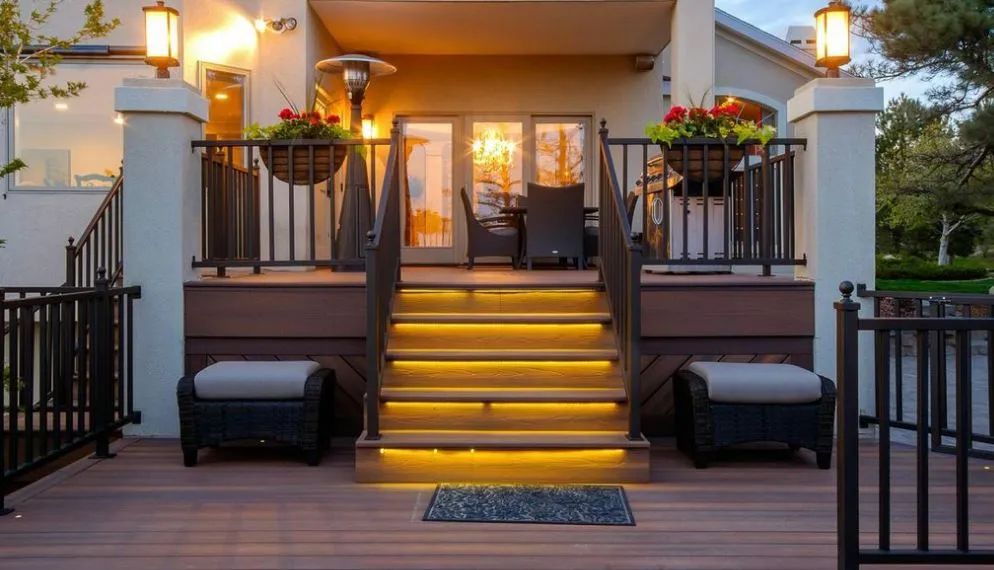 Thanks to Action Electric and Bloedorn Lumber, casting a glow with lighting was a breeze. Action Electric handled all the wiring to make sure that these puck lights and LED strip lights under each stair could truly shine.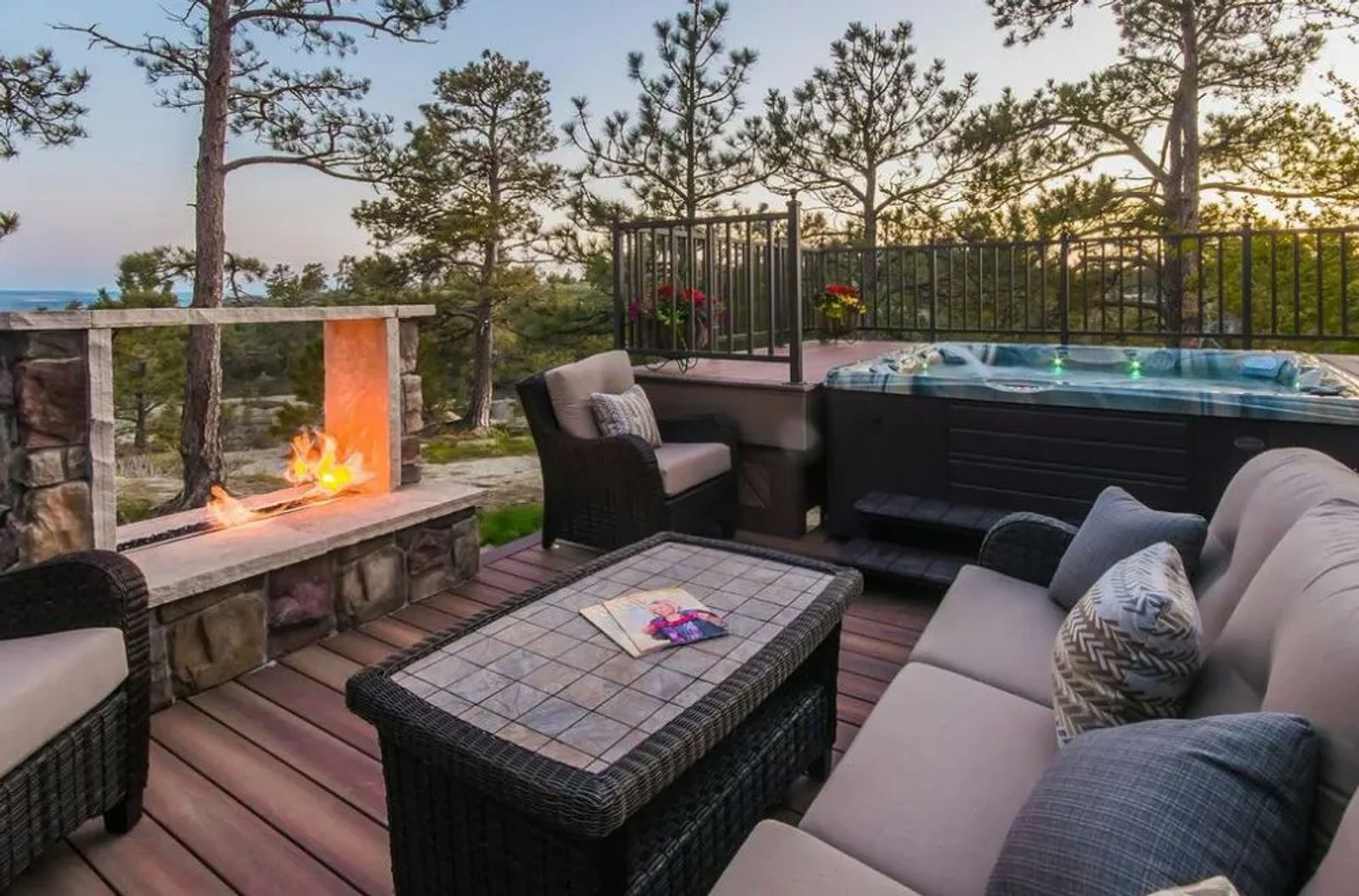 Crafting an outdoor fireplace that didn't shield guests from the amazing views was key on this project. Thanks to White's Heating and Cooling and O'Hara Masonry, the two companies worked together to provide the beautiful fireplace element and stunning rock work needed for this eye-catching addition to the deck. Also, maintenance won't be an issue with this Fiberon Composite Decking from Bloedorn Lumber. As Rich says, "This product has a 25-year stain and fade guarantee and that is just for the stain and fade part of the product. The decking itself will last much longer."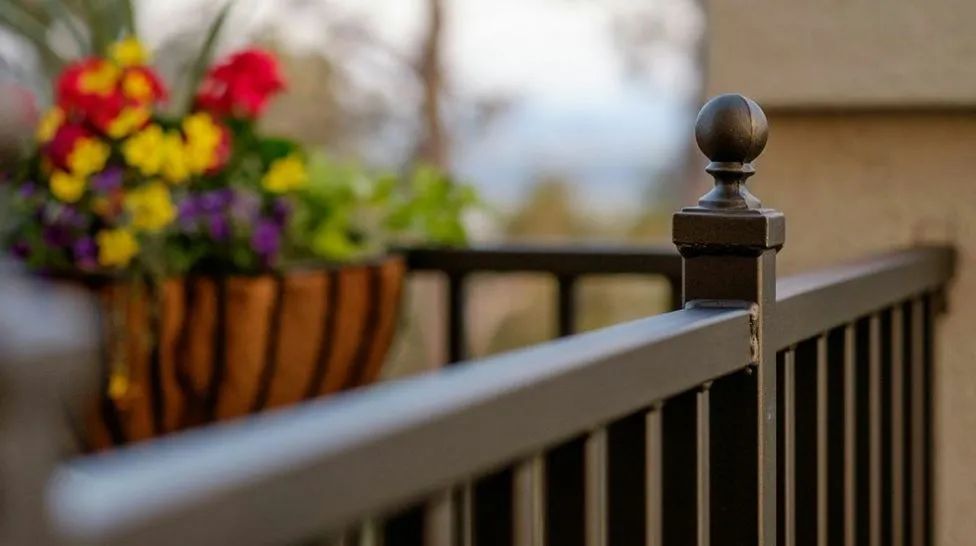 In the case of the deck's railing, what was once old is new again thanks to ICS Powder Coating & Blasting. This railing, once white, reached all across the deck. After sand blasting, ICS used a beautiful oil rubbed bronze finish. This is just one of more than 150 colors that ICS has available for powder coating projects. Rohnn says, "It adds just a classier feel to the deck. This is more subtle and it fits into the landscape here a little better I think."