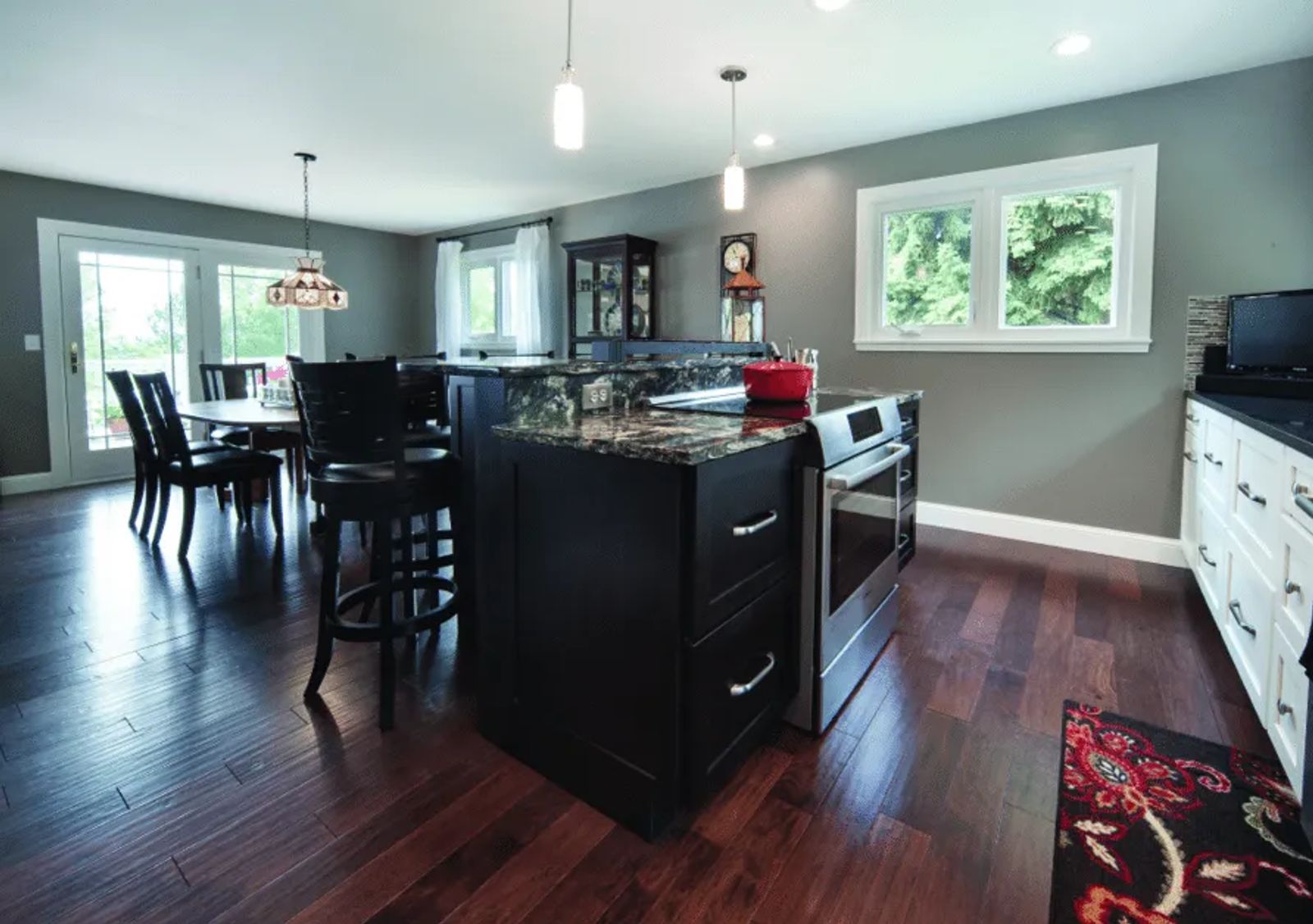 A True Conversation Piece
Couple's home puts entertaining center stage
When Terry Steel walks into the kitchen to grab a bite to eat before heading off to work, she walks into a space bathed in light. Every detail has been thought through. Each bit of kitchenware has its place. The family's decorative plates sit pretty in a glass front cabinet that offers lighting from above. The island begs for friends to come for a visit. This space not only works well, it's an eye-catching showpiece with a sleek contemporary edge.
"It was the little things that made all the difference," Terry says as she runs her hand over a section of the newly installed custom trim. "I just marvel at the craftsmanship," she adds.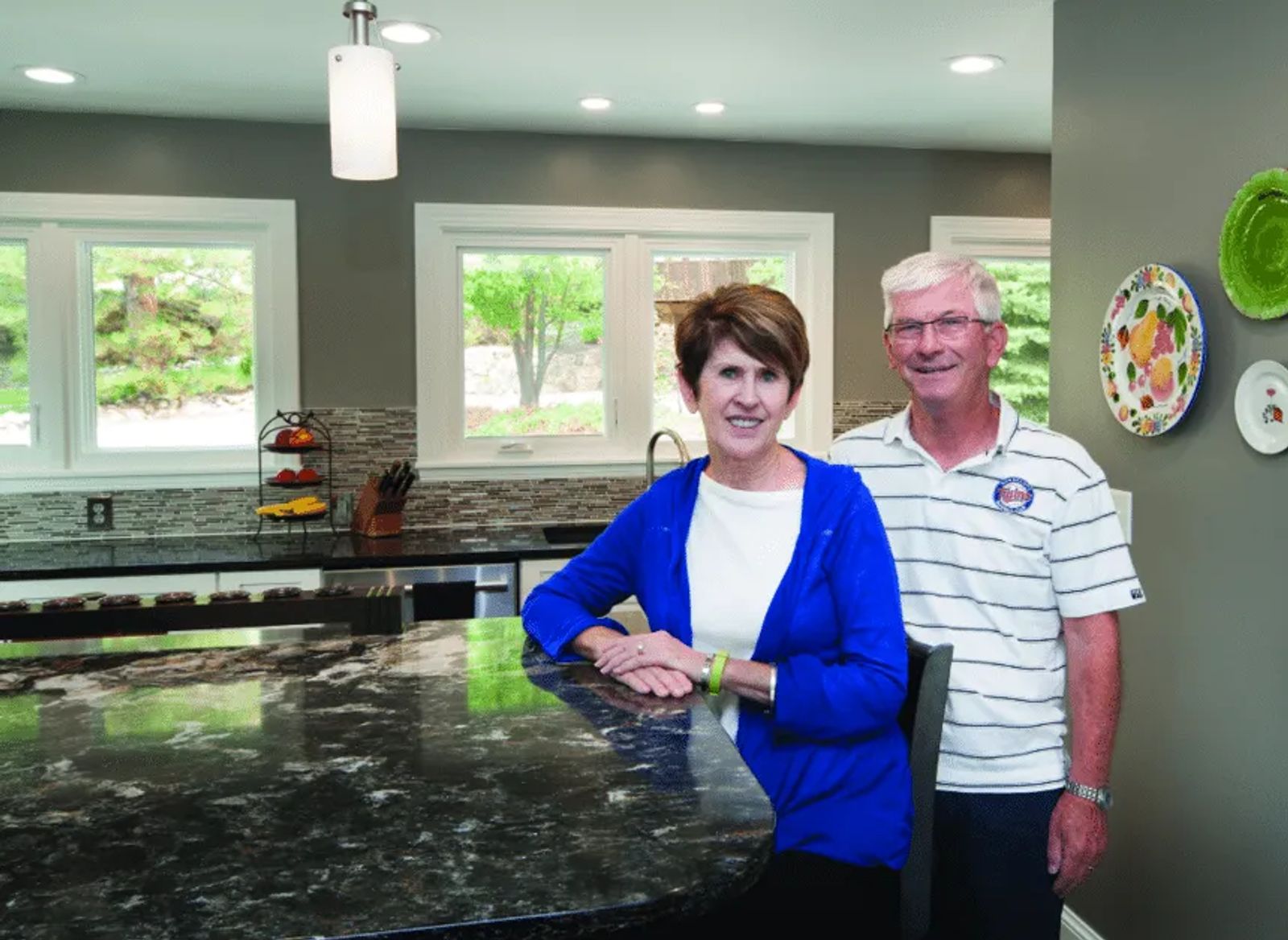 She and her husband Bruce had debated an update to their main living area for years but never felt like they could take the step to tackle a remodel. It wasn't until they saw a few remodeling jobs that friends had done that they felt the pull to give the heart of their home a facelift. "I just walked into my kitchen one morning and said, 'Maybe we should do this!'"
In a couple of their friends' homes, they saw Freyenhagen Construction's finished work and were wowed by the results.
"We had done small updates like putting on new hardware and painting the walls but even that was really dated," Terry says. The cabinets had been painted multiple times and the flow of their galley kitchen just needed a redo. "Jeremy was so sweet that when we said that this area was so dated he said, 'If we had done it, we would have been doing it again because it would need it by now," Terry says.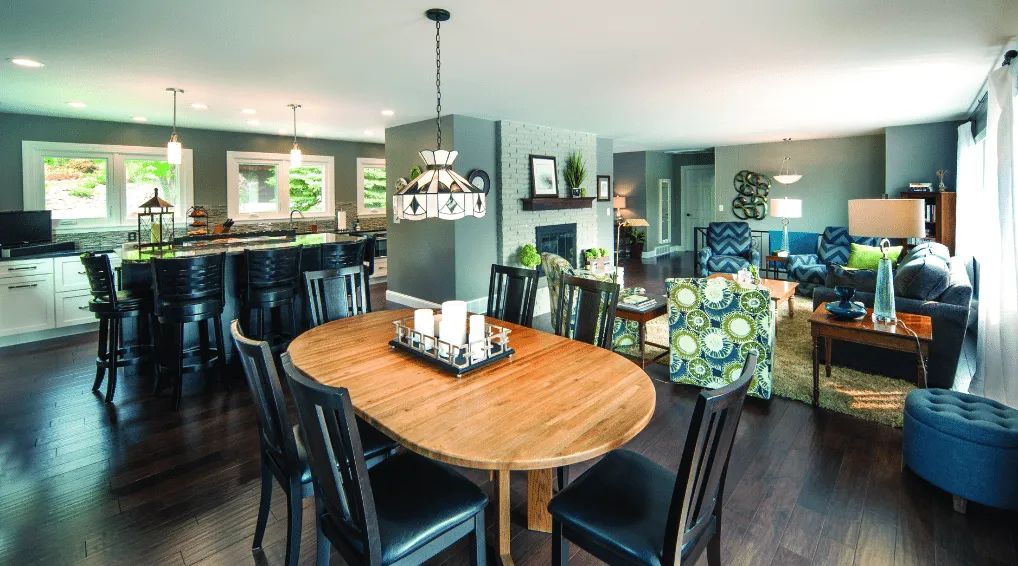 In the spring of 2015, the transformation began. Terry smiles and says, "The whole area was gutted to the studs!" While the goal was to open up the space, Terry says, "You would think that after years of planning that I would have a lot of ideas, but I didn't." And so, during the planning process, Jennie Kolk, designer with Freyenhagen Construction, became her right hand woman. "I said, 'You decide what goes where.' I just trusted her so much."
For Jennie Kolk, it was a pleasure. "Terry and Bruce knew their overall goal and the look that they wanted, but we were able to tweak the layout so that they were able to get more cabinetry than they ever thought they could."
The couple took out a wall to make space for an oversized two-tier island covered with Hollinsbrook Cambria Quartz. Jennie adds, "The quartz on their island is quite dramatic, there is a lot of pattern to it." It's bathed in shades of ivory and black, with slivers of rust and splashes of mica sparkle. It's a perfect complement to the more understated Blackwood Cambria Quartz counters, which sit under the main kitchen cabinetry. The island's bar stool height is perfectly aligned with the kitchen windows offering a stunning look at the rims that encircle the couple's home. "They have these beautiful views of the rims," Jennie says. "If you were sitting down at table height, you wouldn't get to enjoy those views."
Not only is this island big enough for five bar stools, the lower level offers a cook top so the "chef" can be right in the middle of the action.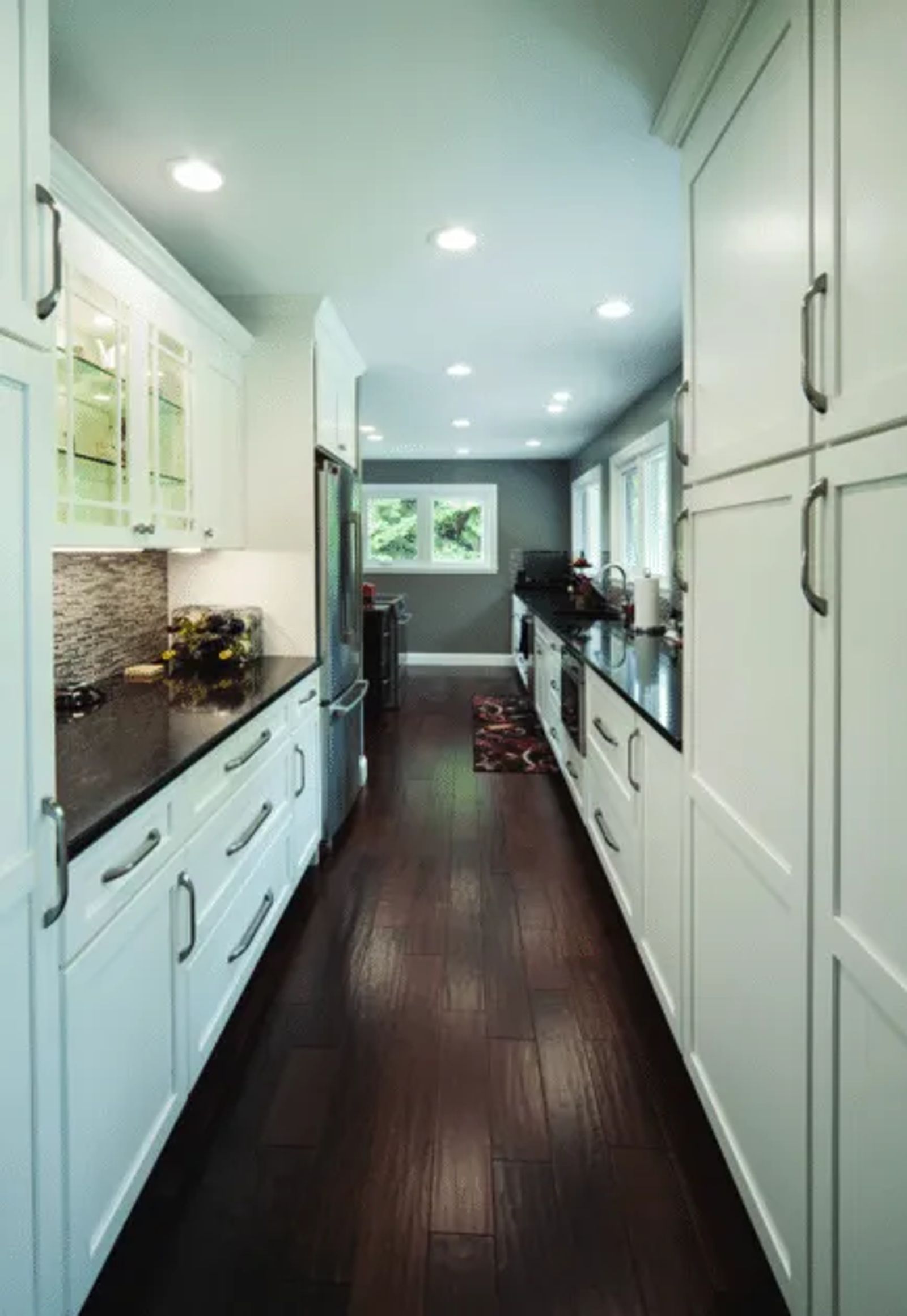 The Medallion cabinets with a white painted finish offer a sleek low profile design with sharp looking brushed nickel hardware. Each cabinet "works" for the Steels. Terry walks over to one of the massive soft close drawers and as she opens it, she says excitedly, "It is really a pleasure to open up a junk drawer now. I love it! And, we call this my thousand dollar drawer because it holds all my dollar store plastic containers." Terry laughs and adds, "You have to be a little obsessive to find pleasure in opening this up!"
While the cabinets offer a light and airy feel, the hand-scraped hickory engineered hardwood floors offer a rich contrast in a chestnut brown stain. Pierce flooring not only provided the expertise in helping the Steels choose their flooring but offered some suggestions on how to pull the look of the kitchen together with the striking glass tiles that feature stainless steel accents embedded in the design.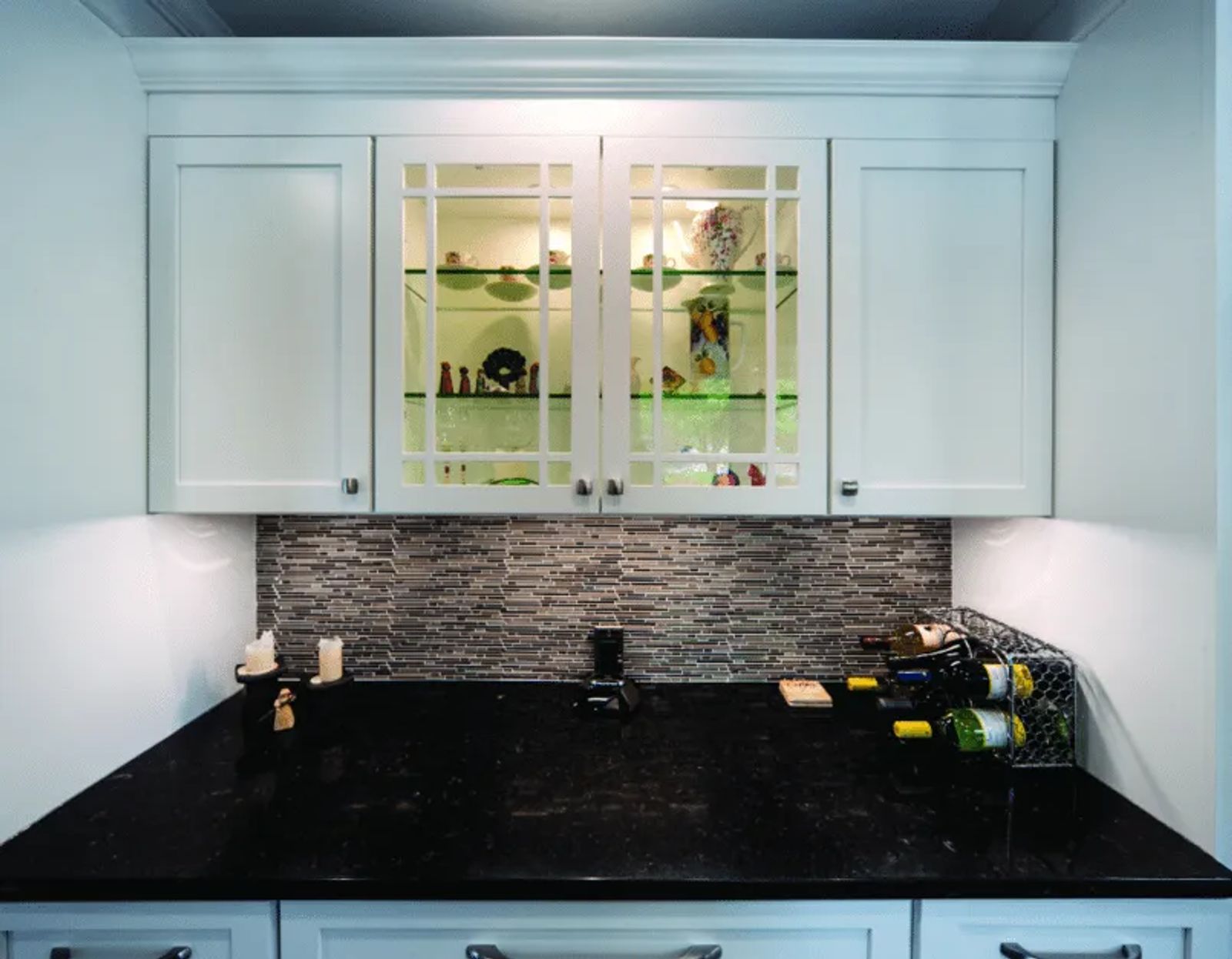 Today, when Terry is busy cooking dinner or fixing up some munchies for company, Bruce can be nearby in the couple's living space. This part of the remodel also offers a contemporary edge thanks to the design eye of Carrie Klein, designer at Furniture Land USA. Terry smiles and says, "Carrie had note pad and she just got to work with me!" The result is furniture pieces that play perfectly to the area's rich grey walls. Terry says, "I wanted something wild because there is a lot of grey. I wanted something eye catching." Today, the couple not only has throw pillows that pick up on the color scheme but two swivel chairs in bold patterns with hints of blue and lime green, giving the space that pops of wild color Terry desired.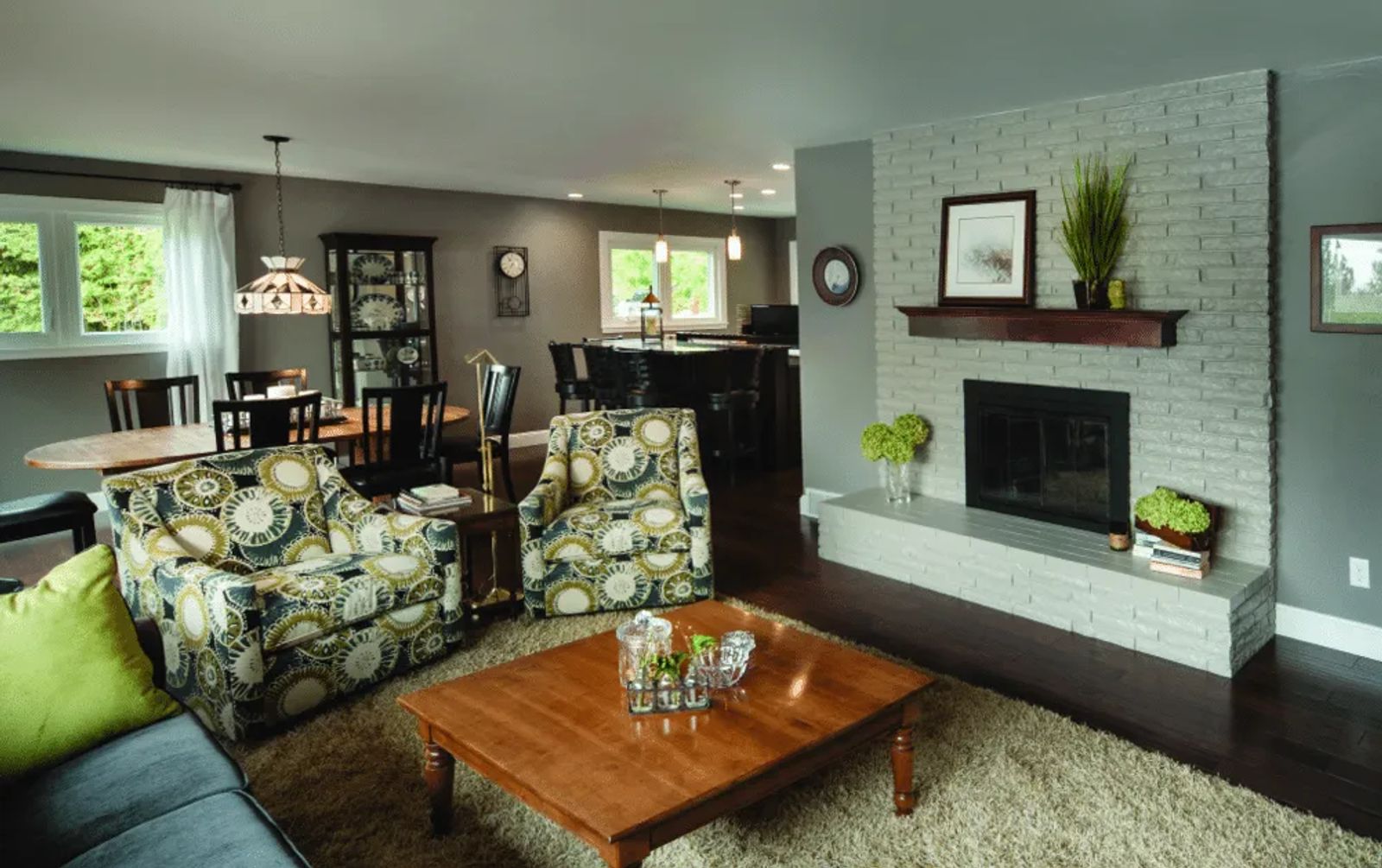 For Bruce, it was the little things that made him pleased. "Someone mentioned to me that because I worked at home, I could be here to catch the mistakes as they happened. Well, there weren't any," he says with complete satisfaction. "The process they went through to do this made it so seamless."
While Terry now has a place for all her tools in the kitchen, Bruce is quick to point out, "The thing is now I have to learn how to use all of these things. I know how to cook tea now," he says as Terry laughs and adds, "I am not sure you cook tea Bruce. But, that's okay!"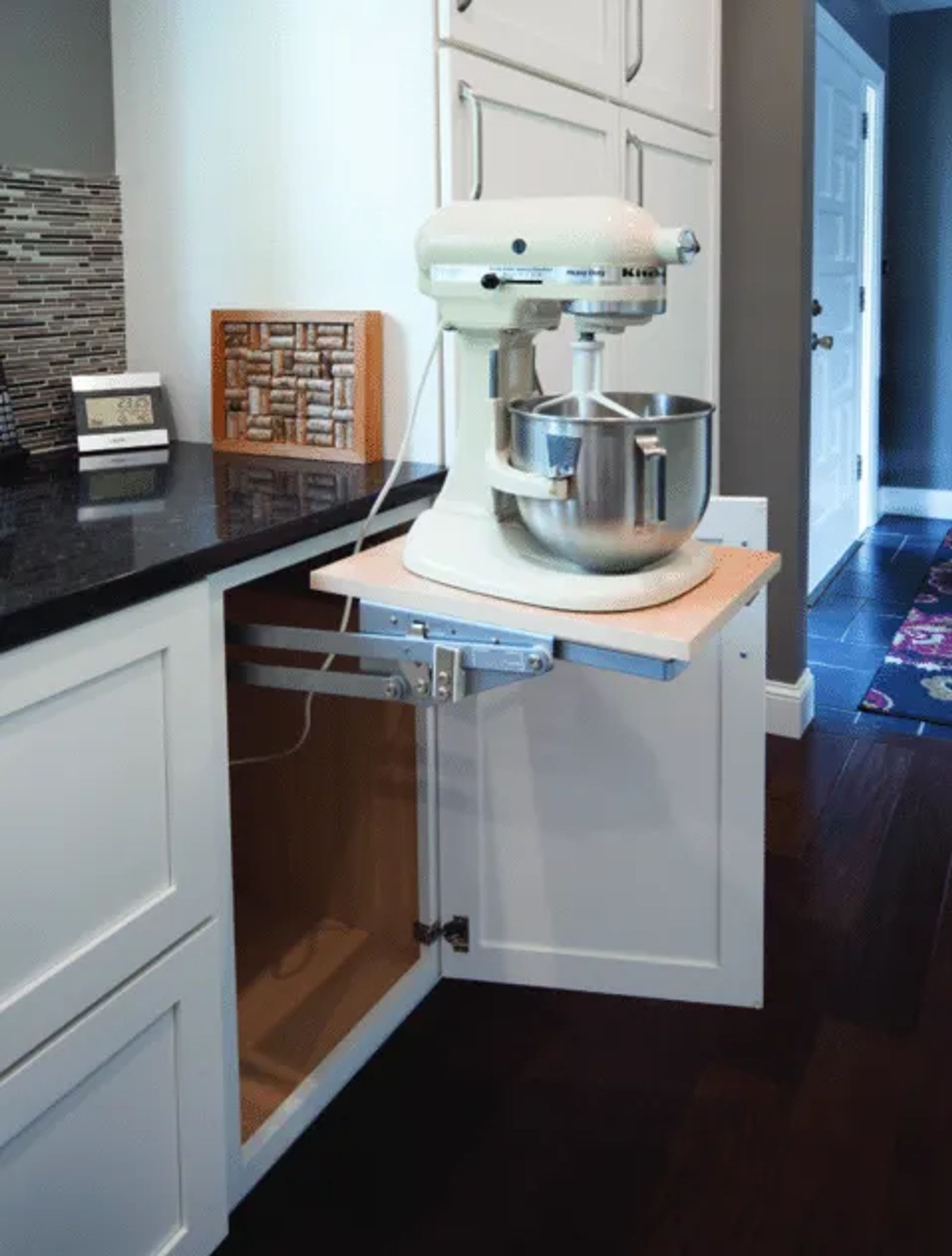 While the kitchen is Terry's realm, Bruce is confident the couple made the right decision with this design overhaul. There were times he tried to convince his wife to consider moving instead of gutting the center of their home. As he looks around the room and admires the view, he's glad they decided to stay in the 3,200-square-foot house that they've called home for 25 years. Instead of heading out on a Friday night for conversation and company, the couple hosts friends here instead. Terry says, "It is just a lot more fun to do it now." With a huge smile on his face Bruce adds, "When Mama is happy, everyone is happy and Mama is really, really happy!"