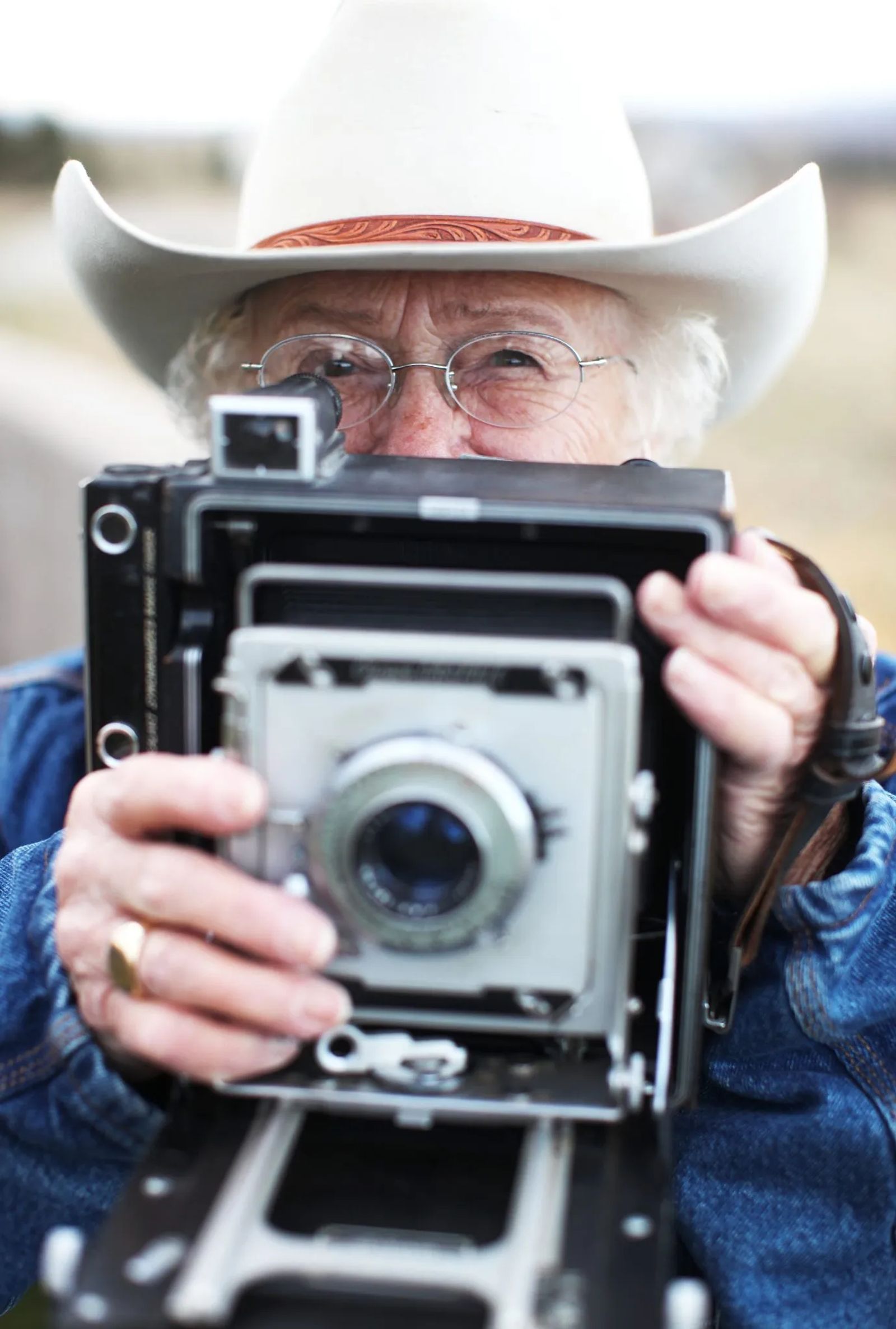 A View from the Saddle
Barbara Van Cleve documents the humanity in ranching
On her daily walks, Barbara Van Cleve keeps an eye on the sky.
There's something about the voluminous clouds, so unique to the Montana landscape that lure her in. As she's gotten older, they've captivated her more and more.
At 81, Van Cleve isn't mesmerized by the details anymore — it's the bigger picture she's after. The veteran photographer grew up under these big white behemoths on her family's ranch in Melville, which they've owned since 1880.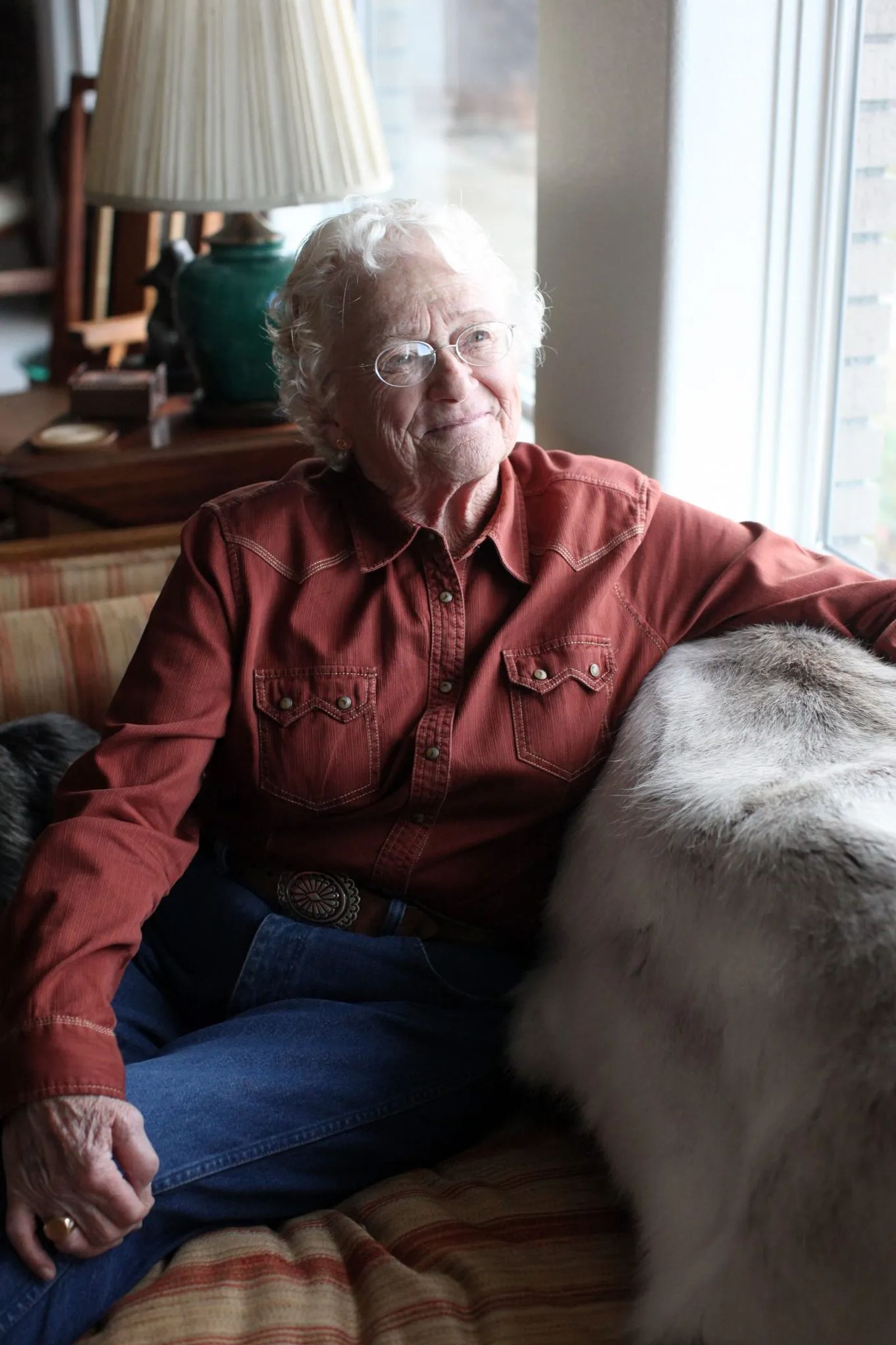 It's rolling hill country, punctuated with vast plateaus, and overshadowed by the Crazy Mountains.
The range is not unlike Van Cleve herself – rugged and mysterious, but capable of so much beauty.
It's there that she got her start documenting ranch life.
"I thought it was beautiful, it was wonderful and interesting, and I wanted to communicate that to the people," Van Cleve says of ranching, "but I couldn't draw, I couldn't paint."
But she pored over the issues of Life Magazine and the Saturday Evening Post that came to her house and fell in love with the raw imagery of photographic greats like W. Eugene Smith.
She couldn't draw, but she had an eye for beautiful things – and for light.
Van Cleve begged her parents for a camera and at age 11, was presented with a Brownie box. She shot 120 negatives that were processed 20-some miles from her home at the local drug store in Big Timber. It was expensive to develop the negatives, so she became very careful with her shooting, waiting patiently for the right moment, for that one shot.
"People have said to me so often, 'Well what else did you shoot of that?' and I say I only make one shot," she says. "I've never used a motor drive. I don't believe it."
As she grew older, she delved further and further into the world of photography. Van Cleve began developing her own prints at home, and later joined the high school yearbook staff which gave her access to a real darkroom.
But when she told her parents about her desire to pursue photography professionally, she was met with a resounding 'no.'
"I said I'd love to be a photographer and both of them said a woman cannot make a living in photography," Van Cleve recalls.
Teaching, she discovered, was the next best thing.
While she pursued her degree in Chicago, she didn't give up on photography. In her off time, Van Cleve sought out assignments from ad agencies and took studio photography classes at another university. She later established a stock photo agency in the city, but soon tired of handling other artist's work – she wanted to produce her own.
So every summer, she'd return to Montana, climb on a horse and capture what unfolded in front of her.
"No way could I be away from it," she says. "No way at all."
To do this, Van Cleve would haul a 4 by 5 Crown Graphic or a Mamiya twin lens reflex with her everywhere she went, in whatever weather Mother Nature had up her sleeves.
A Quiet Night - The Big Dipper ©2011 Barbara Van Cleve[/caption]
"If we were moving cattle, I thought. 'Oh boy, we were going to have fun with lines' and I was on horseback so I could get where I needed to be," she says. "I had certain horses that were really good and knew what I wanted."
But it wasn't all sunset skies and campfires.
"I remember one time I'd hung (my Mamiya) by the strap on the saddle horn and I was up in the lakes in the Crazies," she says. "I don't know what spooked my horse … he gave a great leap and this thing whooped him on the side and he went bucking across the rocks. The camera came off and I went roaring over to it."

Luckily, only a small piece on the viewfinder had been damaged.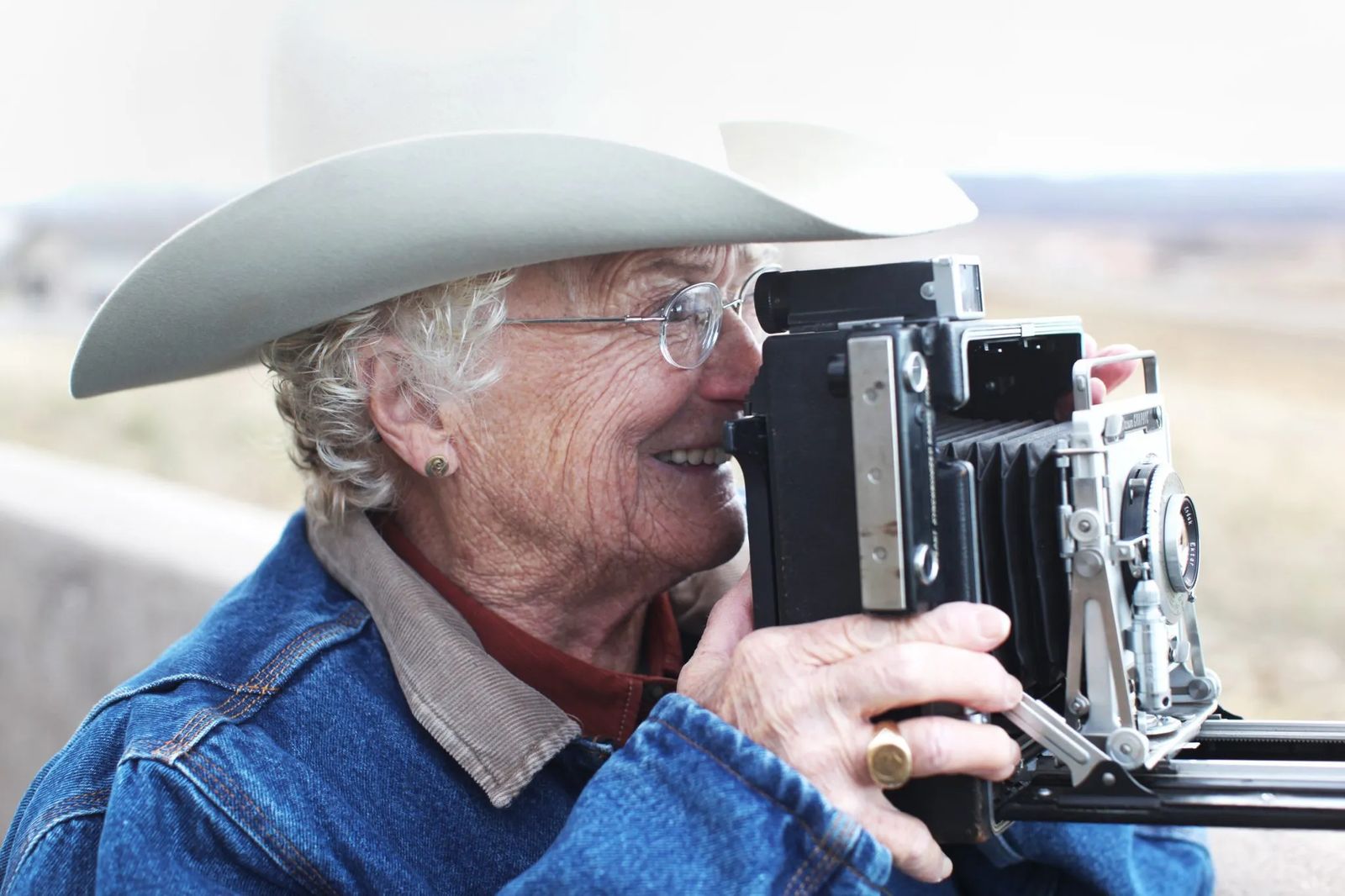 Although the work she did was at times, dangerous, most of Van Cleves challenges didn't come from the saddle.  She was a woman in a man's world and the world knew it.
"Any guy who came out west with a camera and photographed ranch life was considered to be more informed, or his photographs had greater value than mine did as a woman. Oh, that irritated me because most of these guys were city boys!" Van Cleve says. "I had to fight that battle all the time."
But Van Cleve, in her self-admittedly stubborn nature, stuck to her guns. She kept shooting and selling her work.
Van Cleve's latest achievement is a book titled "Pure Quill", a collection of her best ranch photography. In it are sweeping landscapes peppered with sheep and cows, quiet moments between man and horse and everything in between.
All of the images are in black and white, in Van Cleve's preferred style.
Brewing Storm - No Time For Lunch ©2000 Barbara Van Cleve[/caption]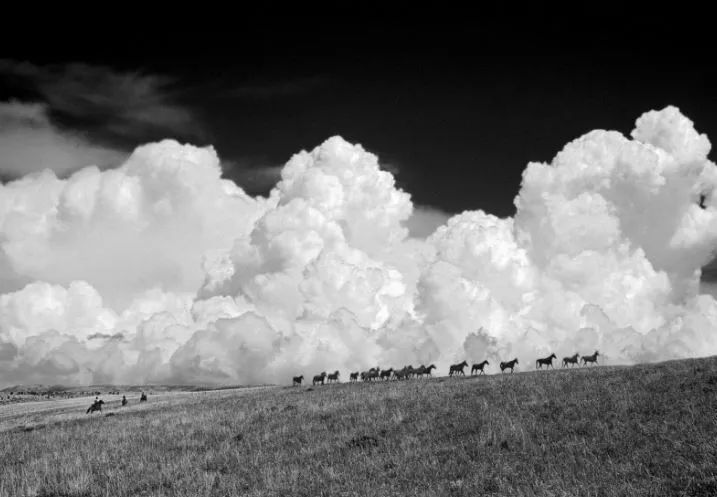 "Color's OK – that's what we see when we see the world, but I didn't really care for that. I pasted a piece of red cellophane across the viewfinder and I learned to see in tonal grays," she said.  "At first it drove me crazy, but I can be kind of stubborn about things like that and I pursued it. Even to this day I almost see in black and white."
Color, she said, can be seductive, but it also detracts from the heart of the image – the lighting and composition.
"It is the light that makes the difference," Van Cleve says. And it's the light that keeps her coming back, keeps her exploring.
Horse Whispering Carol, A Woman's Touch©1996BarbaraVanCleve[/caption]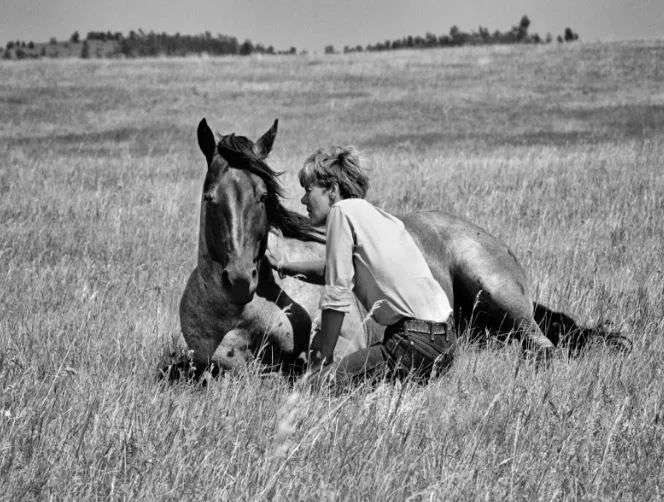 She hopes to show the world the parts of ranching that people don't see at rodeos or parades. In her work 'Horse whispering: Carol, a woman's touch', a woman is pictured sitting in the grass conversing intimately with a horse who'd lain down in the grass. Another shot, titled 'A quiet night: the Big Dipper' depicts Van Cleve's nephew gazing up at the night sky illuminated only by moonlight with the Big Dipper hanging above. There are more explosive moments too, but these quiet ones show the heart of ranching, the symbiotic relationship between ranchers and their animals.
"What I hope people take from my photographs is a certain emotion. I hope they share the emotion I felt when I made the particular photograph," Van Cleve says.
She smiles when she says this, with a glint in her eye as if to say 'And I'm not done yet.'
"I don't consider it the end of my career – not by a long shot," she said. "I'm going to continue to shoot on horseback. I may not be shooting at a hard gallop … but I'll be out there."
TO EXPLORE MORE OF BARBARA VAN CLEVE'S WORK, visit barbaravancleve.com.