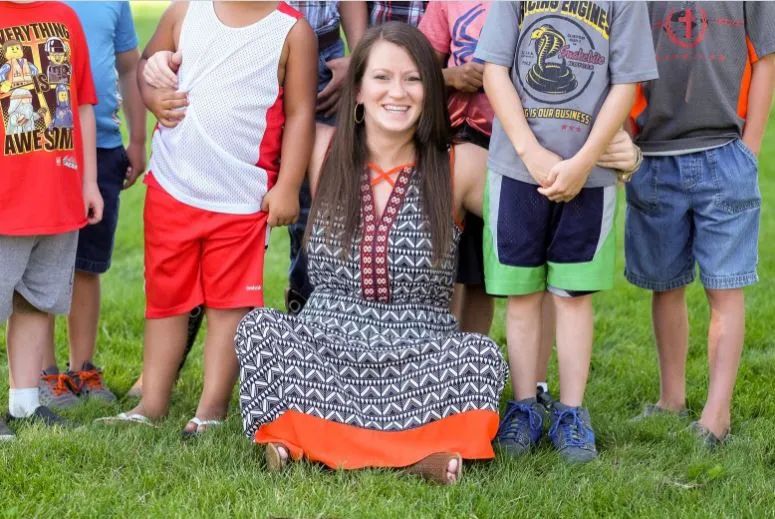 Cover Story: A Warrior in the Trenches
Former Foster Care Child now serves as a Child Protective Services Worker helping mend families

On a scorching hot mid-week evening, the dappled light casts its glow through the branches of the cottonwood trees that tower over Billings' South Park. A young mom sits in a camp chair watching her two spirited toddlers run around playing just a few yards away from a heated game of Frisbee football. Across the way, a family sets up dinner under a picnic shelter, ringing in a celebration complete with balloons. And, just down the block two vans with the windows fully rolled down seem to be "home" for two different families. It's a sharp contrast.
For 31-year-old Kayleigh Wichman, South Park is a place where an 8-year-old girl learned rather quickly how to become an adult.
"Every time I drive by the park, it always brings back memories," Kayleigh says today.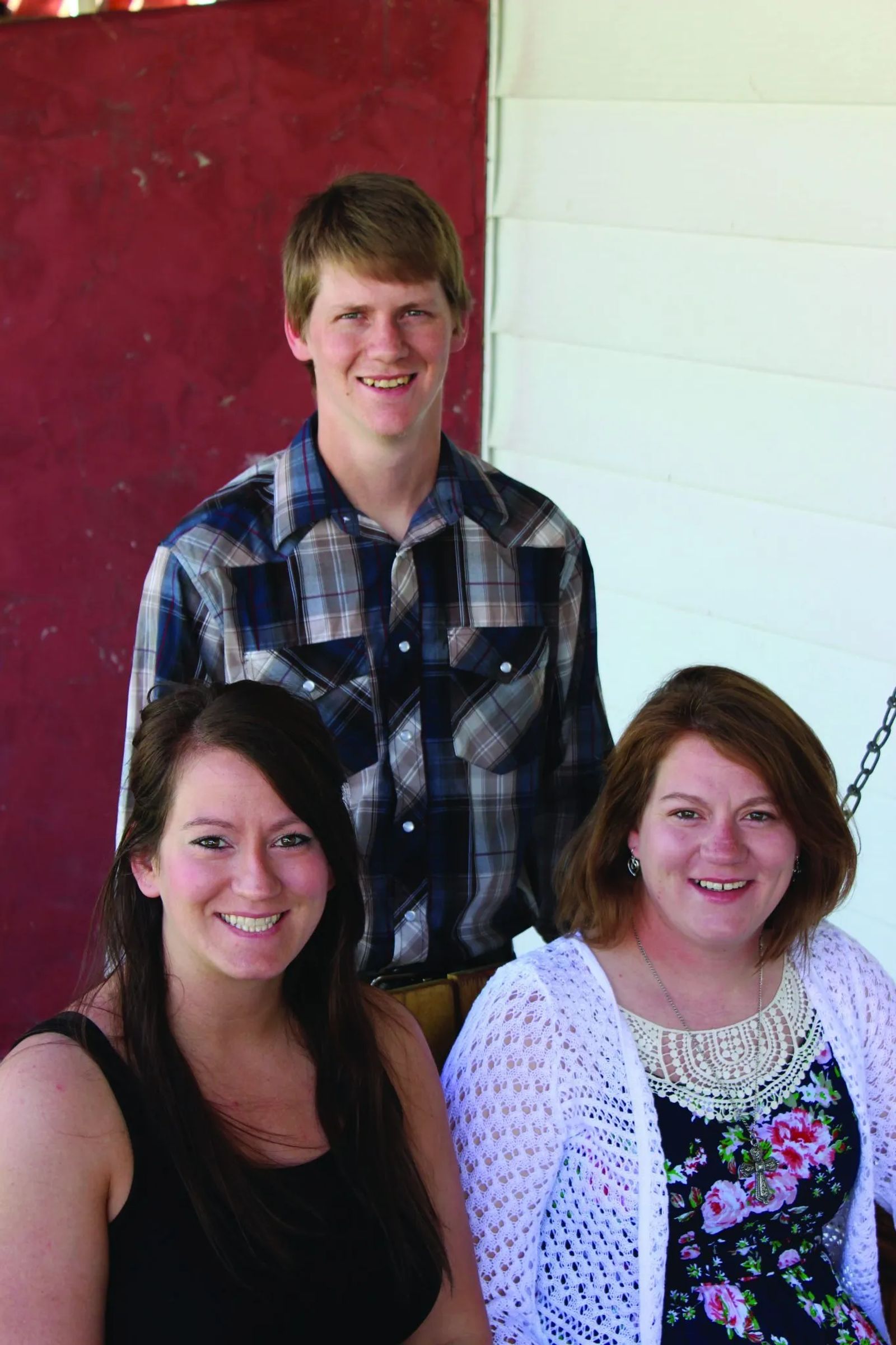 During the summer evenings, Kayleigh, her 9-year-old sister Jackie, her 6-year-old brother Adam and her 3-year-old brother, Kenny were dropped off somewhere on this 16-acre parcel of park space, forced to survive while their mom hit the city's nightlife.
"We'd be there all day and night while she went and did whatever she was doing —getting drunk or high," Kayleigh says. At times, her mother returned in the wee hours of the morning after a night of drinking, dabbling in meth or downing painkillers that she bought from dealers on the street. Other times, the four were left for days, begging for food from those who lived nearby or shoplifting meals from neighborhood grocery stores. "We would dumpster dive too. I remember there was an old box of fried chicken that we scooped up and ate. We all got really sick. For me, that day was symbolic because I look back on that as one of the most frustrating days of my life — when I thought I was 8 going on 30. I was thinking to myself, 'This cannot keep happening.'"
If you can believe it, Kayleigh describes the park as a bit of a respite. During the school year, the living conditions were far more desperate. "We had an old beat up truck with one of those campers that sits on the top. During the school year, she would pick us up at school and park in the bar parking lot and she would lock us in there. When she put the tailgate up, there was no way to open the door." Kayleigh says looking off into the distance, clearly calling to mind those vivid, troubling memories. "It would get so hot in there. We had no bathroom facilities. We would pee in the sink. There were times when we would have no food or water and she wouldn't come back out until 2 in the morning."
At the time, the kids didn't go home because the family didn't have one. They'd been evicted long ago.
"We'd sleep in the bar parking lot and the next morning, she would drop my step-dad off at work and drop us off at school and we'd do it all over again," Kayleigh says. She says that during one stretch of time, she went more than a year between baths or showers.
When Kayleigh's sister, Jackie, turned 10, she tried to serve as the breadwinner for all four. Kayleigh explains how there was a man at South Park who would give kids a few bucks or some food if they would, in turn, mule drugs for him. Kayleigh says, "He would put the drugs in your backpack and then send you to a place to meet up with someone, like the gas station or Terry Park. He would tell the kids that they weren't allowed to look in the backpack."
When Kayleigh's sister vanished one day, she immediately assumed the worst. "Here I am, 9 years old in 4th grade and I was literally sick to my stomach. A week went by and I kept thinking, she's dead. She got into some serious trouble. Even at 9 years old, I understood the severity of what she was doing."
When Kayleigh's mom barged into her 4th-grade class during Jackie's disappearance, her fears escalated. "My mom looked at me across the room and said, "Have you seen your sister today?" I said 'No' and just put my head down. I thought, here we go, another day and Jackie hasn't turned up."
The event sounded a much-needed alarm with her teacher at Broadwater Elementary. Kayleigh says, "That night, I remember thinking, I blew the big cover. I think my teacher knows something is really wrong here. I think my sister is dead and I think the rest of us are going to end up in foster care. It was doomsday for me." When the school day ended, Kayleigh adds, "My mom dropped us off at the park. Jackie was there." Come to find out Jackie had run away and was hiding out, living in a friend's garage until the friend's parents discovered her one morning.
The next morning, CPS workers arrived at her school fully armed with questions.
"One person took my sister and went one way and another person took me and went another way. I remember being completely overcome with emotion. I cried and I cried and I cried," Kayleigh says.
Foster care proved to be a rocky road for this tough-as-nails kid. The first family was supportive and loving. Kayleigh says, "I remember thinking that was the first time someone had hugged me in a really long time." But in time, Kayleigh was moved to a second home in an effort to reunite her with her siblings, Jackie and Adam. Kayleigh says it wasn't good.
"After I moved, there was a lot of verbal and mental abuse," Kayleigh says. "The foster mom had very odd forms of punishment." Kayleigh starts to recall a time when she accidentally vacuumed over a spot of water, ultimately ruining the machine. The woman became so incensed, Kayleigh says, "She told me, 'You are going to stand in the corner.' I stood there from 10 in the morning until about midnight. I didn't get any meals. I eventually wet my pants, which is humiliating for a 10-year-old. She made me take my pants and underwear off so that I was nude from the waist down and had me put my urine-soaked underwear on top of my head." When Kayleigh was finally told to go to bed she says, "My sister and I had this conversation where she said, 'I wish we were both dead because it would be better.' I said, 'Yeah, me too.'"
When the kids finally, as Kayleigh describes it, "spilled the beans" on the abuse going on, the woman lost her foster care license and social workers immediately moved all three to a third home. At the time, their youngest brother, Kenny, was living about an hour away with a family named the Wichmans, who wanted to adopt him. That next Thanksgiving, Gordon and Mary Wichman invited the three siblings to join them for the holiday.
Kayleigh won't soon forget the feelings she experienced that weekend.
"I remember being struck by how kind and funny they were. Everything was so lighthearted when you were around them," Kayleigh says. She recalls looking out the window, watching the family's sheep running across the field. Gordon was outside with his two sons trying to teach Kenny how to ride a four-wheeler. Kayleigh was in the kitchen helping Mary roll out pie crusts for the big feast. She laughs as she says, "I remember thinking, 'This is so weird!'"
Before the weekend was over, the reality of what a loving family looks like started to sink in a bit.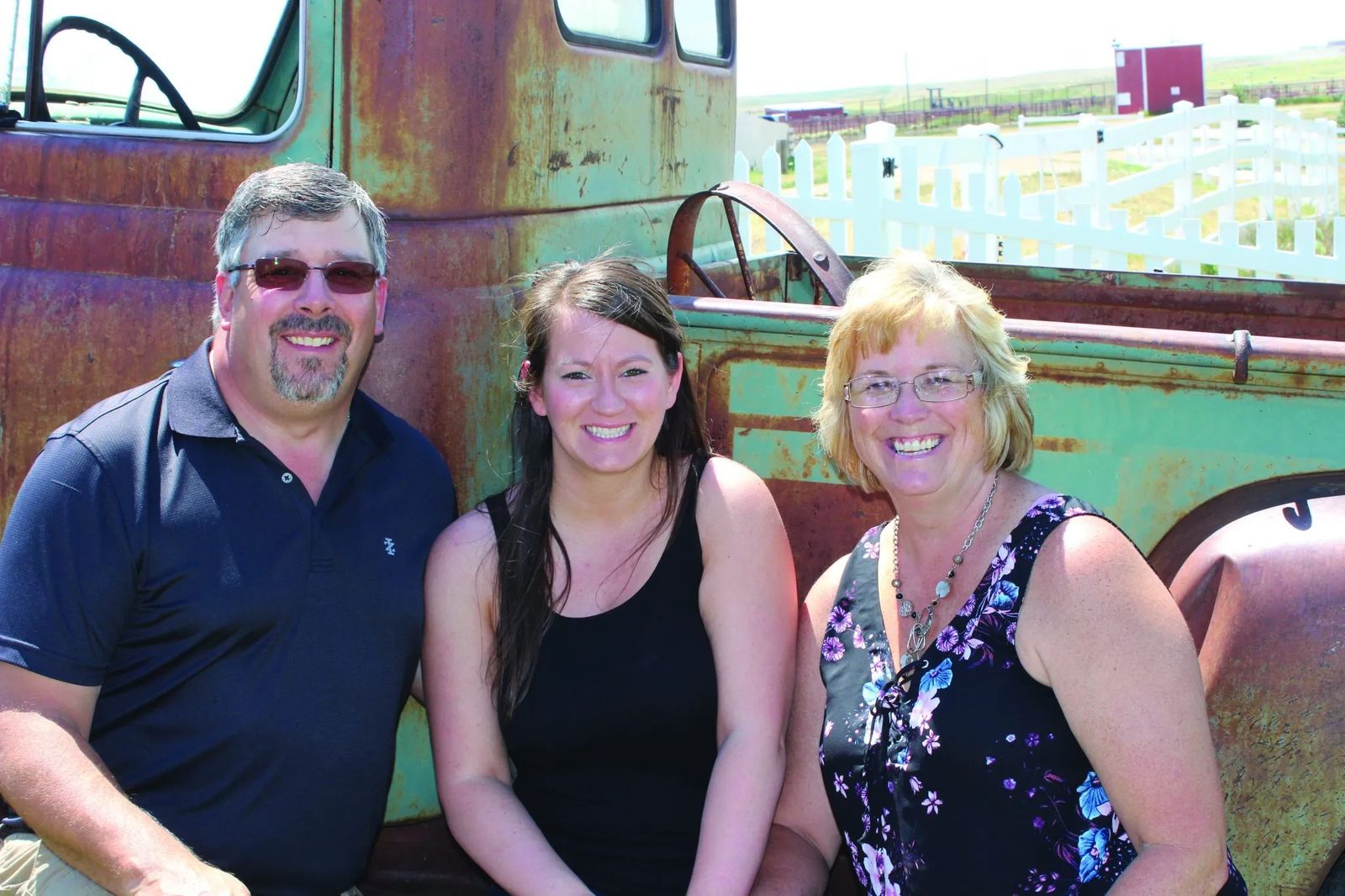 "Mary came over and stood by me. She put her hand on my shoulder and said, 'I have something to ask you.' She said, 'Would it be okay with you if Gordon and I adopted you?'" You could have pushed Kayleigh over with a feather. "I couldn't process it. It was too big for my brain."
Before Kayleigh turned 12, she was officially a Wichman and grew up 80 miles west of Billings in Big Timber. Life wasn't easy, but Kaleigh now had a loving and supportive family to lead her through some of her darkest days. "The older I got, the more I couldn't run away from the demons, the trauma," she admits. "I had to face the depression and PTSD."
Thanks to therapy and a whole lot of love, Kayleigh's resiliency prevailed. A warrior's spirit emerged. "I told myself, I do not want to be a victim of my childhood. I refuse to let other people's bad choices and my bad experiences to be the reason why I don't thrive as an adult. If it takes me 'til the day I die to keep learning and growing, by God, I will die saying I thrived."
With all that Kayleigh had been through, school proved to be a challenge. She was terribly behind and spent much of her high school and early college years trying to play catch up. Even still, she went on to earn a bachelor's in Psychology from Montana State University. This fall, she'll walk across the graduation stage again, this time having earned a master's degree in Child and Adolescent Psychology with an emphasis on neurological training related to childhood trauma.
Her entire career has been devoted to championing the causes of kids in the child welfare system, as a Child Protective Specialist and mental health counselor for teens. Today, she works on the front lines, and surprisingly, her office is right down the hall from the woman who once rescued her from a life of abuse and neglect.
"I thought, 'Oh crud,' now I really screwed up. She's coming back to teach me a lesson," Suzanne Braun says jokingly about the day she heard Kayleigh had been hired to work in Child Protective Services. It had been a long time since that one-time scared and introspective young girl sat in her office, hoping for an adoptive family. "Actually, I was flattered. I thought maybe I did make an impression and influenced her life," Suzanne says. Next February marks Braun's 30-year anniversary with the Department of Child and Family Services. She works as a Permanency Planning Specialist, fighting to find forever homes for the kids in Yellowstone County who desperately need one.
Kayleigh and her former case worker, now co-worker, Suzanne Braun. [/caption]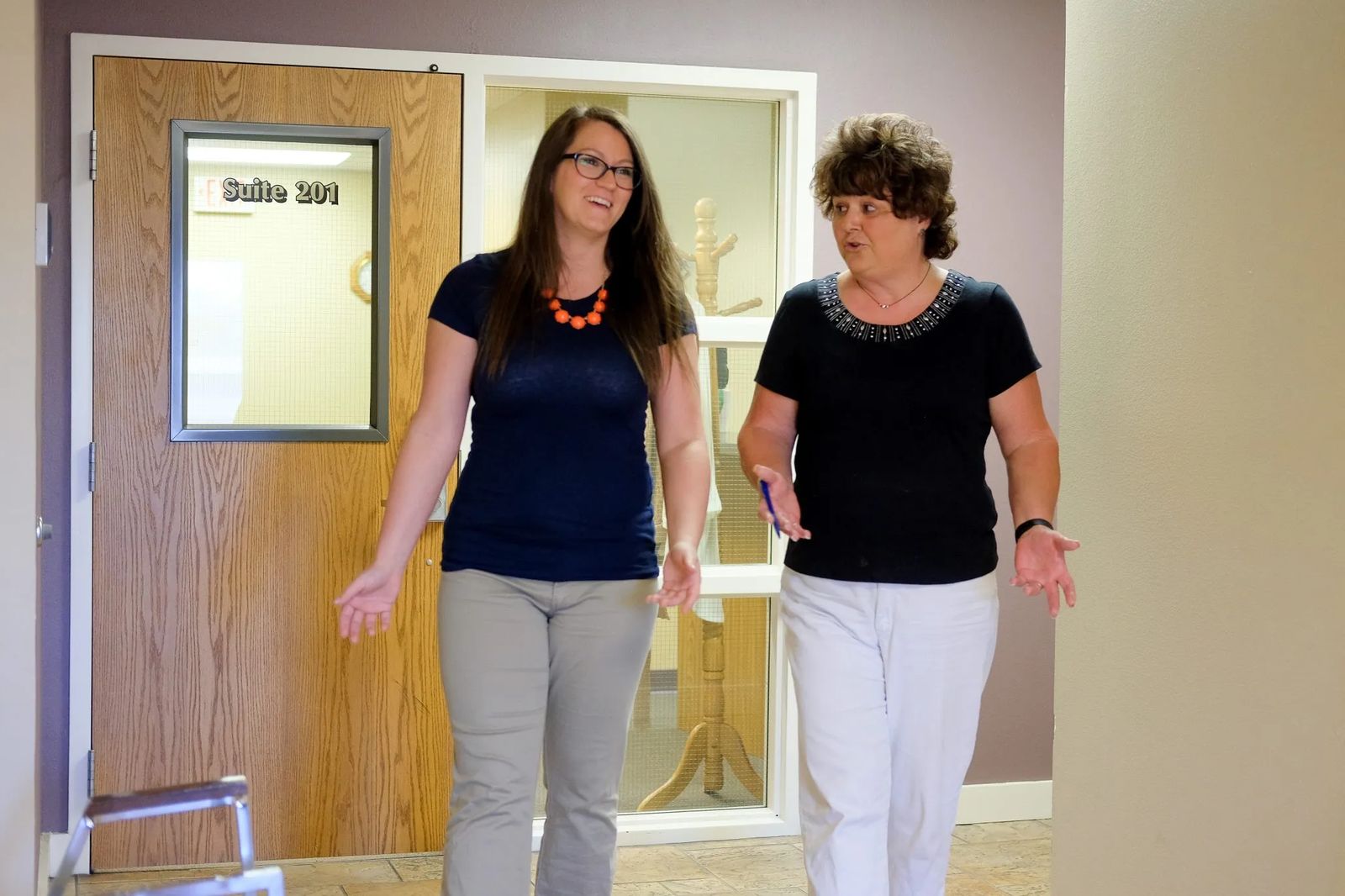 While on the job, Kayleigh spends her days juggling home visits with court work and heaps of paperwork trying to stay on top of the 47 children that are currently on her caseload. What's surprising is the fact that for her, the biggest joy in her day is not working with the kids in the system, it's reaching her outstretched hand to their parents.
"I am very passionate about working with these parents. Give me the worst. I want them. Put them on my caseload," Kayleigh says with passion. "I like to think that by the time a parent is done working with me, they know I will exhaust myself advocating for them to be better people."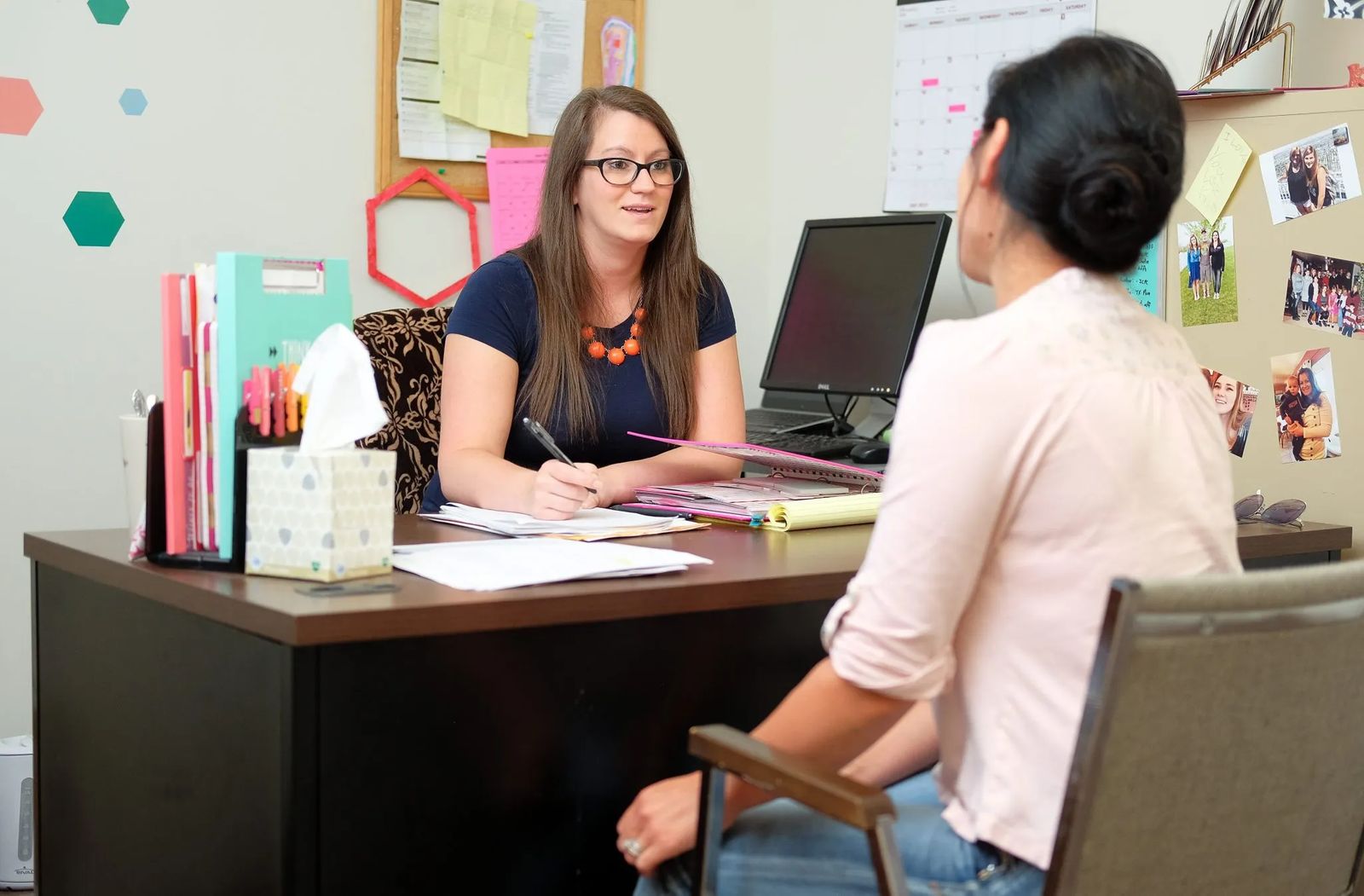 If you ask her one-time social worker turned colleague, Suzanne says Kayleigh's passion is evident.
"Kayleigh has always rooted for the underdog. She's always got a soft spot for the people who are struggling." When it comes to the grueling, day-to-day work, Suzanne adds, "Kayleigh is really where the rubber meets the road. She's in the trenches with parents. She's working with kids. She's trying to get those families put back together." And, in more than half of the cases that hit the caseload at the Department of Child and Family Services, reuniting the child with their biological family is the ultimate goal.
"Ninety-nine percent of the time there is a reason why these parents are functioning the way they are and they haven't connected the dots yet," Kayleigh says. "They have trauma stories too. A lot of these parents should have been in foster care themselves, but they weren't." So, when Kayleigh hits the office hoping to impact lives, "I help them connect the dots between their history and who they are today. I give them the speech. You get to choose who you want to be. It is no longer someone else's fault. It is your choice. What kind of life do you want?"
As you might guess, Kayleigh doesn't "win them all." Sometimes, parents fall deeper down the slope of drug addiction.
"It will always rip my heart out what some of these kids go through," Kayleigh says. "When I walk the walk with them and they want to go home so bad and I have to be the person who tells them they can't have it? When I have to move them from one foster home to another home? When I have to terminate parental rights? That will always rock my world. I always cry. That will always hit me. The day I stop crying is the day I have to change careers." While co-workers worry about personal burnout, Kayleigh is quick to share her warrior spirit. "That sensitivity fuels me. It drives me even harder to do better for these kids, to make sure policy keeps changing to make sure training for foster parents is better, to make sure I am supporting foster parents in incredible ways as a worker."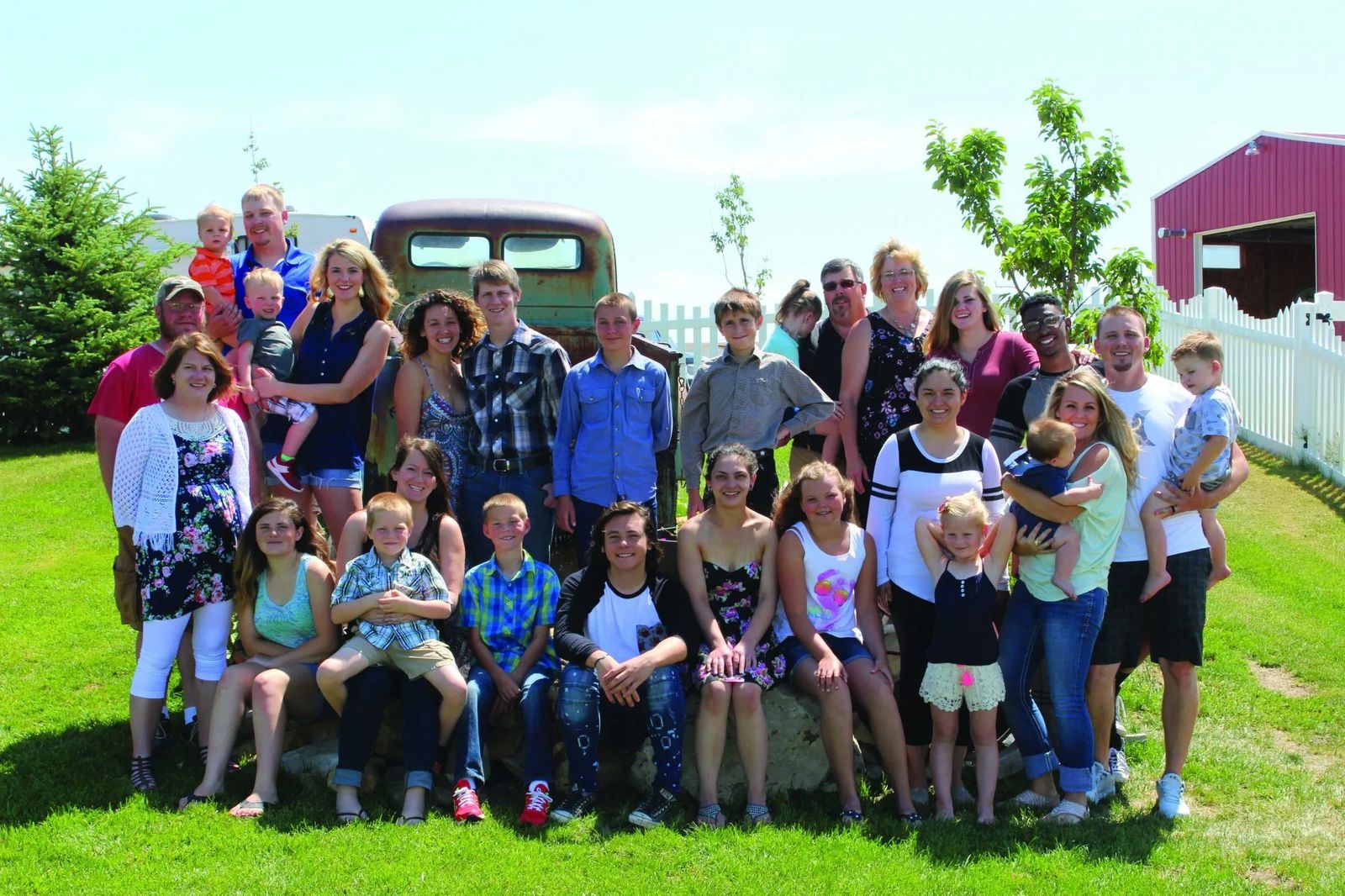 Recently, Kayleigh made the trip to the Wichman family home in Winifred, Montana for a larger than life family reunion. All 14 of the Wichman kids were there. Over the years, the Wichmans would come to adopt 12 kids and foster more than 60 in addition to raising their two biological sons. Twenty-seven-year-old Kenny was at the get-together with his new bride. Today, he has no memory of his early childhood. Kayleigh says, "I thank God for that every day because he turned out to be an incredible person." Thirty-two-year-old Jackie was there as well with her husband and three children. "She's got her accounting degree. She's married with a beautiful family and she has a ferocious faith in the Lord but her journey has been painful," Kayleigh says with pride. As for 29-year-old Adam, Kayleigh's lost touch. He was never able to live with the Wichmans due to his emotional trauma and ended up aging out of a therapeutic group home. "He knows I am here for him and always will be. He struggles. That's my biggest heartbreak. He deserves amazing things."
While Kayleigh could do a whole host of things with her master's degree once she has it in hand, she is determined to dedicate her life to working in some capacity with those in the foster care system.
"They are not just names on a paper or in a file. They are human beings and the repercussions are not lost on me," she will tell you with conviction. She has nothing but respect for the men and women she works with day in and day out at Child Protective Services. "I wish our community knew, on a personal level, who the people are that I fight battles with alongside every day," Kayleigh says. "I work with the most passionate, dedicated, kind, caring people. Their voracity to love and protect children is mind-blowing."
And, there are days she is able to thank the one worker who worked tirelessly to get her where she is today.
"I had a worker who really cared about me and changed my life," Kayleigh says. That's why she personally fights for a very vulnerable part of her caseload — older children looking for a family willing to take a chance on a teenage kid. "We have no foster care homes for those kids," Kayleigh says. "We need someone to take those kids in and invest in them because one of them could be the next 'me.' They could be the next college-educated community members in Billings, paying taxes and breaking the cycle." Sadly, many of these children age out of the foster care system. Kayleigh says, "That's not good enough for me."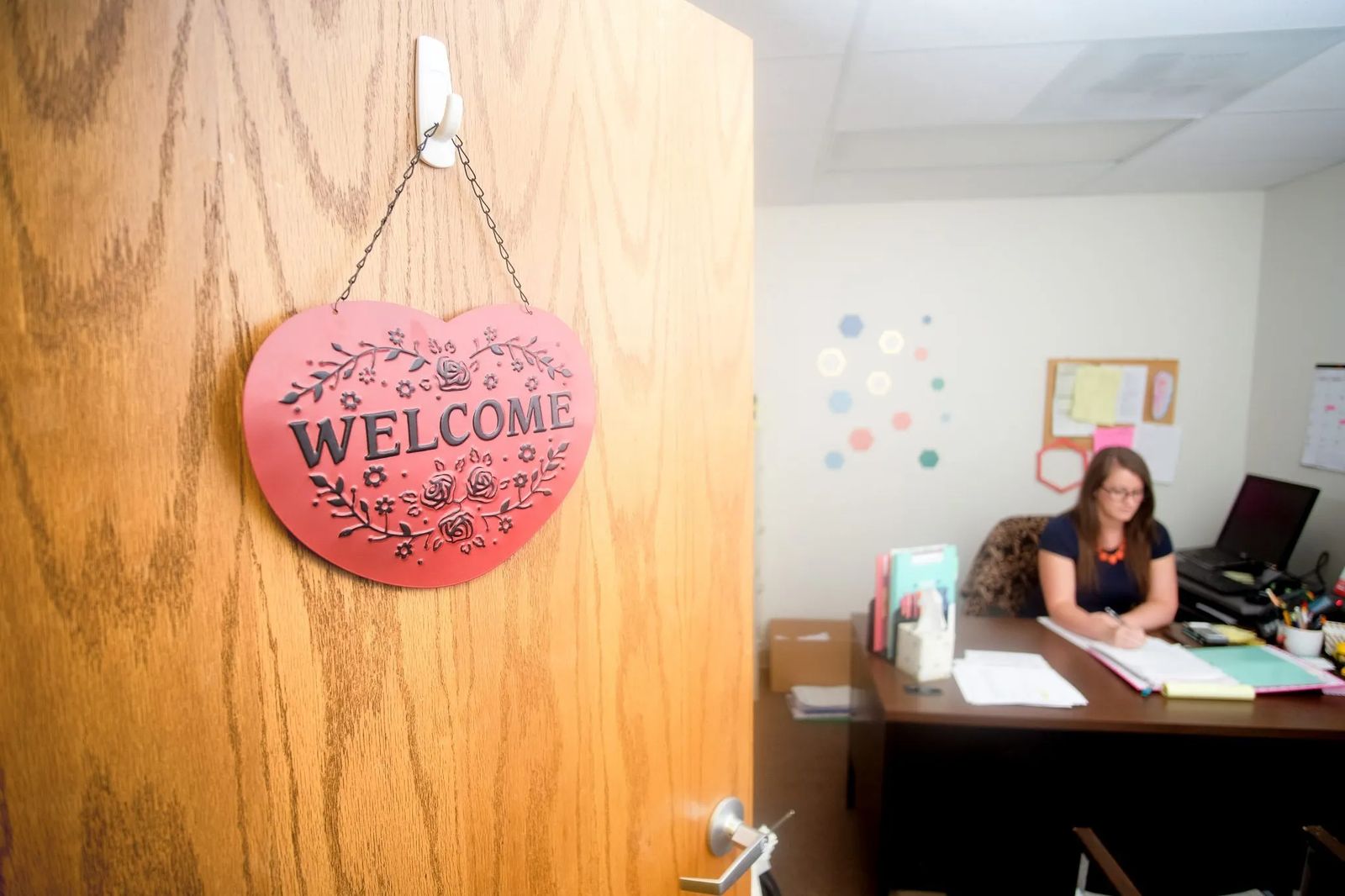 When Kayleigh talks about her past, it's shocking, but she says she wouldn't want to rewrite her history. What she's endured, piece by piece, all adds up to who she is today. "I would not change one thing about my childhood. If it meant that I didn't get to sit at my desk and meet the people that I have met and walked the walk that I have with some of these families? It's an honor."
Instead, she shares her story with foster care support groups and those interested in becoming foster families. She knows that even a chance encounter could change the fate of a child in need. Her wounds are still healing, but Kayleigh Wichman isn't worried about them. They are her super power. With the sage attitude of someone twice her age, she says, "Your suffering will always just be suffering until you put a purpose to it. And then, it becomes something extraordinary."
THE TRUE & GRITTY PICTURE OF KIDS IN FOSTER CARE
What social workers are up against in Yellowstone County
959. That's the number of kids sitting in the foster care system today in our region*. That's nearly 1,000 kids living with kin, foster care families, group homes or therapeutic treatment facilities without a clear picture on what the future holds for them.
"We are just seeing such an increase in meth use, opiates, and heroin," Permanency Planning Specialist Suzanne Braun states. "The drug use in this town is overwhelming."
As workers exhaust all avenues, Child Protective Specialists know what they are up against. There are too few foster families to help serve an overloaded system.
"We have cases where we have worked with families and the kids have gone home only to have the parents and kids come back into the system," Suzanne adds. "Our parents come with their own histories, their own struggles, their own trauma and their own grief. Sometimes when you don't deal with that, you turn to other things to make yourself feel better and forget about the pain that you are in."
In the meantime, close to three thousand kids are in care statewide, staying in foster care an average of 21 months. More than 40% will live with family. Sixty percent will be wards of the state. Thirty percent of the kids will be in four or more placements during their stay in the system and of those teens who enter the system at the age of 13, 29% will age out, never connecting with a family to call their own.
"Sometimes it is hard to find a bright spot," Suzanne says.
YOU CAN HELP. If you'd like to learn more about what it takes to become a foster or adoptive family, answers are just a phone call away at 406-657-2130.
FOR MORE ON KENNY WICHMAN'S VIDEO STORY, visit dphhs.mt.gov/Portals/85/cfsd/images/KennyWichmanstory.wmv