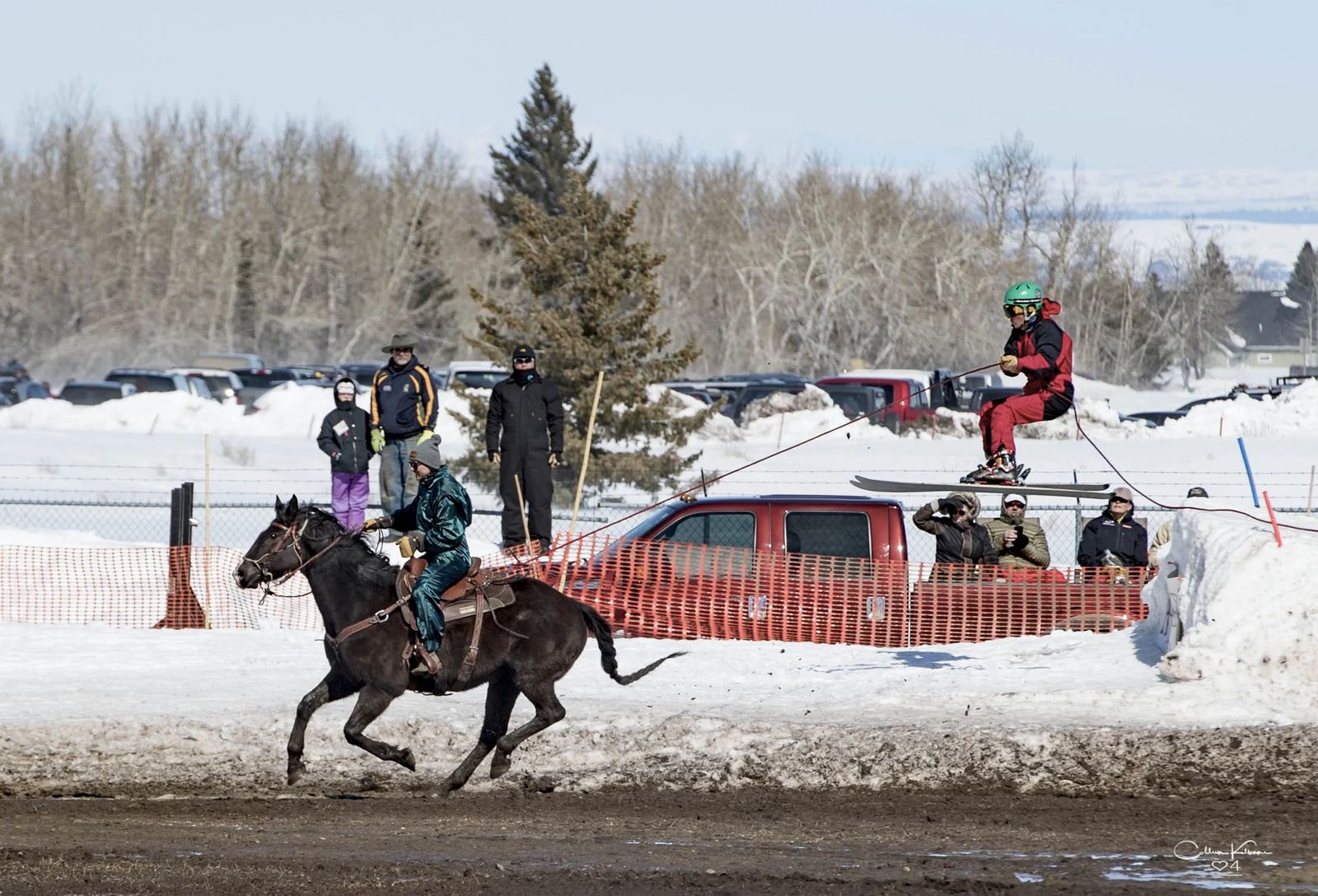 A Wild Ride
The high-flying fun of ski joring makes a comeback
Sometimes you find adventure and sometimes adventure finds you. This is a story of the latter, and of how two adventurous Red Lodge women, Kristen Beck and Monica Plecker, found themselves at the helm of the National Finals Ski Joring in Red Lodge, one of Montana's wildest wintertime events.
Ski Joring requires a horse and rider to pull a skier around a course that includes slalom gates and jumps. Each course is different, but in Red Lodge, the course is a horseshoe shape that includes 20 slalom gates and four ski jumps. Riders reach speeds up to 25 miles an hour, whipping the skier around the course. It's a timed event with penalties for missing a gate or jump, and the fastest team wins.
This year's event in March drew more than 1,000 spectators and 98 rider-skier teams. It's the largest turnout the event has seen in recent years, but just two short years ago, the National Finals Ski Joring was on the verge of slipping into history.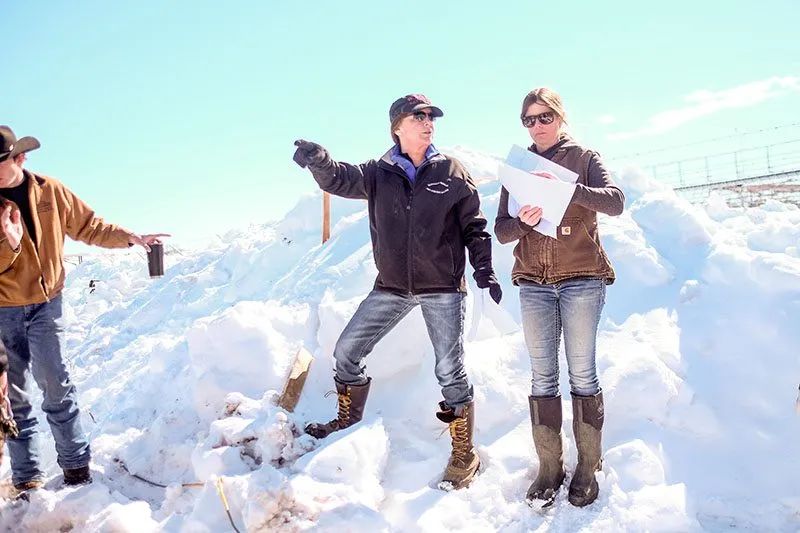 Too much fun to call it quits
Beck grew up on the beaches of North Carolina and moved west after college, where she found love and horses. In 2011, she happened to see a TV spot for ski joring while she was living in Wilsall and she and her now husband made the trip to Red Lodge to watch. The rowdy, wild event made for a great weekend.
"I had no idea I'd make it back," she says, but a few years later she found herself living in Red Lodge with her husband and their horses. She poked around to find out if she could help with the National Finals Ski Joring and discovered it was canceled that year for lack of snow. Beck didn't know it, but the National Finals Ski Joring was struggling, as small-town events sometimes do. A small cadre of volunteers had become burnt out, and it was looking as if ski joring in Red Lodge might die out if new interest wasn't kindled.
"I just wanted to volunteer and help out," Beck says. "Probably all I really wanted to do was run a horse, but it turned out that if I wanted to do anything, I'd have to take over."
She said yes, then turned to Plecker, her snowboarding, horse-loving buddy. Plecker had an interest in ski joring, having seen it while she was in farrier school in Bozeman. Neither woman ever thought they'd be spearheading the Red Lodge event, but both women thought there was too much fun to be lost if they didn't give it a try.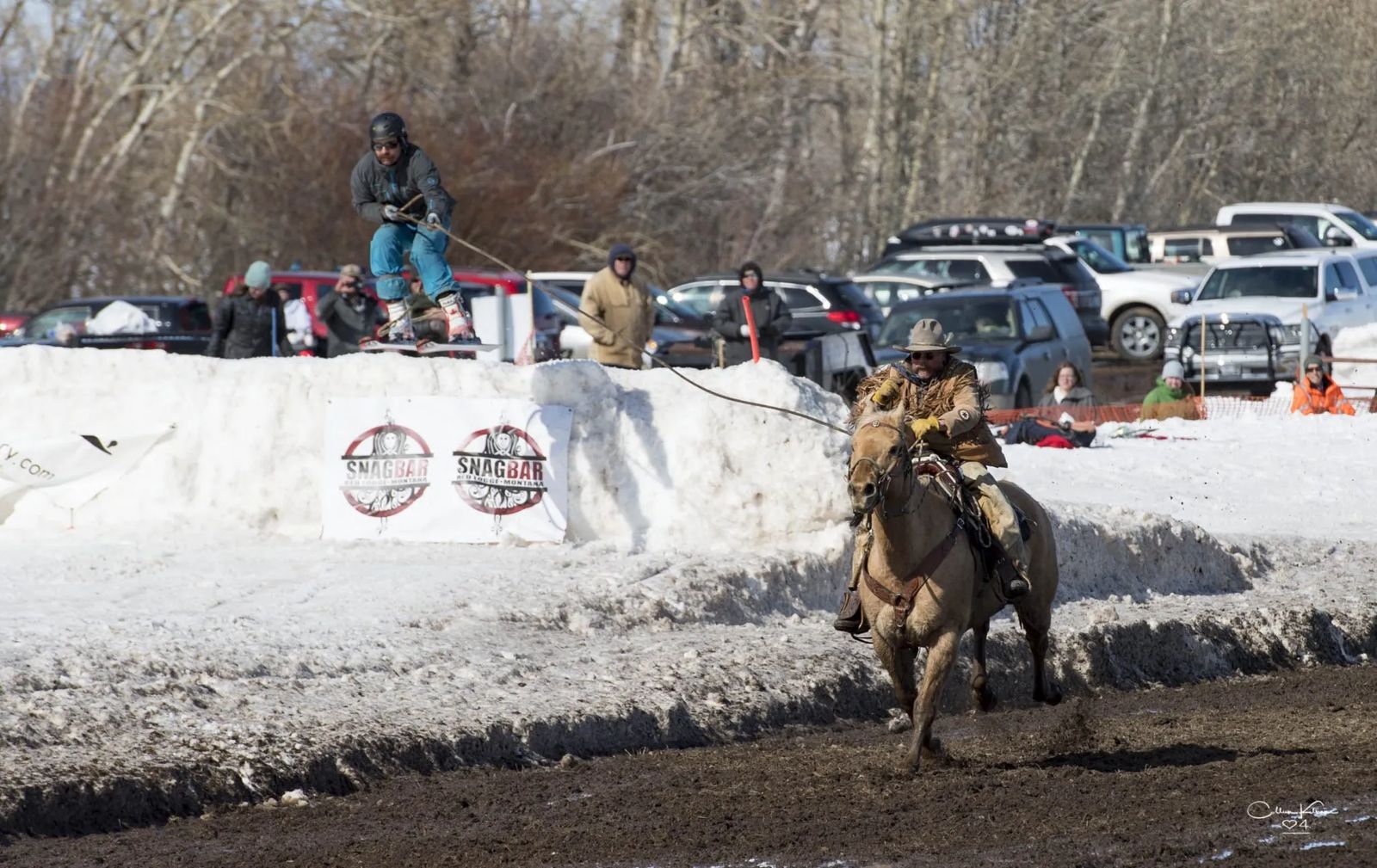 With the blessing from the previous promoters (who still help with the event), the two women agreed to take over the National Finals Ski Joring. It draws a crowd because, well, there's nothing quite like this sport.
"There's something romantic about the western cowboy, and you couple that with Montanans' love for skiing and you have the perfect mix to make something great," Plecker says. "It brings together all types of people."
Running it and running it
In addition to running the National Finals Ski Joring, Beck and Plecker also compete as riders. They both figured that if they were going to do the work they wanted a share of the fun. Competing also gives them perspective as to course conditions, safety and other concerns that competitors bring to them during the event.
Last year was the first year that either of the women had competed, but this year, Beck has run her horses at the races in Wisdom, Whitefish and Big Sky, in addition to Red Lodge. Monica has run in both Red Lodge and Big Sky.
They kept their horses in shape this winter with weekend rides and trained them by dragging a tractor tire on the snow around a nearby fishing access. Still, there was nothing that could really ready them for competition other than to saddle up and give it a try.
"It's really a commitment to get your horses ready for this event," Beck says.
A boost to the local economy
Beck and Plecker took over the event in 2017 with the goal of expanding it and making it a more family-friendly event. The National Finals Ski Joring now includes bouncy horse races for kids, a free s'mores station, a warming tent and a chili cookoff on Sunday to benefit Beartooth Cupboards, the local food bank. They also brought in bleachers and more concessionaires. Local youth groups including Close-Up Kids, the Red Lodge High School FFA, Carbon County Kids Rodeo, and area 4-H clubs work the event to raise funds for their projects. Beck and Plecker also recruited about 50 fresh volunteers to help and brought on nearly as many sponsors.
"This little town really turns out with its support," Beck says. "We couldn't do it without our sponsors and volunteers."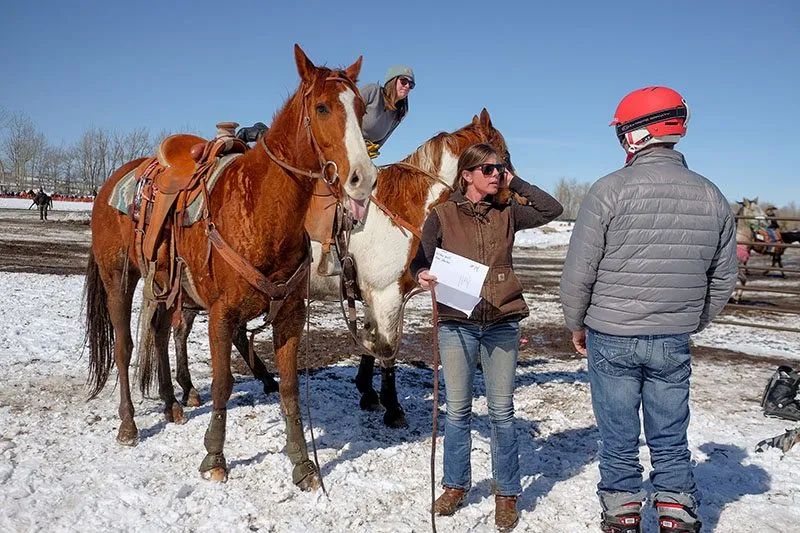 The National Finals Ski Joring in Red Lodge is trademarked as the national finals, but the sport is only loosely organized. While it has a strong following among competitors it's not structured, yet, to necessitate a championship event. The Red Lodge event is one of 12 ski joring competitions held in Montana, Wyoming, Colorado, Idaho, Utah and Wisconsin. On the circuit, Red Lodge hosts the second-to-last event.
"I think it's so important to have these small communities have the opportunity to put these events together and show off all that their town has to offer," Beck says.