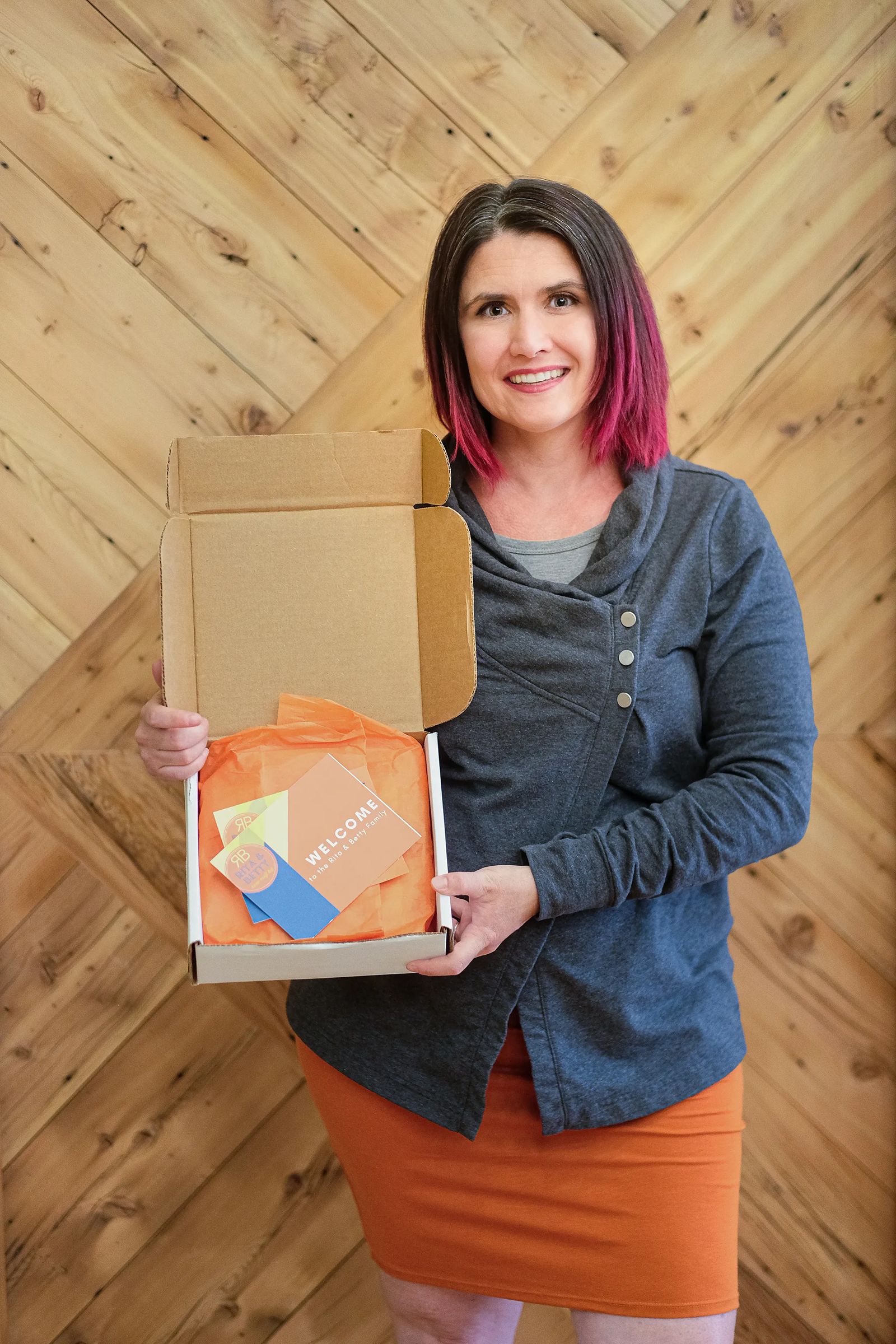 All Boxed Up
Clementine Lindley delivers craftiness right to your door
Clementine Lindley hopes that when you hear the name Rita and Betty you think of a couple of housewives from the '50s, perhaps sitting together at a kitchen table, talking and laughing. Given the era, they're probably working with their hands while they chat, knitting, mending, or maybe making something special for a gift. Back then, women crafted out of necessity. These days, Clementine and her friends are crafting for fun and self-care.
Clementine is the owner and founder of Rita and Betty, a craft-centered business that offers subscription boxes for a variety of crafts as well as in-person crafting classes. Rita happens to be the name of Clementine's grandmother, and her best childhood friend's grandmother was Betty.
Always a passionate crafter, Clementine launched the business a little more than a year ago. At first, she was guided by a desire to start an on-trend, home-based business. She quickly realized, however, that crafting held a bit more magic for her, and if she guessed right, for others as well.
"When I get stressed, I bake, and I make things, and I sew," Clementine says. "So, I thought, why not make what I do for self-care into a business?"
With a little research, Clementine discovered that crafting is good for your brain and your mental health. Studies have shown that 30 minutes of crafting releases as much of the feel-good hormone, serotonin, as a 30-minute workout, she says.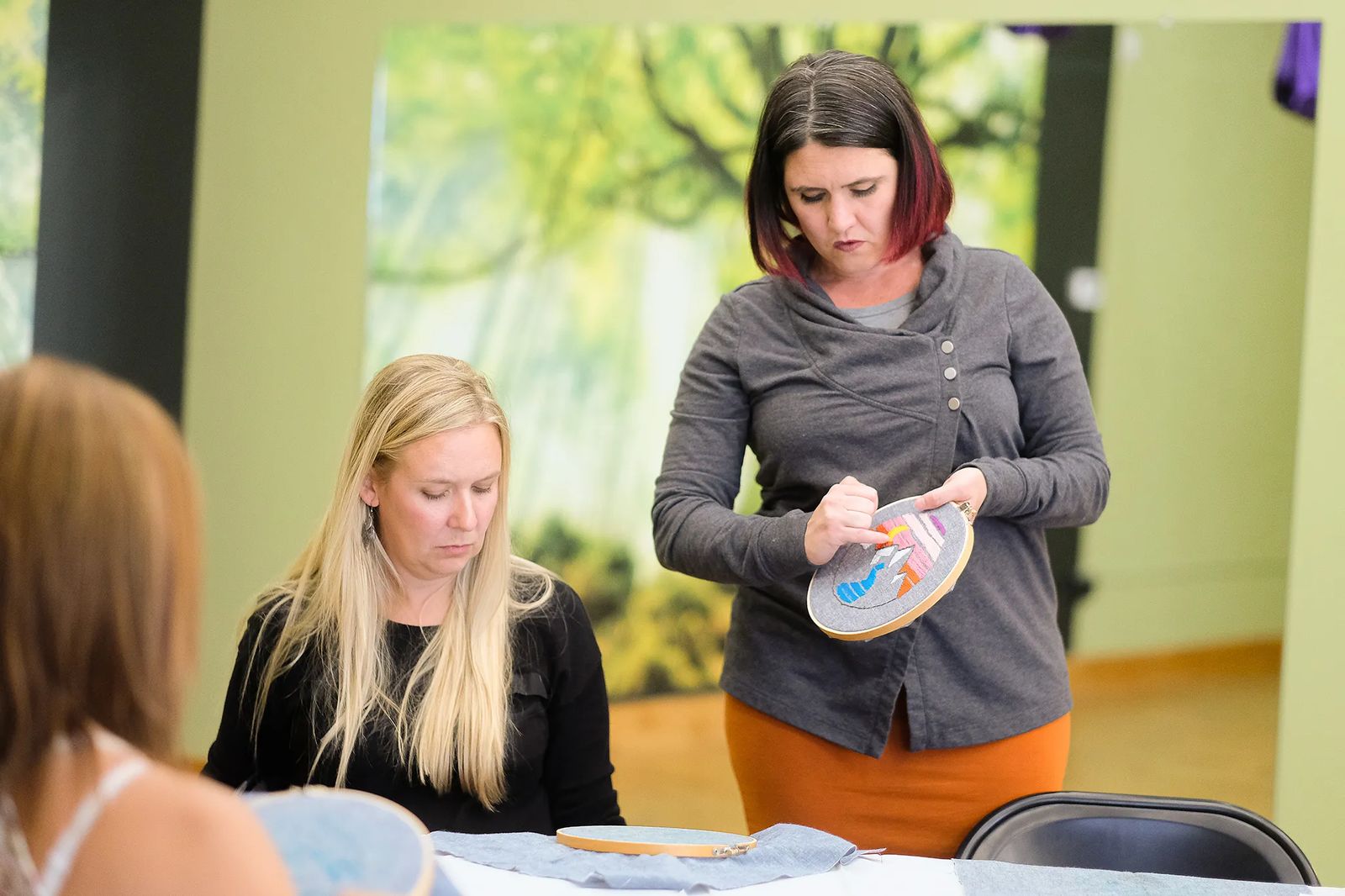 Crafting a Business
Rita and Betty craft boxes are curated to provide customers with modern, fun crafts that Clementine hopes will be easy enough for anyone to do. Aiming for variety, the craft boxes have included woodburning, embroidery, jewelry, bath bombs and other unique projects. For the holidays, she's offering a glass-etching project.
Every craft box is fully self-contained with all the supplies needed, except for perhaps water and, on occasion, electricity. Clementine's goal is to keep Rita and Betty projects simple and accessible.
"I always keep in the back of my mind, could I do this craft while camping?" she says.
All the crafts are supported by video tutorials that offer not only visual instructions but additional how-to tips as well. Rita and Betty kits come out every other month and the cost is $49. Perhaps one the best things about Rita and Betty subscription boxes is that there is very little waste in materials. That's by design. Whenever Clementine has started a new craft project on her own, she says, she was frequently frustrated by the amount and cost of materials. There were always odds and ends left over, and they would often go unused. And rarely did she start a project with everything she needed. Most projects required a last-minute trip to the craft store for more supplies, specialized tools, patterns or books.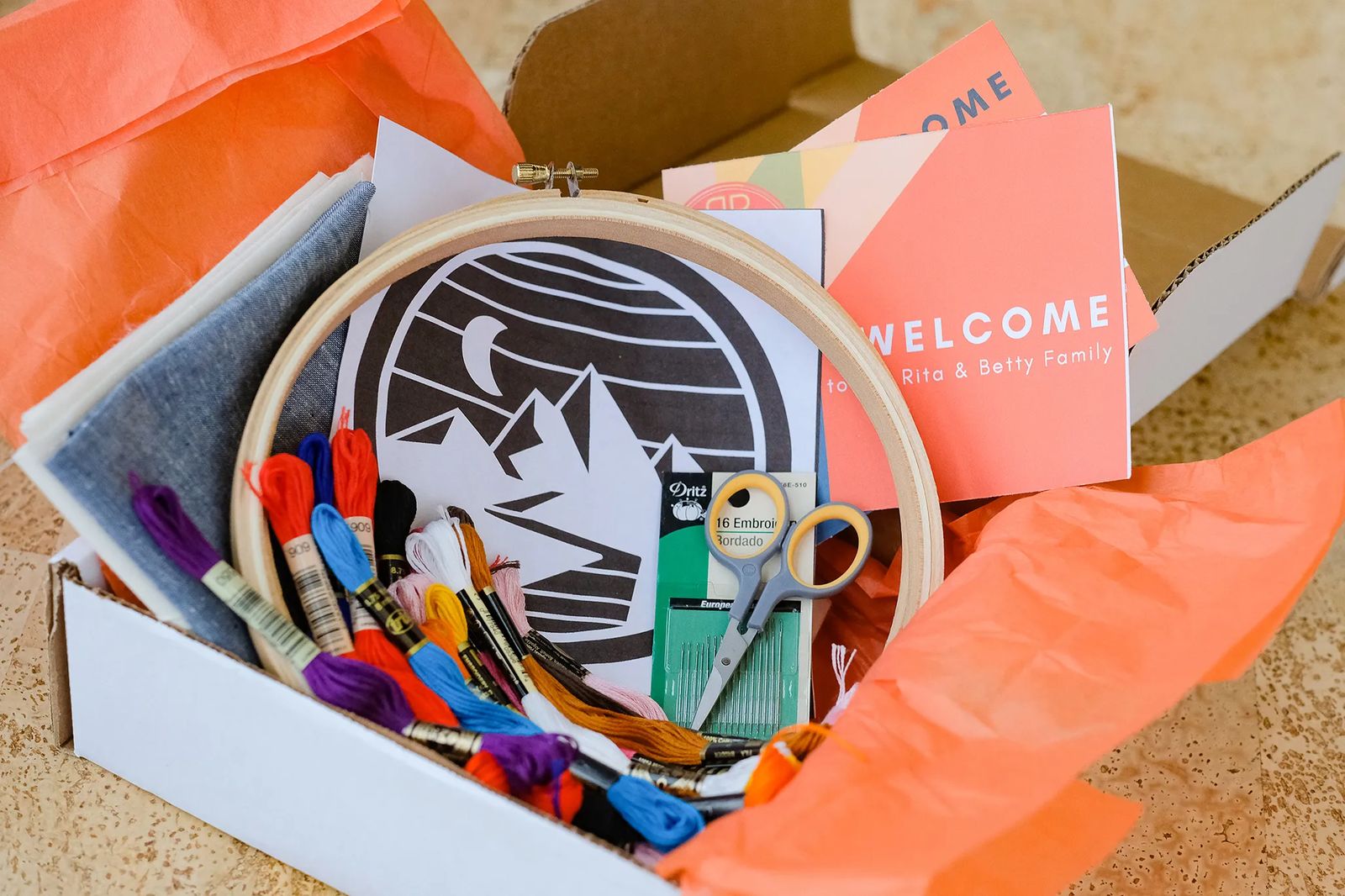 "My whole goal is to be sure that everything everyone gets is easy," she says.
The crafts take as little as 30 minutes to up to a few hours and can also be expanded, depending on the creativity of the participants. Usually, projects are broken into easy-to-manage segments, and Clementine likes to keep each segment around 15 minutes because she knows that most of her subscribers are busy, working mothers. Clementine also hopes that her crafts are challenging enough to be interesting, but not so challenging as to be intimidating.
"Not everyone is an artist, but I believe everyone is creative so there's no reason why everyone can't succeed at this," she says. "You never know what you're capable of until you try."
Libby Kahnke received a subscription to Rita and Betty from her sister, who wanted to inspire Libby to get back in touch with her artistic talents. Even though she's a busy mother of a 3-year-old, she managed to find the time to do each of the crafts.
"When you have a box sitting there it forces you to do a project," Libby says. "There's no excuses not to do it because everything you need is in the box and ready to go."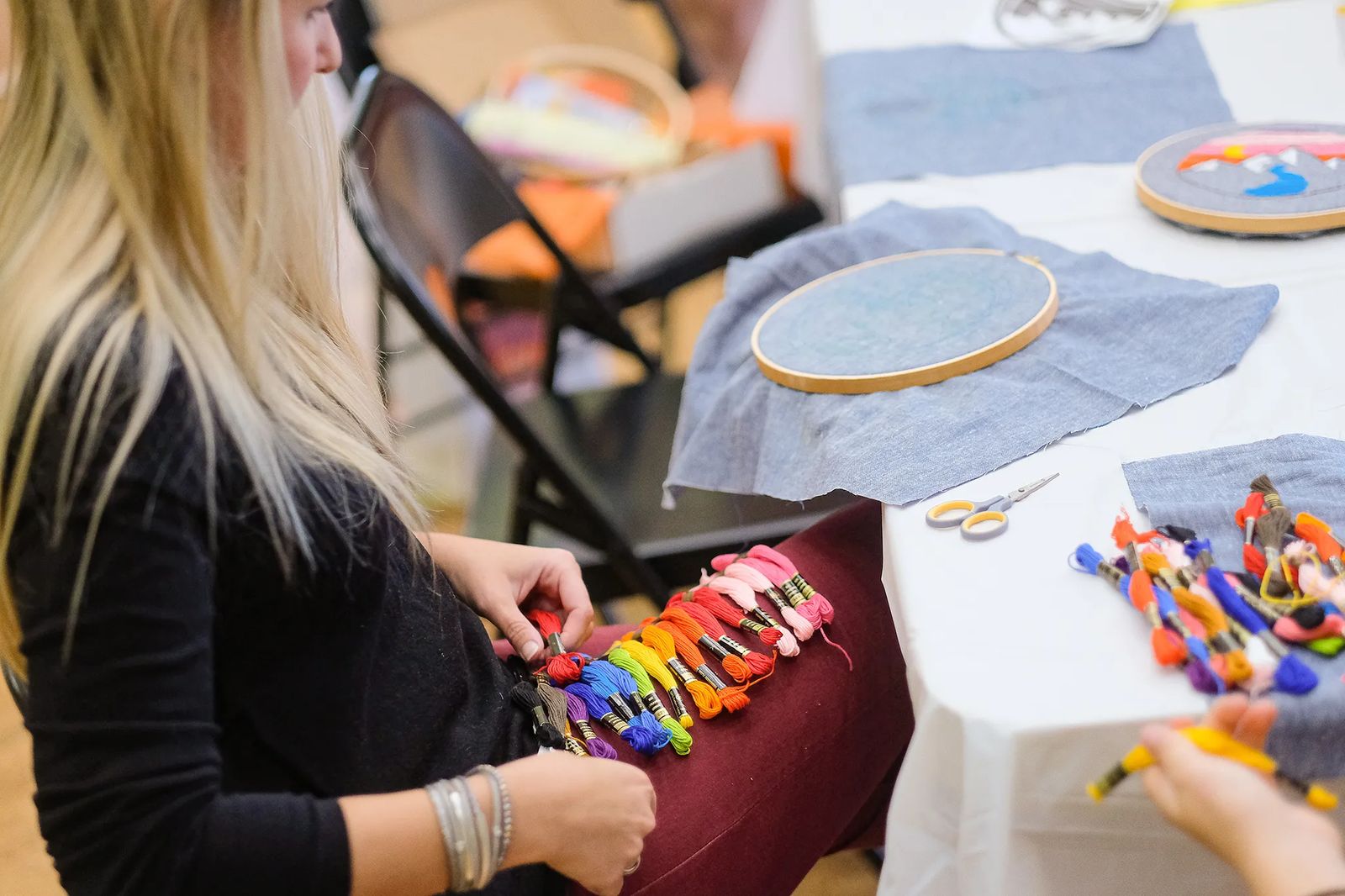 Crafting Local
In addition to the subscription boxes, Clementine offers in-person craft classes at local venues in Billings. She's partnered with Bitterroot Sip and Paint, Black Dog Coffee and Better to Gather to offer one-time, make-and-take classes. They're quick and affordable and offer an opportunity to socialize, much like the old-fashioned quilting bee or sewing club.
Sometimes the crafts are a new take on one of her past subscription boxes. Sometimes they're a pilot project for a future craft box, and sometimes they're a one-time project that she's just always wanted to teach.
Clementine also does craft-based teambuilding and professional development programs with businesses. She recently partnered with a life coach to offer self-care retreats, teaching them the importance of self-care and self-love through non-traditional avenues such as crafting and volunteerism.
Kristin Klebe participated in a teambuilding craft project with her coworkers and said that everyone opened up in new ways during the shared crafting experience.
"Everyone did the same craft but everyone had a different take on how to do it," Kristin says. "It was neat to get to know someone on a different level.
Now, Kristin and her husband and two teenage children are regulars at Clementine's craft classes and are even taking up crafting as a family.
"It's a really fun thing to do together," she says.
Women often tell Clementine they don't have time to craft, but she argues that taking on a new project, even a small one, can be empowering. Feelings of accomplishment also are a boost to self-esteem.
"It's so easy to say I don't have the reserves to do this but what I'm learning is that if you take that leap, your cup will still be full," Clementine says.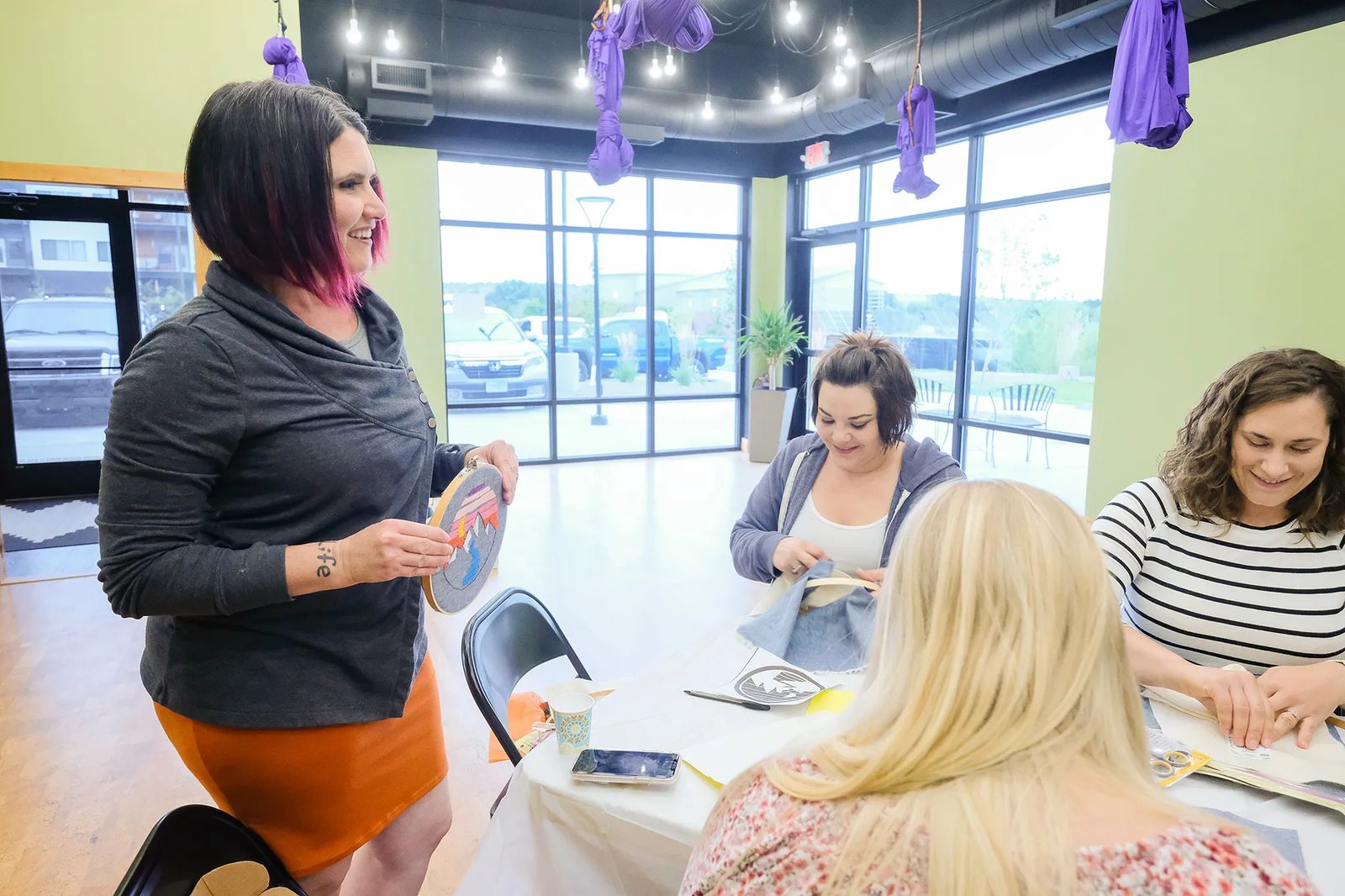 A Reluctant Entrepreneur
Until recently, Clementine, a wife and mother of three, never saw herself as a business owner. Her previous career was in mental health advocacy, but through a series of major changes, she decided she wanted something all her own that was flexible and had growth potential.
"If you would have told me growing up that I would be an entrepreneur, I would have laughed," Clementine says.
As it's turned out, Rita and Betty is the perfect fit. Clementine loves the problem-solving that comes with running her business. Even when she's not in her craft room, she's puzzling through how to do a craft project and make it accessible for her subscribers. Coming up with new ideas is easy, Clementine says.
"My brain is constantly going, thinking, which one am I going to do next?" she adds.
For inspiration, she loves cruising Anthropologie and Pottery Barn websites looking for contemporary items that could be handcrafted. A new jewelry project is in the works that's a take-off of a $300 necklace she discovered online.
Running a home-based business hasn't come without challenges. E-commerce, marketing and developing name recognition in a vast online playing field has been difficult, she says. Her response has been to take things slow, be intentional in her decisions and to think long-term. For now, she's operating debt-free and investing all her income back into the business. To help her grow as a businesswoman, she's joined networking groups, invested in business coaching and taken advantage of other learning opportunities.
Clementine is also willing to give almost anything a try. She hosts a regular video blog where she introduces fun, DIY home-improvement and craft projects that are easy and either free or very inexpensive. Through the blog, she's developed an online following that also boosts the visibility of Rita and Betty.
"I do it right here in my kitchen, with the windows open," she says. "If only people knew!"
It's that fun, try-anything attitude that Clementine hopes people find in every box and in every class. Sure, they'll end up with a hand-crafted keepsake or gift when it's all done, but more than anything, she hopes everyone finds a DIY path to self-care.
TO LEARN MORE ABOUT RITA AND BETTY, a Home Craft Lab, visit ritaandbetty.com