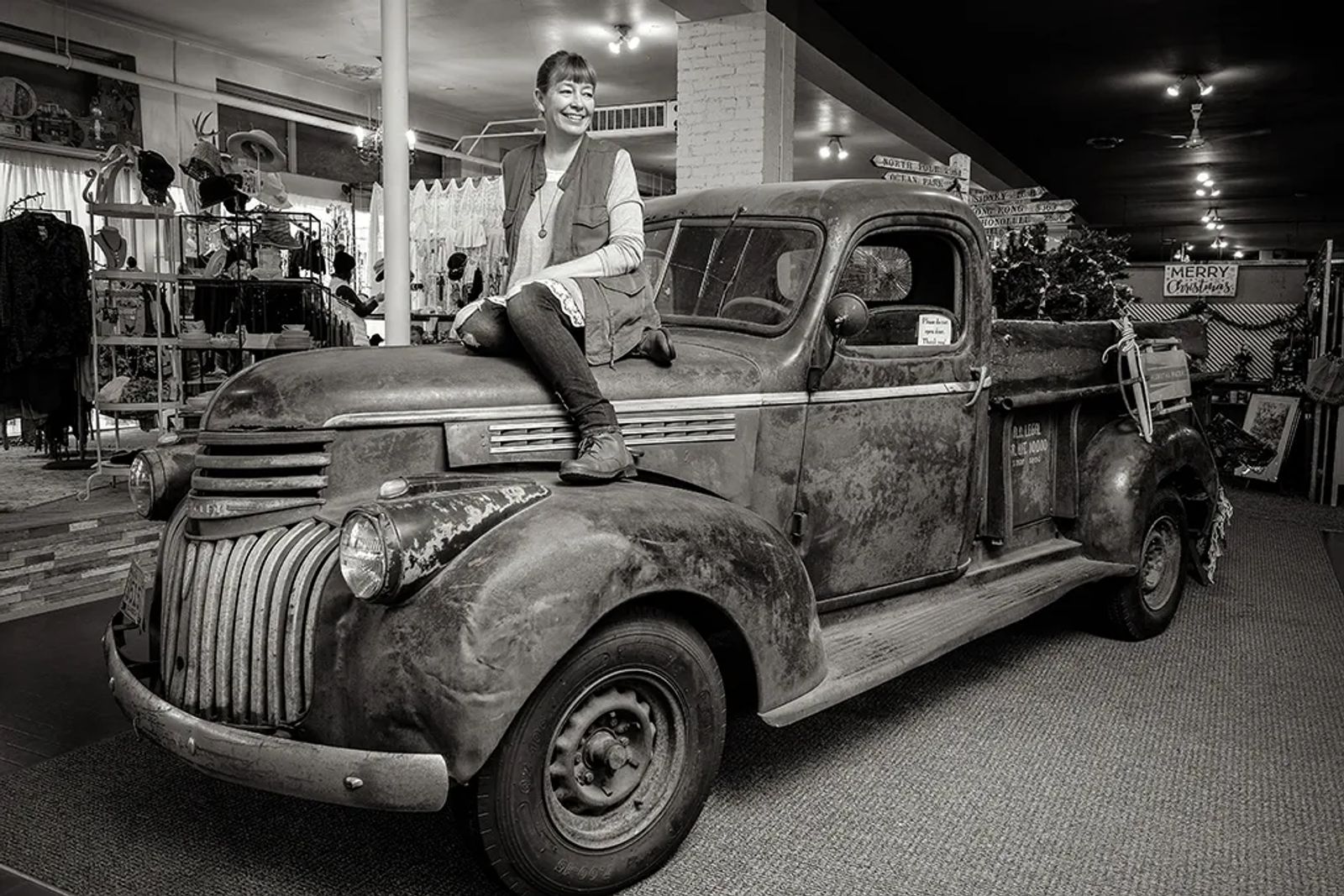 All in the Family
Three generations give Marketplace 3301 a special charm
More than a decade ago, Shelly Turk was toying with the idea of starting some kind of business with her daughter, Jennifer Ingraham.
They were both lifelong collectors, so Shelly thought maybe they could open an antique store. But they both loved reading, too, so a bookstore was also on her list, as was a coffee shop and a clothing store. She was still mulling the possibilities, when, in the fall of 2010, the owner of her favorite antique mall, Granny's Attic on Minnesota Avenue, announced that the sprawling store was going out of business.
"When she closed, I mourned for about 20 minutes," Shelly says. Then, with all those business possibilities in mind, she says, "I thought, oh, we can do all that!"
Indeed, they could. And this fall, Shelly celebrated the purchase of the building they'd been leasing since November 2010—the old Holliday Furniture building at 3301 First Ave. N.  Her business, Marketplace 3301, has become a downtown anchor, a shopping destination that includes 112 vendors (with 50 more on a waiting list) occupying 44,000 square feet on two stories. It also includes Shelly's book nook and the Sleepy Poet Coffee Shoppe just behind the front desk.
As far she knows, Shelly says, Marketplace 3301 is the biggest antique mall in Montana. Many of her regulars would also tell you it's the best. One customer, Rich Buchaklian, who with his wife, Sandy, was also a vendor there for six years and now comes down some Saturdays to play the piano in the coffee shop, says he has been to antique stores and malls all over the country.
"This one outshines everything we've ever seen," he says.
It's also the favorite of Connie Charette, a regular who was browsing the booths at Marketplace 3301 in mid-November.
"I take all my friends and relatives from out of town," she says. "They have to go to Marketplace 3301." Besides the wide selection of antiques and repurposed goods, Charette says, there's another good reason she likes Marketplace 3301.
"I think everybody who's in here, they want to sell," she says. "I get the best bang for my buck here."
Part of what makes the store so welcoming is its family atmosphere. In addition to Shelly and daughter Jen, partners include Shelly's husband, Brice Turk, and Jen's husband, Josh Ingraham. Jen and Josh's daughters, 6-year-old Annie and 4-year-old Emma, are also regulars at the store, and Annie has already adopted her mother's and her grandmother's love of collecting.
Annie even has her own booth at Marketplace 3301, keeping it stocked with things she buys at garage sales and secondhand stores. She will also make a circuit of the store on occasion, asking customers if they have any questions about the merchandise or the vendors.
"She's really sharp and she's adept at working with people," Josh says.
Shelly says both children are a hit with her patrons. "I think half of our customers come to see them, not us," she says.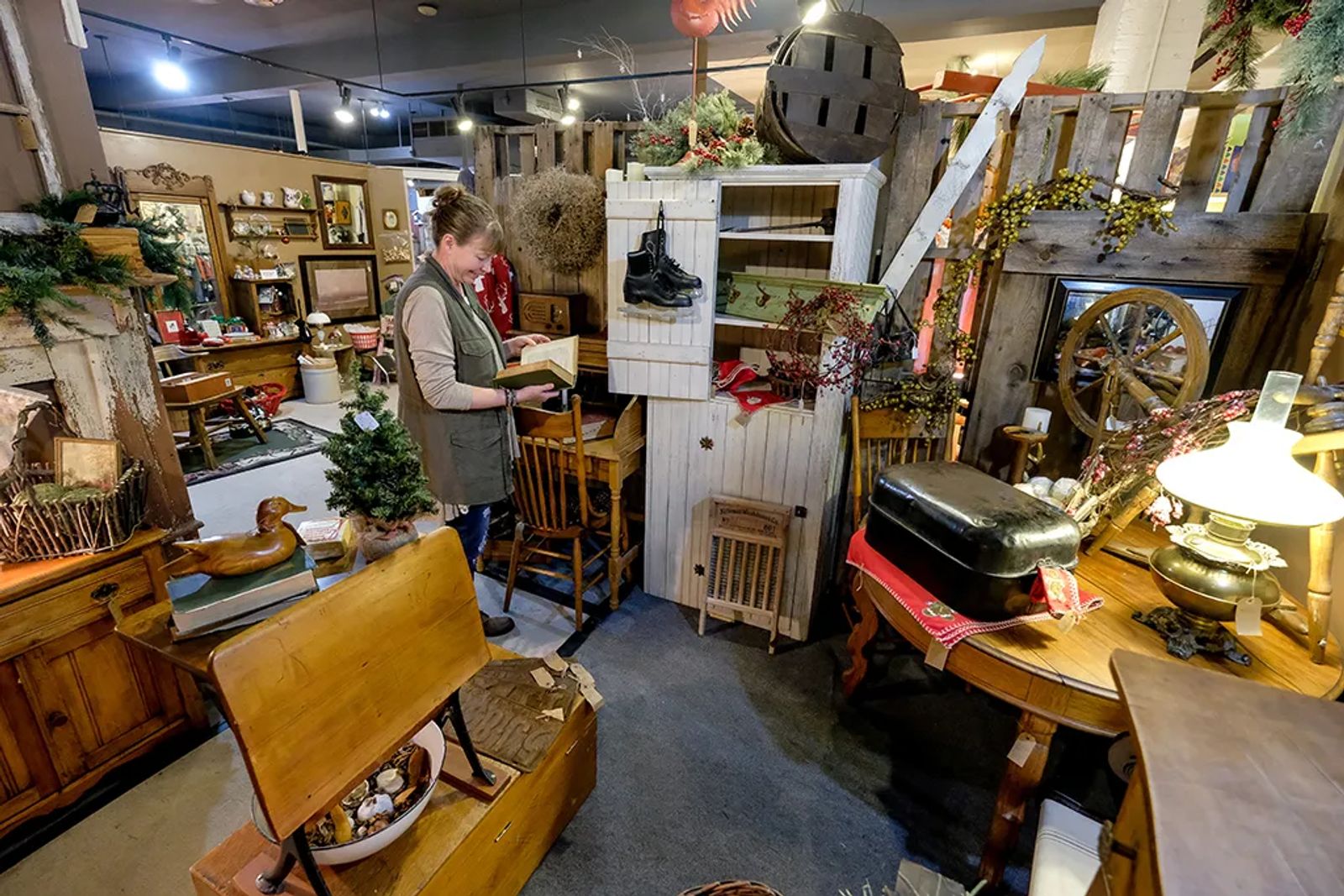 At times, Jen admits, the family members can drive one another crazy, "but that's just part of it. You acknowledge it. You accept it." What keeps everything running smoothly is that all of them have their own areas of expertise, and all are allowed to make the best use of their skills.
Shelly does most of the buying and handles customer service. Jen manages the store and does the paperwork, Brice does renovation and construction and wood refinishing, and Josh works with the vendors and does some maintenance and cleaning—or as he likes to say, "I do everything around here except make decisions."
Shelly was teaching English at Joliet High School when she opened Marketplace 3301, but she eventually quit teaching to work full-time at the store. Brice is still a guidance counselor in Joliet, and he and Shelly continue to live there.
Jen and Josh were both finishing up their college careers in 2010, Jen working toward a degree in education and Josh in criminal justice. Late that summer, Jen says, her mother "called and said, 'Hey, what are your plans after college?'"
Jen and Josh moved to Joliet in January of 2011 and started working at the store. "The opportunity availed itself and there we were," Josh says. "And now I love it." He also started his own cleaning business a few years back, so he spends some weeknights at that job, too.
With the recent purchase of the old Holliday building, there was even more work to be done. The roof had to be replaced, for one thing, and an ornamental tower on the roof, which had been heavily damaged, had to come down. They also painted and redecorated the building's façade.
"That's not something I ever thought we'd do—buy a building almost as big as a city block," Shelly says.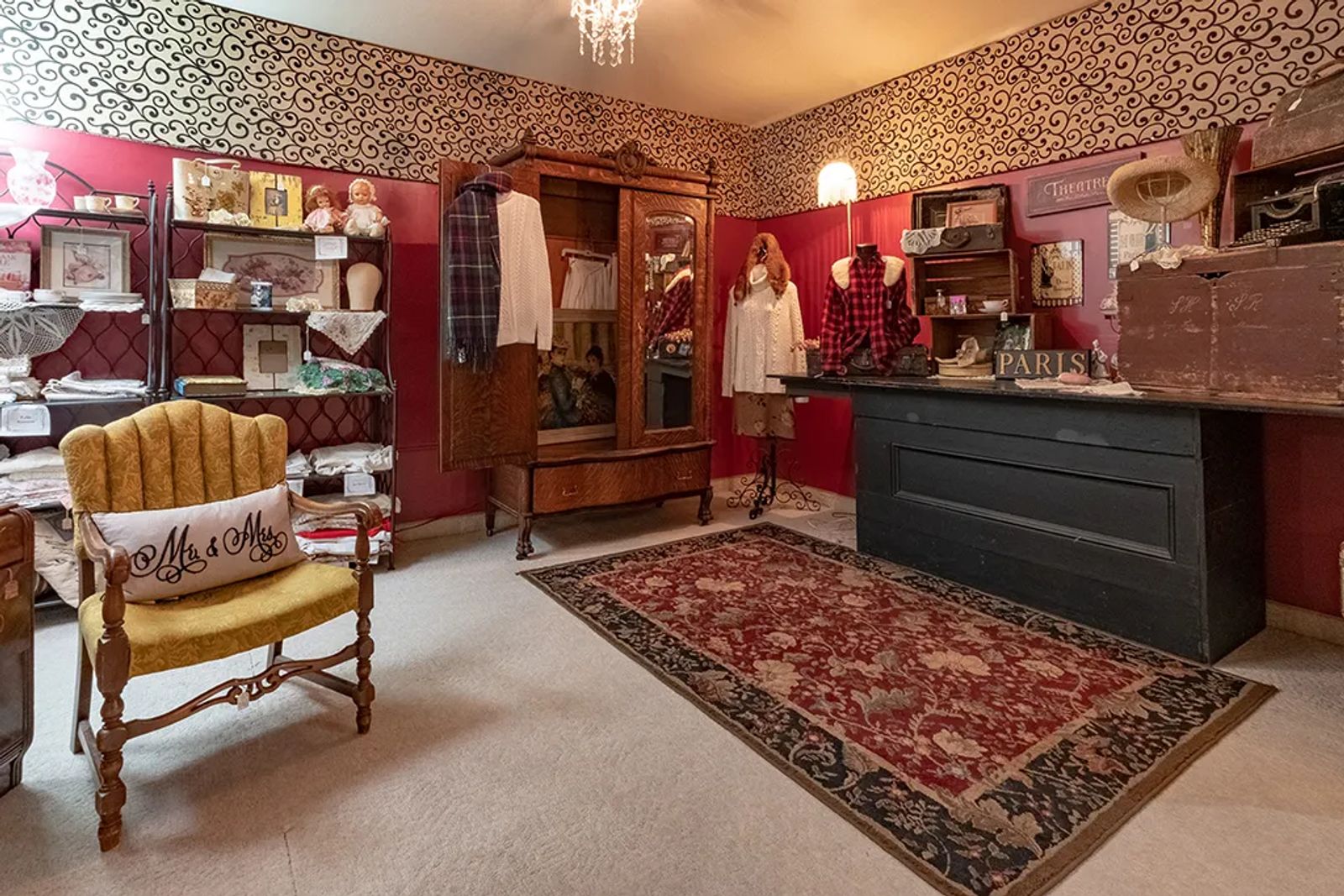 It was only possible because of some of the many relationships she and her family had forged in this corner of Montana. Their banker was the same one they'd had for 30 years, Brian Thompson, Laurel branch manager for Western Security Bank, and the important task of insuring the huge building was handled by State Farm agent Randy Glover.
They also went to Beartooth Resource Conservation and Development, located in Joliet, for help with the down payment, and to the federal Small Business Administration for additional help. Shelly says Marian Cook, the owner of Holliday Furniture, was also kind and helpful throughout the process.
"It was a whole village of people who really believed in us," Shelly says.
Marketplace 3301 is open from 10 a.m. to 6 p.m. Monday through Saturday and sells antiques and primitives, vintage goods, repurposed and painted pieces, jewelry, textiles, "shabby chic," artworks, dried florals, handmade quilts and, according to the store's website, "vintage-inspired women's clothing."
As with other antique malls, the vendors lease space from the owners, to whom they also pay a commission, and the owners take care of all the paperwork, advertising and sales. Vendors are responsible for keeping their spaces neat and tidy, though Shelly says they do some upkeep for some of their out-of-state vendors.
Most of the vendors have no trouble keeping their spaces up to standards, Shelly says, though it has been necessary to undertake "a booth intervention" or two over the years. The result is a suitably maze-like series of booths on both floors that encourages shoppers to go exploring, without creating an impression of clutter or disorder.
Shelly certainly knows the joys of exploring. She recounted how she and Brice were once invited to go through a family's barn, which was stuffed with generations of belongings. The family wanted to know what was worth saving before it was cleaned out. The barn was also full of dirt and dust and lots of mice, so that Shelly and Brice were both wearing goggles and face masks. Even so, Shelly says, she turned to Brice at one point and said, "This is the best date ever!"
Shelly is also fond of old trucks. That's her 1942 half-ton Chevy pickup just inside the front doors, a truck from a farm in North Dakota that she found on Craigslist. She named it Bernard, for no particular reason, and it now serves as the store's mascot, usually decorated for the closest holiday.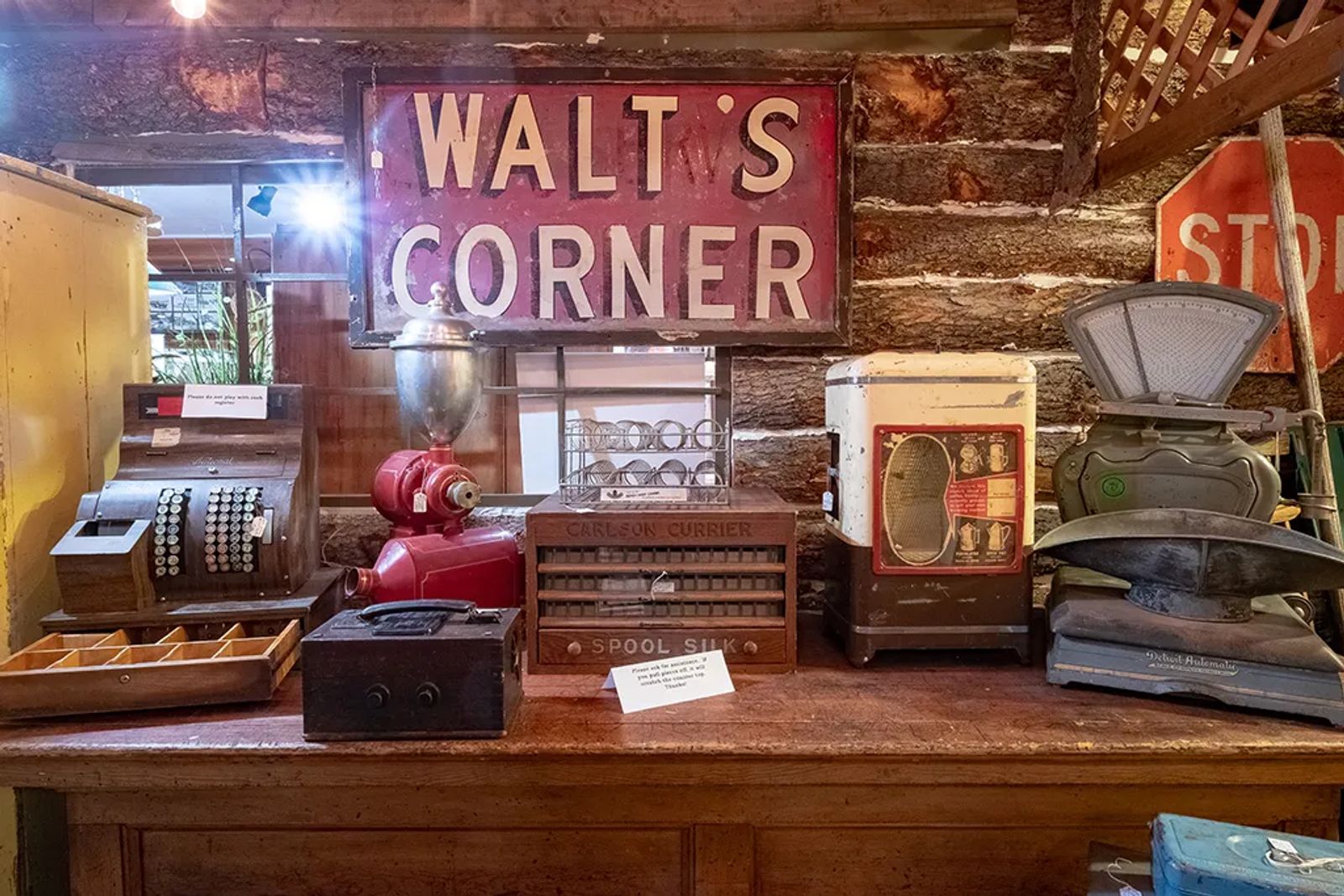 The store, which has covered parking on the north side of the building and a service elevator for hauling heavy items between floors, is busy most days, but particularly on Saturdays, Shelly says, when it generally attracts "literally hundreds of people." They have had shoppers from numerous foreign countries and repeat shoppers from many states.
One group of regulars is made up of flight attendants who descend on the store every time they have a layover in Billings. "You wouldn't believe how efficient those women are at getting stuff in their suitcases," Shelly says.
To say it's a dream job for Shelly doesn't quite do justice to the passion she feels for the store, as evidenced by her unfailing smile and her readiness to engage with customers.
"This is a business, and obviously it's important to make money," Shelly says. "But equally important to me, this is a gathering place where people love to come. … I don't want to sound corny, but it means so much to me that people want to come here."
And though she also enjoyed teaching, she says, "I wouldn't trade what I do for anything. I feel so lucky to get to do what I love."