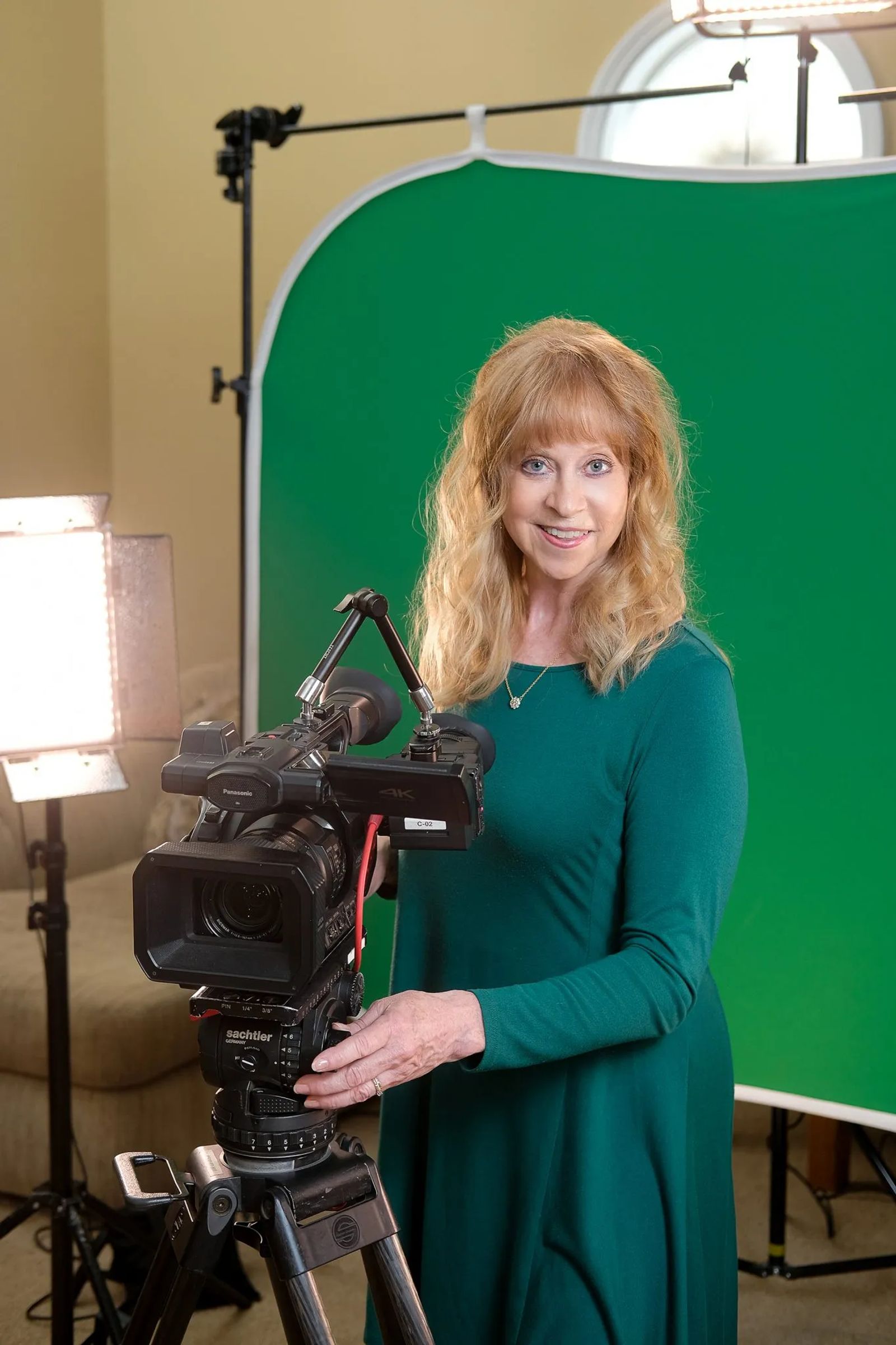 Anne Gauer In the Spotlight
A taste for adventure leads her on the career of her dreams
You'll never hear Anne Gauer say she's bored. Exhausted, maybe, but never bored. She's the owner and president of Spotlight Productions, and on one day you might find her shooting training videos at the Sibanye Stillwater Mine in Nye, four miles in and one-mile deep underground. The next she might be hanging from a safety harness at the top of a wind turbine filming a mock rescue for a construction company.
"I'll do anything if there's adventure involved," Anne says.
Throughout her career, her work has taken her to hundreds of destinations across Montana and the United States. She's been to the top of Mount Rushmore, where she stood on George Washington's head and filmed a worker rappelling down Thomas Jefferson's nose to make repairs on the monument. She's been tethered to a Navy chopper, hanging out the open door, video camera in hand, flying full speed over the ocean.
"When we set down, the pilot asked me if we got the shot, and I said, 'I don't think so,' so up we went again, because why not?" she says.
Anne works alongside Allen Peters, vice president of Spotlight Productions, and the two of them produce advertising spots, documentaries, public service campaigns and training videos for local and regional companies. Anne's husband, Jack Gauer, who owns Montana Video Productions, provides post-production editing and other technical support.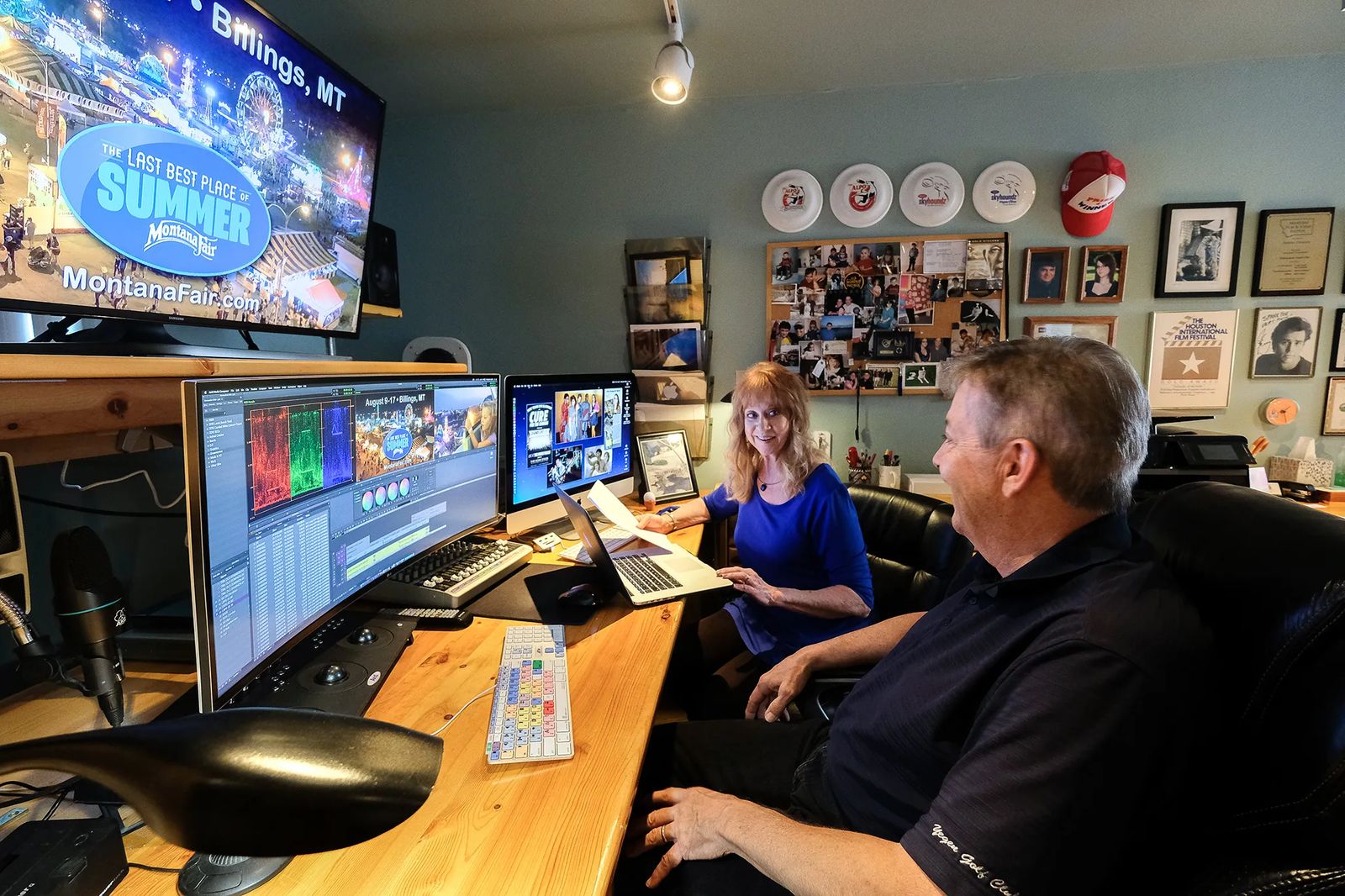 Even on a typical day, Anne and Allen's work is fast-paced and unpredictable – just the way she likes it.
"My schedule usually changes before I can get it written in my calendar," she says.
Video production is often weather dependent, and there's no telling what might happen during a shoot. Anne is always ready to improvise.
"I always have a plan B," Anne says. "No matter how prepared you are, something will change and you'll have to come up with a solution on the spot."
One such solution included scribbling cues onto paper towels for renowned performers Donnie and Marie Osmund. The singers were helping with a promotional spot for the Fox Theater, which later, after renovations, became the Alberta Bair Theater.
Anne loves the adventure and the unpredictability of her work, but her heart is in helping local nonprofits and foundations enhance their message. Her nonprofit clients are too numerous to mention, and many are annual accounts.
"Since Spotlight Productions has opened, we've helped nonprofits and foundations raise more than $55 million," she says.
Another annual event on Anne's schedule is the MontanaFair. She's been coordinating media services for 20 years, helping local journalists report on fair highlights. Typically, Anne and Allen spend more than 120 hours at the fair during its 10-day run. She's there from before the gates open until the last TV news crew reports their final live shot for the 10 o'clock news.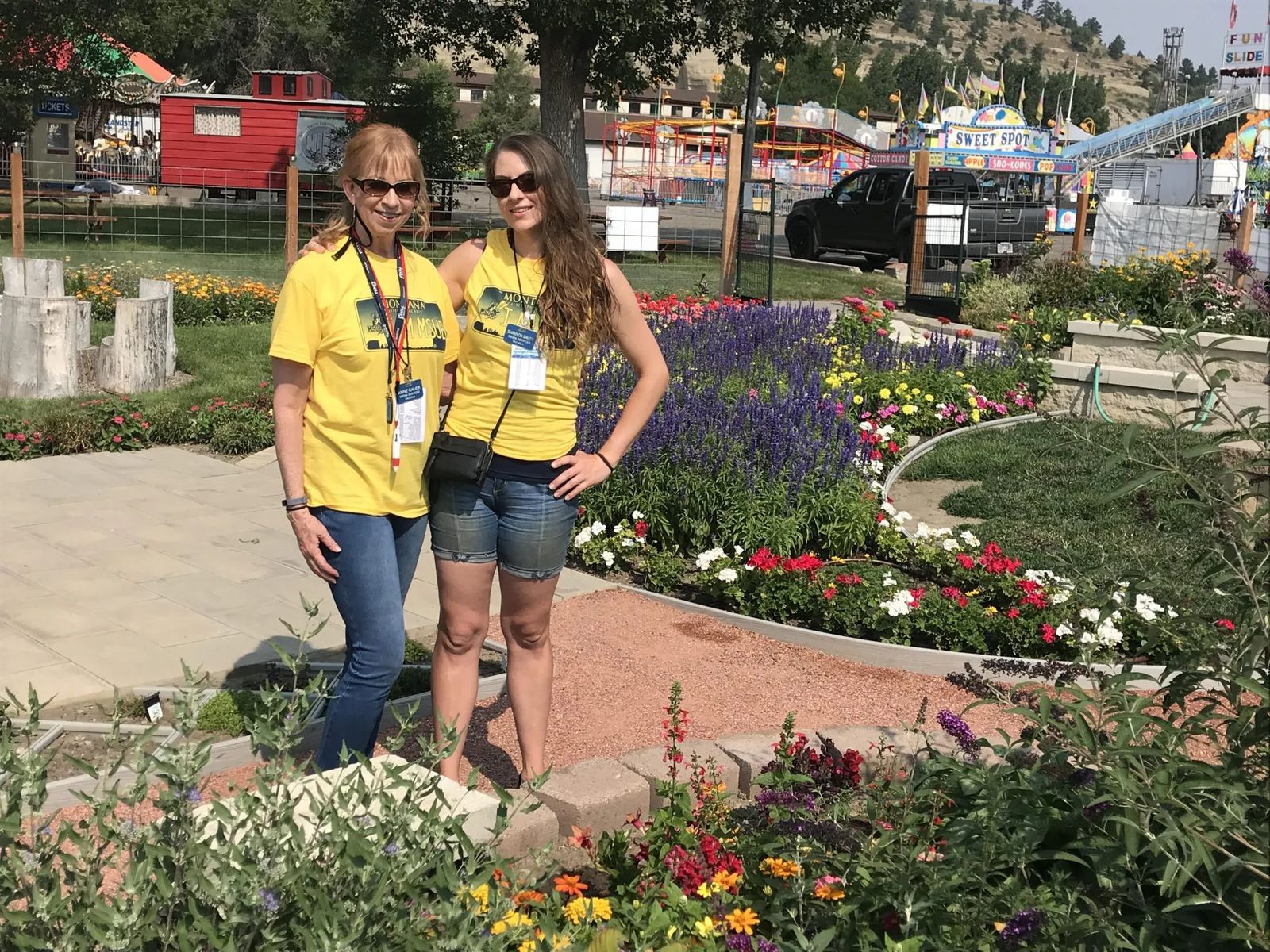 "We feel like we're part of the MontanaFair family," Anne says.
At the fair, things can slide into crazy at any given moment. Anne might be zipping along in her golf cart next to a man with a giant boa constrictor wrapped around his arm while Allen flies by on his golf cart with someone next to him with a chicken on his head.
"We pass one another and say, meet me at the pavilion!" Anne says.
Anne loves a good story and believes that all the best videos start with a story. At the core of all Spotlight Production's work is a strong message. She says it's what sets them apart.
Anne first got a taste of what would become her career when she was in high school. She directed a play at her all-girls school in Minnesota. She oversaw scripting, costumes, music, casting and set design. The experience was incredible, she says, and it left her wondering what career would offer the same thing. After graduation, she set off for college at the University of Montana with her sights set on video production.
"I knew from the first day of college that that's what I wanted to do," she says.
She studied journalism and sociology, which she believes was the perfect pair — storytelling and understanding human behavior. She also found time in her schedule to add a number of business courses as well. Right after college, she landed a job as host of Today in Montana and put her innate people skills to work.
"I would look my guests in the eye and make them feel like they were having a conversation with me over coffee," she says.
Eventually, after winding her way through various opportunities, Anne became president of Production West, a Billings-based video production company that worked with clients across the country. It provided all the opportunity and adventure that Anne needed.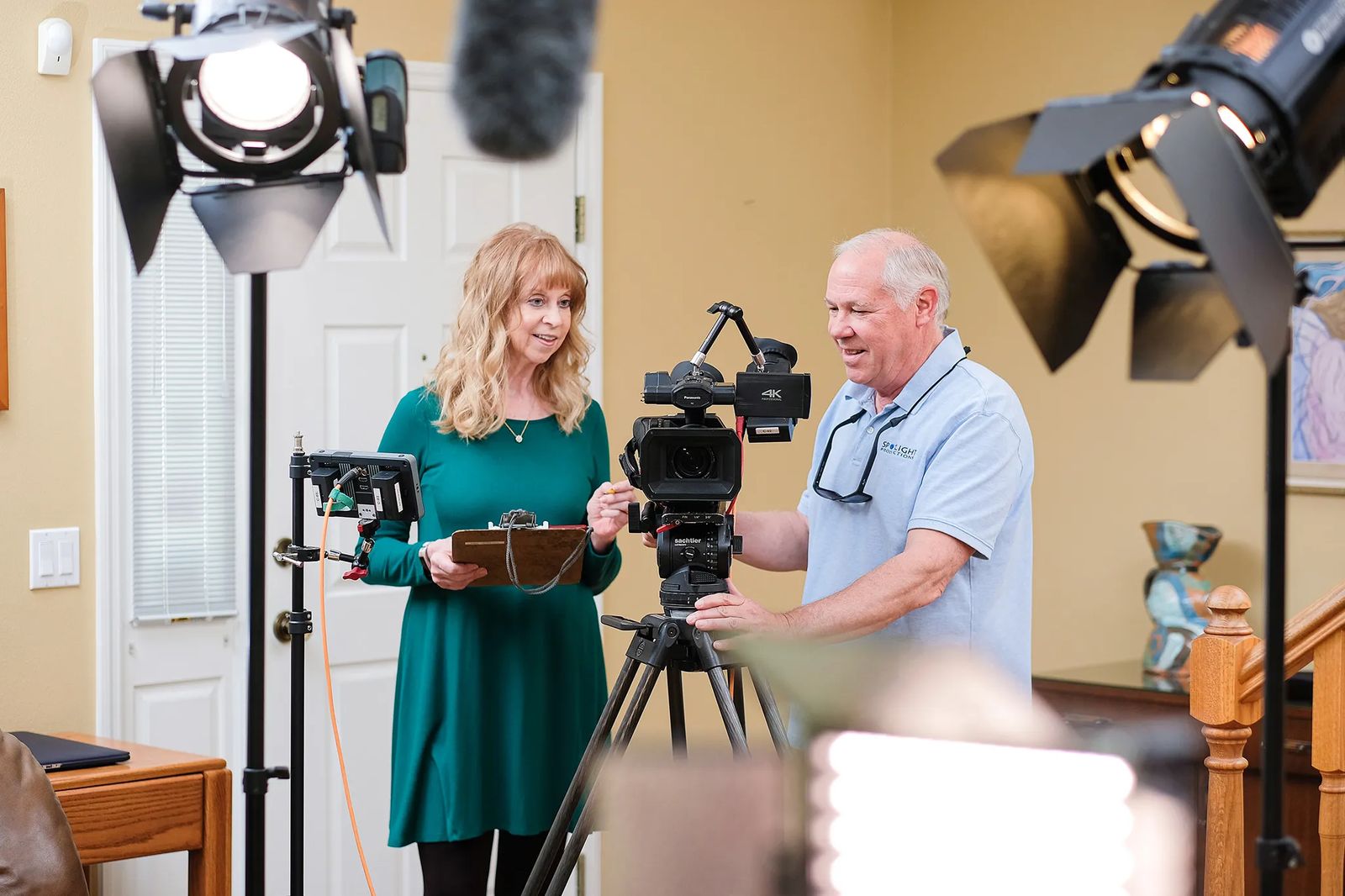 Anne met Allen early on when he came on board as talent for a commercial that she was producing for a bank. He had her laughing the whole day and revealed a unique creativity and talent for production as well. He later came to work for Anne at Production West.
Eventually, Production West shifted its focus toward national infomercials, which opened up a niche working with local and statewide businesses and nonprofits. Anne and Allen launched Spotlight Productions in 2002.
"She's fearless, and that's how she runs the business. If something needs to be done, she goes straight at it and she gets it done," Allen says. "I can honestly say that of all the people I've partnered with over the years, she is the easiest one I've ever worked with because she has follow-through."
Allen has also long admired Anne's passion for nonprofit work.
"If it's a cause she likes or someone needs help, she'll work for it," Allen says. "She'll give it everything she has."
Anne loves the flexibility of owning her own business but admits that it hasn't always been easy.
"When you own your own business, you don't just get a paycheck on Friday," Anne says, adding that it might be months between that first shoot and their final paycheck.
Anne artfully juggles her creative work with the more mundane business side of Spotlight Productions and puts nearly the same effort into both. Whenever possible, she reaches out a hand to newcomers in business, especially women.
"I'm a believer that women in business need to support women in business," Anne says. "If we can support each other and share our knowledge we'll all be stronger for it."
Each year, Anne works with the marketing class at Montana State University Billings, College of Business. With the help of Professor AJ Otjen, she guides students through the process of video production for a public awareness campaign — one that's new each year. The real-life work engages students beyond the classroom and, Anne says, the results have been outstanding.
"She is one of the most dependable, loyal people I know, and I count her as a true blessing in my life," Otjen says.
Perhaps one of Anne's favorite projects has been working on the full-length feature film, "Nebraska," which was, in part, filmed in and set in Montana. The 2013 film, directed by Alexander Payne and starring Bruce Dern and June Squibb, was nominated for six Academy Awards and five Golden Globes. Anne was the assistant location manager, and her job was to scout locations for filming in Montana and Wyoming.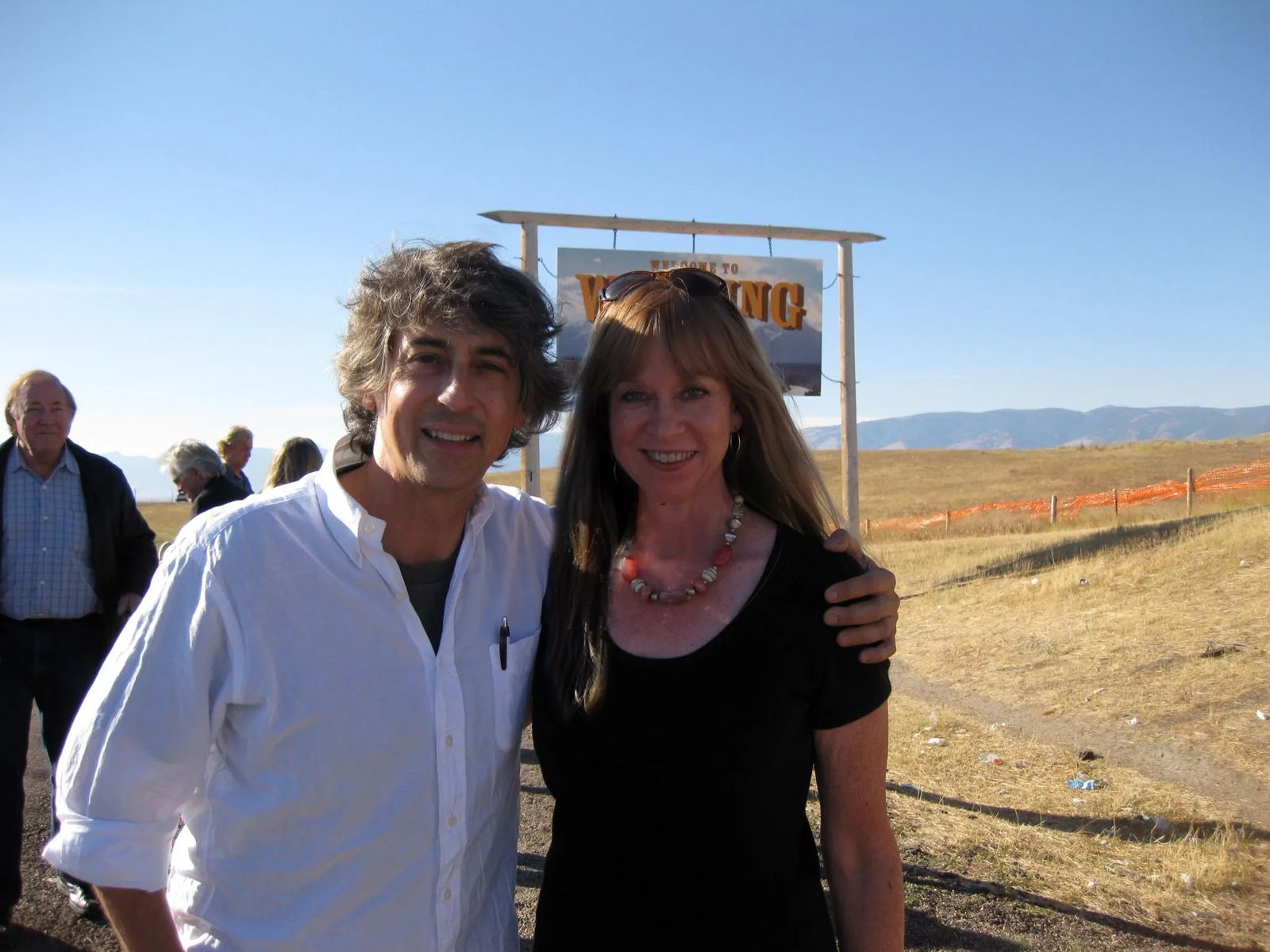 "It was just supposed to be two weeks of work, but it ended up being four months," she says. "To work with professionals at that level and to work alongside Alexander was amazing. He knew every single person's name on the site, and everyone was treated with respect. That's the kind of person I want to be."
Anne was delighted to see her name in the credits at the end of the movie. It was a satisfying closure to one of her biggest adventures.
Perhaps her greatest adventure was raising two children alongside Jack, her husband. Her children both inherited her creative spirit and work ethic. Her son Jon, 29, is a trombone performer, and her daughter Shannon, 27, is an apparel designer.
Despite her 30-plus years of career experience, Anne doesn't plan to slow down anytime soon.
"I love meeting new people and learning something new with every client," she says.