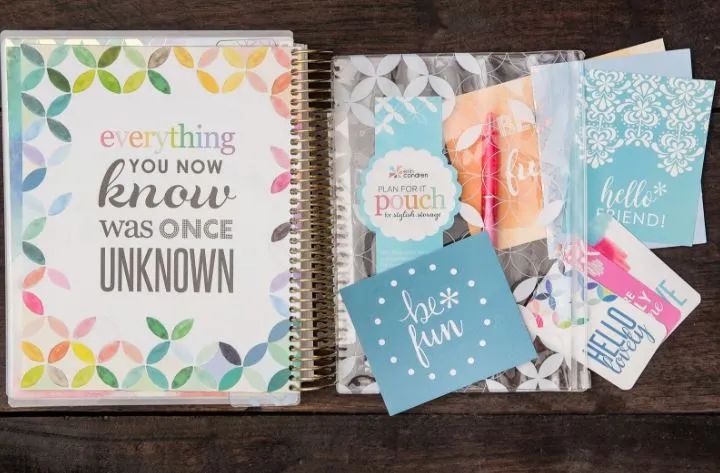 Are You a Planner Gal?
These stylish finds might just be enough to organize and motivate
The year you finally resolve to organize your to-do lists and create a streamlined life. Sure, you have that little notebook at the bottom of your purse. And, there's that calendar feature you can't live without on your phone. But, many women are learning that there's something magical about putting pen to paper. You can doodle. You can put your grocery list right next to your meal planning for the week. A calendar app can't do that. Instead it vibrates, beeps and buzzes, breaking your flow, while trying to keep you on track. That's why many women are ditching the digital option and jumping on the #plannerlove craze to jazz up their day with a creative and colorful solution to life's chaos. Want to see what all the buzz is about? Check out some of our top picks for this year along with some of the accessories you can nab to keep your day in line, literally.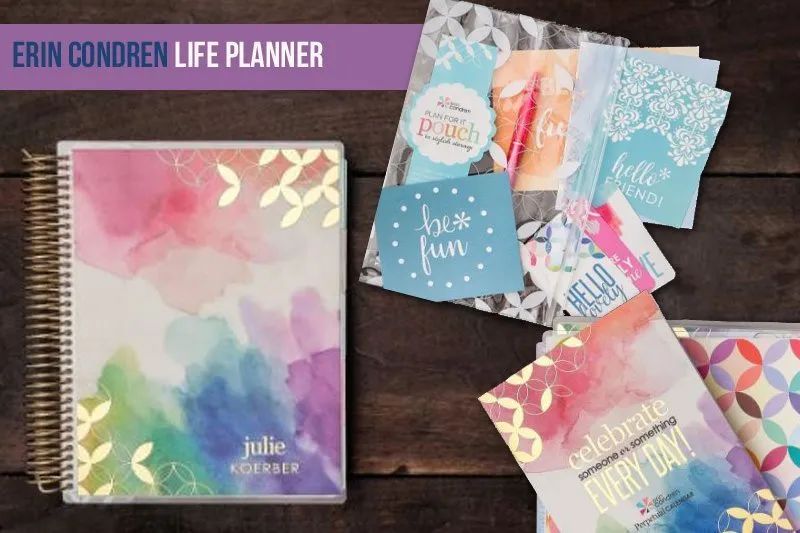 ERIN CONDREN ON THE GO LIFE PLANNER
12 Month, 7" by 9", Starting at $55 at erincondren.com
Erin Condren's planner line burst onto the scene more than a decade ago and over the years it has evolved to be an organizational machine. Start at erincondren.com and "build" your planner with personalized interchangeable laminated covers in an array of designs. You can choose from horizontal, vertical or hour-by-hour layout, plus there are gobs of accessories to trick out and customize your pages. The inside cover offers a laminated page for wet erase notes, which is super handy to change up those important messages to yourself. Interwoven in the design, you'll find inspirational quotes like "Make room for good things to begin," just to set the mood. In addition to a year at a glance, there are boxes for monthly goals, a space for notes plus color-coordinated stickers to flag different parts of your day. Need space to store stuff? This planner has two folders plus the Plan on It Pouch, a zip pouch that's perfect to stash receipts, coupons, stickers, and pens— anything small enough to pop inside and take with you. The perpetual calendar that's included is a one stop shop for birthdays, anniversaries and all important days to remember year after year.
PROS: This planner is so customizable, there's probably not a need that can't be filled. Tons of YouTube videos offer tips and tricks plus there are extras that you can buy on Etsy to get the most out of each and every planning day.
CONS: The price tag can rise rapidly once you add on all the little extras.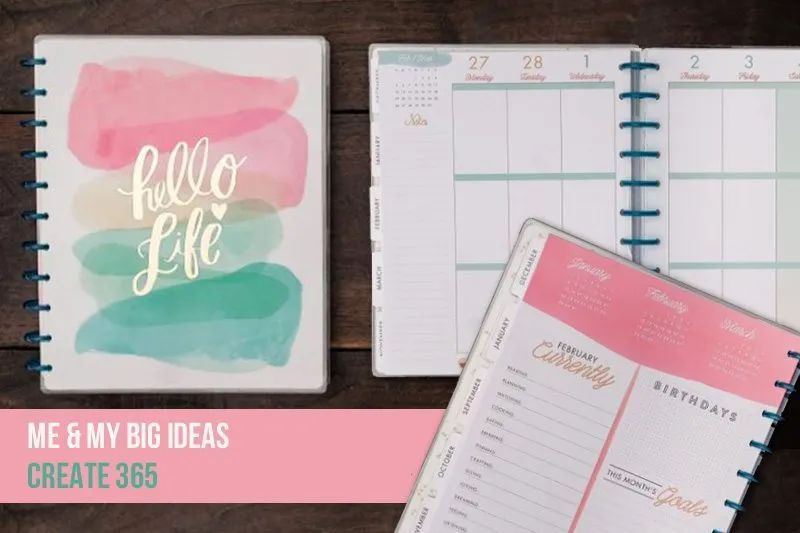 Create 365 by Me & My Big Ideas
18 month, 7.75" by 9.75", $32.99
This expandable planner combines the love of creativity with a unique organizational layout. At the beginning of each month, you'll find a place to stash dates to remember, monthly goals, along with a huge list of things to jot down like what you are reading, watching, cooking, pinning and crafting — just to name a few. In addition to a month-at-a-glance layout with a healthy space to jot down notes, each day offers three boxes to break up your day. Inspirational quotes are sprinkled throughout giving you a dose of sunshine and as they say, 'make YOU a happy planner.' If this large scale version is too much to carry (literally), Me & My Big Ideas now offers a Mini Happy Planner which measures 4.5" by 7" for just $19.99.
PROS: Interchangeable system allows you to change your cover and accessorize to the max. It's a nice price for the quality and if you visit the Create365 website, you will literally find hundreds of ways — from stickers and page dividers to storage systems — to trick out your planner.
CONS: It's a bit too bulky to stuff in a purse or bag. Before you add accessories, this book weighs roughly two-and-a-half pounds.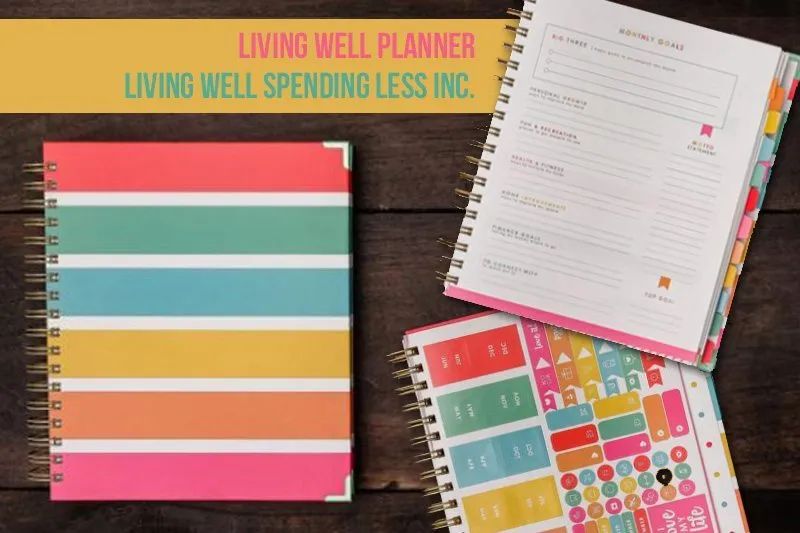 Living Well Planner by Living Well Spending Less Inc.
12 month dateless planner, 7.5" by 9.5" $49 at livingwellshop.co
Crush your goals and budget like a boss. The Living Well Planner is a resource guide to help you to take bites out of your to-do list. Along with time management tips inside the planner, you'll find videos, tips and tricks at livingwellplanner.com. This is more than just a date keeper, it's a mindset. There are pages devoted to short and long term goal setting and spots to jot down ways to improve every aspect of life from your home, to personal growth, to fitness and finance goals. Use the monthly budget tracker to keep an eye on actual spending and see how close you came to your categorized budget. There's even space each week for meal planning and grocery lists. Want to keep an attitude of gratitude? Show it in the "thoughts and thanks" section. In the back, you'll find a few sheets of stickers to add visual reminders for birthdays, date night, hair appointments and more.
Pros: If you like one place to streamline your life, this might be a little slice of organizational heaven for you. Online at livingwellshop.co, you'll find pages of accessories and free downloadable sheets.
Cons: If you tend to get overwhelmed by too big of a scope on life, this might not be the system for you. It truly tries to keep every aspect of your life on track. This planner is dateless, which might be a pro for some, meaning you need to write in the dates or use the stickers provided to create your own start date.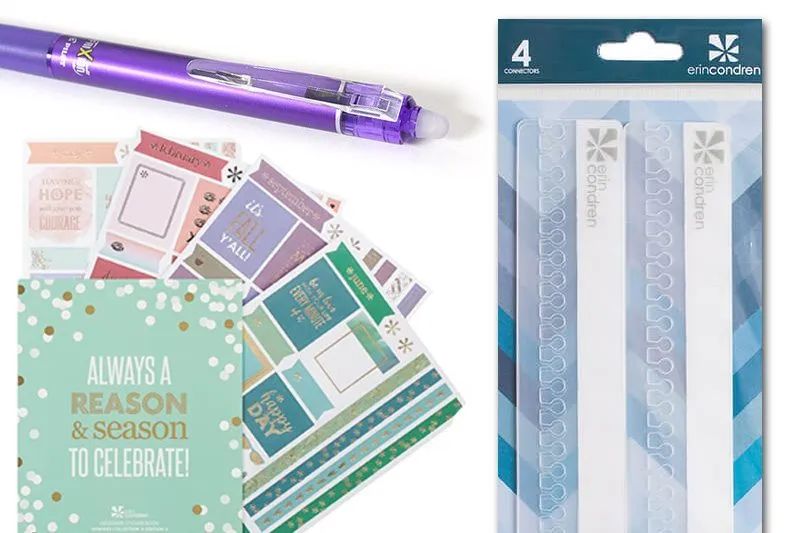 PLAN ON IT!
Accessories to customize your day
Erasable Pens: Say hello to a new generation of erasable pens. The Pilot Frixion comes in a whole gamut of colors, making color coding your planner possible and giving you the flexibility to erase and move items in a jiffy. This gel ink erases thanks to the heat created by the plastic pen top. Note to self: don't leave your planner in a hot car when using this ink. Another plus? There are refillable cartridges for these pens as well.
Washi Tape: Use this decorative, lightweight tape to create DIY banners, flags, or to mark a day of the week that you really need to pay attention to. With the vast array of styles, you're sure to find one that is a perfect match to your planner. We found this pink and rose gold variety at Michaels for $4.99.
Stickers: Where do you even begin when it comes to planner stickers? 'Google' planner stickers and you'll come up with pages upon pages of resources to click on. Some are free downloads that you can print yourself on sticker paper. Others are available to purchase. Visit Etsy.com and search planner stickers for hundreds of options. We found this banner flag style of sticker for $2.99 at Michaels.
Clip Connectors: While these Coil Clip Connectors are made for the Erin Condren LifePlanner, it's an accessory that many planner companies have on hand. These little clips are a simple way to attach virtually anything you want to keep with you to the inside of your planner. Simply stick to the item and pop into place.
Stylized Sticky Notes: Need a visual reminder with lines and checkboxes? These sticky notes fit perfectly into most planners' box design. Don't get your to-do list done in one day? This repositionable note can travel with you until you're able to scratch it all off and mark it as done.
Elastic Bands: Stylishly secure what's inside your planner with these colorful elastic bands in pink, blue and dazzling gold. While these bands were made for the Create 365 system, they'll fit any 7" by 9" planner that's on the market.
Elastic Pen Holder: No more searching for your favorite pen. This pen holder keeps it handy thanks to an adhesive back that conveniently sticks to any style of planner, address book, or journal. $2.50 at erincondren.com.