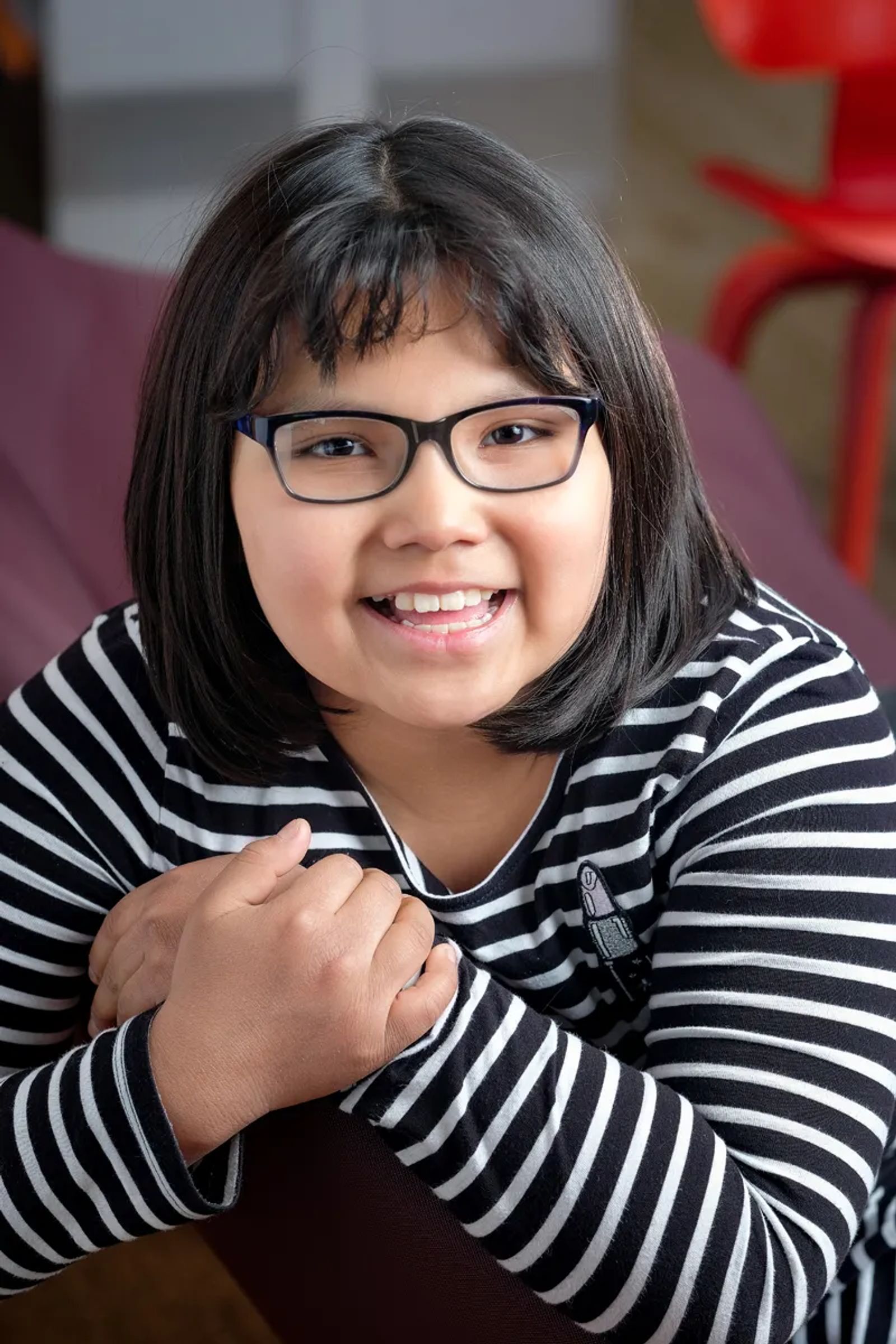 Artsy & Kind
The Heart Gallery's 10-year-old Kenzie
If you sit down with 10-year-old Kenzie, it doesn't take long for her personality to shine.
"If someone has a pencil, I'll just start drawing," she says as she flips open an empty page on her favorite sketch book. "I like drawing. I like drawing cats that are people." After my eyebrows start to rise, she adds, "I like putting cat heads on the bodies of people." So, with her creative mind running at full tilt, Kenzie whips up one of her creations with a little pencil and a whole lot of imagination. When I ask her what it would be like if her cat girl suddenly came to life, Kenzie laughs and says, "That would be kind of creepy!"
While this fourth-grader has an artistic side, she loves to use the other side of her brain as well to figure out formulas and problems. "I like math," she says. "I'm pretty good at it. I like the parts where you have to figure out the problem. I like dividing and I like fractions."
You'd never know looking into Kenzie's big brown eyes that stability has been something she's never really had in life. Just talk to her foster mom, and it becomes clear: Kenzie has been jumping from home to home, pretty much since birth.
"When Kenzie first came to us, she had already had so many placements. We were placement 16, I think," says Cindy Gabbert.  "We aren't a long-term placement but we said that we would keep Kenzie until she found her forever home."
Cindy says what she's learned about this bubbly girl is that she never has a shortage of friends.
"Kenzie is very empathetic when it comes to other children," she says. "She wants to make everyone feel comfortable. She is kind, generous and loving. She gives the best hugs!"
Giving love to other kids is something Kenzie hopes she'll be able to do when she finds that forever family. She'd love to be a big sister one day.
"I love little kids," Kenzie says. "I just want to hang out with them." And, when it comes to a mom and dad, she says, "I just want to know that they love me."
As Kenzie says this, Cindy starts to tear up. While she and her husband would love to stay in Kenzie's life, she would love nothing more than to see her have a family of her own.
"We are just hanging in there with her. Kenzie has a lot to offer if a family just takes a chance, takes a chance on her. Now that we are on this path, it's a whole new world of possibilities for Kenzie."
TO LEARN MORE ABOUT KENZIE or the foster-adoption system in general, call Laura Moser at 406-377-4963. While Kenzie is in need of an adoptive home, many times the primary goal for children in the system is to have a temporary placement while social workers strive to reunify them with their biological family. Each family wanting to become a licensed foster-adoptive home must undergo 18 hours of mandatory training to learn what it takes to become a successful foster family.