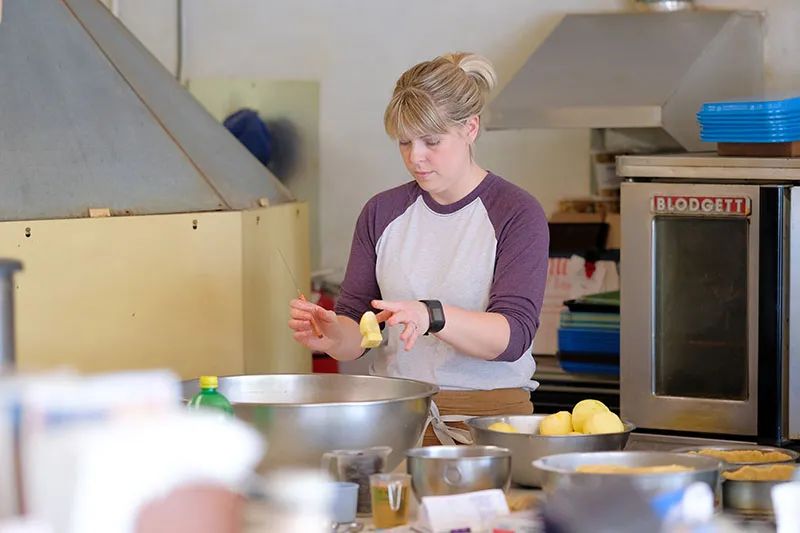 Baking Up Love
Christine Burley, Jilan Johnson & Joanie Swords
By Stella Fong, Photography by Daniel Sullivan
Today I needed a bite of comfort. I am sitting at a table by the front window of Harper and Madison as the warm sun streams in. With headphones on, I am listening, by pure coincidence, to jazz guitarist Chris Standring play "Have Your Cake and Eat It" as Joanie Swords places a generous slice of four-layered coconut cake in front of me. My fork carves out a hunk of moist cake layered with rich seductive aromas of butter and coconut, and with the first mouthful, I feel the spirit of a dessert made with attention.
"Food is a powerful vehicle to love people with," Joanie says. As the pastry chef and owner of Harper and Madison, she cherishes every opportunity to share food with people. She's not alone. Pastry chef Christine Burley of Caramel Cookie Waffles, and business owner Jilan Johnson of the newly opened Sassy Biscuit Co. also use love to feed diners. All three of these women are dishing up plenty of "yum" with their creations that rise from the oven.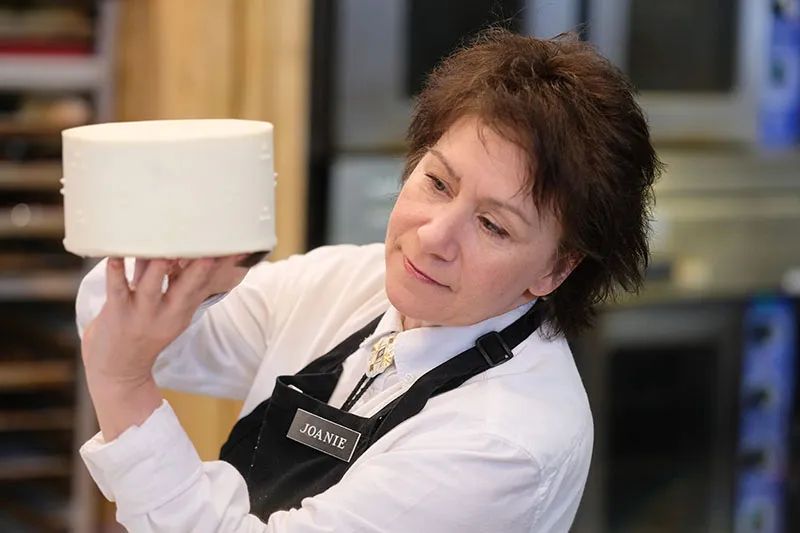 HARPER & MADISON'S JOANIE SWORDS

Joanie has come a long way since her days at her very first restaurant job at Bert and Ernie's, where she moved from hostess to waitress to bartender to kitchen manager. Each step brought invaluable learning opportunities. Later, at Great Beginnings Perfect Endings, Lezlie Solari taught her a life-sustaining skill. "I had a three-week crash course in baking." Joanie says, "I did not know I would love baking. It was way better than cooking."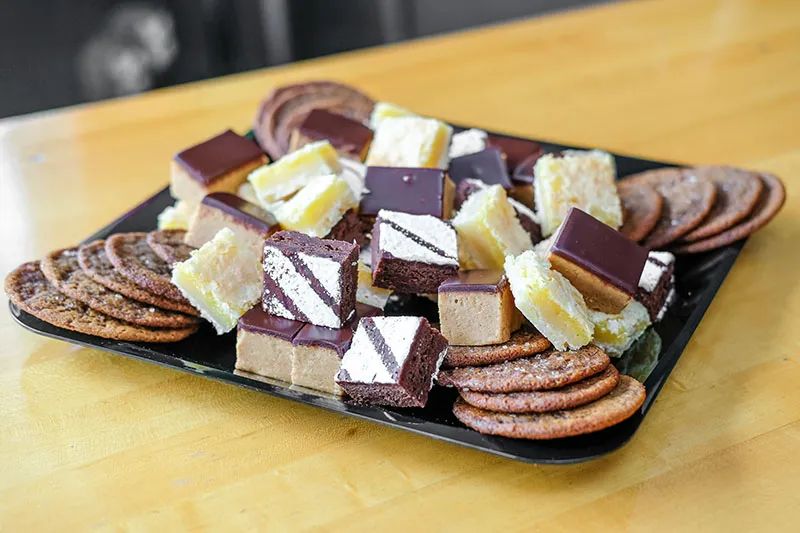 She and Sandra Schiavon bought the business from Solari and revamped it into Poet Street Market on Poly Drive. The two shelled out $200 of their own money to buy enough product to open the first day. Joanie says, "We were passionate about what we were doing. Passion is infectious." Their contagious enthusiasm infected a couple of women to come forward as investors, loaning them money to get the business on track.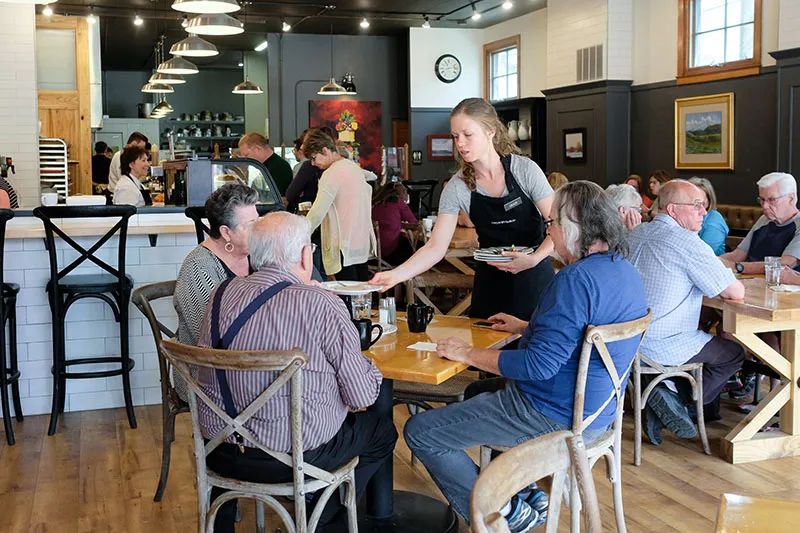 Several years later, they sold Poet Street Market. Swords opened Dancing Oven, where she sold pastries and cakes by appointment. The space with a large kitchen opened to a space for her two growing children to play. In giving up a regular job and raising her children, she believed, "nurturing is exponential" in rewards. "I was entirely fortunate to have the flexibility." After selling Dancing Oven, Swords opened Harper and Madison, named after her two children.
Though Sword runs a well-oiled operation at Harper and Madison, her biggest challenge is "keeping all the balls in the air." On this day, while the restaurant is closed, she's waiting for an electrician to fix her ovens that have been down. She's also the head of maintenance, PR, accounting and human resources."I have to decide on how to use my time wisely," she says. "This is my baby. I love what this place does for people. It feeds me, my soul."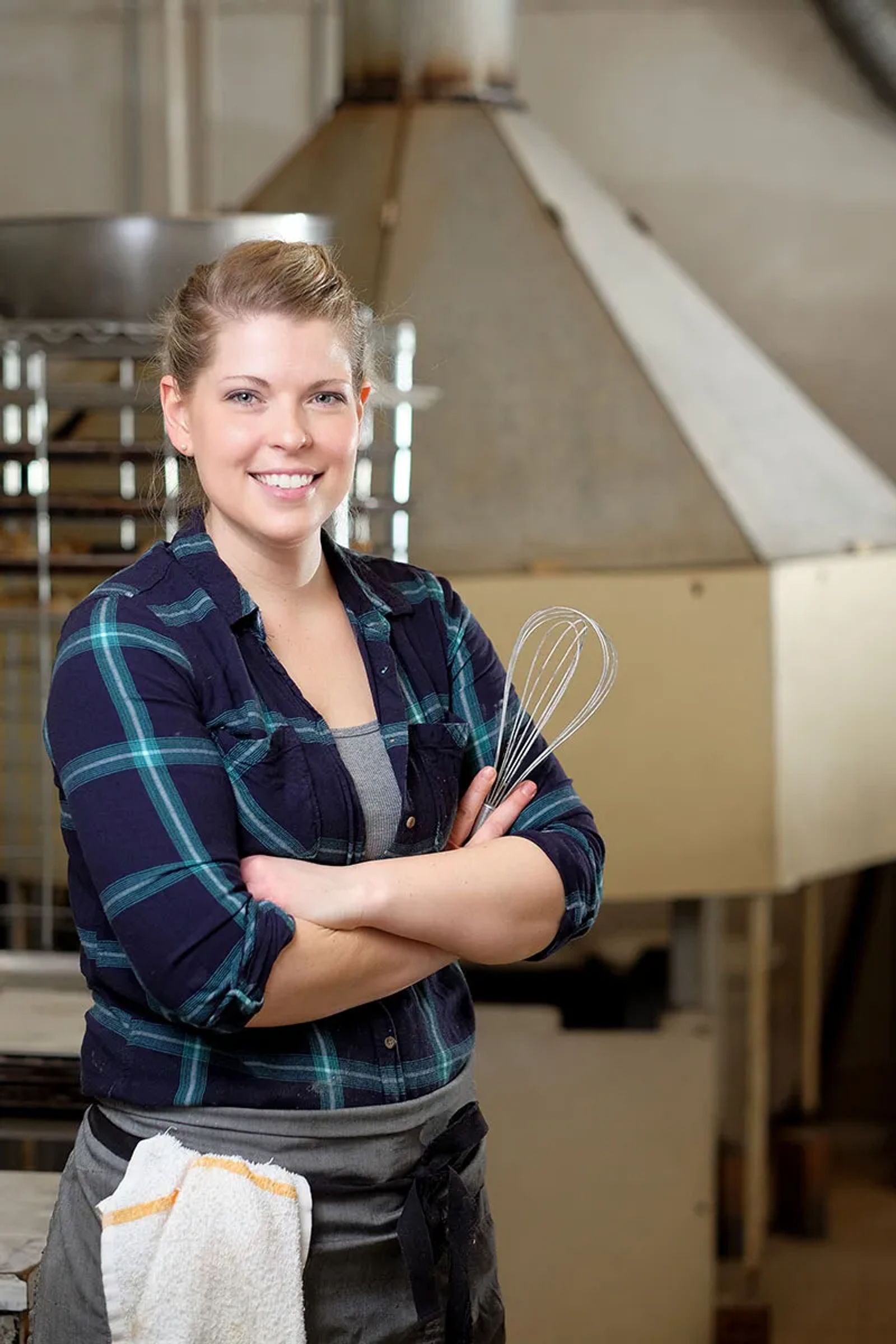 CARAMEL COOKIE WAFFLES' CHRISTINE BURLEY
Just last November, Christine Burley hung up her sous chef hat at the Northern Hotel to satisfy a different culinary craving — baking up the many offerings at Caramel Cookie Waffles. She jumped in just before the holidays. She had to be a quick study in mastering the recipes crafted by owners Jan and Judy Boogman.
There is nothing like being in Caramel Cookie Waffles right after they bake their stroopwafels — thin waffled butter cookies that sandwich rich caramel scented with cinnamon. On this rainy day, the smells greeted me as I stepped inside. Chef Burley just completed dusting her four-layer "Almond Cake with Pineapple Caramel and Orange Brown Butter Cream Cheese Filling" with orange peel and was sliding the masterpiece onto a glass pedestal. I knew I needed a slice. The almond buttery goodness of the cake let the flavors of tropical places — orange and pineapple — rise to the top.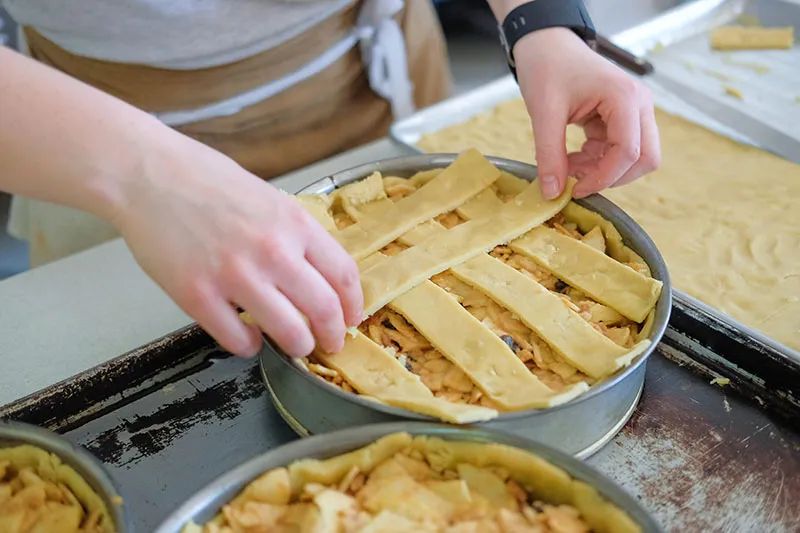 "I love working with Jan and Judy as they have stability. Also they understand me because they have three daughters," Burley says.
Hard work and tenacity have paved the way for Chef Burley's colorful cooking career. It started when she was 14 in Plentywood, Montana. A stint in Bismarck, North Dakota at a cafe called Mr. Delicious and then an apprenticeship in Rye, New York, at the Westchester Country Club led her to Oregon Coast Culinary Institute to earn her culinary arts degree. After baking for Elles Belles in Belgrade, Burley made her way to Billings to work as the sous chef at the Northern Hotel. With the majority of the staff being men, Burley says, "They would joke around and call me 'Mom,'" providing employees and the executive chef what she considered feminine strengths of guidance, order, and organization.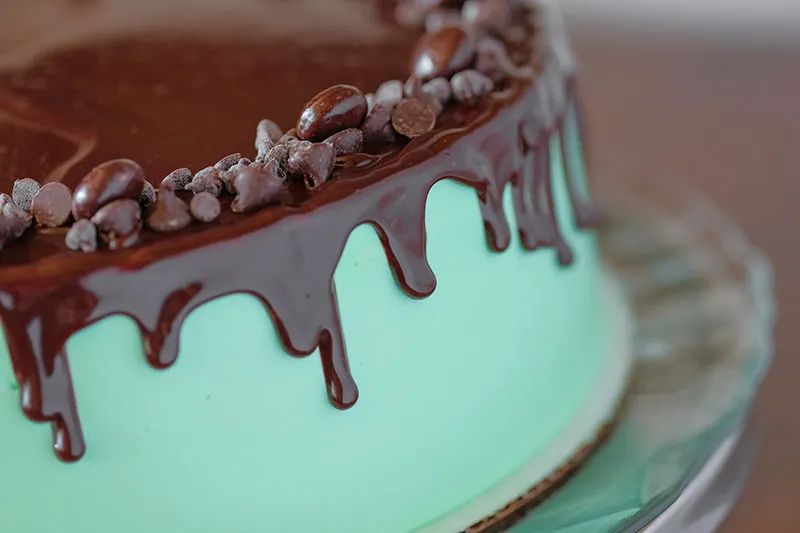 Today, Burley has expanded her culinary horizons to include making wedding cakes for Caramel Cookie Waffles. Pop into the luncheon hot spot and you can grab one of their cake-by-the-slice options. Be sure to try her German Chocolate cake made with pistachios that she whipped up for her father's 60th birthday or her lemon curd and buttercream cake. Recently in the kitchen, she's been working with Jan on a "secret recipe" developed for a cake to mimic the caramel cookie waffle and pay homage to the iconic bakery. At the end of the day, however, each bit of sweetness follows Burley's philosophy that food should contain simple, natural ingredients. "Extravagant is not always the best," she says.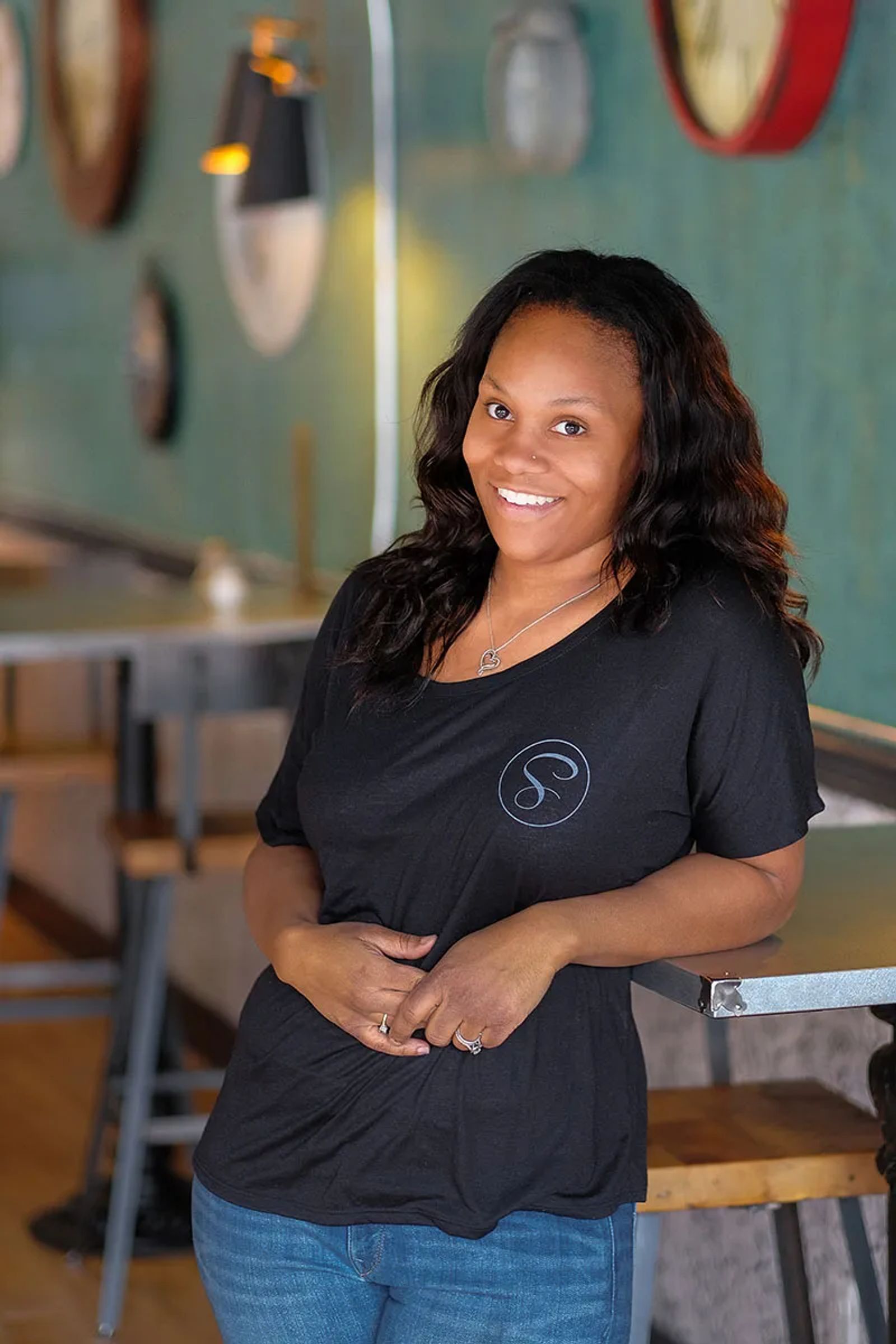 SASSY BISCUIT'S JILAN JOHNSON
 If you're hooked into the foodie culture in Billings, you've likely heard the buzz about the new kid on the block, The Sassy Biscuit Co. Behind the shabby-chic flea market décor is Jilan Johnson, a woman dedicated to bringing food that's full of flavor and from the heart to stomachs from far and wide.
Sassy Biscuit might have debuted at the Yellowstone Valley Farmers' Market last summer, but now this savory hot spot has a permanent 2,000-square-foot restaurant in the space that once housed B Town Grill on North 29th Street downtown. Even though Johnson holds a culinary degree, she hired Chef William McCormick to execute her recipes. She considers herself a businesswoman first.
Jilan and her husband, DeMarco, along with their three children, made the move to Billings from San Diego a year ago. The couple met at the Le Cordon Bleu culinary school in Pittsburgh. While Jilan worked for the Doubletree Hotel's Bigelow Grill, her husband took a position with the Pittsburgh Steelers at Heinz Field. Wanting more stability, he later joined the Marines.
In April, the couple opened the doors on their new venture that's now attracting quite the attention.
On this morning, I am with my good friend Terrie. After ordering at the counter, we seat ourselves at a high table. I wanted something sweet and was directed to order the "the shortie-cookie butter, toasted cream" under the "pressed shortcakes" category on the menu. Terrie secured "the firecracker-smoked chicken, apple jicama slaw, spicy remoulade" under "sammies." We devoured the spice cookie-based butter anchoring a crisp-on-the-outside, creamy-on-the-inside waffle and a light biscuit sandwiching a multi-dimensional flavored filling.
Just like the flavors that converge, a collaborative process revolves around every aspect of this business.
"Not one person is more important than the other," Johnson emphasizes. It's why she's tried to empower her team right from the start to run the restaurant when she's not there. "They sat down to an orientation instead of heading into the kitchen and cooking. We showed them motivational videos that told them what we wanted, why we chose them." She adds, "I know I cannot do this by myself. We are a team."
When it comes to crafting the perfect plate, Johnson believes food needs to come from the heart with everything made from scratch, a commitment she will pursue with her bruncherie that serves biscuits and gravy, savory and sweet, all day long. Gravies include the traditional
roux-based sauces, but also syrups. Red eye gravy made with coffee and country ham will complement shrimp and black-eye peas to honor her southern roots.
"Comfort food should evoke memories that bring joy to your soul as you eat it," Johnson says. "It's the love that you put into food."
FEEDING THE STOMACH (& THE SOUL)
Swords, Johnson and Burley share their favorite comfort foods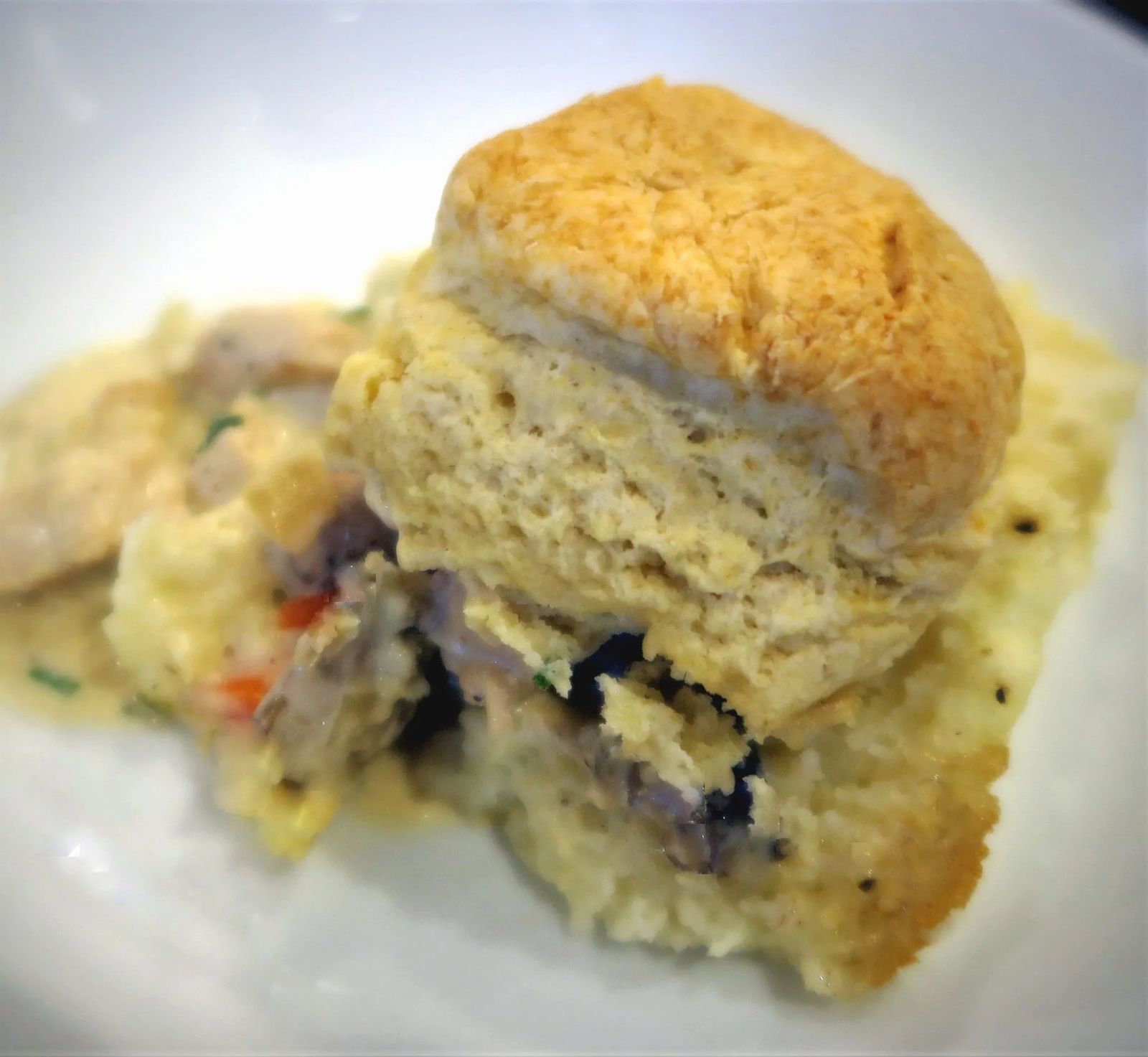 CHICKEN POT PIE

From Jilan Johnson, serves 8 to 10
Mashed Potatoes
8-10 red potatoes
½ c. sour cream
2 T. unsalted butter, melted
Salt and ground black pepper, to taste
½ c. whole milk
CHICKEN GRAVY
1 T. olive oil
1 small yellow onion, diced
1 carrot, diced
8 ounce package sliced mushrooms
½ t. dried thyme
2 c. chicken broth
2 c. cream
2 c. chicken breast, diced
½ c. frozen peas
1 T. minced cilantro
2 T. sliced chives
Salt and ground black pepper, to taste
BISCUITS
3 c. all-purpose flour
2 T. baking powder
1¼ t. salt
1½ stick unsalted butter, cut into ½-inch pieces
1 c. whole milk
Peel potatoes, dice, place in pot and add water to cover. Cook until fork tender. Mash potatoes with sour cream, butter, salt and pepper. Add milk to make mashed potatoes loose to avoid drying out in the oven. Spread into a 9 x 13-inch baking dish.
To make the drop biscuits, place flour, baking powder and salt in a food processor and pulse a few times. Add butter and pulse until mixture forms pea size balls. Add milk slowly through top of food processor and pulse until just incorporated. Set aside.
To make chicken gravy, add olive oil to pan and heat. Season chicken with salt and pepper and cook until no longer pink. Remove from pan and set aside. Sauté onions and carrots for 3 minutes,  add mushrooms and thyme, cooking for another minute. Add broth and reduce liquid by half, add cream and simmer for 5 to 10 minutes until sauce has thickened. Add cooked meat, peas, cilantro and chives, season to taste. Pour over mashed potatoes. Cover with aluminum foil and bake for 30 minutes, remove and top with biscuits. Return to oven for 15 to 25 minutes until biscuits have browned and gravy is bubbling.
When I really want to feel that I am giving myself a treat and comforting myself with food, it is with something fabulous and sweet, pastry cream with fresh raspberries being the best." ~Joanie Swords
PASTRY CREAM
From Joanie Swords, makes 6 cups
3 c. whole milk
1 c. heavy cream
4 ounces sugar
2 ounces unsalted butter
1 whole egg
2 egg yolks
4 1/2 ounces sugar
2 ounces cornstarch
1 T. vanilla extract
Combine milk, cream, sugar and butter in a medium saucepan, bringing to a boil. Cream together egg and egg yolks with sugar. Whisk in cornstarch until smooth. Slowly whisk 2 cups of the boiling mixture into the egg mixture to warm it. Pour the warmed egg mixture into the boiling mixture. Whisk while continuing to boil, for 1 to 3 minutes or until thickened. Remove from heat and add vanilla. Pour immediately through a strainer. Place plastic wrap directly onto the surface of the pastry cream and refrigerate. Serve over fresh berries.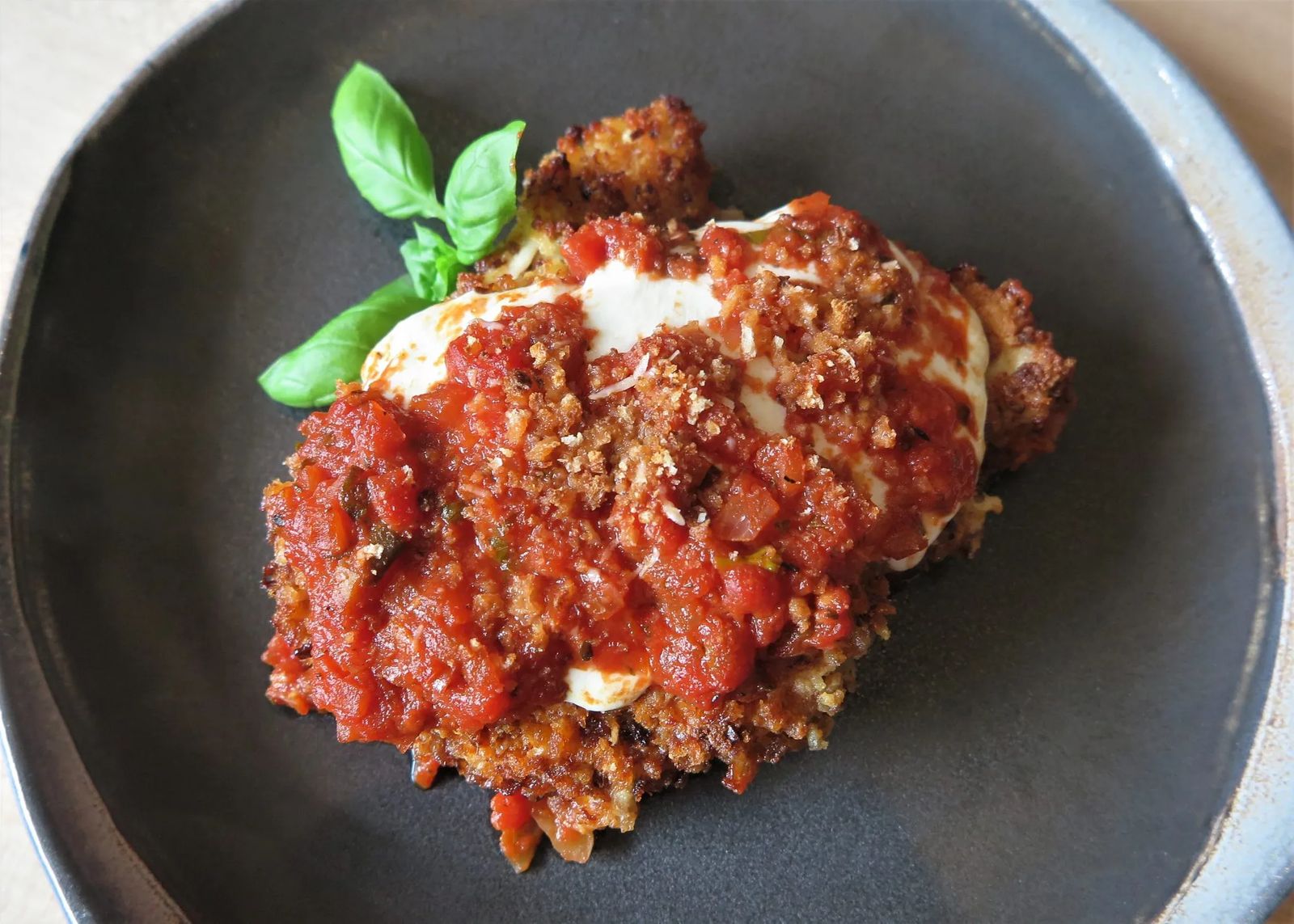 CHICKEN PARMESAN
From Chef Christine Burley, Serves 4
2 T. Olive oil
4 cloves fresh garlic, minced
1 medium onion, diced
2 T. tomato paste
½ c. red wine
28-ounce canned diced tomatoes
2 t. dried oregano
1 t. dried marjoram
1 bay leaf
¼ t. red pepper flakes
1 T. sugar
1 T. fresh chopped basil
1 t. fresh chopped thyme
Salt, to taste
2 to 3 chicken breasts
Vegetable oil
1 c. Italian style bread crumbs
2 eggs, beaten
1/2 c. all-purpose flour
8 ounces fresh Mozzarella
Heat 2 tablespoons of olive oil in saucepan. Sauté onion and garlic 3 minutes until translucent. Add tomato paste, stirring while paste is caramelizing. Pour in wine to deglaze pan. Add tomatoes, oregano, marjoram, bay leaf, red pepper flakes and sugar. Allow to simmer for 30 minutes.
In the meantime, place chicken breast between plastic wrap and pound out with a mallet until ½" thick. Mix bread crumbs and parmesan together in a shallow bowl. Add eggs to a separate shallow bowl and flour into another. Dredge chicken breast in flour, then eggs, then crumb/parmesan mixture. Repeat with other breasts and set aside. Once your sauce has simmered for the appropriate time, add in your fresh herbs. Salt to taste.
Preheat oven to 400 degrees. In a skillet, heat vegetable oil just covering the bottom over medium heat.  Fry breaded chicken breast, about 7 minutes each side. Place chicken breast on a sheet pan and top with sauce and two slices of mozzarella. Place in oven until cheese is melted. Enjoy with pasta and more of your tomato sauce on top.