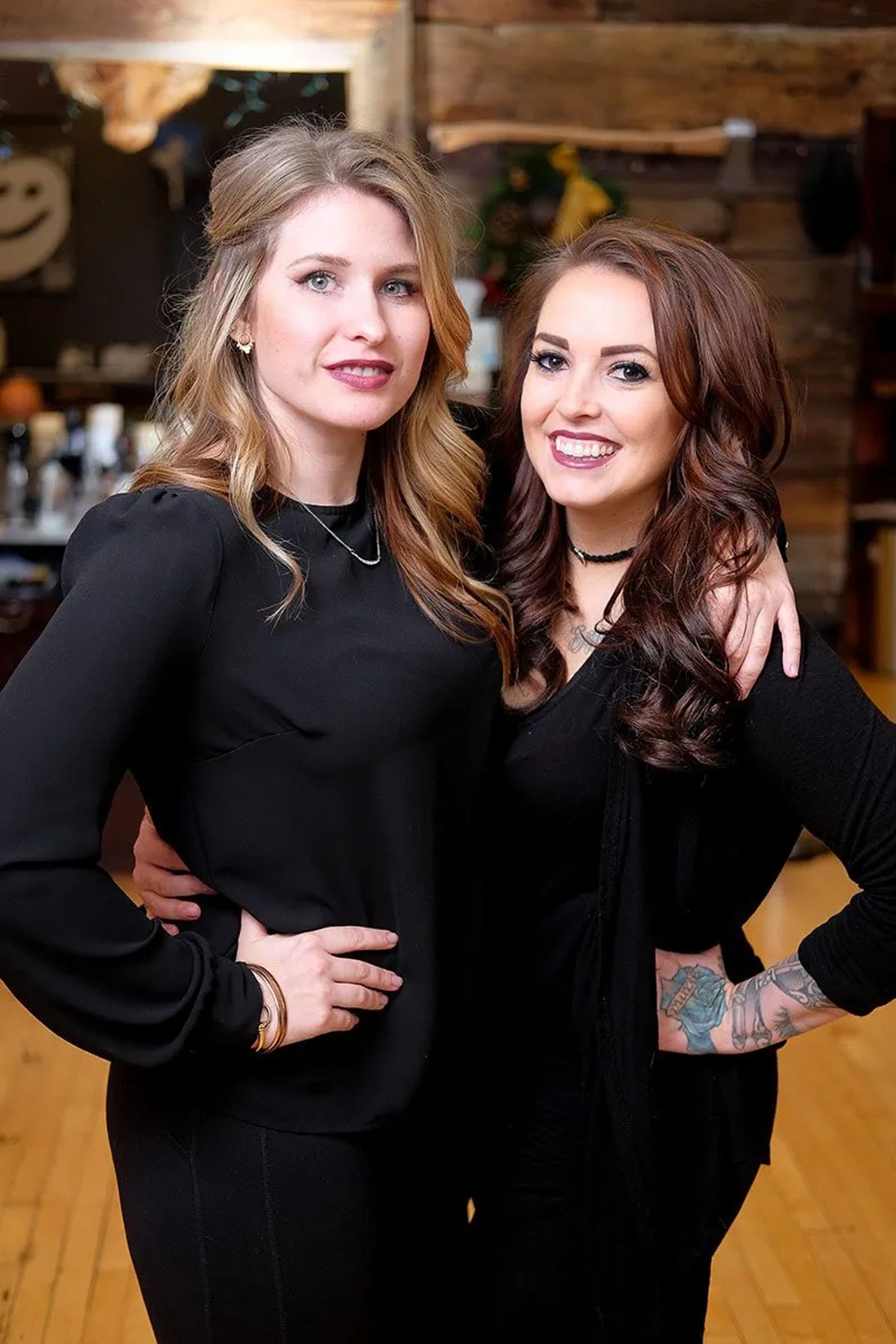 Barbering is in Their Blood
Rebels & Razors is Sparking a Revival

If you listen closely enough, you just might hear the electricity coming out of a little shop in the heart of downtown — the buzz of hair trimmers, the sounds of chatter, the snips of scissors. It's all a part of the vibe that fuels Rebels & Razors — a men's only barber club owned and operated by two energetic twenty-something women.
Samantha Menuey, 29, and Addy Helland, 27, are third generation barbers hoping to revive these age-old skills by helping men experience the kind of haircuts and shaves that Addy's great uncle and Samantha's great grandpa doled out decades ago.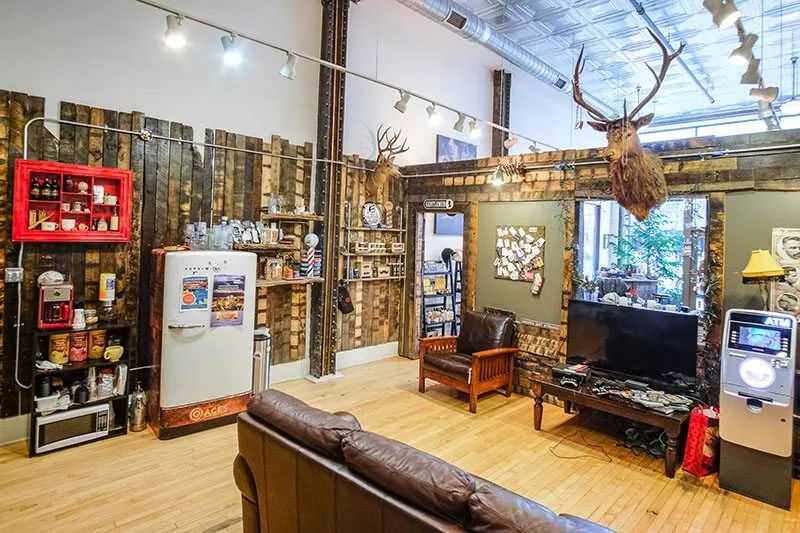 "We wanted to bring back that feeling of going to a barbershop – kicking back with the boys, having a beer, relaxing, talking about stuff," Addy says as she shares the vision behind the shop that she and Samantha have owned for close to a year and a half.
On this morning, Samantha is busy giving a hot towel, straight razor shave. Addy is showing off her fade skills with a haircut across the way. With six chairs in the shop, there's not an empty seat in the house.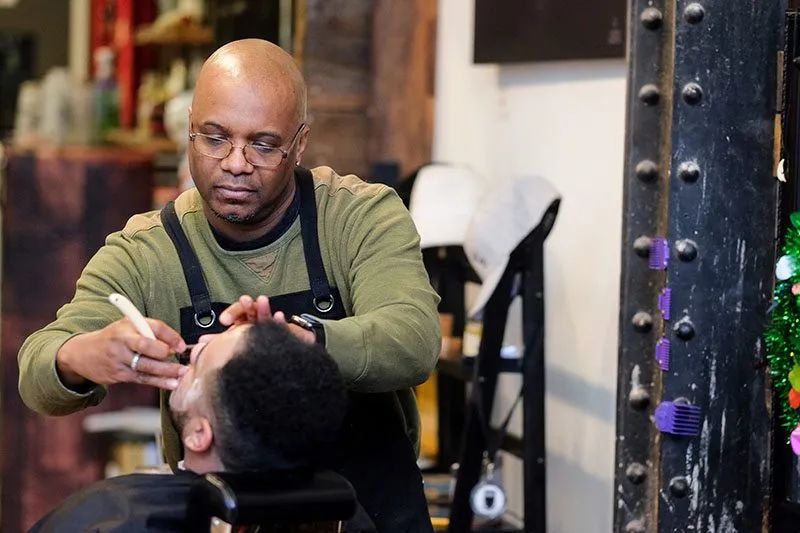 Cedric Neal, one of the "rebels," a.k.a. barbers who work here, has an idea why this shop bustles.
"It's a great atmosphere to be in," Cedric says. He should know. In his 28 years of barbering, he's owned a few different shops over the years. "Addy and Samantha – their personality is hard to clone. That is what makes this shop unique. They treat everyone like they are family when they come in," he says.
The road to business ownership wasn't exactly well paved, however. The pair had worked for a different barbershop at the same location for a few years before approaching the owner to see if he would willing to sell. During the sale, they uncovered finances so tangled that banks preferred to steer clear of financing their new operation. Not ones to back down from a challenge, the two ended up taking out personal loans and, to date, have sunk about $50,000 into the venture to bring their dream to life.
"It was a struggle in and of itself to prove that we were worth it and we could support the shop," Addy says.  Samantha adds, "It was extremely hard. We couldn't find funding and so literally everything that we have done in the shop came out of our own pockets."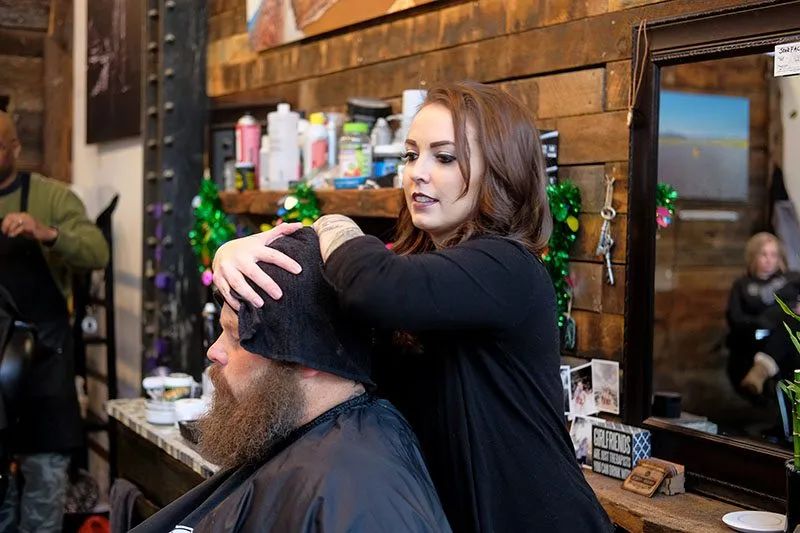 Today, these ladies are building up a word-of-mouth business and funneling all of their profits back into the business. They are investing in not only the physical structure but in the "rebels" themselves. Samantha shares how the two recently paid $5,000 each to send two of their newest employees to barber school. Samantha adds, "Literally, it's a family."
There's one customer who Samantha calls one of the shop's "A-1s since day one," who did a little more than spread word of mouth gratitude for this team's quality haircuts. Andrew Lindley is the Vice President of Operations at Avitus Group, a company designed to simplify, strengthen and grow small business. While getting a haircut one day, he heard Addy and Samantha talk about wanting a fresh start with a new name for their business. He knew Avitus Group could help. Lindley says, "We provide branding, logo design, website creation – the whole nine yards. I knew we had some of the best people in the country on name branding and logo." The company put their creative juices to work and came up with a page full of potential names that the two women then had to whittle down.
"I told Addy, 'You are not leaving my house until we figure this out,'" Samantha says with a laugh. After a few adult beverages, the two kept coming back to one name — Rebels and Razors Barber Club. They loved the idea of a "club," to share with their customers. Samantha says, "Growing up, Addy and I were never the cool girls. We were queens of the nerd herd." Addy laughs and adds, "We wanted a business where people felt welcome. 'That's my club! That's my special 30-minute time for a haircut,' and it's not just a chop shop where you are in and out."
If you ask Andrew Lindley, the women succeeded in building a brand that delivers just that feeling. "There aren't that many men's only barber shops in this town. They very much know how they want to take care of clients. I have never seen or felt a place that feels like their shop." Lindley says he was happy to help get this business off on the right foot. "Just seeing how busy they are today and the energy in the shop from even a year ago – it's been phenomenal."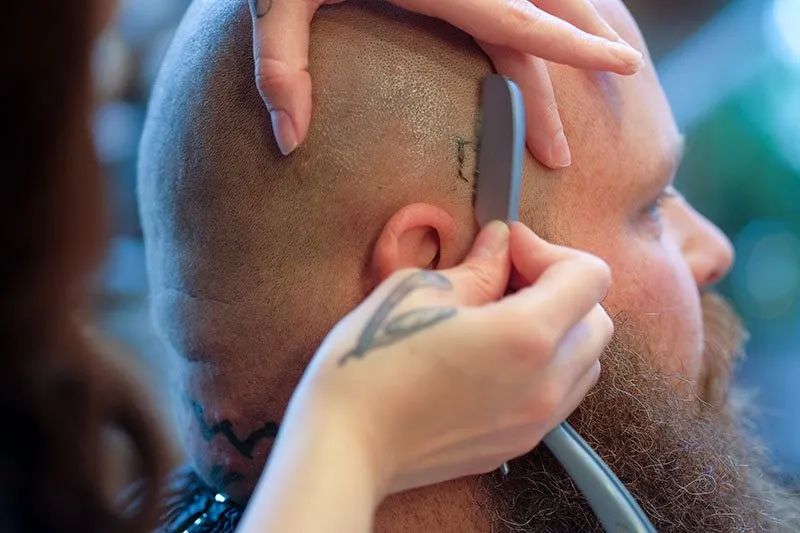 While haircuts are these women's specialties, Addy is quick to mention, "A hot shave is on every man's bucket list." Samantha then goes on to share, "Oh, it is so luxurious. For our hot shaves, we do three hot towels instead of one." Interwoven in between the hot towels are applications of pre-shave oils, an old school lather, a straight razor shave with "buttery results" followed up with an aftershave elixir. "They think it is absolutely amazing. It's the male equivalent of a facial."
As men flow in and out of this rustic downtown shop, near the back of the barbershop sits a black and white photo that's close to Addy's heart. As she takes it down, she points to her Great Uncle Roy who can be seen smiling, standing next to his barber chair. "He had a cute little shop in Nebraska in the 1930s." The profession runs in Samantha's blood too. "My great grandpa on my mom's side was a barber. My mom's dad was also a barber for a little while before ranch duties called in good 'ole North Dakota." As the two look around the business they created, Samantha says, "Coming from that, I always knew growing up that I wanted to be a barber. It's the passion behind it, making people feel good."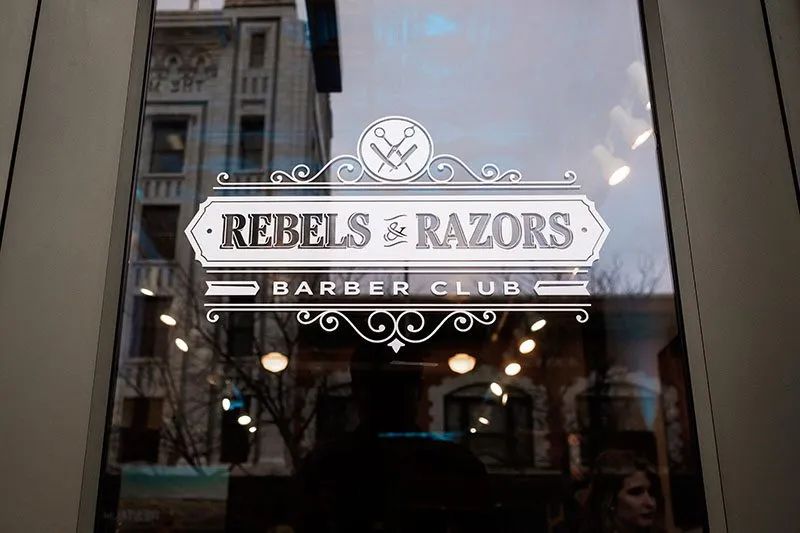 Over the years, the women's relationship has evolved from teacher to student, to co-workers to co-owners. Samantha started cutting hair 11 years ago before going on to get her license to teach barbering. Over the years, she's personally taught more than three dozen barbers. Addy is one of them. Samantha says, "Addy definitely fell into her talent. She's the dopest fader this side of the Mississippi!" Addy smiles at her business partner saying, "I learned from the best."
Today, the women claim to operate like yin and yang, balancing each other out. Samantha is the financial guru, handling the shop's numbers. Addy keeps the shelves stocked and makes sure all of the shop's independent barbers are happy. The two promised that while operating in services for men, they'd empower women in the process.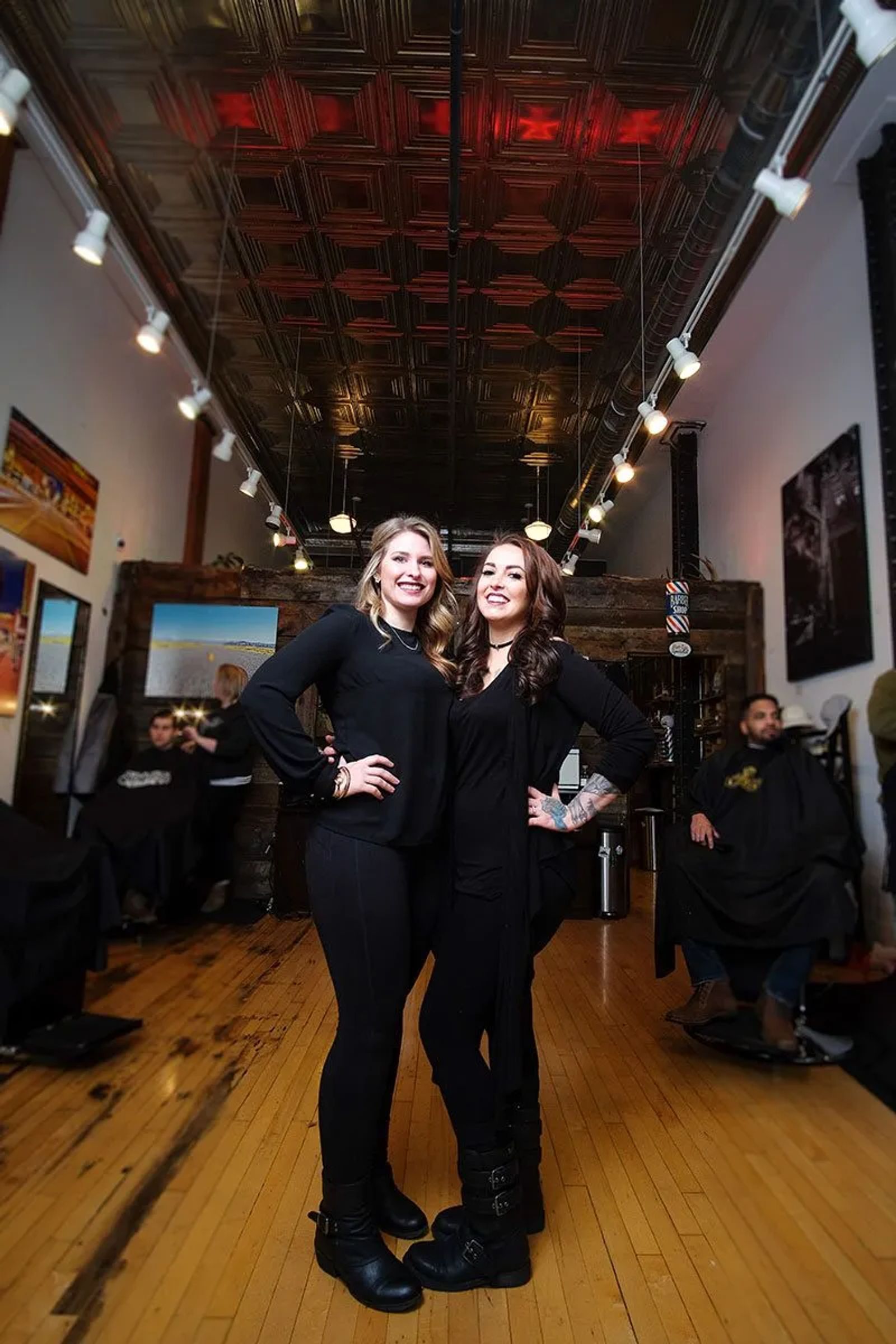 "We formed a team of power women," Samantha says. "Our accountant is a woman. Our business banker is a woman. It's girl power!" Both she and Addy say they have an open door when it comes to questions from other potential women entrepreneurs. "It is very important to empower each other. If you have questions, come seek us out. We can tell you how we took ten steps in the wrong direction, and maybe you want to try this path instead."
In the not-so-distant future, these two are hoping to take their luxurious hot shave and hair services across town to a second location. They purposely created a name and logo that they felt was worthy of potentially franchising one day. "Instead of selling a haircut," Addy says, "we're selling an experience."
As the two reflect on their troubles and triumphs in business, they look back to their roots with gratitude. It's pretty clear that the barbers in both of these women's past would be more than a little proud. "They'd be really jacked," Addy says. Samantha adds, "Overall, I do think they would be really proud of us. We are preserving our past. Barbering is a passion."
They are more than a little excited about what they've built and what the future might hold for them.
"It's nice to open our doors each day to a successful business," Samantha says. She adds that it is empowering to think about the long days and hard work that went into every piece of this operation. She smiles as she says, "We did that. We made that."
REBELS & RAZORS is located at 118 N. Broadway. For more, find them on the web at facebook.com/RebelsandRazors