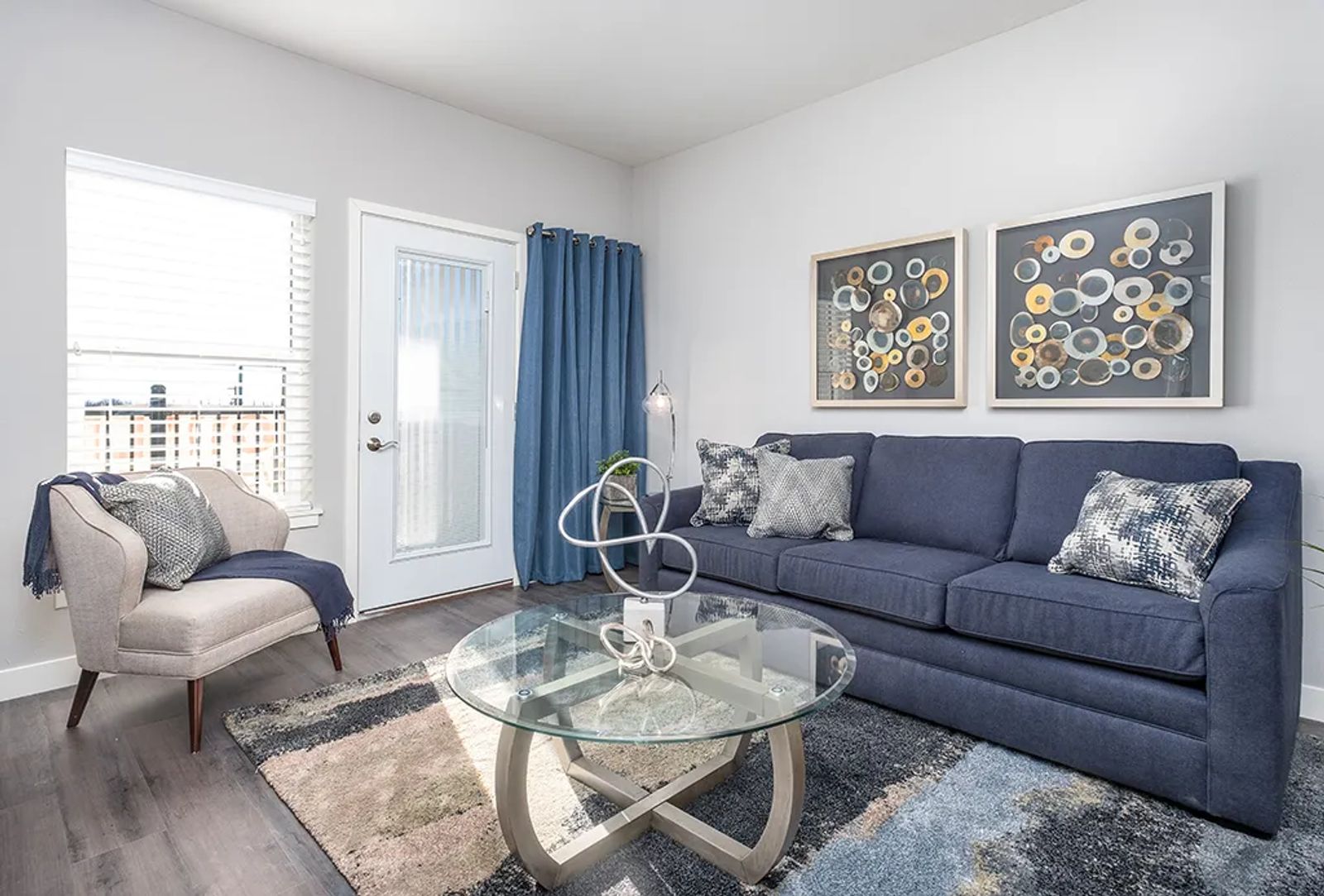 Big, Bold Impact
2019 design is all about style & comfort
This coming year is all about making a big impact in design without sacrificing comfort. That's the statement 2019 is making when it comes to the latest home decorating trends. Think organization made simple, fresh colors, high-tech fabrics, along with a splash of vintage flair.
"It's all about the combination of culture and style," says Time Square Furniture & Mattress Store Designer Anne Murphy.
Want to know what's on the horizon when it comes to giving your space an updated look? Anne assembled some custom looks — from casual and cozy to rooms with a sophisticated vibe — to help your personality and lifestyle shine in every corner of your home.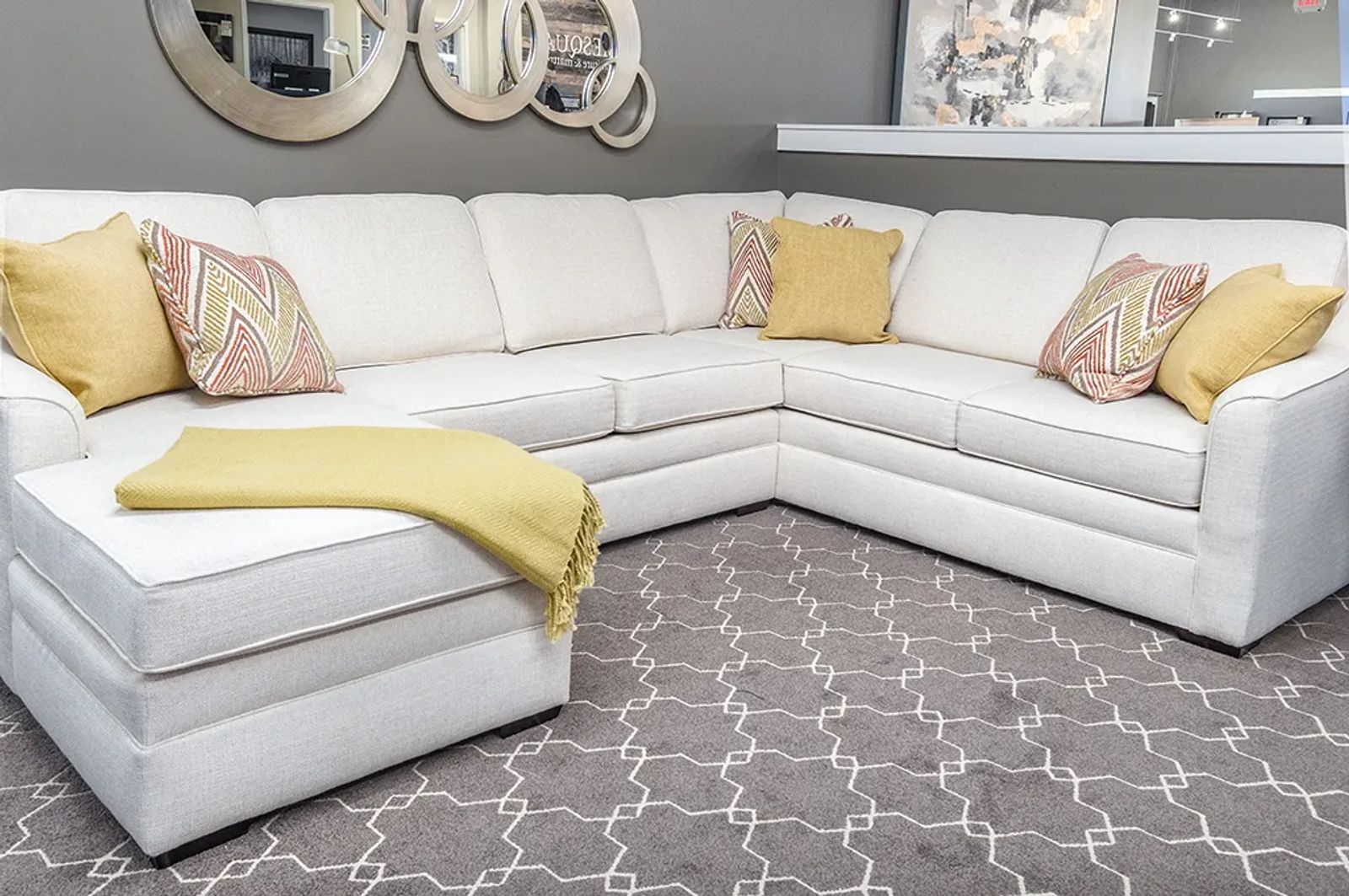 PERFORMANCE FABRICS
"Have you ever admired a beautiful cream-color sofa in a magazine or the linen look farmhouse sofa on HGTV?" asks Anne. "Well, these fabrics can handle anything kids can throw at them — food, markers, spills, you name it."
Now you can achieve that dream of having a light-colored sofa in your living area like this trendy sectional from Time Square Furniture. The kids, the dog, the party where you'd like to serve red wine — it's all good. "The new performance fabrics take all of the worry out of enjoying light-colored furniture in your home. You don't have to choose between beautiful and practical," Anne notes. "You can have it all!"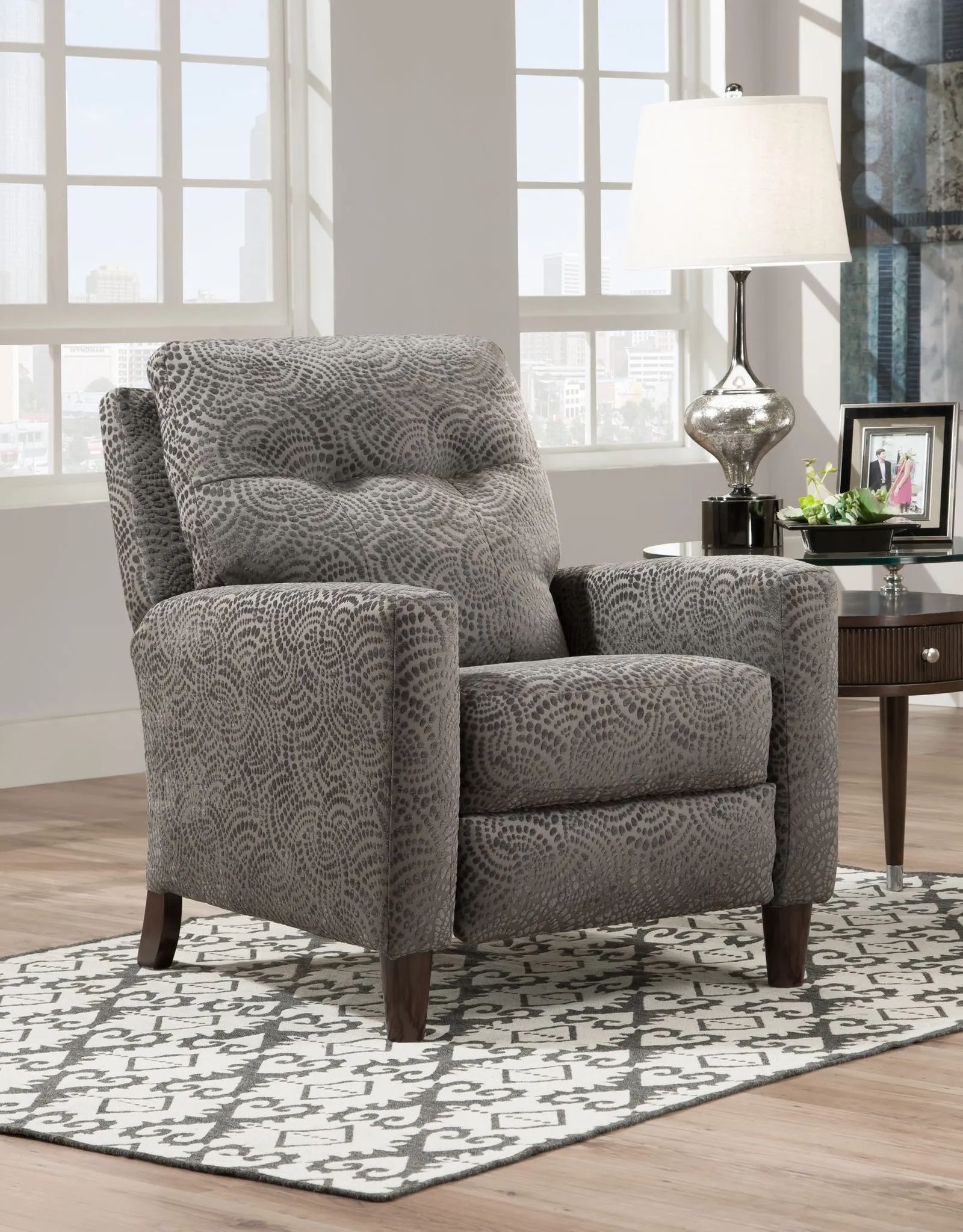 POWER CHAIRS
Power reclining chairs "are very popular with some exciting new features." Anne foresees that the Las Vegas Furniture Market coming up later this month is set to introduce new power reclining furniture that "can be charged to last for over three months before you need to recharge them."
A charge lasting this long allows you to place your power chair anywhere in the room without worrying about being next to a plug-in. And, there are no unsightly cords to deal with.  These impressive pieces of comfort and sensibility enable you to enjoy massage, heat and power while reclining anywhere in your room.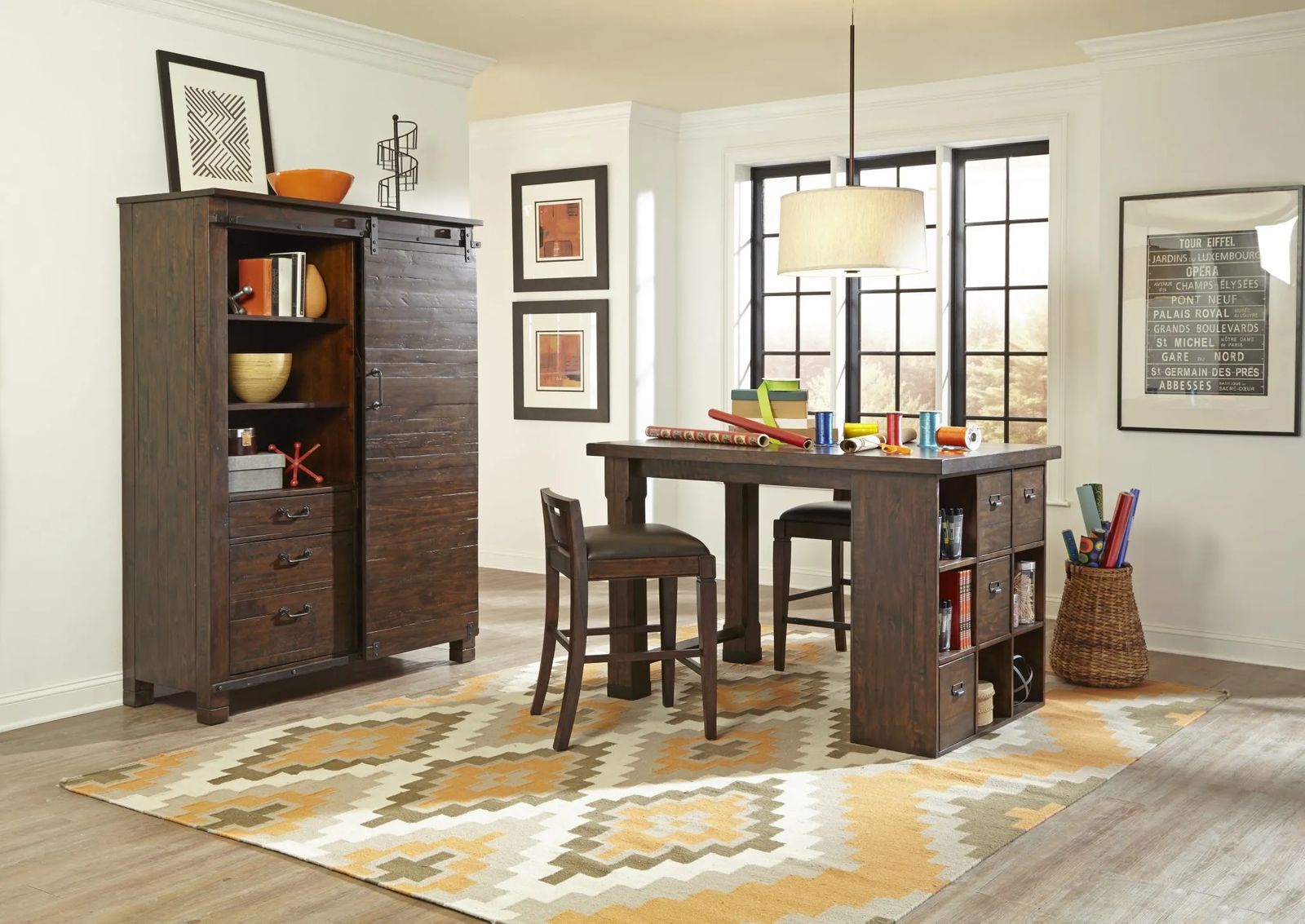 OPTIMUM ORGANIZATION
Do you have a "bill box" for those seemingly unending paper statements that arrive in the mail each month? It takes organization and an orderly spot to keep it all straight.
This self-contained desk creates the perfect space for two people. It's ideal for standing as well as sitting, so, don't sweat the ergonomics. This desk serves the purpose.
"The cabinet has book shelves on one side which can hide the books while the other side of shelves/drawers can be used for display," Anne says. "This makes the cabinet great for looks and function, especially if needed in a guest bedroom that also serves as an office."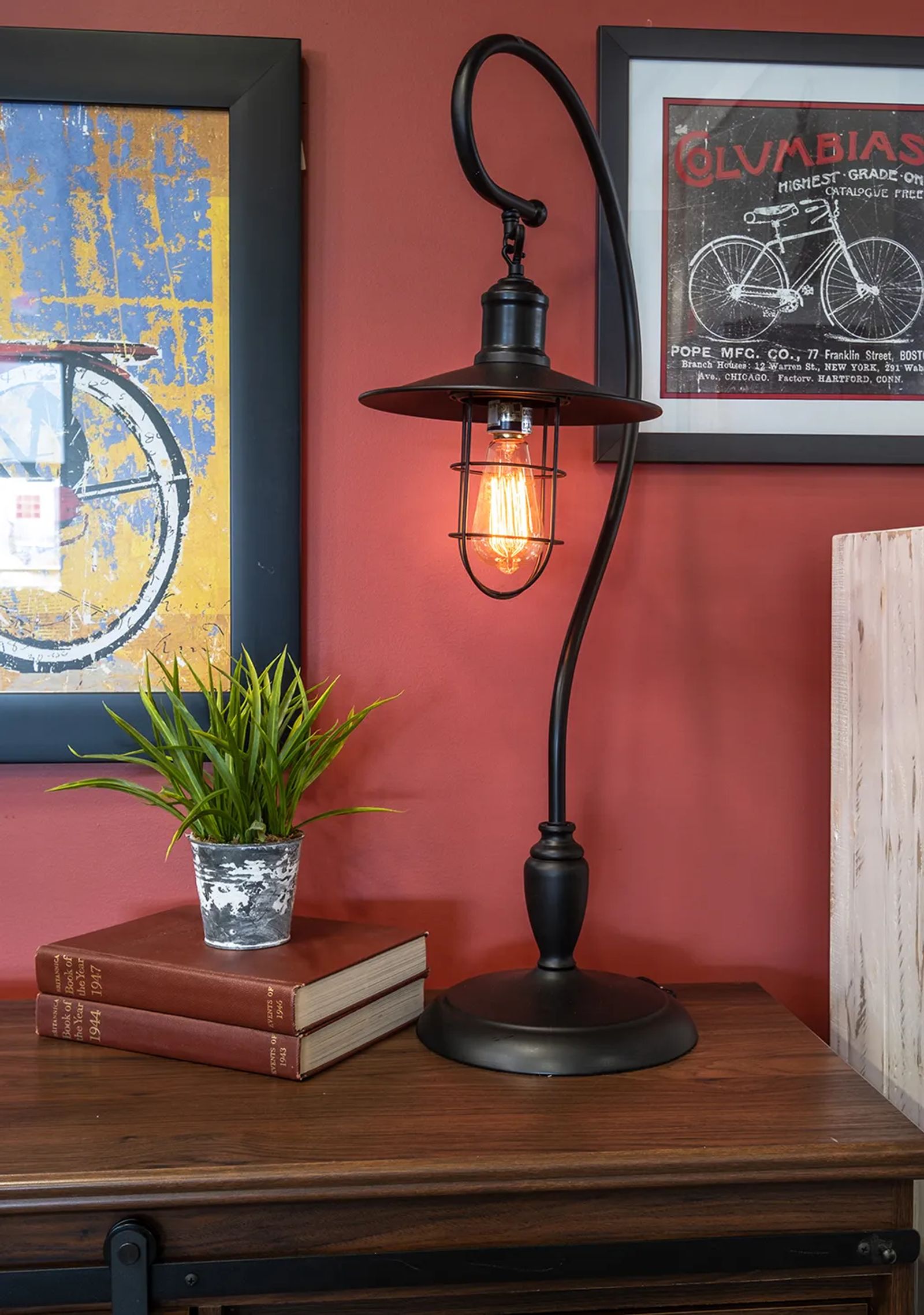 LIGHTEN UP
"Edison bulbs continue to be a huge trend," Anne says. "The unique filament adds an updated look when used in the right fixture, whether it is an industrial or farmhouse style. To really show off the bulb, keep them dimmed when possible. The bulbs aren't ideal for reading, but give off a cozy golden light which adds to the vintage feel."
The vintage look of the Edison bulb is timeless. The candle-like glow cast by the sculptural fibers within the unique shape of the bulb adds warmth and a touch of nostalgic feel to your space.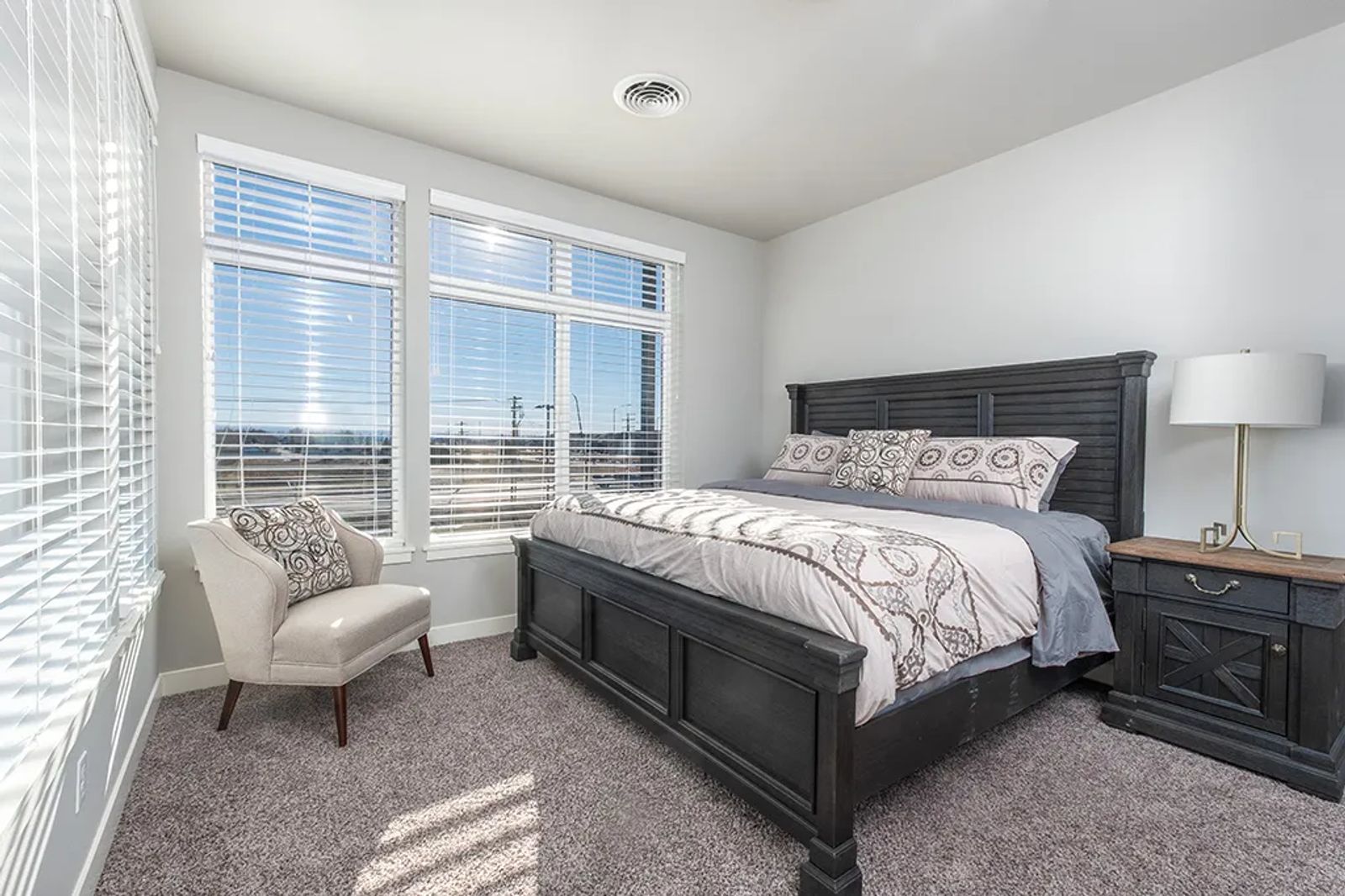 GOING GRAY
When it comes to walls, gray never seems to go out of style. This year this fashion-forward neutral, however, is reinventing itself with a brand-new partner in color. "Gray continues to be very popular," Anne says. "Blue has also been a favorite color to add warmth to the cool grays."
Recently finishing a model unit in Billings' Shiloh Commons apartment complex, Anne's use of an England Furniture navy-blue sofa, along with neutral chairs and accents, really pulls the space together.
The pop of deep navy emphasizes the warm yet neutral colors of the room. A rug highlighting the distinct yet inseparable colors Anne has used in this area,unites the entire space. "The rug adds color and texture to the room and ties it all together," she points out.
"It's all about style and comfort!"