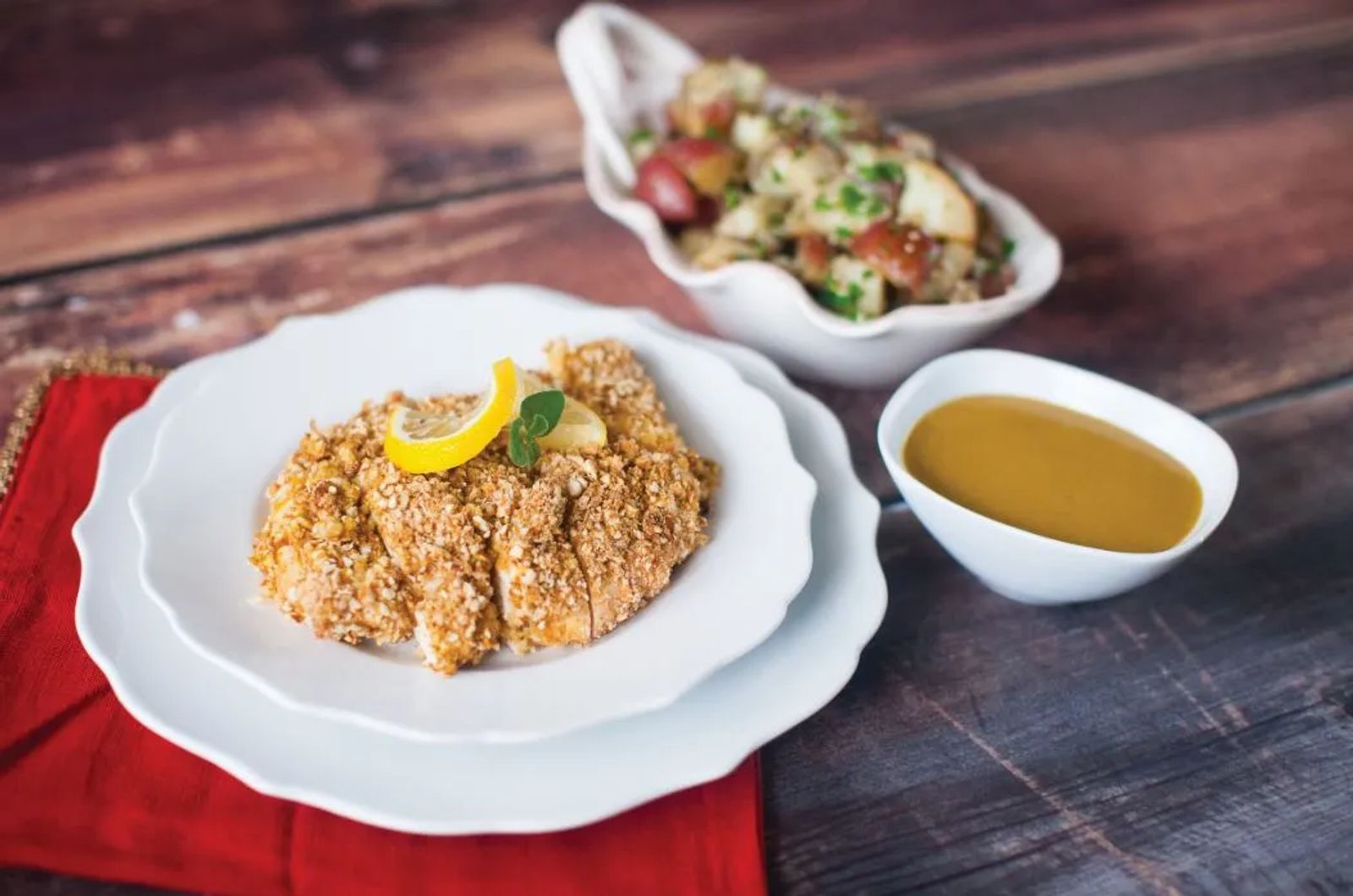 Bite-sized Tangy Delights!
Dip into flavor with Honey Mustard Pretzel Chicken & Garlic Parmesan Potatoes
Looking for a new way to serve up chicken on the family dinner table? Bake these bite-sized tangy delights up thanks to chicken chunks coated with a little homemade honey Dijon mustard, some panko breading and pretzel crumbs. The combo makes the outside crunchy and the inside as tender as can be. Use some of the honey mustard as dipping sauce and you have the right mix of flavors that your family will crave. I paired this recipe with Garlic Parmesan Roasted Potatoes for a flavorful and hearty meal that you can make in a jiffy.
HONEY MUSTARD PRETZEL CHICKEN 
1 c. panko bread crumbs
1 c. pretzel crumbs
½ c. olive oil
½ c. Dijon mustard
½ c. honey
¼ c. water
3 T. red wine vinegar
Salt and pepper to taste
1 ½ pounds of boneless chicken breasts
½ c. flour
DIRECTIONS
Preheat the oven to 400 degrees. Lightly grease a non-stick baking sheet with cooking spray. Over medium heat, toast the panko bread crumbs until golden brown. Allow to cool. Crush pretzel pieces by pouring into a bag and crushing with a cooking mallet until crumbs are relatively fine. Mix with panko crumbs. In a small bowl, mix the oil, mustard, honey, water and vinegar. Season with salt and pepper to taste. Pour half of the honey mustard mix into a shallow bowl. Put the flour in a second shallow dish and add the pretzel crumb mixture to a third dish. Cut chicken into bite sized pieces. Working piece by piece, coat chicken with flour, coat with dressing and then coat generously with pretzel crumbs. You might need to pat on additional crumbs once you transfer the chicken to your baking sheet. Bake for 8 minutes, flip and bake an additional 8 minutes on the other side. Once cooked, serve with remaining honey mustard sauce.
GARLIC HERB & PARMESAN ROASTED RED POTATOES
3 pounds petite red potatoes, scrubbed and halved (quartered if large)
4 T. olive oil
6 cloves garlic, minced
1½ t. kosher salt
1 t. ground black pepper
1 t. dried thyme
½ t. dried oregano
½ t. dried basil
⅓ c. grated Parmesan cheese
2 T. unsalted butter, cut into small cubes
2 T. minced fresh parsley
DIRECTIONS

Preheat oven to 400 degrees F. Lightly grease a large baking sheet. In a large bowl, toss the potatoes, olive oil, garlic, salt, pepper, thyme, oregano, basil and Parmesan cheese until evenly coated. Put on the prepared baking sheet and arrange in a single layer. Bake for 45 minutes to 1 hour, turning with a spatula a few times during the baking period and until golden brown. Pull the tray out and sprinkle the butter over the potatoes and stir to melt the butter. Remove from the oven and toss with the fresh parsley.