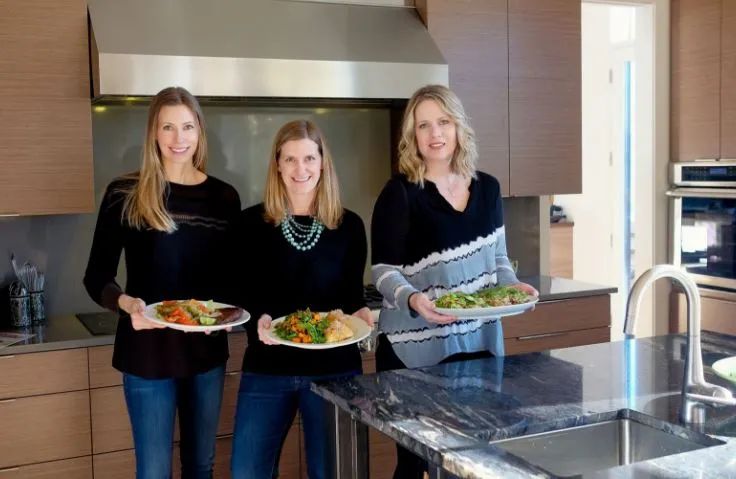 Boxed, Sealed & Delivered
The Tasting Team gives mail order menus a try
By Stella Fong, Photography by Daniel Sullivan
In the New Year, the old excuse of "I don't have time to cook" can no longer be used. How much easier can making dinner be when all the ingredients show up in a box on your front door? Companies such as Wildtree, Blue Apron, and HelloFresh help make preparing an evening meal simple. While Blue Apron and HelloFresh provide everything you need to prepare a meal right down to the garlic, some staples such as salt, pepper, and oil are left for you to bring to the recipe. Wildtree offers the basic condiments, recipes and flavorings that quickly dress up the fish and meat that you might pick up at the store. Because it sounded both easy and delicious, the Tastings Team had to nibble and sample to give these kitchen helpers a try.
Our team prepped nine meals, three from each company with roughly two hours of kitchen time. Cleanup was not included and shopping time for the Wildtree recipes was also not added to the team's prep time. Overall, the team learned a few new techniques and claimed to taste dishes they might not have chosen on their own. As they unpacked, prepped and cooked, the consensus was that freezing the meals from Wildtree may have further enhanced the flavor over time. Blue Apron showcased more innovative flavors while HelloFresh would most certainly appeal to more palates.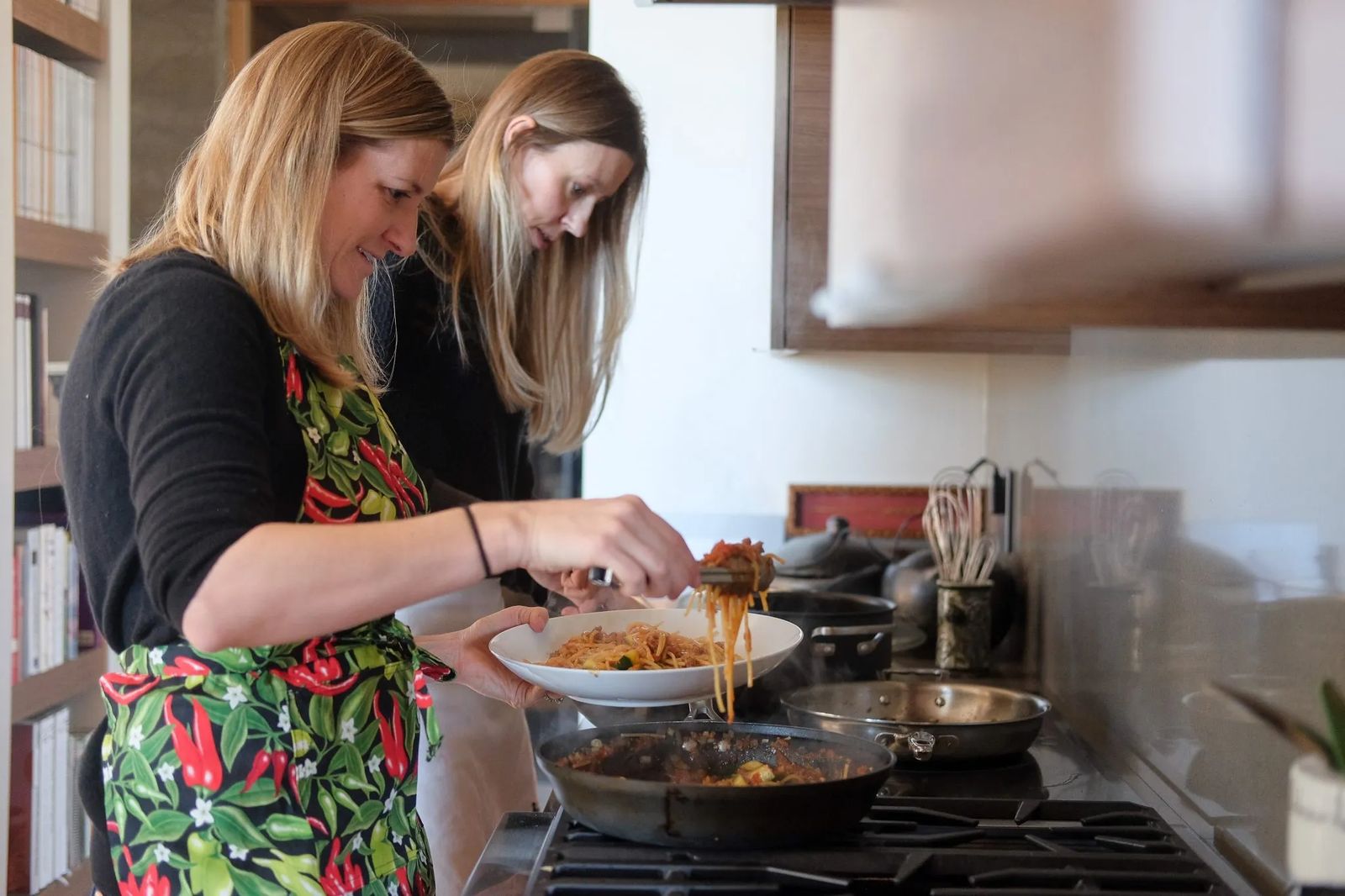 MEET THE TASTINGS TEAM
Jeri Kelley is an e-commerce strategist for Oracle and mother to one-year-old Bridget and Andrew, age 3.
Jennifer Kondracki works for Weave Management Group as the Marketing Director and is mother to Alexa, 11 and James, 8.
Retired chair of the MSU Billings Wine and Food Festival, Julie Linderman, co-owns Sticker Robot with her husband Leif, and is mother of two daughters, Jace, 11 and Sloan, 9.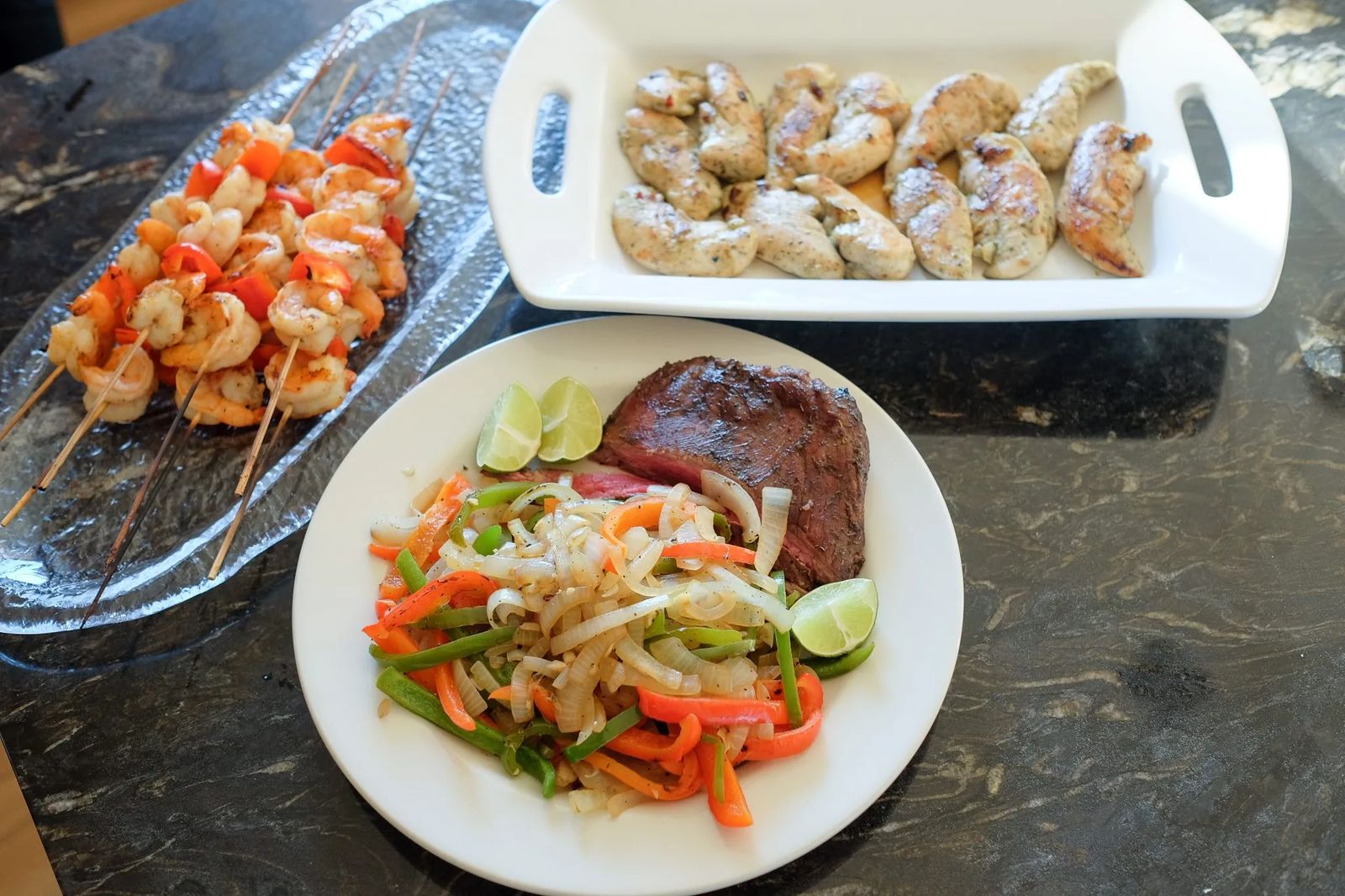 THE TASTING TARGETS
WILDTREE: Simple, Healthy, Natural
Wildtree's premise is "Make Ahead, Make Fresh or Make Fast." The company provides "natural, organic and pure" seasonings, sauces, oils, jams, jellies and meal mixes for all courses from appetizers to dessert. Their motto is: "Delicious, nutritious meals no matter how busy your night." Their chef-designed meal solutions help you solve the age-old question, "What's for dinner?"
Wildtree supplies different themes such as "Around the World" and "Comfort Foods" for meals that can be assembled ahead, packaged and then frozen. The meals can be quickly pulled out to be cooked, or put into a slow cooker. In Billings, Vicki Olson Johnson, a rep for Wildtree, provides prep classes at her house, but information is also available online at the company website with a grocery List, worksheet for preparing food for freezer Inventory and recipes. The flavorings from each theme also come assembled in a box. With this product, the human connection is still there as Olson can provide unlimited ways to cook family meals or for entertaining.
The seasonings and oils used by the Tastings Team included Roasted Garlic Grapeseed Oil, Adobo Seasoning, Italian Salad Dressing Mix, and Gourmet Sea Salt: Five Pepper totaling $41.50. Groceries for three meals totaled $40.64. While three main dishes came in a little more than $80, the leftover oils and seasonings could easily supply additional meals. With this model, the purchaser sources the groceries locally.
WILDTREE "COMFORT FOODS" RECIPES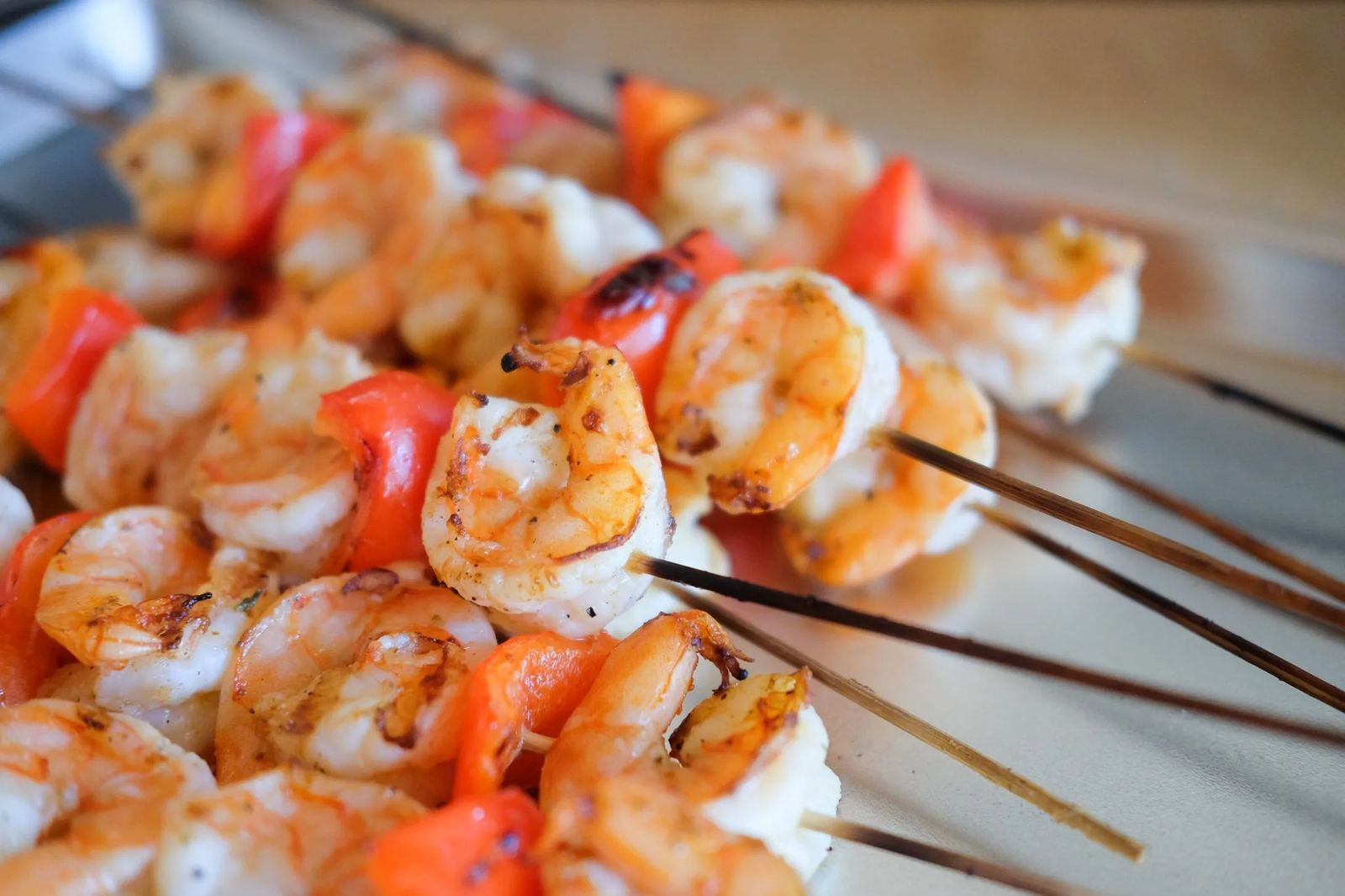 Spanish Style Garlic Shrimp: Jumbo shrimp marinated with Roasted Garlic Grapeseed Oil, Adobo Seasoning, Gourmet Sea Salt: Five Pepper grilled with red bell peppers.
"Extremely flavorful." ~Jeri Kelley
"The shrimp really retained the marinade flavor nicely." ~Jennifer Kondracki
"The peppers go nicely with the dish." ~Julie Linderman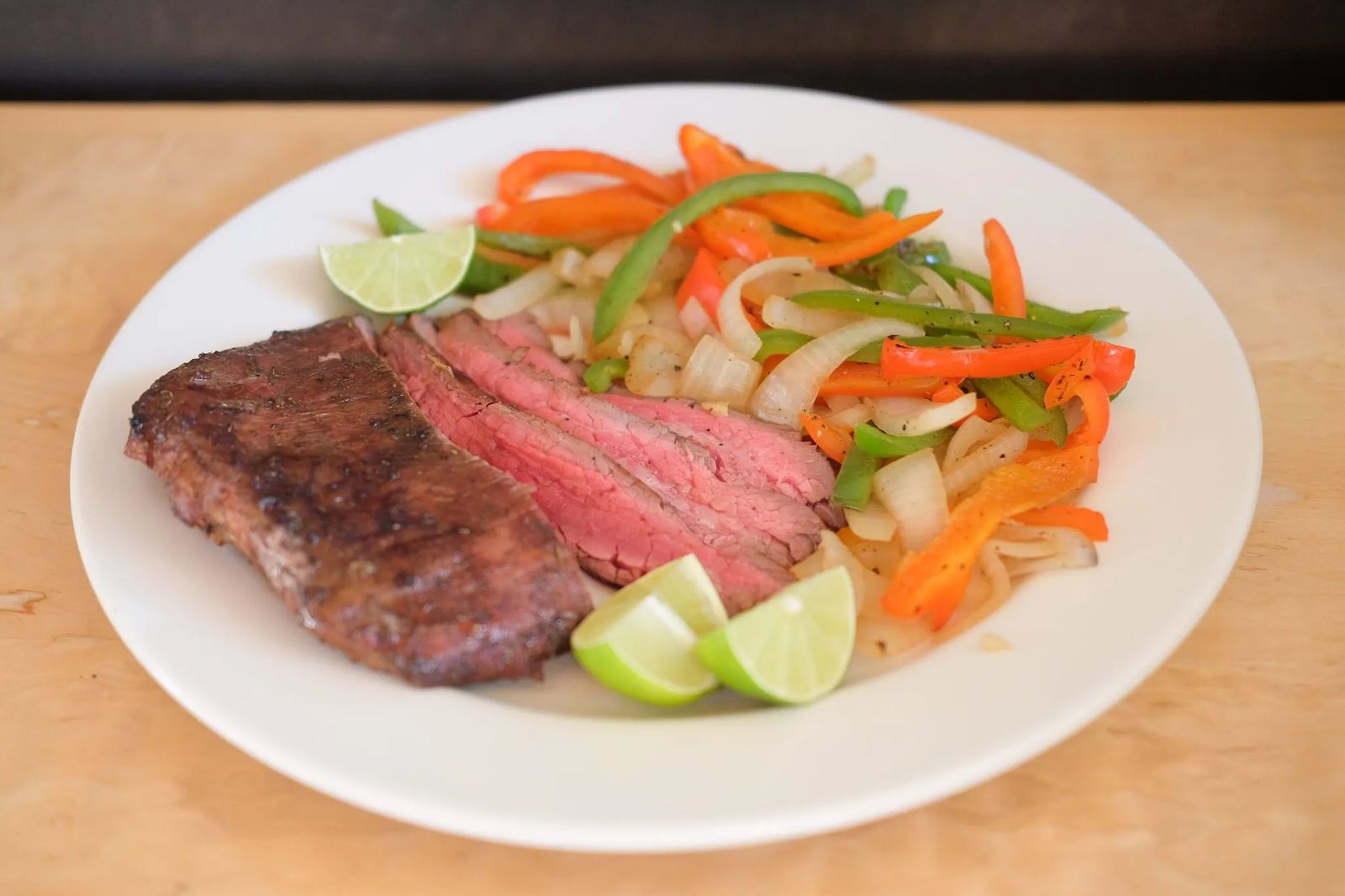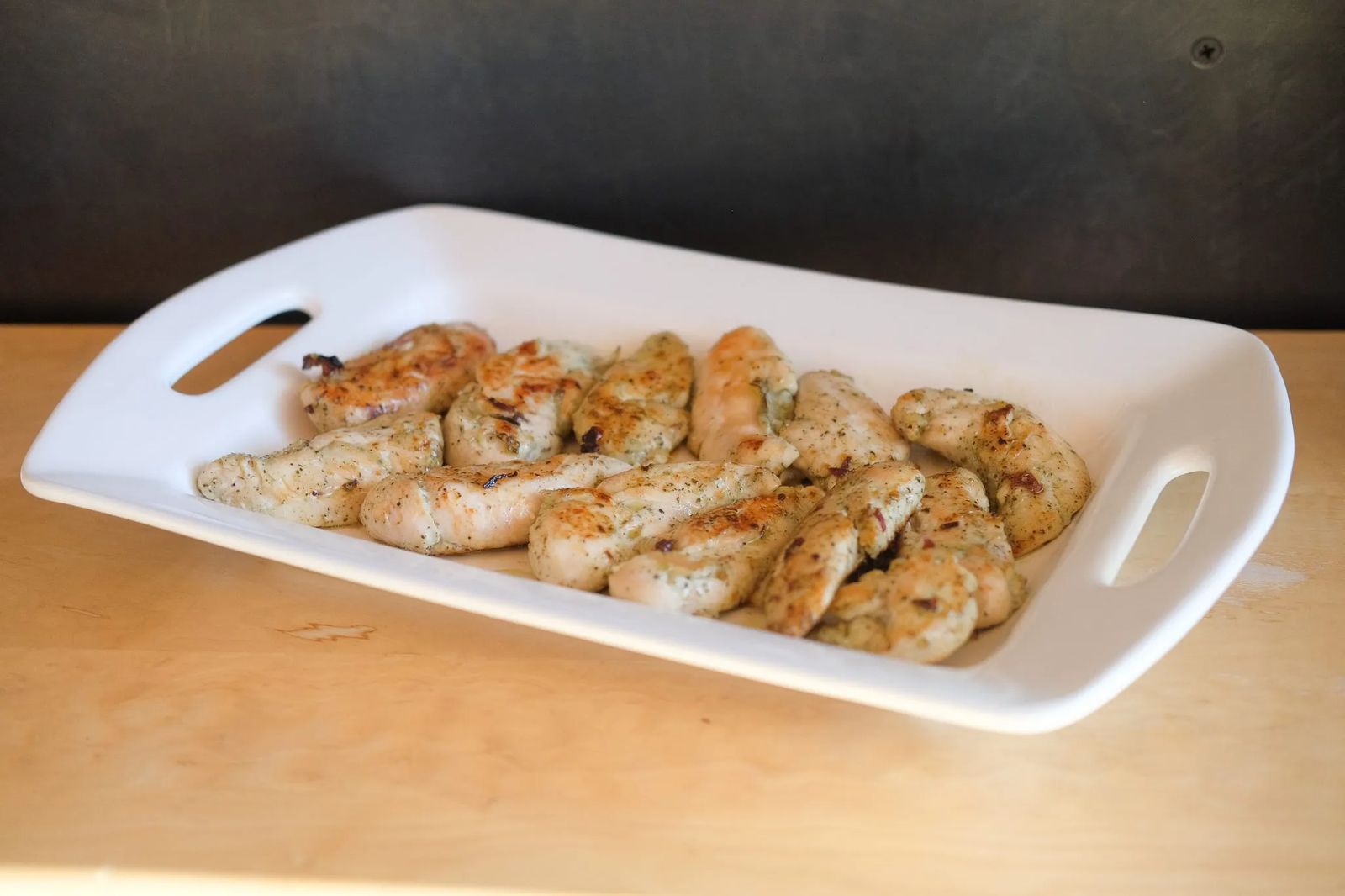 Italian Medallions: Chicken tenders with Roasted Garlic Grapeseed Oil and Italian Dressing Mix.
"We can make a match of this and use it on salads." ~Jeri Kelley
"Very easy and fast to make." ~Jennifer Kondracki
"Very versatile dish. You can use it in many ways." ~Julie Linderman
FAVORITE: Spanish Style Garlic Shrimp
BLUE APRON: A Better Way to Cook
Blue Apron's mission is to make incredible home cooking accessible to everyone. Each insulated box comes delivered by Fed Ex with frozen meats and fish under two frozen ice packs. Inside the box are ingredients portioned for the meals and recipe cards with step-by-step instructions complete with a few photographs to follow along in the kitchen.
Blue Apron believes one is never done learning in the kitchen. Their recipes are created to encourage home chefs to try new ingredients and cooking techniques every week, while honoring Blue Apron's philosophy of seasonal eating. Supporting a sustainable food system including fishing and farming is one of the company's main goals.
Choose a two-person plan with three recipes per week for $59.94 or max your Blue Apron budget with four recipes for four for $139.84 per week.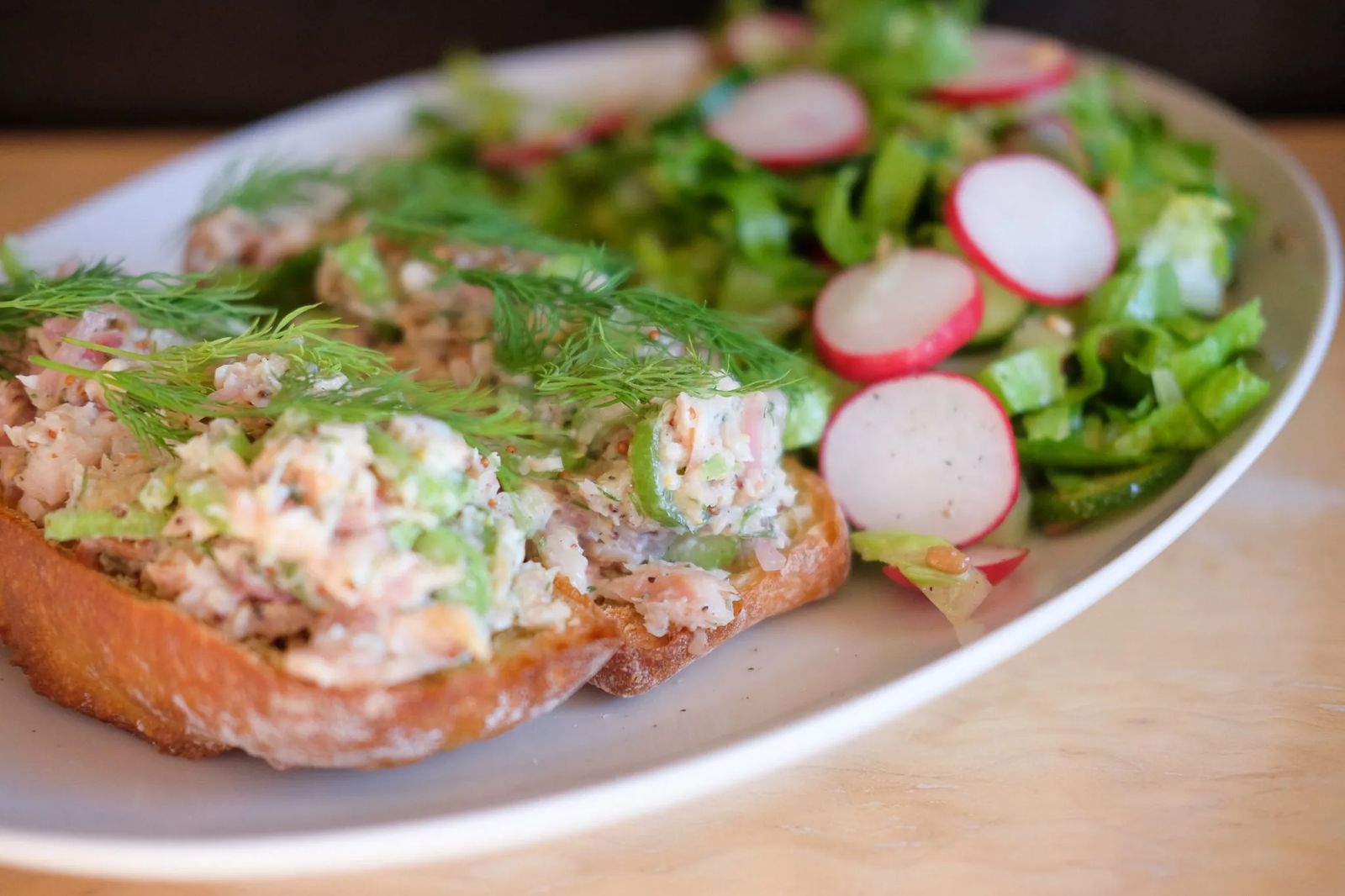 Smoked Trout Tartines with Romaine, Cucumber and Radish Salad
"This is very good and I normally do not eat seafood. The produce is fresher than what we can get in our grocery stores." ~Jeri Kelley
"Oh, that's good. I like the smokiness of the trout and it is not fishy. This is elevated tuna salad but a lot better." ~Jennifer Kondracki
"The celery and shallots make the salad lighter and break up the saltiness of the trout. The salad is fresh and delicious." ~Julie Linderman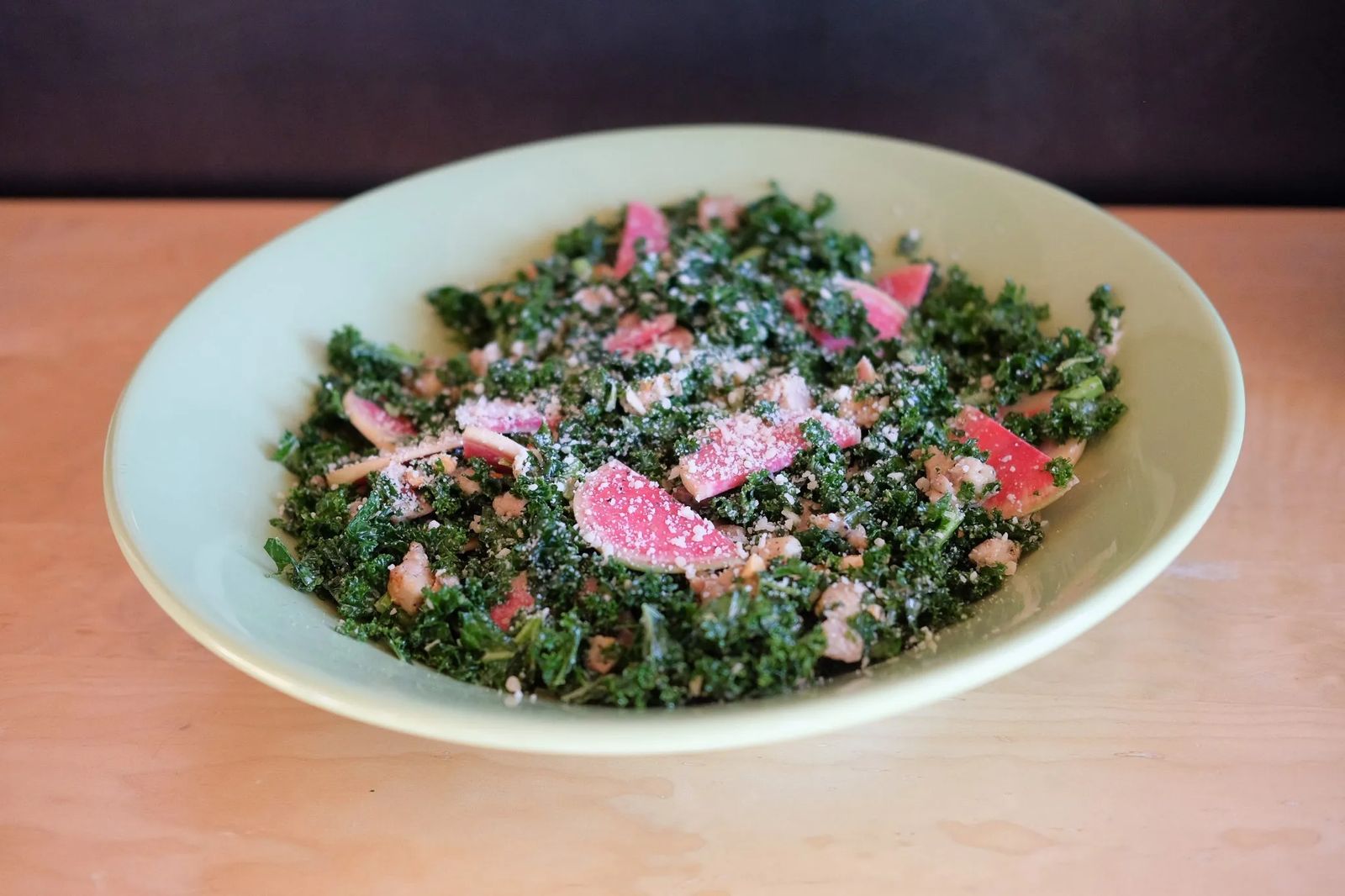 Chicken and Kale Caesar-Style Salad
"The radishes are good in the salad and I don't normally like radishes." ~Jeri Kelley
"Caesar dressing is normally heavy and this is light." ~Jennifer Kondracki
"This is something I would definitely make at home. I would not normally have made this." ~Julie Linderman
Balsamic-Glazed Onion Cheeseburgers
"Those are good. Juicy. Nice balance of flavor. Normally I like a lot of condiments." ~Jeri Kelley
"Delicious." ~Jennifer Kondracki
"I like sweetness and the tang of the balsamic balanced by the richness of the cheese." ~Julie Linderman
FAVORITE: Chicken and Kale Caesar-Style Salad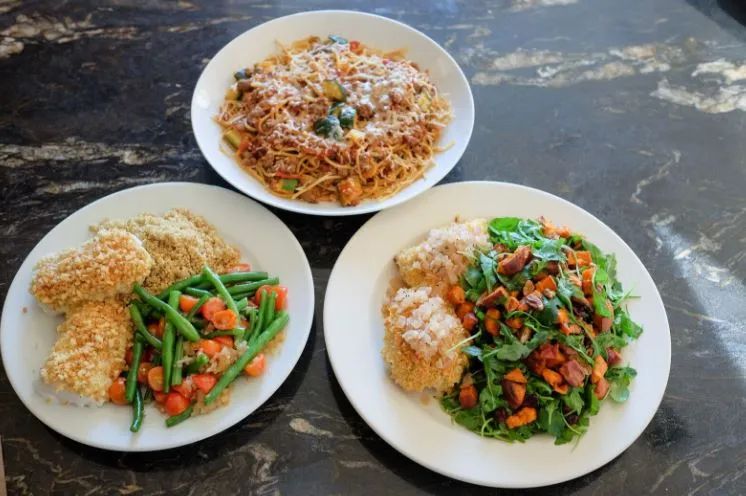 HELLOFRESH: More Than Food
HelloFresh offers cchef-created recipes based on seasonal farm fresh ingredients delivered each week right to your doorstep. These recipes arrive in a big brown box with meats and fish frozen on the bottom under two frozen ice packs. Inside a large insulated bag you'll find ingredients divided out for each meal. A recipe card booklet offers step-by-step instructions. HelloFresh encourages people to "journey back into the kitchen." The concept is to "discover new recipes to shake things up." Since HelloFresh takes care of the shopping and most of the prep of the ingredients, all one needs to do is cook.
The HelloFresh plans vary from two to four people. Choose a family plan or options for vegetarian meals. Each plan costs a little under $10 per person.
Parmesan-Crusted Chicken with Roasted Sweet Potato, Cranberry, and Arugula Salad
"The chicken is very moist. I would never think of sweet potato in a salad. Nuts give this dish a crunch." ~Jeri Kelley
"The chicken is really good. Salad has a lot of different flavors and textures." ~Jennifer Kondracki
"It was baked so this makes cooking really easy. This has the most flavor out of them. Nice variety of colors, colorful." ~Julie Linderman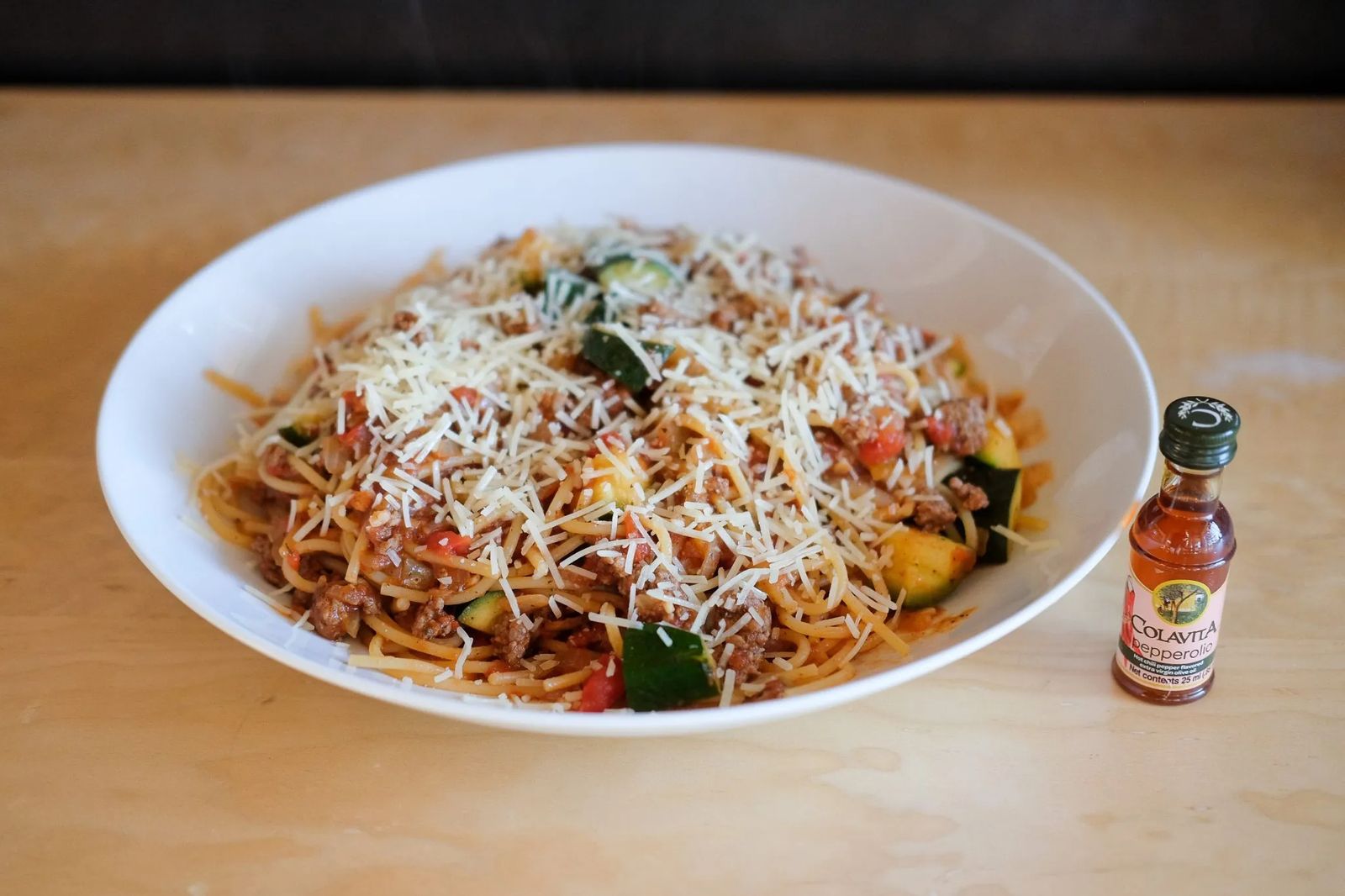 Tomato-Garlic Ragu with Beef, Parmesan Cheese, and Pepperolio Oil
"Very appealing. My kids and my husband would love this. Taste like it is expected to taste." ~Jeri Kelley
"I do like that there is zucchini in it. Well portioned. Everything is well cooked." ~Jennifer Kondracki
"Visually appealing. Appeals to a variety of eaters." ~Julie Linderman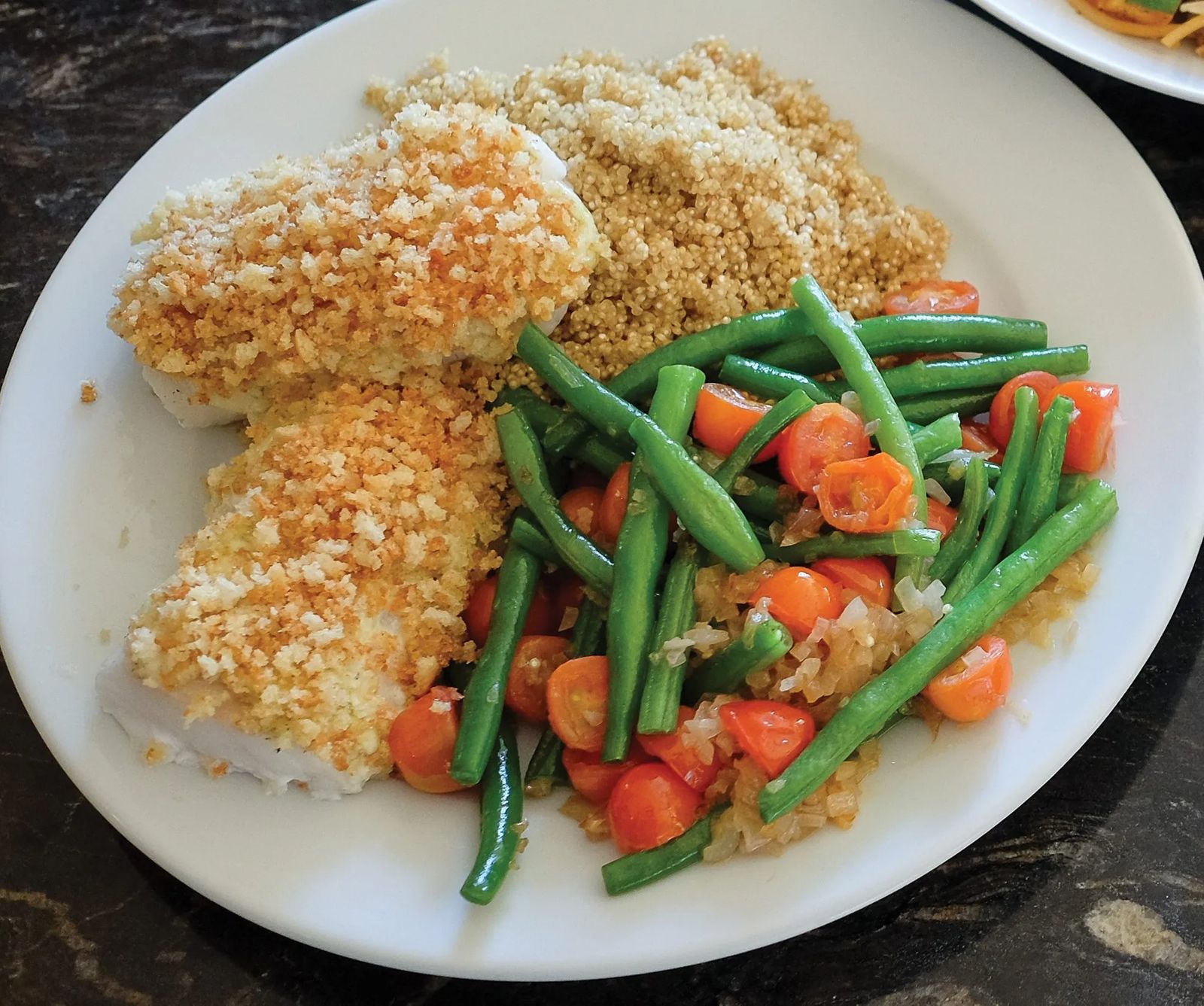 Panko-Crusted Cod with Wasabi Aioli, Quinoa, and Green Bean-Tomato Sauté
"I think the fish is a nice thick cut. Healthy dish. I would never think of putting together green beans and tomatoes." ~Jennifer Kondracki
"It smells good. Panko is nice crunch, contrast to fish." ~Julie Linderman
"The fish a good size and not fishy. Normally I am not a fish eater and I like this. I like the aioli. The cook time on the beans and tomatoes are spot on." ~Jeri Kelley
FAVORITE: Parmesan-Crusted Chicken
TASTING TEAM FAVORITES
Jeri Kelley: HelloFresh, Parmesan-Crusted Chicken
Jennifer Kondracki: Blue Apron, Chicken and Kale Caesar-Style Salad
Julie Linderman: Blue Apron, Chicken and Kale Caesar-Style Salad
WHERE TO FIND THE TASTINGS TARGETS
Wildtree
Vicki Olson Johnson, vickioj.myWildtree.com
HelloFresh
ON THE WEB: hellofresh.com/tasty
Blue Apron
ON THE WEB: blueapron.com