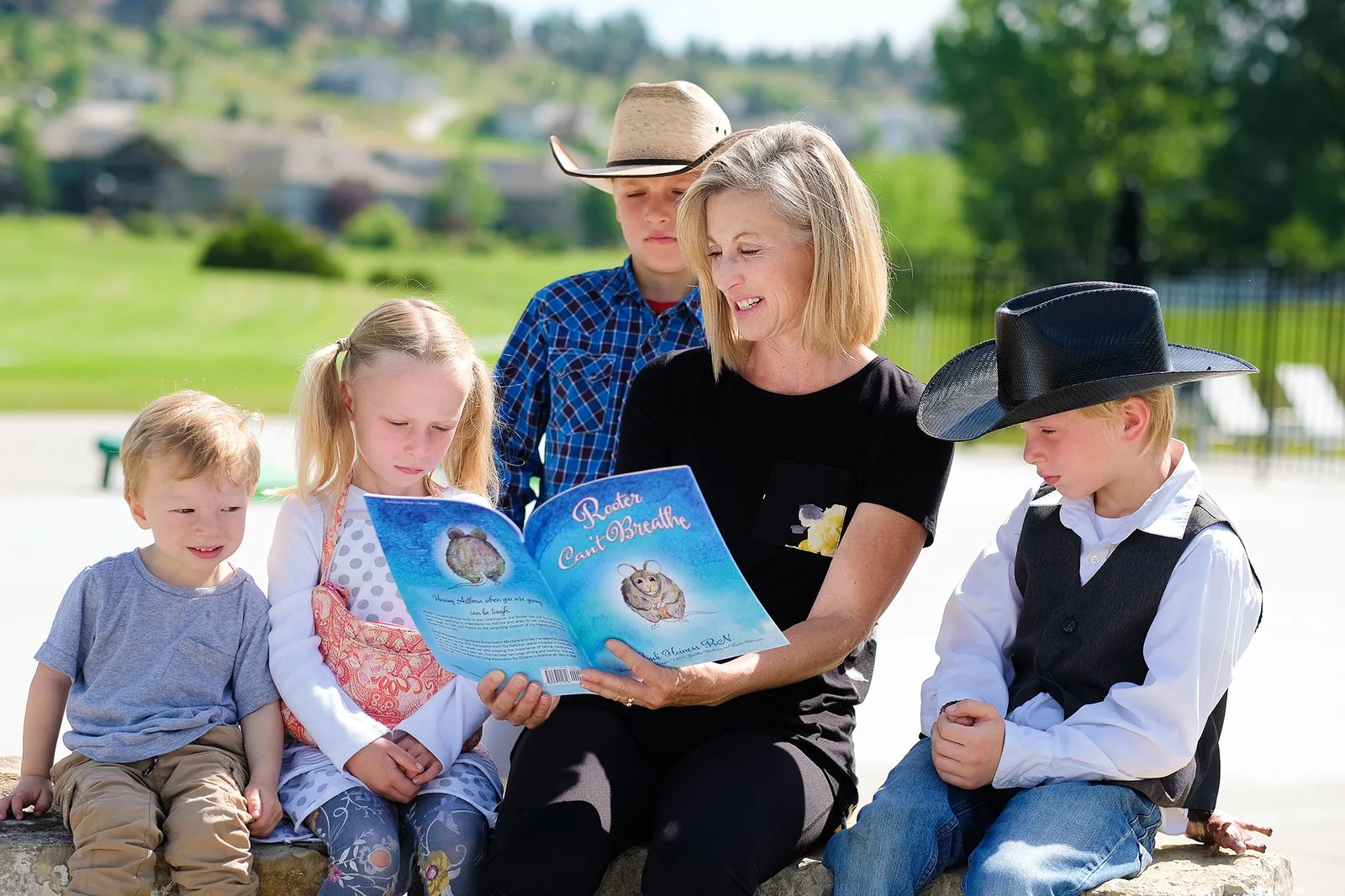 Breathing In Life
Nurse Cindi Hoiness takes her message on battling asthma to kids
Writing a children's book was never one of Cindi Hoiness' goals. But she couldn't shake the feeling that her story could change another life — in this case, a child suffering from asthma.
Cindi, a registered nurse in Billings, has suffered from asthma all her life.  After learning more about reading her body's signs and trying to live the healthiest life possible, she's been able to do things that other asthma sufferers might only dream of doing.
"I started suffering from asthma at age 2," Cindi says, "but it wasn't positively diagnosed until I was 4. That was over 50 years ago. We didn't have the medications and the knowledge that we do now. It was hard, really hard."
Small and very sickly, Cindi spent her early childhood enduring hospital stays, steroids and muscle relaxers to strengthen her lungs.
"I spent a lot of time in the hospital," she says. "Every other month, I would be in for two weeks, and that went on for years."
She was downing daily medications, getting weekly injections, using inhalers and continually taking antibiotics to keep her body healthy.
"As I got older, I accepted that what I have wasn't going to go away and I was taught to think about how my body was reacting to situations and to know when to get help," Cindi says. She's also learned that proper exercise and diet can hugely impact the quality of her life.
"Children with chronic illnesses grow up quickly," she says, "They are forced to. I recognized that I had control of how this was going to shape my life."
Cindi and her family moved to Billings when she was a ninth-grader and she joined the track and swim team. Exercise helped her breathing and she became a firm believer in pulmonary rehab, which consists of deep, cleansing breaths that she has practiced since childhood.
"I started a lifelong habit of running back then, and that's changed the course of my life," she says. "I'm always aware of how I'm breathing. And the exercise I've done for the past 50 years has helped my lungs to stay strong. I know what triggers an attack, so I avoid being outdoors on smoky days or really cold ones. But I haven't let asthma rob me of enjoying life."
On a mission to help others get the most out of life, especially children, Cindi penned "Rooter Can't Breathe," a story about a young packrat who discovers he has asthma and learns how to care for himself.
"He needs to keep his lungs strong and healthy and the medication will help him breathe better and stay active," Dr. Puddlemug tells Rooter. "Use this spray before you play hard or run. Use it every time, Rooter."
"I'm trying to express through Rooter's story to not be embarrassed about using medications and inhalers and the importance of using them," she explains. "I remember being embarrassed to tell my friends that I use one."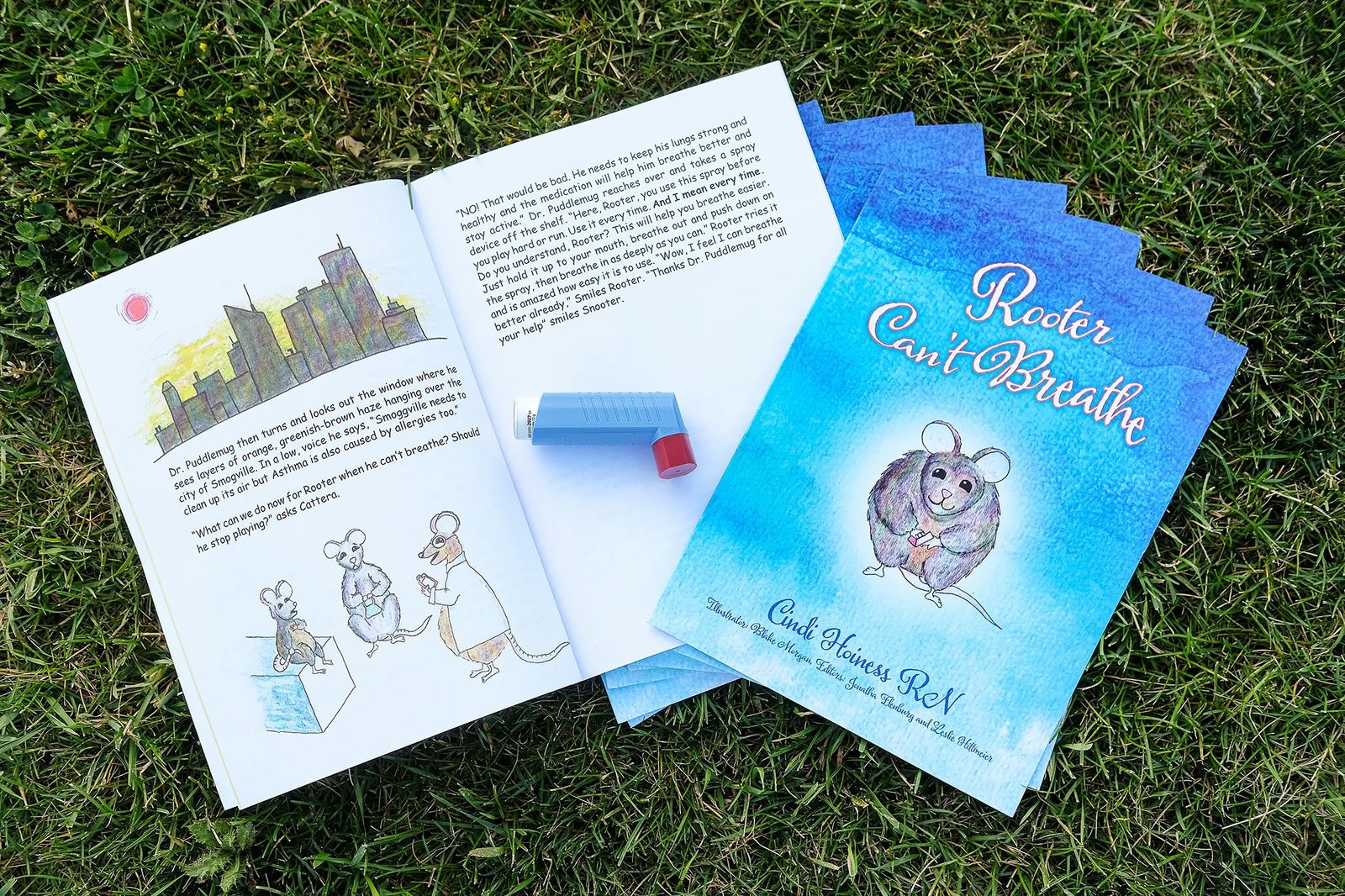 She hopes the story encourages children and their parents to recognize their triggers for asthma.
"Some children grow out of it, others will have it for life," she says. "Pet dander, mold and secondhand smoke can be triggers for asthma." She stresses that those who suffer can't skip out on their medication, and that exercise should really be a part of their daily life. "Having asthma doesn't mean you have to quit being active," Cindi says. "You have to exercise your lungs, get them strong, even if it's just walking. You have to move."
At 58, Cindi is in better shape than many of her healthy friends. She and her husband, Mike, are avid outdoors enthusiasts. They ski, hike, bike and trail run.
"I always use my inhaler 15 minutes before strenuous exercise. Most people wait until they need it, but by then, the inflammation has already started.  If you take it before, the airway will relax and there won't be any inflammation. I think it's important for children and their parents to practice this and see the difference."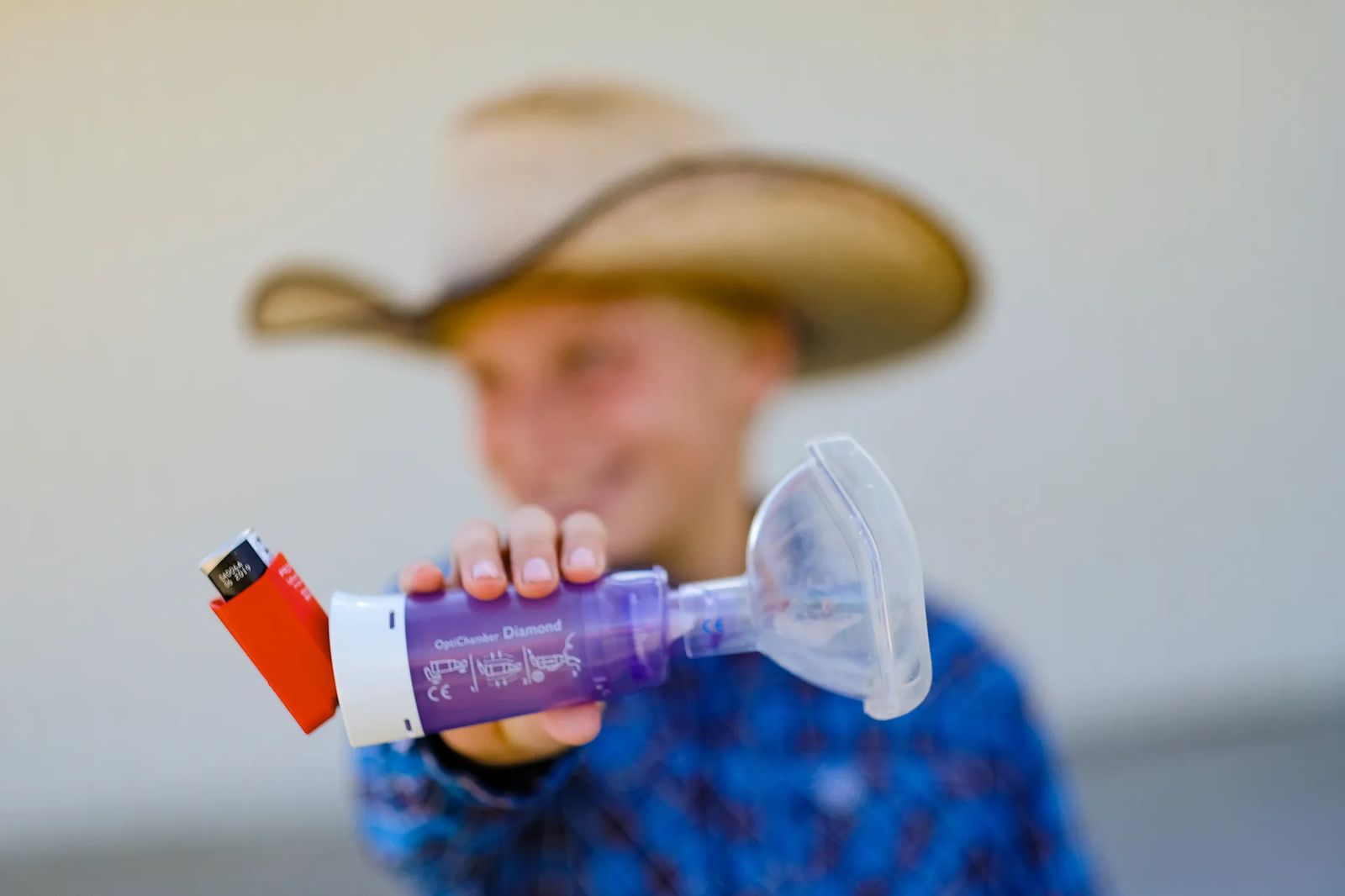 Tess and B.J. Kachick, who live outside Joliet, can testify to the power of Cindi's book. All three of their sons, Grayson, Rhett and Gus, have asthma, as does Tess. It's a world they live with daily, but with the help of medications and inhalers, none of her children are being held back from the activities they love. Living outside Joliet delivers a lifestyle full of the outdoors, exercise, pets and livestock.
"I will be forever thankful for my own struggles with asthma," Tess says. "I believe it saved Grayson's life after his first attack. He came into our room grasping at his throat, panicked and gray in color. I knew exactly what was going on and grabbed my own rescue inhaler and started the breathing treatment." Grayson is 10 and has had asthma for two years. His younger brothers have since been diagnosed as well, although theirs isn't as severe.
"Our children loved Rooter," Tess says, sharing how relatable Cindi's book is for kids. She adds, "My kiddos especially loved when Rooter found out that he was not alone in his suffering and that a few of his friends also struggled with asthma.  Together they could overcome and enjoy their childhood days and so can my children!"
GET YOUR COPY of "Rooter Can't Breathe" at This House of Books in Billings or at outskirtspress.com/rootercantbreathe