Building Community, One Belt at a Time
Jen Perry empowers women & cinches up success
Just 20 yards away from the concrete walls that house more than 220 female inmates at the Montana Women's Prison, the quiet hum of a sewing machine can be heard as one of the inmates sews up another project. Beth Anthony, a 50-something inmate with three years left to serve, is thumbing through purchase orders nearby and talking with Jen Perry, the owner and founder of Jelt Belt, a company that manufactures elastic belts and, at the same time, gives these women inmates in need of professional development a solid foundation of experience.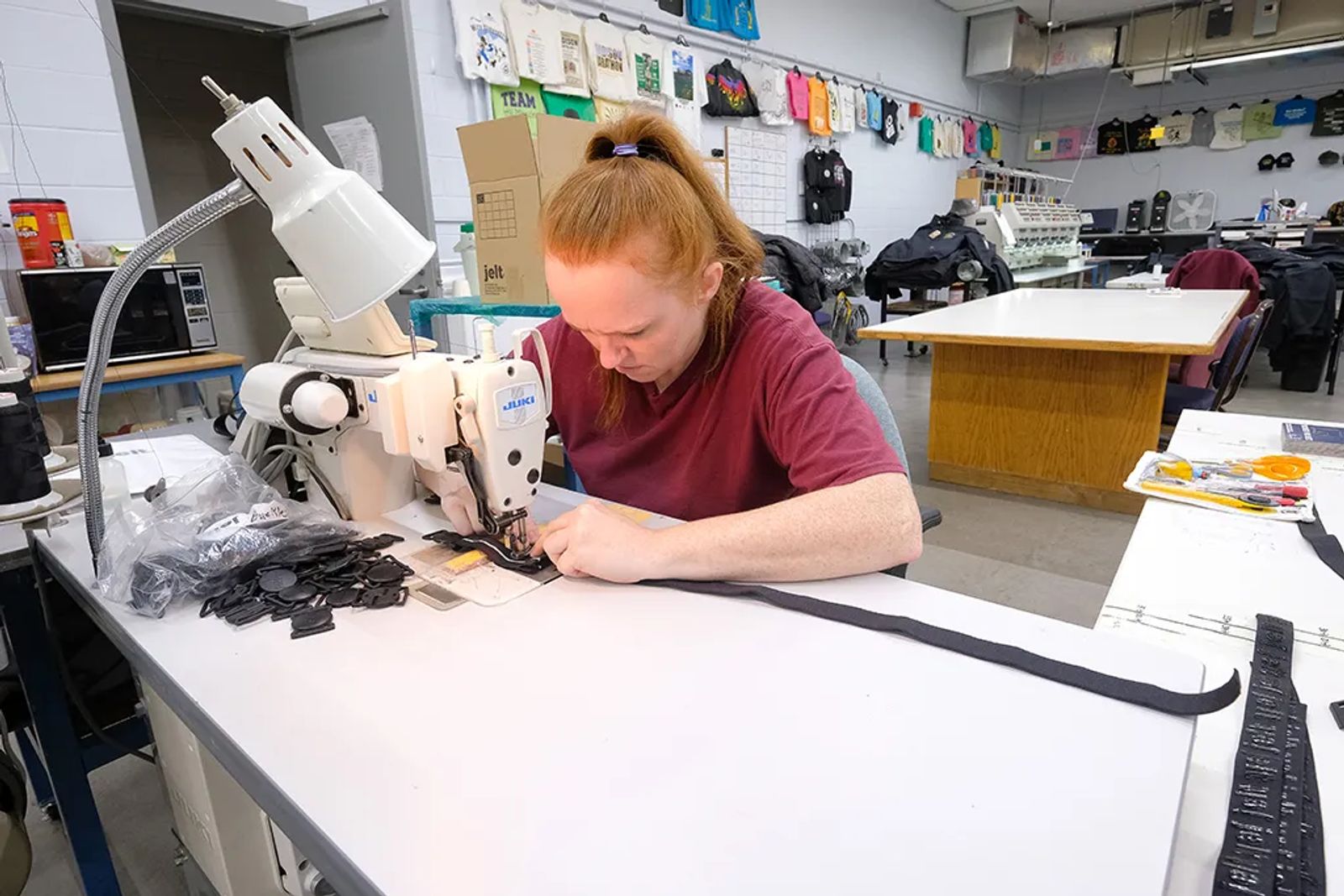 "I have a soft spot for empowering women," Perry says. That soft spot grew a bit when this entrepreneur was forced to look her own mortality in the face.
As a young mother, Perry quit her job as an academic adviser at Montana State University in Bozeman. Before she became a mom, she was well on her way to earning a Ph.D. It was during this break that she suffered a ruptured appendix. It led to sepsis, and as doctors pumped heavy-duty antibiotics through her bloodstream, they weren't so sure she was going to pull through.
"You become very religious when you are about to die," Perry says. "I prayed and said if I ever get out of here and survive, I want to do something more with my life."
It took a year for her to heal. "Although, you are never fully healed from something like that. I have a lot of internal trauma," Perry says. "But, that which does not kill you makes you stronger!"
As she gained strength, Perry started to volunteer her time at charities in her home town of Bozeman. "I saw all the good that businesses could do when they donated the profits from their business to charity," she says. She started thinking about what she could possibly create or invent with the sole purpose of giving back.
"That's where I got this idea for an elastic belt," Perry says. "I always wear these goofy jeans with a lot of Lycra in them and my jeans are always slipping down." She's heard from other women that they stopped wearing belts because they didn't like the bulk at their midsection. And, if they traveled a lot, they didn't want the hassle of pulling off a belt with a metal buckle, just to move through security.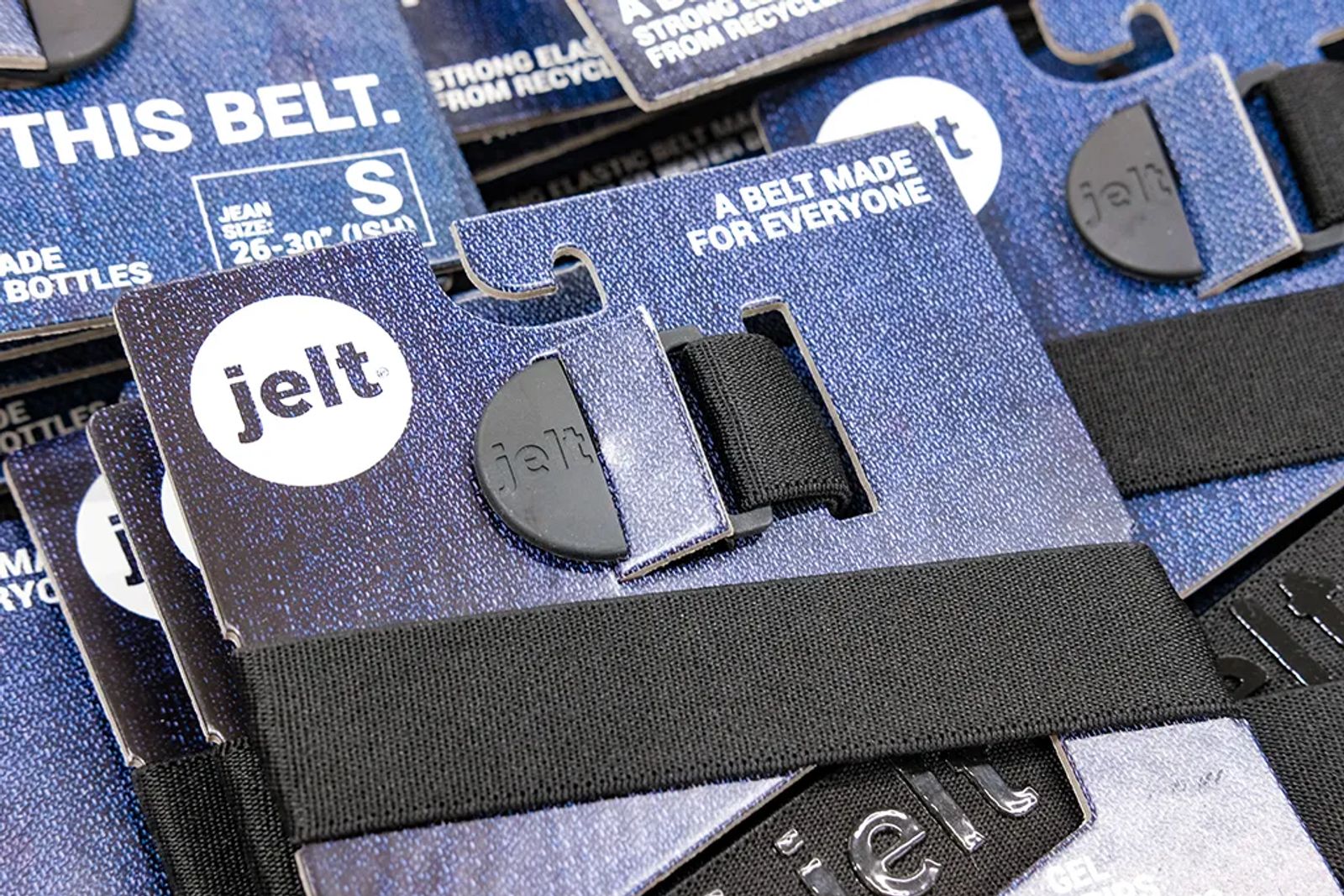 "So, I started to think about the belts that I used to wear in the '80s as a kid — you know the rainbow belt with the rainbow clasp?" Perry says. "I wanted it to be super strong and have some kind of grippy material on the inside like my ski jacket, a silicone gel so that I could wear it whether I had belt loops or not." The buckle would have to be plastic.
The wheels started turning and over time, Perry was able to meet the right people at the right time to help her bring her idea to fruition. A friend connected her with a man in New York who was able to plug her idea into a computer-aided design.
"I did throw him a curve ball because I was like, 'Oh, by the way, I need to have it all made out of recycled materials,'" Perry says, adding that every Jelt Belt made is created from 100 percent recycled plastic bottles.
She sought out help from the Montana Manufacturing Extension Center (MMEC), an outreach and assistance program designed to help businesses statewide find manufacturing partners. While Perry started manufacturing her product in China in 2014, the MMEC pointed her in the direction of the Montana Correctional Enterprises program. She's been housed at the Montana Women's Prison since 2016.
"Jelt is a social enterprise," Perry says. "It's a business set up solely to give back."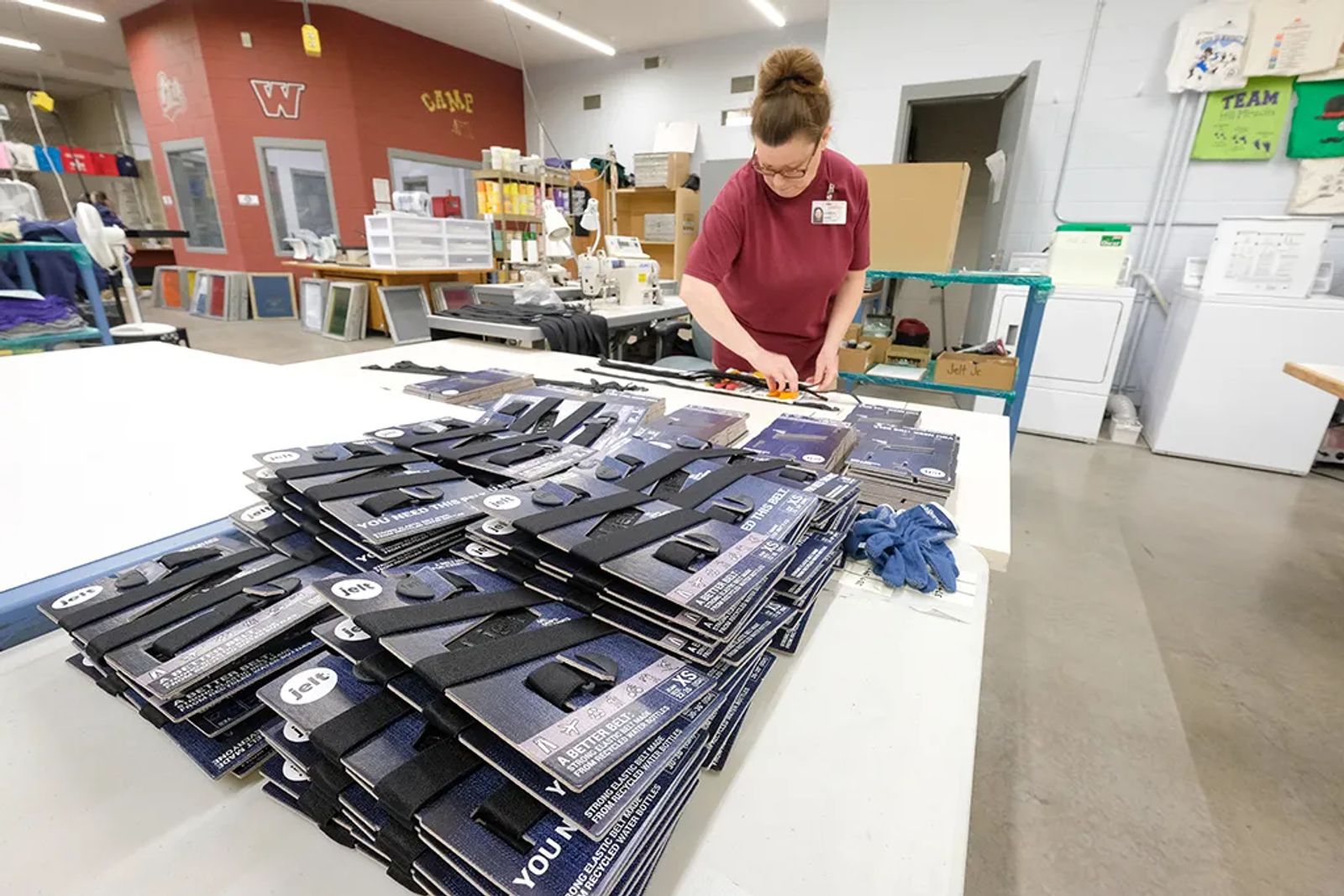 With every belt sold, a portion goes to Warriors and Quiet Waters, a nonprofit that uses fly fishing to help veterans heal the wounds of war. A portion goes to community outreach programs that benefit children in need and a portion goes to support education about Montana's two national parks.
"The company is designed in a way that is good from every aspect," Perry says, "using recycled materials, using the best manufacturing practices and then, giving back."
The manufacturing done through the Montana Correctional Enterprises program is a secondary way Perry gives back. As she watches her production manager, Beth, keep the work of Jelt Belt humming, she smiles and shakes her head in awe.
"Beth has been with us since the beginning," Perry explains. "She couldn't even look me in the eye in the beginning. Now, she will shake my hand and tell me how things are going. She actually helped us rewrite our standard operating procedure."
As Perry explains the manufacturing process, she tells how the raw goods arrive at the Women's Prison. Inmates with the program have to count, measure and inspect each product before they even sew one bit of material into a belt.
"Since Beth has come on board, she told me, 'Here's what's wrong with the procedure and here's how we need to rewrite it,'" Perry says. "It feels great knowing that she has grown as developed so much as a human being and as an employee. I can't even tell you."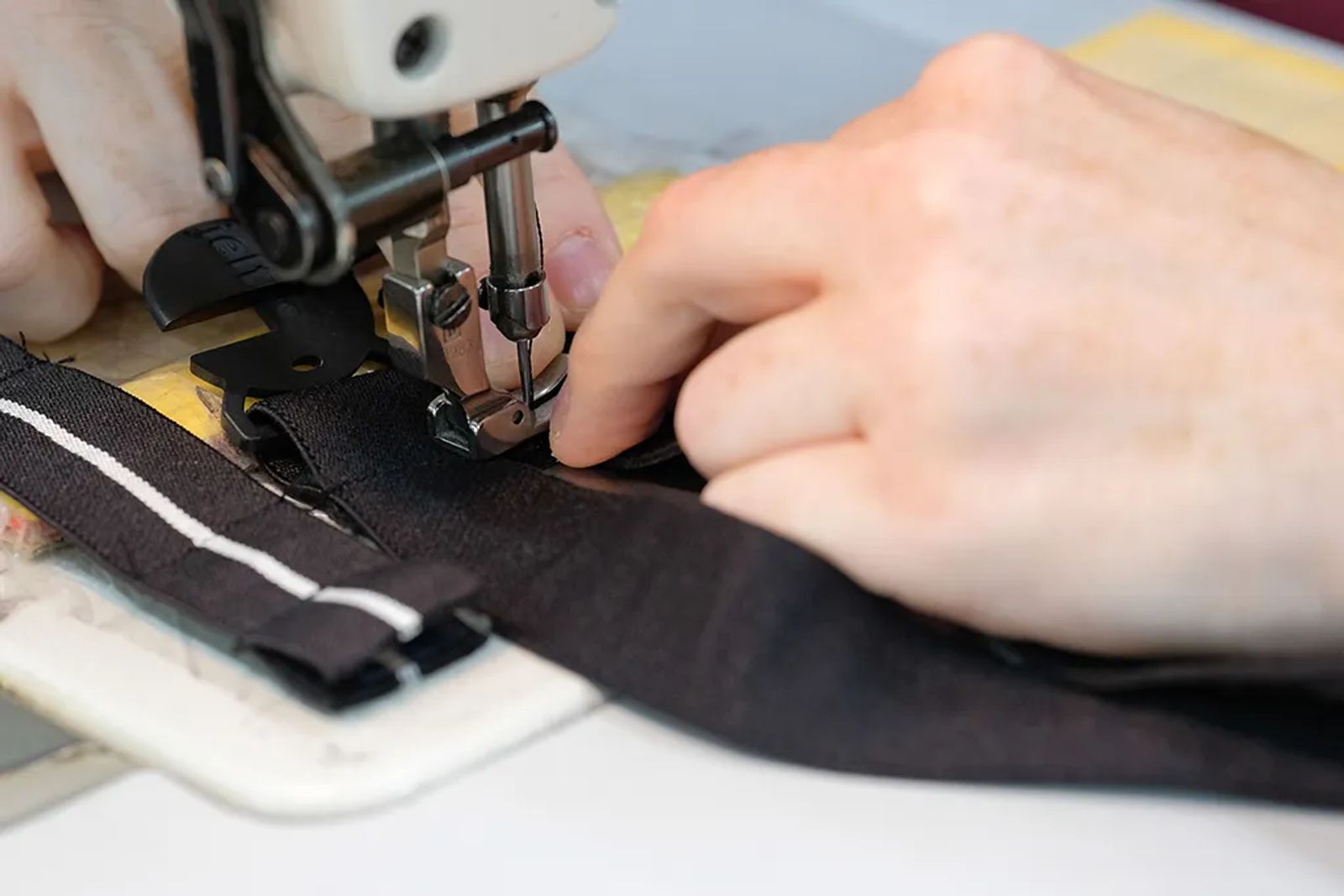 It takes about eight days for Beth and her team to pump out about 1,000 Jelt Belts. Thanks to her ability to keep the project on track, she's been able to train fellow inmates to work the assembly line, giving them the confidence and skills they can take with them when they finish serving their sentences.
"It has given me purpose," Beth says. "I have a purpose!" By the time Beth leaves prison, she says, "I will be pushing 61." While she hopes she can use her skills to land a job showcasing her managerial skills, she's already witnessed a huge gift thanks to the program. "I have more self-confidence, more self-esteem than when I first got here. This is definitely a wonderful opportunity."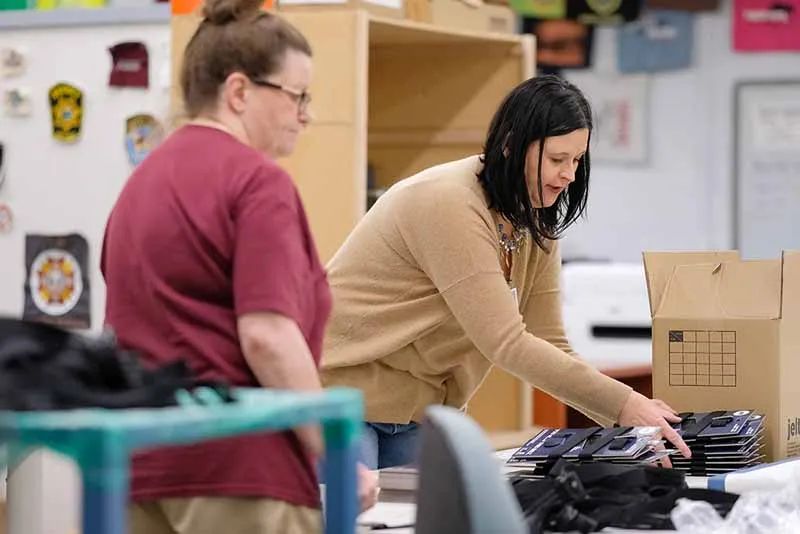 Away from the Montana Women's Prison manufacturing operation, Perry also started seeking out the sewing services of stay-at-home moms. "We know a woman who sews uniforms for miners. She would have these off hours where she would like to make a little extra money. We thought, what a great opportunity to expand our manufacturing to have stay-at-home moms in rural places in Montana who have machines do our sewing and make a little extra money for their families." Perry adds, "I really want to expand that part of my program." She also has a grand plan of moving some of the sewing to women on tribal land as well. "There are industrial machines out there that are sitting unused."
In December of 2017, Jelt took the rare step of getting certified as a B Corporation. It's a certification in which a business is measured by its social and environmental impact and recognized as a company working as a force for good.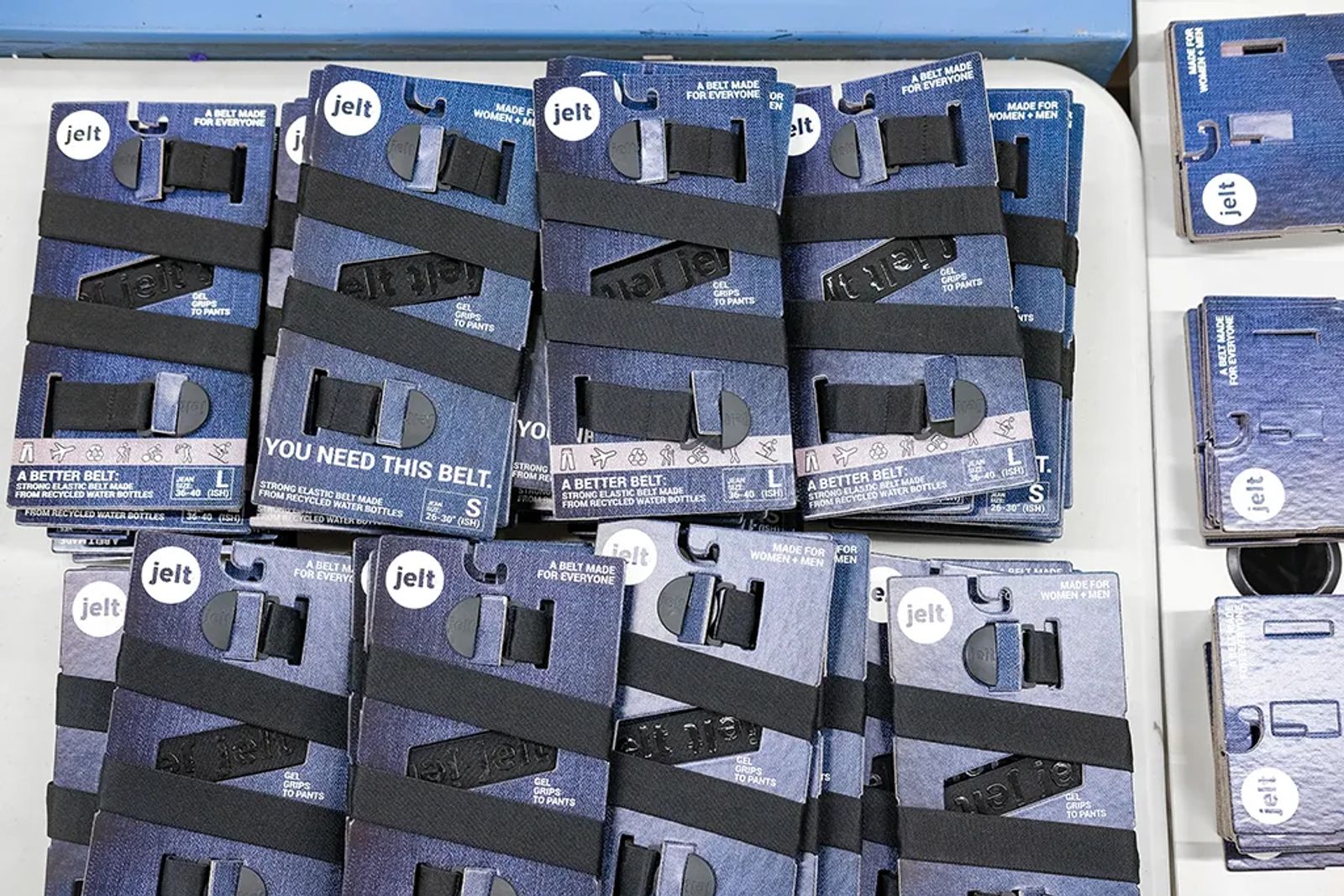 "I wish there was more conscious consumerism," Perry says. "Do you really need that much stuff or can you buy things from companies that manufacture in the right way and do business as a force for good?"
When Perry looks at what drives her, she doesn't have to look far for her source of inspiration. She remembers, at the age of 57, her grandmother going back to work to make money to send her kids to college. She applied to San Diego University.
"They laughed at her," Perry says. After finding out her grandmother graduated Magna Cum Laude at the University of British Columbia, "They ended up calling her because they needed a professor for English 101." She went on to earn her master's degree and worked at the university for close to 25 years. Perry says, "She retired at 71 and then started writing and publishing Regency romance novels. She published 27 in retirement. She showed me that age is just a number."
As Perry looks to her own future and all the possibilities that lie in front of her, "I always say, 'If not now, when?' It doesn't matter if you are 28, 68 or 88, you can still follow your dreams. If you are alive and your heart is beating, you can give it a try."
FOR MORE ON JELT BELT, visit www.jeltbelt.com. Jelt Belts are also sold worldwide on Amazon.com and at all area Ace Hardware stores.