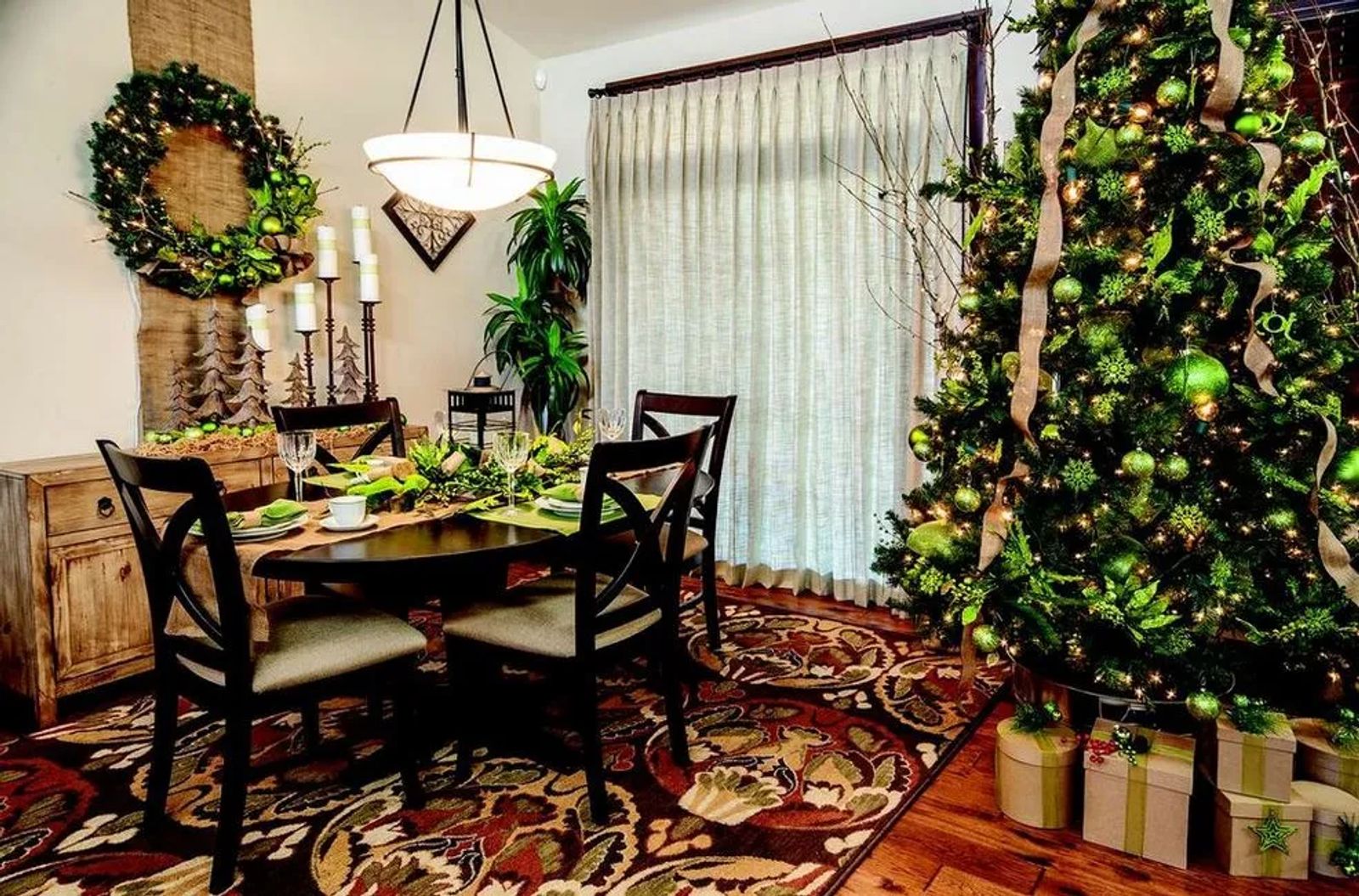 Christmas 2013 brings a little bit of nature with a big pop of color
Decorating like a pro comes easy this Christmas season as you transform your home into a wonderland for entertaining family and friends. While the chill hangs in the air outside, your home becomes the holiday hot spot with a few 'natural' elements and some unexpected color. For Christmas 2013, there are no extremes to go to here…just some creative inspiration from one of our local designers to help you achieve this year's trendy look.
Jason Williams of Conlin's Furniture goes for pure beauty using a textile we tend to overlook and powers it with a color you don't expect. He accomplished a chic feel and stylish attitude with good old fashioned burlap. This affordable and earthy material adds that holiday 'au natural' touch, while accents of luscious lime green infuse colorful distinction and personality into your space.
The polished look, carried out in Brown Builder's recent 'Parade' home, starts in the large front foyer, extends into the open living and dining space and on through into the kitchen. It's clear to see, going organic this season and adding a bold new color dramatically changes the ambiance of your home. Just add the bling, then sit back and enjoy this Christmas.
Nothing can be more natural than having a real live tree in your home. How about several? Aspen trees appear in the entryway and next to the tree giving that natural and woodsy feel the moment you step inside. These trees were placed in a bucket and then wrapped using a burlap sack picked up at an agriculture supply store for less than $2 each.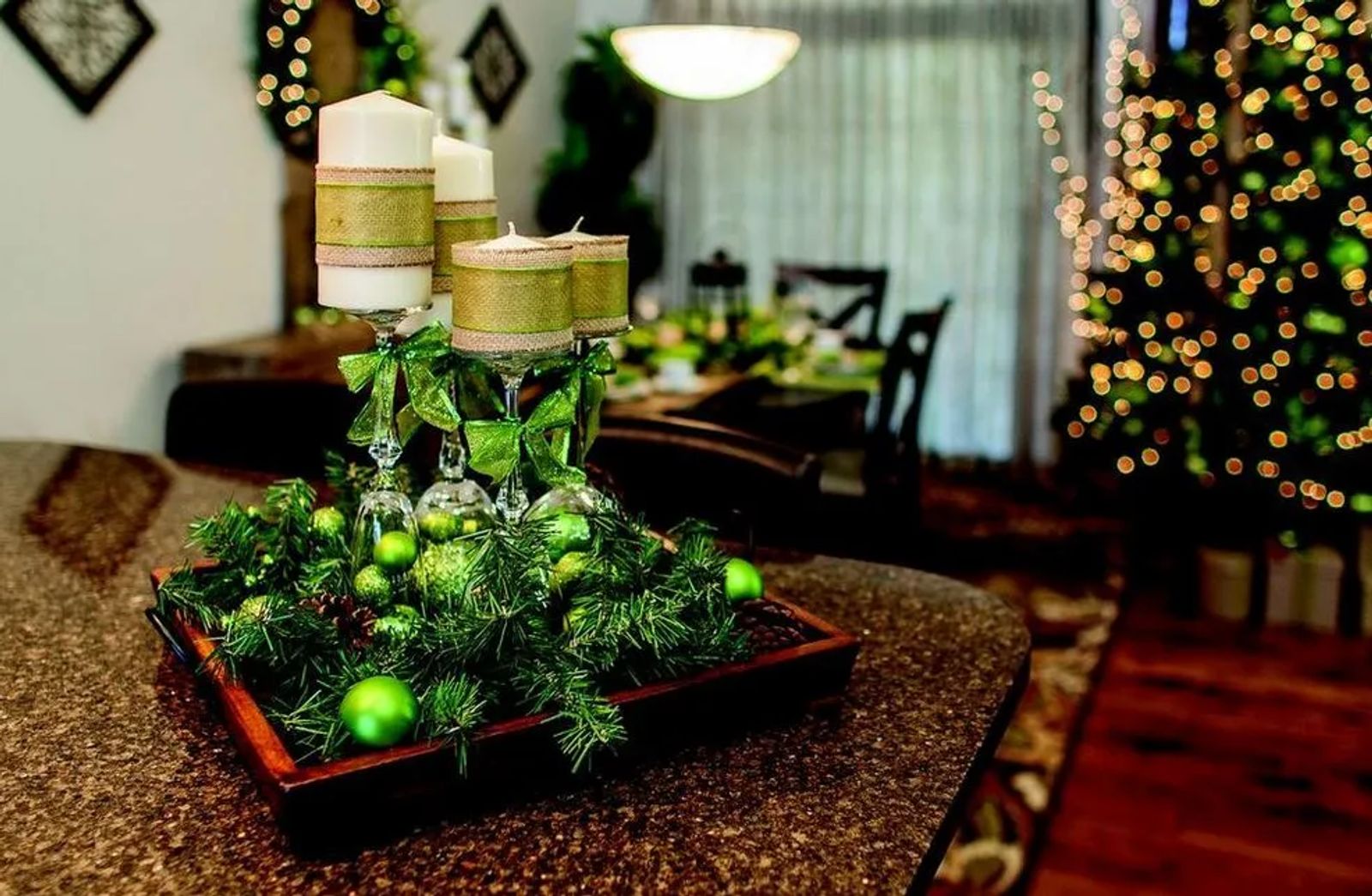 Simplicity makes a statement in the kitchen. Wineglasses flipped upside-down are clustered on a tray upon the center island. Lime green ornaments fill the glass and burlap is wrapped around each candle, which sits on top.Grace the room with candles and make sure to add a pop of your focal color. "Use a white or vanilla candle that you tack a simple lime green band around," says Jason. "You can even glue on small pine cones, but be sure to use lots of candles!"
Mix it up on your tree with a variety of lights.  "Using different styles of lights and mixing the mini lights with globe lights gives you that designer look," advises Jason. "You want to be sure to work your way out from the center of the tree when adding the smaller lights." This gives it the designer look while adding depth.
To add a splash of glam, try filling the tree with metallic netting that you can find at your local craft store.  Not only does it fill in the tree's spaces, it provides some sparkle when the lights cast their glow.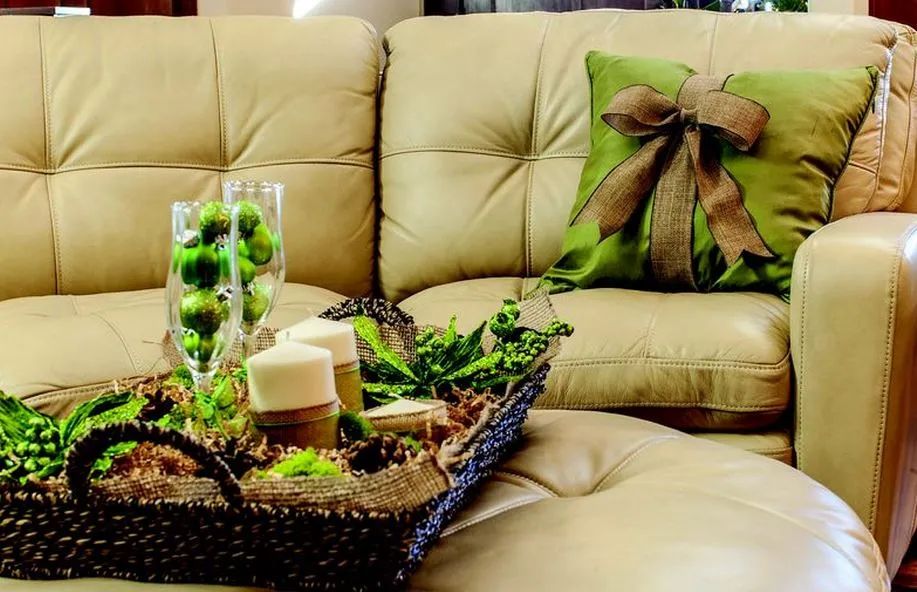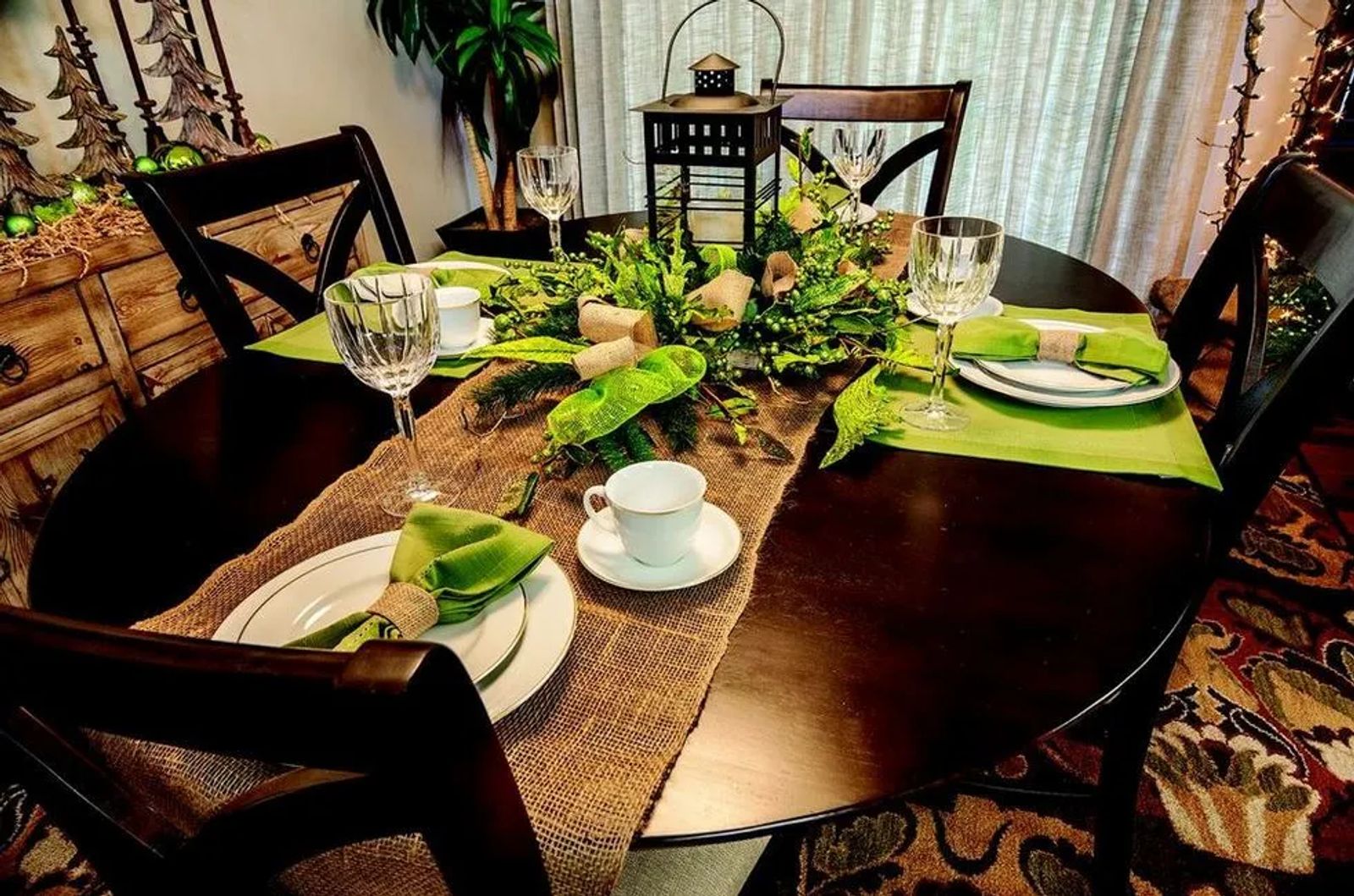 Burlap runners are a great and inexpensive way to bring your look right to your dinner table. Laying a strip down the center carries that same organic feel into this busy entertainment space that you can see, is heavily accented with a lime green sparkle.