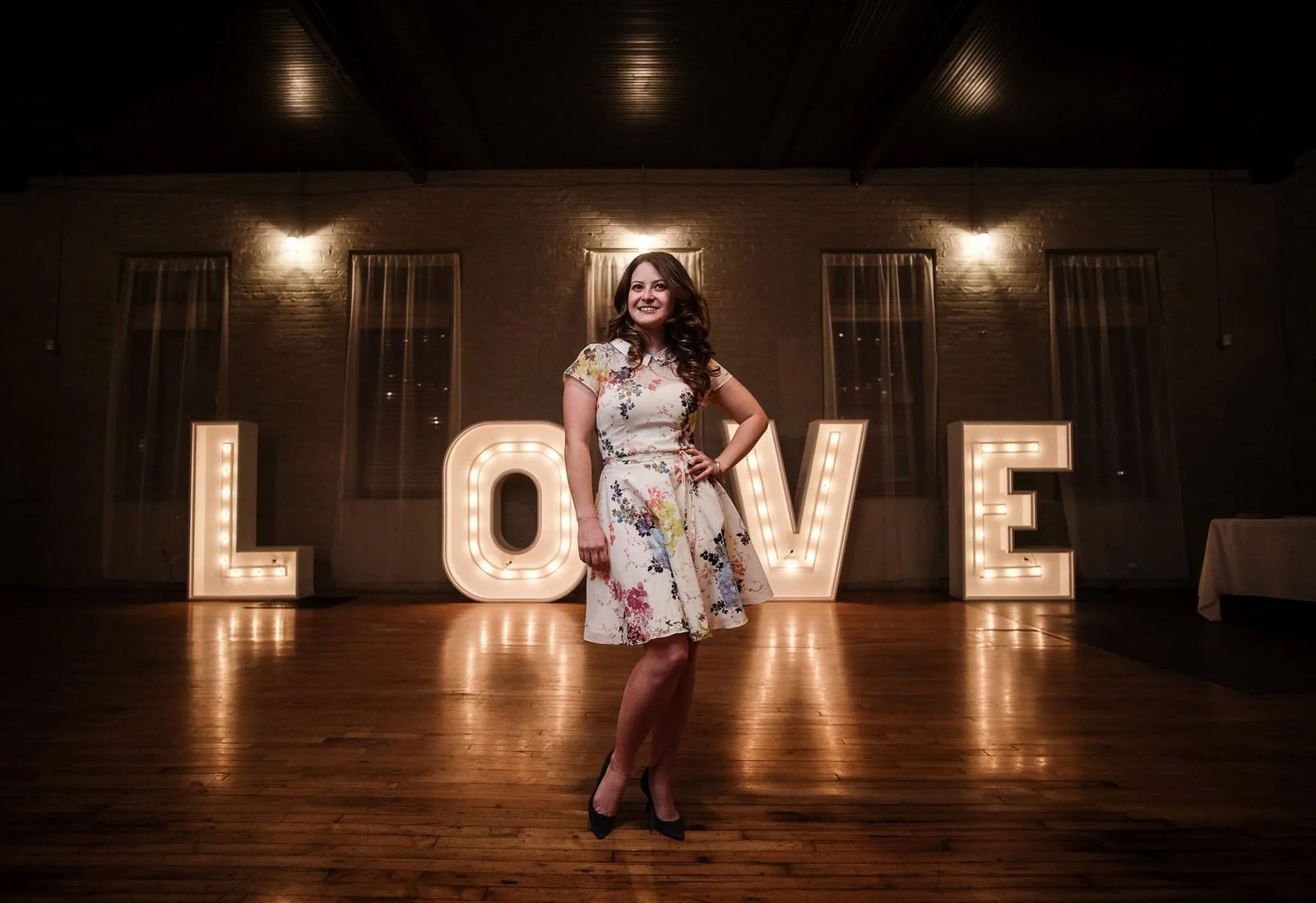 Cassie LaGreca Loves Flexing her Creative Muscle
Putting her innovative spin on Billings' event scene

As a little girl, Cassie LaGreca always had a penchant for the imaginative and creative things of life. She was the kid who loved prettying things up and thought out of the box when it came time for play time with her siblings.
"My life growing up kind of required creativity," she says today with a chuckle. "We didn't have a heck of a lot of money. My parents had us when they were young and we didn't get a lot of new toys." So, Cassie would get creative with her siblings. She laughs when she says, "Sometimes my vivid imagination gets me in trouble!"
It might have gotten her in trouble back then, but today, her imagination has landed her as owner of Better to Gather, a boutique event design company that also offers creative classes and gatherings in its Montana Avenue studio.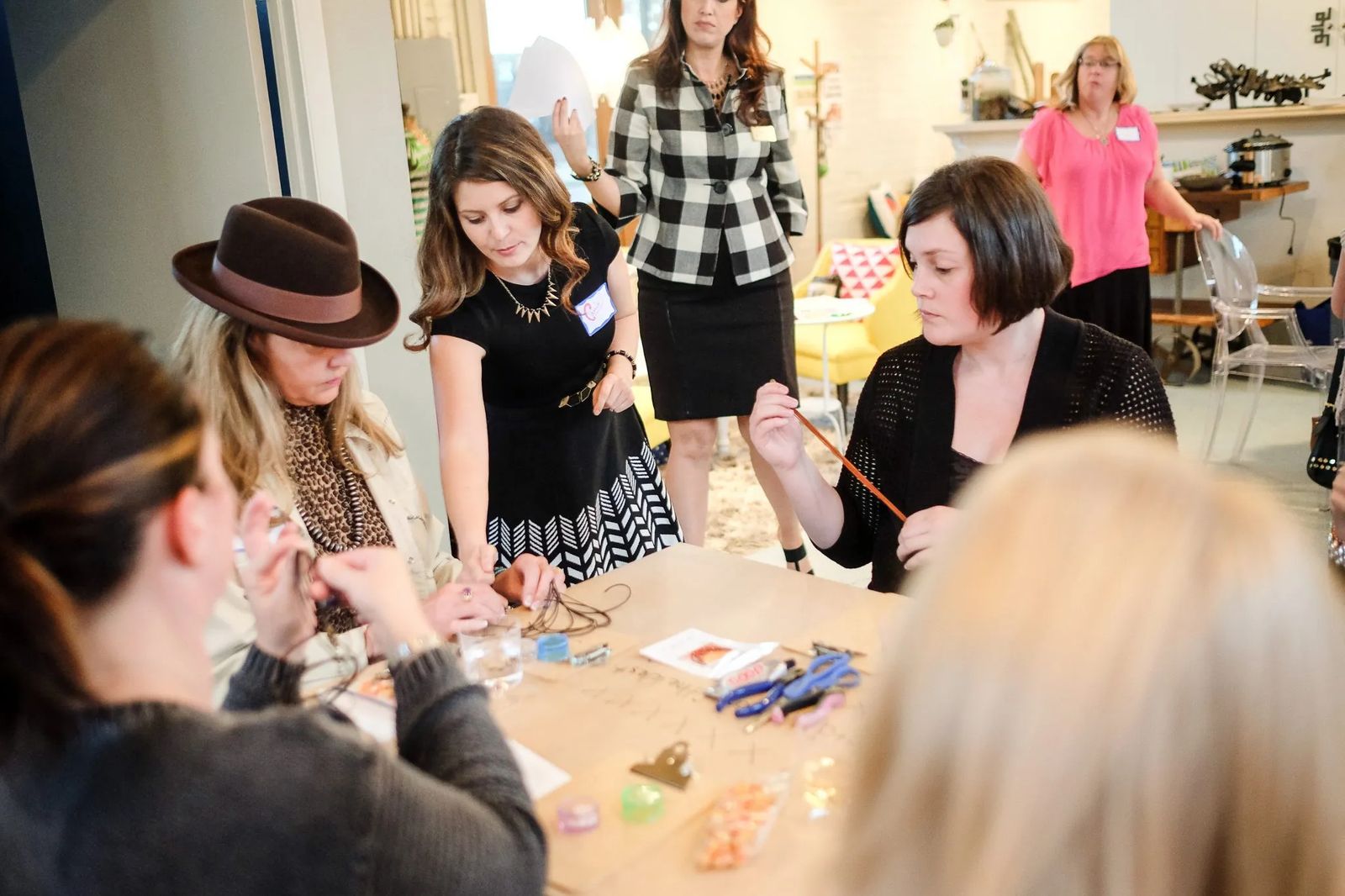 "You really do start to become what you love," Cassie says today. "I think there is a great quote that says wherever your mind goes when it wanders, that's where your heart is."
The journey to Montana Avenue might have started in Billings where she spent a good chunk of her childhood, but it took detours to New York City and Chicago before making the 1,200 mile journey back home a few years ago.
After graduating from high school, she found herself in the heart of Brooklyn at the Pratt Institute with dreams of becoming a graphic designer. She later discovered that her grandfather walked those very halls in the 1920s when he went there to become a draftsman. "When I went to art school there, "Sex in the City" was really big." She smiles and says, "I thought that because of that, New York really was the only place to be if you wanted to be an artist." She learned that the 'Big Apple' was a little too metropolitan for her. "I felt like I was living in a concrete jungle," Cassie says. After a year, she headed to the School of the Art Institute in Chicago to finish up her degree.
Today, she can connect the dots and see where each aspect of her early career helped fashion her into what she is today. It started at the advertising agency that felt more like a boy's college dorm room led by a bunch of guys from L.A. who truly felt no office should be without mountain bikes and pool tables. It continued when Cassie took a job as the general manager at a flower shop, helping instead to design in three dimensions. "There was this very aggressive, intense, crazy, wonderful and weird person who was the head of all the floral designers named Stephanie." Cassie says there would be times when there would be all out feuds in the shop between Stephanie and the flower shop's owner and she laughs when she says, "Sometimes they would be going at it in front of customers while we were doing business and I would be trying to steer the customer in the floral cooler where they couldn't hear!"
Amidst the crazy antics, Cassie came to understand her love of working with people one on one. "I think that's where I realized that I have a real passion and a real knack for that kind of service. You have a guy coming in to the shop that's busted. He's super in trouble with his lady and he's not telling you that, right? He is just walking in to the flower shop looking sheepish. Eventually, it became something in between therapy and supplying a need." For Cassie, working there became what she called, "an exciting experiment."
The experiment heightened when, during one of the flower shop's hectic Valentine's Day rushes, she met a man named Seneca, a professional floral designer brought in to help style the high end arrangements. He worked at Kehoe Designs, one of the top 35 event production companies in the country based right in Chicago. As Cassie stuffed vases with greens, Seneca would follow masterfully arranging just the right florals. Since this was a sun-up to sun-down kind of day, the two talked and he got to know a little bit about the fresh faced graphic designer standing in front of him.  As fate would have it, he urged her to apply in the art department at Kehoe Designs. She did and she got the job.
Over time, she found her groove working her way up from the art department, which she called "a lot of schlepp work along with the practical nitty gritty," to becoming an event manager, overseeing close to 30 people from various departments. It was her job to organize the team to make sure any Kehoe event went off without even a hint of a hitch. "It was a job where all of these moving parts come together," she says. It was also a job where your head could be on the chopping block if anything was forgotten. Cassie says it was a world of highly detailed, high deadline, fast-paced production.
"There would be days when our creative challenge would be to build a mountain or dip a tree in chocolate in a way to keep it from melting. It was insanely awesome," she says. She shakes her head just thinking about her largest event. It was a Bar Mitzvah for a boy named Cooper. The event with a multi-million dollar budget evolved into Coop-Chella, a play on the popular musical fest Coachella. Imagine a party designed to look like a full scale musical event. Envision multiple stages with well-known bands and a popular DJ spinning tracks from a gutted VW van. "He picked the bands and we did this awesome décor so that it felt like this huge experiential moment for him."
Even with the glitz and the money to pull off huge creative feats, there was something missing. "I had a wonderful little role there but I didn't really get a client to client interaction, and when I did, I just felt full of life when I had it." After being at Kehoe Designs for eight years, "I was kind of at the point where I thought, if I am spending these years of my life working this hard for someone else, could I be working this hard for something that I am investing in long term? Could l be putting this blood, sweat and tear equity into something for me that I can hold on to, that can sustain me when I can't work like this anymore?" She adds, "I was done solving million dollar problems."
In October of 2013, "I knew the mountains and my family were calling." She gave her notice at Kehoe and with her step-mom, who she calls more of a "sister friend," the two started Better to Gather and Better Together. Stacy LaGreca ran a clothing boutique in front and Cassie ran creative classes and did event designing in the back on a smaller scale. Cassie eventually broke out on her own nabbing the prime real estate she has now at 2404 Montana Avenue.
With her hands in the air she squeals, "Eight thousand dollars was the biggest event here!" While it's a far cry from the multi-million dollar parties and corporate events, she says with passion, "I am incredibly proud of that."
Courtesy Cassie LaGreca[/caption]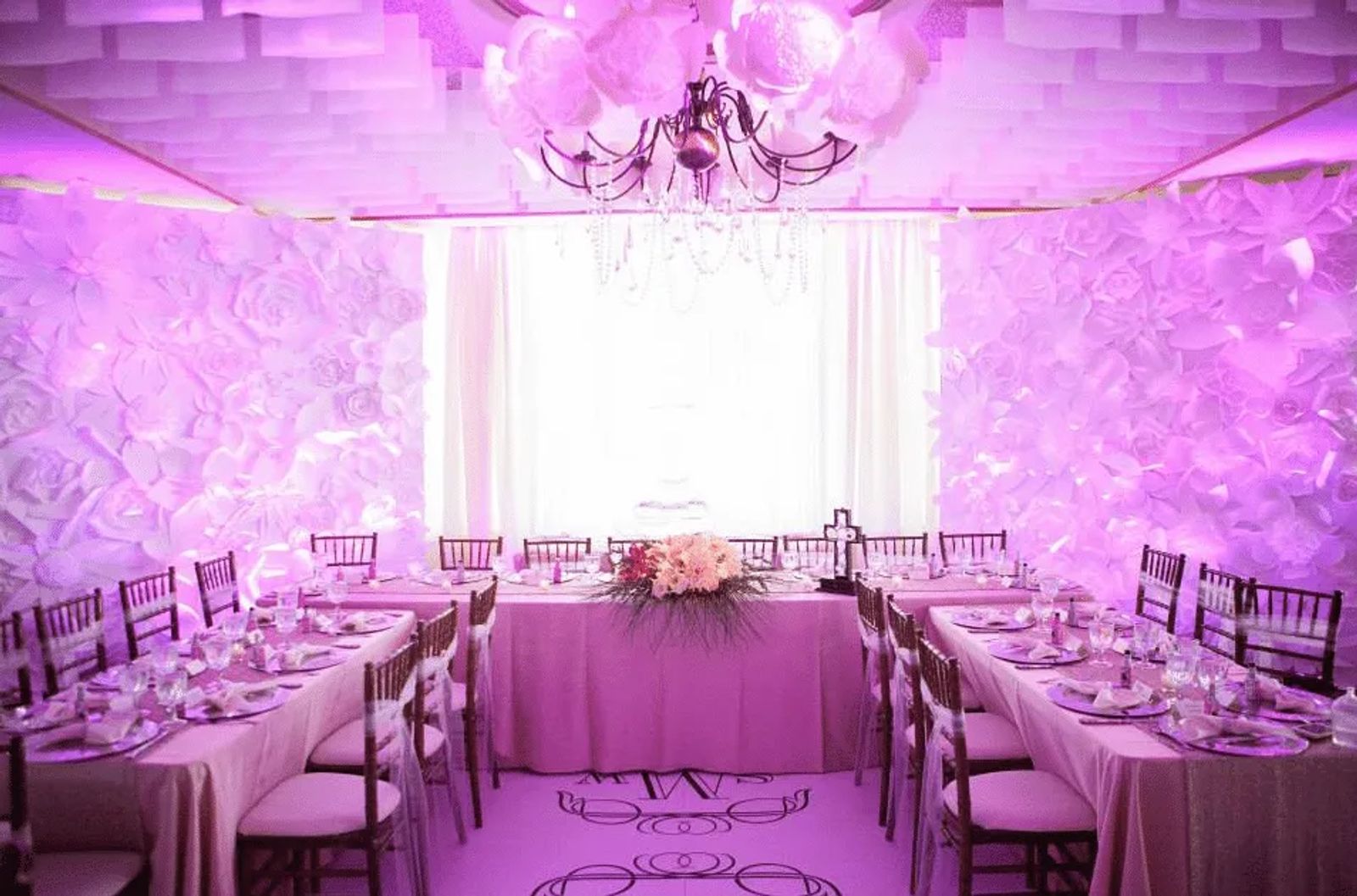 Looking at the photos, you'd never know that Cassie's biggest event in Billings didn't come with a million dollar budget. In pictures, you see the Petroleum Club transformed into a room dripping with crystal, draped in fuchsia up lighting, with rhinestone encrusted champagne bottles at the head table and a gorgeous ice sculpture at the center of the event. A wall of paper flowers was lit to perfection adding a magical, almost storybook feel. It was, by all accounts, a showstopper.
Events like these are the reason why Wedding Planner Patricia Clark considers Cassie a "go to" resource.  Aside from what Pat calls her "gregarious, charming personality," she knows when an event is handed to Cassie, it will be done right. "Cassie brings a big city feel to Billings that has not been done in the past," Pat says. "She meets one-on-one with each client to listen to her dream."
Just down the street from Cassie's creative space, Jennifer Mercer, the Executive Director of the Billings Depot is another one of her biggest fans. "Cassie has this amazing ability to visualize and create something unique and special for each client.  Every event she does is completely different, conveying the individual style of the client, and she somehow manages to do this while staying within a reasonable budget!  That is pretty special."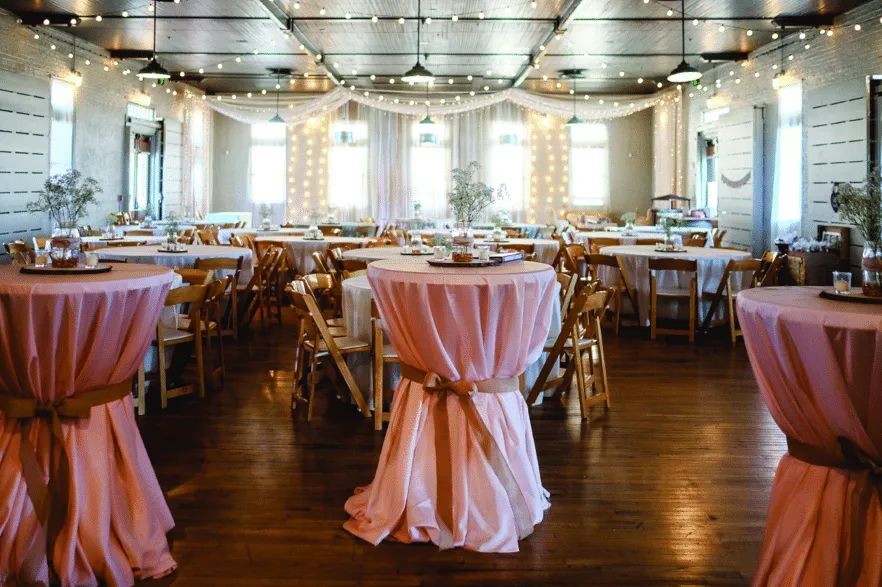 Jennifer got to see this side of Cassie on a closer level when the Depot named her the "preferred decorator" for the historic event venue. That means Cassie is able to offer those who book the Depot for their event special custom decorating packages for all types of budgets. "When the clients see what she actually produces, there is always this slack-jawed awe at what she has accomplished," Jennifer says.
"It lights me on fire when a bride or client walks into the space and feels the joy and says, 'Oh my gosh! You get me!' It's a huge energy boost to keep going and doing what I am doing," Cassie says with a smile.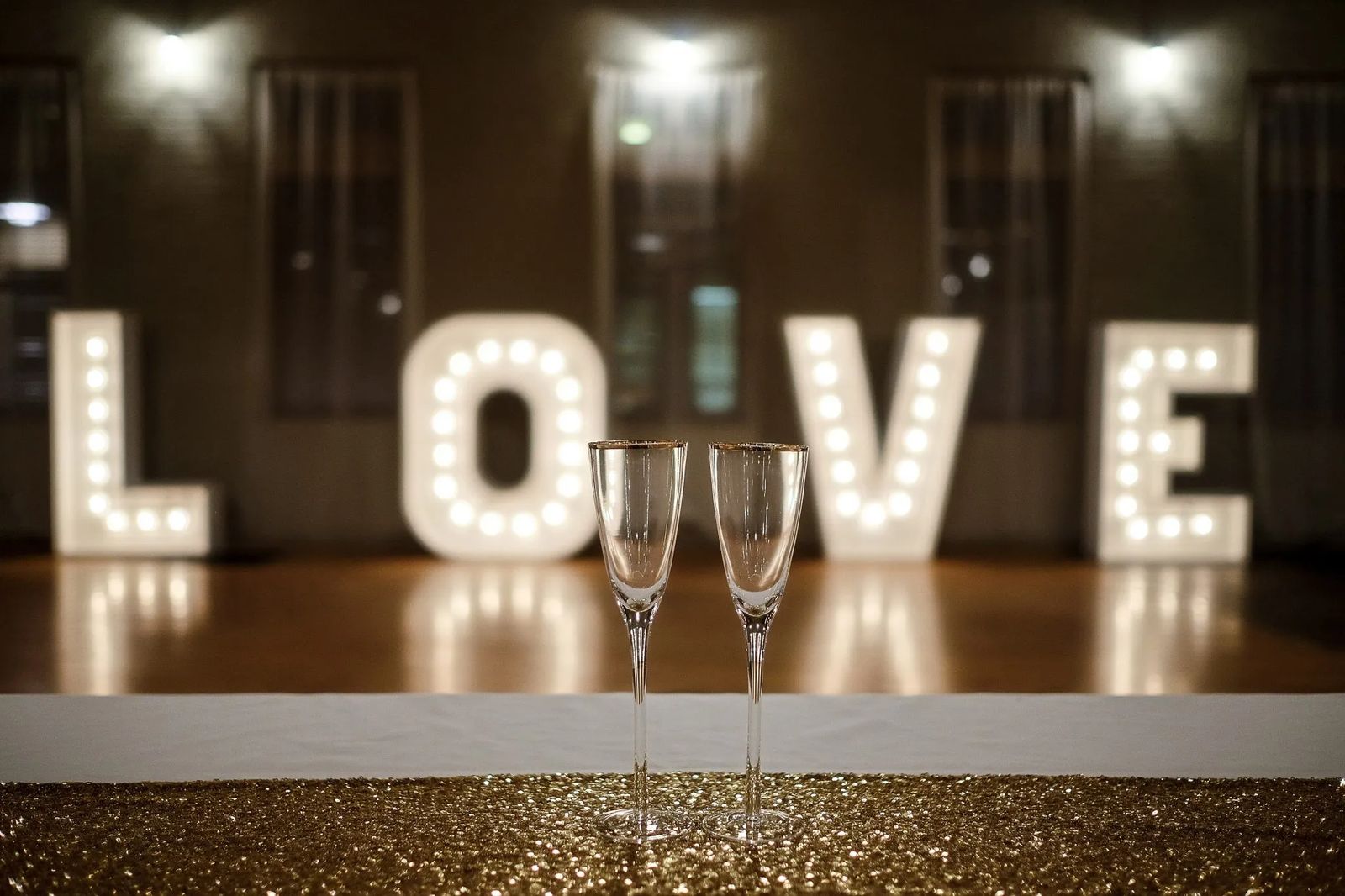 Events aren't Cassie's only focus. If you've ever been to her storefront at 2404 Montana Avenue, you know that when you walk in the door, you're walking into a funky and colorful creative experience. Here, Cassie and invited instructors host creative classes that run the gamut on the fun factor. From a how-to in hand painting wine glasses to teaching folks how to craft their own jewelry, the creative juices overflow here. "I couldn't live without that creative buzz," Cassie says and adds, "And having other people around me who like to create and that I love to see succeed."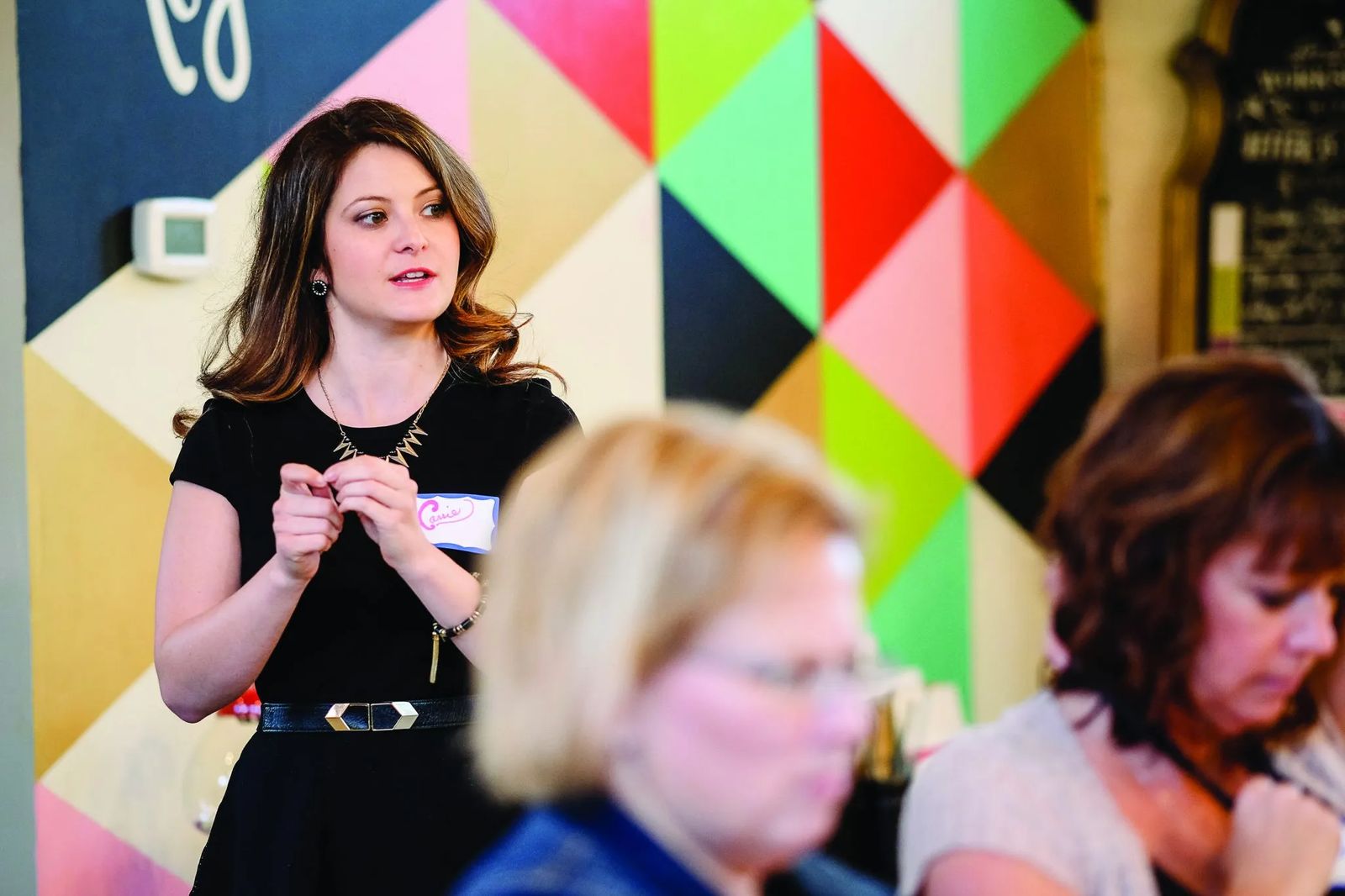 On this day the studio is closed but Cassie is spending time on her laptop trying to plan the scene for an upcoming wedding in Whitefish. "They want the feeling of an enchanted forest. So we'll have falling petal curtains." As she points to the digital mock up, she shares photos of the wooded area and explains how she plans to hide solar lights on the hilly landscape that will pop on just as night starts to fall and the reception begins. It looks absolutely magical.
While she talks about the romantic display and all that she's learned over the years about event design, she laughs as she says, "I've also learned that you can't do an event without zip ties!"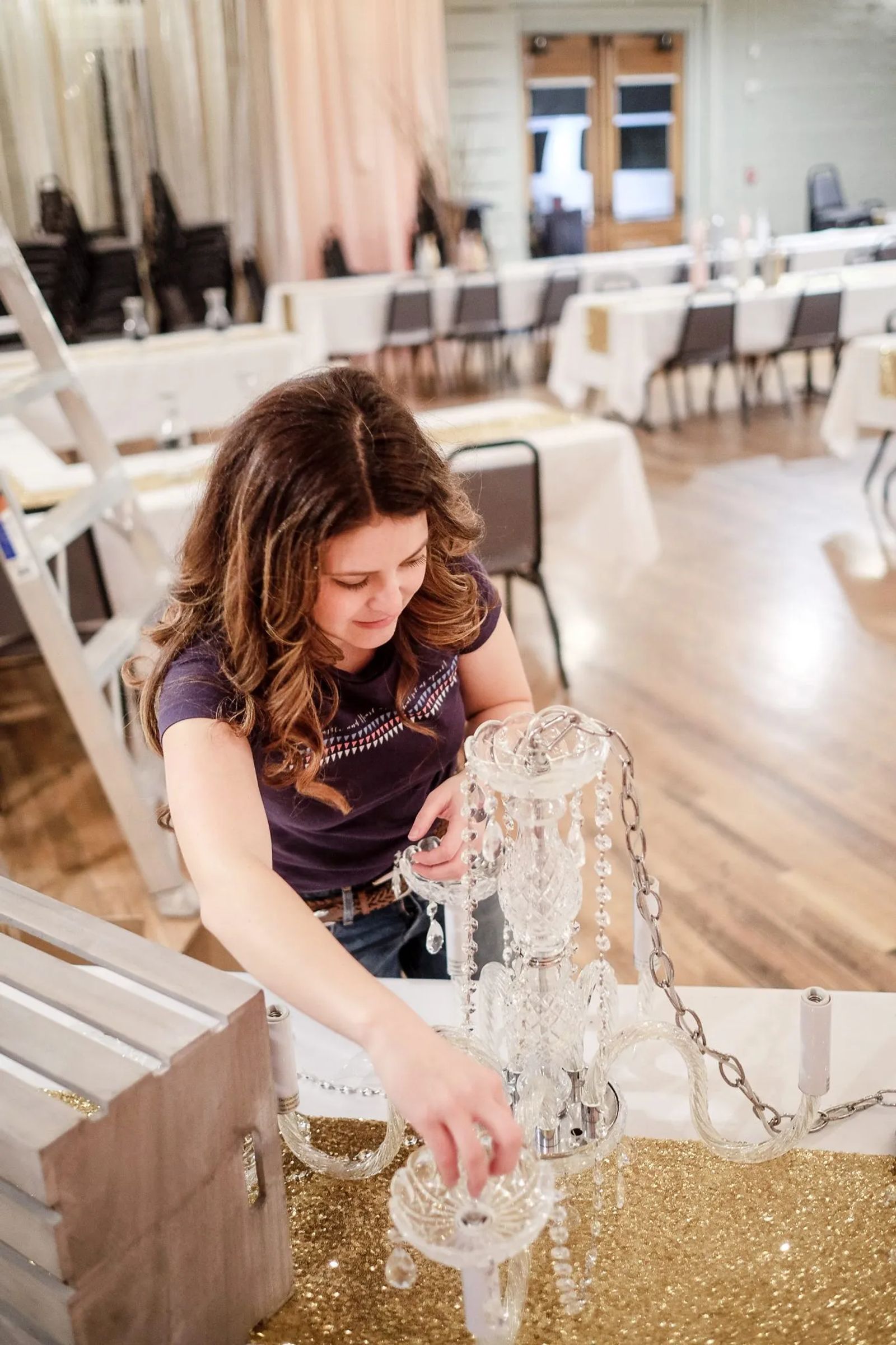 Just like the quote that Cassie referenced about wandering dreams and finding your heart, Cassie feels she's wandered in the perfect direction. She already has dozens of events on the books for 2016. "It's definitely full steam ahead!" But this kind of busy is more than okay with this bubbly event designer. "I am now the master of my destiny." And even though it's been a long journey to get to this point, she designs her day to be able to truly seize every moment. As she thinks about the future and all it could hold, she smiles as she shares, "I want all the nectar out of this life!"