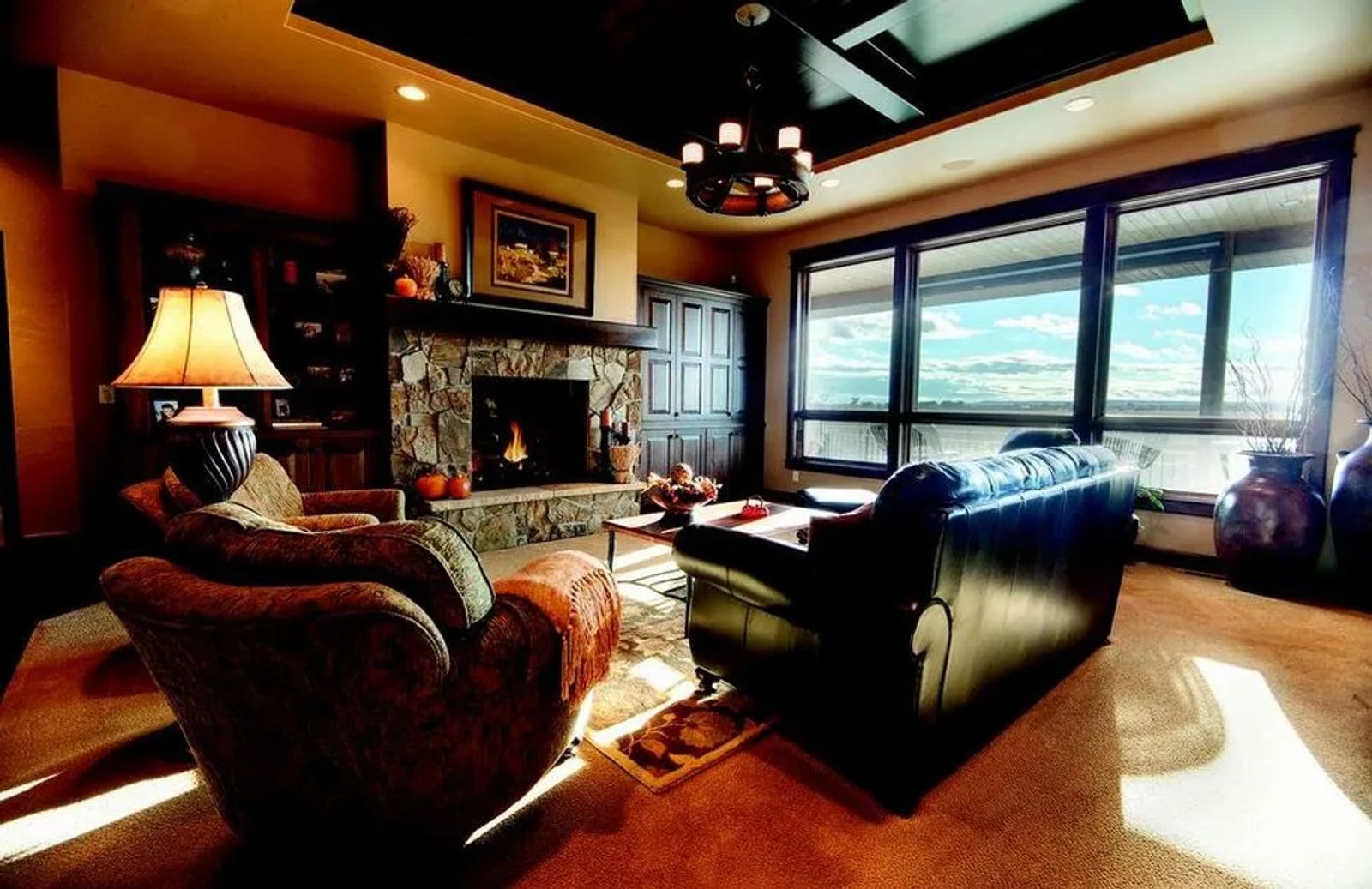 Casual Comfort, Montana Style
Parade of Homes "People"s Choice" Winner
Dan and Donna Fleury expect a home to be comfortable. They've built a lot of them so they're adamant about quality, details and providing homeowner satisfaction. Whether it's the home they build for themselves or one they build for a client, it all comes down to personal comfort.
"It's that livability feel," says Denise Smith, executive officer of the Home Builders Association of Billings. This is the why she believes the Fleury home earned the People's Choice Award in this past September's Parade of Homes.
The two-level Montana-style beauty, with its tad of Tuscan flair, captivated those that basked in its warm earth tones and savored its rich dark wood. "You can envision yourself living there," she says.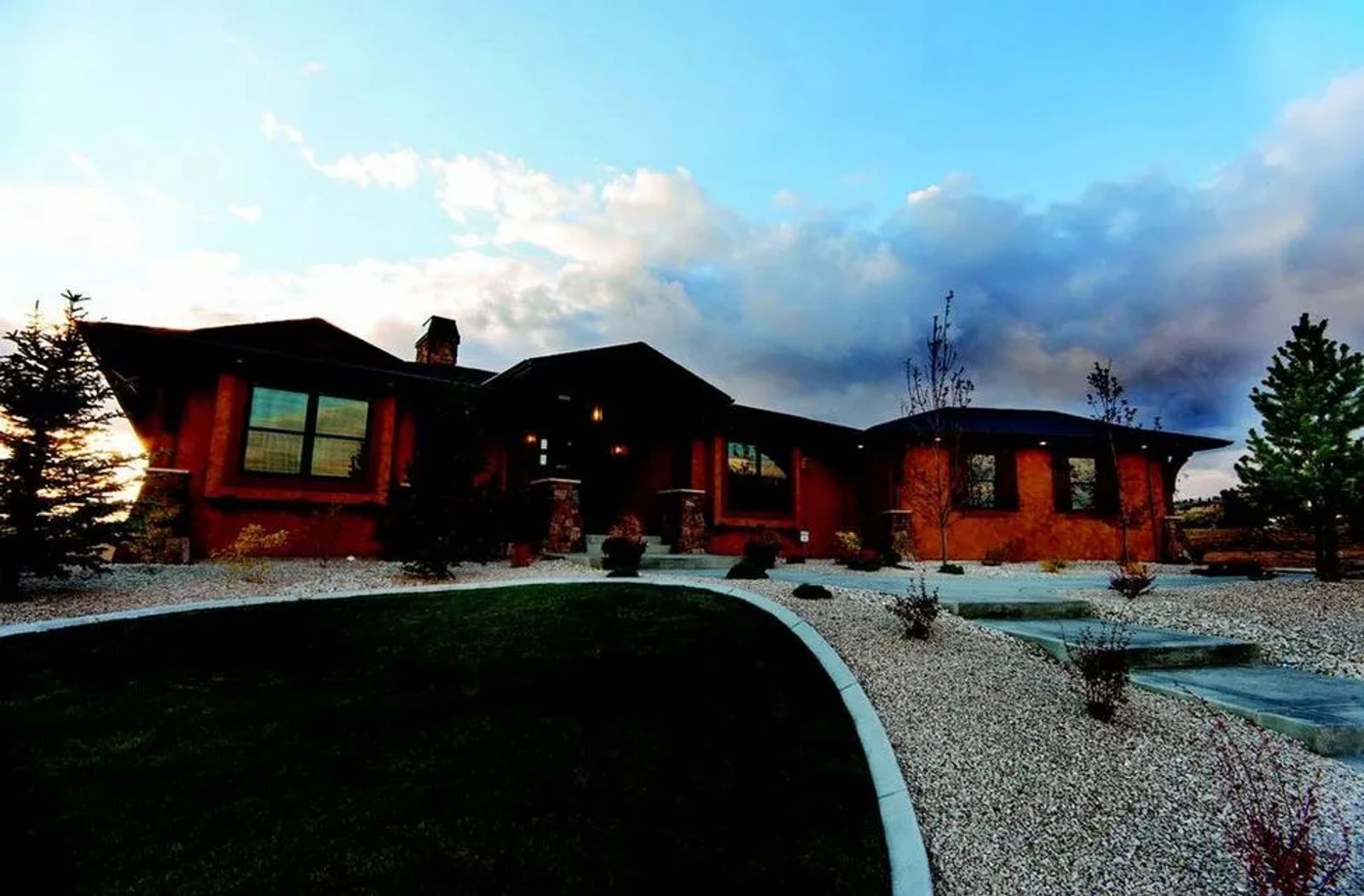 Dan and Donna envisioned living in this home as they began the building project this past February. It's the seventh home they've built for their personal residence. "We've moved a lot," laughs Donna, recounting a "double" move they had when their last house sold. It had sold before their new home was completed so they had to rent for a very short period. "We'll stay here until we're ready to retire!" exclaims Dan, about the 4,400 square-foot home in River Rock Estates, one of Billings' new west end subdivisions.
The couple had decided to "downsize," however, this didn't exactly happen. What did occur is that this home ended up similar to their previous Parade home they had lived in for eight years. It carries many of the same type of finishes. "We like plenty of wood, built-ins and warm colors," says Dan. And how could it not feature the well-recognized Fleury comfort?
"I've worked with Dan and Donna for years," says Designer Sarah Wise of Carpet One Floor & Home, "and they're very casual people. The selections made for their home were comfortable and warm. It works for their lifestyle and where they're at in their life."
With three small grandchildren and one on the way, Dan and Donna decided two separate suites on the lower level provided the best atmosphere for family stays and holidays. A large family room with fireplace and flat screen TV and a built-in mini wet-bar offers ample space between the suites. The home is smart-wired, too, so let the electronics flow.
There's a work-out room, as well, and a "fun room," as Donna calls it, for the kids. "We decided to go with a Ping-Pong table instead of a pool table," she points out.
Soft carpeting runs through the lower level adding even more warmth to this sunlit area. Large Pella windows grant a nice ground-level view of the back yard. There are no cobwebs seen when looking out these windows. Dan made sure that the patio area, level with the main floor above and running along the southwestern side of the house, was constructed of elevated concrete.
"There's less maintenance this way," notes Dan. "I love the outside," adds Donna, gazing upon the late afternoon sunset. "The elevated concrete is nice."
There's no doubt a detail like this was accounted for during initial planning stages. The elevated open vista toward the Beartooth Mountains offers outstanding entertainment. As the sun draws lower in the sky, the corn field on the other side of the fence shimmers in golden array.  A secondary view sings a pretty sweet song below the patio vantage, as well.
The manicured grounds herald a fine new landscape.  Douglas fir, aspen and Canada reds stand tall along the fence line. Next spring their foliage will add privacy to the outdoor spa with its sturdy trellis covering. The outdoor space is every bit as nice as the indoor.
Inside the great room with its 11-foot boxed-beam ceiling, the view remains untamed through the large alder-trimmed windows. When the sun beams in Dan pushes a button and the outdoor sun screen silently drops into place. The great room takes on an even more relaxed atmosphere.
The textured walls add impressive depth to the rich wood with a cozy color named Mesa Tan. "Our son says the walls look like leather and the carpet like suede," says Donna, as we nod in total agreement.
"We always try to personalize," states Dan, who has built custom homes for over three decades. "We steer toward the same colors," agrees Donna.
A mammoth rock fireplace, with its chocolate-glazed cherry wood mantle and hearth, glows serenely, extending a welcoming gesture to the great room. A rounded arch clears a softened, yet, wide path to the open dining room/kitchen. A family-sized table sits in the center of the dining area. Light streams in around as does the grand western view.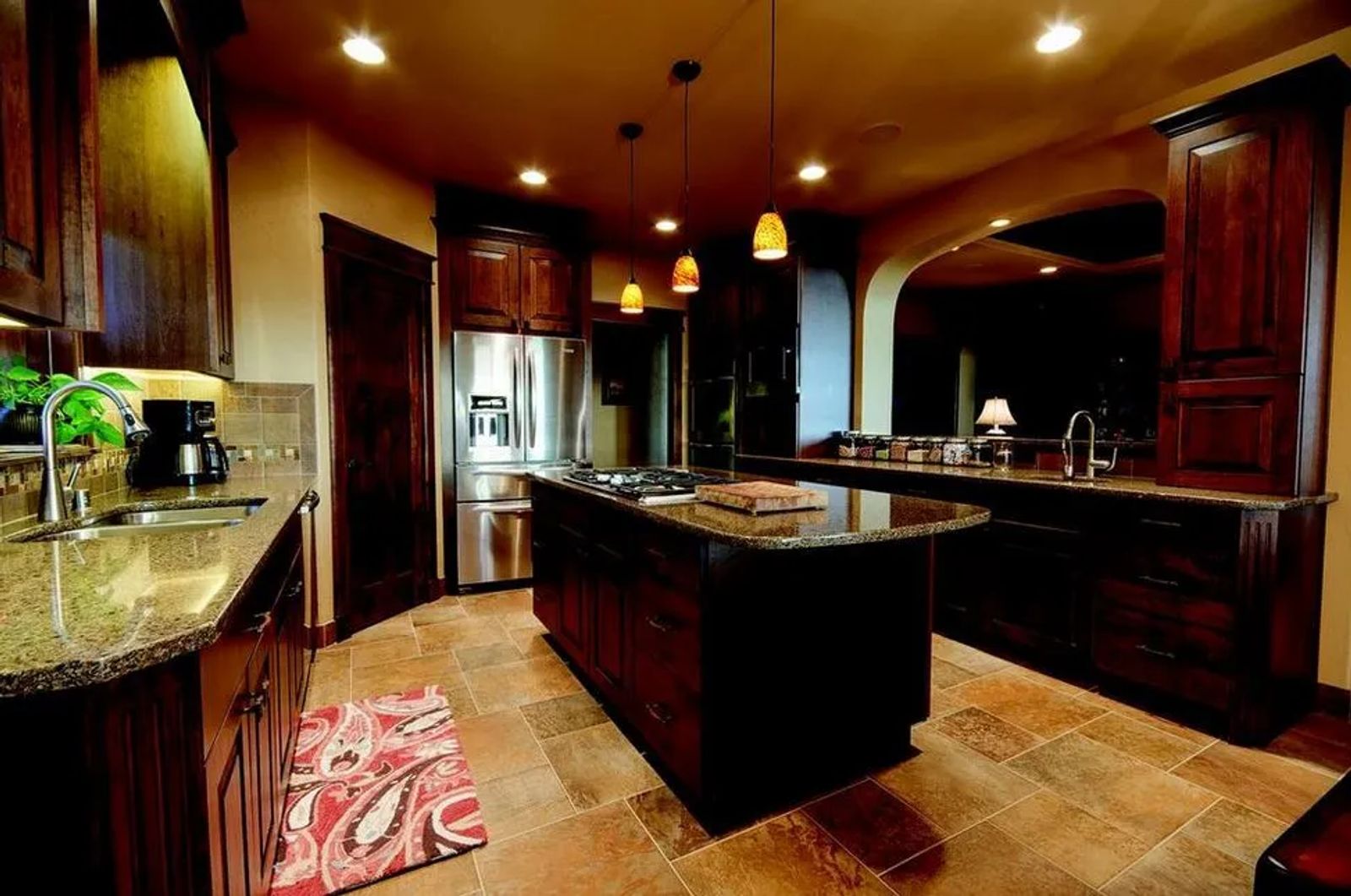 The airy kitchen submits to a Tuscany mood. Cherry cabinetry with a luscious chocolate glaze surrounds the working space. The custom-made cabinets by Calder Creek LLC announce a mission look and feel with their clean lines. The chocolaty glaze splashes on the romance in this intriguing space while the earthy tones of quartz countertops spread elegant charm.
Kitchen-Aid stainless steel appliances from Ferguson Bath, Kitchen and Lighting Gallery claim regal dominance as a pop-up hood rises forth from the center island behind the five gas-burner stovetop. Donna opted for this out-of-sight hood which easily creates an unobstructed surveillance point while cooking. And when it's out-of-sight, it's out-of-mind.
Subdued glass lights from One Source Lighting suspend above the center island. They hint at the characteristic Tuscany temperament that envelops the space.
Another clever detail enhancing the Fleury kitchen happens to be the two-level counter complete with prep sink. This beautiful piece of furniture shares the wall of the great room. Just as the archway crafts the openness between the two main rooms so does the pass-through above this counter. Having full view into the great room from the kitchen area induces some easy conversation.
This beautiful home blends "A universal style people can understand," remarks Sarah. "It has some layers to it that make it a unique home." It's "homey" and "very inviting" with its American maple flooring with hand-scraped finish and its cut and looped low pile nylon fiber carpeting from Carpet One.
The main floor den with its French doors, wood blinds and built-in fireplace cabinet casts a charming ambience -- an unexpected detail of Fleury flourish. The master suite displays elegance with an octagonal tray ceiling. Silver sparkles emanate diversely from the exquisite faux paint. "I can't wait for our little granddaughter to say grandma has stars in her bedroom," laughs Donna at such a tender thought.
The en suite bath exudes a taste for the luxurious, yet, is flavored with the essence of the earth. Classy quartz countertops with double rectangle sinks look splendid against the built-in wood cabinets and wood shutters. Oil-bronzed fixtures, a deep soaking tub surrounded in porcelain tile and opulent walk-in tiled shower complete this impeccable design.
Both the interior and the exterior brandish not only the look, but, the feeling of living the Montana way. There's plenty of open area inside and out. The colors of nature nest perfectly with the wood and rock chosen for this one-of-a-kind home.
The exterior boasts a hand-textured exterior insulation and finishing system (EIFS - providing exterior walls with an insulated finished surface) that sports a glazed finish. Massive hand-hewn Douglas fir timber and corbels mix with stone to fashion a distinctive classic-rustic look. "The exterior has a unique visual to it," agrees Sarah.
Even the front entry and back patio overhangs showcase extensive tongue and groove work. It's that Fleury homebuilding flourish going the extra mile with dramatic integrity infused with casual comfort – Montana style.
For more photos on this picturesque home and more on the businesses involved, please visit the full story in our magazine HERE and click on page 70.