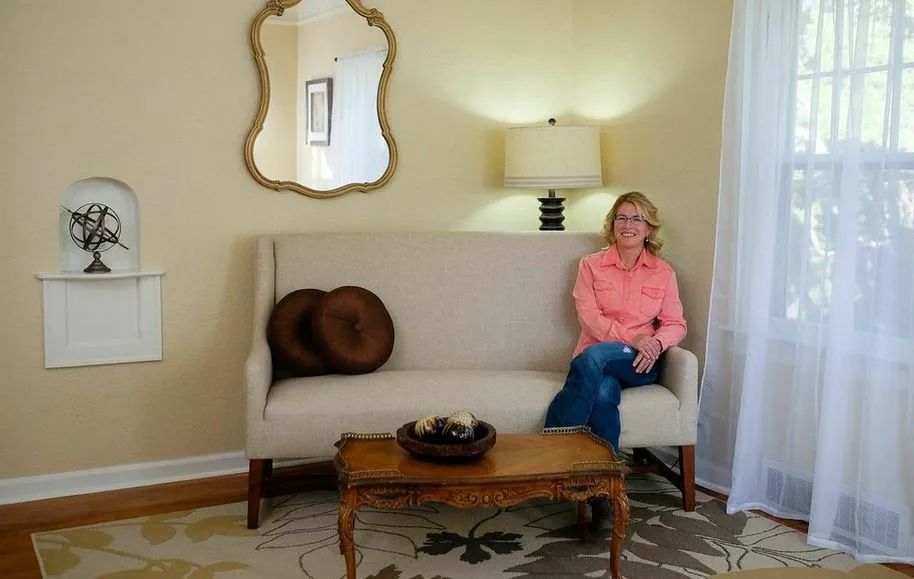 Century Old Flip
Refreshing and Rehabbing the Past
Seasoned house flipper Tammy Cosgrove proves time and again that nothing can stand in her way of taking a distressed house and giving it renewed splendor. She's transformed close to two dozen homes in the past decade in all corners of the country, from Billings to Roscoe, Montana and the West Coast to a few vacation rental properties in the Florida Keys.
What drives this wife, mother and career woman to spend time and oodles of energy redoing houses? "I'm the ultimate recycler and I love to save the character of something," says this petite blonde, clothed in shorts and a top splattered with a rainbow of paint. "I love to see the before and after, and, I love the physical part of it."
Tammy is a dynamo outfitted with a tool bag that she knows how to use. "I use a drill really well," she says without missing a beat. This former beauty queen doesn't mind one bit getting her hands dirty. The recent renovation of a cottage-style home located on Custer Avenue is proof.
Just a couple of blocks from the downtown area, Tammy found a quaint 1,700 square-foot family home that was "basically in good shape." Well, provided you could see through the rubble. A renter had moved out leaving behind a mountain of clutter. Undeterred by the volume of "stuff," Tammy bought the house at auction.
Her vision included restoring the old home's dignity from its early 1900s origin, refreshing it with some modern convenience and rehabbing whatever may shine forth from this diamond in the rough. Experience, combined with that 'see-past-the-stuff' instinct directed this "house freak," as she calls herself, to take on the project.
It was a bit much for her sister, Realtor Gina Moore. "I literally backed out the door when I first saw it," notes Gina. "I wouldn't go in."
"She got in her car and drove away," laughs Tammy. "She's not as tough as I am. Even my parents who always see my flip houses didn't want to come in! It took 15 loads to the dump and seven loads to Goodwill to get everything out of the house."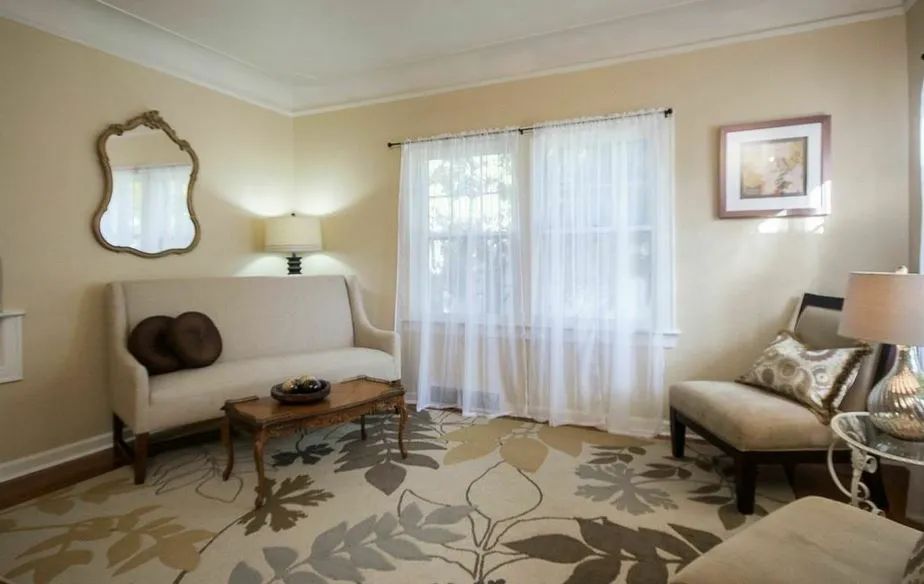 Less than two months later, it's a different home.  Neatly trimmed bushes frame the artistically-shaped, front-facing gable, typical of the cottage-period front entry. The exterior looks sharp with a brick façade that had been applied before Tammy acquired the property. A white picket fence surrounds an ample back yard where the double detached garage now looks up to snuff.
"The garage was the first thing my son, my two nephews and I tackled," grins Tammy. Seeing the 'before' pictures, it's easy to see why she decided to work her way from the outside to the inside. Once inside, the magic happened.
An impressive coved ceiling in the living room offers a warm welcome as it softens the nine-foot-high space. Rounded archways bestow punctuated charm. Original encased windows, now boasting new storm windows, open easily allowing good air flow through the main level. The living room's plaster walls harken back to an earlier era and remain in great condition. A small built-in phone nook on the far wall adds a splash of vintage charm. A fresh coat of Sherwin-Williams' Sun Dew paint gives the once-tired walls new life.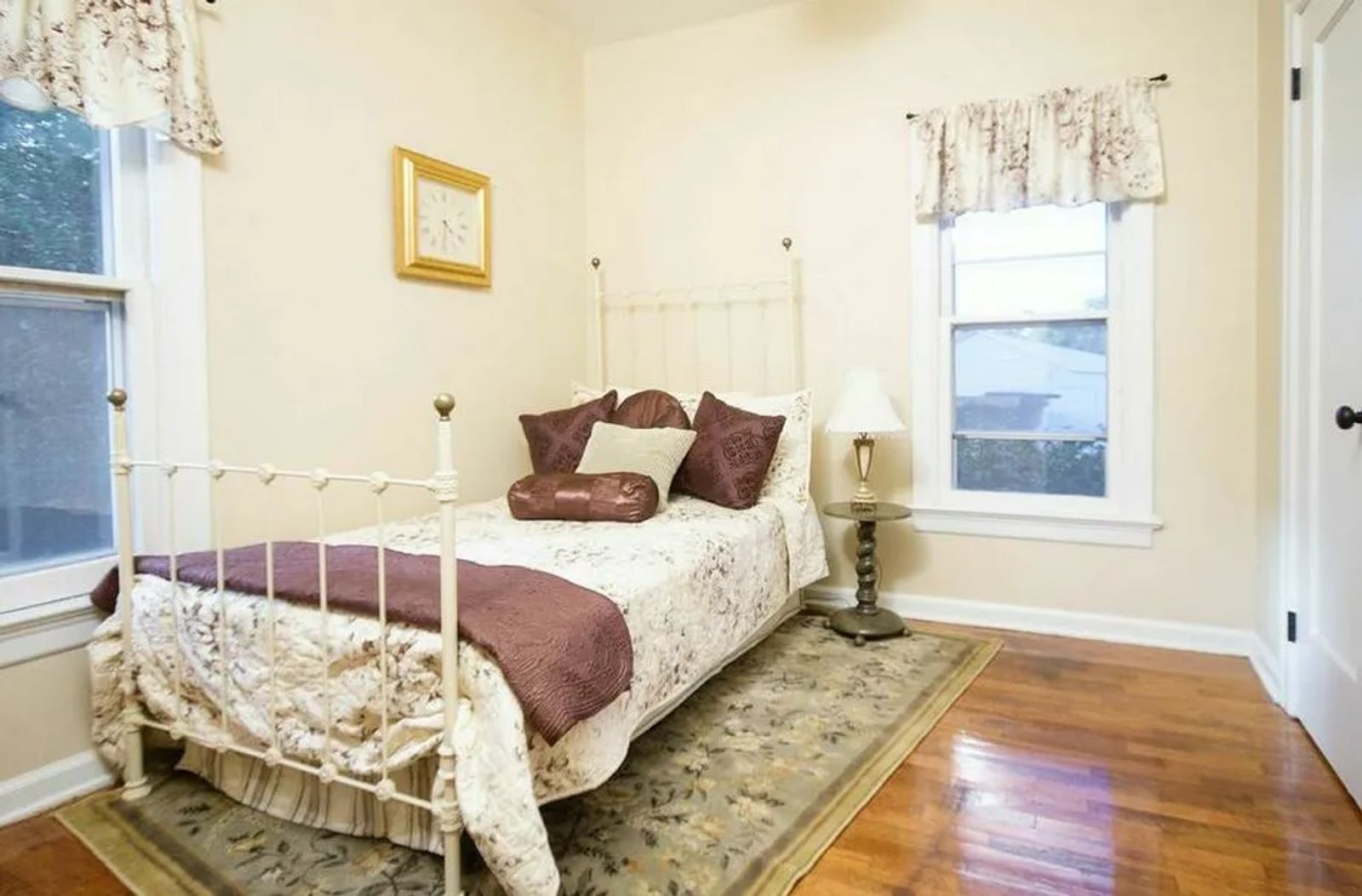 Tammy says it's a bonus to a house flipper when not every room in the house needs a ton of renovating. "It's a balance," she explains. "It's the renovation cost against the resale price. Some flippers flop because they spend too much money, which defeats the purpose."
The home required a few necessary tweaks in the front living area, however; with that accomplished this room was ready to go. Where Tammy spent the money was in the bathrooms upstairs and downstairs, plus, in the kitchens. Yes, two kitchens were revealed from the de-cluttering of the home. One up and one down, but wait, that's not all.
Tammy happily partook in her share of surprises with this enviable piece of real estate. One of the biggies was finding that the home had two bedrooms, a full bath and a full kitchen upstairs and a full kitchen, full bath, a bedroom and a living room with gas fireplace downstairs. "For its size (850 square feet on each level), it's wonderful that it can be used as a one-family home or that the downstairs could be used as a rental with its own outside entrance."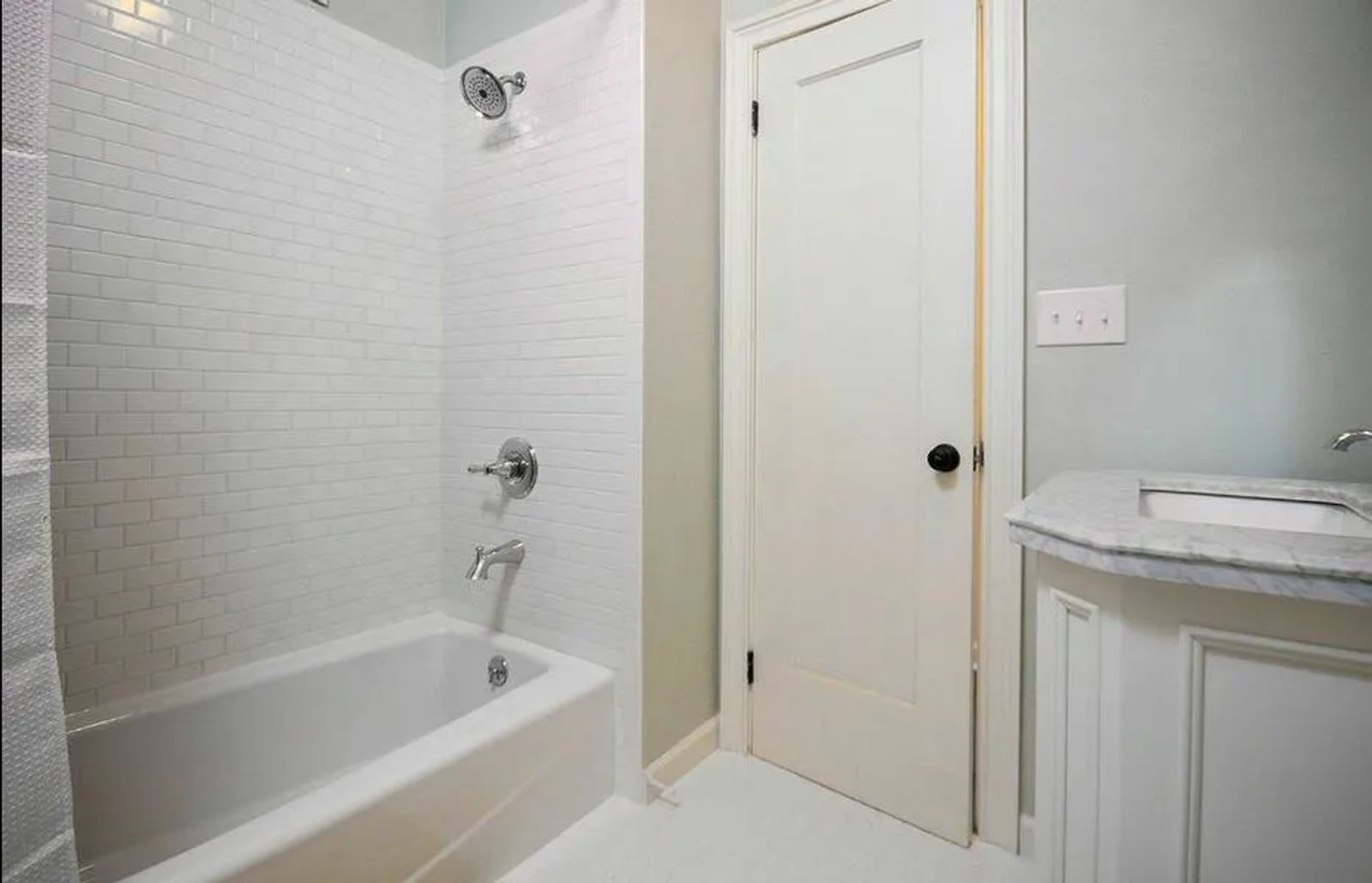 During the demo work Tammy also discovered original hardwood floors not only on the main floor but downstairs as well. "I've never seen hardwood floors in a basement before," she says. "It was a total surprise!"
It became more and more obvious to Tammy that this home presented itself as a true gem waiting for a good polish. She's thrilled that the house sits on a high foundation thus affording the basement windows egress status. "I've never seen egress windows before in an old house either," she exclaims.
Light pours through the downstairs windows while new kitchen cabinets, new countertop and a backsplash of white subway tiles shout a hearty renewal. The grand-sized fireplace sports a fresh look, highlighting its unique architectural design with large mantle. The bathroom features a perky new tile floor and a tiled tub surround.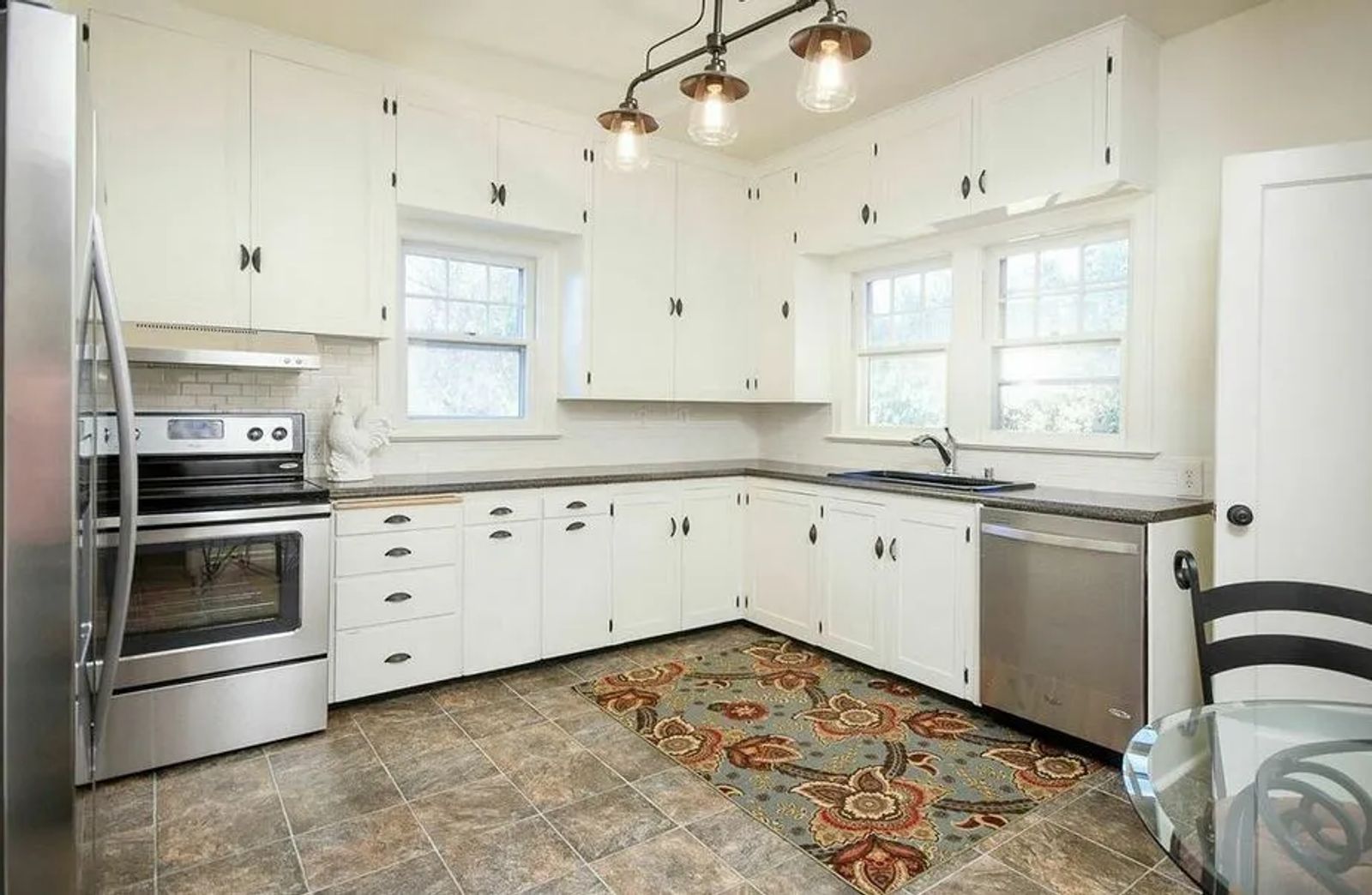 The home's transformation came together as Tammy and her crew put in the hours. "Jaron Mitchell of Premier Construction took care of the bathroom and kitchen remodels," she says. They also installed new vinyl flooring in the upstairs kitchen, tile in the baths and carpeting in bedrooms, all of which came from Home Improvement Warehouse." She breathes a deep sigh when saying, "Billings Hardware on Broadwater was a God-send. It was so convenient for me to get over there in just three minutes."
A new roof was put on by Mark Peters of Groundswell while Comfort Heating & Air Conditioning installed the new roof vent.
Tammy has made sure that the character of this home remains to greet a new day. Original baseboard and molding promote the quality and craftsmanship of this older home as do original doors throughout. Even the main level kitchen cabinets savor the vintage flavor.
Stunning white mission-style wood cabinets reach to the nine-foot ceiling in this spacious sunlit kitchen. Taking a peek inside articulates their colorful heritage. "The cabinet interior I painted turquoise to keep with the original color," says Tammy. Indeed, the potato and flour bin pull-outs under the counter speak to those remembering how kitchens used to function. A built-in pantry stands to one side as the customary eat-in space hosts the family table.
"The kitchen was the most time consuming," recalls Tammy. "The cabinets were a faux brown. They took a lot of scraping, sanding, priming and painting but I said they are not to be taken out if I can rehab them."
Augmenting the grandeur of the cabinetry are farm drawer pulls from A & H Turf. They dress the cabinets nicely. Dark beveled countertops spark a complementary contrast with white vintage-inspired tile backsplash. A special order oversized sink from Mountain West Mobile Home Supply aids in creating a custom look.  A bronze lantern-style chandelier and timeless stainless steel appliances enhance the family-size kitchen.
Back from rehab, a refreshingly updated vintage home graces its Custer Avenue neighborhood. It's imparts a blast from the past while providing a home for the future.