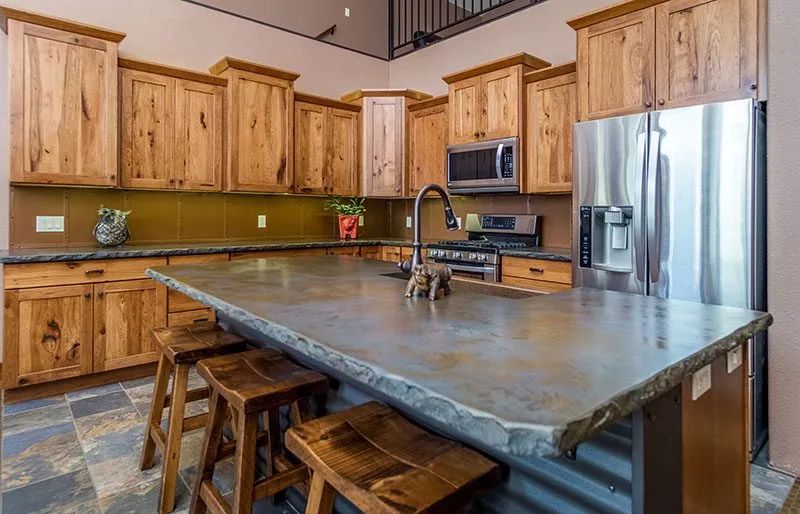 Counter Culture
Choosing the Perfect Kitchen Countertop

Life happens in the kitchen. It's the space where everyone gathers. From guests snacking on hors d'oeuvres to kids inhaling pizza, the kitchen is the heart of the home. When it comes to function, your countertops are an essential piece of the design puzzle. Counters express the homeowner's personality and set the mood of your culinary space. If you're considering replacing your countertops, you might want to do a little research first. The good news is, with so many choices, you're sure to find the perfect fit for your family's needs and budget.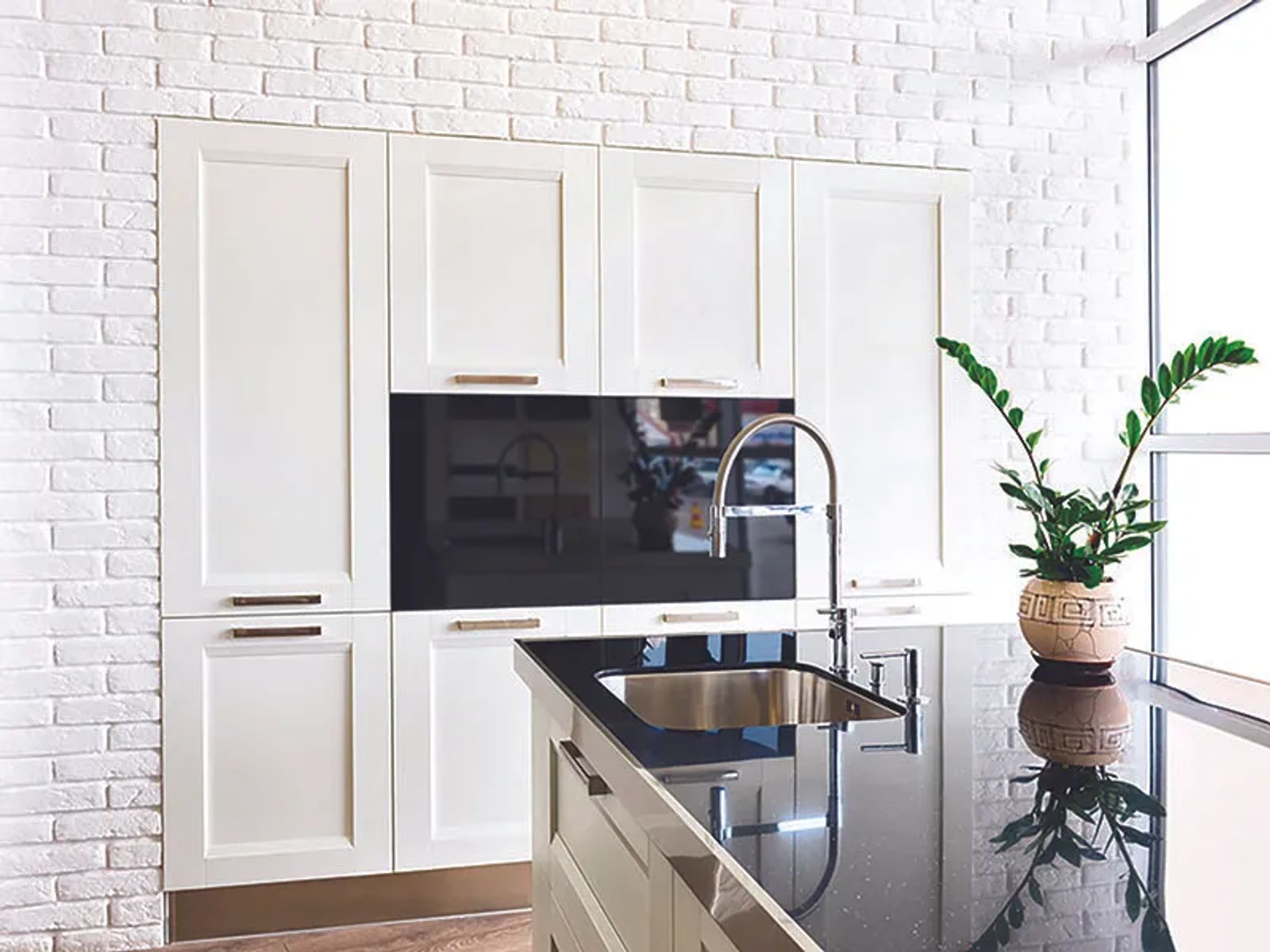 THE MAGIC OF GRANITE
The look of granite is natural and timeless, making it one of the most popular picks. "There's big movement in granite," says Troy Kale, owner of Magic City Granite. "The veining or striations in the stone wave across the slab. Every slab is unique to itself." Troy adds, "The different colors of granite are all over the map. There are lights, whites, grays and even blues from the minerals in the ground."
Whether traditional 'polished' granite or a 'honed' finish delivering a more matte look, this natural material is porous and needs occasional sealing. "We seal everything we install," says Troy, about his custom-made and hand-finished countertops. He recommends sealing once a year using a "good" sealer. "Some sealers now come with a ten-year warranty," he notes.
As for clean-up, "Just wipe the surface with soap and water and a little ammonia-free glass cleaner." Troy advises not to use a polish of any sort on granite as polish creates a waxy feel and shows fingerprints.
Pricing on granite is based on "the quarry being open and what it can produce," Troy says. Though natural stone may be more of an investment, going with earth's bounty offers huge benefits other than beauty.
"Granite is a better heat-resistant surface than anything," states Troy. "You can take something directly from the stove or oven and place it on the granite." It also resists chipping, scratching or cracking. Granite with its stunning natural earth tone patterns looks divine in any kitchen.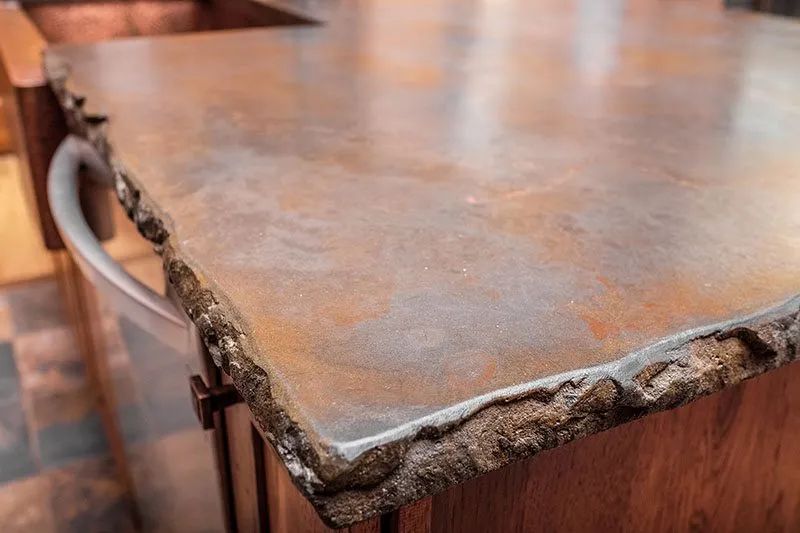 CUSTOM CONCRETE
When it comes to durability and custom qualities, concrete counters are gaining ground in the kitchen. Showcased in any color of the rainbow, this resilient counter material can be mixed with precious stones, metal flakes, even colored recycled glass to make a design statement.
"We offer personalized concrete," points out James McGregor of McGregor Designs. "It's what sets us apart if you're looking for a unique piece." An 'artist at heart,' James handcrafts and customizes each countertop. "A client brings in a ring or a Medal of Honor, anything, and we embed it for the life of the piece."
An eco-friendly material, concrete is porous and needs a sealant. "We use a reactive sealer," says James, "as it fully penetrates the concrete. Unlike topical sealers which may need to be applied every year or so, reactive sealers such as what we use are much more durable."
The right sealer is as relevant as using the correct level of concrete. "As professionals, we use specialized ingredients — 15 to 20 different ingredients — which make the concrete denser, more resistant to staining (acid protection), scratching, and cracking."
An interesting comparison in durability to the countertops McGregor Designs creates is a standard sidewalk. "Our PSI (pounds per square inch) for our concrete is nine to twelve-thousand," acknowledges James, "while the sidewalk you see chipped and cracked is three to five-thousand. Durability is the key." The result is a higher density product, ready to stand up to everyday wear and tear. To clean, simply use a non-acidic cleaner or just mild soap and water.
The price of custom concrete countertops is similar to granite, according to James. "It starts around $80 to $100 per square foot, depending on its personalizing and/or customizing," he says, making it an option for any kind of kitchen from rustic to contemporary.
SEAMLESS SOLID SURFACE
"A solid surface like Corian lends its ability to be seamless," says Kendra Brooks, office manager and sales/design consultant at Advanced Counter Technology. For instance, on an L-shaped counter, "You get a smooth transition with an acrylic solid surface. It looks seamless. It's the same on backsplash where it meets the countertop or the same with the sink. It becomes one when fabricating."
Since acrylic solid surfaces are nonporous, they're easy to maintain with soap and water and are resistant to scratching and staining. "They're also renewable and may be re-sanded, making it very cost-effective," adds Kendra. "It's like giving it a facial. And, they won't harbor any nasties like bacteria or mold in your kitchen."
Solid Surface countertops come in a myriad of colors and patterns and can even mimic natural stone. This cost-effective and versatile option starts at about $36 per square foot and is the perfect fit for both contemporary and traditional spaces.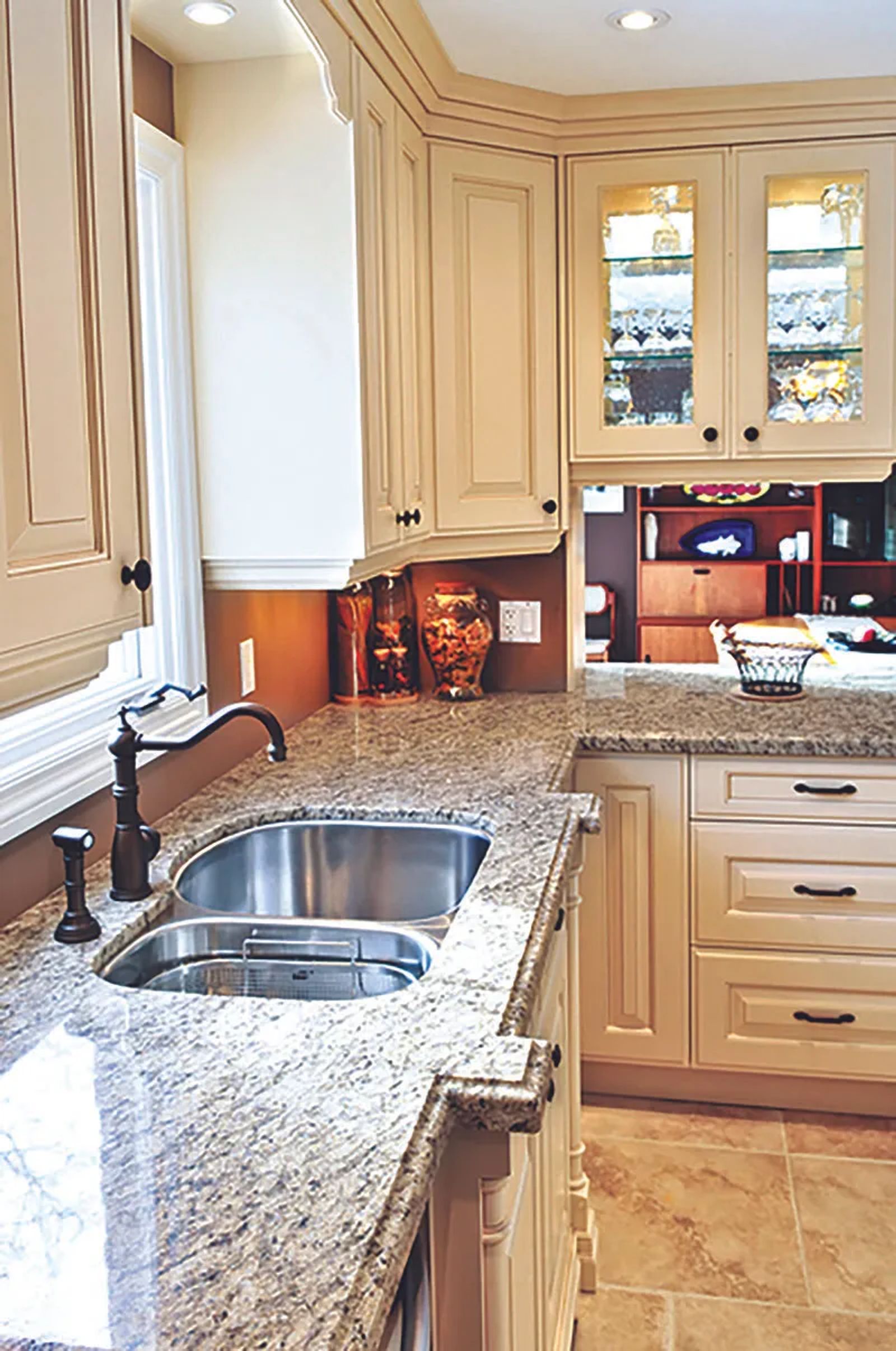 QUALITY QUARTZ
Quartz's claim to fame is that it's one of the hardest materials in the world. This high-end glossy countertop delivers a nonporous surface that's practically maintenance-free. It requires no sealing. It wipes clean with soap and water and can tolerate a hot pan if you don't overdo it.
Manufactured from natural materials (quartz crystals) and acrylic polymer, a tree or plant-based resin, quartz is sought after for its hygienic properties. "It's an exponentially harder surface," articulates Kendra, "that is more heat resistant than natural stone, yet, has the appearance of stone."
Advanced Counter Technology carries two major brands of quartz, which account for roughly 100 different patterns in a whole host of colors. She says white quartz countertops are trending since they pair so nicely with the popular gray cabinetry and paint.
"We're also seeing now the veining and swirls in quartz that mimics granite and marble," adds Kendra. Quartz, with its wide range of colors and patterns, starts at $60 per square foot.
BUDGET FRIENDLY BEAUTY
What can deliver a trendy look, provide easy cleanup and is available in thousands of patterns and colors across a multitude of brands? It's the kitchen workhorse we know and love — laminate.
"We do everything laminate, acrylic, quartz, the whole works," says Nick Thompson, branch manager of Fabricator's Supply in Billings. Thompson, however, has seen a resurgence in the popularity of laminate thanks to an abundance of new and eye-catching finishes. "The color profiles are beginning to look a lot more like natural stones and quartz," he says. Pair that with a handful of options in edges and you have an affordable way to add a high-class look to your kitchen.
When it comes to colors, it might be hard to choose just one. Between the three different manufacturers that Fabricator's Supply carries, there are more than 1500 patterns, not including the custom option. Thompson says digital printing has now hit the world of laminate countertops. "If you want a laminate that looks like 60,000 golf balls, or you want a photo of your family on your laminate, we can do it," he says.
The durability of laminate has also risen to the occasion.
"Wilsonart Laminate has some of the best technology," Thompson says, explaining the layering process during manufacturing. "It's in the technology of the topcoat of the laminate, the surface material. They add aluminum oxide, which gives it that durability." Thompson adds, "It gives it that longer wear cycle, about six times the average laminate."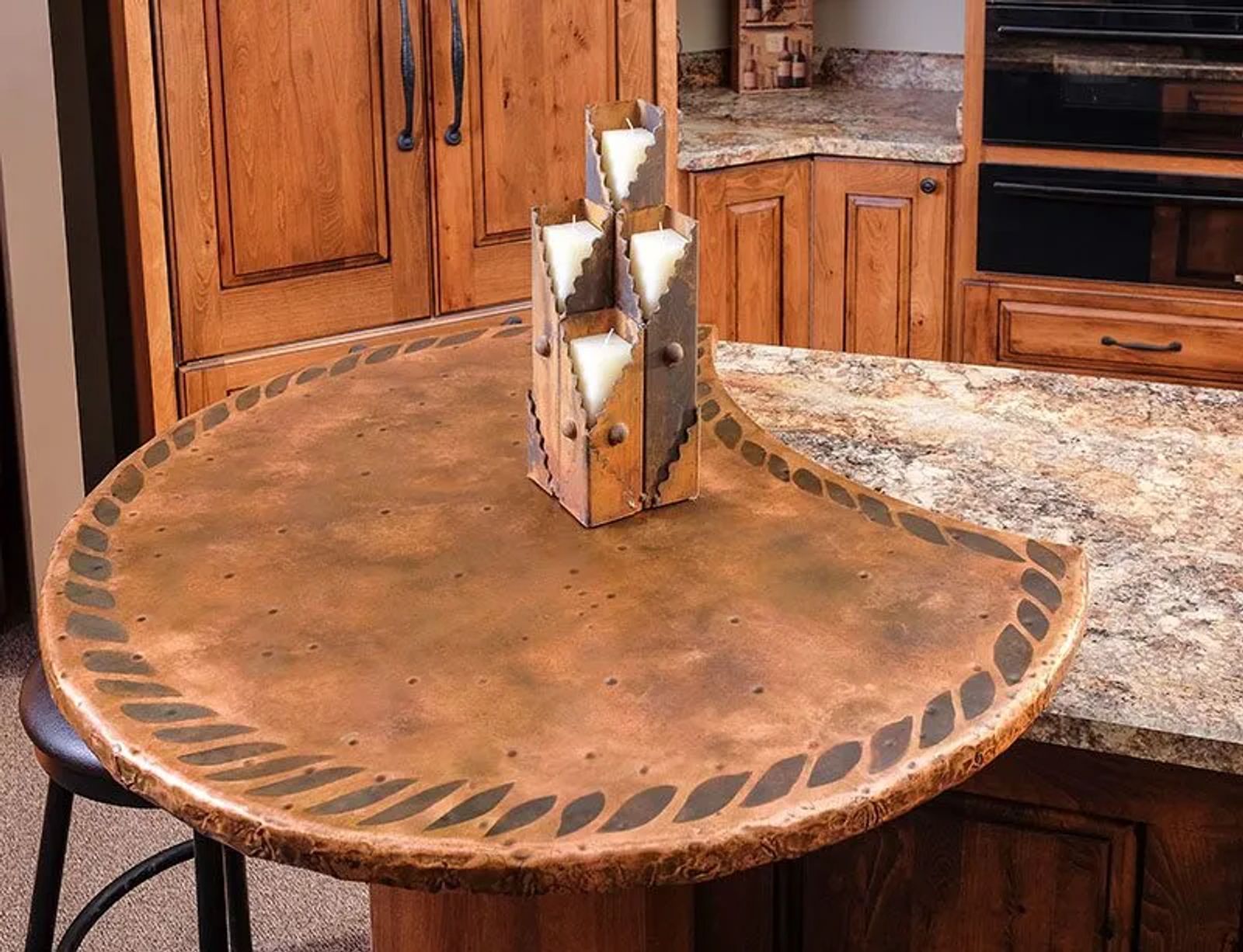 MAKE IT METAL
When you think of metal counters, your mind's eye might immediately imagine a sleek and contemporary kitchen with stainless steel counters. While that is indeed an option, Kitchens Plus owner Mike Myers would rather entice you with a countertop draped in copper.
Step into the Kitchens Plus showroom and you'll see a copper counter with patina enhanced decorative accents. These accents can be any kind of illustration, even a corporate logo. Each is one-of-a-kind. You can serve yours up distressed or keep it completely smooth. In any case, a finish is applied to keep the copper from oxidizing and changing colors over the course of time.
This lush metal is heat-resistant, simple to keep clean with mild soap and water and it is bacteria resistant making it a unique choice to consider in your own kitchen. Since there are so many options, the price range is wide as well.
ADDITIONAL COUNTER INTELLIGENCE
While granite, quartz, and laminate seem to be the steady picks, there are so many other ways to add that bit of creative spark in your cooking space. The timeless appeal of marble continues to pique the interest of culinary lovers thanks to its timeless appeal. It's porous, so regular sealing and care is a must.
Wood lends its eco-friendly assets to any kitchen. It's an alternative to stone should you want to bring this warmth and natural look into your home. Check into butcher-block, reclaimed wood or bamboo. Properly sealed or regularly oiled, wood makes a highly functional surface that's heat-resistant, along with being quite affordable. It's also forgiving. Scratches can easily be sanded down to bring it back to a brand new appearance in no time.
ON THE WEB
Dig in & do a little research on the best options
For a look at copper countertops, visit kitchensplusmt.com
Granite offerings can be found at magiccitygranite.com
Check out McGregor Designs' custom concrete at jmcgregordesigns.com
For details on solid surface or quartz countertops, log onto advancedcountertech.com
Information on counters of all kinds can be found at fabricatorssupply.net