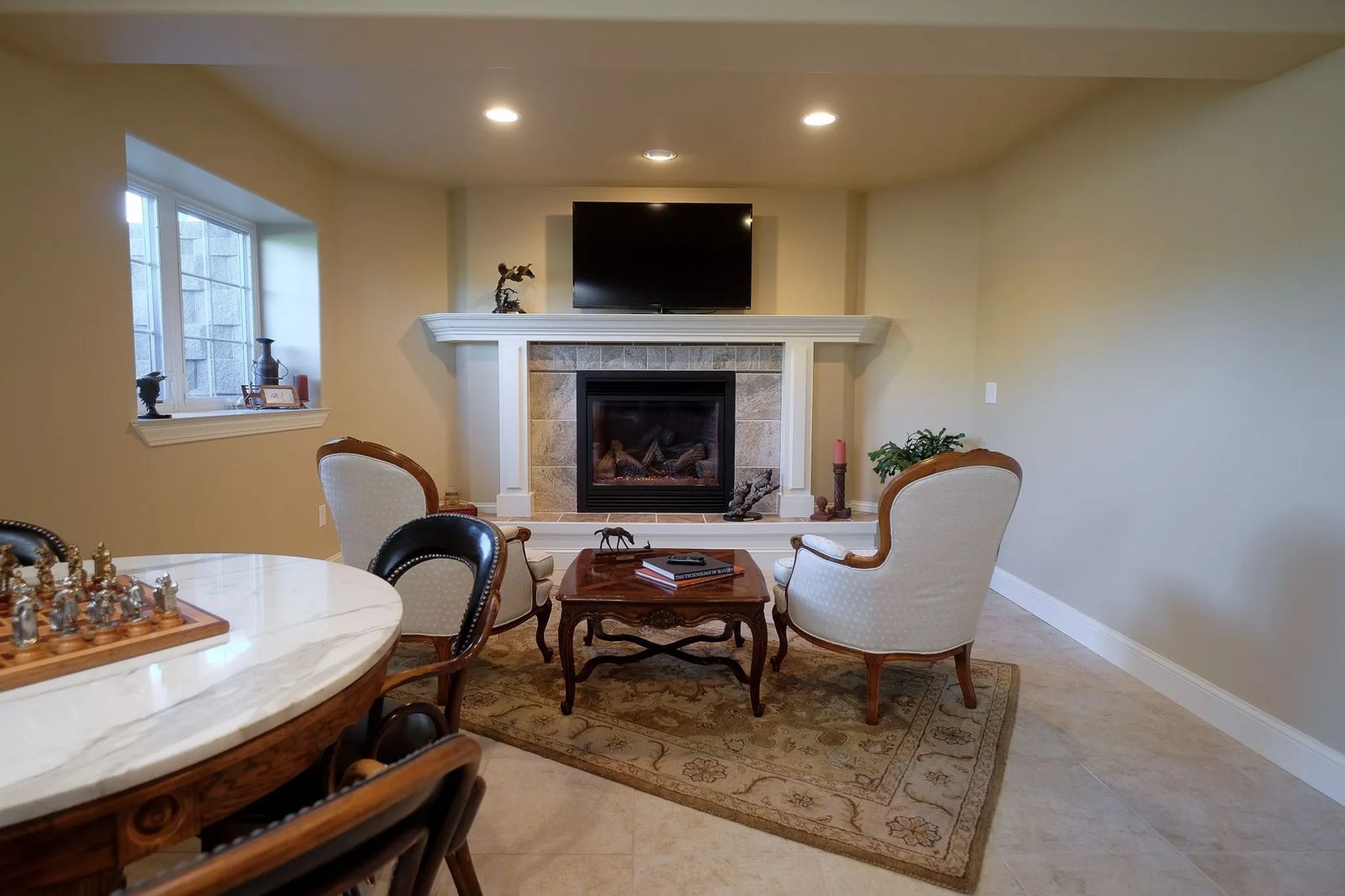 Country Living that Fits the Bill
A downstairs remodel cuts through the red tape   

The serenity, beauty and privacy of Nancy and Bruce Fisher's home in Evergreen Subdivision, located between Laurel and Silesia, provides this couple their share of country living. They're minutes to either of these quaint Montana towns and just a quick interstate drive from Billings. They enjoy 22 acres of seclusion. "We wanted acreage for our horses," says Nancy, who recently retired from Riddle's Jewelry. "We wanted to be in the country," adds Bruce. "We wanted a cabin but this fits the bill."
A ranch-style home that Bruce had designed and the couple had had built a decade ago features contemporary flair with rustic nuance. It's a picture-perfect home in all regards. It expresses their personal style of Western class. Bronzes of cowboys and horses grace a ledge between the kitchen and grand living space. A stunning horse painting hangs above the detailed fireplace.
Attention to detail is easily noted in the home's large, open rooms. It's this intimate element of detail that persuaded Nancy and Bruce to enlist the work of Rich Naylor, owner of My Handyman Service and Construction, Inc., to finish off a sizeable portion of their downstairs.
"It started when our daughter told us she felt like she was relegated to the basement when she came to stay with us," laughs Nancy. "We're the place in-between our son and his family, and our daughter," adds Bruce, "so, we needed more space for the grandkids." Now that they're anticipating the birth of their daughter's first child, the need for added personal space is even greater.
"We wanted a spacious place," notes Bruce. "Call it a mother-in-law place if you will, but, it was going to be a challenge so we called Rich."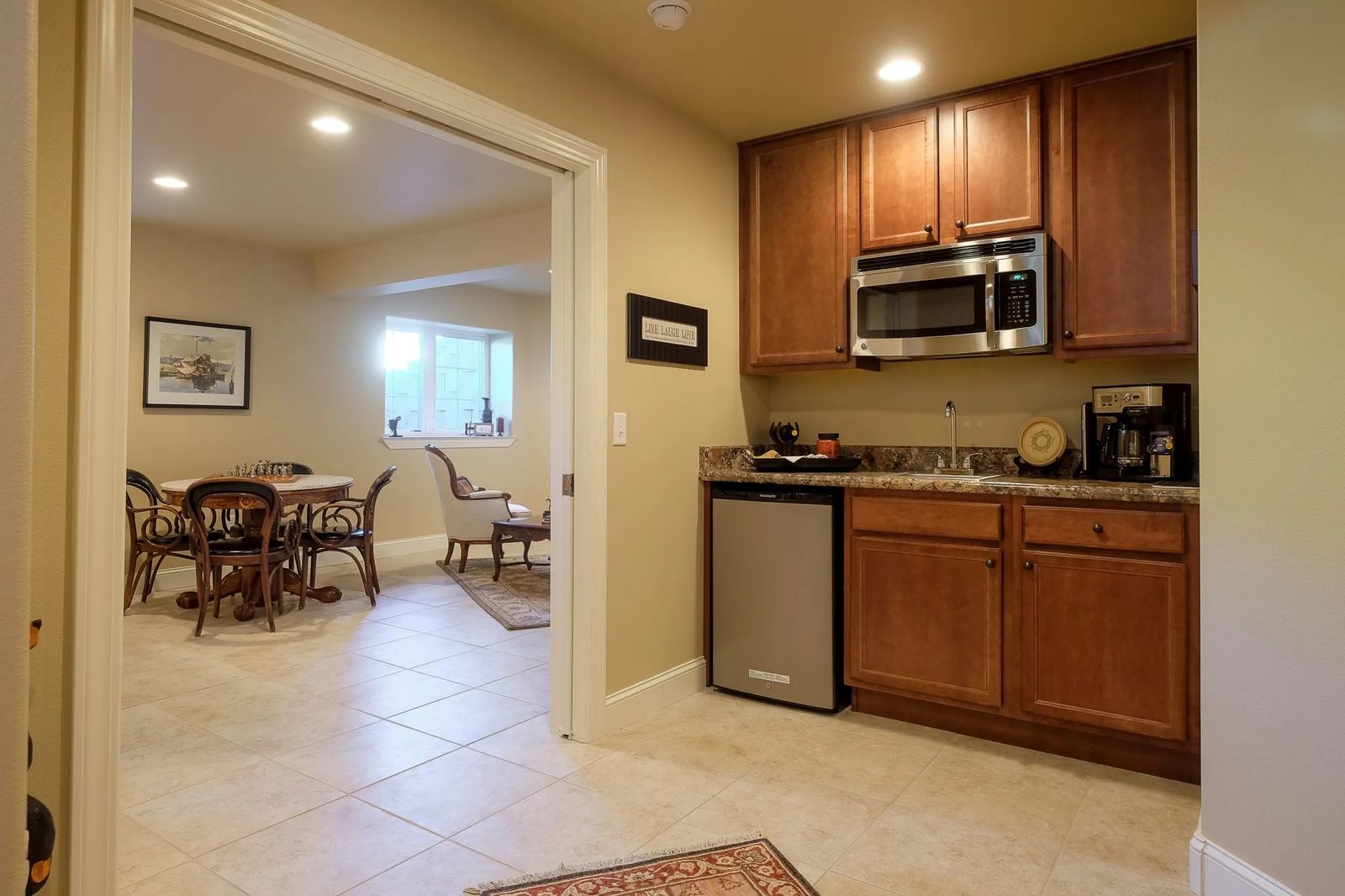 The real challenge, according to Bruce and Nancy, was incorporating the same look downstairs as on the main level. This was non-negotiable as this was the homeowners' clear vision of what the lower level was to reflect. "I told Rich we had to have the same look," emphasizes Bruce. "That was our main interest," injects Nancy. "We needed him to make it not look like an afterthought."
With a blank canvas to work with Bruce designed the downstairs space. "Rich gave me some red tape and told me to mark where I wanted the walls," smiles Bruce. This went over favorably for this homeowner who happens to be an independent sales rep. The key word here being 'independent.'
The red tape method worked well. The 900 square-foot living quarters certainly doesn't look like an afterthought. The teamwork of homeowner and contractor created quite a sophisticated addition to the Fisher home.
Luke, the couple's devoted 14-year-old Standard poodle, follows us down the staircase that's situated between the kitchen and great room. An open floor plan reveals exactly what Nancy and Bruce envisioned.
Light-colored 18-inch porcelain floor tiles flow through the entire area. Expertly laid by Nancy and Bruce, the tiled floor creates an airy feel. An ever-so-light touch of wall color, aptly named Gingerbread, adds warmth. The wall color has been carried from the upstairs to downstairs.
In the main entrance to this newly remodeled space, a large walk-in closet is concealed behind double doors. Nancy opens the doors as she explains that she has changed her mind on how it's to be organized. "Instead of one huge closet", she says, "clothes will go on one side and shelving on the other side. The grandkids can literally go in and close the doors to dress."
The grandkids will surely be delighted with this space that's been created with them in mind. The closet appears the perfect size for them to play a little hide-and-seek in, but, they'll no doubt marvel over their bed arrangement.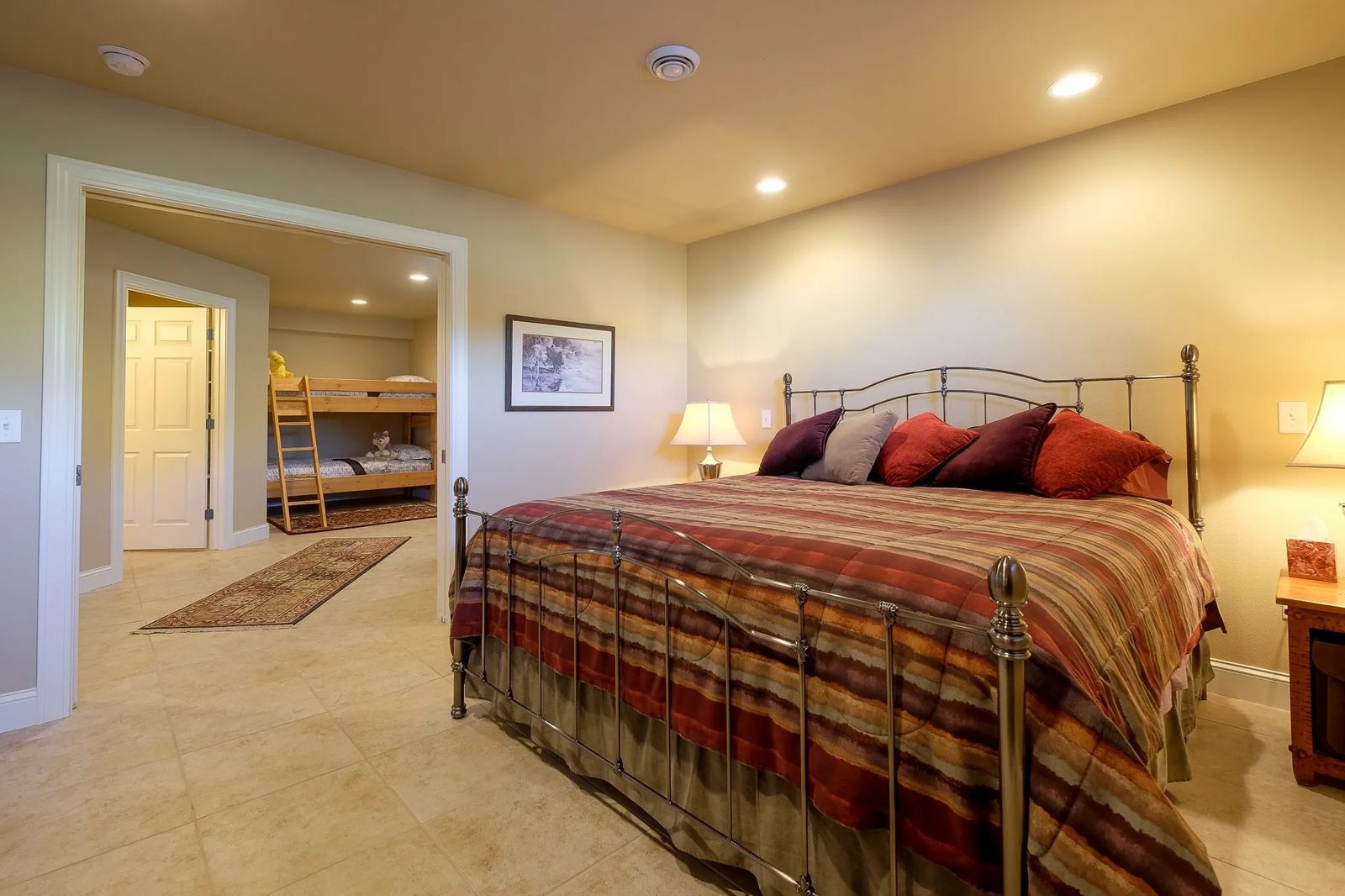 Red taped and precisely constructed, a special niche houses a fun set of bunk beds from Conlin's Furniture. It's been cleverly designed by Bruce.  The youngsters will appreciate having their own sleeping quarters, separate from their mom and dad.
Nancy and Bruce thought through the overall design process. Their grandkids' mom and dad will enjoy their own space, as well. A master suite presents a nice sanctuary complete with pocket doors. Sliding the doors together separates the kids' area from the master retreat. This fabulous room fills immediately with impressive ambiance.
"My favorite part is this master suite with the fireplace, for sure!" exclaims Rich, who absolutely relished working in the stillness of this gorgeous country atmosphere. "Dave Yaeger, one of my guys, did the mantle and trim work on the fireplace. He's so meticulous. He's a craftsman."
The stunning gas fireplace with its exquisite white-trimmed mantle and hearth, and its tiled face, adds dimension to the room while delivering warm coziness. This dreamy suite influences the romantic at heart. It's a get-away to an upscale boutique hotel.
A sitting area, composed of two upholstered chairs on either side of a coffee table, invites casual, yet, refined comfort while a marble-topped game table submits a bid for a rousing round of cribbage.
As with many articles and pieces of furniture in the Fisher home, the cribbage board is an heirloom. "It had belonged to my grandfather," says Nancy affectionately. "The marble table is my mom's."
The details make for an amazing guest room. A king size bed finishes the plush touches of this spectacular light-filled space. In the morning, it's as simple as waking up and opening the pocket doors to turn on the coffee pot in the nearby kitchenette. As Bruce mentioned, this could be "mother-in-law" accommodations. Absolutely nothing is amiss. It even comes with two sinks, one in the kitchenette and one in the bathroom.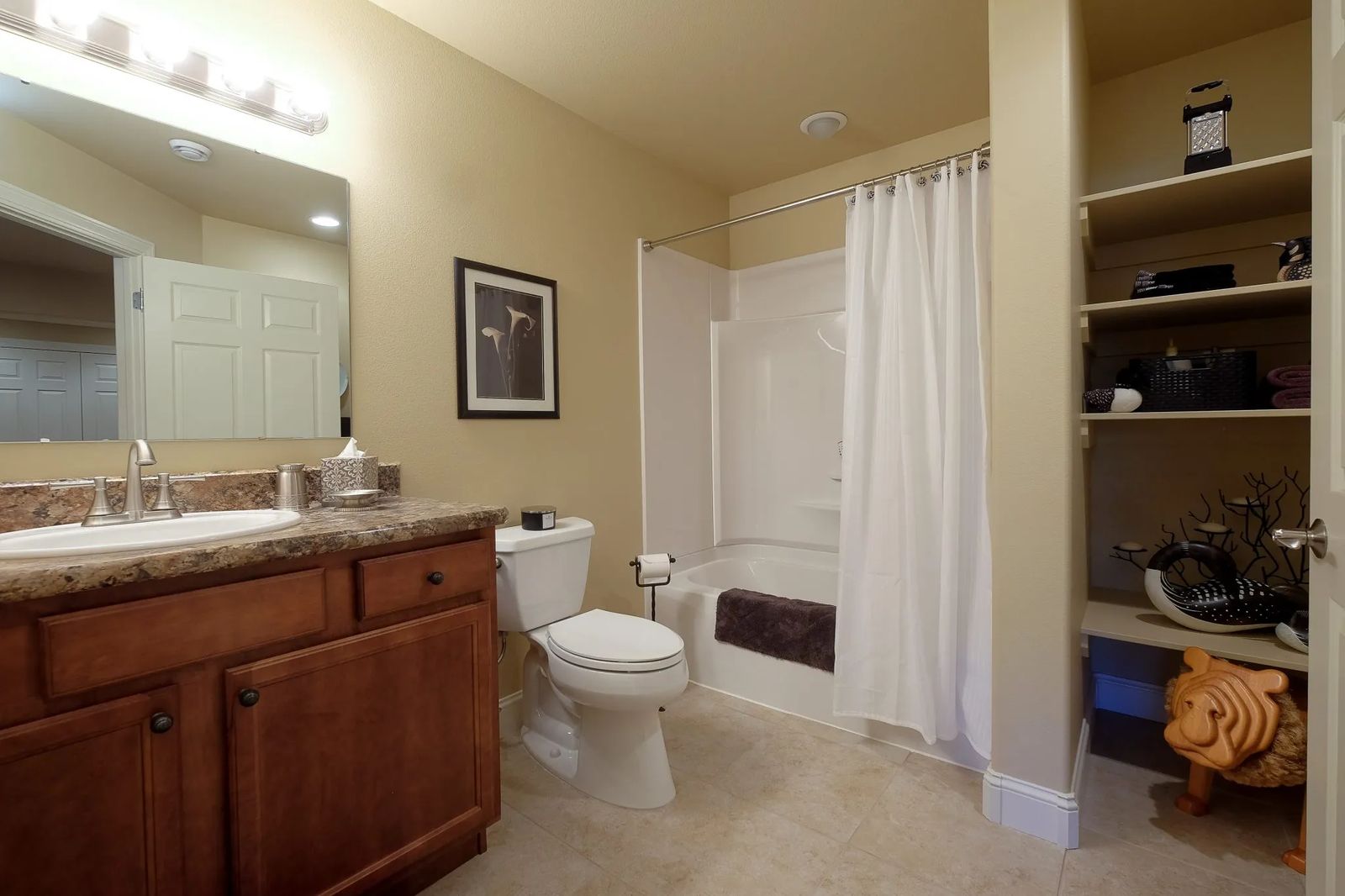 A large bathroom with heated floor is richly enhanced with cabinetry from American Appliance Co. and installed by My Handyman Service and Construction Co.  What had been designated as a walk-in shower is now open shelving for towels, soaps, lotions and a sprinkle of Nancy's decorative items. "With the kids," chuckles Bruce, "we needed a tub, so this called for another piece of red tape!"
Nancy and Bruce cut through the red tape with Rich and his team, completing a flawless transformation of an unfinished portion of the Fisher basement. Light streams through the large windows in the master suite giving this downstairs the feel of a main level apartment.
Oversized doorways, rounded wall edges, pocket doors, white trim and recessed lighting help accomplish the intention of good design. It's come together marvelously to achieve the ideal downstairs remodel. It matches the classy-country-living look of the upstairs. It's an overall unified fusion of style and meticulous taste.
"Rich did a great job," expresses Nancy. Bruce wholeheartedly agrees, "We're very happy with the outcome."
"We've become friends," notes Rich. "It was a fun job and nice to work in a quiet and exotic place away from the hustle and bustle. Working in their home has built a relationship with Nancy and Bruce that we really cherish."
It's country living at its finest. Nancy and Bruce are close enough to town and far enough away to enjoy horseback riding, unbridled views and the quietness of rural terrain. They agree the red tape was well worth the result and that it was enjoyable. It's their kind of living that certainly fits the bill.
ADDITIONAL PHOTOS OF THE FISHER HOME