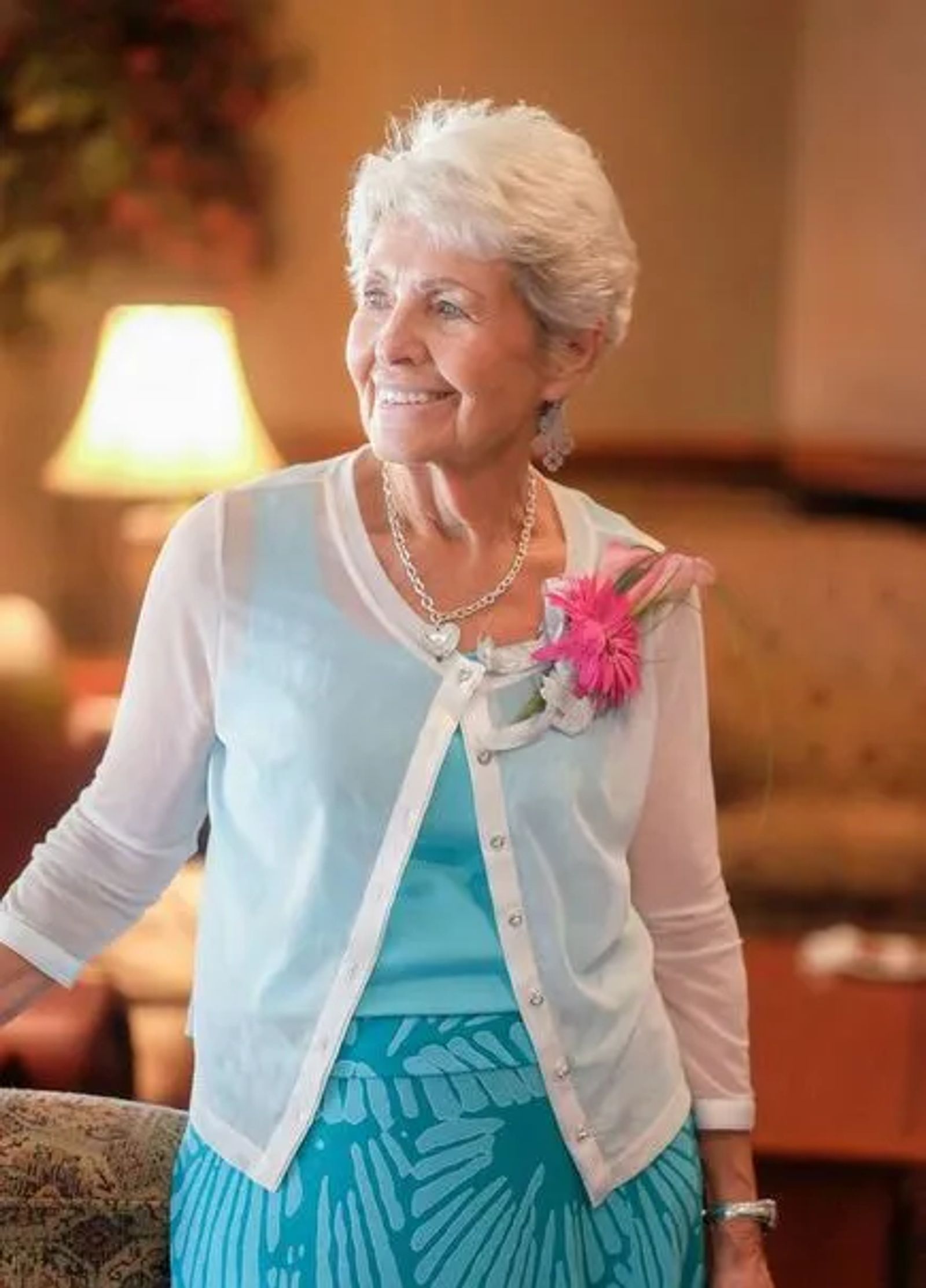 Cover Story: A Heart for Healing
Joanne Dodd's 60-year career advancing Billings' health care
When Joanne Dodd first walked the halls of Deaconess Hospital as a soon-to-be nurse, it was a four-story brick building that wasn't even close to being called a sprawling medical campus. The Emergency Room was one room with a curtain separating two small beds. The year was 1952. The hospital, while large for its time, held less than 60 beds and was served by just a couple dozen doctors. Little did Joanne know then how much change she'd witness and how much she'd personally help to mold and fashion Billings' medical corridor.
"When you look at that small building we had with two little corridors compared to where it is today?" Joanne says with a smile. After celebrating her 80th birthday recently, she decided six decades of service to both Deaconess Hospital and the Billings Clinic was long enough.
"Even my girls don't believe that I am going to retire," she says. "My girls have said to me, 'Sure Mother, you've said that before!'" Truth is, Joanne did retire back in 1998 and it lasted all of three months before she came back.
If you ask those who work at the Billings Clinic, Joanne Dodd is a powerhouse. She worked her way up from nurse to executive. She fought to give the nursing community a voice. She created an educational path between the hospital and the community. And, she helped to advance dozens of charitable causes tied to the hospital's care, and organized events that raised millions of dollars for them along the way. More than a few know she can't and won't ever be replaced.
"She's got a determined, strong personality that gets things done," says Jim Duncan, the Billings Clinic's Foundation President. "She's helped me become who I am today."
At a retirement party recently at Billings Clinic's Floberg House, colleagues gathered to sing her praises and say goodbye. As a video played, sharing photos from Joanne's 60-year medical career, Billings Clinic Chief Executive Officer Dr. Nick Wolter was one of the first to wish Joanne well. Jim Duncan says the fact that so many respected colleagues wanted to be there, "It's no surprise because Joanne's level of service to this organization and the community is legendary. She has been part of the organization in a heartfelt way every step of her career." Foundation Board Chair and Cardiac Surgeon Dr. Scott Millikan echoed that thought. "In the history of great organizations, there are people who are literally a part of the fabric of that organization. They are icons. Joanne has been, is and will continue to be one of the icons of this organization."
As Joanne choked back tears and thanked the crowd for coming, it was a beautiful trip down her own personal memory lane. Looking back, she says, "You have that feeling deep inside you and you know you did something good."
This bright-eyed woman's story starts on a parcel of land on Billings' southwest side just across from Holy Cross Cemetery off Mullowney Lane.
"That's where I grew up. I herded cows around those corners and worked in the fields. It was hard work!" Aside from grain, her family grew sugar beets and had a dairy farm as well. It became pretty clear early on that farm life wasn't her true passion. She laughs when she says, "I often hoped it would rain in the summer so I wouldn't have to go work in the fields." And before she spent even a day in school, she professed to her family what she wanted to be when she grew up. "I remember coming home after being at the neighbor's. I came home and told my mom when I was four years old that I wanted to be a nurse. That was always my goal."
If you know Joanne Dodd, when she sets her mind to something, there's no question whether or not it will get done. She makes sure of that.
Fourteen years after she shared her desires with her family, this fresh faced high school graduate would enroll in Eastern Montana College (now Montana State University Billings) with her sights set on a nursing degree. Back then, studying medicine was, shall we say, a whole different world.
"I have a friend who always teases me and asks if I have sharpened any needles lately. That's one of the things that we had to do. Nothing was disposable. If the needles had little barbs on them we'd have to sharpen them so that they were smooth and to a point." Catheters, tubes and syringes were all washed and reused. And when it came to learning their craft? "We had to practice on each other as nursing students, giving shots and even giving enemas to each other. That was back in the dark ages! That was 60 years ago!"
Even though Joanne knew she found her calling she admits, "Way back in my student nursing days, we were, of course, evaluated. At the end of my junior year, the nursing instructor said to me, 'The best advice I can give you is to get out now because you are never going to amount to anything.' I showed her didn't I?" As she laughs, she is quick to say, "I love that story."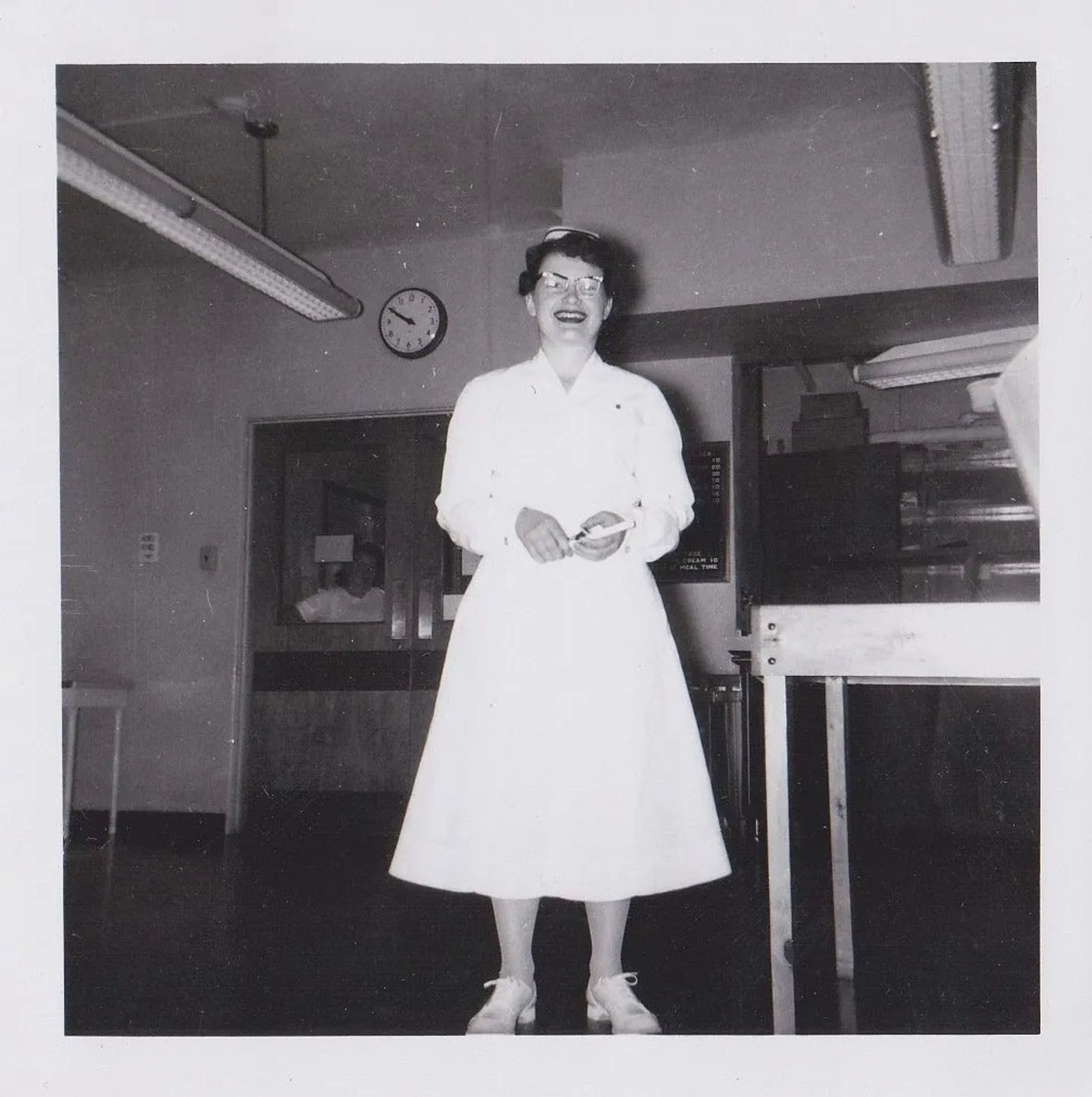 Back then — just like today — nurses were lifelines to the patients they cared for. Hospital stays could be days if not weeks for procedures that are now outpatient treatments. Joanne reflects saying, "Patients stayed in bed for three weeks if they had a heart attack. If a patient had cataract surgery, they couldn't turn their bodies for 10 days. They lay flat on their back with sand bags next to their heads so they didn't move. Today, you get your cataract out and go home. Many, many differences."
Polio and tuberculosis were major medical threats. Cancer was present, but Joanne says, rarely disclosed to a patient. She shares, "I remember taking care of two gentlemen who suffered long and hard with cancer. They had so much pain that we just couldn't relieve it. They knew they had cancer but they never were told that they did. Wouldn't that be awful to not know what was going on?"
After more than a decade of nursing serving both Billings and a few cities in California, Joanne talks comically about the next phase of her professional life. She was on shift at Deaconess Hospital when she was told the supervisor needed to see her. As she looked down at her non-regulation nursing uniform, she feared she was in big trouble. "I had on a nylon uniform that day (only cotton was permitted) and you couldn't wear perfume, earrings or have polished nails. My nails were bright red that day." As she folded her hands to make sure not to get caught, "To make a long story short, she was looking for an assistant and she was wondering if I would consider taking the job." Joanne Dodd would become the new Assistant Director of Nursing.
"I often have thought that one of the reasons why I was recommended for that position was because there were things going on in the nursing unit that were not really good for patients and were different from what we did in California. I was always saying, 'You know, in California we did this...' I knew the supervisor recommended me just to get me off the floor so that she wouldn't have to listen to that anymore and to give me a chance to show what I knew."
It goes without saying that Joanne showed the Billings medical community what she knew. Within five years, she moved up to the Director of Nursing and vowed to give nurses a real voice in patient care.
"Back in those days, you just did what the doctor told you to do. I can think of all kinds of situations —one comes to mind — where a nurse challenged a physician because she believed his order was not correct for the patient. He came to my office and demanded that she be fired. Well, she did not get fired and he changed his order," Joanne says with conviction.
Over the years, her commitment to nursing and patient care never wavered. Even though she'd have to sit across the table from nurses during contract negotiations, "More often than not, I was able to get the administration to see why nurses should have a voice and should be more involved. They needed my support." And with that support, Joanne says, "More than once a physician went to the administrator's office and asked him to get rid of me." The criticism only added fuel to her professional fire.
Because of her progressive approach, it wasn't long before Joanne had a national voice in nursing. For 12 years in the late '70s and early 1980s, she served with the National League for Nursing. It was a group of educators and administrators whose sole purpose was to promote education in nursing. She says, "It just opened my eyes. I came back and I trained a lot of nurses in Montana. That is one of the things I am very proud of — helping nurses move forward." Before long, Joanne was named the organization's chair of the Western region. She ultimately helped to shape policy and train nurses all over the West.
After more than a decade of successfully moving the nursing profession forward, Joanne would be given a new job — one that would work to build a stronger bridge between the hospital and the community. As the hospital developed its Community Relations department, Joanne smiles and says, "I was asked to head up that charge." She earned the title of Vice President of Community Relations.
At first, Joanne wasn't so sure the plan would work. The hospital had been working with a consultant who told Joanne, "People will come to you to learn more about their condition. They will want pamphlets. They will want books. They will want a library so that they can research what is going on and decide how they are going to be treated. I said, 'Oh, come on! People will not do that!'"
It only took a few educational programs for Joanne to see the critical link she was helping to develop.
"We put those programs on quarterly and they were always a sellout. We filled the conference center," Joanne says. Today, not a day or a week goes by without some sort of educational outreach at the Billings Clinic. Joanne says through it all she learned how key education is to healing, "The more you know, the quicker your recovery because you are not afraid. You get well so much faster."
In the mid-1990s, Joanne's work took a turn once again when The Billings Clinic and Deaconess Medical Center merged to create one integrated health care organization. Instead of focusing on community relations, she sought out a spot within the Billings Clinic Foundation, a place where she could continually dream about the next big thing in patient care. She chuckles when she thinks of her interview, sitting across from Jim Duncan, the foundation president. Joanne says, "I told him he had to hire me because I would help him be successful. He was coming from ZooMontana. What did he know about this organization?" The two have worked side by side ever since.
Joanne's focus would be to head up the Billings Clinic Classic, one of the premier fundraising events for the foundation. At the time, it had a sports theme with sporting clays, tennis and golf tournaments and even a few fishing expeditions on the Big Horn. Reflecting back, Joanne says, "It wasn't working very well." After a brainstorming session, Joanne says the whole feel of this event was turned upside down. "In 1996, we had our first concert downtown with tents on the street. When Jim suggested that we do this, I said, "Lordy, what is with this? To close the street and put a tent out there?' Well, it worked and look where it is today." To this day, the event continues to sell each and every one of its 1,500 tickets. Even though Joanne could easily hob-knob with all the talent brought in for the big event, she's always hustling behind the scenes making sure no detail is left undone. When the lights go up and she knows the night will be a success she says, "It's an ah-hah moment!" Last year alone the 'Classic' raised upwards of $1 million.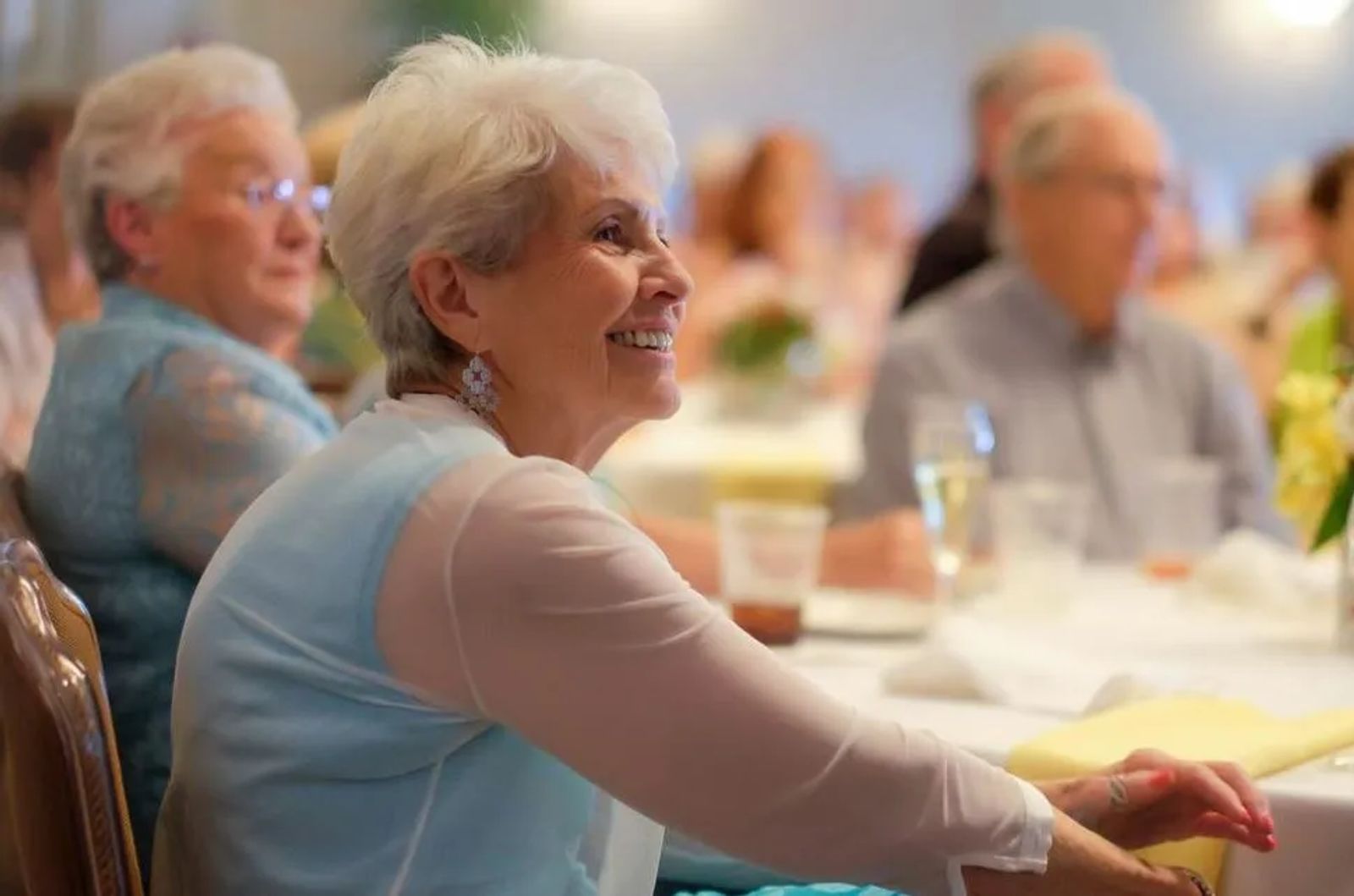 After nearly 20 years working at the foundation, Joanne jokes when she says she can officially knock "making Jim Duncan successful" off her professional "to do list."  She's quick to point out, "The foundation assets have grown considerably under his leadership." While Joanne fully credits Jim, he's quick add, "Joanne has been right there as a big part of the success.  When we first started at the foundation, we had $3.9 million in assets. We are going to be well over $50 million here soon." And during their tenure, the foundation has doled out more than $69 million to the hospital to support new technology, new facilities, research and education.
While the impact has been huge, Joanne will tell you that the dollar signs have never been the most impressive part of her work. "I remember talking to a physician one time and I asked, 'How many babies have you delivered?' And, he said to me, 'I haven't any idea. I never keep track of the count, I am always looking at the quality.' That's what it is about. I don't look at the dollars but the outcome and the purpose it serves." With passion in her voice she adds, "Look at our cancer treatment center and our new cardiology area." With both projects, foundation dollars were key.
The hospital has come a long way since Joanne took on her first job as nurse in the 1950s. Today, the Billings Clinic has a little less than 300 beds plus a skilled nursing and assisted living facility, which houses up to 90 residents. Roughly 300 physicians serve communities in both Montana and Wyoming and share their expertise in dozens of specialties. While Joanne couldn't discuss the word "cancer" with patients back in the day, today the Billings Clinic has a state-of-the-art cancer center to serve the community.
"I love seeing how progressive we are, how willing we are to embrace new ideas and thoughts and concepts for patient care," Joanne says with pride.  After spending years tearing down walls to better serve patients and their families, Joanne says, "I think I am ready to retire. I think it is finally time."
While she doesn't have a clue what she'll do with all her free time, she thought about volunteering at the hospital a few days a week. She tossed around and then quickly threw out the idea of quilting classes. She often wondered if she should look into her German-Russian heritage. "I think I will just go with the flow for a few months before making decisions," Joanne says with a smile.
When it comes to the next big thing at Billings Clinic, Joanne says she's okay with someone else leading the charge. "I have thought that my input was no longer needed. And, that's not a bad thing. It can happen without me." Knowing her 60-year career has been long, vibrant and meaningful, she says, "That's a very good feeling."