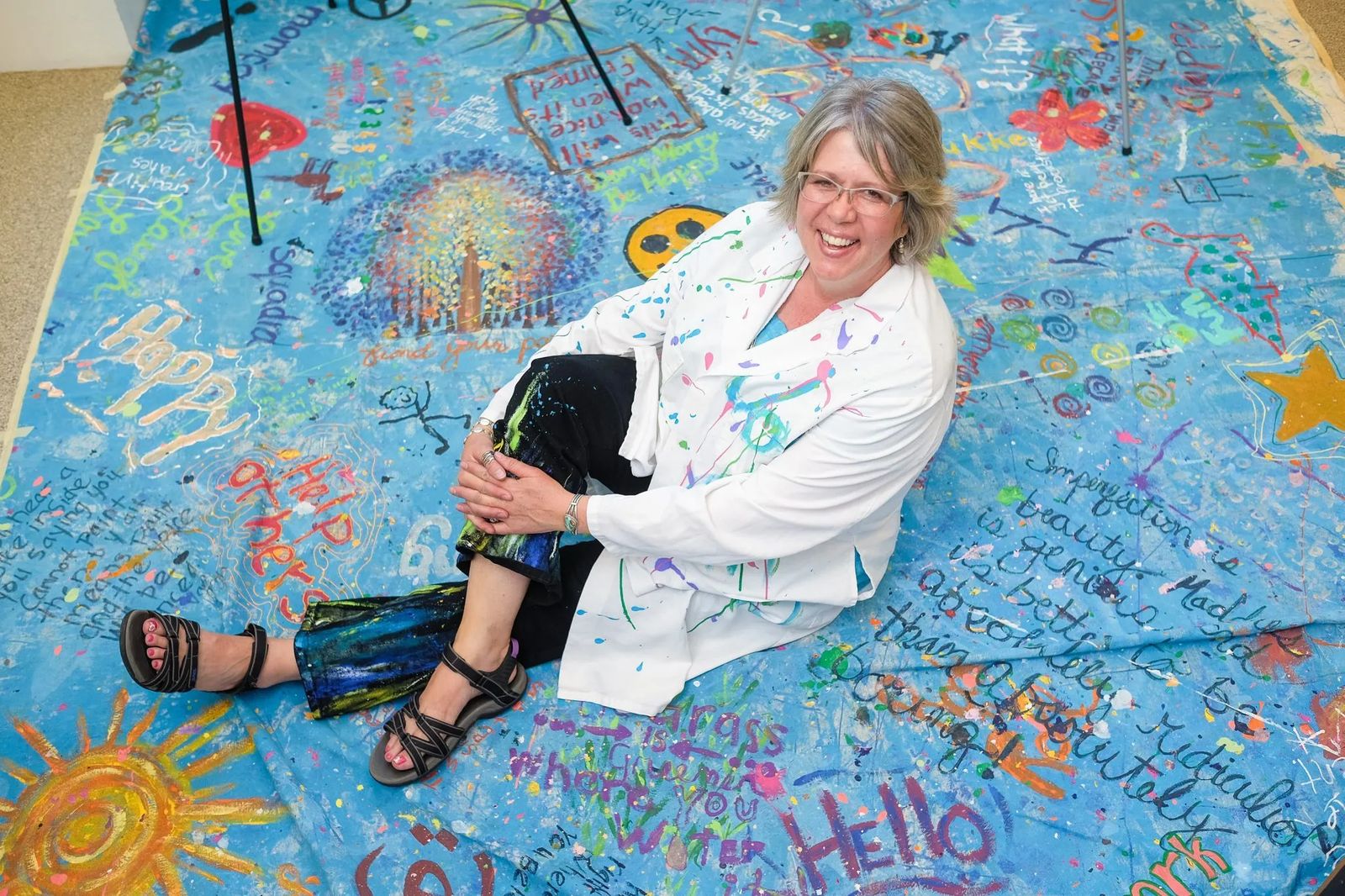 Cover Story: Catalyst for Change
The visionary thought process of Karen Grosz
In a downtown office, team-building guru Karen Grosz spends time surveying the room, trying to get a read on the group of men and women she'll be interacting with that evening. Easels holding large blank canvases pepper the space, tubes of acrylic paint in every shade of the rainbow line a nearby table and Karen is already dressed in her trademark paint-splotched smock. As the creative genius behind Canvas Creek Team Building, she's been entrenched in using art to help corporations build synergy for well over six years. What's happening here, however, has been dubbed a radical experiment in community change. The men and women gathered for the 'Figure It Out' think-tank are — for the most part — strangers. What Karen hopes is about to take place is a frank discussion on how our community can step up and lift up some of the most vulnerable children in our area — the kids in the foster care system.
"I was going through life with middle-class blinders on," Karen says, "not realizing that there were kids who were living in terrible, terrible situations, much worse than what I grew up in and I like to say that I was poor."
A lunch meeting with Jennifer Owen, Executive Director of Head Start and Jennifer Reiser, Billings Chamber Chief Operating Officer helped rip off the blinders. It was during this meeting of the minds that Karen discovered that hundreds of kids in the foster care system are living without a solid plan for their future. Substance abuse is running rampant in our town. And, Head Start, an agency that provides early childhood development to low-income children currently operates with more than a 200 child waiting list. It isn't a pretty picture and it's one Karen Grosz wanted to paint over with help from a fresh set of minds.
"When I realized that government wasn't taking care of us, I figured out that we needed to take care of us," Karen says with passion in her voice.  "We can come together and do good things," Karen says. "The concept of bringing people together and letting them talk? I think that is so powerful." So, with a little coaxing and a lot of colorful paint, Karen helped these strangers get the conversation started.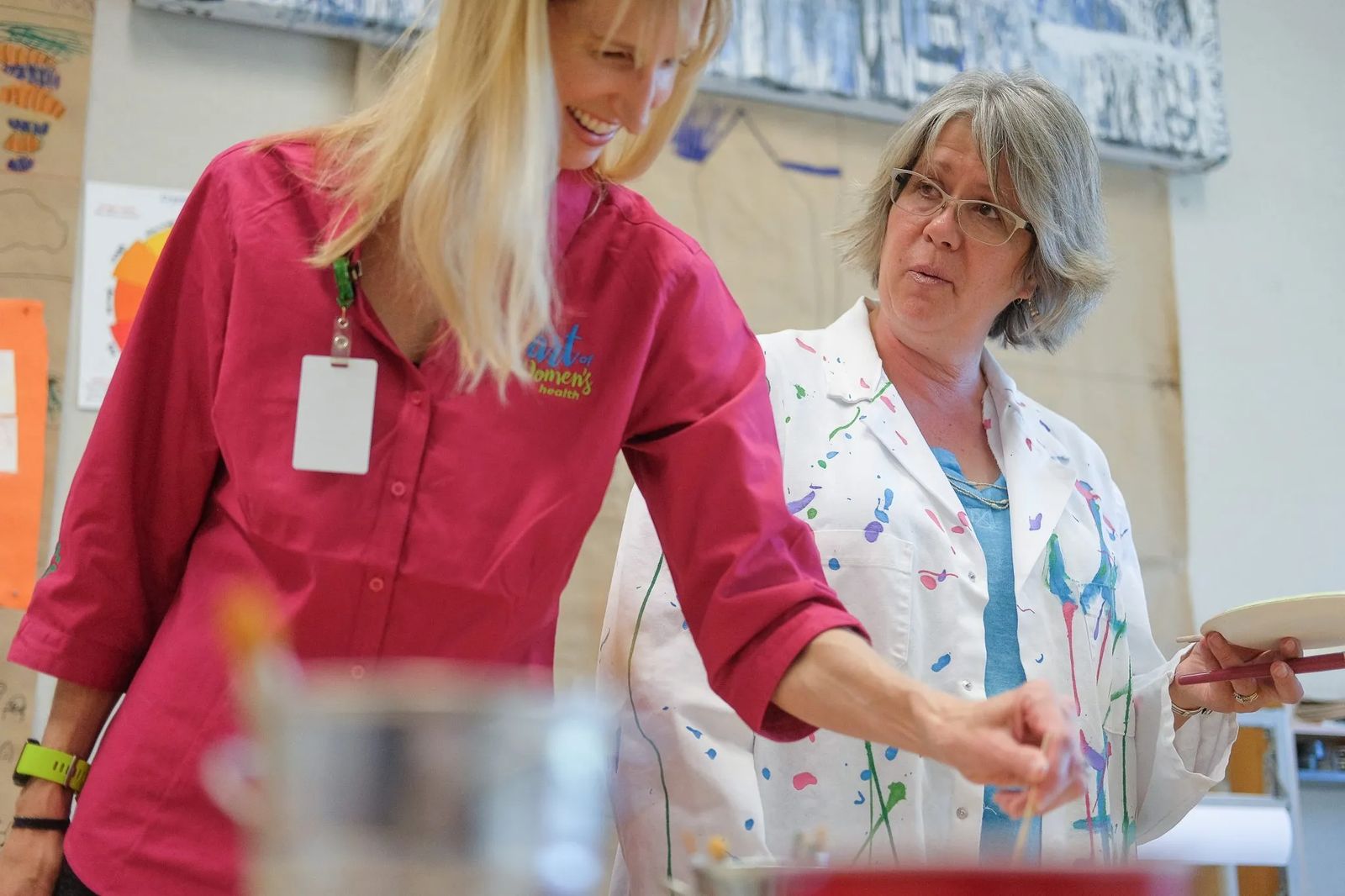 All it takes is a quick glance at Karen's past to see how words propelled her in new and different directions. She calls herself a "multi-potential-ite" and believes that no one should settle into life without fully living their passions.
Living life to the fullest is something that didn't always come easy for Karen. When she was still in high school, she distinctly remembers excitedly sharing her life's plan. Karen says, "I said, 'Guess what? Guess what Ms. Daugherty? I want to be a nurse. I want to go to school to learn this!' My teacher looked at me and laughed and said, 'You will fail. That is the stupidest thing I have ever heard.'" Karen says she took that woman's words to heart. She never attended college. She never became a nurse. "I had no one to give me different advice at the time."
Painful as it was, Karen decided instead to become a student in human potential, pushing herself to break free from some of her biggest vices. "I was this terribly shy person with no self-esteem at all and I wanted to grow," she says. So, instead of settling on a profession that suited her personality, she says, "I chose the hardest thing I could ever do." She chose a career in automotive sales.
She struggled.
"They would spoon feed me a deal and I still couldn't close it," Karen says with a laugh. Eventually, her first sale came. Her boss never lost faith. "He invested in me," Karen says. It was there at a little Saturn dealership in Alaska in the mid-1990s she learned one of her most important lessons in life. "I was with an incredible man who understood people and understood sales and he wanted us to take care of people." She tears up a bit as she shares, "To have someone say, 'You're worth investing in' was phenomenal. I knew that I could not let him down."
It was that very spirit she wanted to take and share with others. When you ask Karen Grosz what brings her joy, without skipping a beat, she says, "Other people's growth."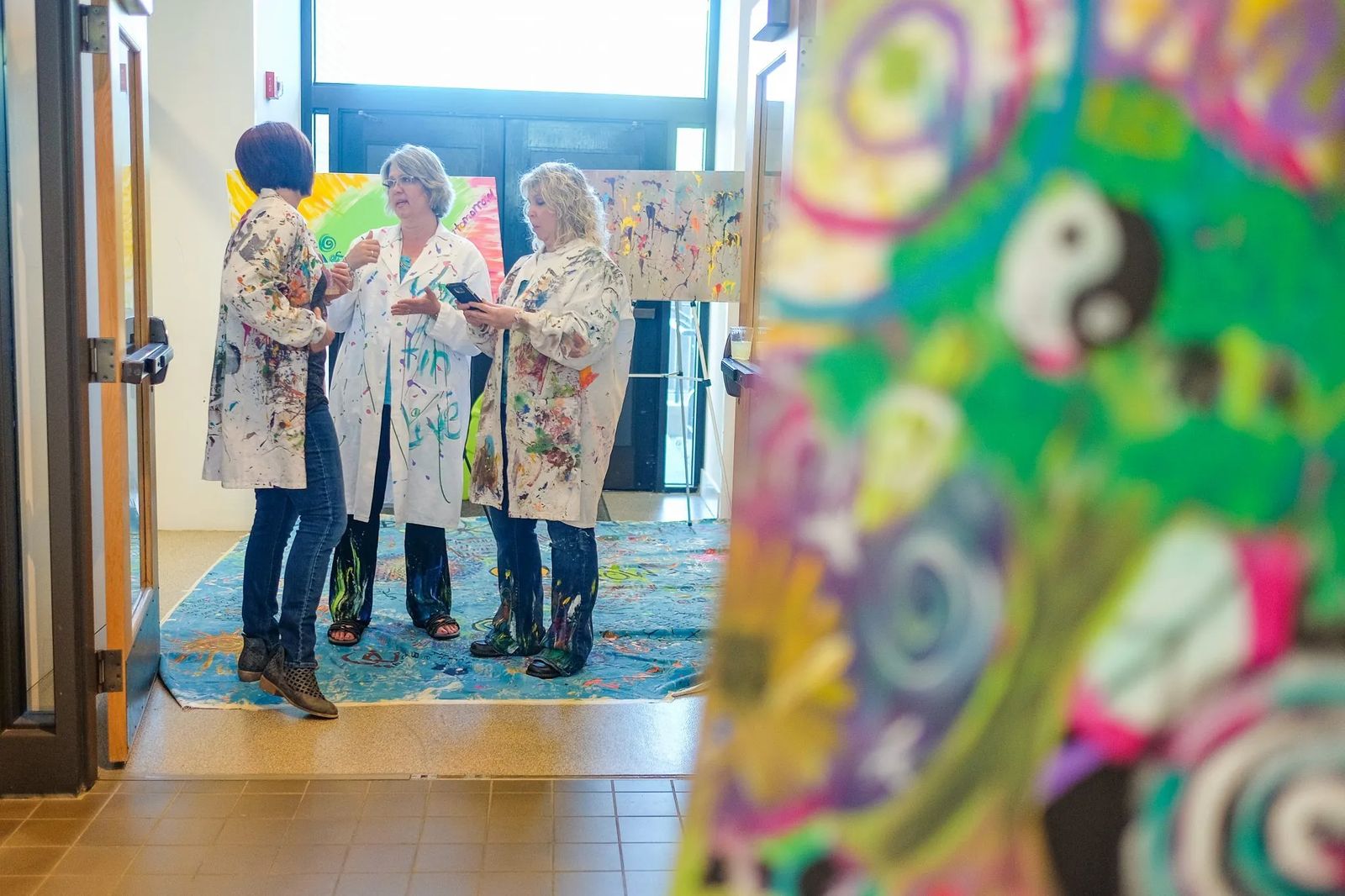 As a multi-potentialite, Karen says it was freeing to learn that when it comes to life, you don't have to stay on the same road. You can chart a new and adventurous course at any turn. "When someone looked at me and said, 'You're going to learn your whole life.' I said, 'What?' and it just ignited a fire in me. I have purposefully learned one thing and then the next and then the next." Karen would grow to not only learn sales but would become a regional trainer helping to polish the next generation of sales people. She did it in the automotive industry before switching gears to help give associates with Creative Memories, a national scrapbooking company, a leg up in the crafty field. She sold insurance and eventually landed in Billings to help her daughter open and run In Good Glazes, a creative ceramic studio where anyone could come in and paint a work of the heart.
"I was watching two people paint a cup in the studio one day and I thought, 'We are not going to pay the bills like that. What are we going to do?'" Karen says, "Then, I thought, what if I had a team paint together?"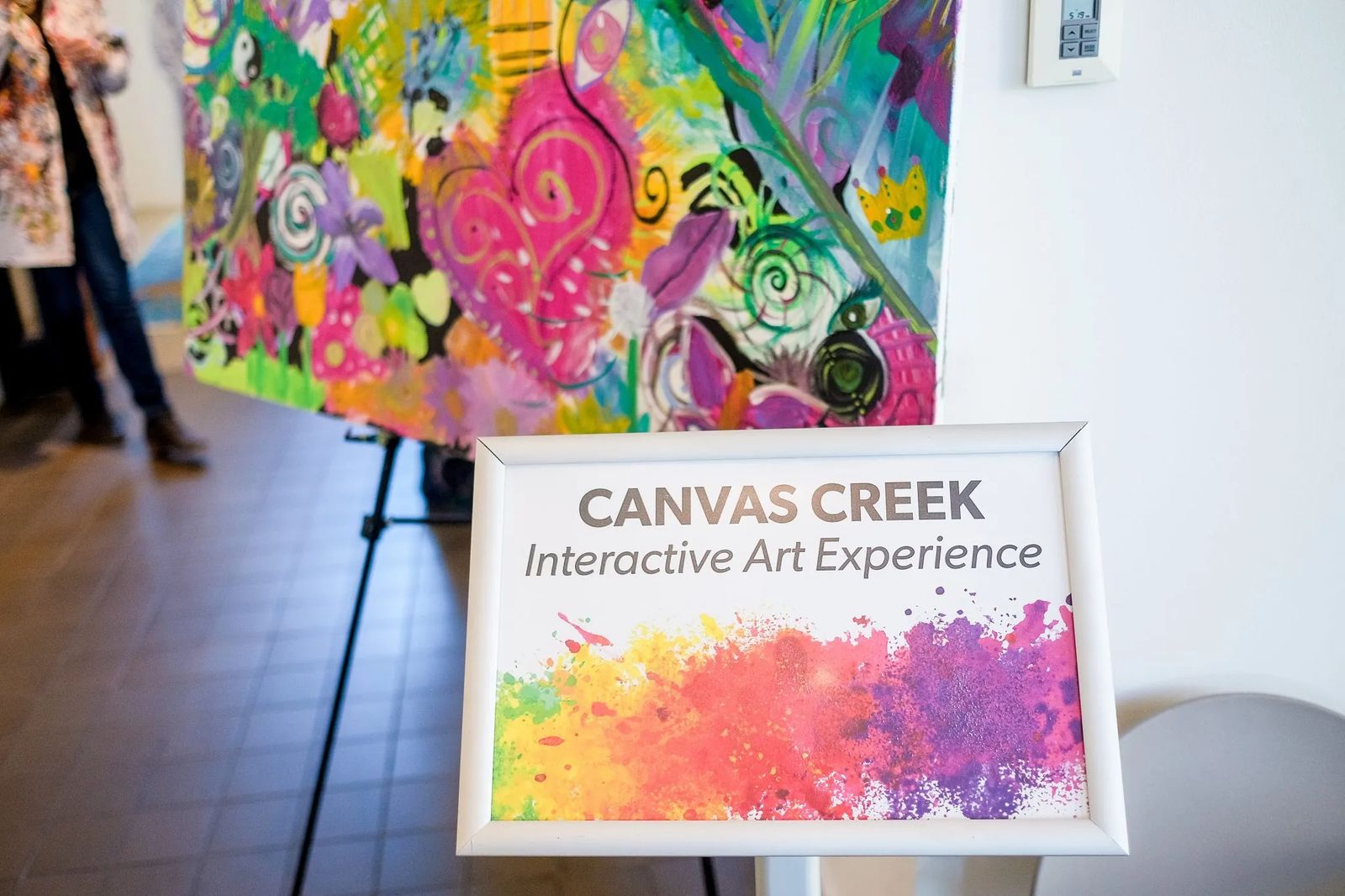 That was the birth of Canvas Creek, a creative and colorfully explosive approach to team building. While researching her idea, she stumbled upon a YouTube video showcasing Tunisian Art Rules used by an artist in New York who was trying to empower fellow artists. "I thought, 'Oh my gosh, this is what I am looking for,'" Karen says. The mission was simple, get people out of their comfort zones to work together to create something beautiful.
Today, Karen spends her days coaching corporate executives from all over the country. Her biggest client to date is the team at Walmart's corporate offices in Bentonville, Arkansas. She's coached teams of less than a dozen all the way up to teams in the thousands. Each time, she hopes to build bridges, wipe away apprehensions and unleash that team approach that is needed in every aspect of life.
"I think that is one of the coolest things. I am able to inspire other people to feel their potential," Karen says.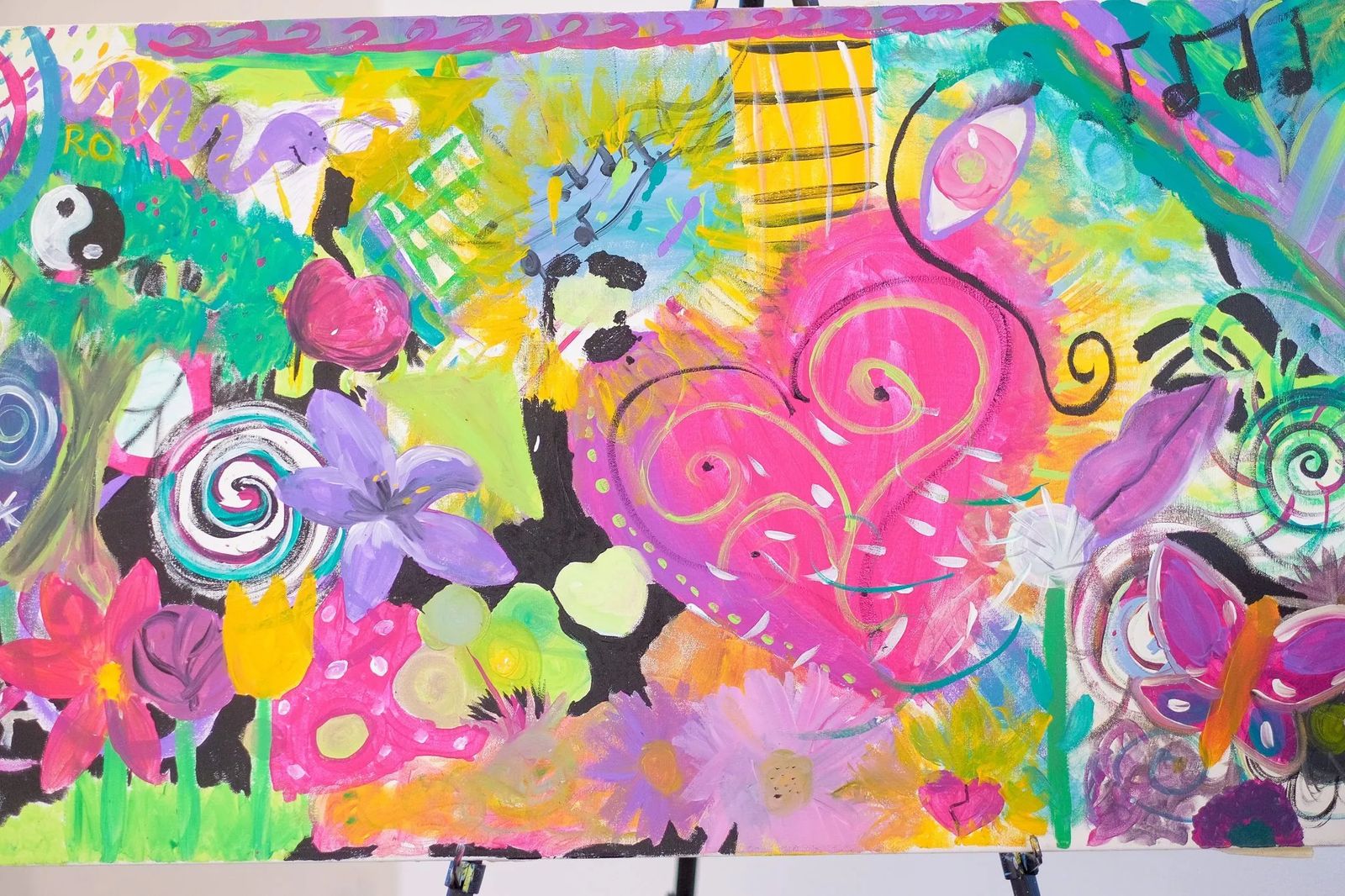 Recently, Karen reinvented Canvas Creek to also use this team building approach on a smaller, more personal scale, with families. She hired and trained a team of family coaches to help bridge division and build stronger bonds. It was a test painting in the early days of Canvas Creek that Karen realized was pure gold. "We all knew how incredibly powerful this was." After a night of painting with her own family, "We could not stop talking about our painting. Everyone's energy level was up."
Karen smiles and she pauses to recount one of her first family painting sessions. She was coaching a young family who had just put the final touches on their group creation. "I said to them, 'What will you guys do with this canvas?' The 7-year-old little girl said, 'When we are yelling and screaming at each other, we can look at our canvas and remember that we can be quiet and love each other.' That was God saying to me, 'Now do you see what I've given you?'"
Over the past decade, Karen has spread her community wings in a multitude of ways. She's a board member of the Yellowstone Boys and Girls Club. Never one to sit and wait for something, she and her husband are helping the club's 'Teen Room' get a much-needed facelift. "It needs some loving attention," Karen says.
Each summer, Karen and her husband, Paul, share their insights with Rotary Youth Leadership Awards, an intensive leadership experience. Karen says, "We take them to camp and we teach them how to be leaders." The kids learn why praise and encouragement are both very valuable qualities for a leader to share. The aftershocks of this camp have been astounding. "We had one young man, a sophomore in high school, who raised $69,000 to save the theater in Whitehall because he said if he didn't save that theater, he knew the kids would have no place to go," Karen says. Another young lady started a video series on teenage self-esteem, Karen says, "All because they were a part of this camp for a week with 100 other Montana kids running around together, being praised and accepted." Karen smiles and adds, "That's what feeds my soul."
Seeing that impact first-hand gave Karen the fuel she needed to spark a much different firestorm in this community. In March, she took those nuggets of knowledge about kids in the child welfare system and she helped launch "Figure It Out," a social experiment helping social service workers to join forces with those from the business community to come up with revolutionary ideas to make life a little better for some of our most needy children.
"I want those kids to know that somebody cares for them," Karen says with passion. "I hope that we can get this engine of knowledge rolling. I am not the smartest person in the room but I want the smartest person to be in the room to help us figure it out." She adds, "I can be in the room to ignite people's thinking."
Head Start's Jennifer Owen couldn't be more invigorated by some of the early rumblings of conversation.
"I believe that we must as a community have a movement around the most vulnerable children in this community, not just in the social welfare sense but in a business sense," Jennifer says. "I think a place where children can flourish and grow, regardless of socio-economic status — that's good for business. That's a place where people want to invest and put down roots."
Since that first meeting in March, the group talked about solutions to help make the job of child welfare workers easier. A Facebook Page titled "I'll Help – Billings" shares the nitty-gritty needs of some of our city's most vulnerable. There's been chatter about a child receiving a home, a place for social workers to bring kids in crisis in the short term while they search for a foster family to take in that child.
Jennifer Owen knows Karen has played a big role in this community conversation.
"Karen has this ability to kind of stand at the edge of a pond, throw a rock in it and let those waves carry the community to a better place," Jennifer says. "She convenes the people to have the right conversation and then tosses a few pebbles in there and lets the wave of collaboration, and connection have an impact." It's been a game changer for Jennifer personally. "Working with Karen has brought me from frustration to passion, actually feeling like we together as a community can tackle this issue and make a better Billings. When she engages people in the community, she is genuinely rooting for you to be successful. You can see that in her."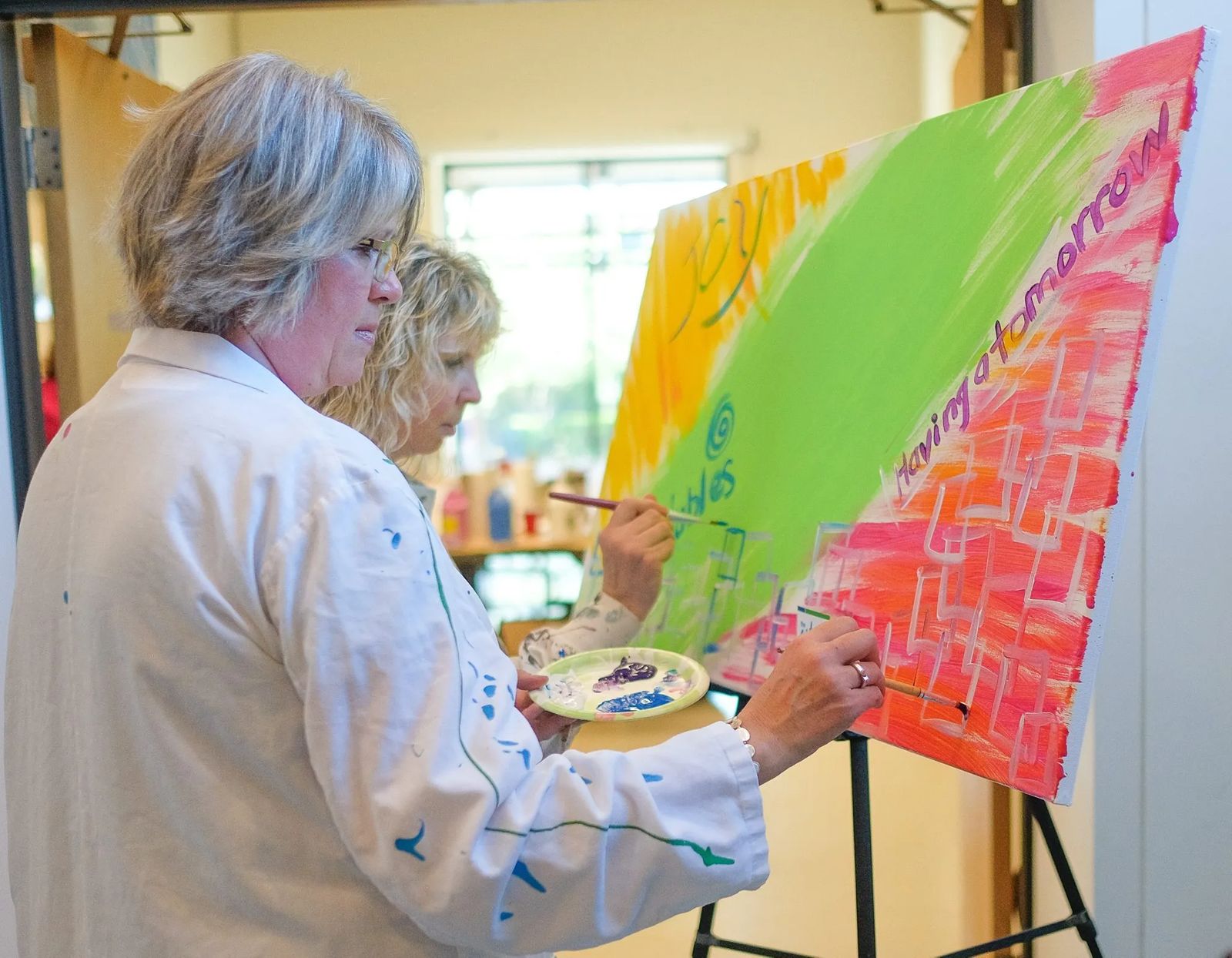 "The process has been very eye-opening," says Jennifer Reiser, another one of the three women who helped launch 'Figure It Out.' "I think we are taught to say, 'Here's the problem, explore it, do this and do that.' Karen helps you take a step back, take down those barriers and think bigger." Jennifer is quick to add, "I think that's a gift and not everyone has that."
As if tackling deficiencies in the child welfare system isn't a big enough issue, Karen is also sparking a second community conversation. It's one aimed at dealing with the chronically homeless, those people who don't seem to fit into any social service model and, as a result, fall through the cracks.
Just last May, Karen met with churches and social service agencies like the Montana Rescue Mission to try to come up with new ways of looking at the issue. In talking about the challenges, she says, "Did I tell you the story about the man who had been bussed all over Billings for the day?"  As Karen reflects, she talks about a man from outlying area who could no longer stay in the nursing home there. "They put him on a bus, sent him to Billings. The bus driver brought him to the Rescue Mission, he was too sick for them. They sent him to the Billings Clinic, they couldn't take him and told the driver to take him to The Hub (a day center for those with mental illness). The Hub closed at five. He spent all day going from place to place." As Karen pauses, she reveals, "It took massive amounts of hoops to get this man a place to stay. There are about 89 of those people in town."
When it comes to facing these trying causes, Karen never feels alone. She calls her husband Paul her perfect partner. Karen smiles and says, "God just said, this is your person, now go and change the world. That's what we do little bits at a time. We go out and try to change the world."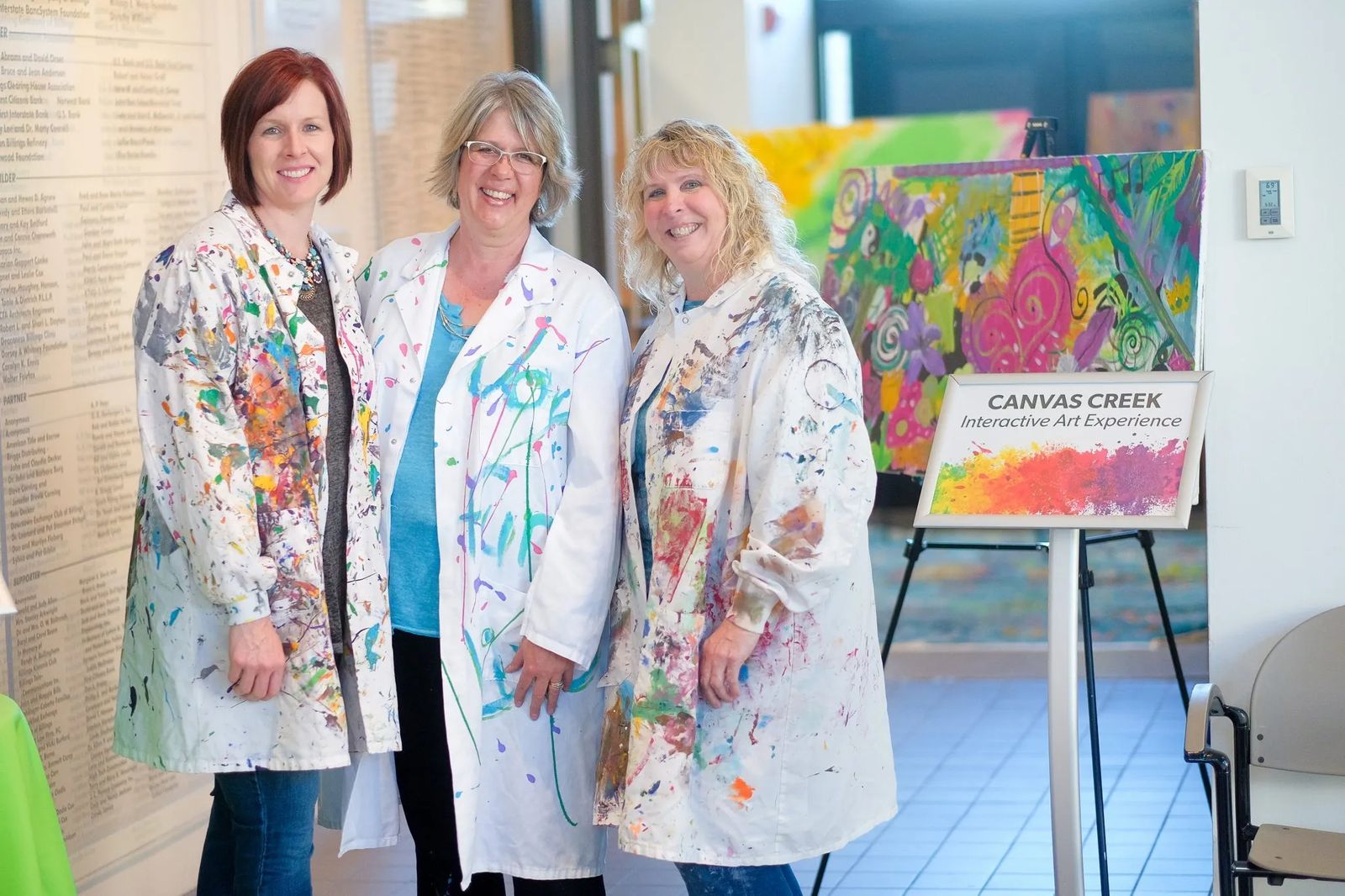 She's hoping Canvas Creek can play a bigger role and grow. She's ready to write "Now What's ext," her third book designed to spark individual change. Of the book's message, she says, "It's okay to say, 'I'm not going to stick in this spot anymore because I want to see what's in that spot. I am not sure, especially women, are given that permission enough. You need to do the things that bring you joy.'" Karen smiles as she relays, "If it is not bringing you joy, you don't jump out of bed!"
It's easy to see Karen has moved through life learning and challenging herself to learn some more.
"I am blessed to be living the life that I am living. It's not the life I expected. It's way bigger than that, way bigger than that." She says when she thinks about her future, "I just feel this surge of electricity. Every moment, I hope I can inspire someone else to be their very best and to do their next thing."
FOR MORE on the mission of Canvas Creek, visit canvascreekteambuilding.com
TO LEARN MORE ABOUT THE MISSION OF FIGURE IT OUT, email Shelley Pierce with Canvas Creek Team Building at shelley@canvascreekteams.com.