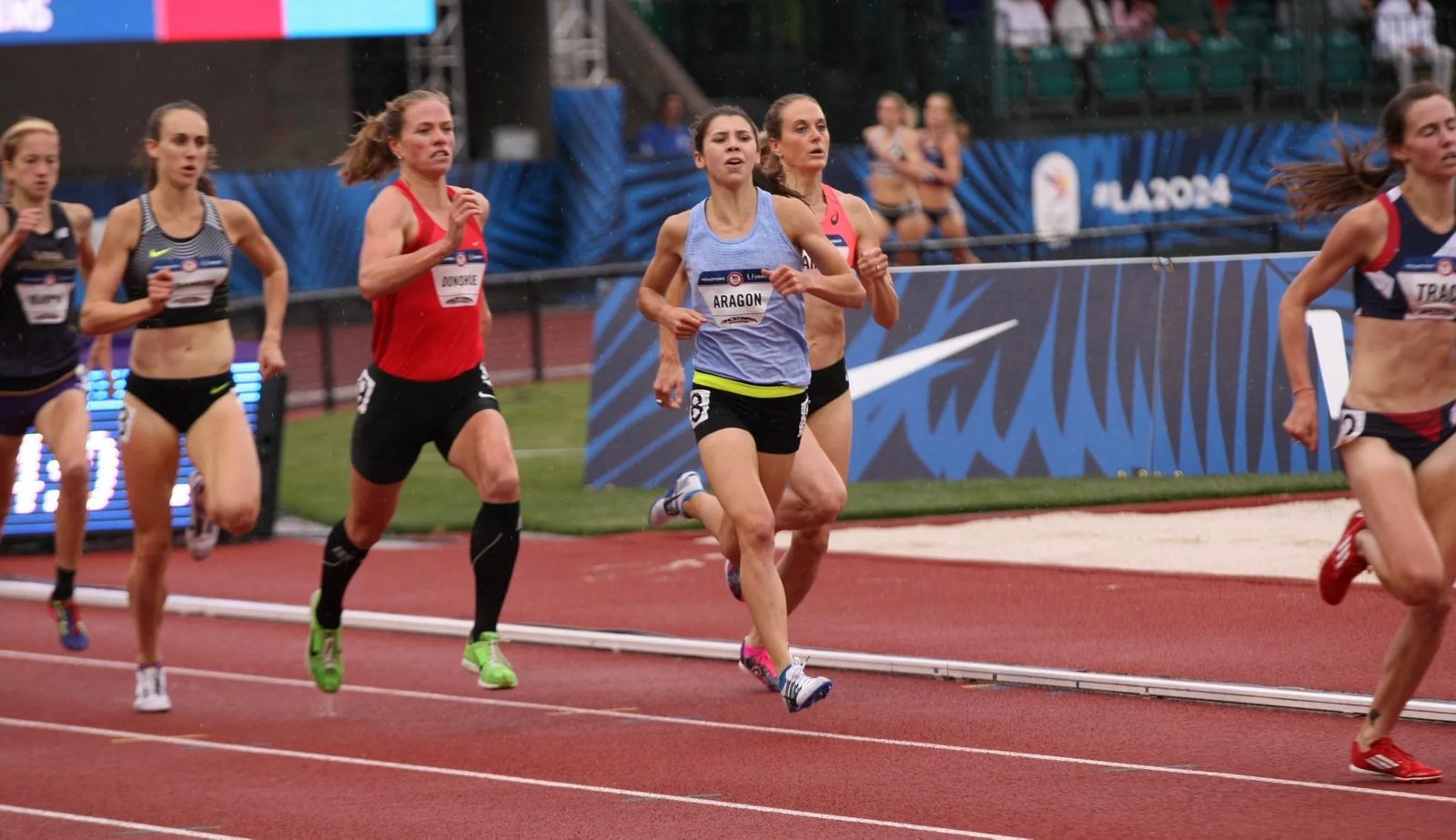 Cover Story: Chasing the Olympic Dream
Christina Aragon lines up against the nation's fastest runners

Hayward Field on the campus of the University of Oregon — it's one of the most legendary, and some say magical, track and field stadiums in the United States.  This past July it ushered in a little star-studded glory for one Billings teen who walked on its red-tinted turf with the hope of fulfilling her personal best. State record holder and Billings Senior High grad Christina Aragon, who has been turning heads in the running world for years, hit a national stage to get a taste of what it's like to chase an Olympic dream.
"It's hard to believe that we are sitting here watching our youngest kid in the Olympic Trials!" Dr. Chuck Aragon said as he sat on the sidelines. "The United States is a very strong team that competes very well throughout the world and when you come to the Olympic Trials, it is all on display – the drama of it and the emotion of it. It's all mixed in to the atmosphere here."
Minutes before the first round of the women's 1500 meter race at the U.S. Track and Field Olympic Trials, Christina lined up right alongside some of the nation's fastest women, in the hope of moving on to the semi-finals. As time ticked away, her face pops up on the Jumbotron, a look of concentration evident.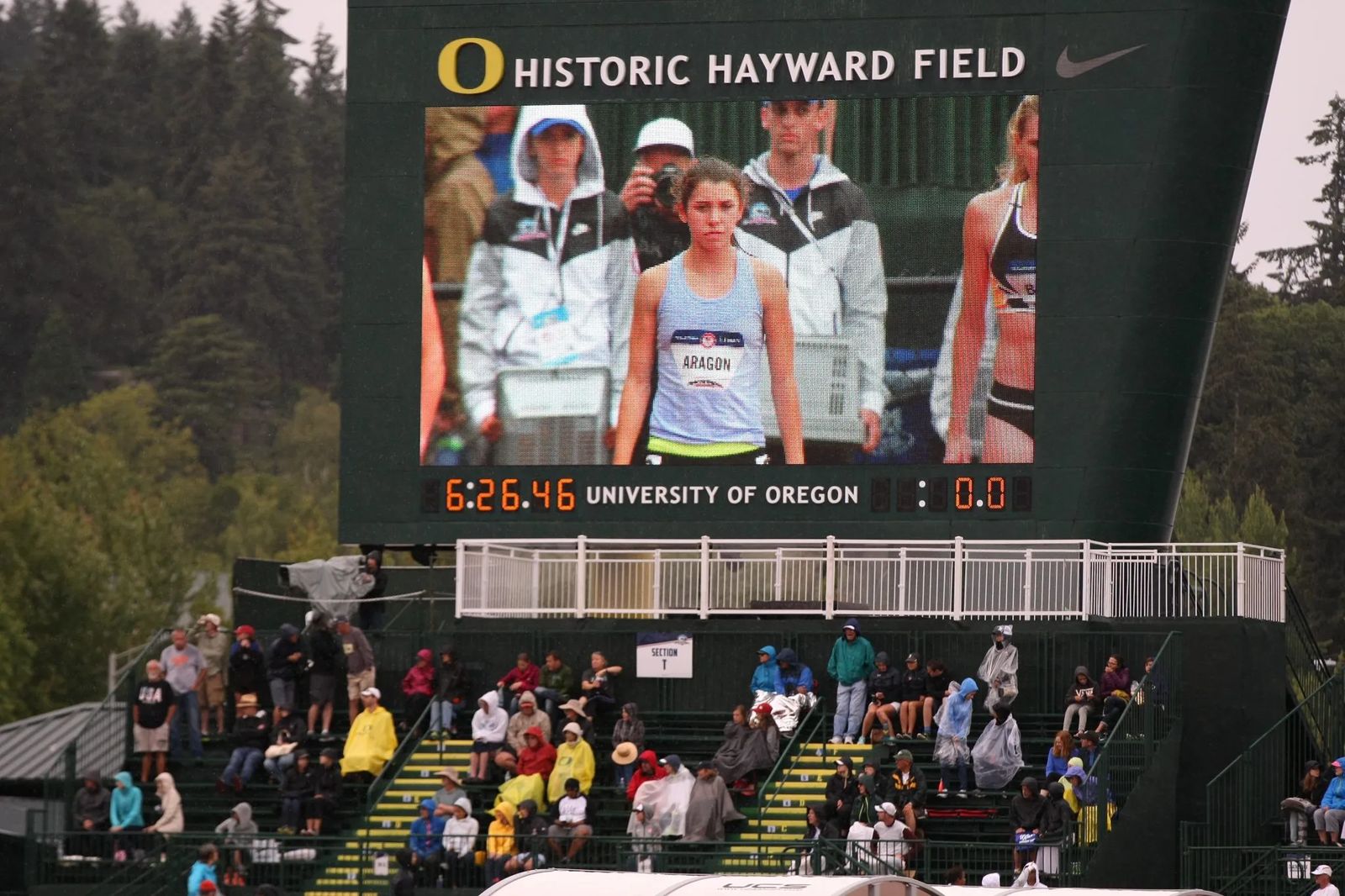 The gun fires and after a push and pull heat, it was all over in a little more than four minutes with Christina finishing third. The rundown of athletes in the overall field of 30 was what some call as deep as it could get. It featured three decades of experience with, among others, a national champion, two-time Olympians, and a U.S. record holder.
"There are a lot of girls in your race who have run faster than you ever have before," Christina says reflecting on the magnitude of talent. While Christina would indeed go on to qualify for the semis, she landed in 9th place in her heat and was one of the 11 runners who wouldn't move on to the finals. The race was so tight that the difference between Christina's time and the 6th place qualifying finisher was just .85 of a second.
"Every single person in that race could have been in the top five. There's no one you can count out in a race like that. You just have to go in there and honestly not worry about whose name is what. They are just 11 other girls who just want to run fast too," Christina told reporters just minutes after leaving the track for the final time. "It was pretty crazy."
It was clear, she was chalking this entire memory-making weekend up to experience.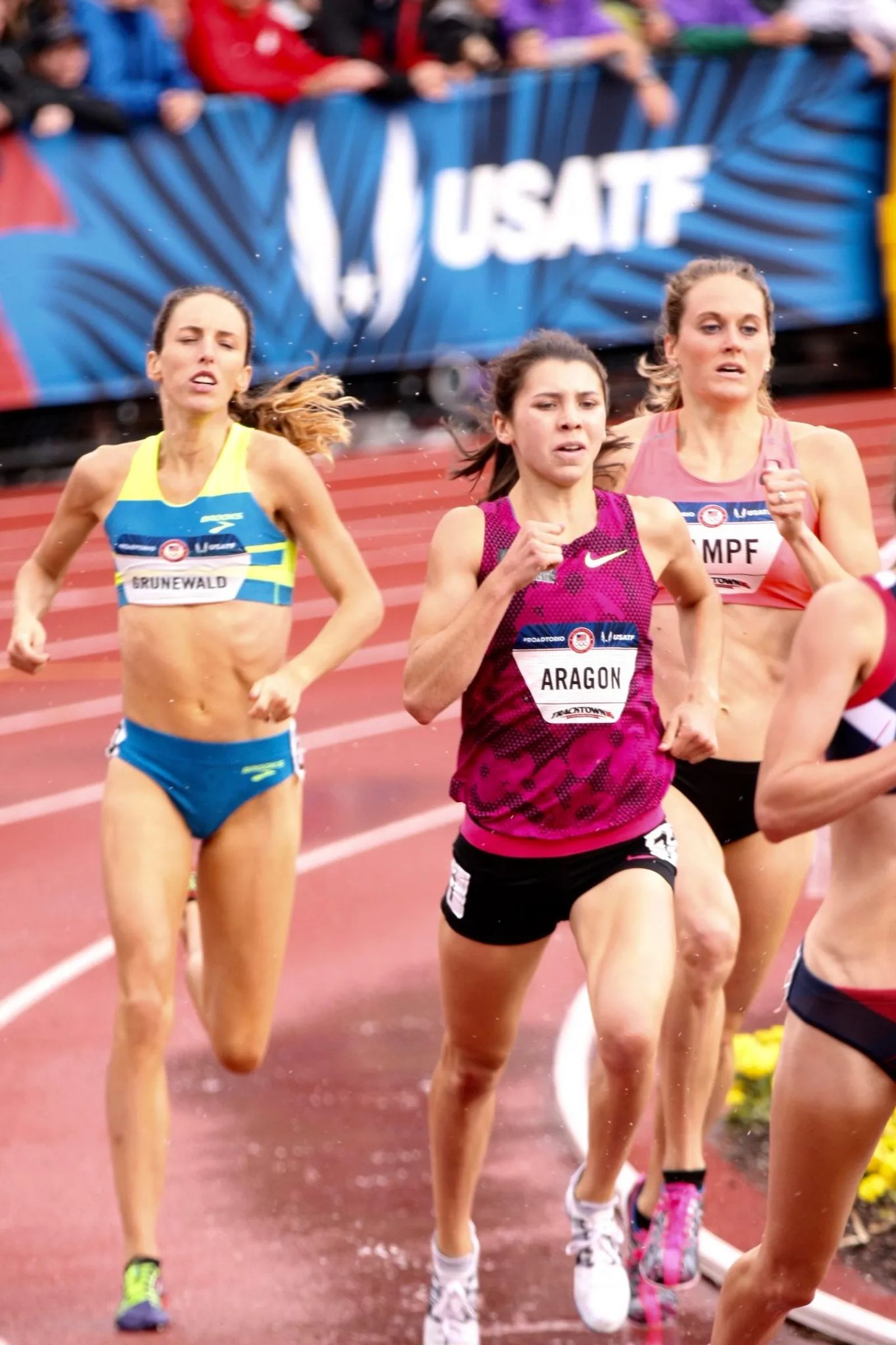 "To have that experience running the Olympic Trials? I am just lucky to have that," Christina says reflectively. Hard work got her to the Trials in Eugene and she never once took it for granted. She says, "I never thought I would be in the top 30 fastest girls."
As she preps to head to Stanford University this fall on a track scholarship, she closes her high school career in the record books. Not only does she hold the state all-class record in the 800, 1600 and 3200, her Olympic qualifying time at the Portland Track Festival was this year's fastest among the nation's high schoolers and the third fastest in all of prep history.  Three minutes and 13 seconds into her qualifying race, the commentator excitedly announces, "Just like that, the high schooler puts five, ten, fifteen meters on the field… we are about to see something remarkable!" Sports writers would later say that Christina didn't just win this race against collegiate athletes and professional runners, she left her competition in the dust, finishing her heat more than three seconds faster than the second runner to cross the line.
"I have been involved with her in track for four years and each time, nothing surprises me," her Senior High Track Coach Don Blankenship says with a chuckle. "Maybe the first couple years I was in awe and I would say man, that is unbelievable but there is nothing that surprises me anymore." That's why Blankenship made the trek to watch Christina in Eugene. It was the first time any of the athletes in his 14 year career as coach made it to the Olympic Trials. He wasn't about to miss it. "I am tickled to death. It has brought tears to my eyes to see someone work that hard and what's nice to see is that it is paying off!"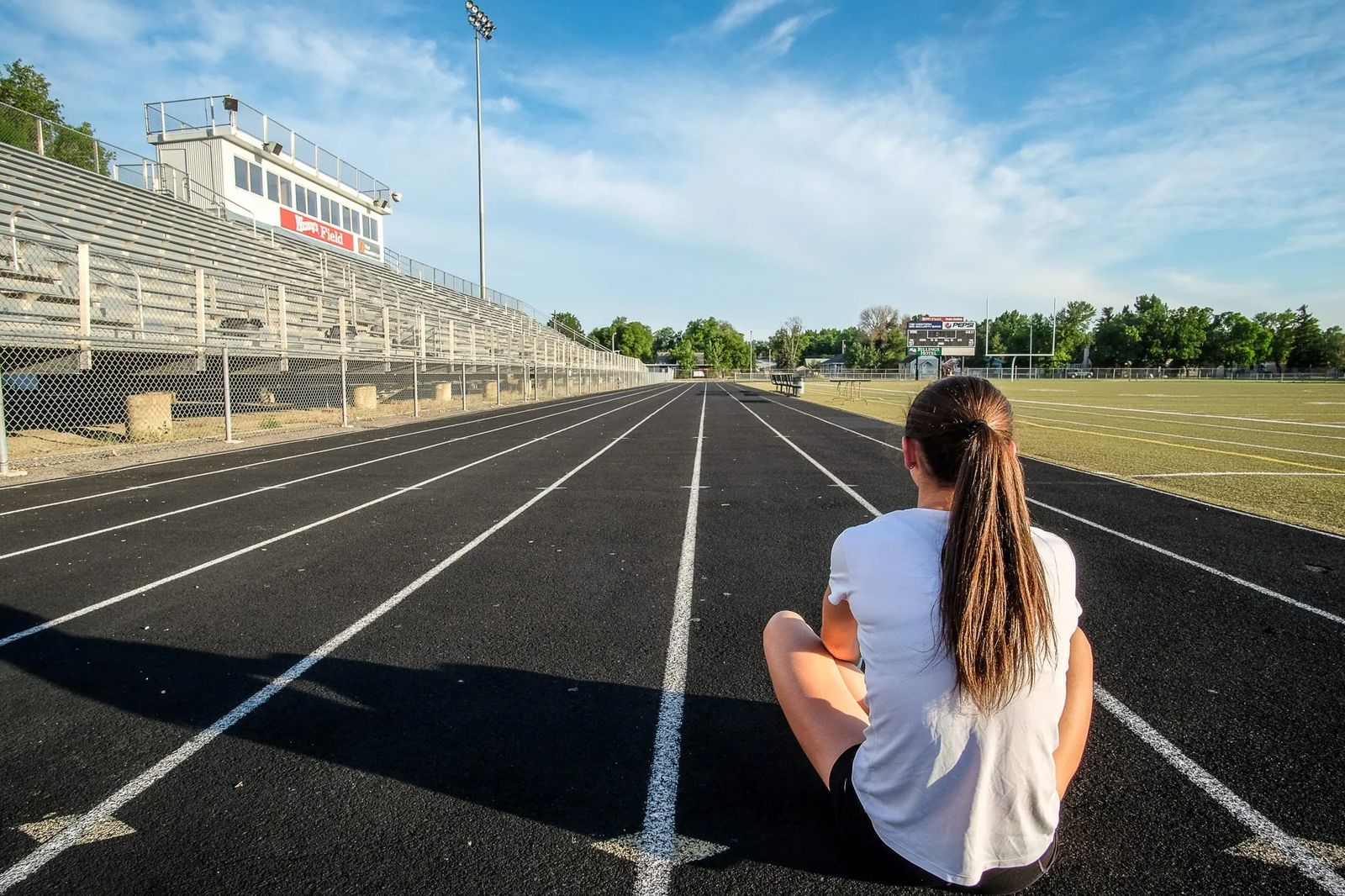 If the old saying that champions are made in practice holds true, by all accounts, 19-year-old Christina Aragon is a champion. She sets the pace of training and aside from hitting the track almost every day, she also packs at least two, sometimes three hours of work in on the gymnastics floor as well.
"She has got really good instincts for a 19-year-old kid," her mother Kathy says with pride. "I think a lot of it comes from just who she is and the discipline that she applies to herself no matter what she is doing, whether it is gymnastics or running or schoolwork. She's not impulsive and that's going to help her." Kathy adds, "She had made the goal that she wanted to be a level 10 gymnast by the time she graduated high school." Her mom adds she achieved that goal. She was a National Honor Society student as well. "She has high expectations for herself," her dad says, "and she strives for things that are lofty. That's just been her since she has been a young child."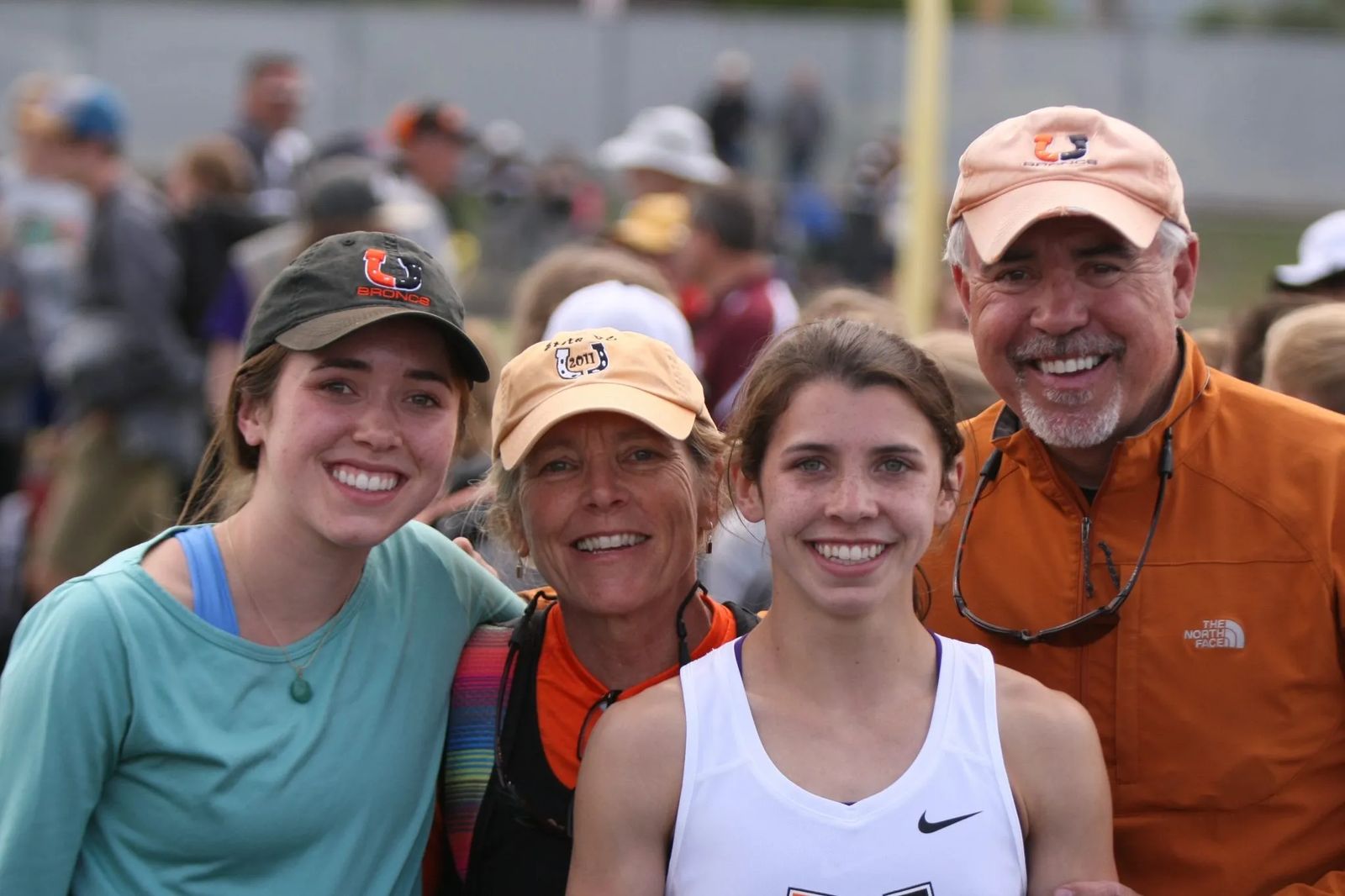 Sitting down and talking to Christina, her humility hits you almost immediately. She has a sweet and gentle quality about her. She's driven, but isn't overly confident. When you ask her about her goals, she doesn't ramble off times or races she wants to conquer or fellow competitors she wants to beat, her answer is always the same, "I would like to run professionally one day, but I really just want to take it one year at a time and try to improve from the year before." Her past times and past races are her litmus test for improvement. Chuck says that for Christina, "It's not about beating your competitor, it is about getting better and if, by chance, you win then that thrills her as well."
Maybe it's being the baby of the family with a handful of role models ahead of her paving the way. Her father was the first Notre Dame runner to break the four-minute mile barrier. He represented the U.S. in the 1983 Pan American Games and hit the Olympic Trials in 1984. Christina's mom went to the trials three times in her running career. Christina's two sisters — Alexa and Danielle — both ran track at Senior High before moving on to run for Notre Dame.
There were more than a few times when running was the dominant topic at the dinner table.
"I would hear my parents telling my sisters about how to learn from their mistakes. I would be sitting there eating dinner," and, she says, soaking it all in. She remembers her mom saying, "You have to go, find a spot and sit there for a while. You are going to have a lot more trouble if you are bouncing around in that first 800. Find your spot, and relax there until it is time to make your move." She started to wear a watch so she would know when she had to kick it into gear. "Make sure you pay attention to what time you are going through each lap. You want to go as even as you can. There are all these little things that I knew as a 6th or 7th grader because at dinner my parents would be talking to my sisters about it all and I would just be listening."
She'd watch her sisters' meets and see how they put their parent's advice into action. "When my oldest sister was first running, we didn't even know that a five flat mile was something that was even possible and she got really close. Then, you tell yourself, 'Oh wow, maybe I could run a five flat mile someday!'" Just this year, Christina broke her sister Danielle's all class record in the 800, shaving off three seconds and landing a 2:05. It was a moment that launched a standing ovation at last spring's state track meet. She says, "If Dani can do it, why can't I? That's kind of how it has always gone. My sisters showed me what was possible and you can have confidence in yourself just knowing that someone else that is so much like you has been able to do it too." She's come a long way from the days when she loved to run the Montana Women's Run simply to enjoy the cinnamon roll at the end of the race.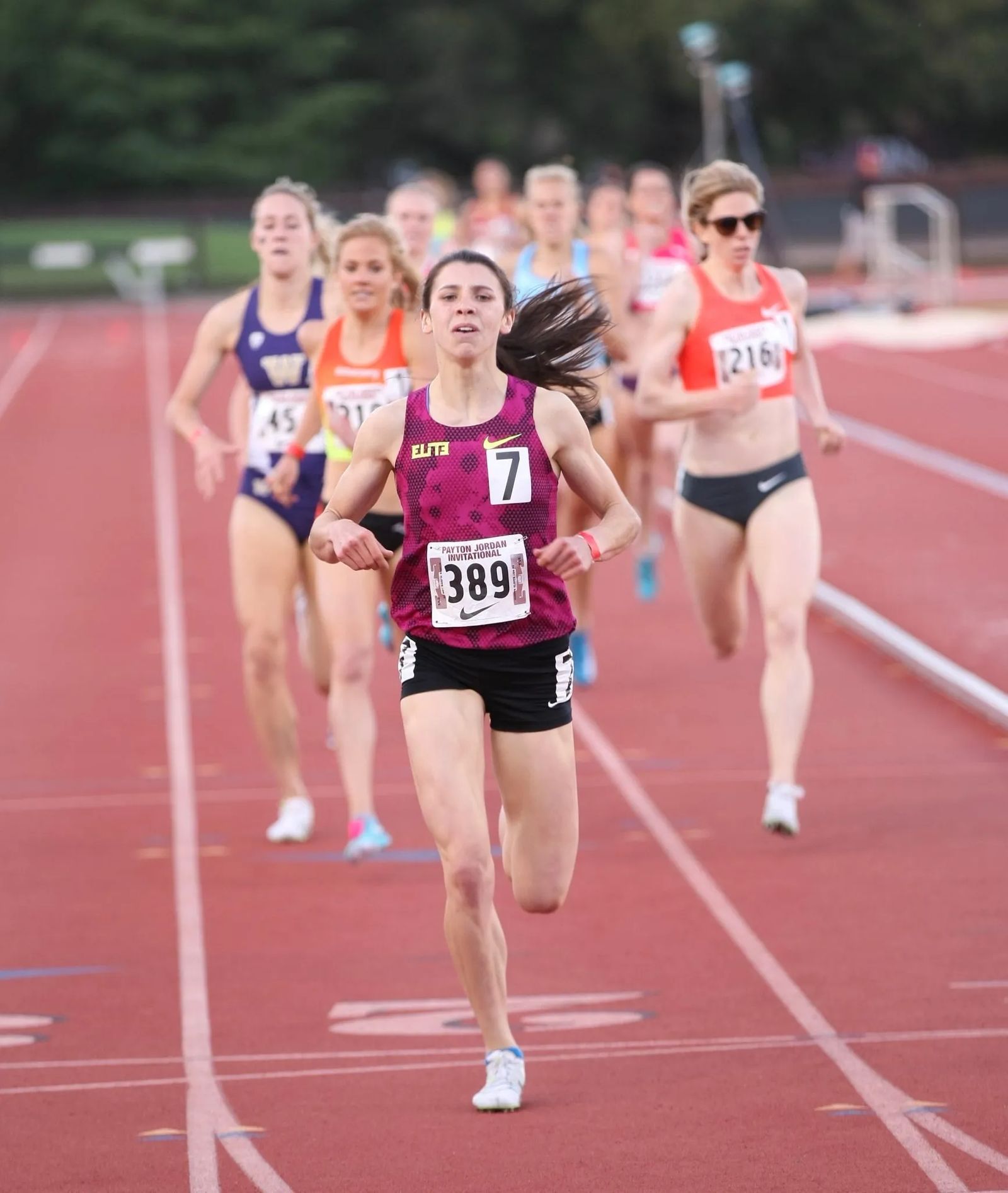 When Coach Blankenship talks about Christina's growth, he often talks about her extra gear. Watch any of Christina's past races and you'll see, when she closes in on the finish line, her afterburners kick into play.
"I have always said that 'Teeny' has a sixth gear that no one else has," Coach Blankenship says. "I don't know of any girl, or at least any high school girl who can stay with her in the last 100 meters. She has another gear. She really kicks it in and does what she needs to do to pull out the victory." Her father couldn't agree more when it comes to his daughter's speed, mental toughness, and sheer gut-wrenching will. "She definitely has an uncanny ability to accelerate.  It makes every race exciting because you know that she is never out of it!"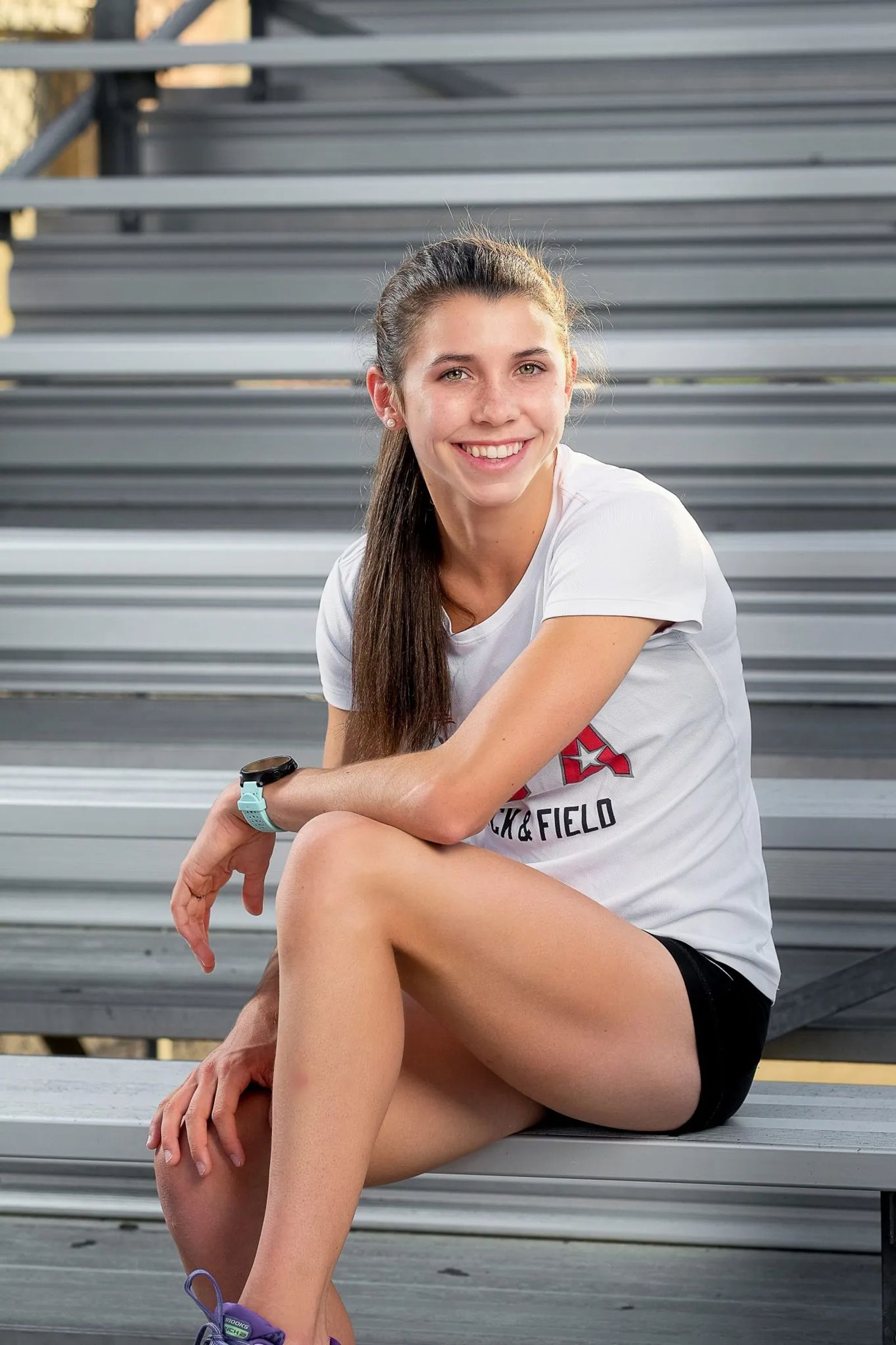 In the days and weeks after the trials, Christina admitted that a little bit of downtime was in her plans. While she knows that she put everything she had out on the track in Oregon, she feels her chances are good for a redo. "I hope that maybe one day I will be in a position that qualifying will be more of a possibility." Her father says, "I already told her to take a big drink of this experience and maybe we will come back in four years." His biggest advice before the Trials? "Go out there, have fun and find out what's inside you."
It's a piece of advice Christina most definitely took to heart.
"Unless you are at the end of your running career, you never want to say, this is what everything has come to. If you feel like you've accomplished everything you need to, what do you have to look forward to?"  Her high school coach knows that for Christina Aragon, the story isn't even close to being over for her. They've talked about the growth she can look forward to at Stanford. And then, of course, there's always the goal of making it back to the trials in 2020. As his voice rises in excitement, he says he knows her last appearance at the Trials could very likely just be the beginning, not the end. "You never know! You never know. I will tell you, if anyone out there deserves it, she does. More power to her! I will back her 100%."
Editor's Note: At the time of press, news broke sharing another one of Christina Aragon's amazing track accomplishments. The 19-year-old took home the bronze medal in the 1,500-meter finals in the International Association of Athletics Federations World Junior Championships in Bydgoszcz, Poland. In addition to the third place finish, she came away with a new personal best, crossing the finish line in 4:08.71. In August, Christina was voted MilesSplit Track and Field Athlete of the Year beating out dozens of athletes from all over the nation.
WATCH ARAGON'S OLYMPIC QUALIFYING RACE
 
Payton Jordan Invitational, Palo Alto Ca. May 2, 2016