Cover Story: Marilyn Floberg
Celebrating home & giving back to her community

When Marilyn Floberg arrived by train with her two young children at the Billings Depot in 1960, she remembers looking out the window at the breathtaking Rimrocks and stepping out the doors to one of those mild January days that Billings seems to experience fairly regularly.
"I just fell in love with Billings right then and there," Marilyn remembers. "I had the feeling that this is a great and promising place."
On the street she was greeted with neighborly hellos, and everyone she encountered was kind and helpful. She knew in her heart that she was home. As for the promise that Billings held, Marilyn went on to help fulfill that promise with a lifetime of community service.
She and her husband Don are partners in Berkshire Hathaway HomeServices Floberg Real Estate, a company Don started in 1959. Although both are retired, they still have an office there that they share. Marilyn goes into the office weekly to deliver up-to-date market analysis, which she presents at Tuesday morning staff meetings. She also offers her mathematics expertise to provide an extended market analysis and projections at the company's monthly meeting.
It's a small duty in the big picture of one of Billings' largest real estate companies, but at 86, Marilyn is stepping back, and lately, she's had time to reflect on the numerous boards on which she's served, as well as the fundraising, passion projects and behind-the-scenes giving she's been privileged to do.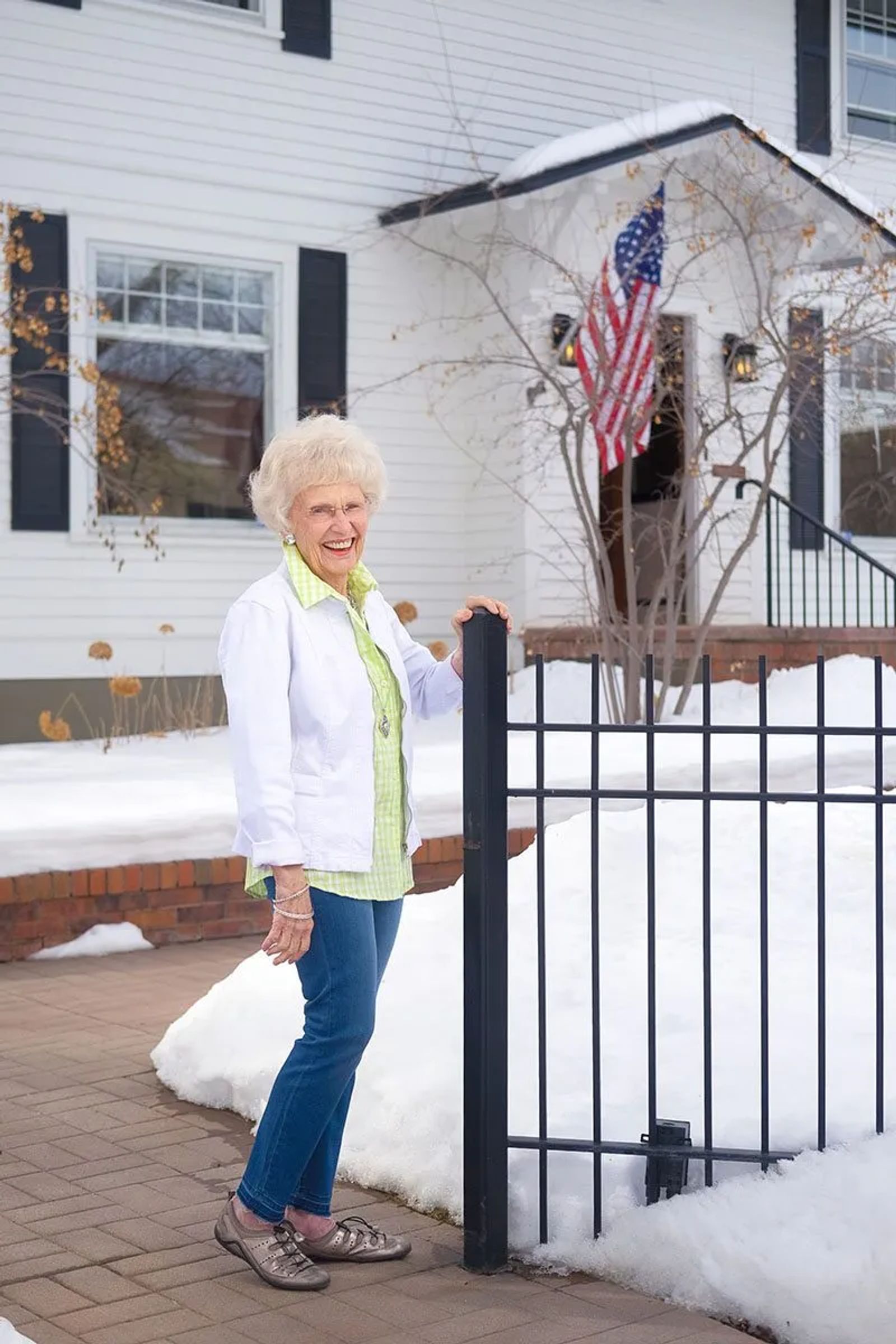 Location, location, location
Don Floberg moved to Billings in 1959 from Seattle. He too, instantly fell in love with Billings and its warm, sunny days. He met Marilyn in 1967 when she purchased her first and only home in downtown Billings. She used an agent from Floberg Real Estate to purchase the house and Don was at the closing.
"The house looked to me like a big white box, and Don said, 'You know what would pep that house up? Some shutters.' And we put up the shutters and it just transformed that house."
A whirlwind romance ensued, and they were married a year later, making their home in the big white house on the corner of 10th Avenue and North 30th Street in the healthcare corridor. Between the two of them, they raised a blended family of six children and lived there for more than 40 years.
"It was the perfect location," Marilyn says. "We had a long and happy life at that house."
In 2013, Marilyn and Don donated the house to Billings Clinic. The house continues to be the perfect location for board meetings, staff retreats and special functions as well as office space for Billings Clinic Foundation on the second story. To this day, the house is still white with those stately black shutters.
"Their house has been such an amazing gift to the clinic," says Jim Duncan, president of the Billings Clinic Foundation. "We are using it every day of the week all year long. It's on our campus, but when you're in this house, you feel like you're someplace special."
Although proximity to the Billings Clinic may have been one reason Marilyn and Don gave their home to the clinic, there was another, more meaningful reason to donate the house they'd called home for so many years.
Marilyn knew the challenges Billings Clinic faced in its expansion and mission to be a leading, regional healthcare provider. She served on the board for many years in the 1980s and 90s and was the board's first female chair.
"Marilyn has a way of understanding that when things become challenging that it's not the end of the world. It just means we need to work harder for solutions," Duncan says. "She's focused, sharp and very wise."
From teacher to publisher
Back when Marilyn was first setting out, women had limited career tracks. They could choose to be a nurse, a homemaker, a teacher or a secretary. Marilyn chose teaching, and upon arrival in Billings, she taught math in the Billings Catholic Schools, and later at MSU-Billings.
When Don and Marilyn were married, Marilyn had the opportunity to leave work, and be home for their children. She says she quickly regretted quitting the job she loved when she realized the kids, who were older now, were in school all day and Don was at the office.
"I know Don noticed I was getting a little depressed," she says.
At about the same time, the state of Montana's Board of Realty Regulation was having trouble licensing agents because students weren't able to pass the real estate licensing exam, especially the math section. To remedy the situation, the agency decided to start a school and teach future agents what they needed to know to earn licensure.
Don called them and said, "I've got a math teacher for you!"
The classes were held over the course of a week once a month in Helena. Marilyn would travel there to teach, but since the class was new, it didn't have a textbook. Undaunted, Marilyn went to work writing one on her IBM Selectric Typewriter, armed with a ribbon of white-out tape. It was a massive undertaking. When she was finished, she had the book printed at a local print shop.
"In real estate, it's all word problems, so the book is basically how to make word problems easy," Marilyn shares.
Back then, prices of the homes used for examples in the book were around $20,000. Today, the prices have gone up, but the calculations she included in her book still apply.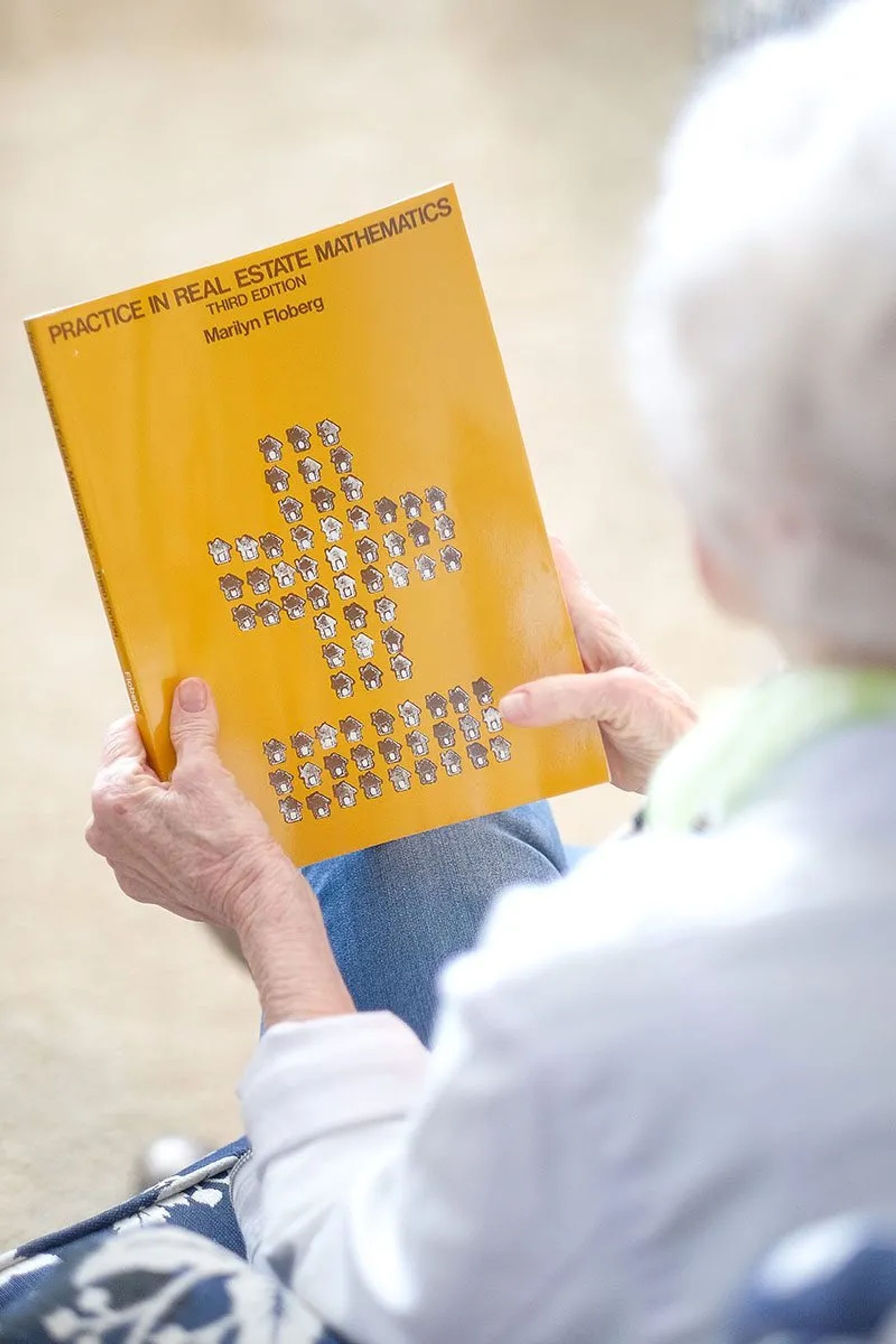 The book caught on in her classes, and beyond. A year later, her book was being requested for use in other real estate classes across the nation. Marilyn hastily launched Hunter Publishing, chosen because it was her maiden name. At first it seemed like a good side opportunity, but every day she and Don would come home to stacks of mailed requests for the book. All the printing was done locally, and Marilyn and Don handled all the orders and shipping. She was taking calls at all hours, answering their home phone with "Hunter Publishing!"
"It was bigger than we could handle," she remembers, "and we couldn't keep up with the orders."
Eventually a textbook publisher contacted them about taking over. Relieved, Marilyn gladly passed on her duties as publisher, but continued for many years to receive a nice royalty check.
"That's how I got into real estate, through the back door, teaching math," she says.
The Golden Rule
In the years that followed, Marilyn went to work for Floberg Real Estate. She handled marketing and training, and eventually earned her broker's license, though she preferred to work in a support capacity rather than selling. Together, Don and Marilyn built the business up to 60 employees, and three years ago, they were inducted into the Montana Business Hall of Fame at MSU Billings College of Business.
Don and Marilyn based their approach to business on the Golden Rule. Don still carries a small white marble inscribed with "do unto others as you'd have them do unto you."
It is with a feeling of reciprocity — the Golden Rule — in mind that the Flobergs have given countless hours and dollars to local causes.
"This community has been good to us," Marilyn says.
In 1999, they started the Playhouse Parade, a fundraiser that benefits seven local organizations that serve at-risk kids. Since it started, it's raised more than $500,000.
Fifteen years ago, while having lunch with his granddaughter at the Happy Diner, Don was inspired to provide laminated maps of the United States to all the children in the first grade in Billings. Later, he added Montana maps for all fourth-graders. The maps are printed and laminated locally, and the children get to keep them. Not one to think small, Don decided that with the help of some sponsors, he could cover first- and fourth-grade classrooms for the entire state, and he did.
Today, it's the last philanthropic project the Flobergs still manage. They find sponsors, have the maps designed and printed and mail them to schools statewide. The couple is flooded with handmade thank you cards for months after the school year starts. Beginning next year, they'll hand over the project to Stockman Bank, one of their longtime sponsors.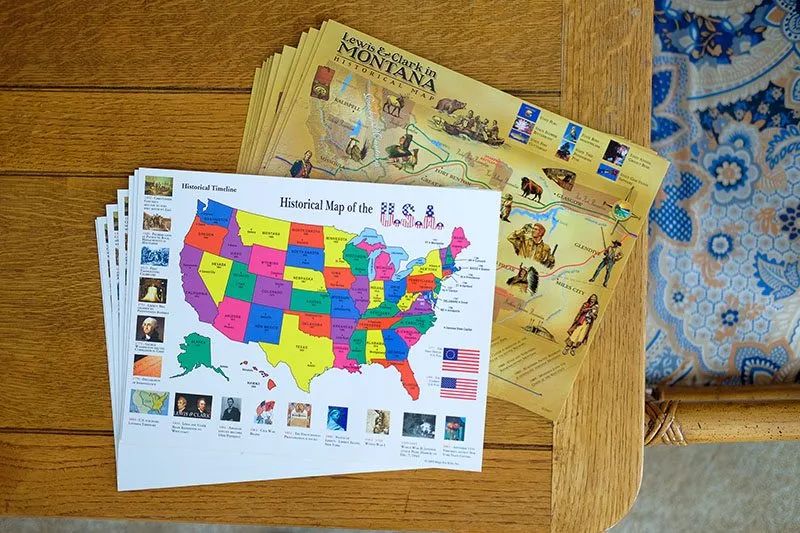 A better Billings
The Billings Clinic board was not the only board Marilyn served on. She served on the Billings Chamber of Commerce board in the late '80s and early '90s, when the economy was down and Billings was struggling. Again, she was the first woman to lead the board.
"Everything was down, wheat, oil, everything, and interest rates were up – like 18 percent. It was a difficult time, and tough for everyone," she says. "The challenge was to keep up our efforts and remember that good times will come again."
She also served on and chaired the United Way, the Rotary Club of Billings, and the MSU Billings Foundation boards. Marilyn co-chaired the Yellowstone Art Museum board at the time they raised funds for and later built the current building.
"Marilyn truly broke the glass ceiling here in Billings," says Karen Frank, senior vice president at Berkshire Hathaway HomeServices Floberg Real Estate. "She probably wasn't even aware of it at the time. She just saw a job that needed to be done. It was never her intent to make a splash."
Though Marilyn was always honored to serve, her board service was never just honorary. She was there to work, Frank says, and as a leader she never asked anyone to do anything she wouldn't do herself.
Looking back on the times she served, Marilyn believes she's done her small part to make Billings better.
"I believe our community should have the finest of everything for the people who live here — arts, culture, schools — everything in every area," she says.
Marilyn served only on boards whose mission followed her passion, and that's her advice to women who are looking to take up where she left off. Volunteer where your interests lie, she says, and go where you know you can make a difference.
"If you're looking for a fulfilling life," Marilyn says, "there's only one way to do it and that's to get involved."