Cover Story: Yellowjacket to the Core
Krista Montague leads the next generation of athletes
Just a few steps away from the hardwood where Krista Montague played a standout senior year as Power Forward for the Yellowjackets, you'll find her working away in her Athletic Director's office. You'd never think that seeing her sit in this space is an historic occasion. She doesn't really like to draw attention to the fact. Humility runs deep in this small town girl from Hysham who loves Montana State University Billings with every fiber of her being. But the truth is, when the university hired Krista as the university's next athletic director in May of 2013, it was a first. Krista Montague became the first female athletic director in the history of all of Montana's NCAA institutions.
"I am very proud that I was the right fit at the right time for my alma mater," Krista says, "but I am disheartened that we are still saying things like that – first female to do this or first minority to do that. It is certainly a point of pride, but I think more than that, I just hope I am not the last." Krista will be the first to tell you that she feels more pride knowing she can pay it forward with the university that helped to mold and shape her. She says, "I have been given an incredible opportunity to give back to the institution that gave me so much."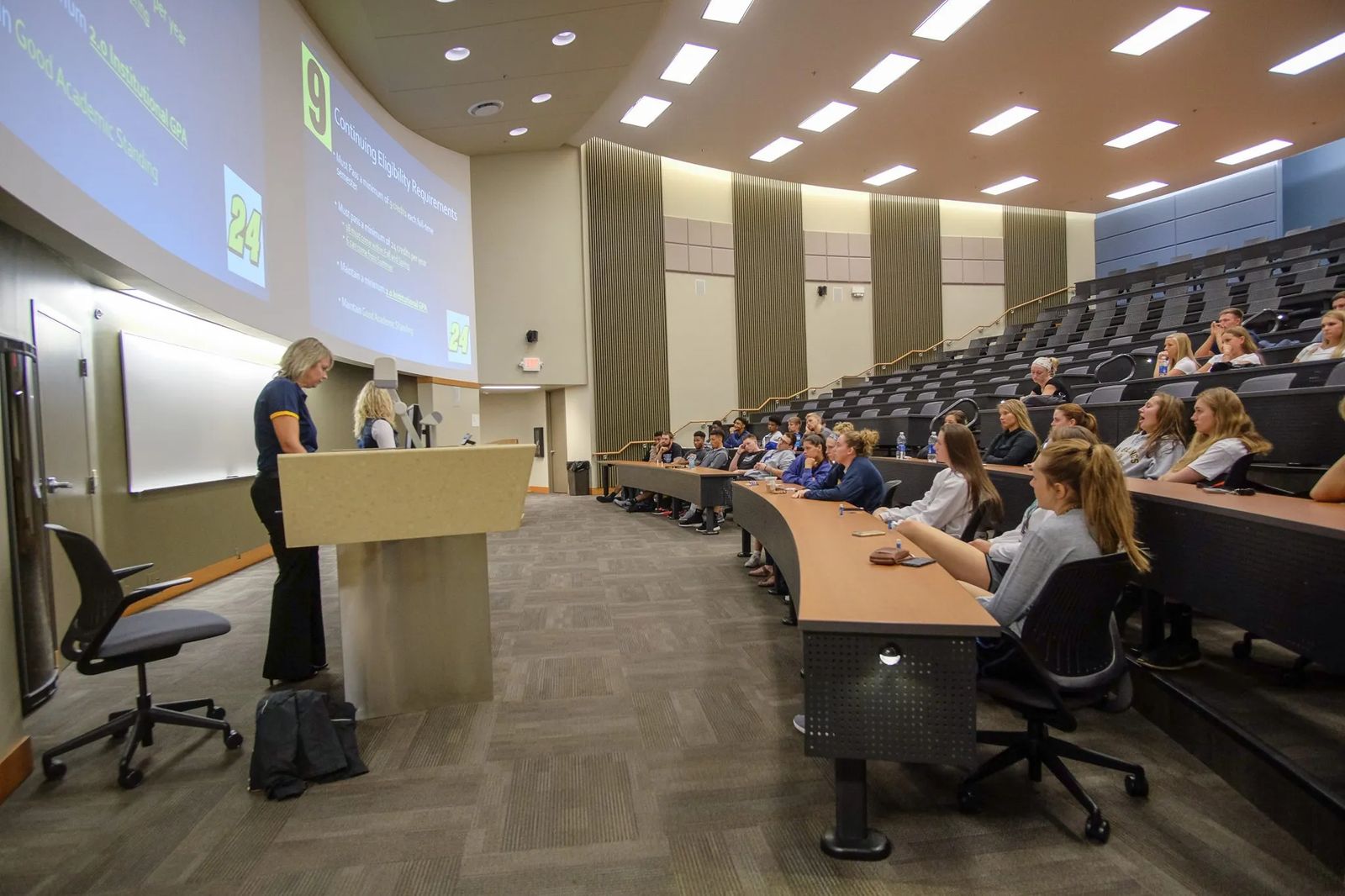 When Krista first stepped foot on campus back in the fall of 1995, it wasn't a completely new environment to her. After all, she's the fourth generation to seek out higher education here. Her great-grandfather was on the very first men's basketball team in 1927. Her grandfather chose the university when, at the age of 40, he decided to earn his degree after spending 20 years farming. "He had Shorty Alterowitz for a professor," Krista says with a smile. And, when it comes to her parents, it was a love connection made right on what was then called the Eastern Montana College campus. She says, "My dad is a Fort Benton boy and my mom was a Hysham girl and they were in the residence halls here together in the fall of 1971. That's how they met."
When Krista started to think about college as a high school senior, it was only natural that MSU Billings would be in the running as an option. "It was a huge goal of mine to play college basketball." After talking to a handful of schools, then Yellowjacket Women's Basketball Coach Frank McCarthy sealed the deal for her.
"I get goosebumps just talking about it. I still remember the way he made me feel about MSUB and the women's basketball program," Krista says. "I remember him telling me, 'We want you at MSUB. You can help us at MSUB.' Looking back, I think he knew I was going to be a work in progress because I didn't play right away. But, he never made me feel like I wasn't part of that team, even when I wasn't playing. I always knew my role." Hard work took her off the bench and by the time Krista was a senior, she was one of five starters who would lead the Yellowjackets to the NCAA's Division II Elite 8.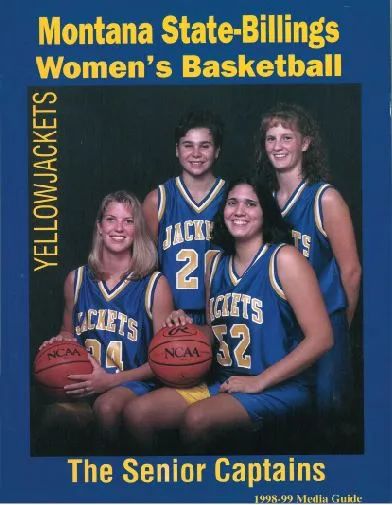 "That team in 1999, I don't think we had necessarily more talent than some of the teams that we had to play, but we just had a chemistry. We all accepted our roles very well that year and that is just crucial for any successful team." Krista would go down in history as one of the university's most accurate shooters. She had a record breaking free throw percentage (91%) and was seen as a player whose consistency you could bank on. She has no idea where she'd be today if Frank McCarthy never took a chance on her.
Those at MSU Billings are thankful he did.
"She is a tremendous ambassador for us," Dr. Mark Nook, Chancellor of Montana State University Billings says. "She is a person of principle and makes decisions based on those principles and she will not violate them, no matter what the circumstances. There's a high degree of integrity because of that."
When Krista took the job, she wasn't a stranger to the athletic department. She started here in 2002 as a part time development and marketing director. She rose the ranks, helping with compliance before taking on the title of Senior Woman Administrator and Assistant Athletic Director. At the time, the Athletic Director wasn't a part of the Chancellor's decision making cabinet. Today, however, Krista has a seat at the table and is helping to drive the future of the university. Dr. Nook says adding this hard-working alumna to the team was a no brainer. "She brings a perspective that no one else on the leadership team has," he says. "If our athletics programs are seen as having a great deal of integrity and academic success as well as having athletic success — that will be what people associate with our university. Krista understands that."
Never one to stand in the limelight for long, Krista deflects praise and instead points to the rock solid foundation she had in her family as the reason for her character. "My dad worked hard. He was up early working at the school." After his work day in maintenance and coaching was done, her dad and mom would move to the shop to run their bustling wild game processing business. Krista says, "He would be processing meat all night and into the wee hours of the morning." Her mom held down the fort at the Miller family farm and even helped her dad build the house they still live in today.  When it comes to work ethic, Krista says, "My parents set a really good example for me and my brother."
When Krista Montague's heart goes home, it's to the part of Montana that still has that small town charm and a bit of the flavor left behind from the homesteading days. The people are salt of the earth and the work ethic is driven into every kid raised along the Sarpy Creek in Hysham.
"Sarpy Creek is definitely home for me," Krista says with a peaceful tone. To prove her love, the family dog, a full bred Boxer is appropriately named "Sarpy."
It's also the spot where she cultivated a love for sports. As soon as she was old enough, she'd sit on the bench right alongside her "papa" Bob Miller as he coached the girl's basketball team, the Hysham Bonnies. As young as five years old, she'd ride the bus to the games. She'd sit on the sidelines, watching her grandpa call the plays.
Five-year-old Krista sits on the bench next to her grandfather Bob Miller as he coached the Hysham Bonnies.[/caption]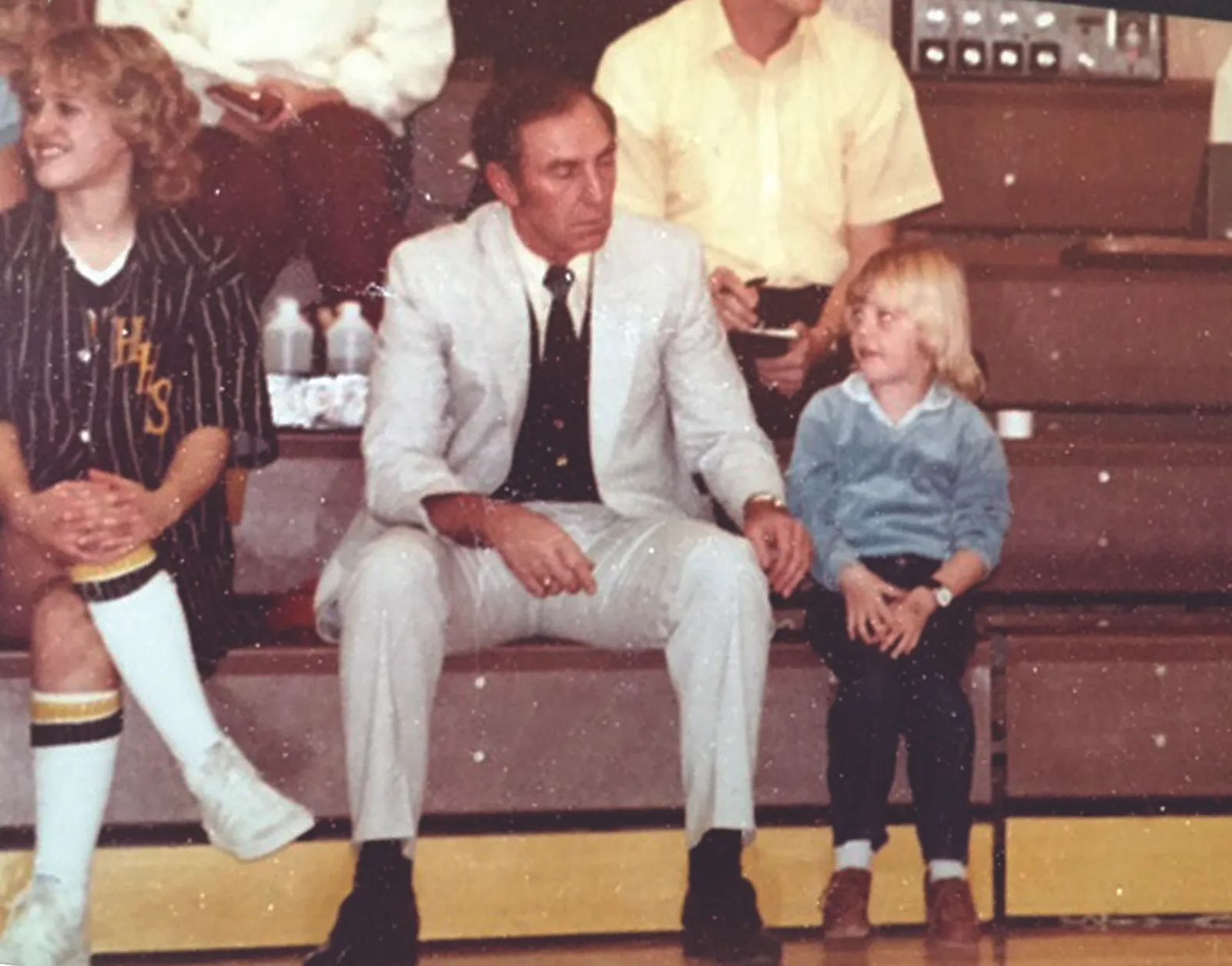 "It definitely helped shaped me for sure," Krista says. "I think just being able to be around those young ladies. I really looked up to them. I think whether my grandpa realized it or not, little eyes were watching." Through the years, she's also come to respect all the time and energy her grandpa invested in girl's basketball. "He was helping shape young women through a sport that gosh, ten years before that they didn't have an opportunity to play. I think that is really a cool thing."
When her grandpa wasn't coaching, Krista says he always had time to play a little one on one with one of his favorite pint-sized players. "The fondest memory of my grandpa would be shooting with him on his concrete slab at his house. He always used to tell me, 'You need to develop your jump shot. You have to have a jump shot.'" Just for the record as a Yellowjacket, Krista would come to be known for her accurate jump shot. While time has marched on, Grandpa Bob Miller hasn't forgotten all of those back yard games. "I could beat her for a while," he shares jokingly. "But pretty soon, she started beating me!"
While there were plenty of lessons on the court, perhaps the most relevant pieces of her grandpa's advice had nothing to do with the game itself. Bob remembers, "I just told her, I said, 'Krista, we never know what is going to happen for sure. You can't foresee the future but whatever you decide to do, give it your best shot and let the chips fall where they may.' That's about all we can do in this life."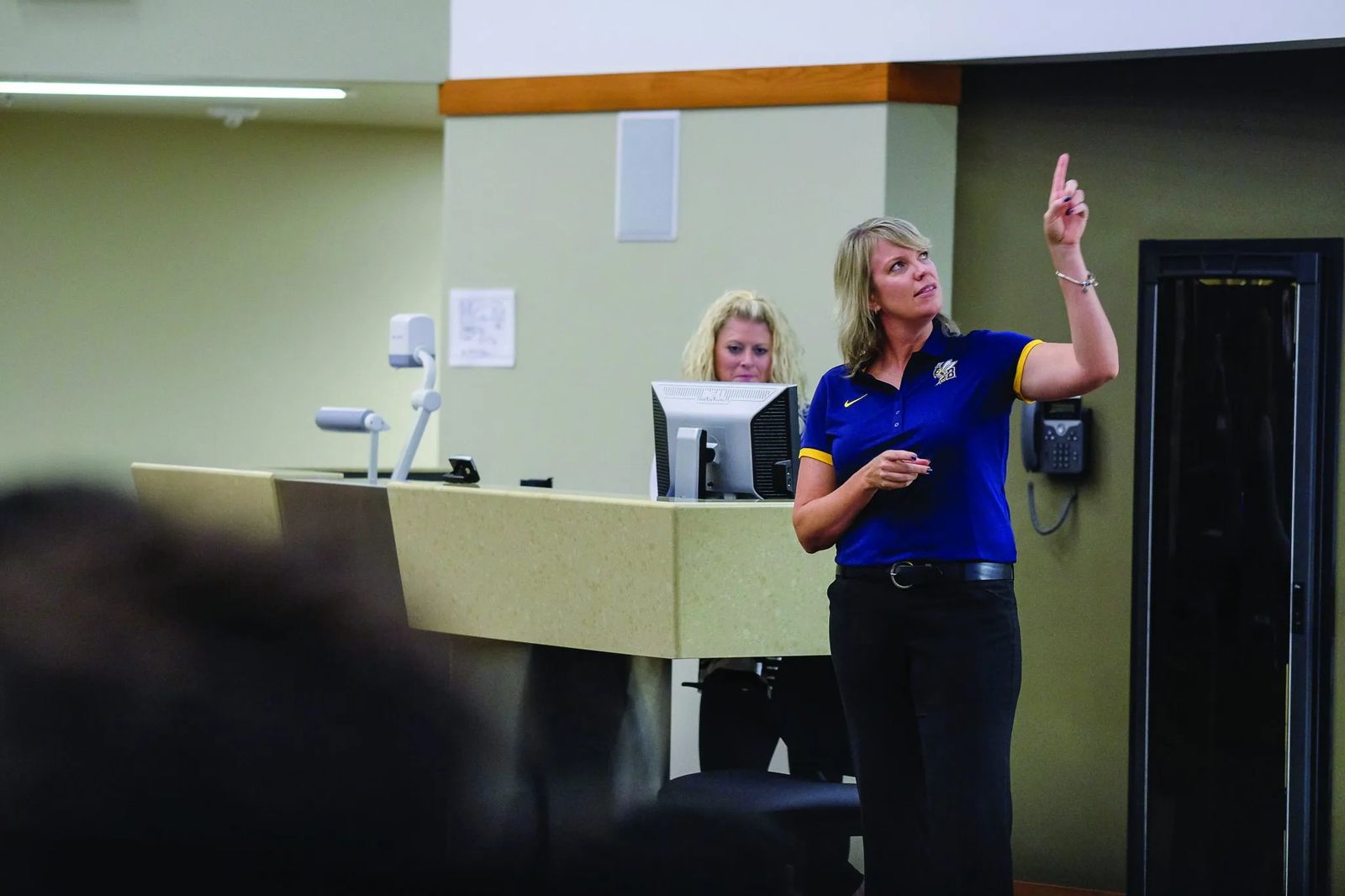 Today, Krista tells the more than 250 student athletes on the 15 different teams to give it their best shot. She and her husband invite every one of the university's athletic teams over for dinner before their individual seasons kick off. "I think it is important for them to see us in a positive way right out of the gate," she says. She wants them to know that she's there for each and every one of them — not only on the court, track or field but off it as well. "I try to emphasize, let's get you to walk across the commencement stage, even if it is a struggle to get there." Today, that focus on academics has led to a 3.1 grade point average for the athletic program's students. More than 20% of the body of student athletes earned academic all-conference honors last year.  Krista underscores the importance of that success by saying, "I don't believe anyone who has earned an advanced degree after high school regrets pushing themselves to get it done."
When Krista talks about Yellowjacket athletes, you can see a deep sense of pride. She loves to share the story of former men's basketball player Emmanuel Johnson, who used the game to escape the homeless shelter where he laid his head most nights in his hometown of San Antonio, Texas. She admires the fact that the 2014 men's soccer team adopted 6-year-old Sebastien Easton as an honorary player. Easton continues to battle non-Hodgkin lymphoma and the team decided this little fan needed to be listed as the 30th player on their roster. Witnessing stories like these and developing those bonds with student athletes, Krista says, "That's really what recharges me."
Since Krista has been at the helm of Montana State University athletics, she's been a major player in making sure the university had home court advantage in championship play, in some cases for the first time in the university's history. In 2014, MSUB ushered in the NCAA Division II Cross Country West Region Championships. Later that year, the university welcomed both the GNAC Basketball and Baseball Championships as well. It meant thousands of people and dozens upon dozens of teams made the trek to the Magic City to watch and compete. "To bring an NCAA event to Billings is quite the accomplishment," Krista says with satisfaction. "Bringing some of those experiences home for a student athlete is a big accomplishment because they travel so much. It's great to have them compete at home for some of these bigger events."
If you ask Krista, however, it's not enough to simply bring more athletes to campus. "I think this campus needs a crane on it! Whether it is for athletics or not, I don't care. I just really want to see some progress with the facilities." If all goes according to plan, Krista will get her wish. The university hired a consulting firm to help come up with an athletic strategic plan, which placed a large focus on the university's athletic facilities. It outlined some major structural changes down the road.
The strategic plan calls to move the university's soccer field within the next three to five years to the campus on the corner of Normal Avenue and Rimrock Road. Dr. Nook hopes the move will not only help with recruiting, but, he says, "It means that we will attract more people on to the university campus to watch games, to be able to hold events on that field besides just our soccer games. That will bring people to the campus and into the community." The administration is also looking within the next ten years at building a fieldhouse with a 200-meter track to host indoor events, offer better training facilities for student athletes and as Dr. Nook says as a result, "to be able to recruit the next caliber of student athletes." It's all exciting news for Krista Montague. "That is going to be a big focus for me for the next few years."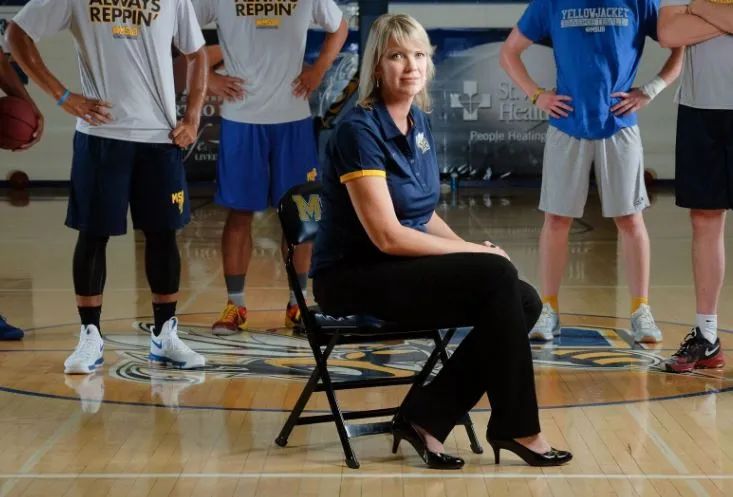 With an eye on development, she'll be the first to admit that she herself is still a work in progress. Just last year, she and her husband Brent, who is the Director of Athletic Development at MSUB, walked across the graduation stage together after both earning master's degrees. His was in education while she received a master's in Public Relations. Fun fact, just like her parents, she too met her husband while living in the dorms.
"I think it is so important to be a life-long learner. It doesn't matter where you are in your career or in life, you can always learn from opportunities that are presented to you," she says today. It's why she gives back, serving with the NCAA Division II Athletic Directors Association Mentoring Program. It's also why she's a member of the National Association of Collegiate Women Athletics Administrators, an organization whose mission is to empower and develop women working in college sports. "I just think it is important to hopefully enlighten somebody to the profession that they are aspiring to do and help them get there." She admits, "No one knows what it is like to be an AD until you sit in this seat and it is a little bit of trial by fire once you get to that position."
Perhaps her biggest mentoring role is aimed closer to home, with her two teenage daughters. She'd love for them to understand that with hard work, anything is possible "You can have a career and be a good mom and a good family member. Early in my career, I wasn't sure. I thought, 'How can I be an athletic director and raise two girls?' I have realized that you can do both. I hope that I can set that example."
On this particular day, Krista's mission was to sort through the applications for candidates for MSUB's next baseball coach. She had to balance that with a media day where athletes invited sports writers and broadcasters to get a glimpse of their upcoming seasons. She knew she wanted to pop in and make an appearance. Of course, there were the NCAA compliance reports she had to sign and some correspondence from coaches she needed to weigh in on. When you oversee a department of 40 people charged with budgeting, compliance, development, sports information, and operations, there's never really a dull moment at this Division II University. She admits she surrounds herself with self-starters to help get the job done and is okay with making mistakes along the way. She knows that at the end of each day, it's about more than just the blue and gold. "Everything I do is out of love for this university. I want to see it get better and better, not just with athletics, but with the entire university."