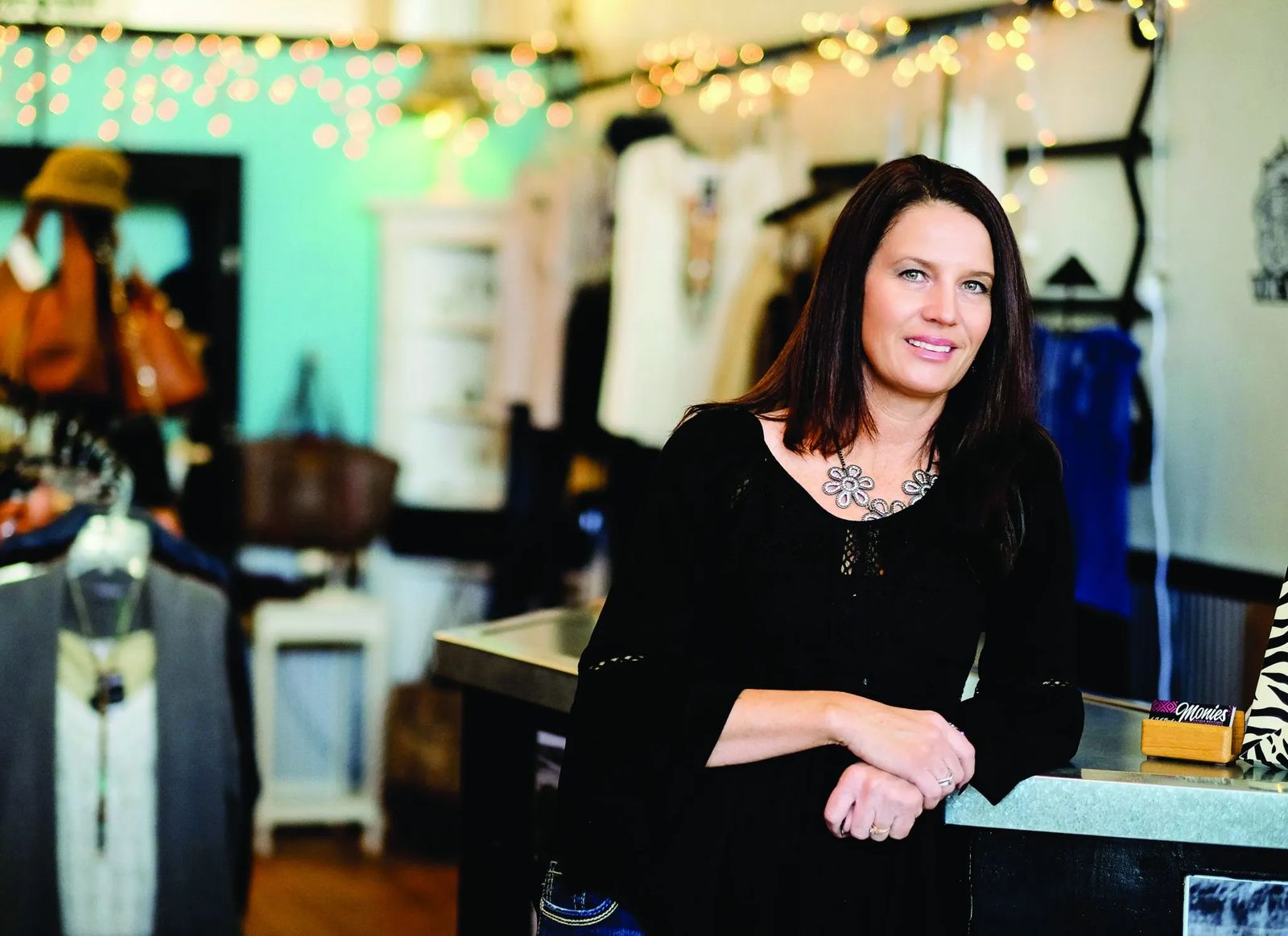 Cowboy Chic at Monie's Unique Boutique
Monie Harrison works to create down home, fashionable charm
When you walk into Monie Harrison's store right off the main drag in Cody, Wyoming, you might not expect to see a crystal adorned watering trough serving as a chandelier in her shop. You might also marvel at the old barley chute stripped of the dirt to help display some of the store's wares. At first glance, you can tell that Monie's Unique Boutique isn't your run of the mill clothing store. It's a snapshot of the West paying homage to both her and her husband Brandon's agricultural roots. It is a two-location enterprise that Monie and her husband Brandon have grown from the ground up.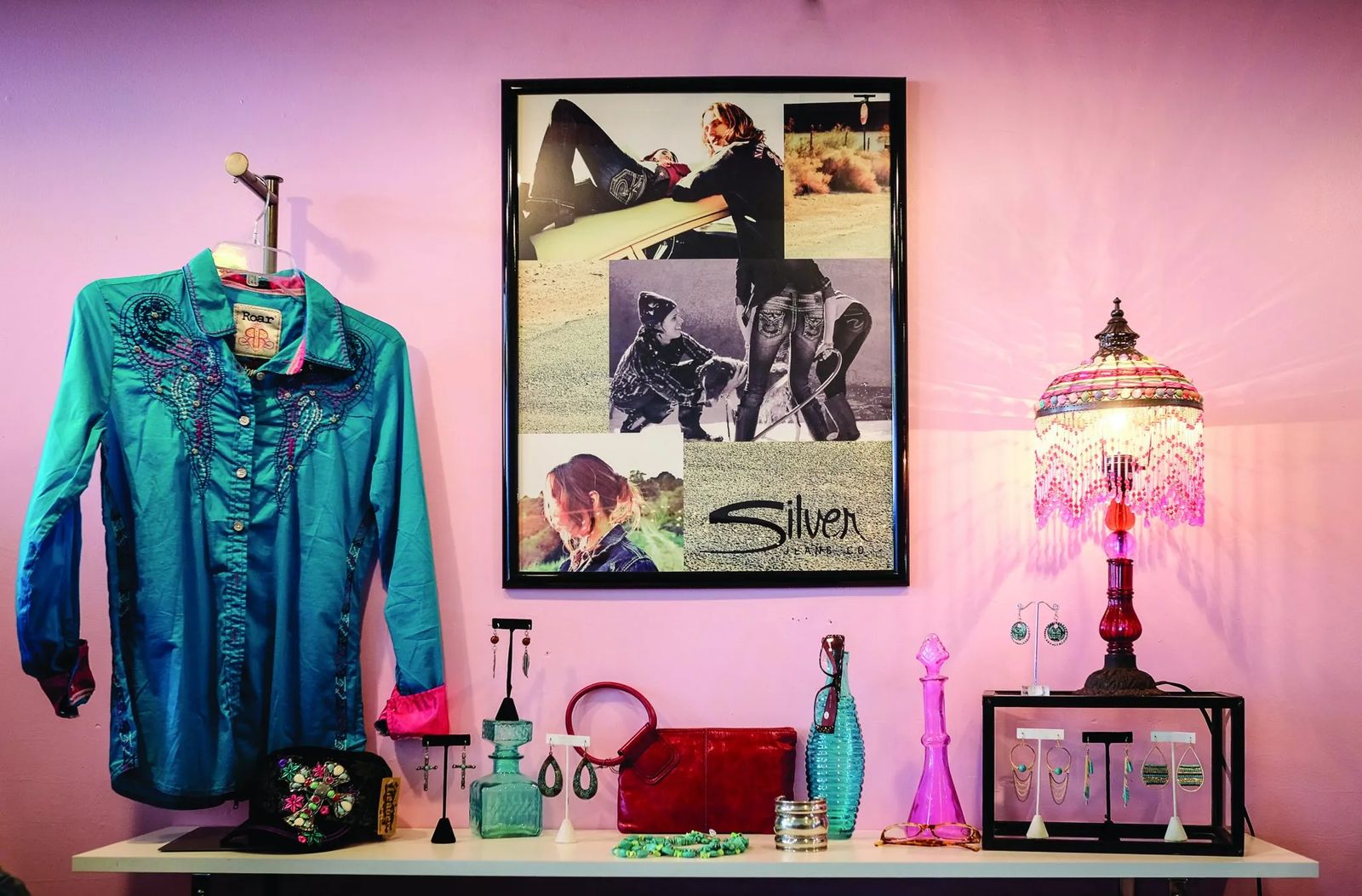 "The two of us work every day," Monie will tell you about the business. "We really don't have a lot of time off." Neither one, however, seems to mind. Woven into this business with its rhinestone encrusted shirts or the easy breezy Bohemian inspired tops, you'll find a heavy dose of sweat equity that the Harrisons have put into both of their boutiques in Cody and Red Lodge.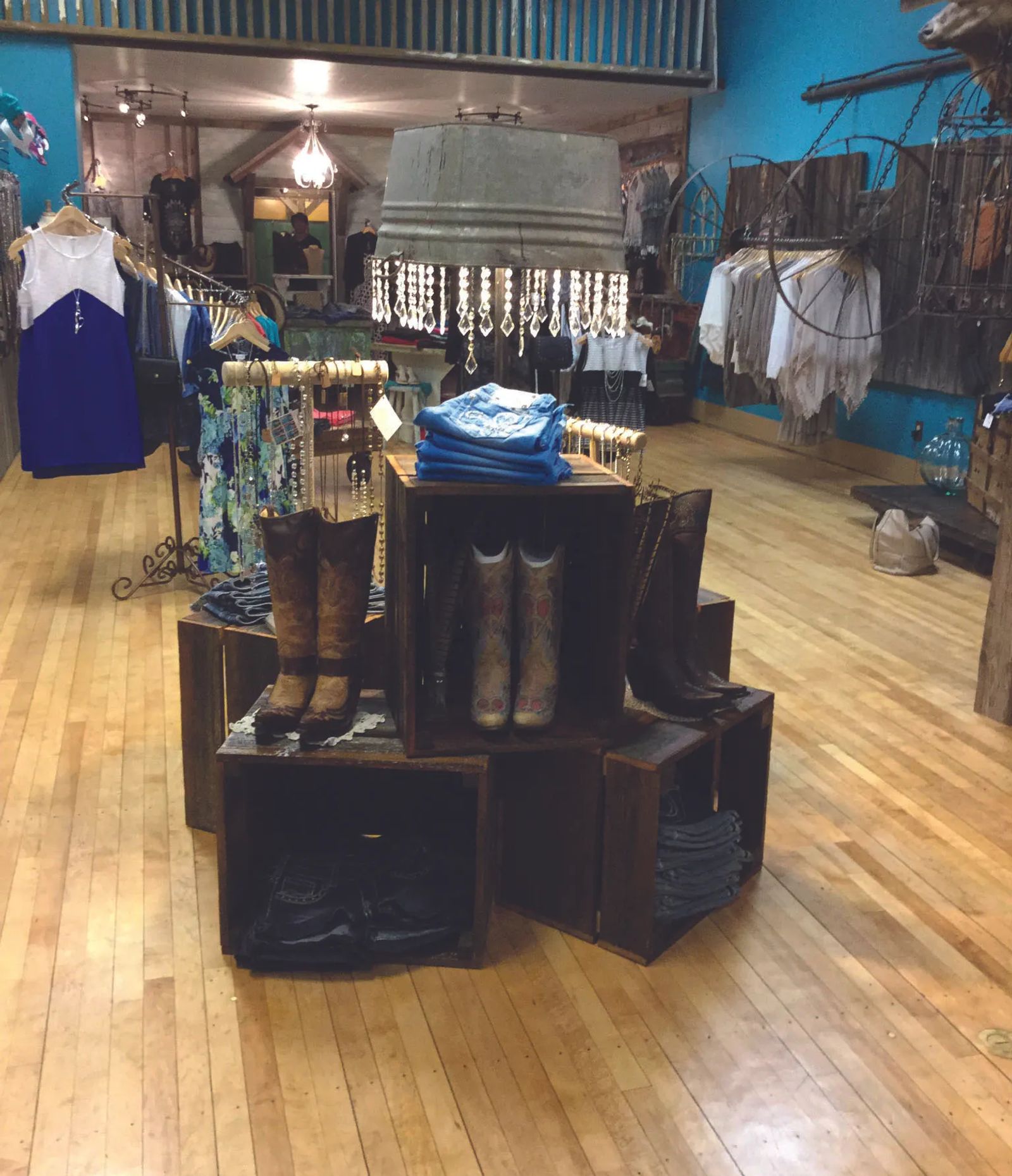 "When we were designing the Cody store, we said that we wanted to make a place where people would say, 'You have to go check out that store!'" To get ready for their grand opening last May, Brandon stripped the floors —tar paper and all — revealing the rustic hardwood floors underneath. He took down some of the walls to expose the building's natural brickwork. The couple's three kids had a hand in it all as well, helping their parents strip floors, and paint walls. "It was just the five of us. We didn't hire anyone!" Monie says and is quick to add, "When you walk into my store in Red Lodge, the pictures of my family are all on the desk. This is why we are here." As she talks about her daughter, 12-year-old Lake, and her two sons, 15-year-old Rig and 20-year-old Bode, she says, "This is our family business."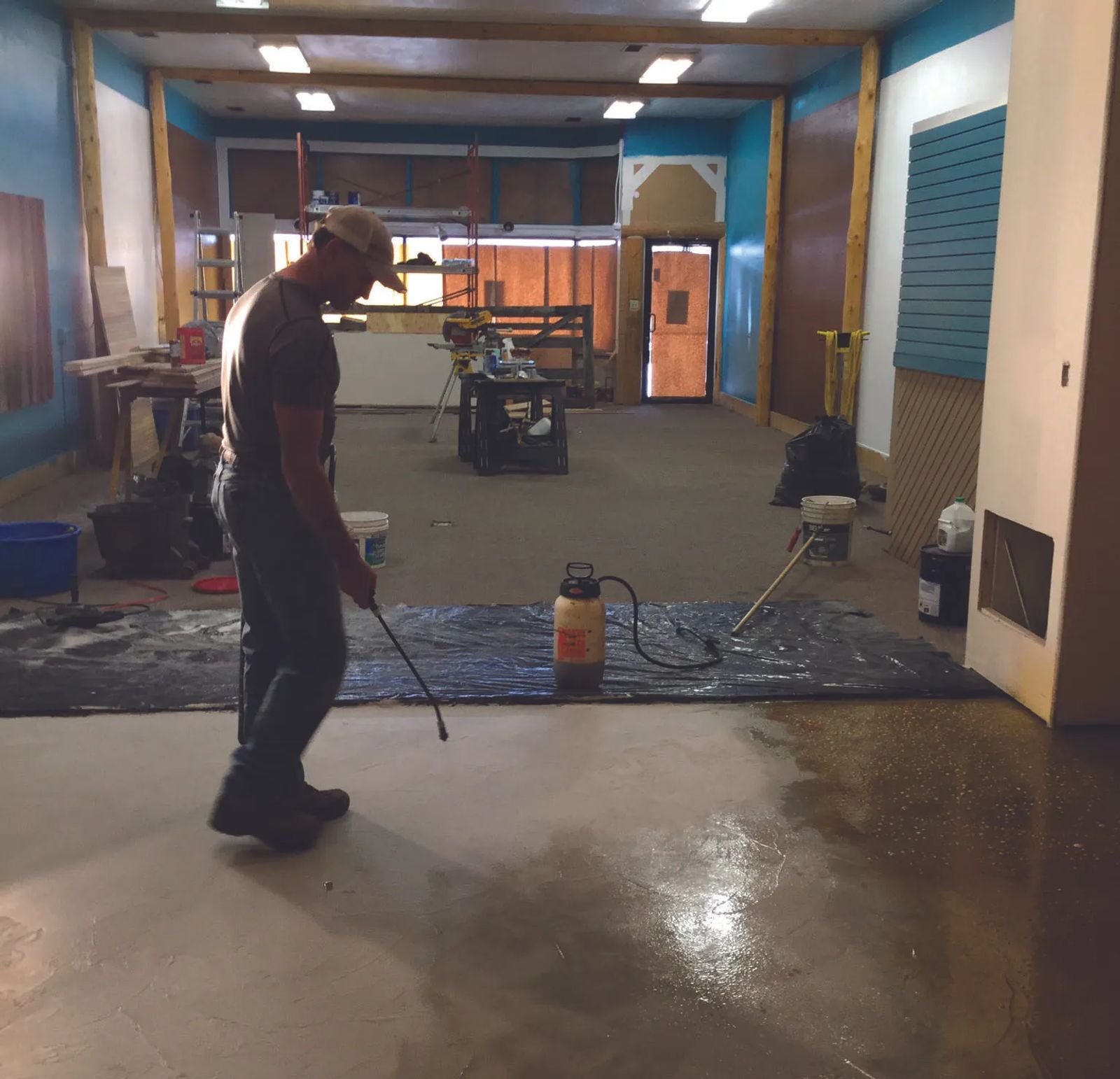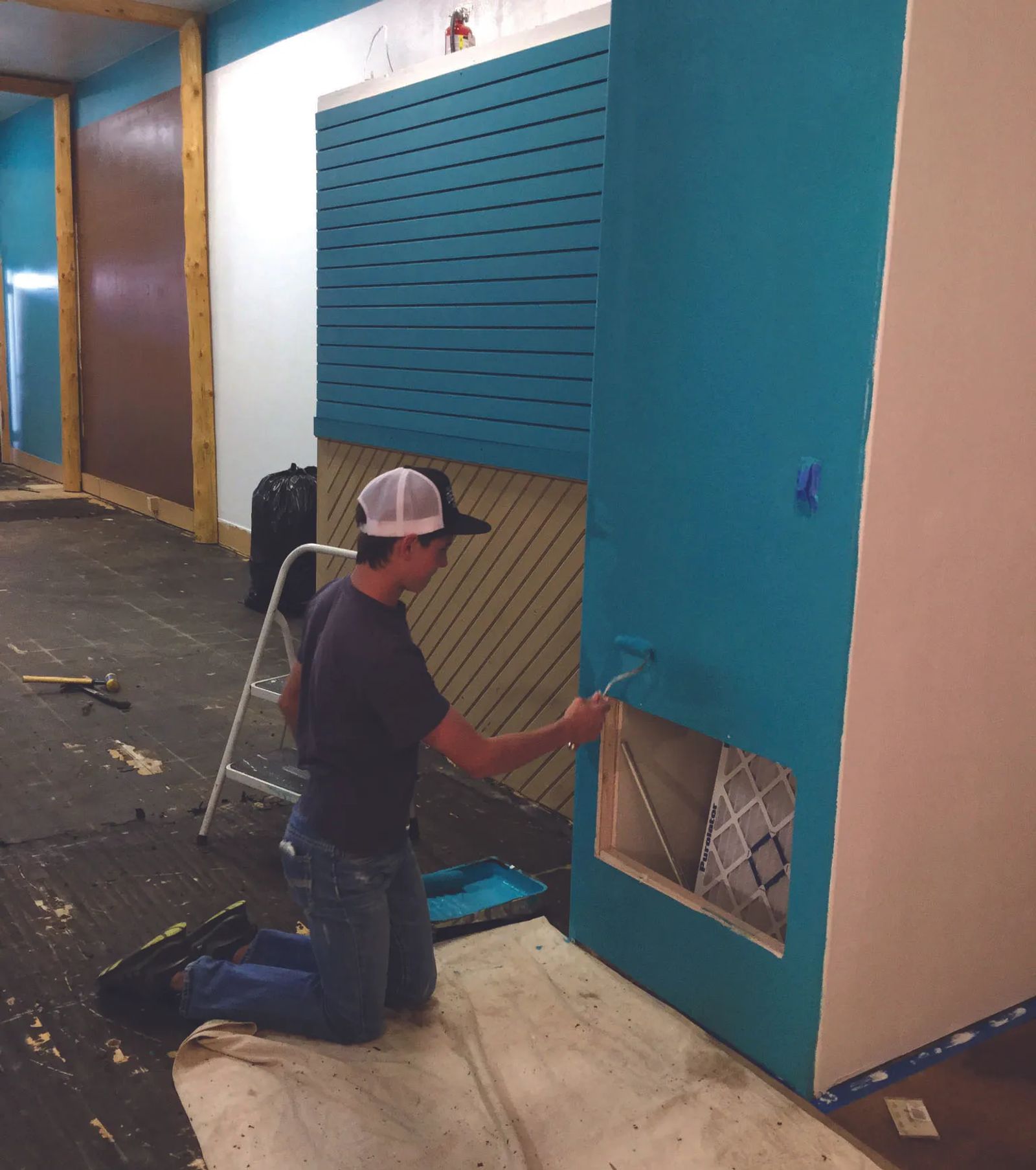 The value of a hard day's work is something both Monie and Brandon were taught at a young age. Both were raised in families where agricultural endeavors paid the bills. Brandon grew up on a registered Angus ranch outside of Boyd. Monie and her three sisters helped their parents ranch and grow hay in Melstone.  And on the weekends, you could find Monie in all parts of Montana and Wyoming playing old time country with Roger Mack and the Sundowners, the family band.
"I was the drummer!" Monie shares excitedly. "I can remember Dad working all day, coming in, showering and then we'd get in the truck and away we go!" Monie, her three older sisters plus their mom and dad would pile into the family's old Ford truck playing small town bars or wedding dances almost every weekend. Charlie Pride and Buck Owens songs were some of the most requested but there was one that Monie remembers quite fondly. "My favorite song was 'Turn Out the Lights, The Party is Over' because I knew we were done!" Monie says with a laugh. "I would always say, 'I think I just heard someone request 'Turn Out the Lights' and my dad would say, 'Good try Monie, no they didn't!'" She got paid $25 a gig or $50 a weekend, something her childhood friends probably envied.
Before she even turned 20, Monie Harrison learned how to put her money to work for her. At 19, she opened her first business, a nail salon. Over the years, she grew the business to include a few extras, selling jewelry from her nail booth to customers. Before long, the idea sprouted for a full-fledged boutique. "I said, I am either going to quit doing nails and start a new career, or I am going to go out on my own and start a little boutique," says Monie, explaining her conversation with her husband back in 2003. "From the very first second I said it, he told me, 'Well I think that's a good idea!' We went and looked at buildings the very next day." Brandon adds, "I had seen that side of her that I knew she could be successful at it. It was something she enjoyed. She didn't do it to make money. She did it because she enjoyed it and that is what made her successful."
And that's how Monie's Unique Boutique came to be. The Red Lodge store is a 1200-square-foot shop right off South Broadway. The larger store in Cody is roughly 2,500 square-feet of fashion right off Sheridan Avenue. Both are labors of love. Monie laughs and says, "Twenty years ago, neither one of us would have thought we'd be doing this!" After all, Brandon was a rancher. He still owns a small herd of cattle and while he used to work construction, he says, "Now, I am a full time women's clothing salesman."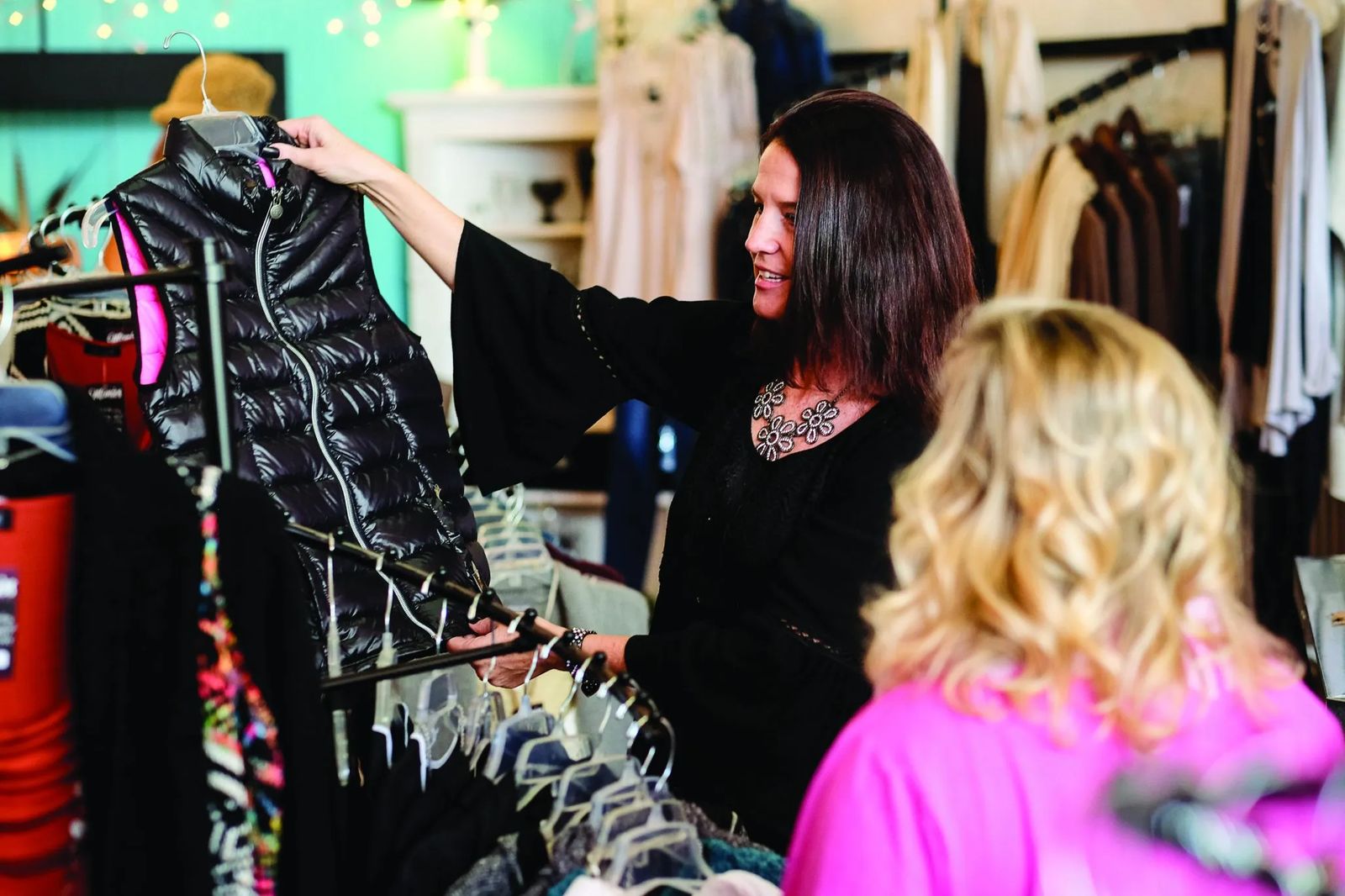 The pair hits the largest fashion trade show each year in Vegas to purchase the store's merchandise. "He's a numbers guy," Monie says of her husband. "He can be running the numbers while I am buying."
When the boxes start to roll in, Monie gets to work doing what she does best, clothing her customers. She's learned to outfit body types in a snap with the most flattering styles. She loves calling or texting customers to let them know when something shows up on the racks that she knows they will love. "Some customers tell me, I love that you know my name already!" She's hosted sip and shops, offering wine and appetizers as her customers peruse the latest offerings. She loves building that relationship. "When you come in, whether you buy something or not, we just appreciate that people just come through our door to see what we have. Maybe they won't buy but maybe they will go and tell someone."
Monie still laughs when out of towners roll into her shop and are surprised by the clothes on the racks. Brandon says the East Coast folks don't have the jeans with the bling on the back pockets and other shoppers seem to go crazy over all the embellished tops. Monie says, "People will come in to our Red Lodge store from all over and they will say, 'We can sure tell the buyer is not from Montana.' If you only knew! I am this little country bumpkin that never even had new clothes because I had three sisters. I had hand-me-downs my whole life!"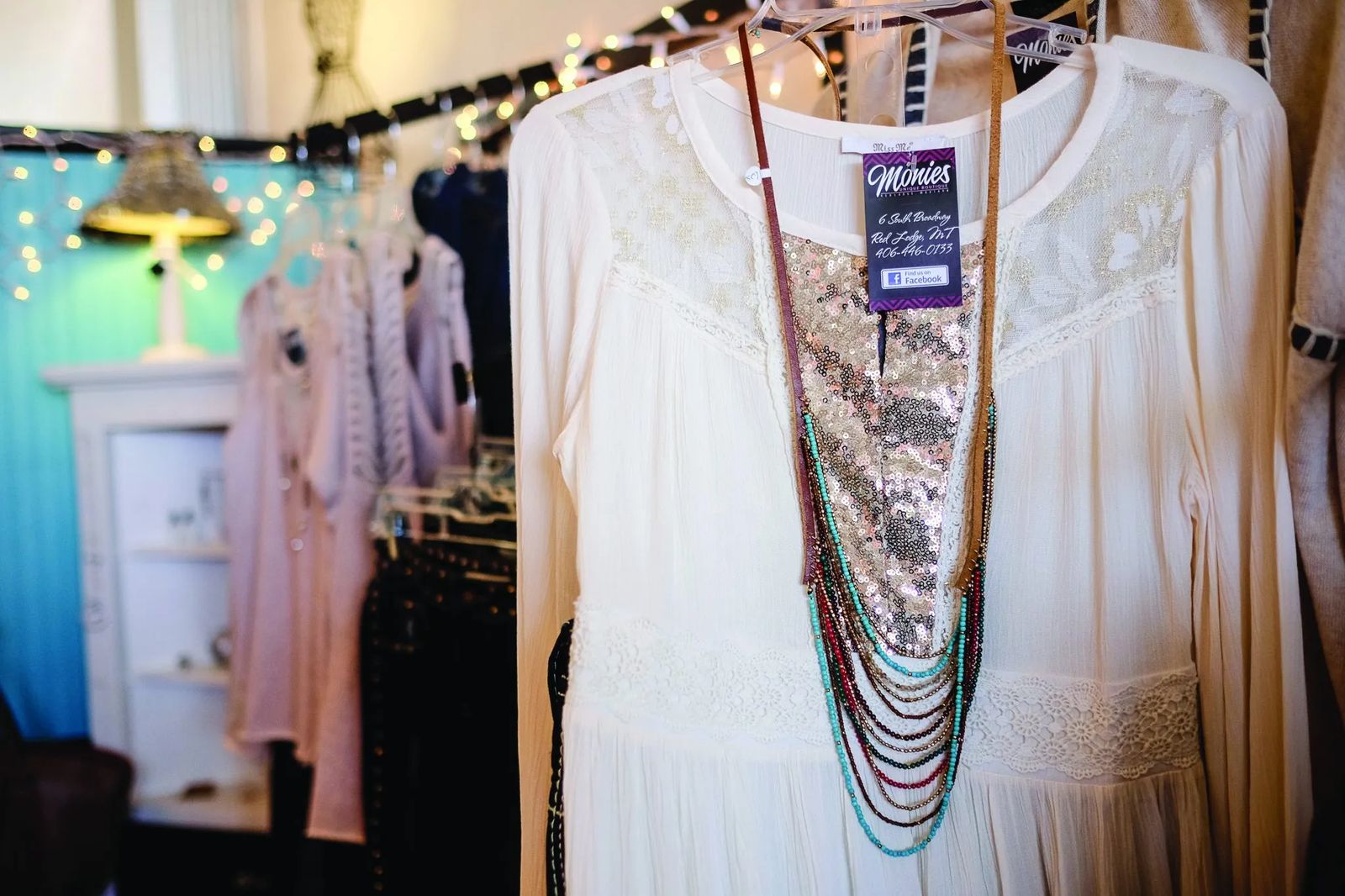 When asked if she plans to hit bigger cities like Billings to expand with additional stores, Monie doesn't see that in her future. She loves the special small town feel she creates when she greets each person that steps into her shop. While she's grown her operation to serve two communities, she's proud that she's kept the feel of her stores small and personal. "I want to still be able to have our hand completely in everything. We don't plan on making millions," Monie shares, "we do it because we love what we do!"
Where to Find Monie's Unique Boutique:
1149 Sheridan Ave. in Cody
6 S. Broadway in Red Lodge