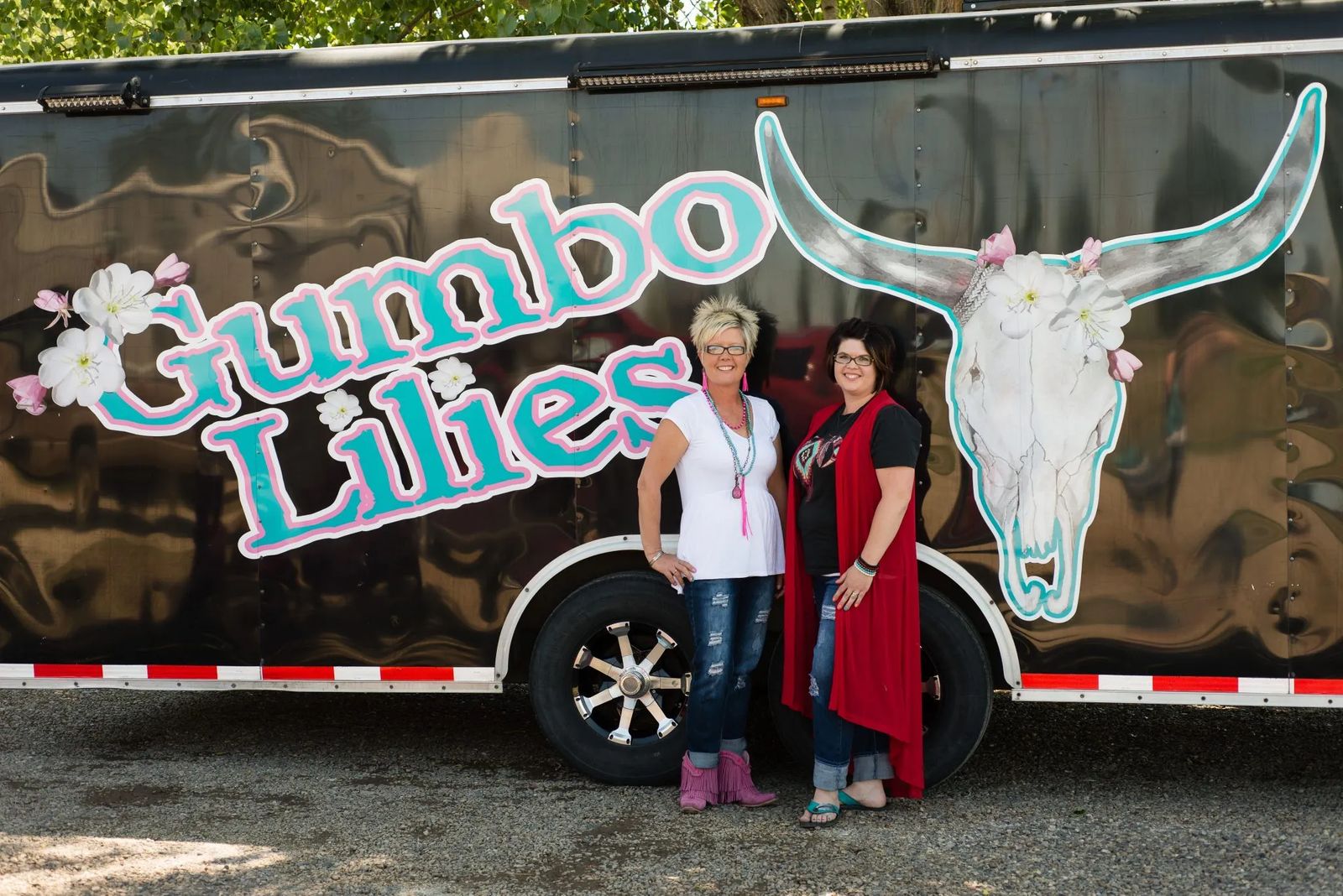 Cowgirl Couture Rolls Around Region
Miles City girls offer traveling Western boutique
If you were to describe Gumbo Lilies in one word it would be 'fun.'
Fun clothes. Fun atmosphere. Fun women who own the unique business.
"A 32-foot dream closet on wheels" as described by one customer, Gumbo Lilies is the first noted traveling clothing boutique in the state. They retail fashion-forward western wear at rodeos and events throughout Montana and the mountain states, including western clothing, boots, and shoes, purses, accessories, and jewelry.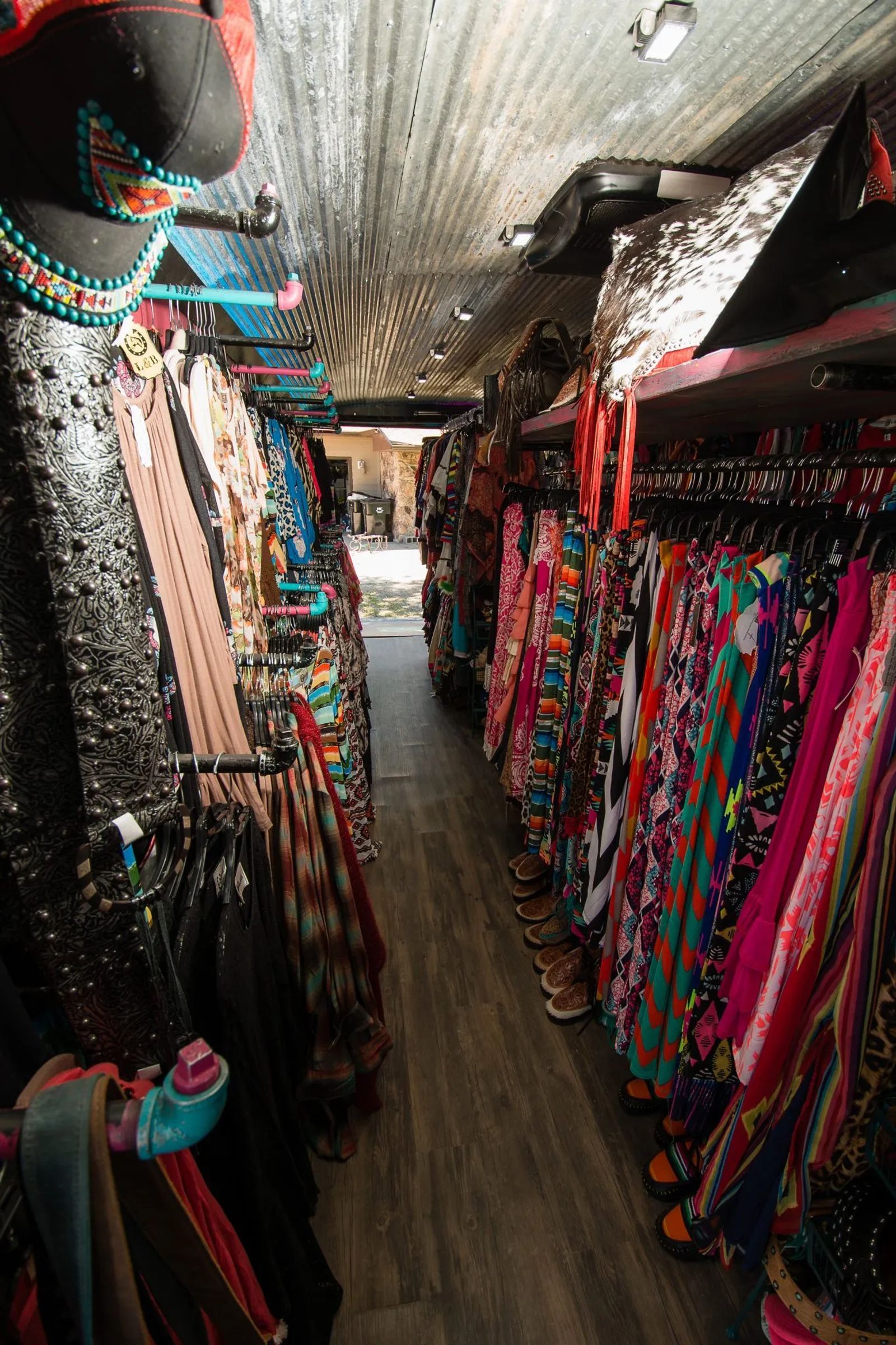 Owners Tracy Hauk and Jenna Frasch, both of Miles City, launched the business in the summer of 2015, quit their "real jobs," and haven't looked in the rear view mirror since – well, except to back the trailer into another show space. They travel to approximately 30 events a year, setting up shop at high school rodeos, trade shows, exhibitions, and special events.
The ladies met when working in western wear retail at a local ag supply store. Their friendship grew as Hauk trained Frasch to fill her role as clothing manager, and Frasch took over while Hauk was on maternity leave. Over the next 10 years, their paths and shared love of funky western wear continued to cross.
Although Gumbo Lilies is a business run by women, selling products for women primarily to women – the men in Tracy and Jenna's lives deserve a lot of credit for its existence.
Jenna's husband, Bo, was actually the initiator of the business. Both women were working for a local ag retailer that agreed to donate the use of clothing for a fashion show fundraiser. "Bo and Jenna loaded up their horse trailer with clothes to make the trip (to the "neighboring town," 115 miles away)," says Hauk. "When they got back, Bo said, 'Why don't you guys just get your own trailer and start doing this full time?'"
The girls considered the idea, but when Bo called and said, "I found a trailer," they knew it was the right thing to do.
As the business transitioned from dream to reality, the ladies were still at a loss for what to name the venture. Hauk's husband, Mike, came up with the solution. "Mike was out riding one day along the river, and stopped and took a picture of some flowers, and came home and said, 'Why don't you name it Gumbo Lilies?'"
The name stuck.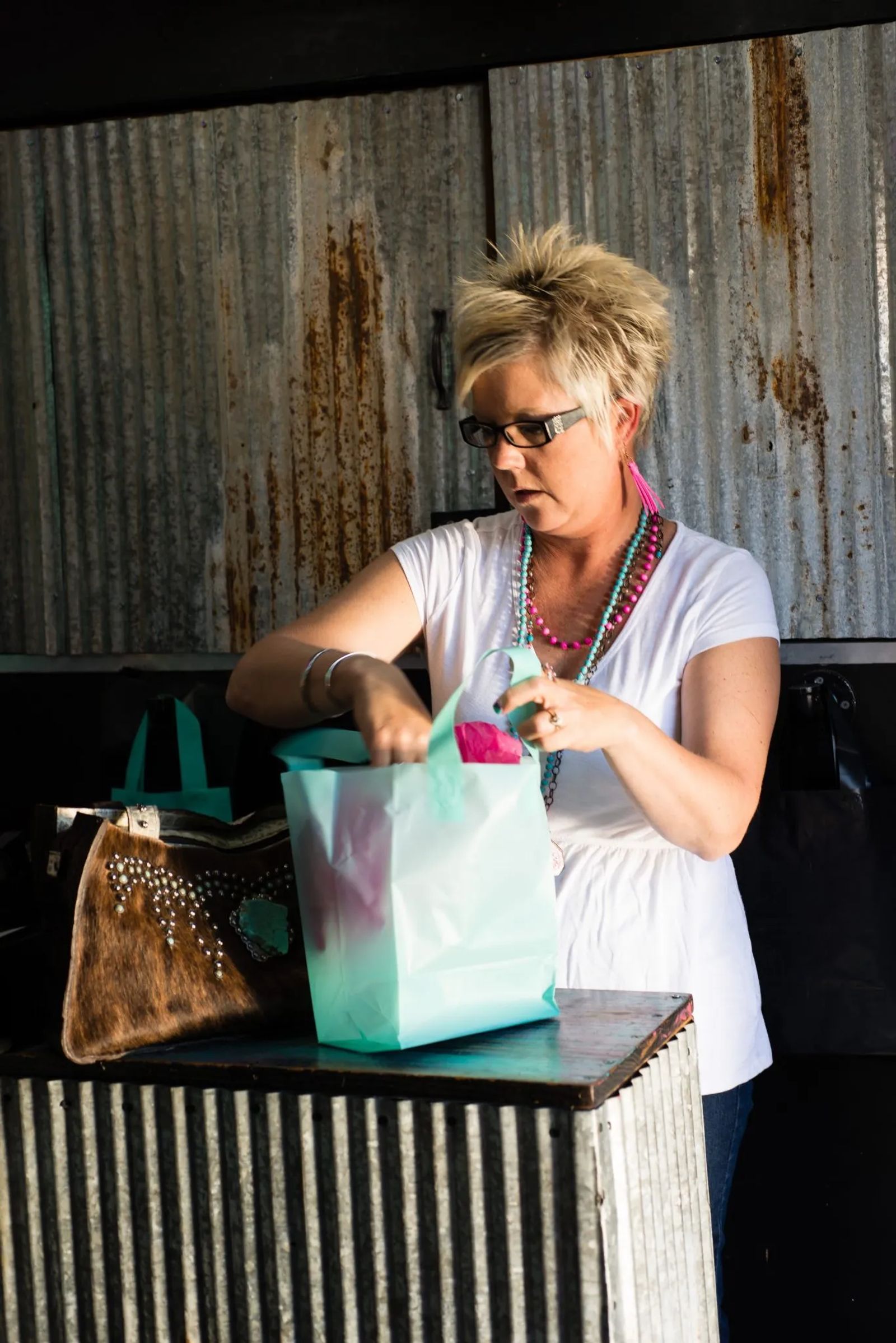 The Frasches spent weeks renovating and decorating the shiny, black tin trailer by restoring and painting a rustic wood interior and sales counter, building custom clothing racks, and installing a tin roof (reclaimed from an old barn). LED lights were added to fully showcase the sparkling goods. A logo was created and the trailer stocked with inventory.
"Jenna's favorite color is turquoise, and mine is pink," says Hauk. "We incorporated those in the logo and all the design – every time Jenna would send me a Snapchat she was covered in turquoise or pink paint."
The grand opening of Gumbo Lilies was at Mike and Tracy's 17th-anniversary party in late July. Guests dined, enjoyed live music and got to browse the first mobile shopping boutique in Montana.
Hauk says one aspect of their boutique they especially enjoy is getting to work with other women business owners who create and sell Western couture. Their latest offerings are gorgeous hand-made, one-of-a-kind western sandals and moccasins from Martin & Company out of Nevada. They also sell hand-crafted Arohoe bags made in Missouri, and custom-designed jewelry from Dally Up Designs in nearby Volborg, Montana.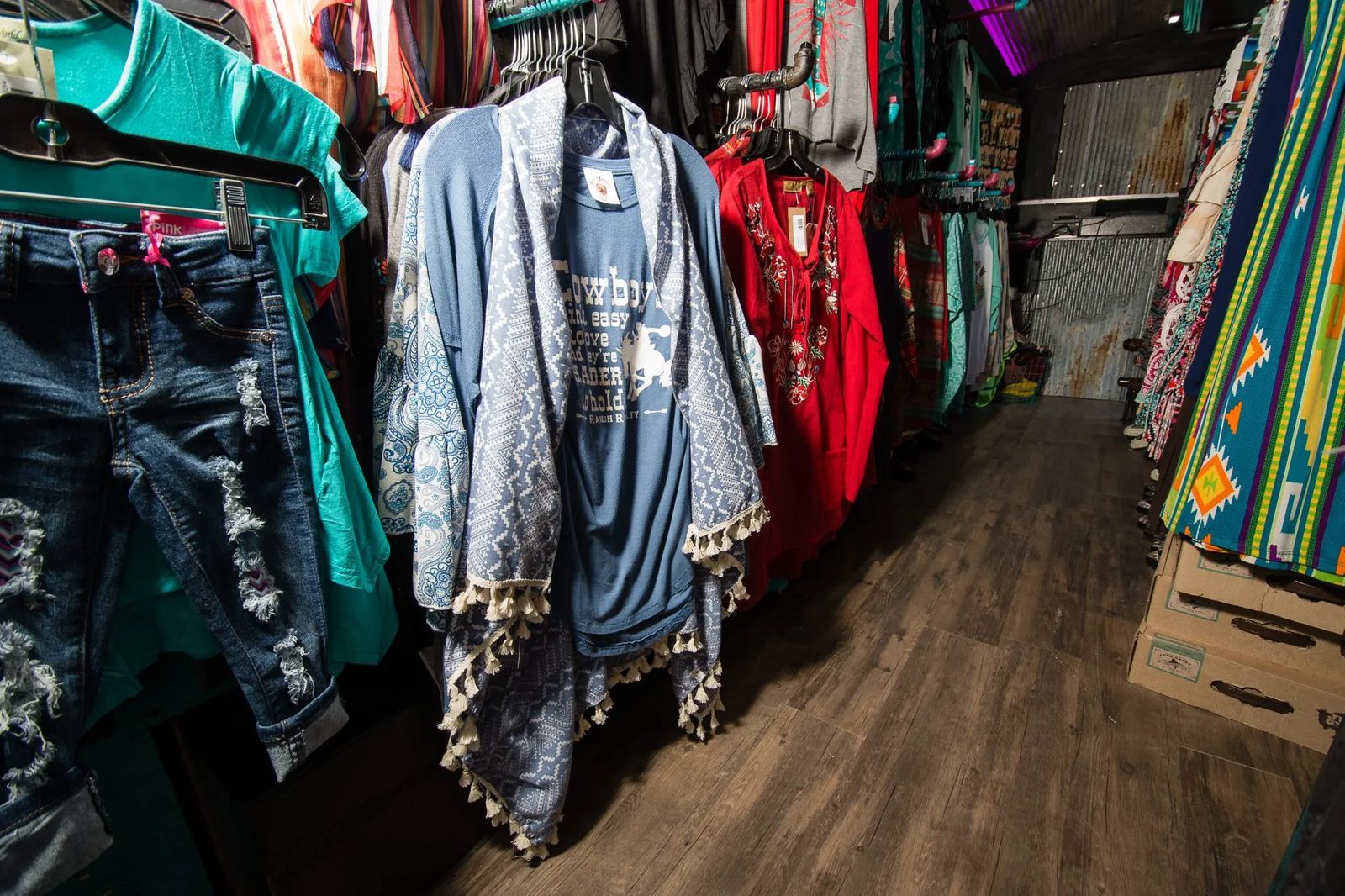 "It's always fun to call to make an order and know that the person who answers the phone is the person who owns the business and made the product that we get to sell – there's a real comradery there," says Hauk.
The mainstay of their pink and turquoise painted pipe racks, however, is funky but functional tops, pants, and dresses geared toward their core customer. "We like to say we offer items that you can wear to work in the corral or dress up for a dinner out."
With the business acumen of the seasoned professionals they are, Hauk describes this core customer as a working ranch or farm wife or rodeo gal, ranging in age from her teens to later in life, with a sense of fashion but a reasonable budget.
They strive to keep their price points reasonable to all shoppers. Not counting the hand-crafted specialty products, clothing items sell from approximately $25 to no more than $50.
Although "the Lily" heads for shows well stocked, what is displayed is what they have, and many of their items are a one-shot deal. "In some ways, we are a lot like Costco – you can see something once but if you go back later, they might not have it anymore," says Hauk. "It incentivizes shoppers to purchase sooner rather than later, and our pricing makes it possible for people to do that."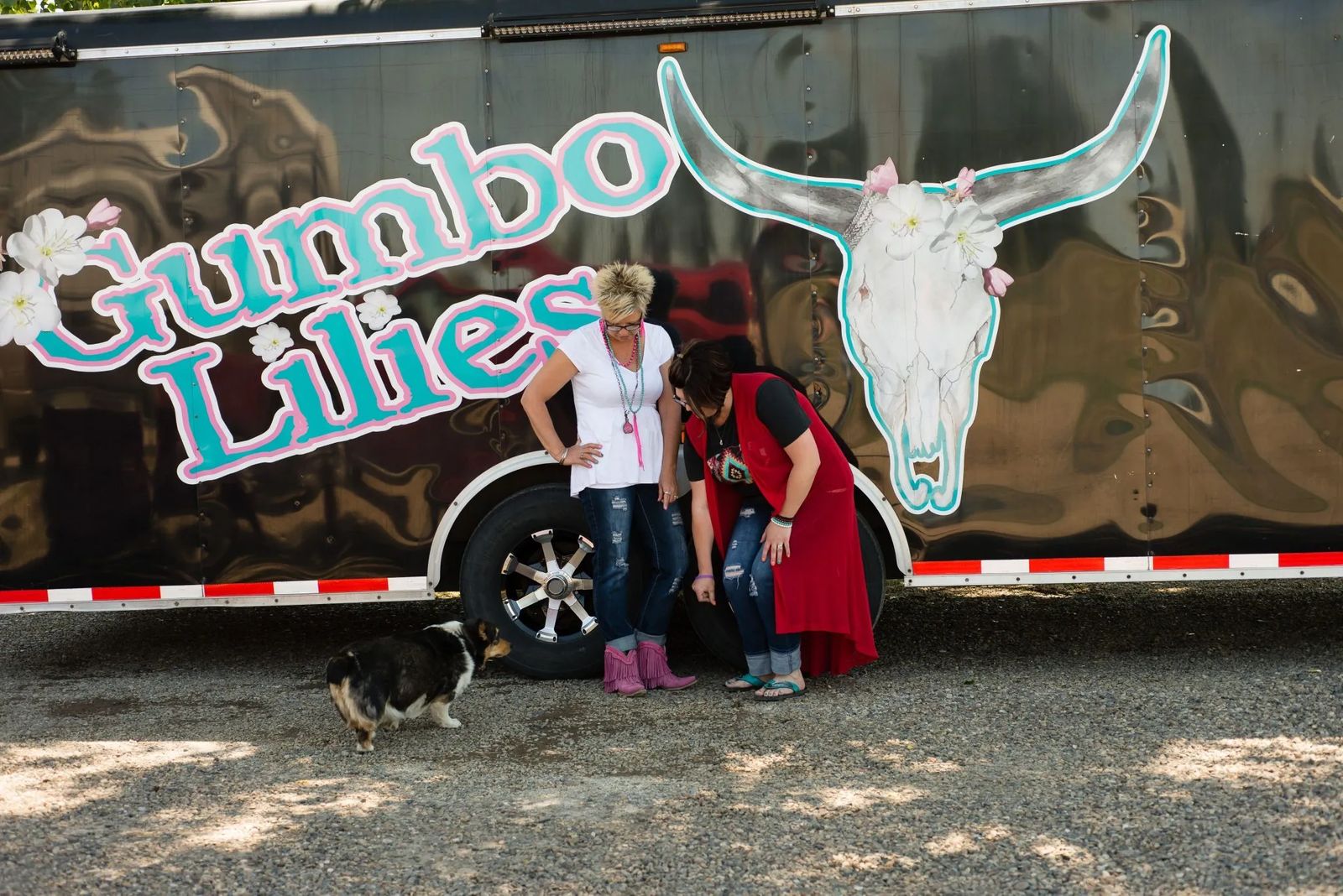 Describing each other as family, not just friends, Hauk and Frasch complement each other with their unique talents in running the business.
"Tracy is the business woman," says Frasch. "She does all the accounting stuff." This includes receiving merchandise, entering inventory in the computer, pricing items, and printing and applying price tags." Shipments all come to Frasch's house, which they call "the office," but Hauk works from wherever she happens to be at the moment.
While Hauk handles the data, Frasch brings the artistic knack.
"Jenna has such an eye for buying – she does all the ordering and selection," says Hauk. The duo attends market only once a year, at the Dallas Market Center, and does the remainder of their ordering online through selected vendors. Frasch says she doesn't have a specific formula for her ordering, she picks some of what she likes, but mostly what she knows will sell and that fits with the image of their merchandise. "We've found several really great companies that work for us and our market, and we pretty much stick with those," says Frasch.
In addition, Frasch does all the driving and backing of the trailer – no small feat in some of the places they go. "When my husband and I were dating we used to have 'backing up' contests," she says. "It's coming in handy now!"
The women face the normal challenges of any working wife and mom – but with a few added trials and a few extra perks of being the owners. Hauk says the normal cash flow and financing of any business can be challenging. "We're never guaranteed a paycheck, and we have no one else to count on except ourselves," she says. "We have to make sure we don't allow our business dealings to interfere with our friendship, especially when we've been at shows together for days on end."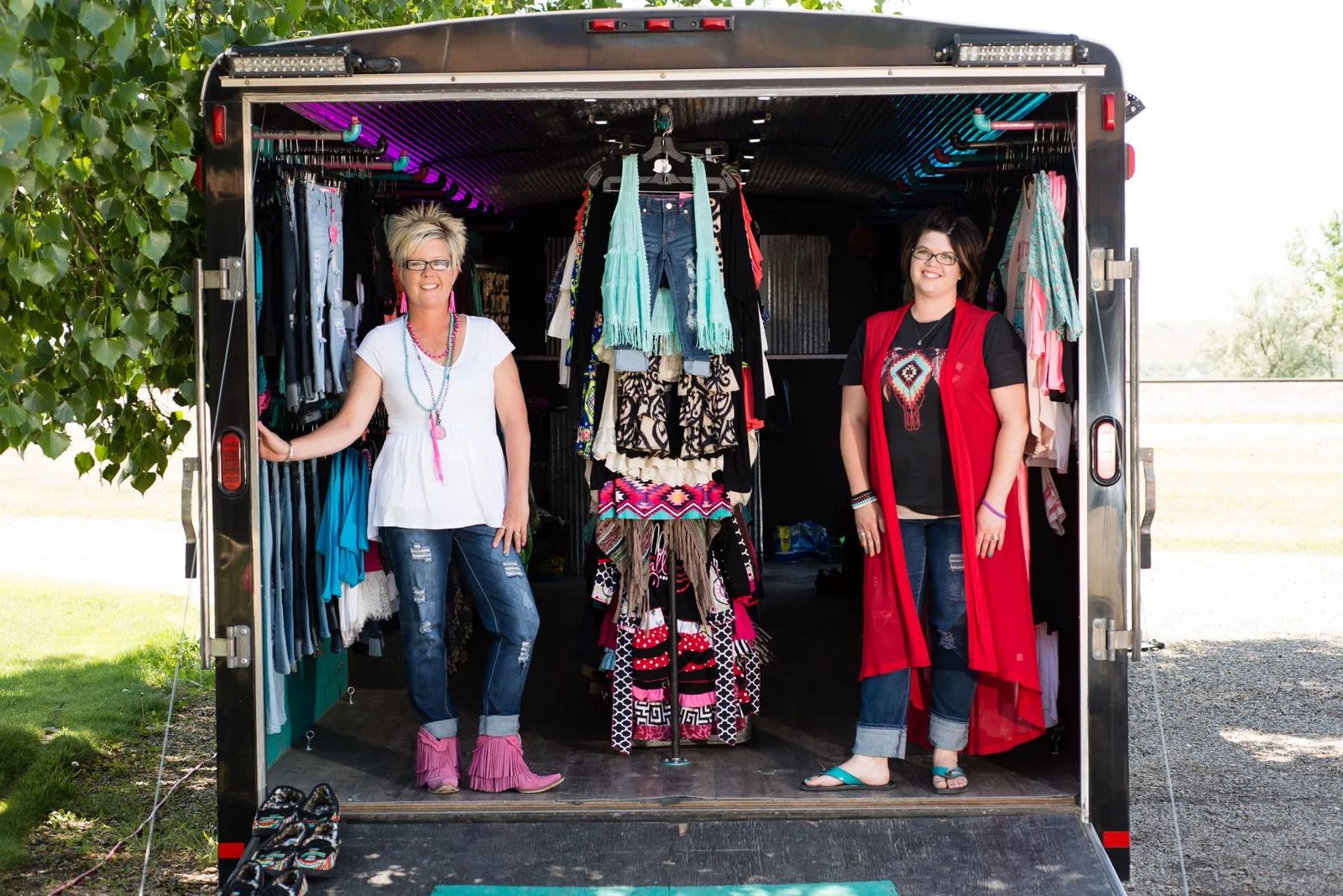 On the other hand, ownership offers flexibility to choose their schedule and raise their kids in and around the business. "If there is something going on in our family we can work together or around each other's schedules to make it work. Our families are intertwined – I'm her kids' mom and she's my kids' mom," says Frasch. Although their kids don't travel to shows, the behind-the-scenes work between events is continuous – and most of it takes place at Frasch's kitchen table.
It's still work and a commitment to a full schedule – they are gone every weekend in the summer – but the ladies say it rarely feels like a job.
"The best part is the people we've met, and the multitude of lives we've been able to touch," says Hauk. "When someone walks out of our trailer, our goal is to have made them feel better."
Frasch agrees.
"We don't want to just make a sale, we want to make a friend. And the best part is we have fun. We wouldn't want to be doing anything else."
TO KEEP TABS ON WHERE GUMBO LILIES WILL BE, visit them on Facebook at facebook.com/gumbolilies