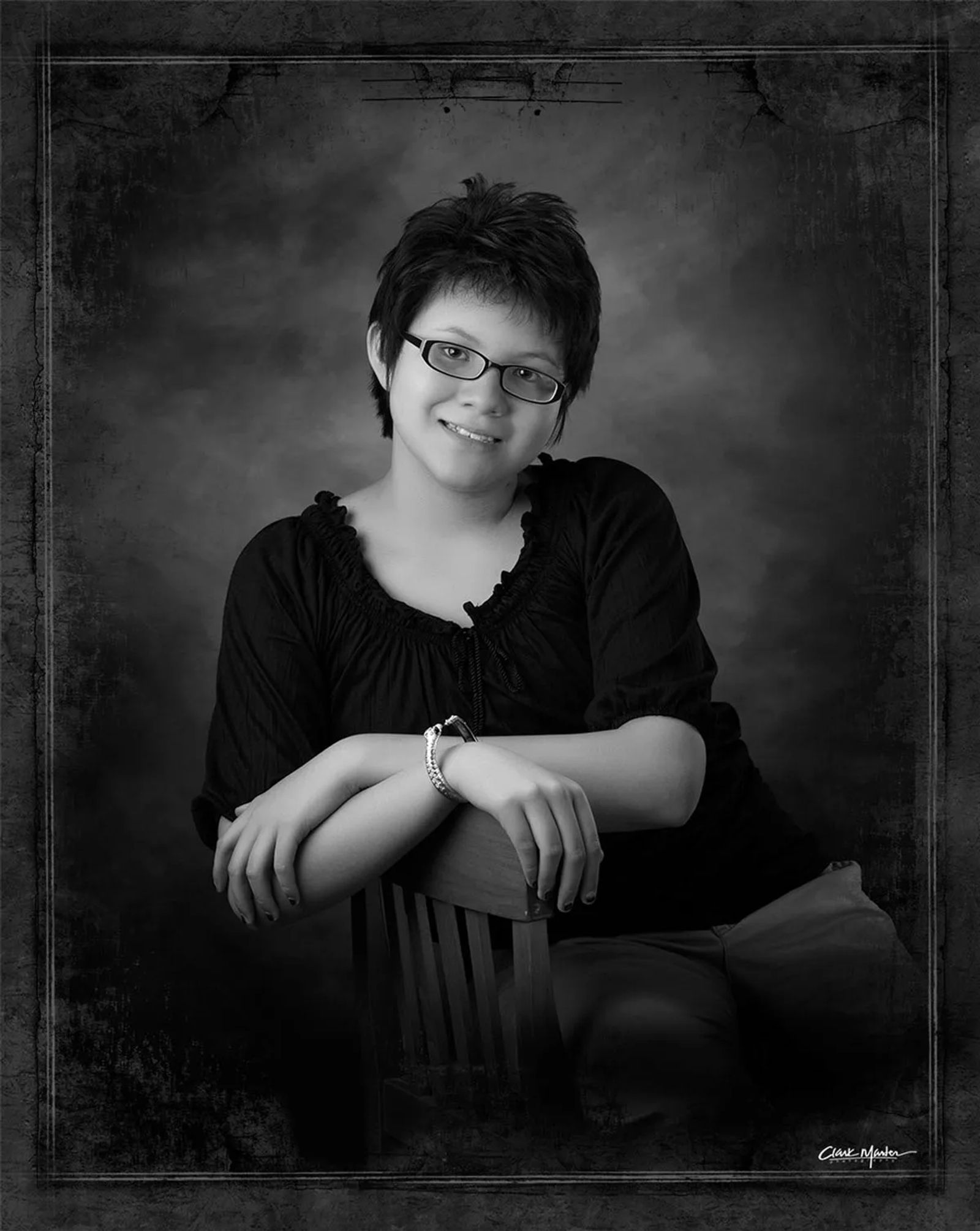 Crafty, Caring & Delighful = Gia
Teen longs for 'Forever Family'
With a huge smile on her face and wearing a unique black tulle dress with purple accents, 16-year-old Gia posed for the camera knowing memories would be made as she headed off to her very first High School prom. Instead of her mom or dad snapping off the photos, it was a social worker from her group home. She smiled just the same. Gia has been in foster care since the age of seven.
"Gia is a delightful young lady who has been longing for a forever home for years," says Wendy's Wonderful Kids adoption recruiter Diana Tolstedt. "Gia is an intensely caring, sensitive girl. She always wants to make sure that everyone is okay," adds Laura Watson, the Program Director for A.W.A.R.E., who has become pretty close to Gia over the years.
Aside from classes, Gia loves to participate a few times a week in her high school's Art Club and loves honing in on that creative and artistic side of herself. Laura says, "Gia is a talented artist and she loves to share her interests with adults. This is not a kiddo who is an 'average teenager.' She likes her alone time but still wants to be checked up on and to spend time with adults."
When it comes to her personality, those who know her best say she is a spunky and fun girl who is growing her sense of humor as time goes on. "Gia is SO funny!" Laura shares. And, they say, she wears her heart on her sleeve. "Gia is emotional and caring. She is definitely the type of girl who would cry over a sad movie or if she thought she hurt people's feelings." When she has free time, you'll often find her playing video games, watching anime, singing, reading, or cuddling with her pet hamster 'Carrot.'
If you ask Gia what she hopes for in her future, a family definitely tops her wish list. She would love nothing more than to spend time, travel, and bond with a family who could one day add her permanently to their home. She says, "I want a family who is going to take care of me, love me always and who will never abandon me. I want someone who will accept me for who I am and who will not try to change me or force me to be different."
While she would love all family activities, she laughs when she says, "I am no good at board games though." Instead, she adds, "I didn't really get to do much of the 'normal' childhood stuff, so I really don't know what it's like. If I had a family, I would want to experience new things and just spend time with my family."
Diana Tolstedt sums up Gia's optimism by saying this teen never gives up hope that a family is out there waiting for her as well. "Gia has had many disappointments in her life but she is amazingly still hopeful for a family and upbeat about helping make that happen."
To learn more about Gia or about the foster-adoption system in general, please call Lori Ketchum at 657-3120. While Gia is in need of an adoptive home, many times the primary goal for children in the system is to have a temporary placement while social workers strive to reunify them with their biological family. Each family wanting to become a licensed foster/adoptive home must undergo 18 hours of mandatory training to learn the tools needed to become a successful foster family.
You can also visit The Heart Gallery at Rimrock Mall in Billings to see the faces and stories of some of the area's adoptable kids. Each child is represented with a gallery photo and their short bio so you can read more about that child and contact a social worker if you'd like to learn more about fostering or adopting.