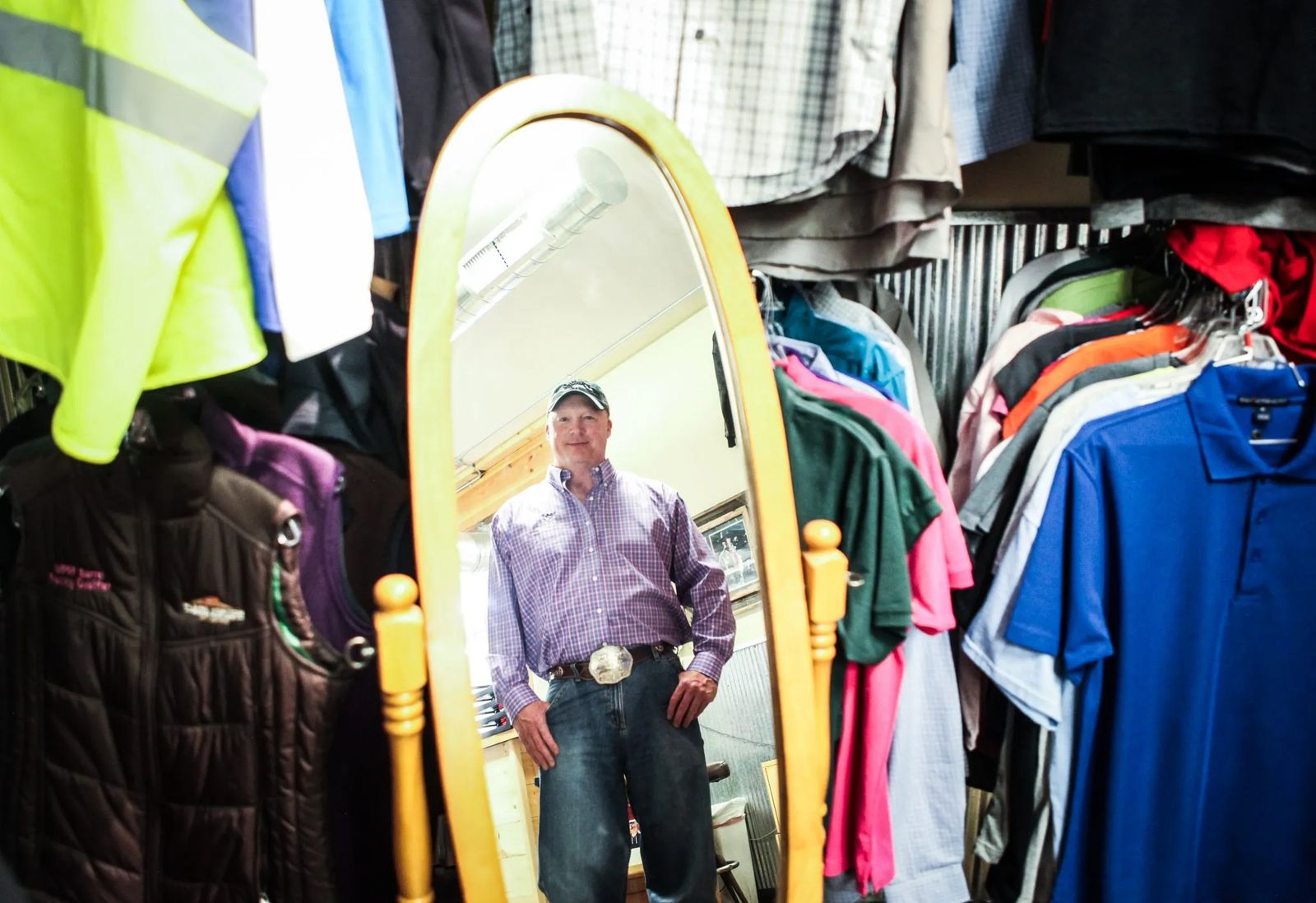 Dally O!
Humble beginnings to regional fame
Scott Hofferber walks through the showroom at Dally O Western Wear, weaving through racks of clothing emblazoned with his company's signature logo: a steer's skull topped with "Dally O" in roped script. He continues past a wall of hats, each depicting various styles and colors of embroidery. The back room is chock full of embroidery machines that would be buzzing away, rapidly stitching intricate patterns, if it were not the tail end of a Friday afternoon.
Dally O Western Wear includes both men's and women's clothing lines, in conjunction with a custom screen printing and embroidery service. Hats, shirts, vests — you name it. If it can be worn, Dally O can embellish it.
Looking around the North 13th Street storefront, it's hard to believe this enterprise all started in Hofferber's garage, 21 years ago.
THE BIRTH OF A BRAND

Hofferber grew up on a ranch that bordered Pompeys Pillar — 30 miles to the east of Billings. His family owned a 1,500 head feed lot, and he grew up surrounded by agriculture.
Unfortunately, due to a sour economic climate in the '80s, the family lost the ranch, but Hofferber who was born and raised on the land, wanted to find a way to remain connected to ranch culture.
In college, he found that link: he and a friend designed t-shirts to sell at rodeos. They had logos on the front and comical sayings on the back — perfect for the younger crowd. A favorite featured a list titled "The top 10 lies cowboys tell" with snippets such as "I won this buckle" and "I'll call you tomorrow."
And though the pair had some success, it wasn't his "forever" job. He wanted a brand of his own, something that was his, something he could be proud of. So, in 1995, Dally O was born. At first, Hofferber, says it was just Dally.
"I knew I was onto something but it didn't quite feel finished," Hofferber says. One night, he found himself browsing the pages of a dictionary searching for inspiration. He paused on "rodeo" — a word he'd seen hundreds of times. But for some reason, it clicked. Rodeo. Dally O!
And that was it.
As for the logo itself, Hofferber knew what he wanted: rope incorporated, somehow, with a steer.
"I knew what my thought was as far as the artwork, but I failed art class," Hofferber says, laughing. He enlisted the help of an artist, and at last, had the finished product.
The early days were hardly glamorous. Hofferber traveled to 40 trade shows a year, marketing shirts and caps under the Dally O name out of the back of his pickup. But in true rags to riches fashion, his tenacity paid off. The brand was a hit.
The dress shirts, Hofferber says, are unique. They're designed with longer sleeves and tails, so they won't come untucked if the wearer is roping or riding. Even the ladies became fans of the garments, praising the practicality of the winkle-free feature. The dress shirts are Dally O's top seller today. Hofferber says he'll sell them by the thousands at large events like the National Finals Rodeo in Las Vegas.
Once Dally O made its way into retail stores, Hofferber knew he was headed in the right direction.
"Until I got to that point of finding those stores, some days were really tough," he says. "Some days were great — it was a little bit of a rollercoaster."
At first, Hofferber's customers were primarily family, then came friends and finally, complete strangers. That's when he knew that he'd made it. Hofferber says a customer once told him how she had spotted a man wearing a Dally O shirt and said, 'Oh you know Scott.' And the man just stared at her, quizzically.
"That was when I knew that now I'm getting out there where not everyone wearing Dally O knows me," Hofferber says. "It's a good feeling to know you've battled through the ups and downs and it's out there."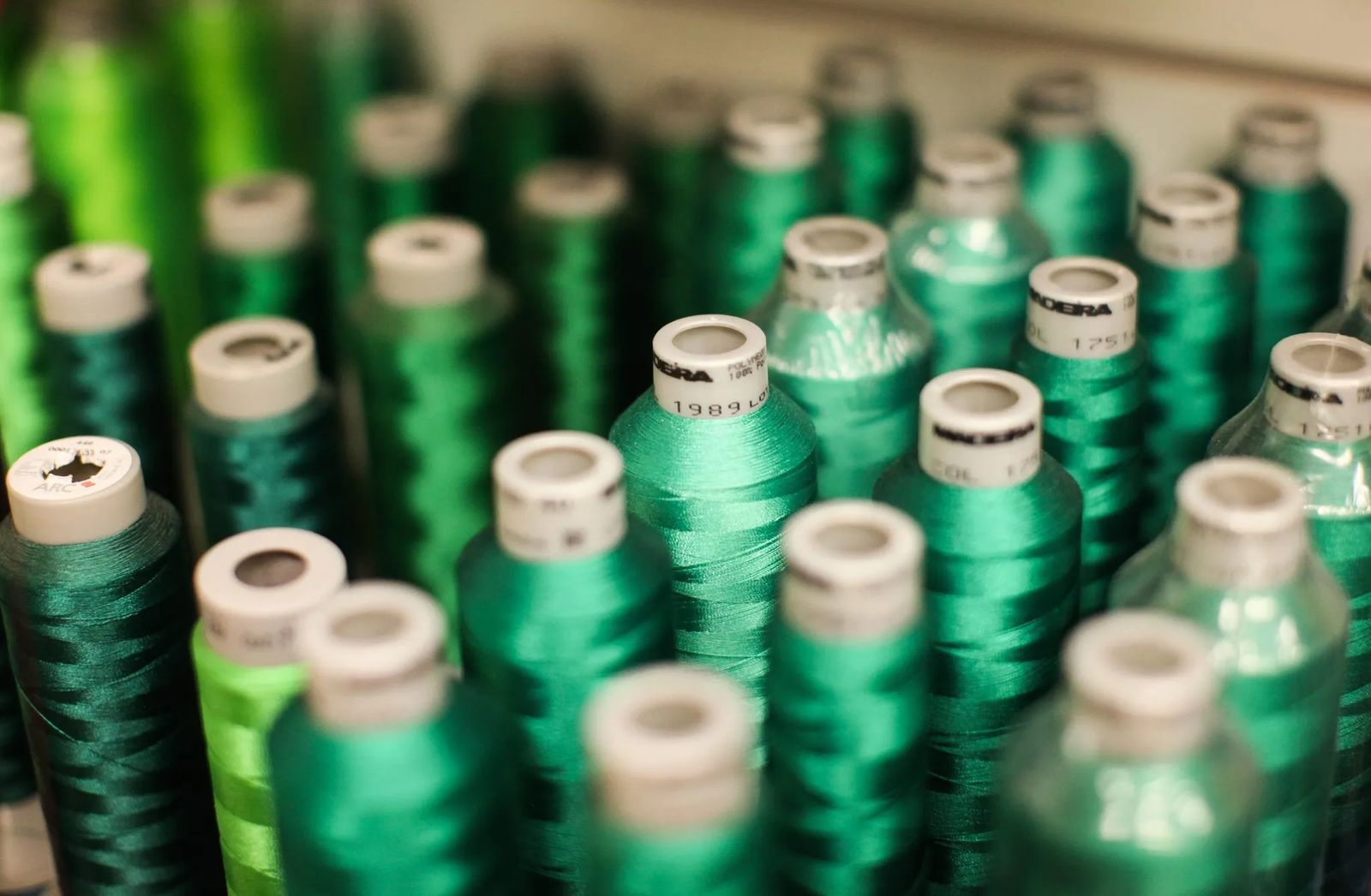 A SECOND BUSINESS

Dally O turned into more than a successful line of apparel, it was also the gateway to Hofferber's screen printing and embroidery service. After a few years of paying what Hofferber considered "gastronomical" prices for embroidery, he decided the practical thing to do would be to invest in his own equipment. The decision has paid off in dividends. Industry friends he'd made through Dally O became his first embroidery customers.
"Once they found out we had our own equipment, they started pursuing us to do their logoed apparel. So basically it's taken a huge turn," Hofferber explains. "Based off our gross income, 60 percent of our gross income is from logoed apparel and 40 percent is Dally O."
Hofferber currently employs five individuals – all of them women – and serves 1,200 accounts. He says the first quarter is slower than others, but the company remains pretty busy year-round. Each month, for example, they embroider between 2,000 and 3,000 hats. Some logos take a few minutes to complete, while more complicated patterns can rack up 20 minute run times.
It's a good problem to have, Hofferber acknowledges with a smile.
While it's easy to see that Dally O has been a success, Hofferber is quick to note he wouldn't be where he is today without the support of family, friends and his employees.
Although in jest he refers to the store as a "henhouse," he counts on the five women to do everything from sales and orders to finishing touches, like clipping threads and backing. He even consults them on selections for the women's line. As for the men's pieces, those swatches Hofferber picks himself. Hofferber says he's always believed that in order to be successful, you need to surround yourself with success.
"The people I hire make me successful. I wouldn't pick them if I didn't think they could do the job," he says.
As for the future? Hofferber said Dally O is primed for "the next level." What form that expansion will take, only time will tell.
"We've been doing it for 21 years and it's about adapting," Hofferber says. "There's always changes. Things change fast – even the clothing industry. The demand for certain things can change overnight."
But Hofferber is hardly stranger to hard work. Whatever the future holds there's a good chance he'll be ready, in true cowboy fashion, to grab life by the horns.