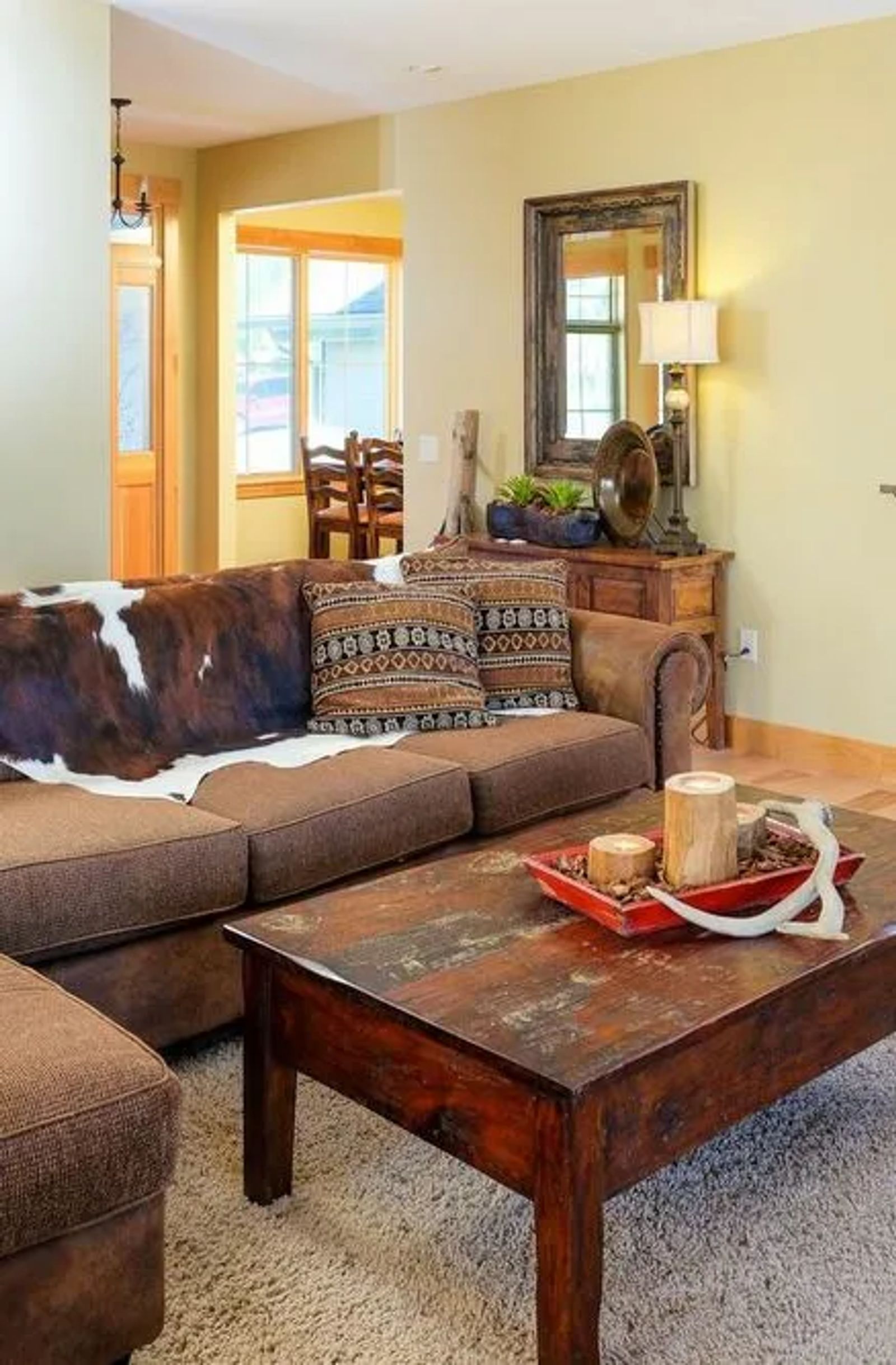 Designing Smart
Decking out small spaces with style
Is that small space in your home keeping you from entertaining like a rock star? No need to fret over it any longer. We've asked a well-known Billings designer to show you how you turn that small space into a room big on style.
Designer Carrie Klein of Furniture Land USA recently offered some practical solutions while redoing a fairly new home in Yellowstone Ridge subdivision. The homeowner asked Carrie to revamp her small dining and living areas. "The homeowner loved many of the furniture pieces she had," says Carrie, "however, she needed placement help. The main thing the client wanted was to be able to entertain."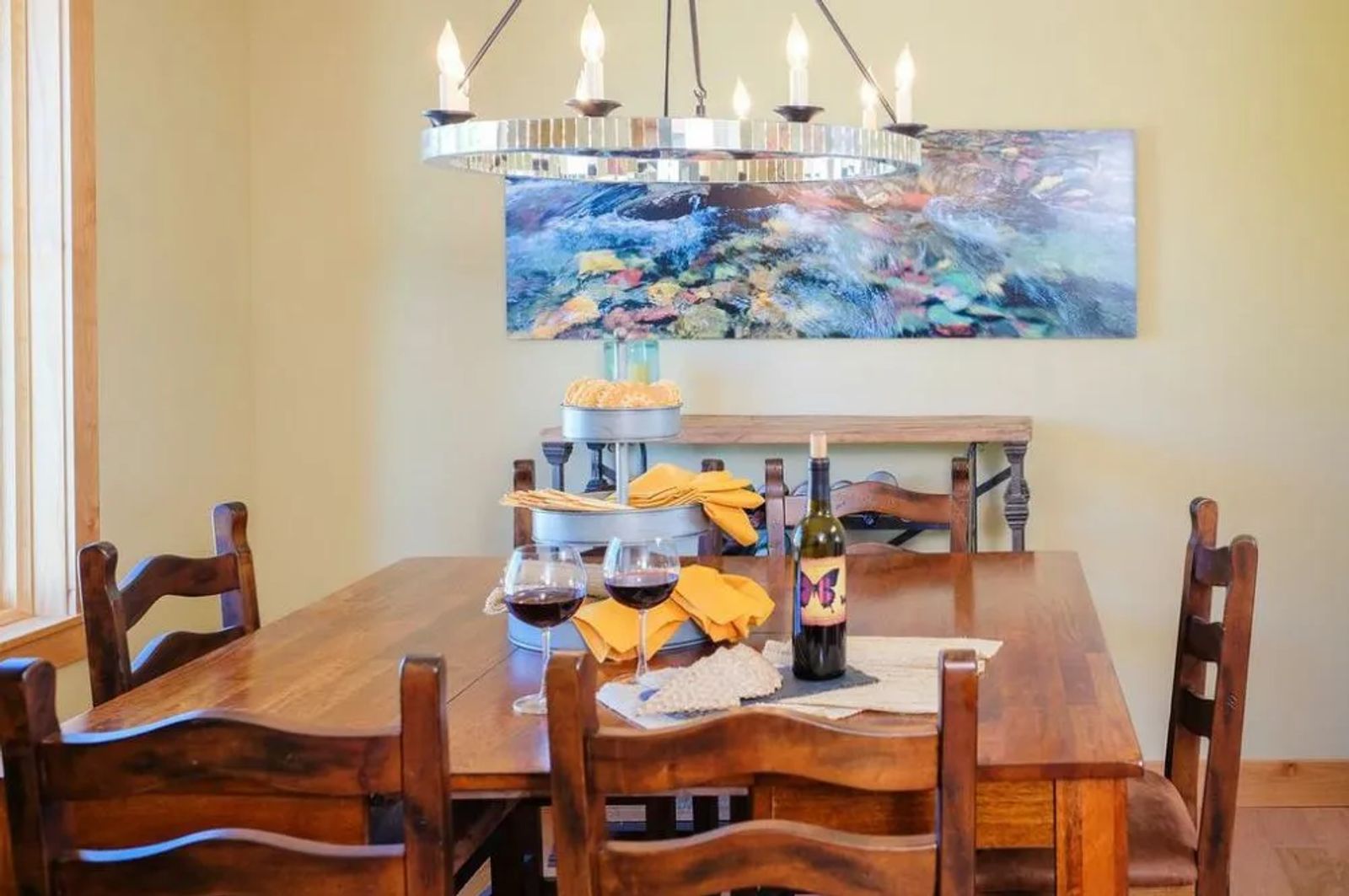 Dining Room Dynamics
It's all about the pub table. "A lot of people are choosing the higher 'pub' table with a butterfly leaf," notes Carrie. "The leaf can fold in allowing the table to become smaller so it's not overbearing in the space."
This stylish square table does the trick in this small formal dining area, providing seating for up to six. Guests sit up a bit higher, which only elevates the fun and draws the eye upward, making the room seem a bit larger.
To further draw the eye up, how about colorful metal artwork on the room"s largest wall? This piece adds a bold punch of color too. You can kick it up another notch by dressing the table with color just as Lisa Schroeder, Carrie's team co-designer, has done with a tall metal tray. "The tray is multi-functional for crackers and such when entertaining," says Lisa. Here, you"ll also find pops of bold color with something simple like cloth napkins. "You want color to be complementary," states Carrie, "not so much matchy-matchy."
Instead of a large statement piece like a solid hutch, Carrie brought in a repurposed accent table to play host to a wine rack. "I wanted to use something open and that's light and simple," mentions Carrie about this eclectic table.
Quick tip: Place your main furniture piece and then add accent pieces. Put down an area rug whether over carpet or hardwood. This layers the space with texture and adds a cozy feel. Remember, art work makes a big impact. Two big pieces of art suits a small space better than using many smaller art pieces.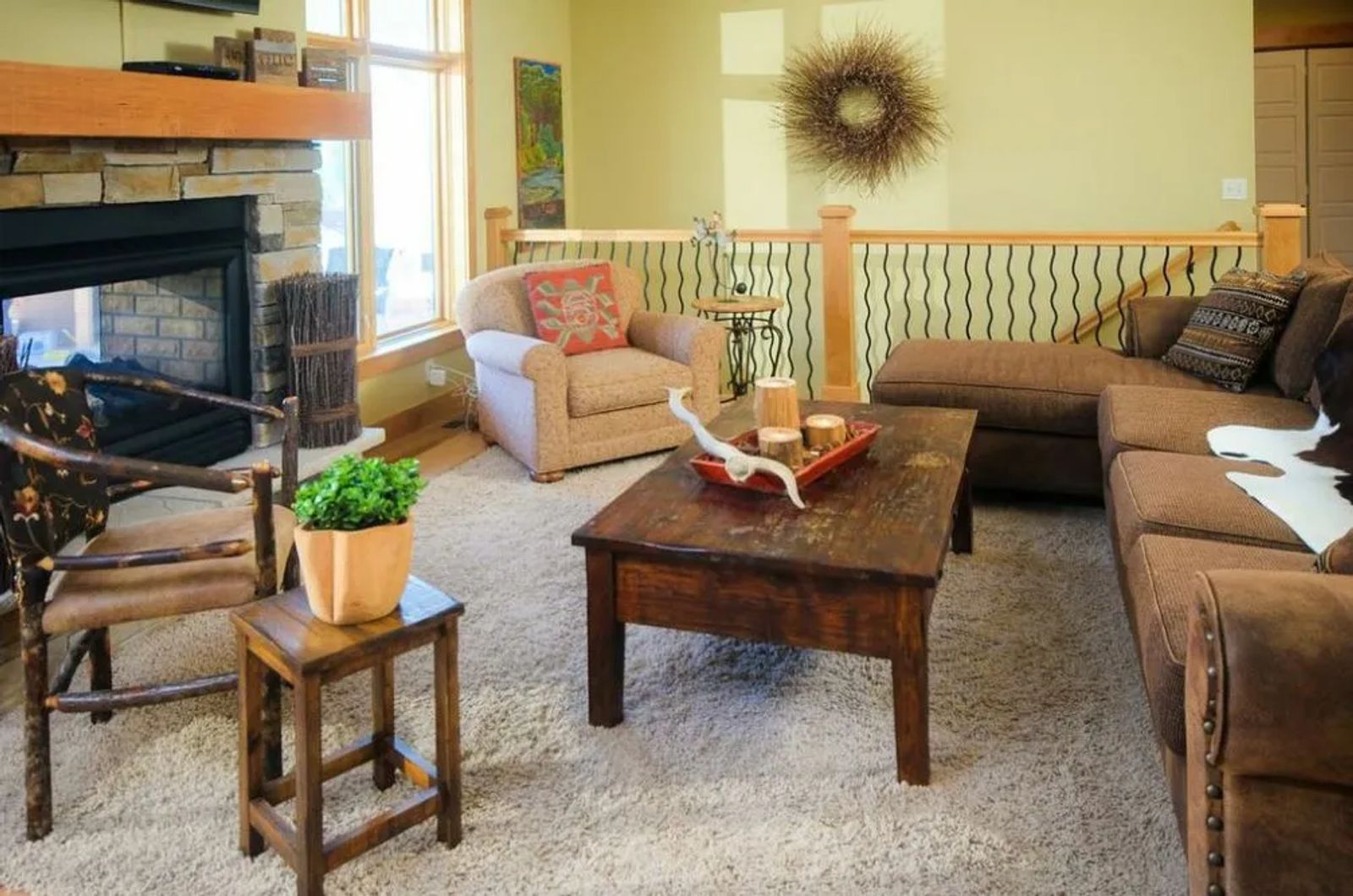 Living Room Luxury
"The key piece here is the sofa," remarks Carrie. "Most people think they need the standard sofa and love seat." For small spaces, this designer suggests getting out of your comfort zone and going with perhaps a love seat and two club chairs.
By positioning the sofa/chaise so that it floats in the room, this small space appears much larger. It also affords total maneuverability around it. A cow hide throw strikes a definitive contrast to the darker sofa.
Light-colored hard wood flows through the home, so Carrie placed an area rug in the room to "soften" it. "This gives a pop of color," she says, "and the space gets more inviting with a big plush rug." This comes back to the 'layering' of your room. Texture and color speak volumes.
The living room finishes with a touch of traditional charm with an upholstered side chair and a small wood chair. Each chair fills the spot on either side of the see-through fireplace. This allows conversation from any point in the room while not overburdening the space. "You want your furniture proportional to the room size," advises Carrie. The same holds true for your coffee table. Carrie suggests one that "goes with the lines of the sofa." Here, a square or circular piece would take up too much space and work against the sofa"s lines.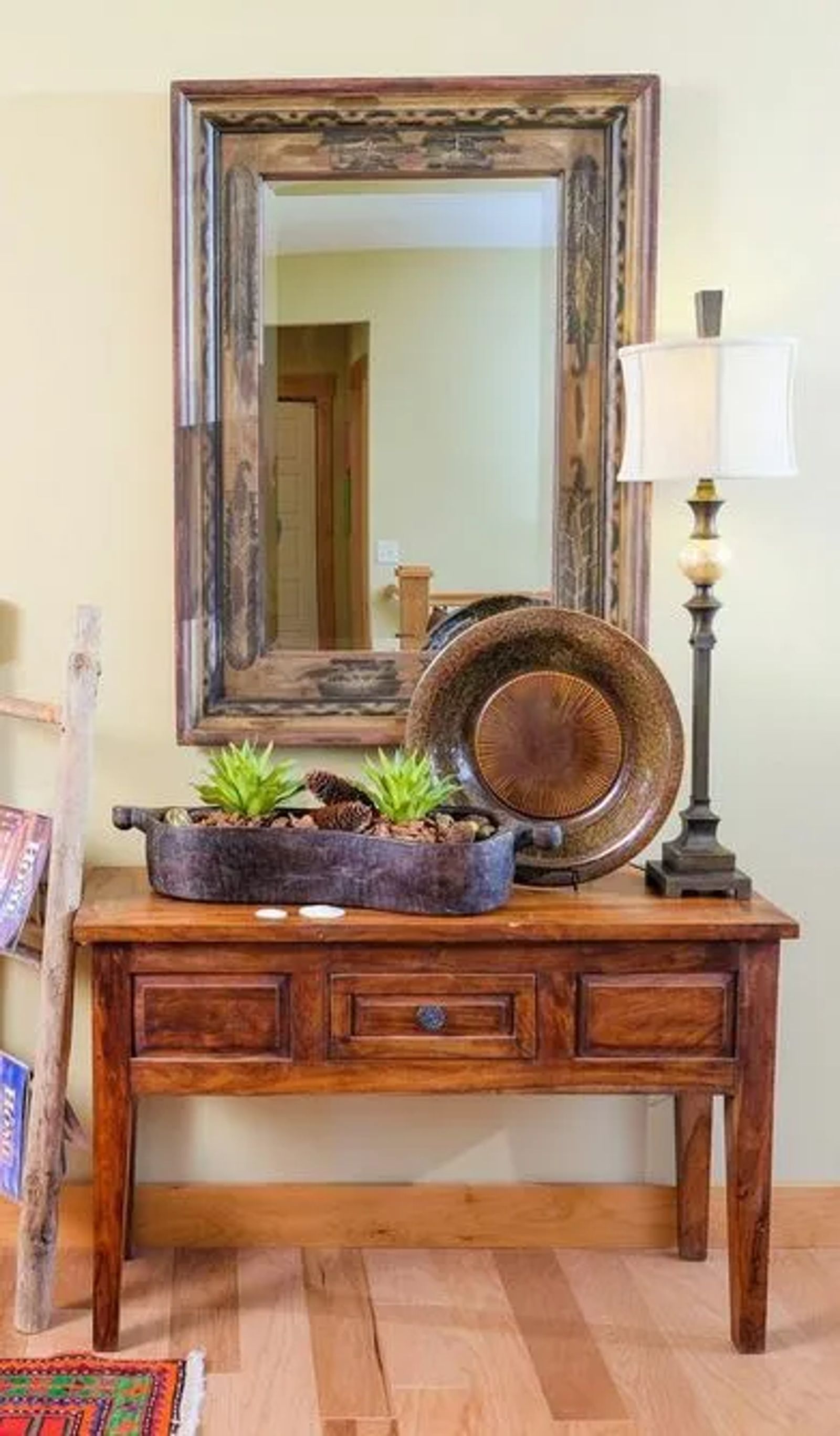 Front Entry Invite
This homeowner's entry invites family and friends into a simplified, elegant place filled with sentimental treasures that tell the story of her love for her Montana home.
A mirror placed over a console table helps to reflect spaciousness, while a rustic plate, lamp and bowl decked with greenery, pinecones and wood chips celebrate a look that"s au naturel. A short wooden ladder that looks like it's from the old farm days leans against the console table. Decide which magazine you wish to peruse from this decorative piece before taking your seat in the cozy living room.
Take these smart elements of design and start decking out your own small space. You'll soon put your feet up in your own new space and love what you've accomplished.
SMALL SPACE DESIGN TIPS
Carrie's expert advice for this design challenge
Bring in your key furniture pieces and build on it. You can always take things away.
For small spaces, be sure to use open pieces and forego the solid hutches or the oversized chairs.
Be innovative with color to add interest. Make sure your colors, if you're using more than two or three, complement one another and the overall room color.
Furniture and lighting should be proportional to the size of space you have.
Rooms seem larger when lighting shines upward instead of down on you.
When it comes to color on the walls in a small space, you can use darker colors but you'll want lighter color furniture for contrast. With light colored walls, darker furniture makes a great contrast.