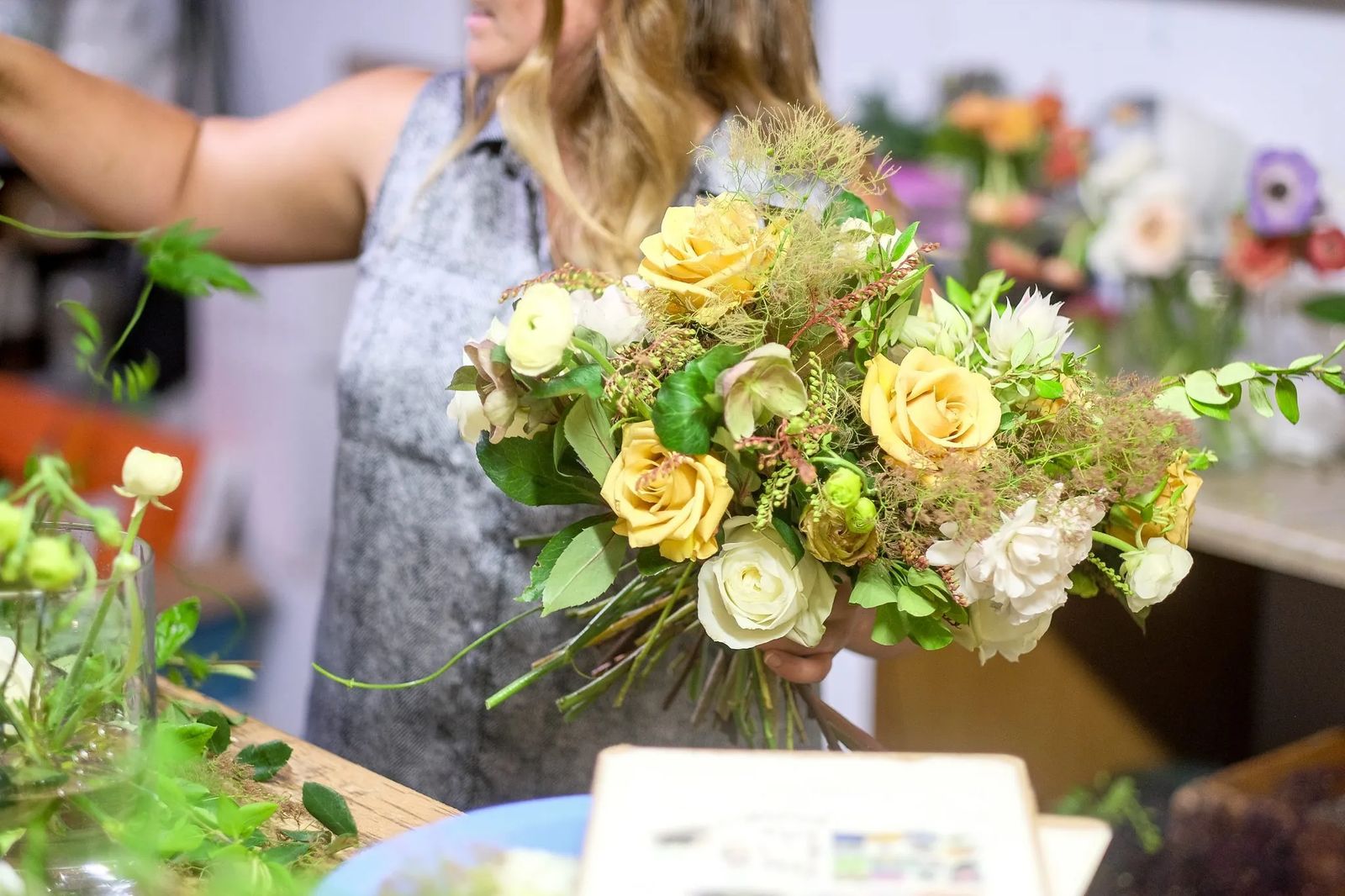 Designing Women
Unique & Distinctive Without Limits
Mention the word design and you soon see that this multifaceted industry shapes the styles of homes we live in, the fashion we wear, the products we use, even where we work and move about this world. Every designer leaves her distinct stamp on the world. For every bridal bouquet, building, or health product, there's s a design professional changing and improving the way we look, feel, live and work.
Who is moving and shaping the Yellowstone Valley, creating works of all shapes and sizes that are aesthetically pleasing and functional? Meet some of the women making their mark in Billings and beyond.
A BLOSSOMING DESIGN

Self-taught with a background in visual merchandising, Katie Bennett of Mac's Floral admits she's "inspired by nature." Appealing to a new generation of women planning their big day or next big event, Katie challenges the 'rules of design' by incorporating out of the ordinary floral choices.
"I appreciate the things not everybody finds beautiful," says Katie, owner and lead florist of this full-service wedding and event floral business. Take, for instance, eucalyptus stems, some of which have actually seen better days. "It's beautiful and it's not traditional," she muses. "When I began with my first wedding in '08, I noticed a missing link. There was lots of great classic design but not the younger vibe – it's a vintage feel instead of using the traditional."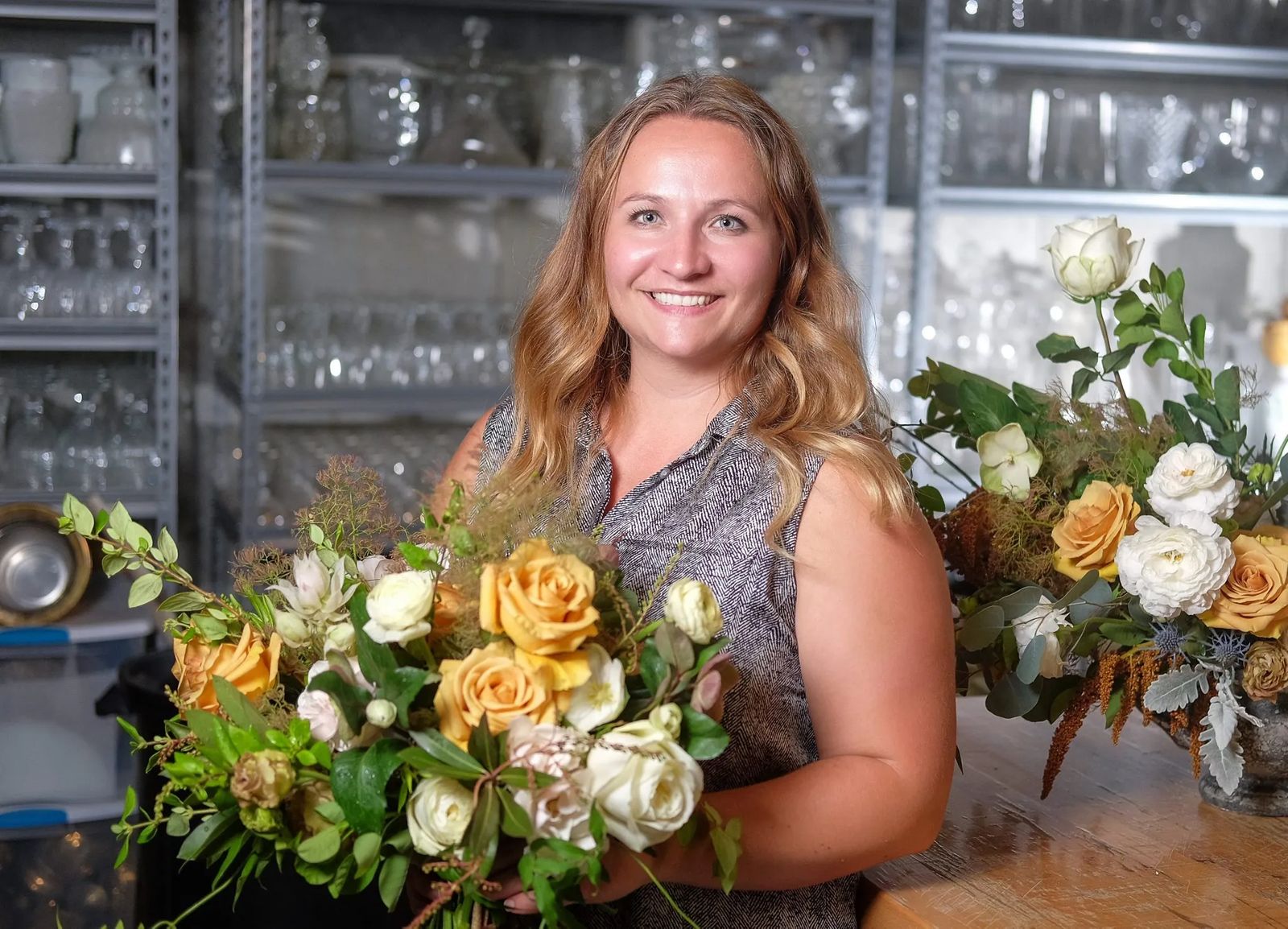 Katie's 'vintage vibe' displays organic glamor amidst natural beauty. Like the touches of eucalyptus, she also unites it with the "unexpected" yucca pod. "It's a departure but it's unique," she notes. And, nestled among white roses and colorful hydrangea blooms, both tropical plants add mood, character and distinctive flair to the art Katie designs with flowers.
"I was inspired by big name florists like Francoise Weeks that made me think out-of-the-box," shares Katie. "I like creating arrangements with an ethereal and organic feel." Her innovative style integrates up to 20 different varieties of flowers in a bridal bouquet. "This creates texture," she says, along with stunning color.
The variation of these blooms and the greenery Katie brings together magically transform the venue where each wedding takes place. Focusing mainly on the Billings and Red Lodge areas, her artistic work has graced the Billings Depot, Moss Mansion and many outdoor settings in the Beartooth Mountains.
"One of the more unique (outdoor) weddings I've done is for a bride that wanted something androgynous; not feminine nor masculine. The color palette was ivory and browns with leather details. It felt truly rustic and warm," she recalls. "We made a botanical necklace, a new mechanic I had learned. The necklace was flat leather and we glued real floral to it. There were howling winds the day of this outdoor wedding so it was wild and free that day!"
From wearables like the botanical necklace to exquisite floral décor on wedding cakes, to bouquets, table settings, and boutonnieres, Katie's ready for any challenge. Her delight in bringing on the untraditional keeps this entrepreneurial designer setting higher goals. This year, she delightfully states, "I'm attempting to grow our own flowers."
Katie employs one part-time gardener and one part-time floral assistant. She's busy but wouldn't have it any other way. Sh" she says, unequivocally.
 FOR MORE ABOUT MAC'S FLORAL, visit macsfloral.com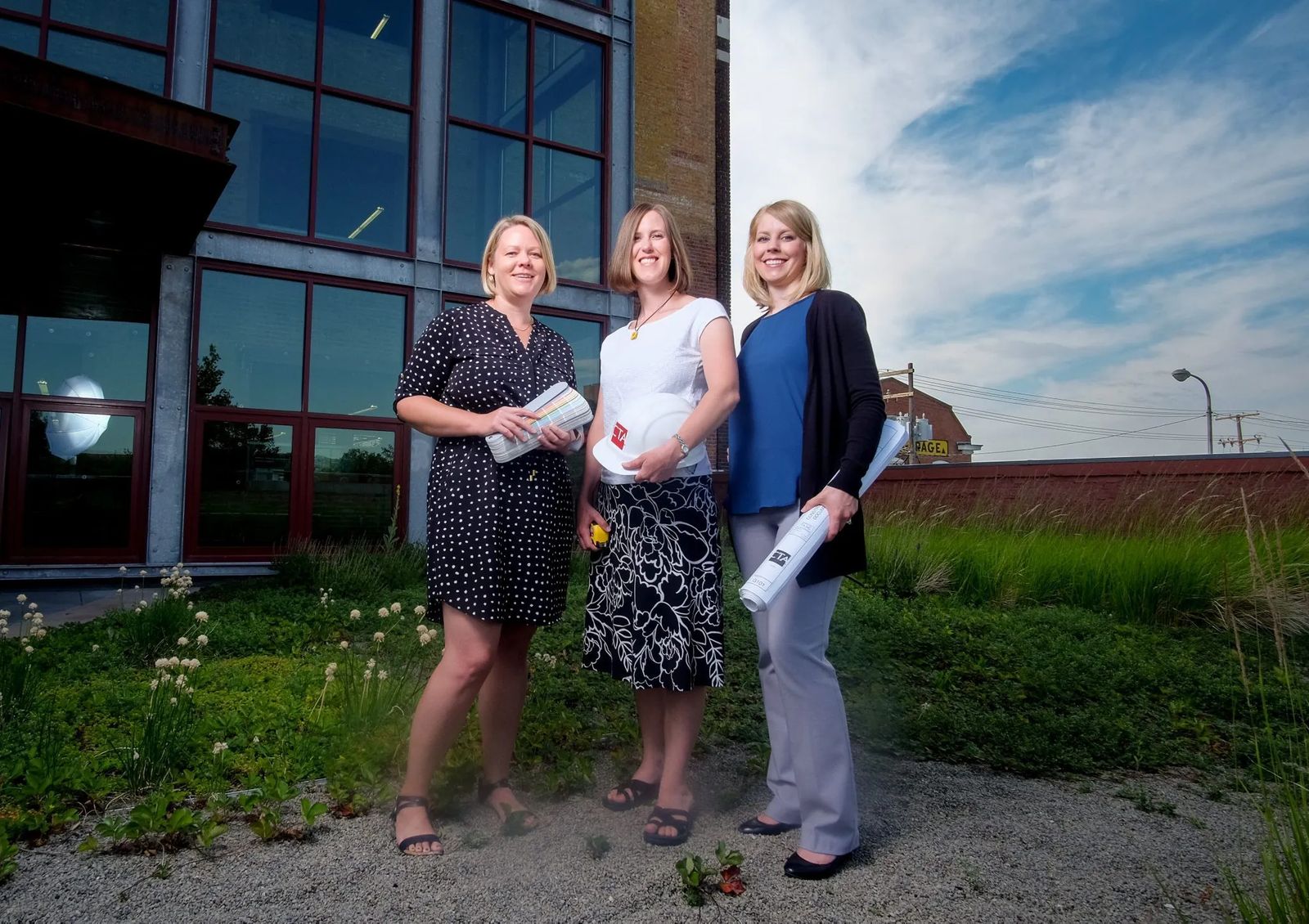 STRUCTURES DESIGNED TO FUNCTION
Teaming up to change the face of Billings' professional hot spots, three resourceful professionals from CTA Architects Engineers exercise their talents by keeping an eye on structure, energy efficiency, and visual appeal. These energetic working moms all under the age of 40 work on a variety of commercial projects including healthcare facilities, financial institutions, and educational buildings.
"We're assigned to projects at CTA," points out Mechanical Engineer Raelynn Meissner and mother of three. "It starts with the needs, wants and goals of the client," adds Architect Shannon Christensen. "We bring in our team early so everyone knows our client's vision. Then, it's the concept of the building – the idea behind it."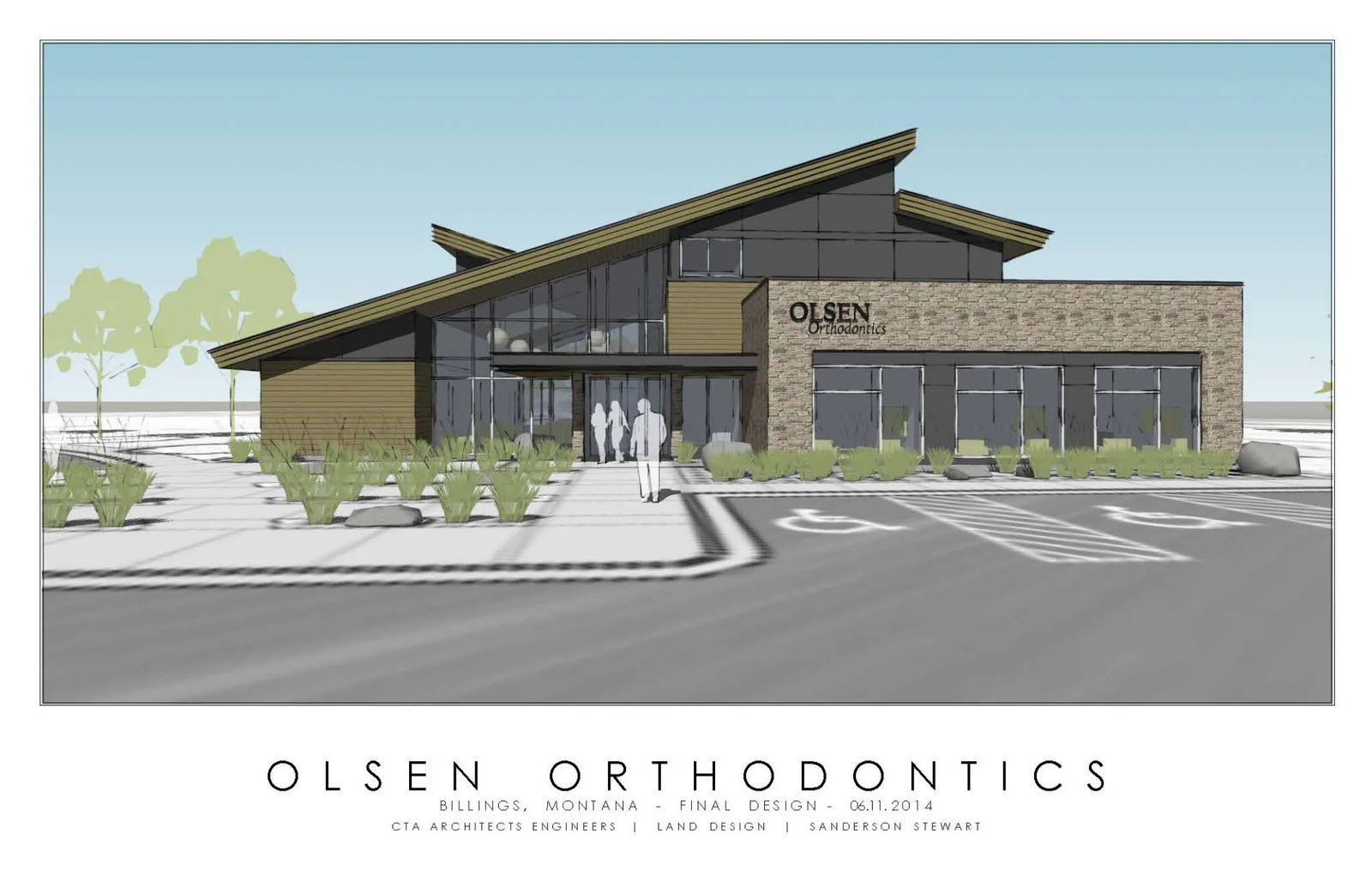 Many familiar buildings you see around town originate from these concepts. Whether the structure happens to be a new-build like Altana Federal Credit Union and Wyndstone Independent Living and Assisted Living, both located in the Heights, or the Olsen Ortho Studio or even Rocky Mountain College's science building, this trio of Superwomen takes it from start to finish. They've worked together for over a decade.
"We're jacks of all trades," says Raelynn, who designs heating and cooling systems. "I keep it comfortable for everyone!" Her job involves working these systems into the design of each building, not only for long-term operating/energy bills but, to merge with the aesthetics of the structure.
"We do a lot of remodels and assessments or upgrades," continues Raelynn. "Currently, we're going through a recertification of the CTA building for LEED (Leadership in Energy and Environmental Design, a rating system devised by the United States Green Building Council to evaluate the environmental performance of a building and encourage market transformation towards sustainable design). "This involves more energy efficiency on my end."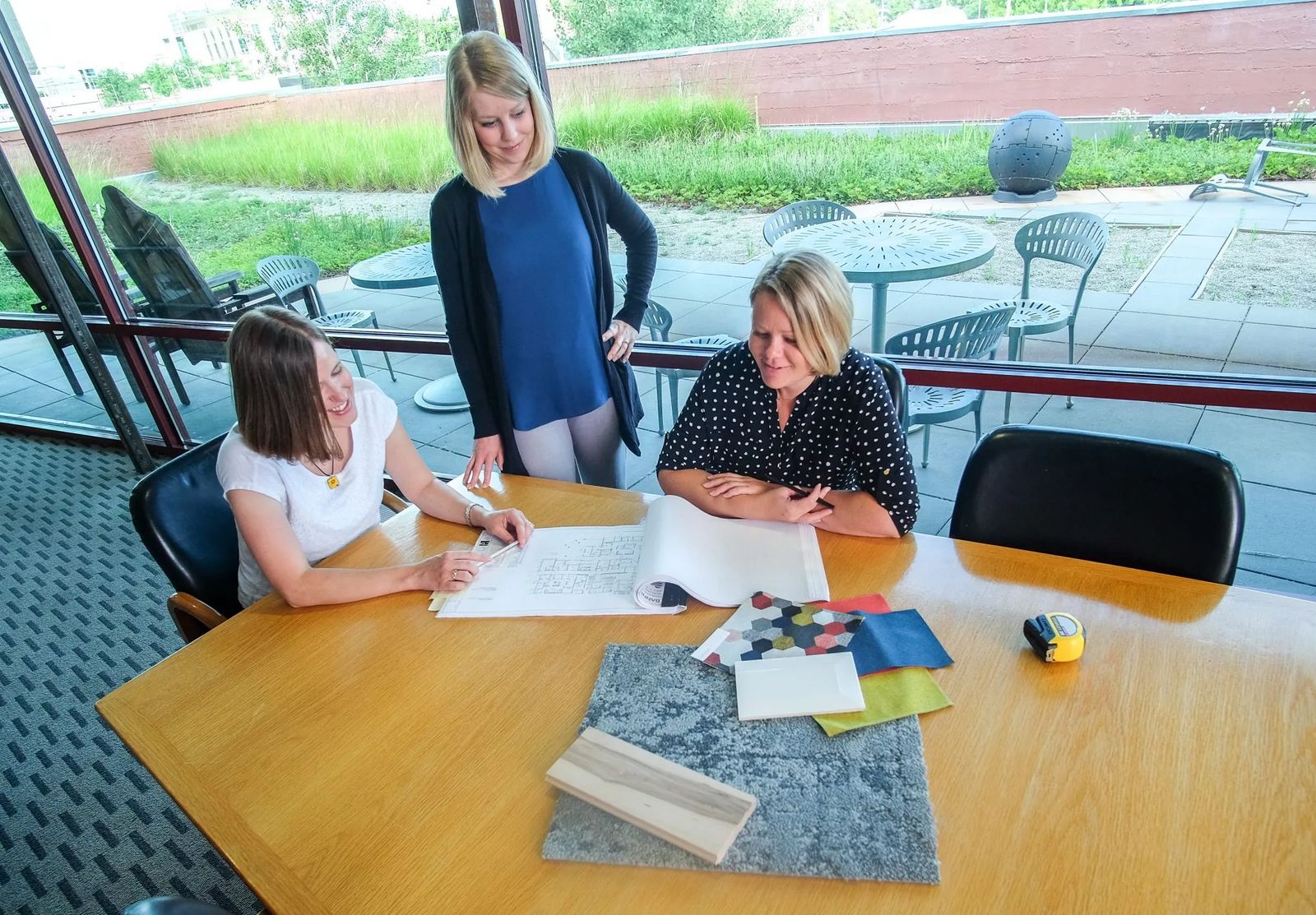 The environmental responsibility the team embraces ranks high on the list. "We have a lot of rules and codes for functional maintenance, especially with large companies," shares Senior Interior Designer Dawn MacKenzie, who, like her counterparts, holds a degree and is a licensed professional.
Flooring, for instance, initiates a domino effect. Whatever type of flooring material Dawn chooses for a job, she must consider if it'll take an expensive piece of equipment to clean the floor. "It's challenging, but fun," states Dawn.
"We think about the public, too," comments Shannon. "You want a positive impact on the Billings community." When defining the new Altana building, Shannon mentions the goal was for it to be a "warm and inviting space, yet professional."
"We initially have a visioning session with our client and team," advises Dawn, mom of two daughters. "It's a fun exercise, a psychological test for clients. They (the clients) pick five of the images we've brought and placed on the wall. We discuss each image." This method allows the team to leave with a strong design concept. "And, we follow through," points out Dawn.
"No one person makes this happen," asserts Shannon. "We all sit in one building so it's easy to work as a team." Raelynn agrees, "We want to produce a bold design that satisfies our client and integrates systems together. We function as a team rather than individual designers."
"It's fun seeing the evolution of a project, where it starts and ends," affirms Shannon. Or, if they have a brand — an aesthetic, like Atlanta or Stockman Bank, we help them develop the brand."
Dawn, Shannon, and Raelynn concur that each project is a fresh canvas. It evolves from seeing what the clients' needs are to fulfilling those needs. "There's so much that goes into a building," declares Shannon, who just recently gave birth to her first child. "No one person makes it happen."
Operating as a team that enjoys "great flexibility" as working moms, Raelynn sums up,
"We're unique in our market. There are different firms for design whether it's an architecture firm, engineer firm and so on. At CTA, we're all in one building."
Dawn, Shannon, and Raelynn each relies on her own unique and distinctive set of skills, yet, by integrating these talents the Billings skyline illuminates structures designed with function and the community in mind.
TO LEARN MORE ABOUT THESE DESIGNING WOMEN, visit www.ctagroup.com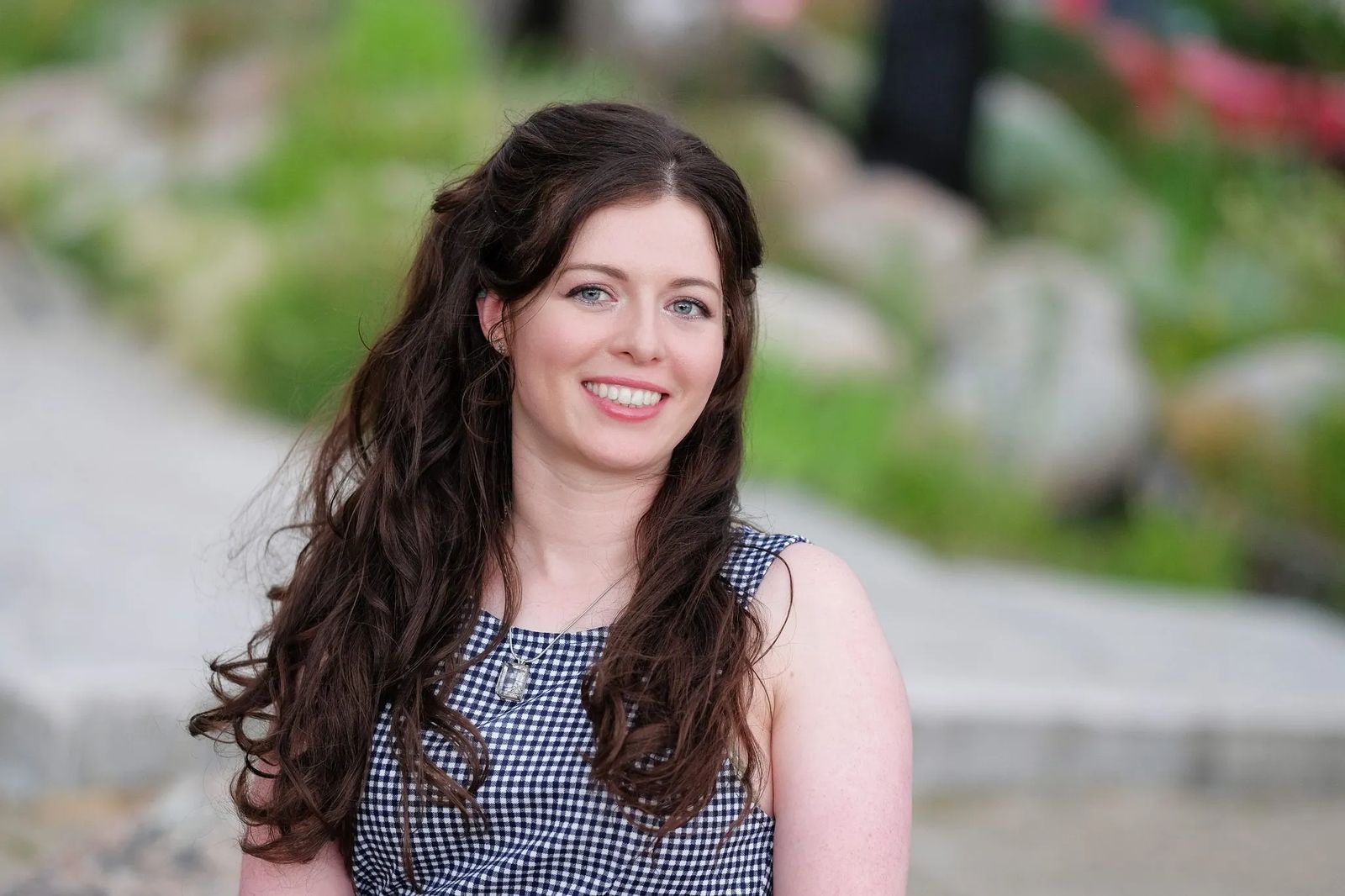 DESIGNED TO HEAL
Creating and developing a line of natural therapeutic health products contrasts like night and day to Julia Dawson's accomplishments as an emerging U.S. fashion designer. The crossover of these two diverse paths does, however, connect quite succinctly. The evolution has been borne from necessity.
Like her varied art and sewing projects since she was just a toddler, Julia, a Billings West High graduate, persevered with passion and artistic genius to graduate with honors from Washington State University's Apparel, Merchandising, Design and Textiles program where she received acclaim for 'Most Original Collection' and 'Sustainable Design' awards.
"The best thing about fashion school was designing the runway final because I could do whatever I wanted," exclaims Julia. "My main pursuit for the fashion industry was to be an apparel designer. It's the one medium of art that I was almost totally confident in and had been doing my whole life," adds this twenty-something. "My dream job would be to have been designing with Alexander McQueen while he was alive or some kind of Couturier, designer for weird musicians, or something where I could go wild with designing."
It was not to be, not yet, anyway. A couple of years out of college while driving back to Billings from visiting friends in Washington, Julia's vehicle was struck by a semi. The accident caused intense health issues. Julia, resilient and determined, soon began studying the ingredients listed on the different products she was using for pain relief.
"I have tried what feels like almost every product for pain and then took notes of what herbs or oils I think did or did not help" notes Julia. "The more I researched, the more interested I got into the healing properties of herbs, spices, concentrated essential oils and the history of how they've been used."
Julia's evolution to conceive and build a line of personal care products that relieve pain and inflammation without side effects has brought about Montana Snake Oil. This Montana-based business operates with Julia covering all the bases. She handles product development and inventory to label design and marketing. Her mother, Liz Dawson, a graphic designer, helped with business cards, banners, and brochures.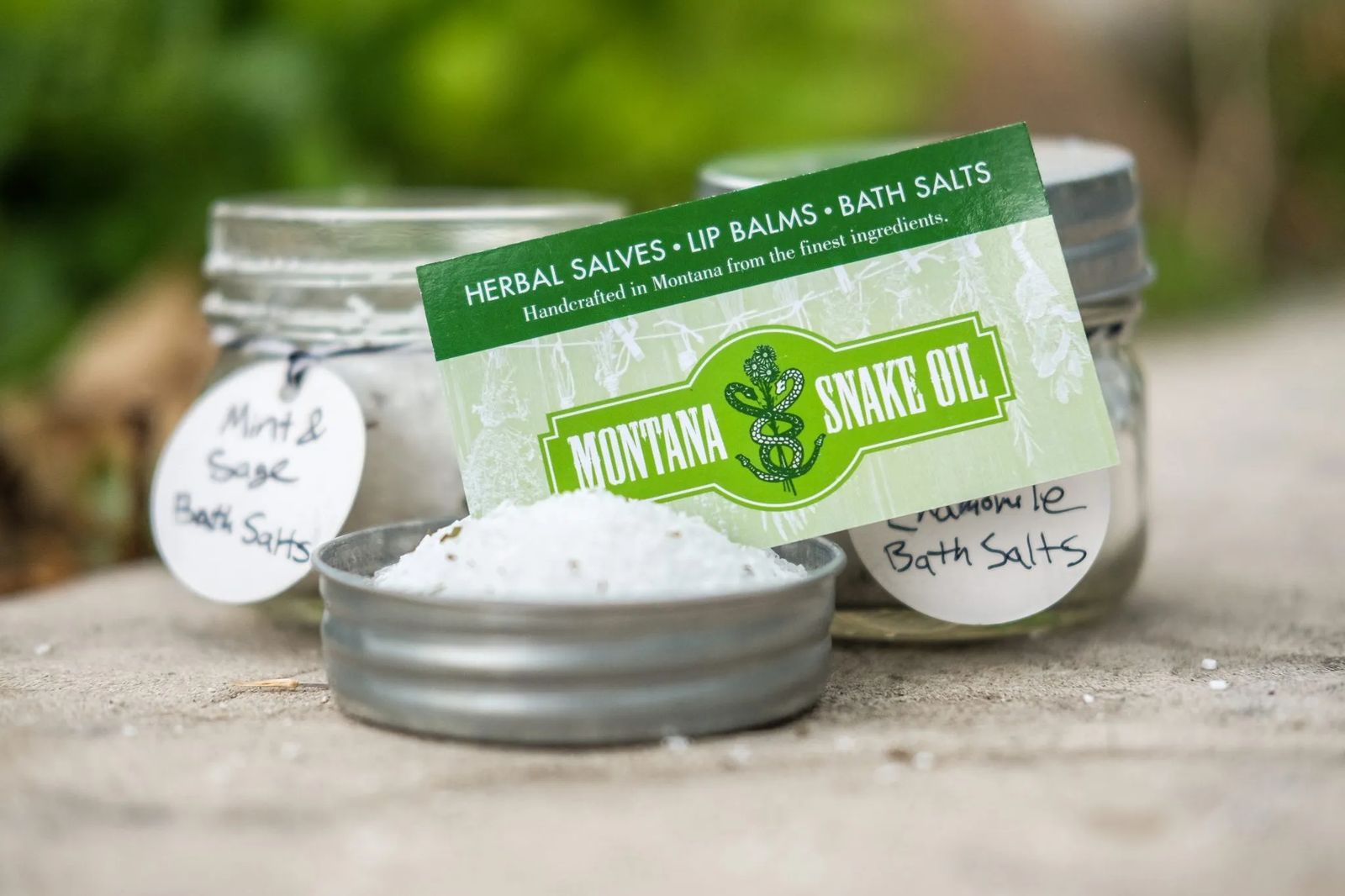 "I think a mixture of education, continuing to teach myself, necessity, love for nature, and my background in art and cooking combined to give birth to Montana Snake Oil. I worked on the salve purely for myself, getting the technique and recipe perfect for almost a year before starting the company," articulates Julia.
"I made many lists of herbs and oils and their healing properties before eventually combining every herb into one pain salve." The result is Spicy Pain Salve for Muscle/Joint Pain & Massage. It contains organic olive oil, beeswax and natural herbs, including cayenne, ginger, and clove, along with quality essential oils.
Focusing primarily on her therapeutic product line, Julia still keeps her fashion and accessories available online. "I have total control over everything," affirms Julia. She still sells leather purses and artwork on Etsy, however, she maintains, "Since this (therapeutic products) has helped me with severe pain, I've had to help others."
This strong-willed designer cultivates and develops new products, as well. She has expanded the brand by designing and producing lip balms and therapeutic bath salts for muscle pain. "Montana Snake Oil products are handmade in small batches with the finest ingredients sourced from Montana whenever possible with no petroleum products, dyes or harmful chemical preservatives ever used," declares Julia.
This Montana designer sees most of her product selling to western and southern U.S. states and into European countries.  Her goal now for these healing products centers on wanting to expand into retail stores. "I just keep going," Julia confides.
With everything this creative genius has experienced in less than three decades of life, she offers some solid advice.
"Just take care of and respect your bodies. Health is everything in life and life is short. Find something you are passionate about or many things and pursue them to your best abilities. Find your strengths and what you're good at. Always have a backup plan if your passions don't take you where you want to be. Don't doubt you can't accomplish what you want so you never try. You're stronger than you ever know."
 FOR MORE ON MONTANA SNAKE OIL, visit montanasnakeoil.com. They are also available locally through Massage Therapist April Webb at A Head of Our Time Salon. For Julia's leather purses and accessories, visit her Etsy store at etsy.com/people/dawsondesign.