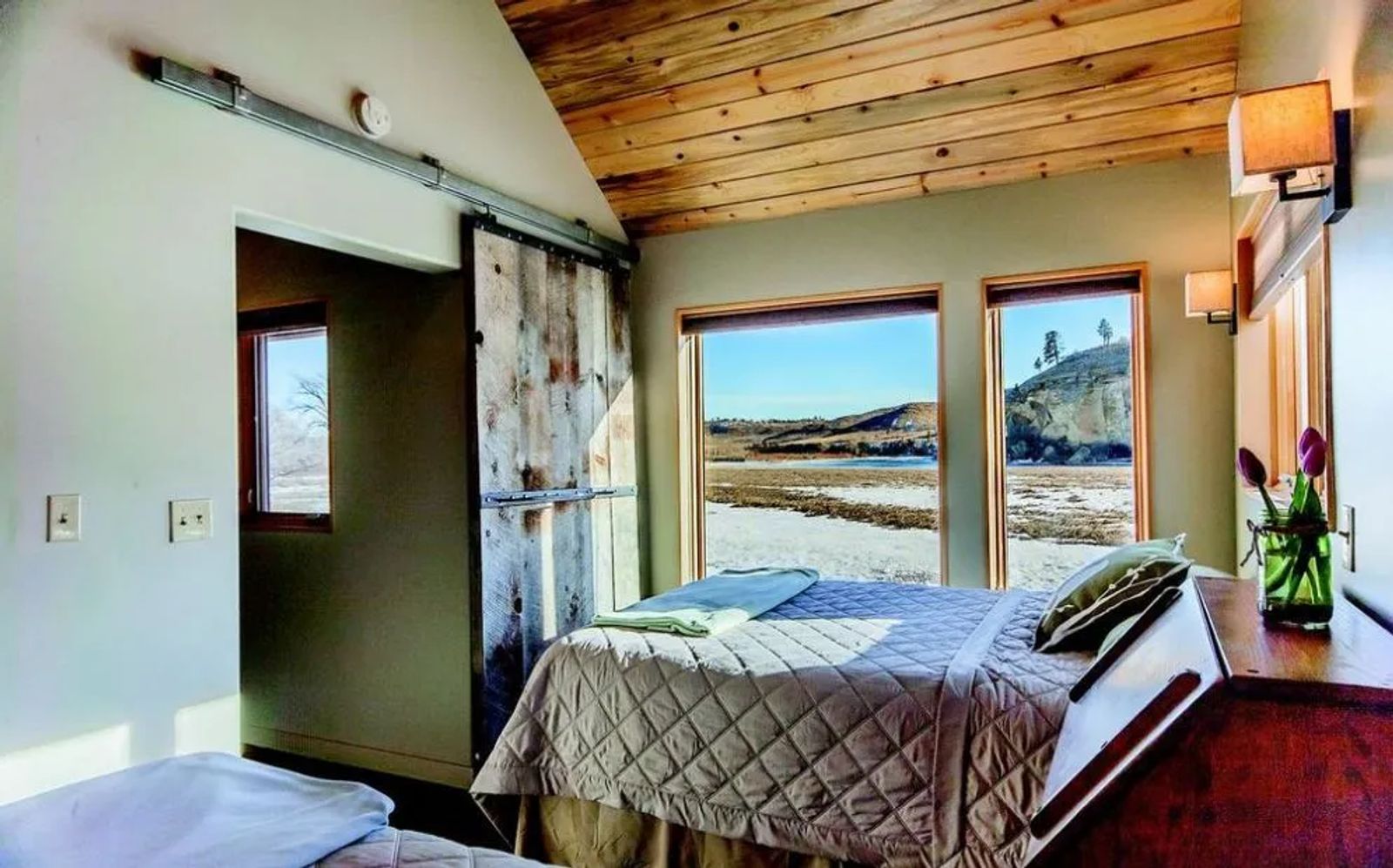 A Bed & Breakfast Becomes One Couple's Life Journey
"It's built for the views," says Dan Sayer, standing in the magnificent great room of the home he and his wife Jan built fourteen years ago. You can't disagree. Looking through a wall of Pella glass windows, the mighty Yellowstone River runs its course barely a few hundred yards away. The vista emerges as a sight to behold. Cliffs rise above fresh flowing water while regal birds soar over rugged landscape.
"You can't spend a day here by the river without seeing eagles, hawks, kingfisher or osprey," Dan says, with a smile that expresses pure joy. "When you hear a big splash and see a big osprey flying off with a big trout…it's a good day!"
Days filled with goodness seem to be how Dan and Jan roll - no matter the huge obstacles they've overcome the past decade. Dan's undergone three neck surgeries and a recent bout with kidney cancer, yet, they carry on undaunted. "He would've been paralyzed if he didn't have the neck surgery," shares Jan, "so, we had to come up with a plan."
"Dan and I have always been given to hospitality," she notes. This realization inspired Jan to pursue a new adventure. As they phased out their construction business, Sayer Paint, Jan made strides in developing a new business. Dan eagerly joined his wife in a change of scenery after spending the previous 32 years constructing commercial buildings in Billings.
It was time to build for them. On their 70 acres located a few miles outside of Park City Dan pulled out the tools and built a small cottage. This and their 4,700 square-foot home soon turned into a bed & breakfast destination. The doors to Yellowstone River Lodge swung open in 2006.
The spacious, yet cozy-style house serves as the main lodge while the cottage and two others that Dan has since built make up the multifaceted bed & breakfast property.
"We've made new friends from around the world," remarks Jan. "People from Germany, Italy, Israel and China have been here. We've learned so much from people about other countries. Many from China ask us, 'Don't you get scared out here?' They're not used to living away from everybody."
One particular couple that Jan and Dan remember as "most interesting" is an Irishman and his Chinese wife. "They each lived in their own country. They were married and would see each other about five times a year. They were a great couple," says Jan. "No fights!" adds Dan, teasingly.
The lodge's clientele is mostly travelers and families. The desirable guest accommodations include three luxurious suites in the main lodge. One of these is affectionately referred to as the "Trail Drive." An original picture of the Great Montana Centennial Cattle Drive of 1989 appropriately adorns one wall. The space also boasts a full kitchen and its own entrance.
Two of the three suites garner a view to the river while the third gives way to unhindered observation of farm life.
Farm living comes natural to these Montana natives. Jan and Dan raise organic beef and chickens. They also put up hay. Cows graze close enough to moo at Dan when it's feeding time while fluffy chickens go about their pecking near the house. This pastoral setting with easy access off the interstate beckons to guests looking to unwind, relax and be pampered.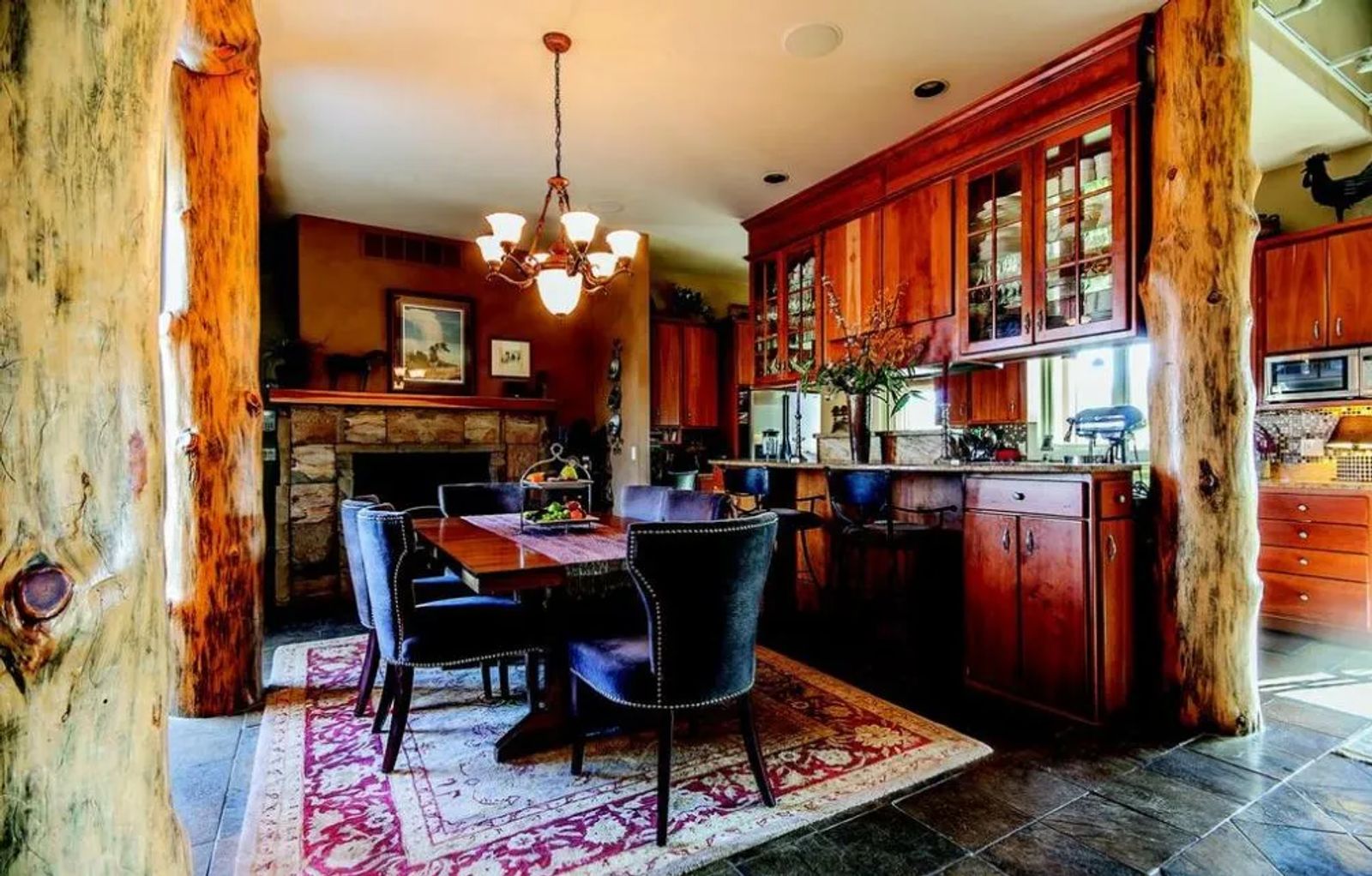 Jan dishes up the pampering with incredible breakfasts and brunches. Fresh fruit and homemade zucchini/cranberry or other breads are always on-hand. The large oak dining table from Germany graciously seats everyone in the open dining/kitchen area. At the far end of the dining room a slate and sandstone wood-burning fireplace keeps the seasonal chill at bay while a warm and fuzzy feeling fills the air.
Notable family comfort tied into the building of this home. Dan and Jan considered every detail like in-floor radiant hot water heat. They incorporated help from Randy Hafer of High Plains Architects who originally did the design. Sheldon Eaton, Jan's brother, composed the layout. "We designed the house around the windows," Dan reminds us.
Voluminous knotty pine timbers 14 to 16-inches in diameter stand firm in the open living area. "The owner of the lumber and hardware store in Columbus brought these to my driveway," acknowledges Dan. "He'd had a fire, so I peeled them and up they went."
Four of these six naturally caramel-colored columns offer interior structural support. More are used around the exterior of the dwelling. The beauty of these behemoths lends western-style flair. They surge from the slate-tiled floor to the upper reaches of the second story. The same blue pine (known by this name after beetle kill or being roasted in a fire) adds a rustic element to the staircase and upper floor railing.
Standing in the openness of the main floor, your eyes travel 27 feet upward to a lavish tongue and groove ceiling. This space divides the kitchen/dining area from the great room. A custom-made stained glass window from Montana Art and Glass showers the area below with muted light and color.
Glancing into the great room, a polished rock fireplace takes center stage. "We picked all the rock from the Yellowstone River and laid it," explains Dan. "We did everything here except we had a carpenter do the trim work."  This elegant home displays sheer quality construction.
The gourmet kitchen features a speckled granite-topped island with stainless steel six-burner gas cooktop and oven. Cherry wood custom cabinetry with glass end cabinets from R & T Custom Cabinets and Furniture enhances the space.  A backsplash of one-inch tiles glistens in warm earth tones.
A sunroom off the kitchen and great room stretches the entire length of the south side of the house. "I try to grow my own herbs to clip for meals," divulges Jan. The countryside charm combined with Jan and Dan's hospitality recite a never-ending story. It's what makes this bed & breakfast an ideal get-away.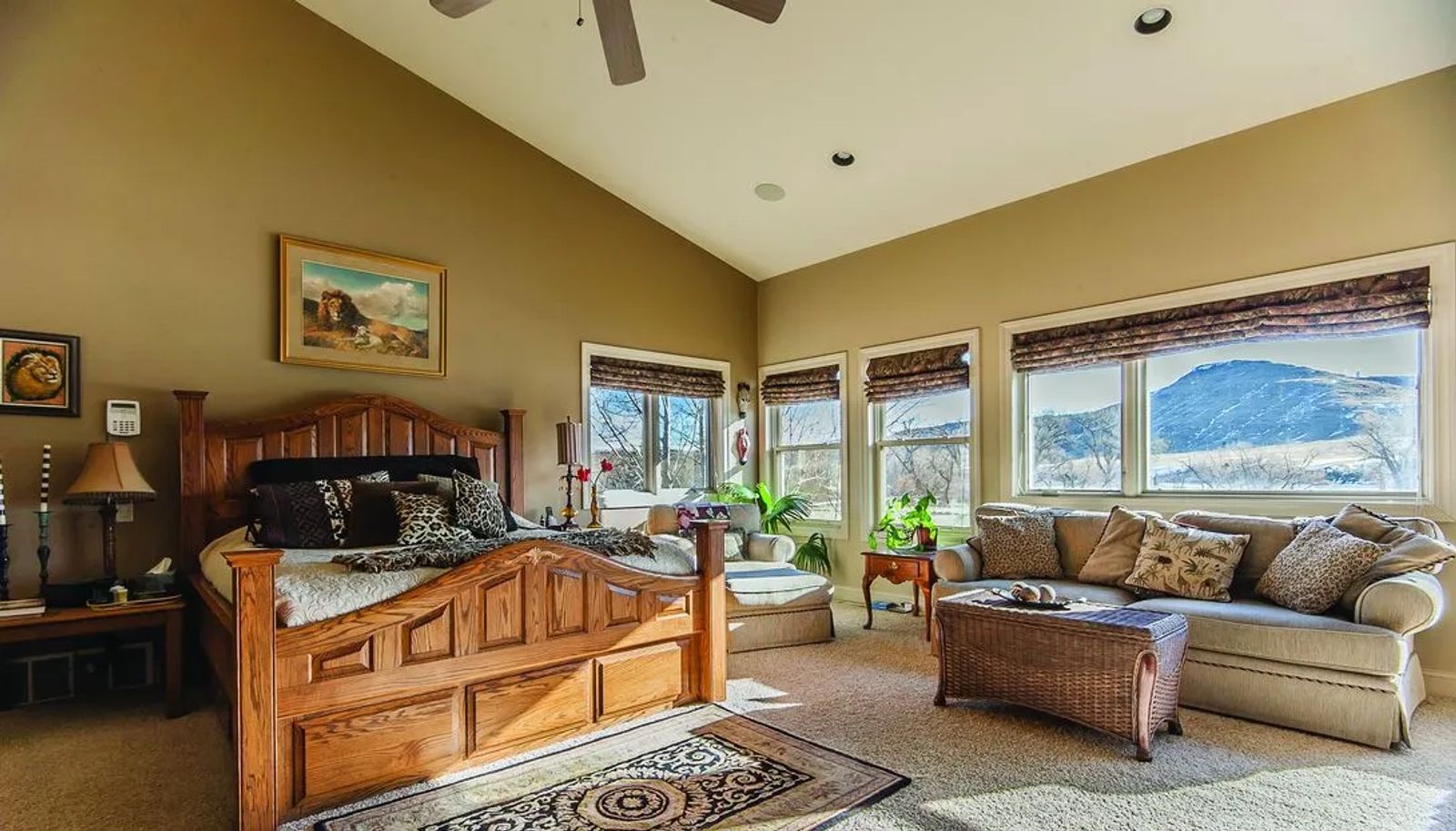 The main lodge guest suites are roomy and private. Two are on the first level with the third suite on the upper level, along with Jan and Dan's spacious master suite. Tasteful interior design by Jan showcases each room. It's divine design surrendering to gaping unforgettable views of the river.  
The three cottages offer even closer proximity to the river than the main lodge. Each abode resides within its own realm of privacy. Tall cottonwoods, aspen and evergreens give nice separation. All three cottages feature contemporary design.  Josh Sayer, architect/owner of Response Design and the couple's son, designed these enchanting retreats.
"The design is on line with the thesis he wrote in college," mentions Dan. "It's pod living - where you start with a small room and then add on to it as the family grows."
Rustic accents abound in these peaceful sanctuaries. Wrap-around decking delivers an exciting view of the wild river and surrounding habitat. A kitchen, bath, queen bed and other extensive amenities grant sweet and memorable stays.
The largest cottage offers 650 square-feet of living space. A sliding barn door separates and privatizes the bedroom. One and one-half baths complement the larger quarters. The other two cottages each comprise 450 square-feet.  "All three are built on piers, enhancing the views up and down the river," states Dan.
It's a wild, yet, stately piece of ground along the river banks. "Peaks to Plains Design came in and planted trees all around the cottages," says Dan, "along with some other landscaping. They'll place rip-rap along a part of the river, too. That's to come!"
The river's hot spots for fun embrace a swimming hole, excellent bird watching opportunities and if you enjoy some tremendous fishing you'll love the personal angling trips guided by local expert Chris Fleck of Stillwater Anglers.  You can even start your float trip from Columbus and end up at Yellowstone River Lodge. It has proven a wonderful place for weddings by the river, family reunions, quilt and artist retreats and even business gatherings. "We've had the City of Columbus for business luncheons," comments Dan. 
The future bodes well for Jan and Dan. They're planning now to build an 1800 square-foot covered patio with warming kitchen. "I want to secure my dinner license," exclaims Jan, "so we can have monthly community events on the river. Maybe bring in musicians and other artists. I'd also love to cook breakfast on the river in the mornings."
Talking about the years they've opened their home and hearts to visitors from far and wide, it's plain to see this couple enjoys doling out the hospitality. "It all started with one cottage," says Jan. "It's been a great journey. We love it!"
For more information on Yellowstone River Lodge
Visit the website at: www.yellowstoneriverlodgemt.com and check them out on: www.booking.com