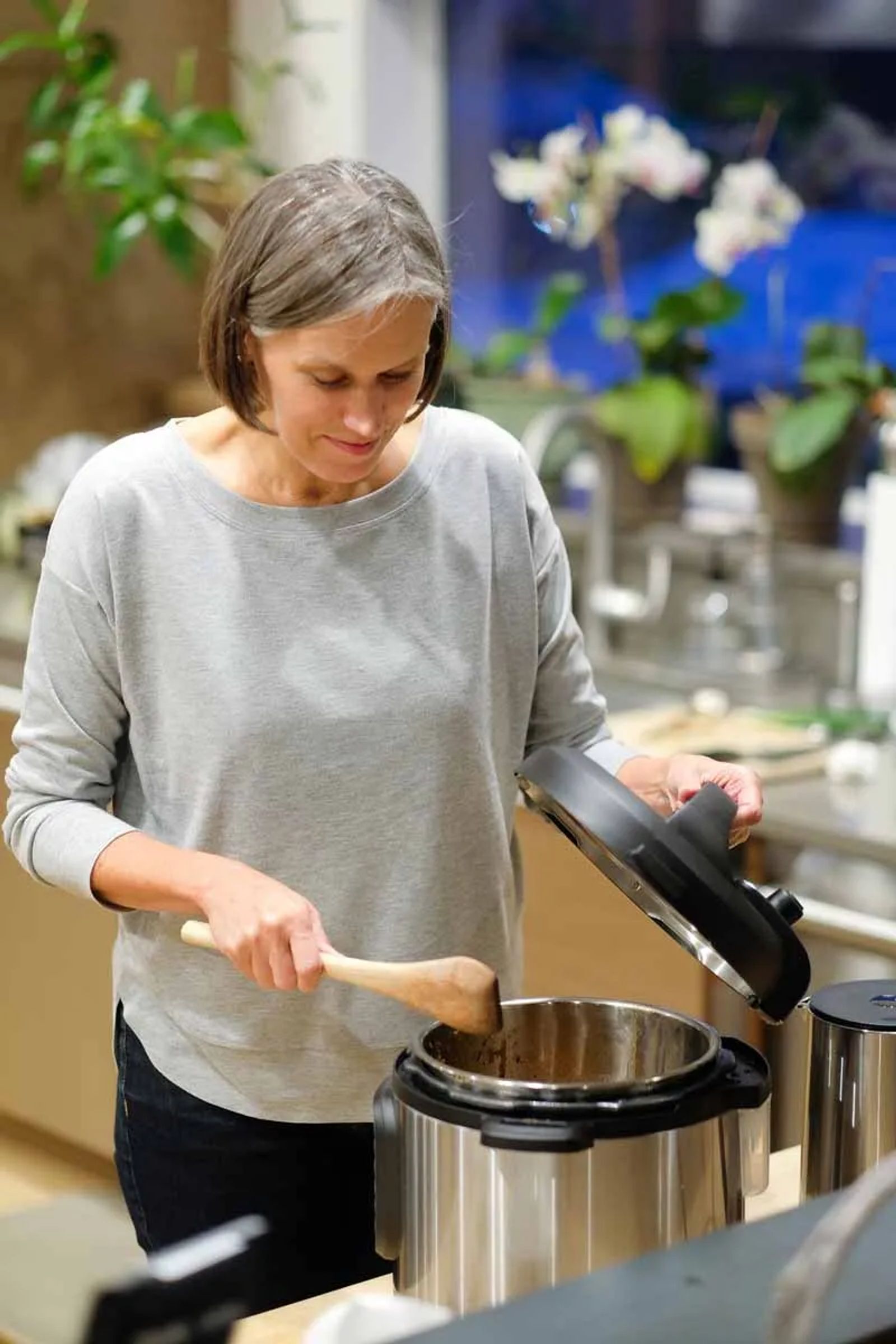 Dinner in an Instant!
This countertop sensation is changing the kitchen
By Stella Fong, Photography by Daniel Sullivan
Takeout and UberEats are now doing battle with a small cooking sensation. This countertop appliance, an all-in-one pressure cooker, slow cooker, rice cooker, steamer and warmer, can deliver a homecooked meal faster than the time between a phone call and when the delivery person rings your front doorbell.
About a year ago I bought a Breville Fast Slow Pro Multicooker. Being a Williams Sonoma addict, I constantly marvel at the latest and greatest cooking gadgets. With the multi cookers, most of the big brands such as Cuisinart, Wolf and Kitchen Aid have also stepped into the game. I can cook one of my favorite dishes, like risotto, in minutes with reasonable results, and best yet, no need to stand by a stovetop stirring for half an hour. Don't get me wrong, I love to cook and will spend hours in the kitchen, but the instant multifaceted cooking gadget has freed me up to pursue other things.
In the past several years, it has been the Instant Pot created by Instant Brands Inc. of Canada that has become the rage. This product, created by a group of technology geeks to promote and incorporate better eating into their own busy lives, at work and at home, has a cult-like following, with recipes appearing in just about every food site and publication.
The Instant Pot CSG Multi-Use Programmable Pressure Cooker came to life in 2010 with an advanced microprocessor combining five cooking appliances into one. Since I wanted firsthand knowledge of this unit, I recruited the help of my friend Sandy Kunkel who just purchased an Instant Pot several months ago. My Breville unit has a few more programmable functions and a larger vessel, but both operate similarly while the Instant Pot is kinder to the pocketbook.
To see the difference, Sandy came over to my kitchen and we cooked together. She initially purchased a unit for her daughter, Anna, who lives in a small New York apartment. After hearing how well it cooked legumes and soups, Sandy got one for herself. "I bought the Instant Pot because we started eating more vegetarian/vegan and thus, eating more beans," she says.
As the co-owner of A+ RV and Mini Storage, Sandy's days are full. "I love using it to whip up quick, hot, yummy lunches since we eat lunch at home most days," she says, adding, "I just used it last night to cook red beans for a red beans and rice dinner. It was so quick I couldn't believe it. I get home from the office at 5 and dinner was ready by 6:15 and I didn't even soak the beans. Then it's so easy to keep it all in one pot, making cleanup a snap."
And that's why many have picked up this little countertop treasure, opting to make homecooked meals with speed and ease instead of picking up the phone to order out.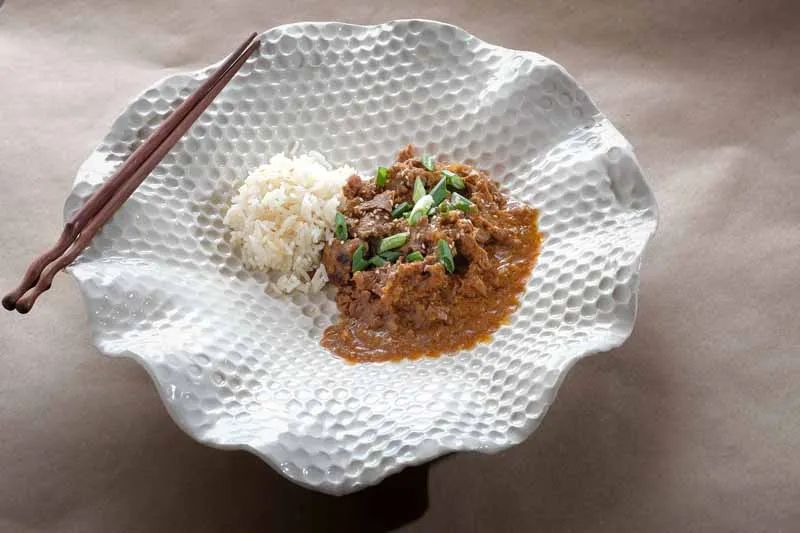 WHITE RICE
Makes 6 cups
To make this staple, even though I have given specific measurements in this recipe, the rule of thumb in my house is to add rice to the pot, then gently place your index finger on top of the rice and add water to the first bend or crease of your finger. This method has never failed me. Keep in mind, different brands of pots might cook faster than my rice cooker.
2 cups long grain white rice (basmati or jasmine)
3 cups chicken broth, vegetable broth or water
Add rice and chicken broth, vegetable broth or water to the pressure cooker pot and stir. Secure the lid and select "Pressure Cook" at "High Pressure" for three minutes.  When cooking is complete, use "Natural Release" for 10 minutes. Fluff the rice with a fork. Serve immediately.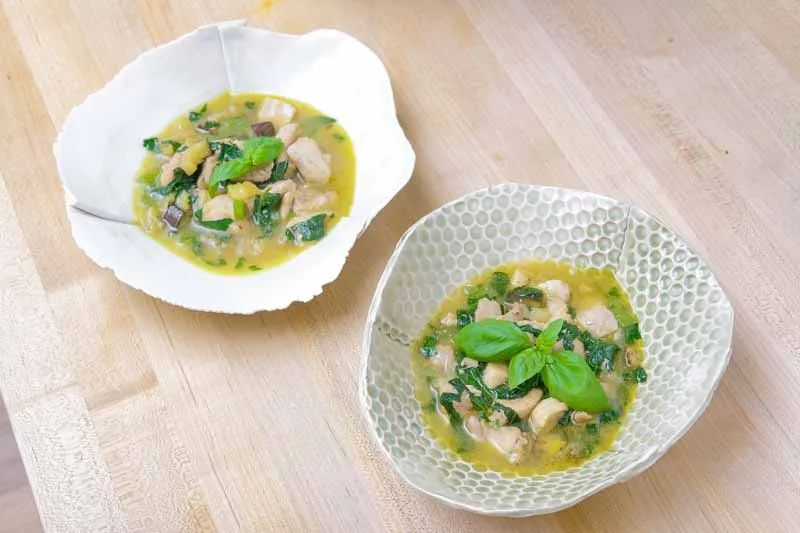 THAI GREEN CURRY WITH CHICKEN
Serves 4
The inspiration for this recipe came from my recent travels to Thailand, where Sandy Kunkel and I took a cooking class at the Blue Elephant Cooking School in Bangkok. Traditionally this dish is made with two styles of eggplant: green and pea. The curry can be quite spicy, so adjust by adding less paste or diluting further with coconut milk.
3 pounds chicken thighs, cut into chunks
1 T. canola or coconut oil
3 T. green curry paste
4 cloves garlic, minced
1 large shallot, coarsely chopped
2 T. fish sauce
2 c. coconut cream
2 T. palm sugar or light brown sugar
3 kaffir lime leaves
½ green bell pepper, stem and seeds removed, diced
½ pound Italian eggplant, cut into chunks
Leaves from 1 small bunch spinach, coarsely chopped
GARNISH: a large handful of basil leaves
Select "Sauté" and allow the cooker to heat up about one minute. Add oil and green curry paste and sauté for about 30 seconds until fragrant. Add shallots and garlic, and sauté for another minute. Pour one cup of coconut milk into the pressure cooker and stir in curry, shallots and garlic, cooking about 30 seconds. Add fish sauce, sugar and kaffir lime leaves. Mix well. Add the chicken. Close the lid and cook at "High Pressure" for eight minutes. Allow pressure to release naturally for 10 minutes. Scoop out the chicken onto a plate. Select "Sauté" and bring to a boil. Add eggplant and cook until desired firmness, about two minutes. Stir in bell peppers and cook for one minute. Add spinach and cook until leaves wilt, about one minute. Stir in chicken and warm for another minute. Taste the green curry and adjust the seasoning with more fish sauce or palm sugar if necessary. Stir in basil leaves.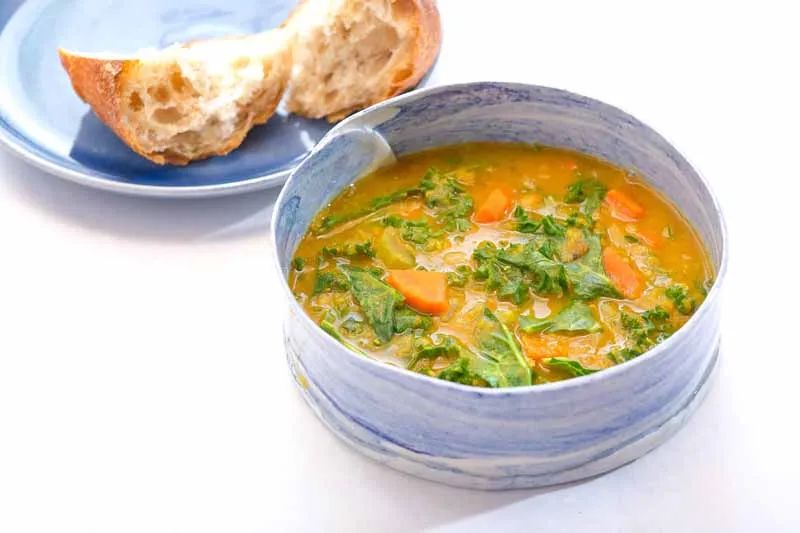 RED LENTIL AND KALE SOUP
Serves 6
When I asked Sandy what her current favorite recipe was to make in her Instant Pot she shared a brown lentil and spinach soup. Working with what was in my pantry, we came to this version. Keep in mind that red lentils cook faster than brown and spinach wilts faster than kale so adjust accordingly.
1 T. olive oil
½ medium yellow onion, diced
2 medium carrots, peeled and diced
1 medium stalk celery, diced
4 cloves of garlic, minced
2 t. ground cumin
1 t. ground turmeric
1 t. ground coriander
Salt, to taste
Ground black pepper, to taste
1 c. dry red lentils
4 c. chicken or vegetable broth
4 ounces baby kale or kale leaves, coarsely chopped
Select "Saute," add oil and heat for about one minute. Add onions, carrots and celery, and sauté for about five minutes until vegetables are tender. Add garlic, cumin, turmeric, coriander, salt and black pepper. Cook for one minute. Add the lentils and broth. Stir together. Close the lid and cook at "High Pressure" for nine minutes and allow pressure to release naturally. Open the lid and select "Sauté." When soup comes to a boil, stir in kale, and cook for about two minutes until wilted and tender. Add additional seasoning, if necessary.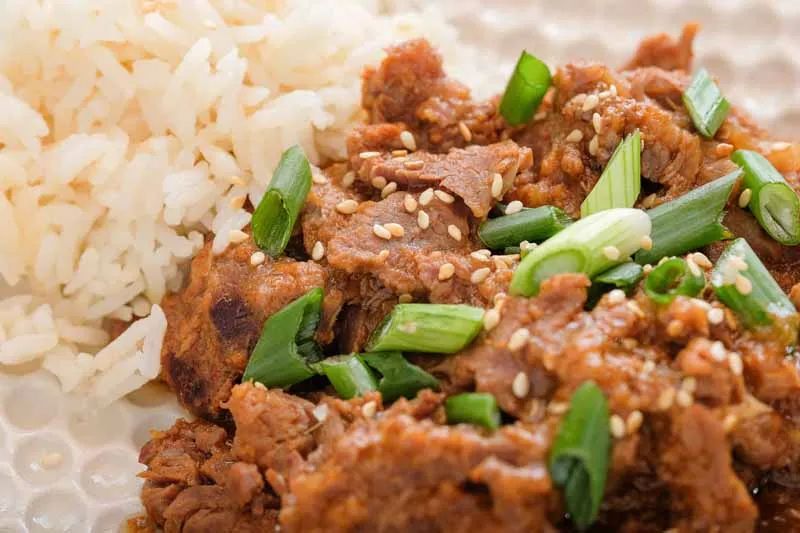 KOREAN BEEF
Serves 6
I could drink the marinade for this recipe, but I warn you against doing this. The concoction can be used for flavoring chicken, pork and lamb. During warmer months, you can take the meat and cook on the grill, which adds a layer of caramelization to its taste.
2 T. ginger
6 garlic cloves, minced
½ Asian apple, peeled, cored, coarsely chopped
2 T. Gochujang paste
3 T. light brown sugar
1 T. sesame oil
1/3 c. soy sauce
1 T. Mirin
3 pounds beef chuck
1 T. canola oil
½ yellow onion, thinly sliced
2 T. cornstarch
2 T. water
GARNISH:  Two stalks green onions thinly sliced, 2 T. toasted sesame seeds
In a food processor, blend together ginger, garlic, apple, gochujang, brown sugar, sesame oil, soy sauce and Mirin. Marinate the beef in refrigerator for at least four hours or preferably overnight. Select "Sauté," add oil and heat for one minute. Add onions and sauté until golden brown, about three minutes. Add beef and stir well with onions. Close the lid and cook at "High Pressure" for 10 minutes. Allow pressure to release naturally. In a small bowl, mix together cornstarch and water. Select "Sauté" bringing the beef and sauce back to a boil. Add the cornstarch mixture and stir until sauce thickens. Garnish with green onions and sesame seeds.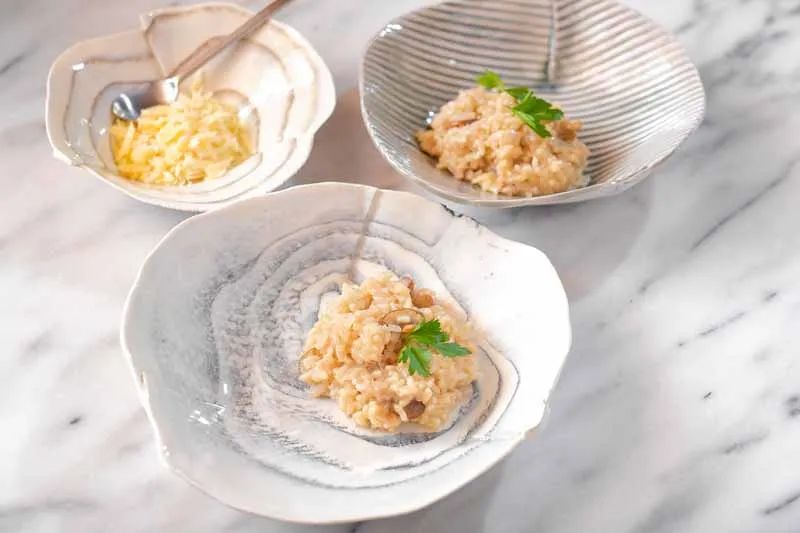 MUSHROOM RISOTTO
Makes 5-1/2 Cups
The Instant Pot makes a surprisingly good risotto. For years my husband, Joe, made quick risotto in the old-fashioned stove-top pressure cooker. This appliance takes away the need for attention.
2 T. extra virgin olive oil
1 medium red onion, chopped
2 cloves garlic, minced
8 ounces brown mushrooms, sliced
Salt, to taste
Ground black pepper, to taste
2 c. arborio rice
½ c. white wine
4 ½ c. chicken or vegetable stock
½ c. grated Parmesan cheese, divided
GARNISH: Chopped parsley
Select "Sauté," add oil and heat for one minute. Add onions and garlic, and sauté until almost translucent about, four minutes. Then add mushrooms and sauté until they start to brown, about five minutes. Season with salt and pepper. Add rice and cook for about three minutes, stirring occasionally. Add wine and cook until almost evaporated about three minutes. Stir in stock. Close the lid and select "Pressure Cook" for five minutes. Turn cooker off, "Quick Release" the steam and unlock the lid. Stir in half of the cheese. Garnish with chopped parsley.
SPECIAL THANKS TO THE TOUCAN GALLERY at 2505 Montana Ave. for providing the ceramic dishes created by Kate Morris for the presentation of the dishes in this article. Morris, involved in art her entire life, prefers three-dimensional work. With a BFA from the University of Montana with a focus on ceramics and jewelry, she spends much of her creative time in her unusual home in a grain bin north of Great Falls.