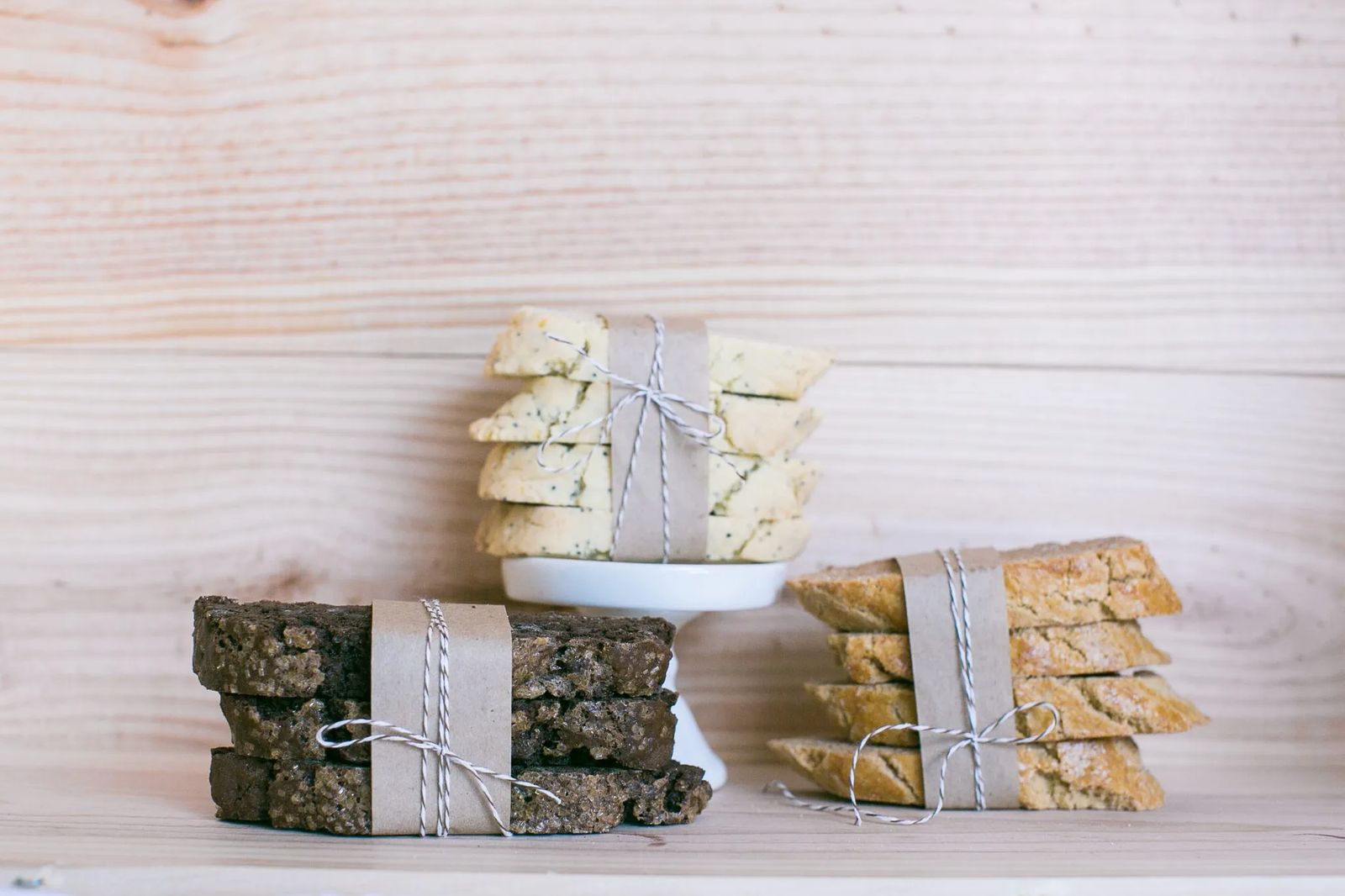 Dip & Sip
The perfect pair of biscotti & coffee
The food world has some perfect pairings: beer and peanuts (and baseball), red wine and dark chocolate, tomato soup and a grilled cheese sandwich, and coffee and biscotti.
I was introduced to the coffee and biscotti culinary couple years ago in the Little Italy area of downtown Baltimore. I don't remember the restaurant, but I do remember the cup of cappuccino and the biscotti set on the saucer. When I dipped that dry cookie into that hot, dark, rich liquid, I was hooked.
Biscotti literally means "twice cooked." It is baked twice to a very dry texture that is perfect for dunking in a hot cup of your favorite java. Because it is twice baked to a lovely dry texture, it keeps in an air-tight container for quite a while or can be frozen for up to three months, although I find they disappear very quickly.
Wikipedia extrapolates that biscotti may share an origin with biscuit, that confusing British word for a cookie that gives me pause when reading British novels or watching BBC shows (and don't get me started on digestives — another British cookie that I stumble upon in English stories).
Biscotti, also known as cantuccini, are typically laden with almonds, pine nuts or pistachios. Here in the U.S., however, any slender twice-baked cookie is called a biscotti. Lemon Poppy Seed, Chocolate, and Cinnamon Sugar Biscotti are some of my favorite recipes destined to be dunked and savored.
So, whether you use a French press, a drip coffee maker, cappuccino machine or a Keurig, get that coffee brewing and get ready to dip and sip away.
Enjoy!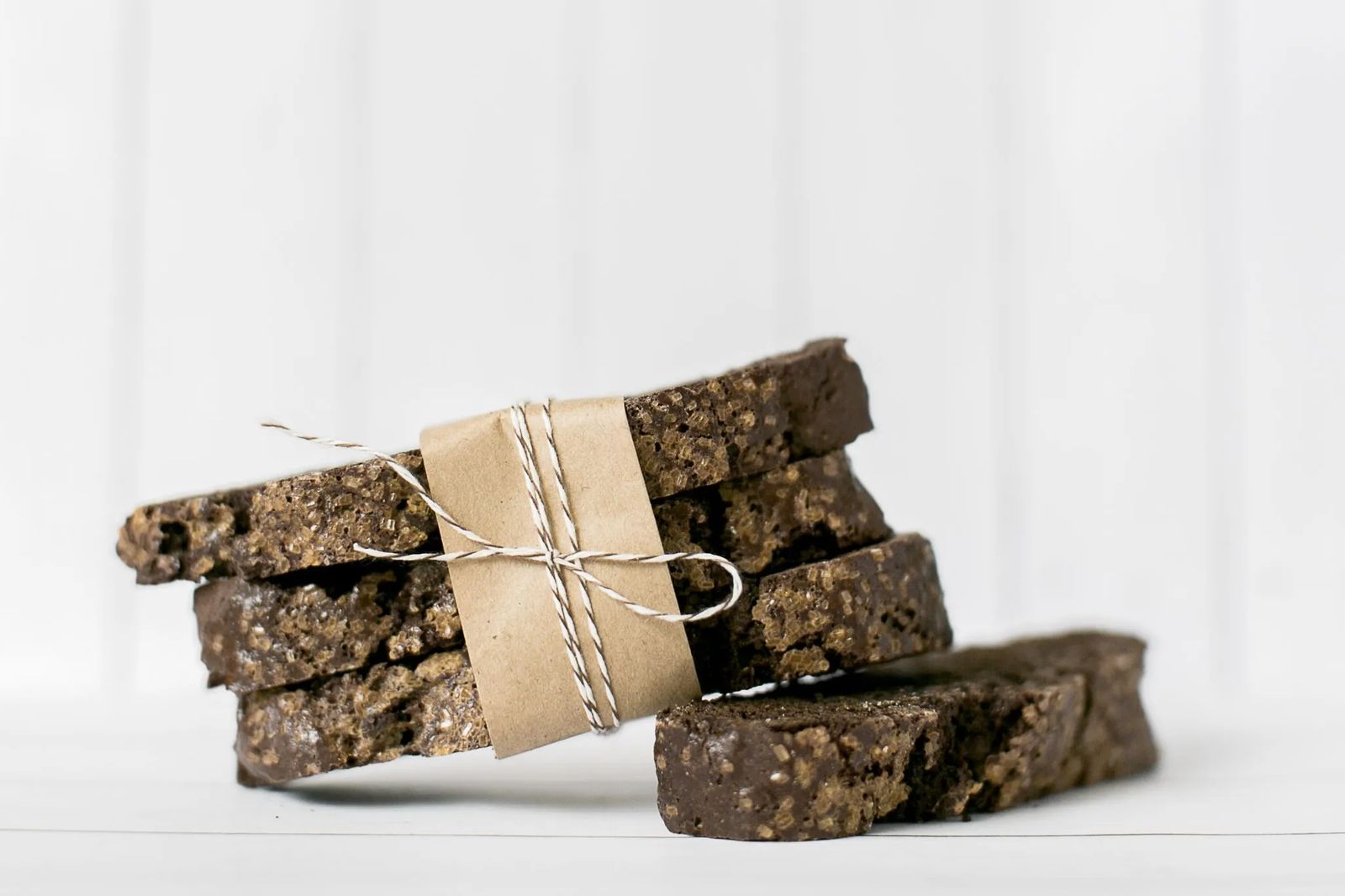 CHOCOLATE BISCOTTI
Recipe from Kay Erickson
2 c. unbleached flour
¾ c. plus 2 T. cocoa powder
1 t. kosher salt
1 t. baking soda
1¾ c. lightly packed dark brown sugar
1/3 c. granulated sugar
4 T. unsalted butter, room temperature
1 T. vanilla extract
1 t. double strength brewed espresso
3 large eggs
7½ ounces (1 rounded cup) milk chocolate chips
1 large egg, beaten and mixed with 1 T. water for egg wash
2 T. Turbinado sugar
Preheat oven to 350 degrees. Line a 12-by-17-inch baking sheet with parchment paper or nonstick liner. Whisk together the flour, cocoa, salt and baking soda and set aside. Using an electric mixer, cream the dark-brown sugar, granulated sugar, and butter at medium speed for about 4 minutes. Add the vanilla extract and espresso and mix briefly for about 10 seconds. Add the eggs, one at a time, at medium-low speed until each is blended. At low speed, add the flour mixture until the dough comes together, about a minute or two. Add chocolate chips and mix just until the chips are evenly mixed in about 15 seconds.
Transfer dough to a work surface and divide in half, shaping into balls, Form each ball into a log, 1½ to 2 inches wide. Transfer logs to the prepared baking sheet and flatten slightly. Brush tops of logs with egg wash and sprinkle each log with 1 tablespoon of Turbinado sugar. Bake until the biscotti have spread, have a few cracks and bounce back slightly when pressed with fingertips, roughly 30 to 40 minutes. Remove from oven and let cool completely about 1½ hours.
Reduce oven to 325 degrees. Using a sharp serrated knife, cut the logs into ¼" to ½" slices. Place each slice with cut side down on a baking sheet lined with parchment paper or nonstick liner. Bake until firm, crisp and slightly dry, about 15 minutes.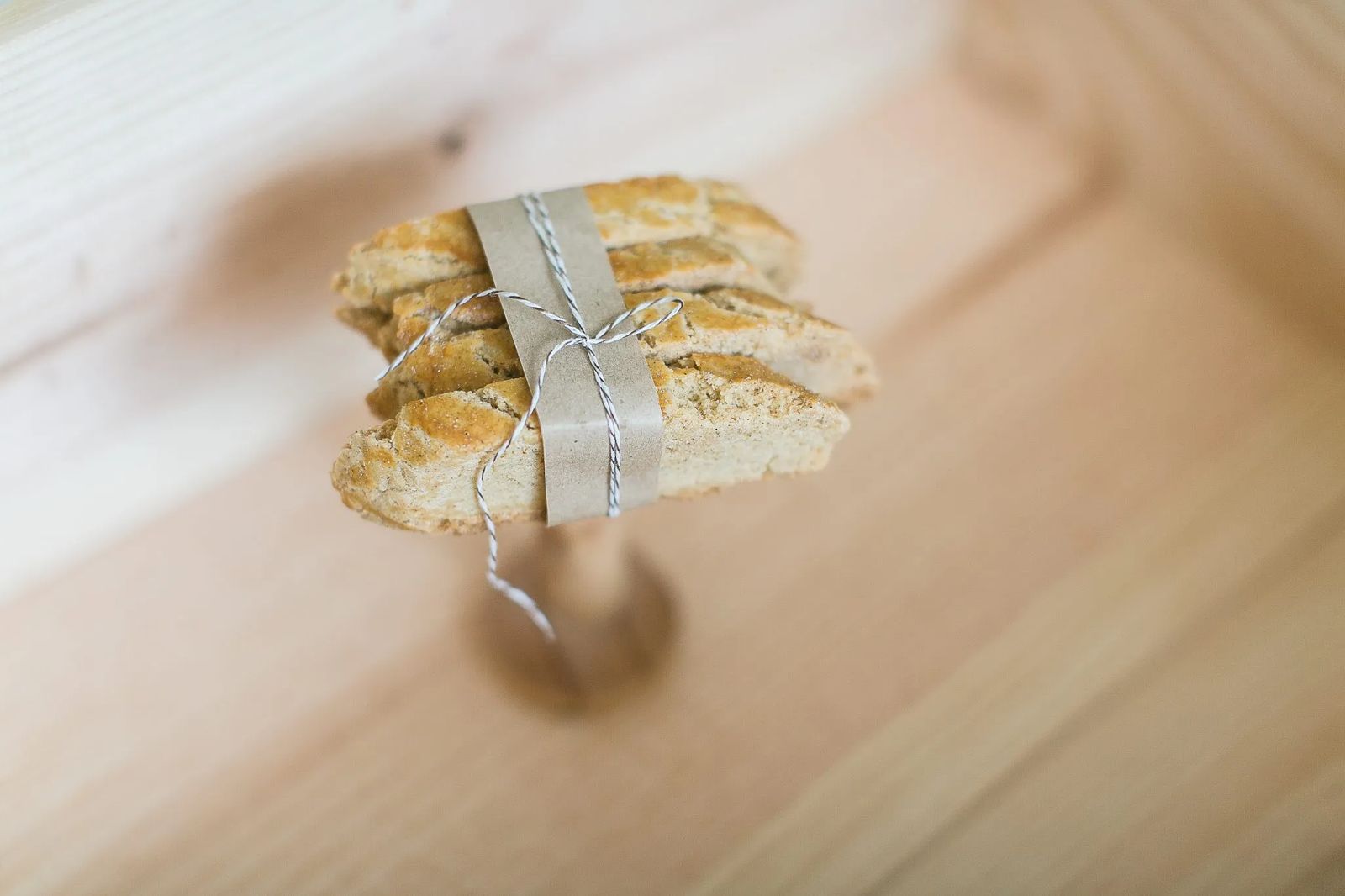 2 c. unbleached flour
2½ t. ground cinnamon, divided
1 t. baking powder
¼ t. table salt
1 c. sugar
3 T. Turbinado sugar
¾ stick (6 T.) unsalted butter, room temperature
2 large eggs
1 egg yolk
1 t. vanilla extract
Preheat oven to 325 degrees. Line 2 large baking sheets with parchment paper or nonstick liner.
Whisk flour, 1½ teaspoon of the cinnamon, baking powder, and salt in medium bowl until blended. Using electric mixer beat 1 cup of sugar and butter in large bowl to blend. Add 1 egg, beat well. Add egg yolk, beat well. Mix in vanilla extract, then dry ingredients.
Transfer dough to work surface. Divide in half. Shape each half into a 9-by-1½-inch log. Transfer logs to baking sheets. Beat the remaining egg in a small bowl. Brush logs with egg. Bake until golden and firm to the touch, about 50 minutes. Cool on baking sheets and maintain oven temperature.
Mix the Turbinado sugar and 1 teaspoon of cinnamon in small bowl to blend. Using a serrated knife, cut logs into ½-inch wide diagonal slices. Place biscotti, cut side down on baking sheets. Sprinkle cinnamon sugar mixture over each biscotti. Bake until pale golden brown, about 20 minutes. Cool on racks.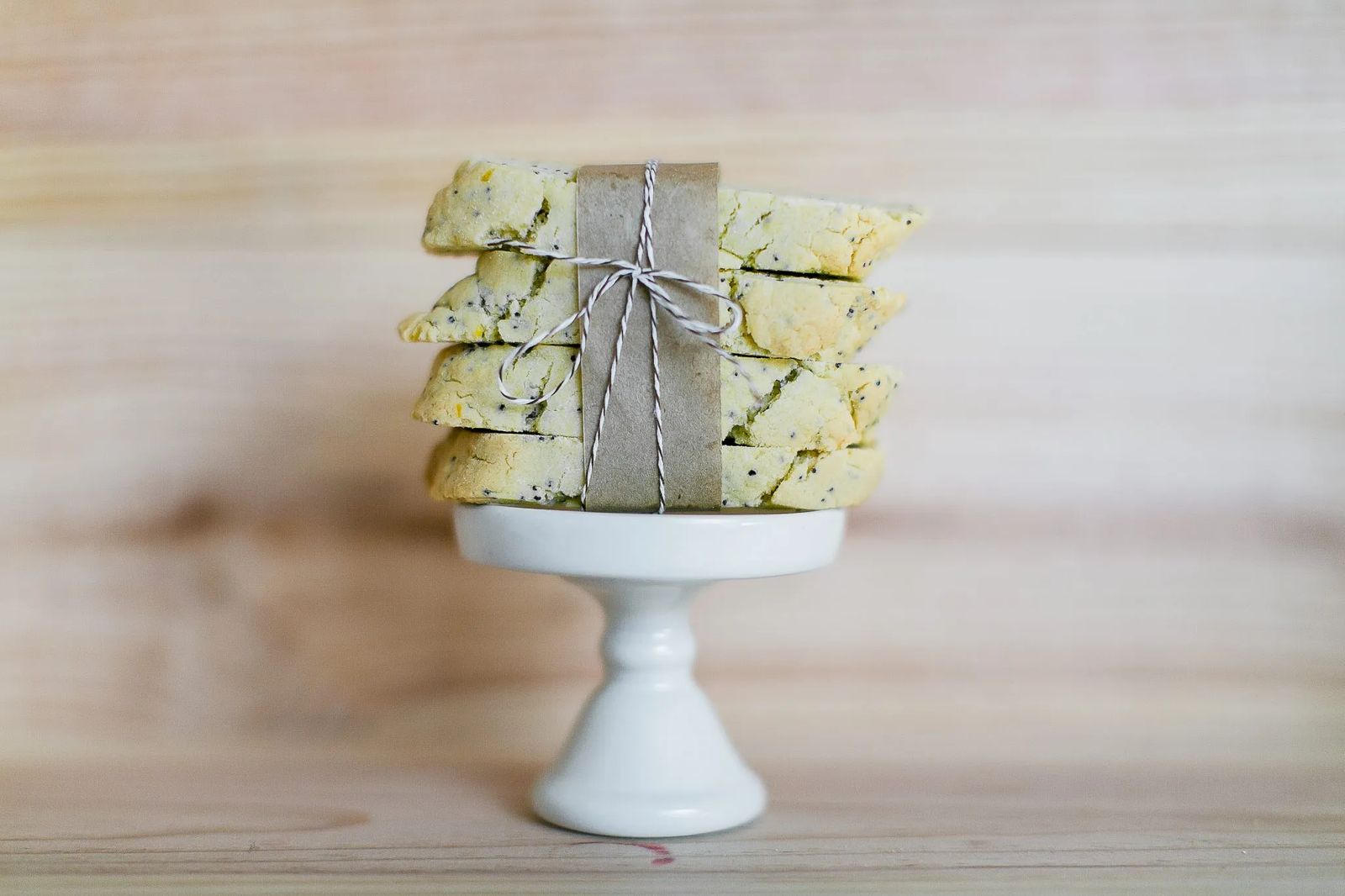 LEMON POPPY SEED BISCOTTI
Recipe from Kay Erickson
1/3 c. unsalted butter, room temperature
1/3 c. sugar
4 t. grated lemon zest
1 T. poppy seeds
1 t. baking powder
½ t. baking soda
2 eggs
2½ c. unbleached flour
Preheat oven to 375 degrees. In the bowl of a stand mixer, beat butter on medium to high speed for about 30 seconds until whipped. Add sugar, lemon zest, poppy seed, baking powder, and baking soda, beating until combined. Add eggs, one at a time, and beat until combined. Add the flour, a little at a time, until mostly combined. Use a wooden spoon to mix in any remaining flour.
Divide the dough in half. Shape into two 9-by-1½-inch logs. Place the logs on a cookie sheet lined with parchment paper or nonstick liner. Flatten each slightly. Bake in a 375-degree oven for 20 minutes, until a toothpick in the center comes out clean. Cool on a cookie sheet set on a wire rack for 1 hour.
Lower oven to 325 degrees.
Cut each log crosswise into ½-inch thick slices. Arrange the slices flat about 4 inches apart on the cooled cookie sheet. Bake in a 325-degree oven for 8 minutes. Turn slices and bake an additional 8 minutes or until surfaces are crisp and light brown. Remove biscotti from cookie sheet. Cool on a wire rack.