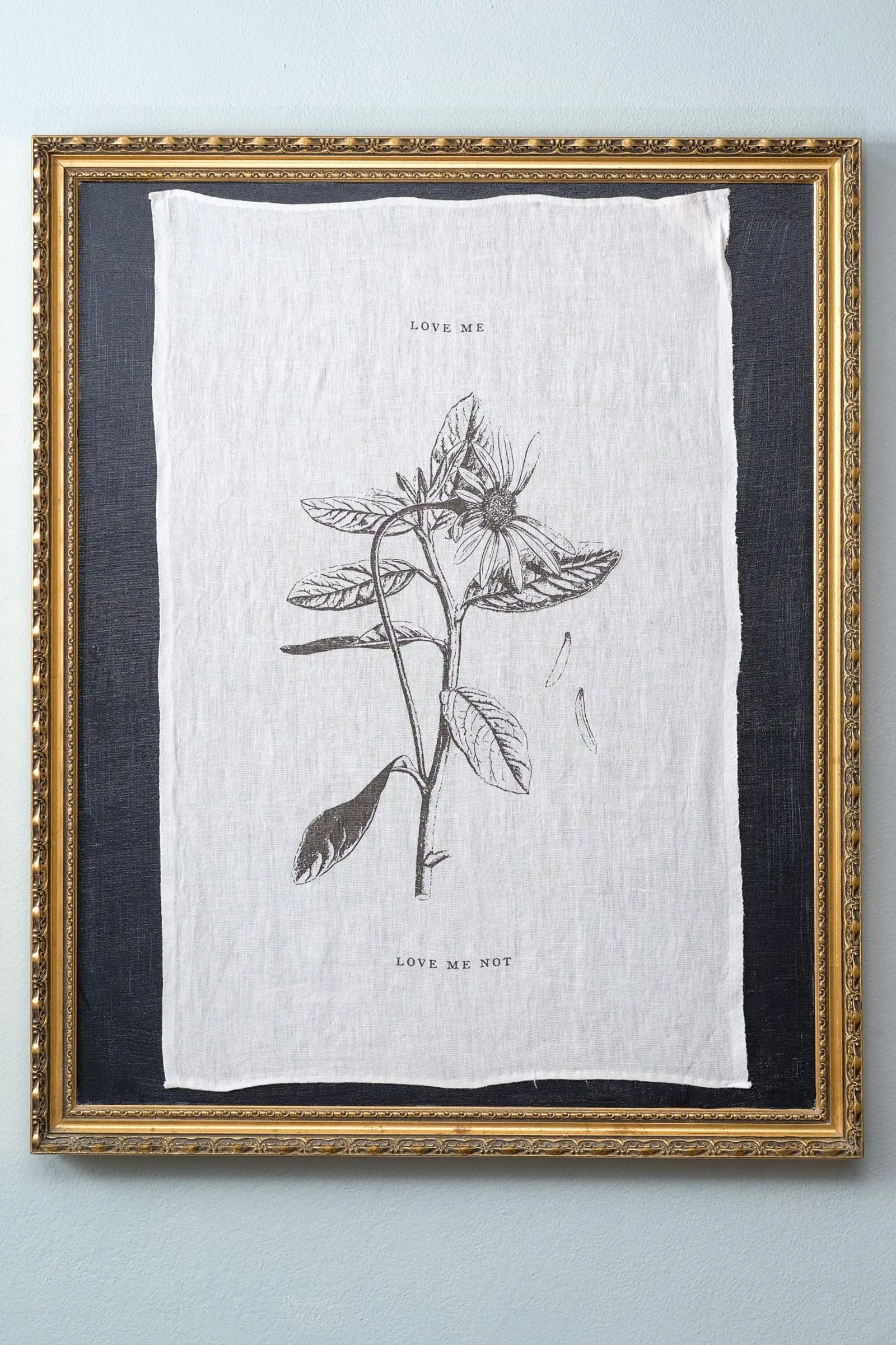 Dishing Up New Decor
When a towel becomes art

When I hit the road to travel, I love shopping in the local boutiques. It's a fun little peek into the lifestyle of the town you are visiting. You can find so many unique things that are different from our hometown shops.  Recently on a trip to Oregon, I stumbled upon this linen dishtowel. I loved the crisp design and the somewhat antique feel, but I just couldn't even fathom spending $30 for a towel that I knew might end up getting stained or tattered with everyday use. That's when I started to think about how else I could use this decorative towel in my cooking space. After staring at it for a bit, I came up with using a large old frame to truly put this on display. This little towel gained new fame in my kitchen and is an awesome visual addition.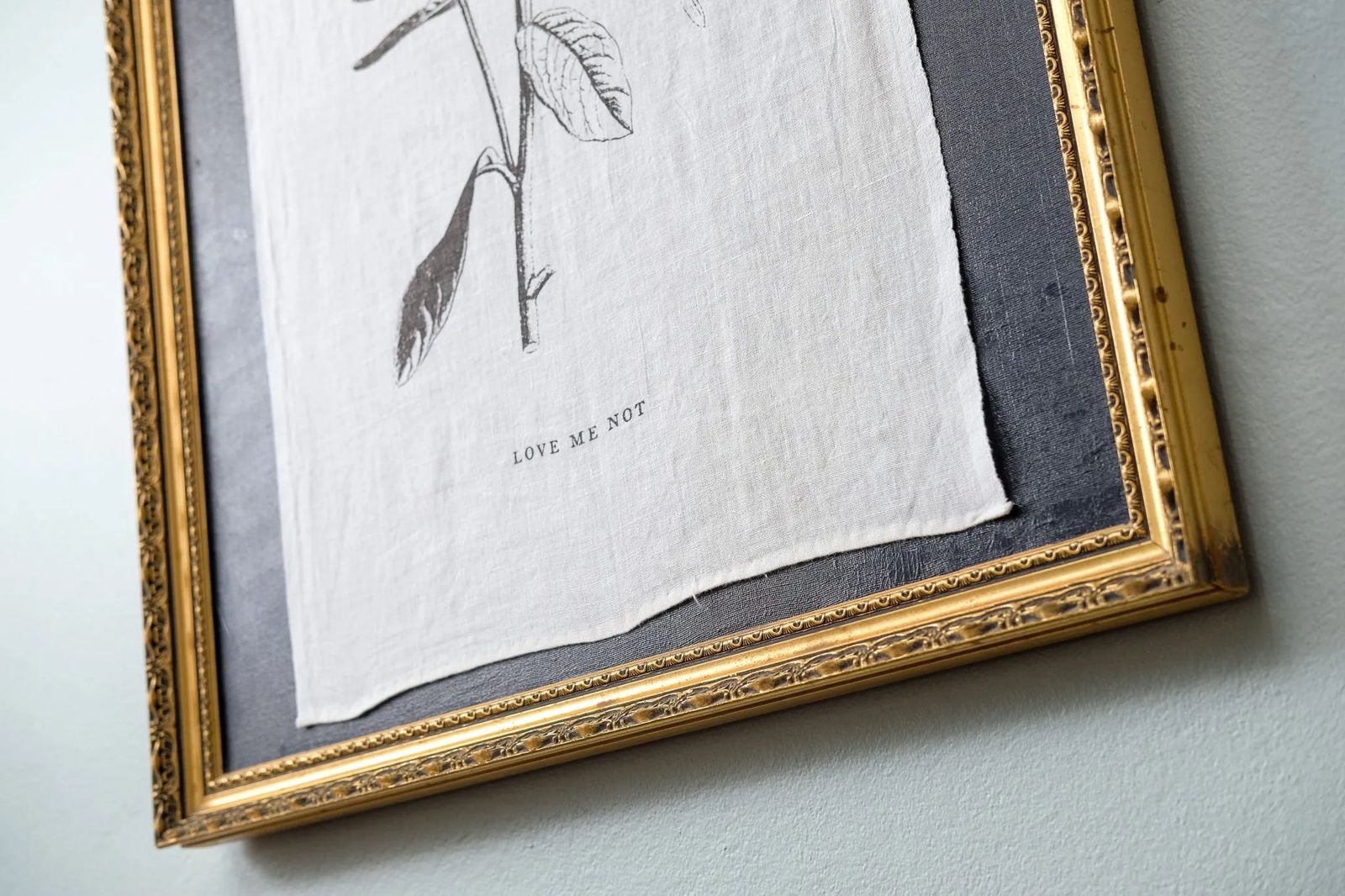 WHAT YOU WILL NEED
Frame
Canvas
Object to frame
Paint
Iron
Glue
Rub 'N Buff   (optional)
HOW TO CREATE THE LOOK
Lucky for me, I found my frame in my garage. It had the canvas attached so it was truly a double score. Since I'm a pack rat, this lovely frame had been in my garage for years and had seen better days. I started by cleaning it with a damp cloth and warm water. I let this dry for 24 hours before moving on to the next step. Meantime, I made sure my dishcloth was well-ironed to smooth out the wrinkles it got from traveling. From here, I started to paint the frame, letting it dry between coats. Once ready, I used a product called Rub 'N Buff in a gold shade to add interest and texture to the frame. It's a wax-based product that comes in several colors and can be found at your local craft store. It is super easy to use. Just smear a small amount onto a cloth, rub and buff until you get the desired look. For just a few bucks per tube, it really packs a big design punch. I then let the frame cure for 24 hours.
My canvas was securely fastened to the frame, so instead of removing it, I masked off the frame with the type of painters tape that you can use on freshly painted surfaces.  This protected the freshly painted frame from messy edging while painting.   I painted the canvas portion with a black craft paint, nothing too pricey. I let the paint dry for 24 hours. Afterward, I placed the dish towel on the canvas. When I found the right spot, I started gluing it in place. I applied the glue sparingly to the four corners and in the middle section, working in a clockwise motion.  I chose a glue that would be durable and hold for my item.  Fabric style, density, and weight will all play factors in choosing your glue. Carefully read the glue carton to see what application is right for your project.  Let the glue cure for 24 hours and then hang.
I absolutely love this project. It's the type of DIY that you can truly make a unique piece of home décor. By thinking out of the box, you will have a fun, affordable work of art that you won't see in your neighbor's house.  Just think about what you love and frame it!