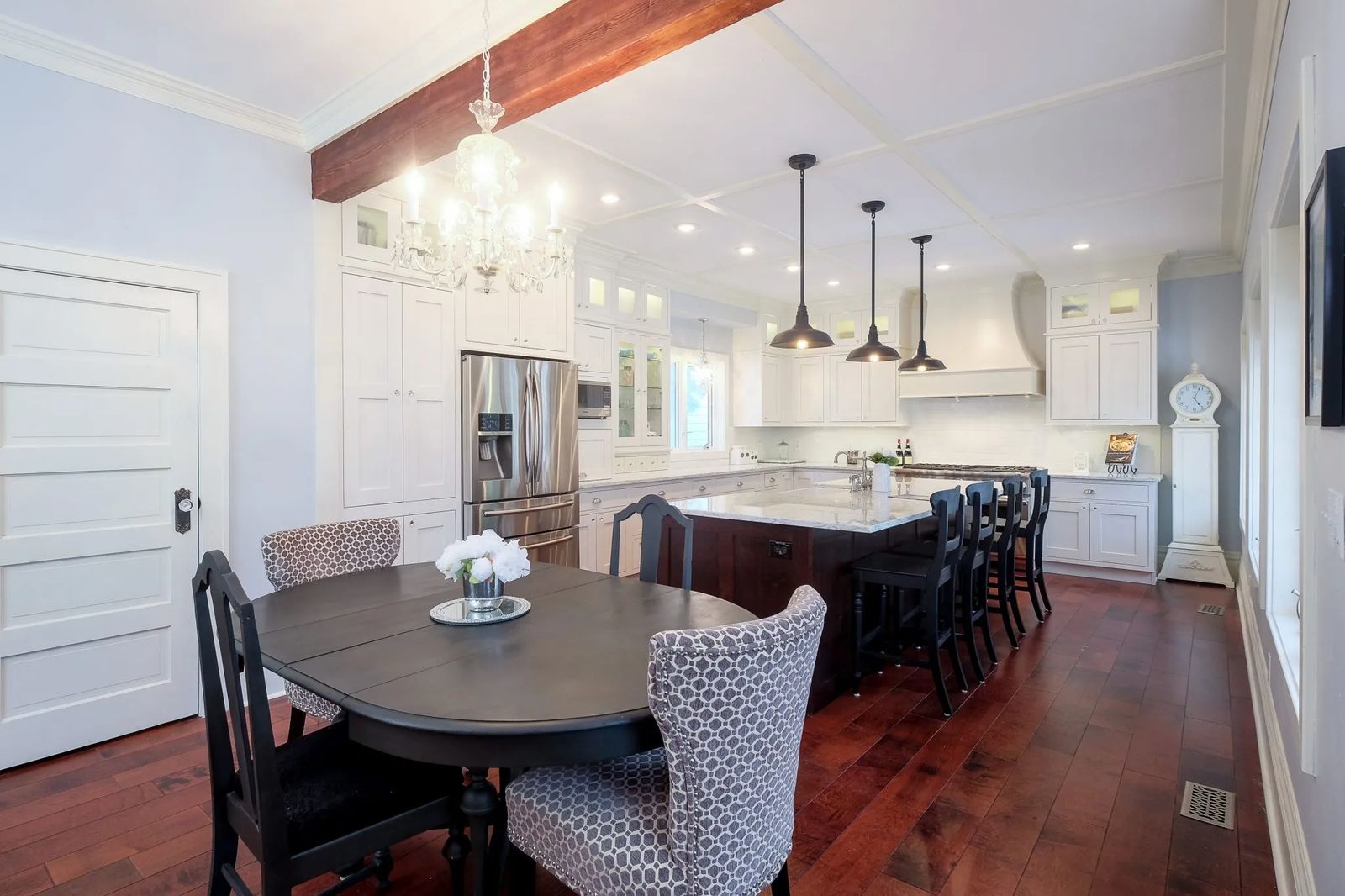 Draped in Style
Remodel turns kitchen into a timeless beauty
She's an original. She wears her history like a well-kept book. She's well cared for, draped in grandeur style from times past. She wraps herself in crystal elegance, yet, she's as sturdy as an oak tree. She lives on Clark Street, one of the Magic City's oldest neighborhoods. She's a grand old lady and if you ask one kitchen designer, she's made his list of top ten kitchens he's helped to refashion.
The grand old lady is 109 years old, according to homeowner Sharon Miller, a Realtor for Century 21 Hometown Brokers. "This is what the county records say," remarks Sharon. "The original builder of the house owned the first lumber yard in Billings."
You'd never guess this home's true age unless you noted her majestic front doors with exquisite oval glass panels centered in solid wood. Or, spotted two antique gas lights still embellishing the interior. Original oak hardwood flooring adds to the home's delectable vintage charm.
It's evident there's been tender loving care given this home through the years. With the recent remodel of the kitchen by Kitchens Plus, she's even grander than before.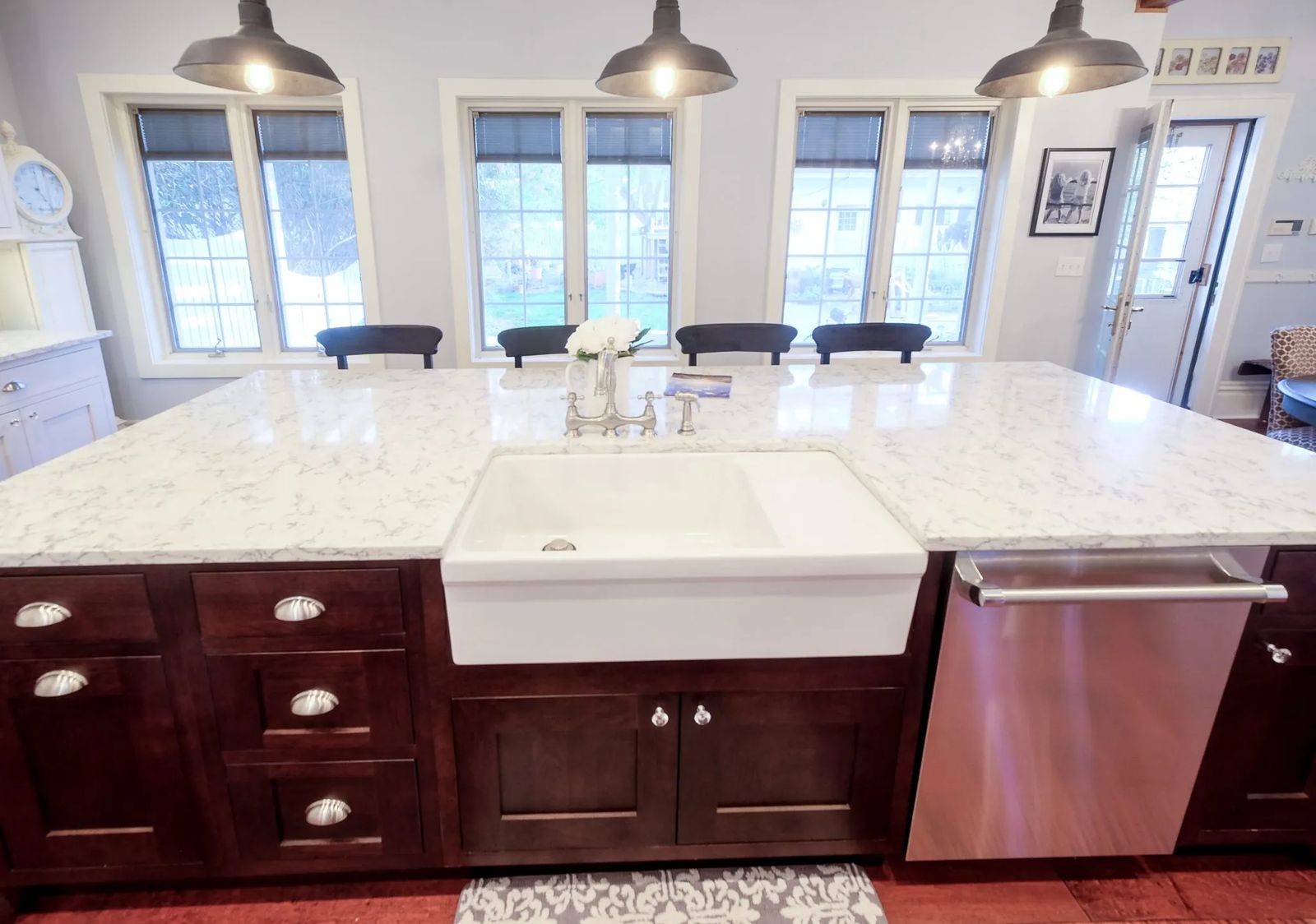 "I have to say this is one of the top ten kitchens I've ever done," says Mike Myers, owner of Kitchens Plus. "It's a 2015 kitchen but looks like it's been here forever."
Sharon agrees. This is exactly the result she was looking for when she and her husband Jim decided to go ahead with the remodeling. Even though an addition was put on the original small kitchen two decades before they even owned the home, it's been Sharon's priority to restore this 16 by 20-foot space. She's been emphatic about "staying true to the period" of when this historic home was built. "I knew what I wanted," stresses Sharon.
One thing Sharon wanted was to not face the staircase anymore while standing at the sink doing dishes. This desire posed quite a challenge to the design process, as Mike and Designer Sheri Bond worked on repositioning the sink. "The biggest challenge was running the plumbing," states Mike.
Joe DiMattei, owner of Stakhaus Construction along with his brother Dan, had to open the floor to get to the plumbing. Many years of working construction made it a piece of cake. "The only way you find fine woodwork is in old houses," smiles Joe. "Our specialty is historic homes. We know what to expect."
With the plumbing rerouted, Sharon now enjoys a view of her back yard through four enormous windows while standing at her new Fireclay farm sink with drain-board that depicts a century-old look. The unique sink rests upon a ten-foot-long rectangular-shaped center island.
The island's countertop from Rock Solid Marble & Granite is made of quartz, boasting 93 percent natural material. Shades of gray flow through its luscious cream color. "The idea of the color is to look like Carrara marble," advises Mike. "Marble is from the period the house was built but I didn't want marble," injects Sharon.
The island's dark base draws a sophisticated contrast with the cream-colored top. It serves the space well, affording extra storage and accommodating a stainless steel dishwasher. Three barn lights hang above, highlighting the marriage between old and new.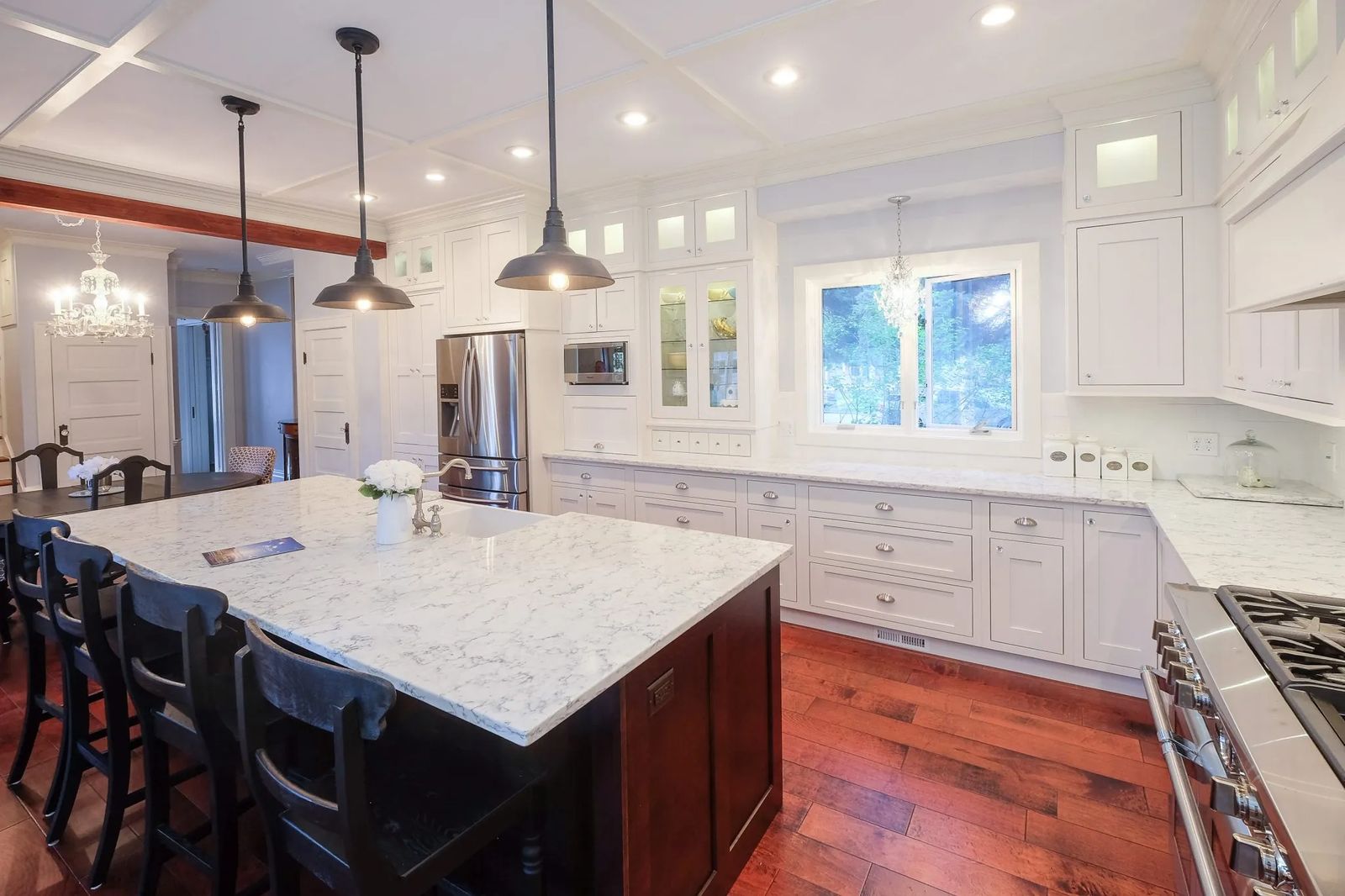 Four counter-height chairs, reproduction pieces of school house chairs from a century ago, influence this enchanting look. They also provide seating for Sharon and Jim's six children, two grandchildren and a bevy of friends. "We entertain a lot," says Sharon.
This spectacular heart of the home guarantees quintessential entertaining space. An above-average-high 'relief' ceiling, indicative of the period, showcases grids that Joe has expertly divided into precisely-centered sections. This amazing ceiling epitomizes the extraordinary spaciousness of the kitchen.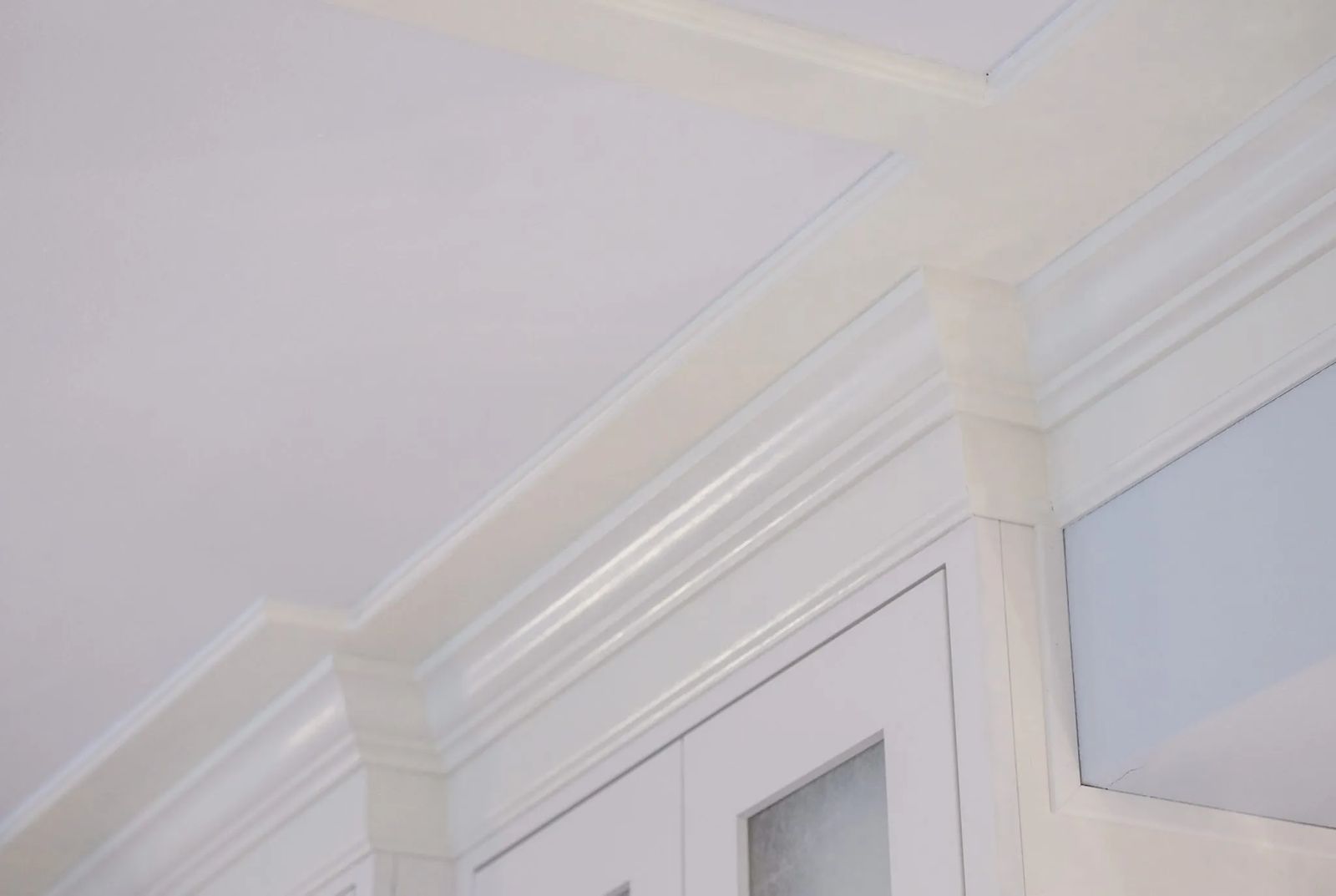 "We wanted the grid to tie into other parts of the house that have the same ceiling," explains Sharon. Crown molding and tall baseboard add finishing touches to the room, typifying the period of our grand old lady. Recessed lighting adds a nuance of modernity.
The entire space, which includes the original part of the kitchen, is now one grand room. At the front sits the family table. "I go antiquing," shares Sharon. "I had this antique table in my carriage house (the home sits on four lots) so I painted it black."
A large crystal chandelier Sharon had bought at an antique store in Minneapolis sparkles like a starry night as it hangs delicately over the table.  Brightly patterned chairs add colorful eclectic character, as a primitive wood bench sits beneath a window nearby.
Gorgeous engineered hardwood flooring from CarpetsPlus Colortile complements the overall décor, imparting a richness that balances light gray walls with the sweet creaminess of the countertops and cabinetry.
Custom-made Starmark cabinetry from Kitchens Plus, and installed by Tim Linderman, frame this lovely space. "I had to have floor-to-ceiling cabinets," notes Sharon. The shaker-style cabinets offer inset doors for a clean look. "It's a timeless style," says Sheri. "We still do shaker style in new homes. It's one of our most requested cabinet doors." And, there is plenty of storage, something Sharon didn't have much of before the kitchen's renovation.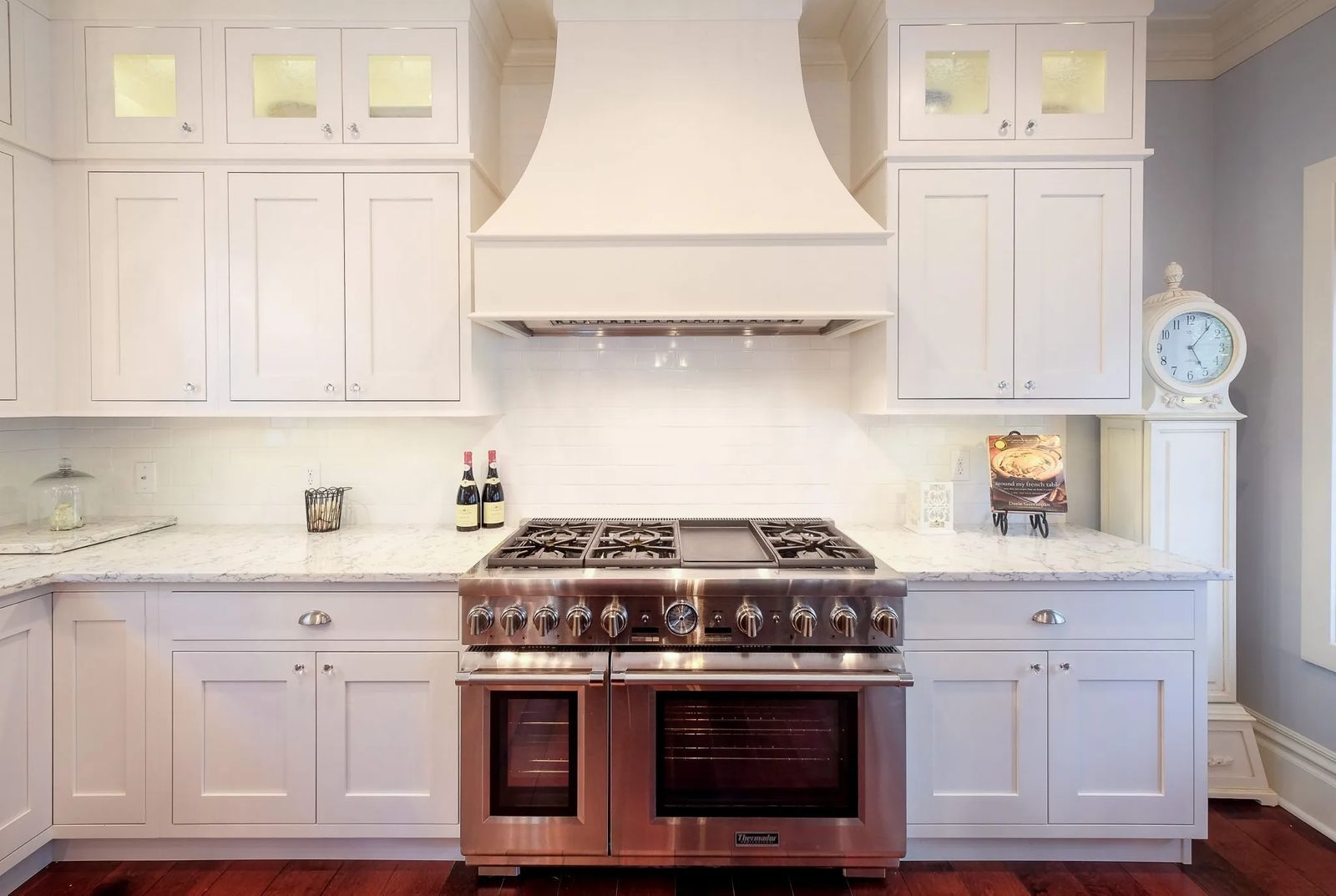 The cabinetry echoes the soft color of the quartz countertops in a decadent neutral called Marshmallow Crème. Along the long wall behind the center island are three lighted glass-door cabinets. These cabinets are shallow. They cover a heat chase (duct) that was found running up and across one of the old windows. Superb design ingenuity conceals the heating duct and creates a stunning piece d'resistance. "The glass cabinets give an illusion of largeness," notes Sheri.
The old window that bottomed out at the floor has been replaced by a new and shorter Pella window.  Sharon has added a touch of grace to this airy space with the presence of a small crystal chandelier.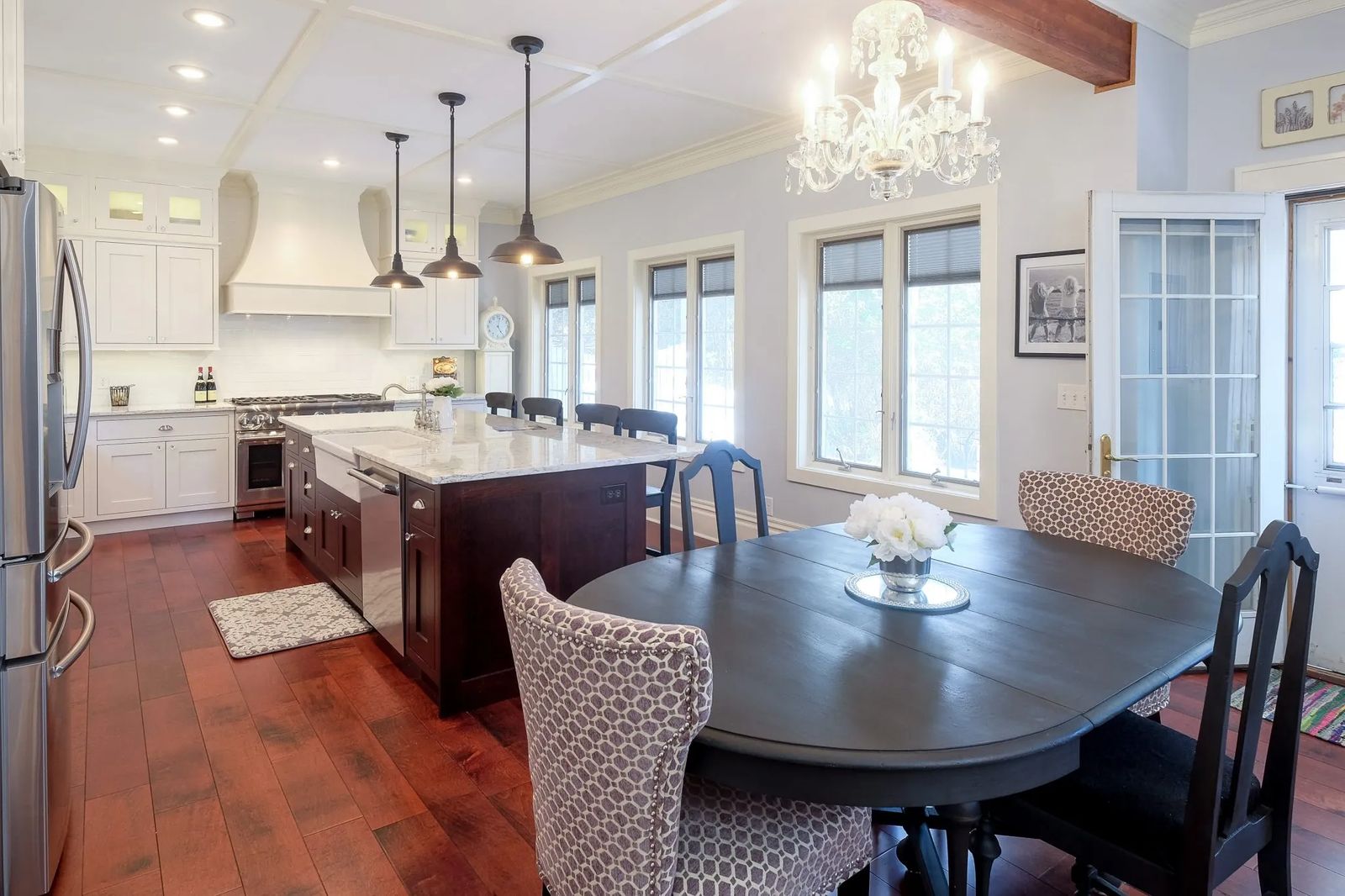 The design team encountered another challenge involving windows on the kitchen's far wall. This wall presented the ideal spot to place a 48-inch Thermador six-burner gas stove with griddle, a large custom-made hood and those intoxicating floor-to-ceiling cabinets. "We had to remove three very high windows from the wall," advises Mike.
What a transformation the removal of the windows has revealed. Now, with white Subway tile backsplash sprawling up and behind the stove hood, and the magnificence of the striking cabinets, it looks like an HGTV dream kitchen meets a revamped home on the show "If These Walls Could Talk."
Sharon knows plenty about her home that has survived for over a century. With admiration and elbow grease, Sharon has cared for and enhanced this piece of elegant history. She's made sure the kitchen cabinets reflect the elegance of what they once portrayed with using crystal cabinet knobs and burnished nickel farm pulls. Even two new closets she had built into the space honor the era with crystal doorknobs and period trim.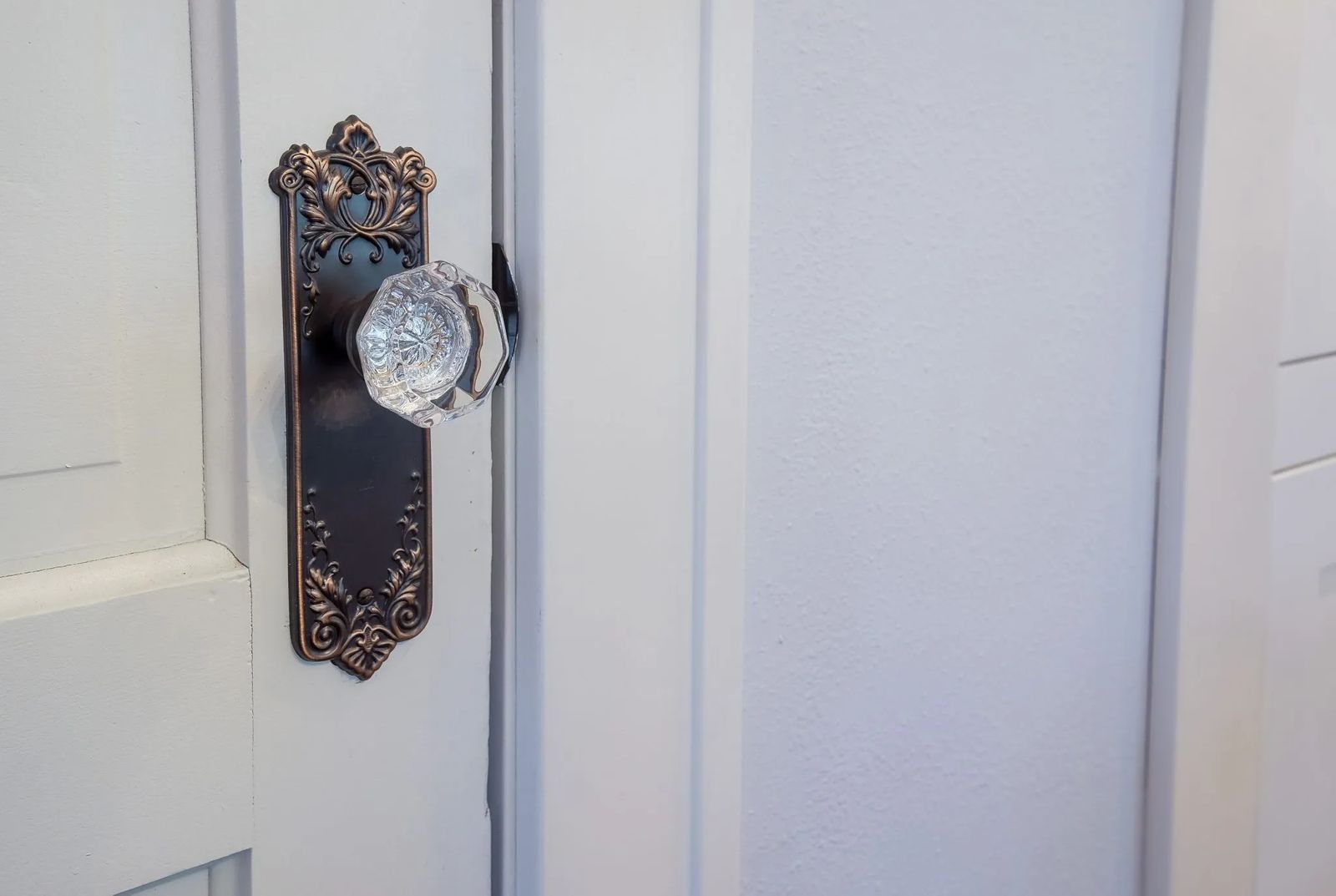 Whether it was sanding down and staining the big beam running the width of the kitchen or painting and stenciling the walls surrounding the staircase to replicate the look and feel of the home's authentic age, Sharon has stayed the course of keeping this Grand Old Lady as beautiful as the day she was built.
"It's a cool kitchen and it was fun," Mike says, grinning ear to ear about the pivotal role he and his company played in this ambitious makeover. "It's really come together," nods Sheri. "You make a nice investment and you want to be happy. It's a state-of-the-art kitchen. It's the kitchen this house deserves."