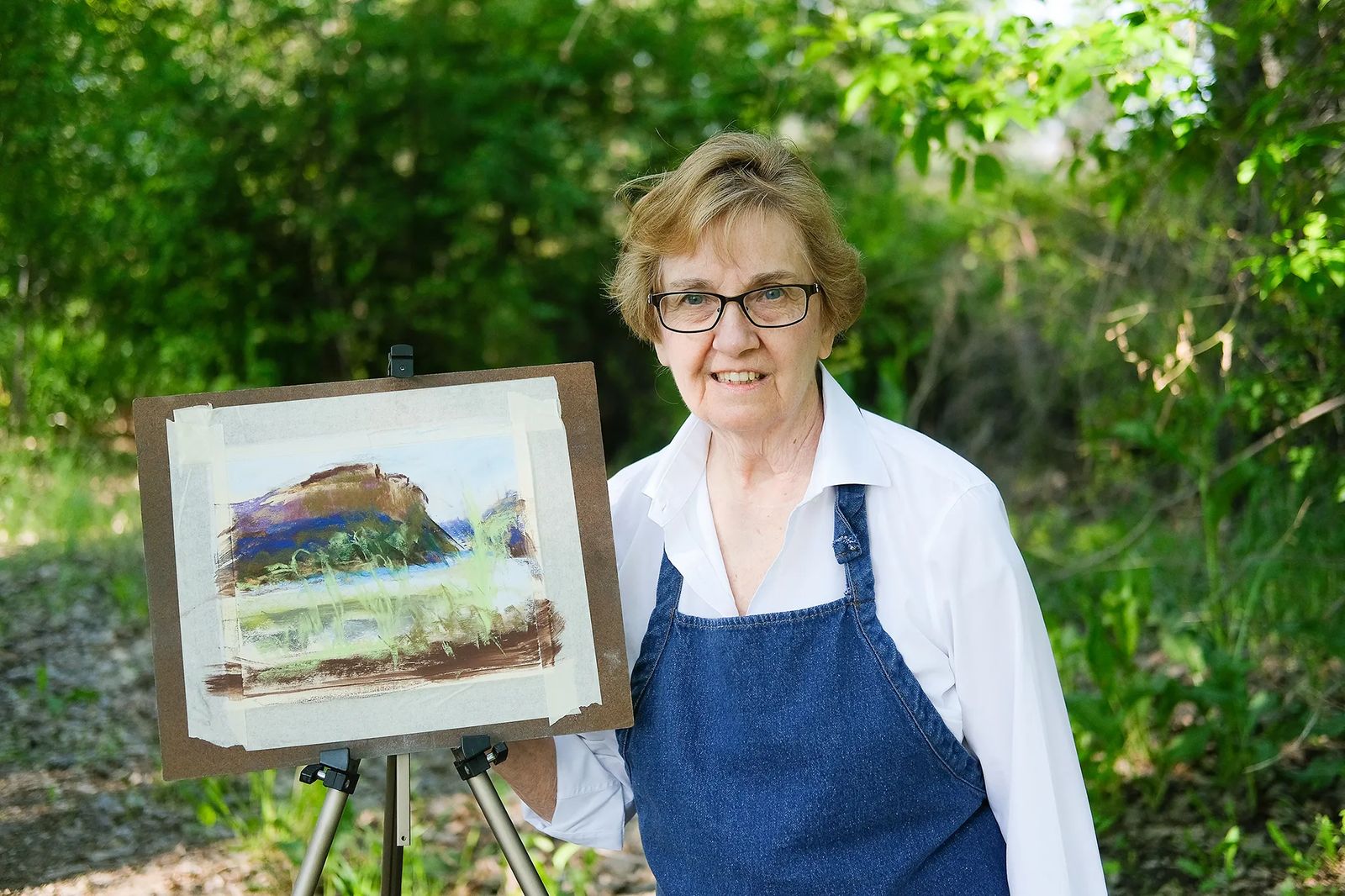 Drawing on the Past to Paint the Future
A Chat with Artist Barbara Garrett
Sometimes all it takes to create a new direction in life is a question. Three and a half years ago, pastel artist Barbara Garrett asked herself, "Why am I living in New Mexico? I really want to be back in Montana."
And so, as with so much in her life, Barbara made that happen. That question also prompted clarity of purpose. "I want to re-establish myself as a recognizable Montana artist," she says. "Not just a kind of 'Oh, isn't that nice, Grandma's got a hobby.'"
Barbara's path to establishing herself as an artist — after retiring and in her 70s — took some circuitous routes. She grew up in rural Wisconsin and recalls frequently drawing with crayons as a child. Attending a one-room school with 15 students, Barbara's exposure to art didn't happen until a high school art class. When her first large painting, of canna lilies, was voted the favorite by her classmates, her teacher looked at Barbara and said, "That's not art."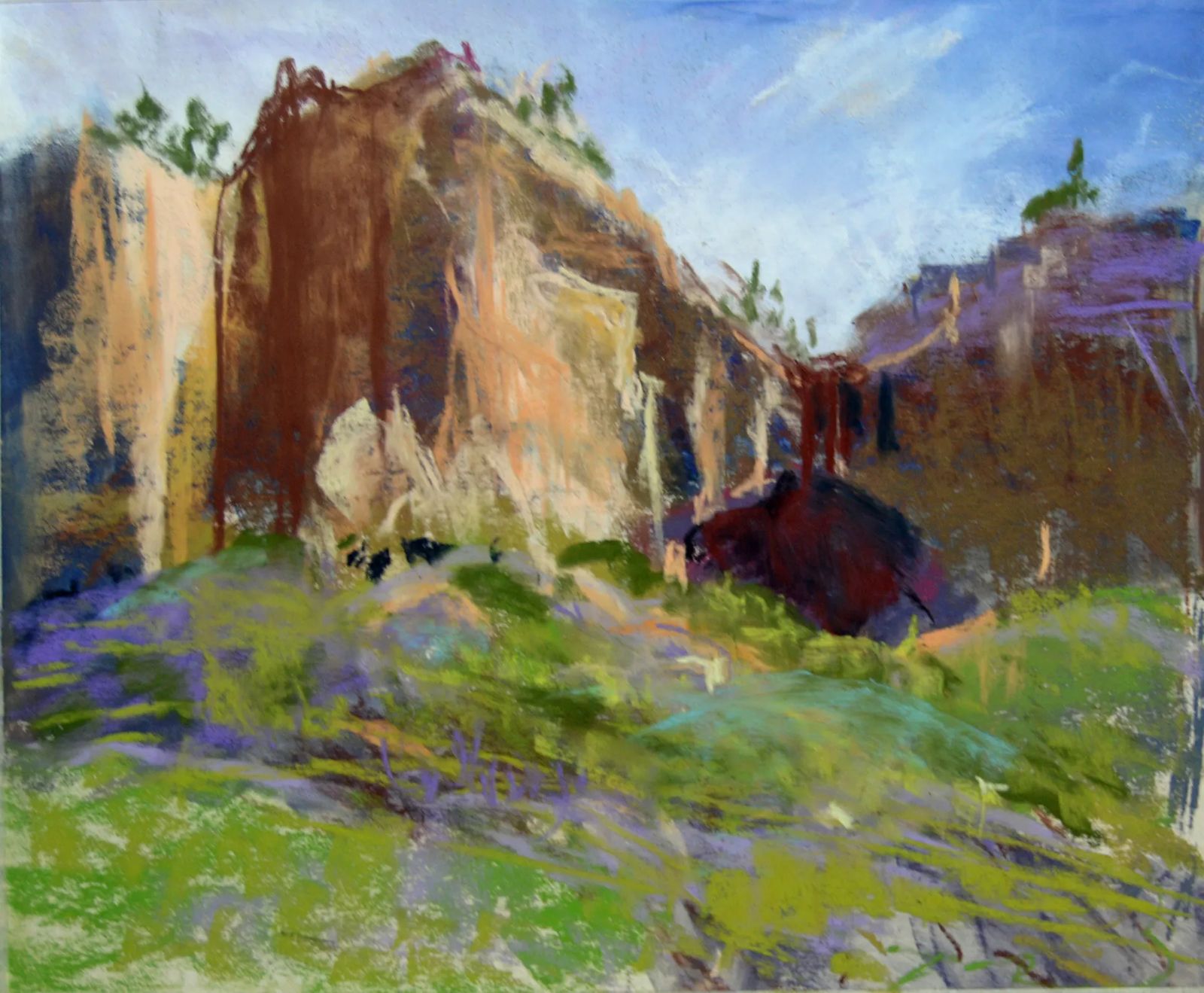 That kind of criticism could discourage anyone, but Barbara continued taking occasional art classes during college in Wisconsin. Finishing her education in Montana, she earned two degrees from MSU Bozeman and then worked for the state in the Department of Community Affairs. Moving to Billings, she worked in marketing for an engineering firm, where she met and married Thomas M. Posey, the former director of the Western Heritage Center.
Tom mentored her, and that's when her passion for art really clicked. She took classes from icons such as Ben Steele and Neil Jussila. When Tom took a position in New Mexico, she followed him there and took a job as a public affairs specialist.
Barbara and Tom had a wonderful life for 23 years in New Mexico, and shortly after he died, Barbara retired. That's when she started to delve seriously into art again, embracing the enthusiasm of the area's large population of pastel artists. She joined the Camino Real 8 group – all artists who worked in pastels – and continued to hone her skills, developing a style that fuses representational art and impressionism.
Those skills included a grounding in the core elements of art – color, composition, values and edges. As she improved, the idea of re-inventing herself as a recognizable artist took hold. And another question rose to the surface – how would she do this in the time she had left?
"At my age, most artists are having a retrospective of their work," she says. But she wasn't deterred and she had great advice for herself (and all of us). "You can reinvent yourself regardless of any age," Barbara says. "I'm going to push the envelope as far as I can."
For Barbara, pushing that envelope meant moving back to Montana. Because the focus of most of her work is landscapes and wildlife, what better place to do that than here? It also meant climbing the learning curve again, taking more classes — both online and in person — and joining a weekly critique group. "I really believe you have to stay on a learning curve to be fresh," she says. "When I fall off the learning curve, my art is getting stale."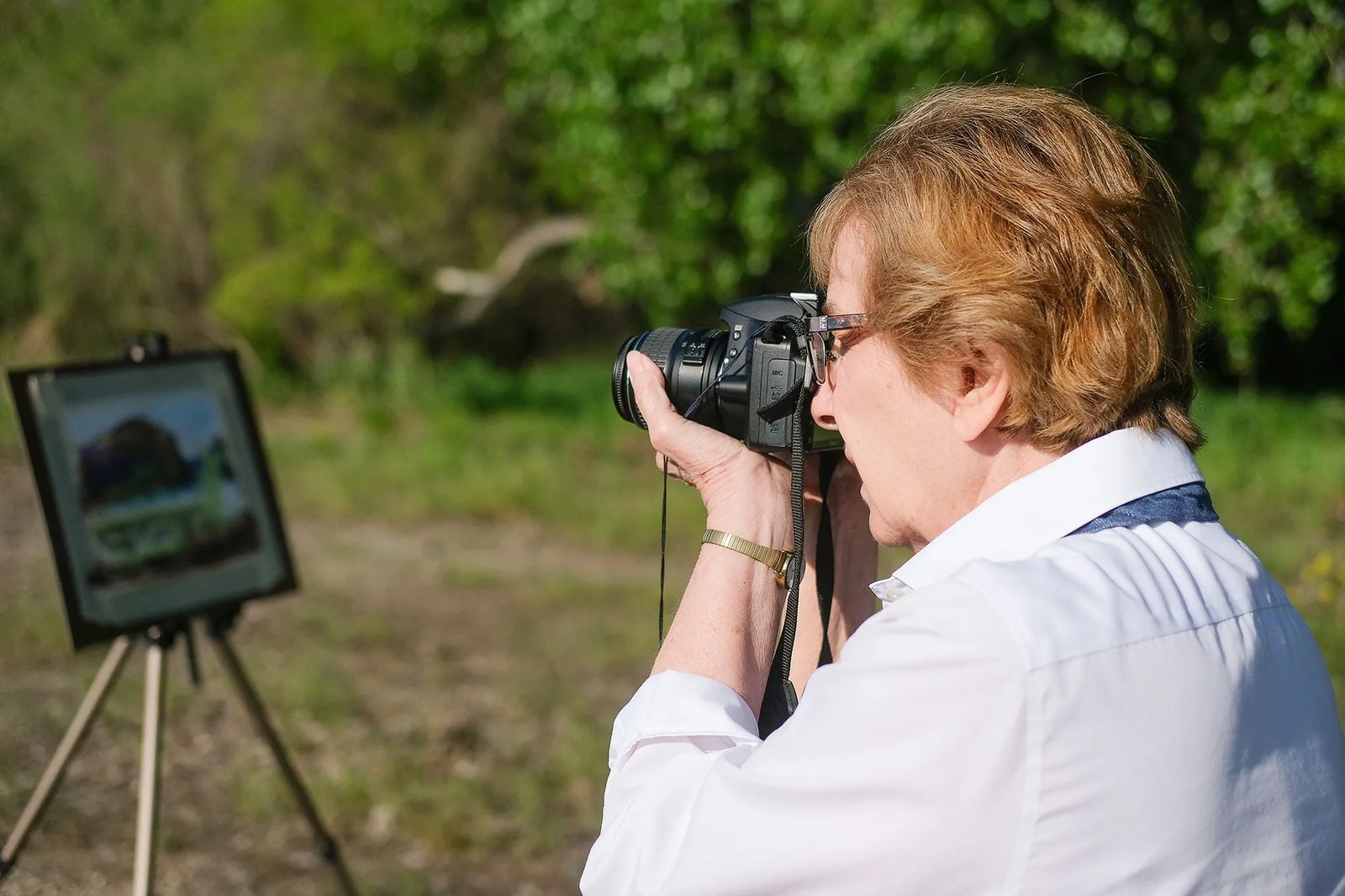 Part of Barbara's learning curve revolves around her practice of plein air painting. She loves being outside to paint (Lake Josephine and the Columbus-to-Absarokee fishing access sites are favorite spots) but admits that plein air is challenging. She rarely finishes a painting as a result of an outdoor jaunt.
"My purpose to go out is to gather information," she says, "not to have a finished painting." She'll immerse herself in the scene and try to absorb everything about it — sights, sounds and smells. Splashes of color and scribbles on the paper will remind her of the sensory qualities of the landscape, so that when she returns to her indoor easel, that inventory of senses will infuse the artwork.
"As I'm painting," she says, "it will smell like spring … mossy and damp. I'm trying to paint the soul of the scene." And whether painting in the great outdoors or at home in her light-filled apartment studio that overlooks the Rims, 74-year-old Barbara also embraces what she calls the "blessed failures" in her work, because she learns so much from them.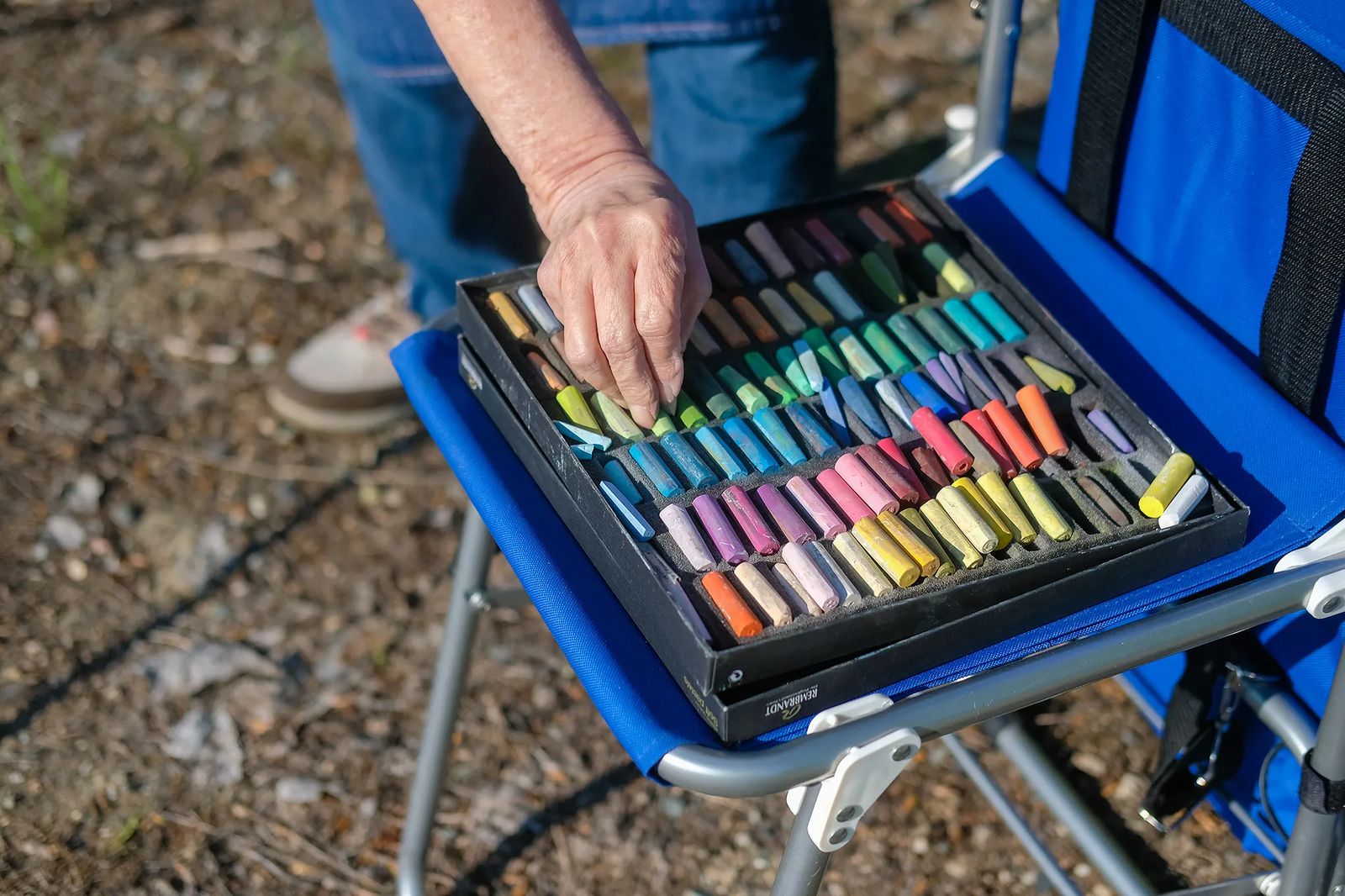 Barbara defines art as anything you do that is a way to connect what you see and feel and know. Take a look at her paintings and you'll immediately make that connection, as if you've stepped into the scene. You can almost smell the mossy, damp spring or hear the rumblings of bison in Lamar Valley.
Acknowledging that the business side of art is time-consuming, Barbara credits her marketing background as a public affairs specialist as a factor for her success. She's always asking herself where she can show and how she can best approach a gallery. She's also on the look-out for promotional opportunities, and if she can't find them, she'll create them. In creating some of those opportunities, she also finds a way to "give back" through art.
One example was her involvement in a stakeholder group putting together a master plan for Coulson Park. "Sooner or later," she says, "every artist makes their way to Coulson Park to paint Sacrifice Cliff. How can you enhance the ambiance of that park through the eyes of an artist?" Because artists gravitate to picnic tables and benches, she suggests including more of them in the master plan. She also suggests that shelters should be cantilevered with the high end facing Sacrifice Cliff. These minor changes can enhance the aesthetics for everyone, not just artists.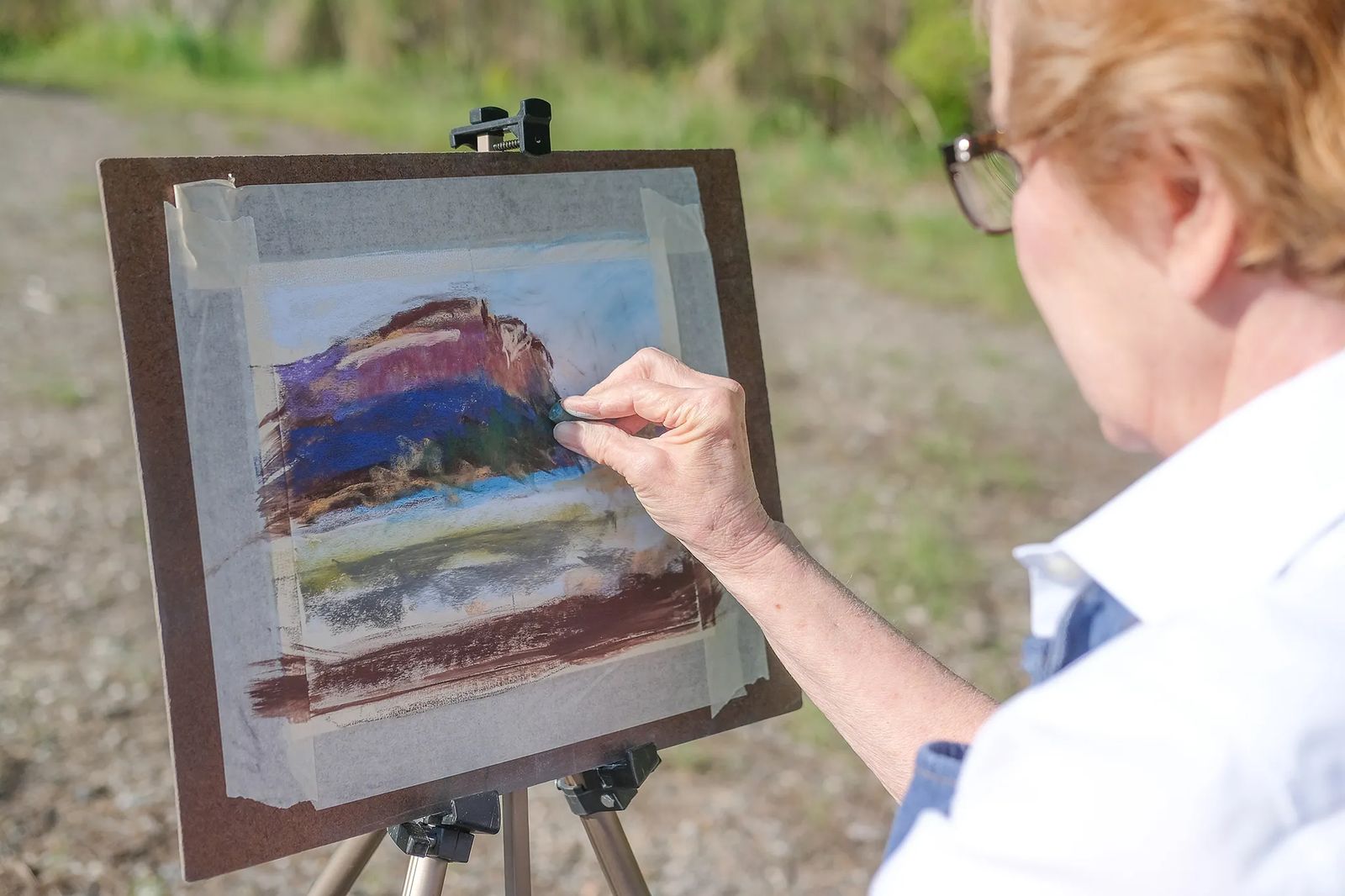 When asked how others can reinvent themselves at a later age, Barbara doesn't hesitate. "Go with what your instincts tell you to do, particularly at this age. And," she cautions, "don't get hung up on a business plan. Just do it. If it doesn't work out, try something else."
Barbara particularly admires the work and work ethic of Edgar Degas and his constant focus on improving his art. As she looks at her own life and the challenges of beginning an artistic career later in life, she especially loves Degas' deathbed quote: "Damn! And just when I was starting to get it."
TO SEE BARBARA'S WORK, visit her website at barbaragarrettartist.com. There you'll also find more about her current showings. You can also see her work at the Art Collector's Corner in the Yellowstone Art Museum and at the Frame Hut.