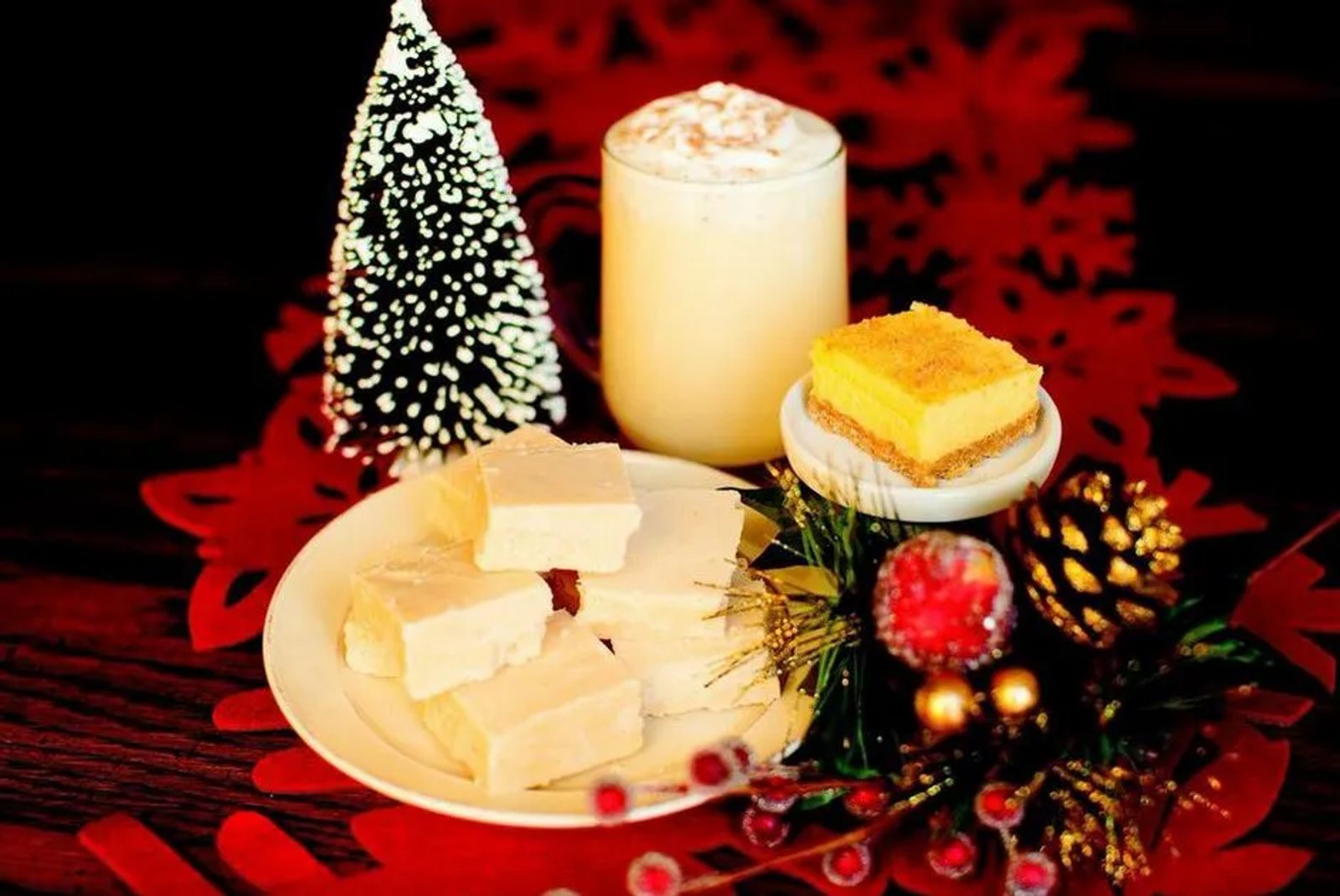 Egged On To Greatness
A splash of vanilla, a dash of nutmeg
Call it more exotic egg milk punch instead of the common eggnog and it would still be the hit of any holiday party.
Sitting in a beautiful cut glass punch bowl in the center of a buffet table, eggnog will draw the eyes of your guests with a wonderful island of floating foam and accents of ground nutmeg. And if you serve Sue Dow's Cyril K. Collins Eggnog recipe, it will also draw praise.
This recipe closely resembles the drink Sue's father made, but he didn't use a recipe. Sue says, "but this eggnog tastes just like his!" Sue says you can double or triple the recipe, and adds "the challenge is having big enough bowls for all the whipped goodies."
Her recipe calls for a dozen raw eggs, so be sure they are fresh. And it has a lot of alcohol in it (white rum and whiskey), so be sure to find a designated driver for those who are enjoying several glasses of this holiday spirit.
If you love the flavor of eggnog, there's no reason why you can't enjoy the taste in other goodies throughout the season. You can find commercial eggnog in the dairy section starting in October. It's a wonderful base for many varied eggnog flavored treats. Why not use cold eggnog instead of milk when whipping up your favorite instant pudding mix? It's a super easy and quick holiday inspired dessert.
No Bake Eggnog Cheesecake Bars can be one holiday dessert that's ready to serve in a little over an hour when you start with a no bake cheesecake mix.
Blonde Fudge with Eggnog is not only a quick and sweet treat (it needs cooling time in the refrigerator), but it will impress.
Enjoy!
CYRIL K. COLLINS EGGNOG RECIPE
~Serves 24
INGREDIENTS
12 fresh eggs
1-½ c. sugar (equally divided)
1-½ c. white rum
4-½ c. whole milk
4-½ c. whiskey
3 c. heavy whipping cream
Ground nutmeg
DIRECTIONS
The key to preparation is to do all of this gently and slowly to preserve the eggnog's fluffiness. Start by separating the eggs' yolks and whites.  Beat yolks with half of the sugar, set aside. Beat whites until stiff, then mix in the other half of the sugar. Pour the yolks into the whites and mix slowly. Stir in the rum, slowly. Stir in the milk, slowly. Stir in whiskey slowly. Stir in half of the cream, slowly. Whip the other half of the cream to stiff peaks, fold in carefully. Serve at room temperature by ladling into cups. When you ladle, try to get some of the foam and some of the liquid below in each cup as the mixture separates somewhat. Sprinkle nutmeg on top (freshly grated is best, of course).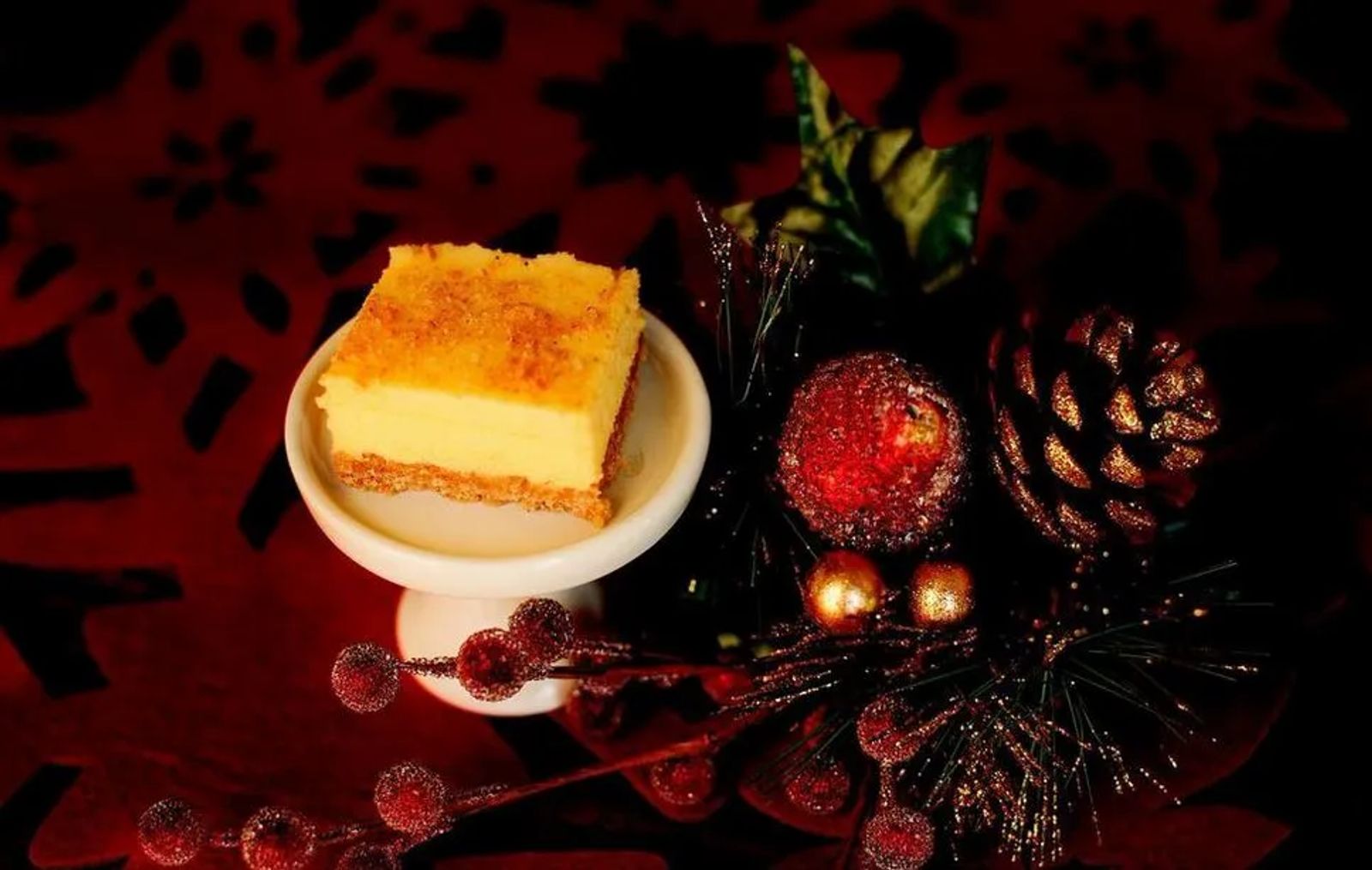 EASY NO BAKE EGGNOG CHEESECAKE
INGREDIENTS
1 pkg. Jell-O No Bake Cheesecake Dessert
2 T. granulated sugar
5 T. unsalted butter, melted
½ t. ground nutmeg
1-½ c. eggnog (readymade)
DIRECTIONS
Line an 8-inch square pan with parchment paper and let it extend over the sides and spray lightly with cooking spray. Empty the crust mix into a medium bowl. Mix in 2 tablespoons of granulated sugar and a half teaspoon of ground nutmeg. Mix with a fork. Take out a tablespoon of the sugar/nutmeg crust mixture and set aside. Pour melted butter over the remaining mixture and blend with a fork until the mixture is evenly moistened. Press into the bottom of the 8-inch pan. Pour the eggnog into a clean medium bowl. Add the filling mix and beat with mixer on a low speed for 30 seconds. Increase mixer speed to medium, and beat for 3 minutes until filling is thick. Spoon the filling onto the crust in the pan. Sprinkle the reserved tablespoon of the sugar/nutmeg crust mixture evenly over the filling. Refrigerate at least one hour. When ready to serve, lift the cheesecake out of the pan by the parchment paper. Cut into squares and serve.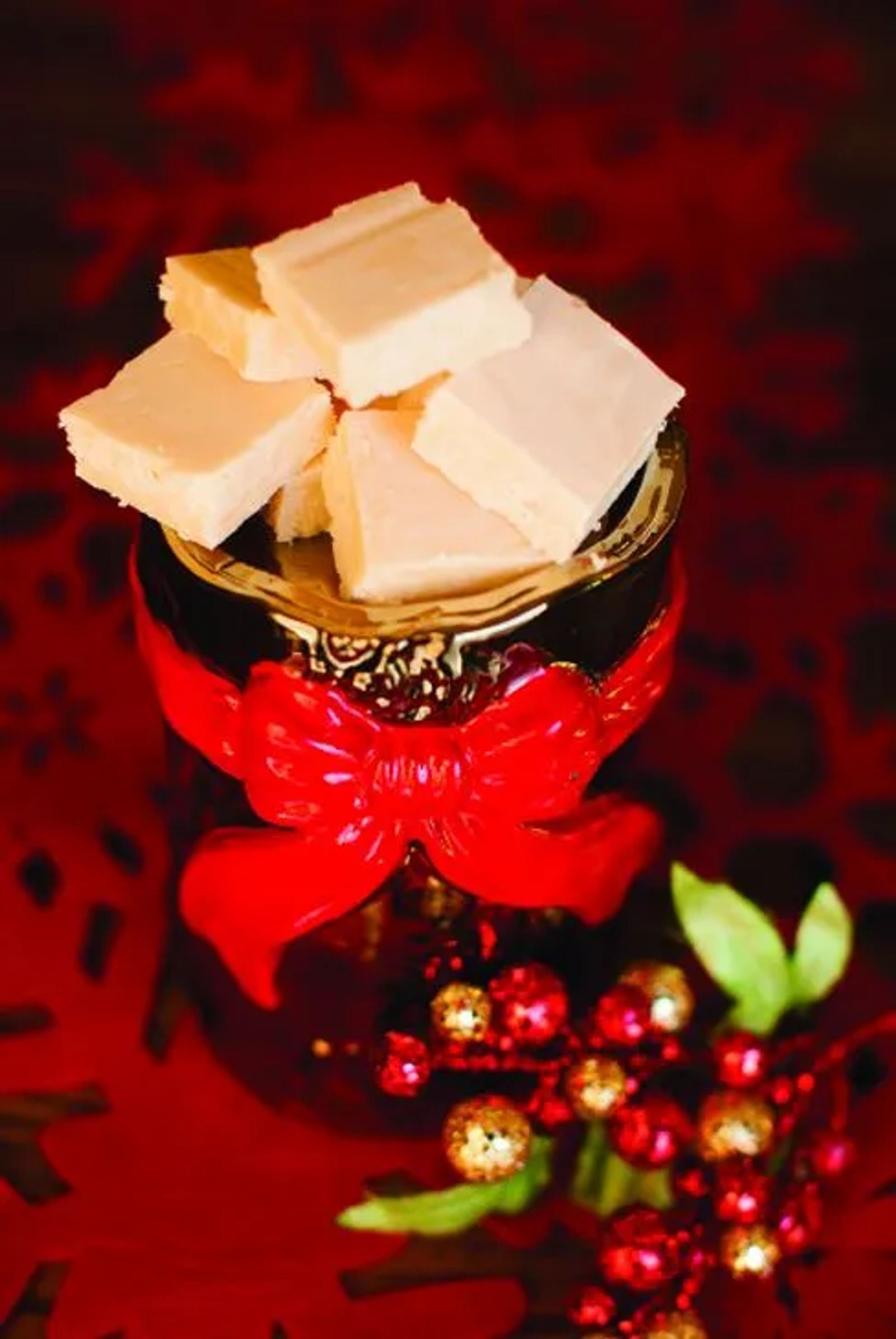 BLONDE FUDGE WITH EGGNOG
INGREDIENTS
3 c. granulated sugar
¾ c. unsalted butter (1 ½ sticks) cubed
¾ c. eggnog
1/8 t. salt
1 10 to 12 ounce bag white chocolate chips
1 7 ounce jar of marshmallow crème
Ground nutmeg for garnish (optional)
DIRECTIONS
Line a 9-inch pan with parchment paper and let it hang over the side. Spray parchment paper with cooking spray. Set aside. In a heavy 3-quart saucepan, combine the sugar, cubed butter, eggnog and salt over medium heat. Bring to rolling boil, stirring constantly. This can scorch quickly so be diligent. Continue boiling and stirring for 8 to 10 minutes until a candy thermometer reaches 234-240 degrees F. Remove from heat. Working quickly, stir in the white chocolate chips until chocolate is melted and smooth (A wooden spoon works best). Stir in marshmallow crème and continue stirring until well blended. (This will give your arm a workout). Pour into a prepared pan and sprinkle lightly with ground nutmeg (optional). Let stand at room temperature until cooled. Refrigerate for 8 hours or overnight. When well cooled, lift out the fudge by the parchment paper and cut into desired sized bites of fudge.