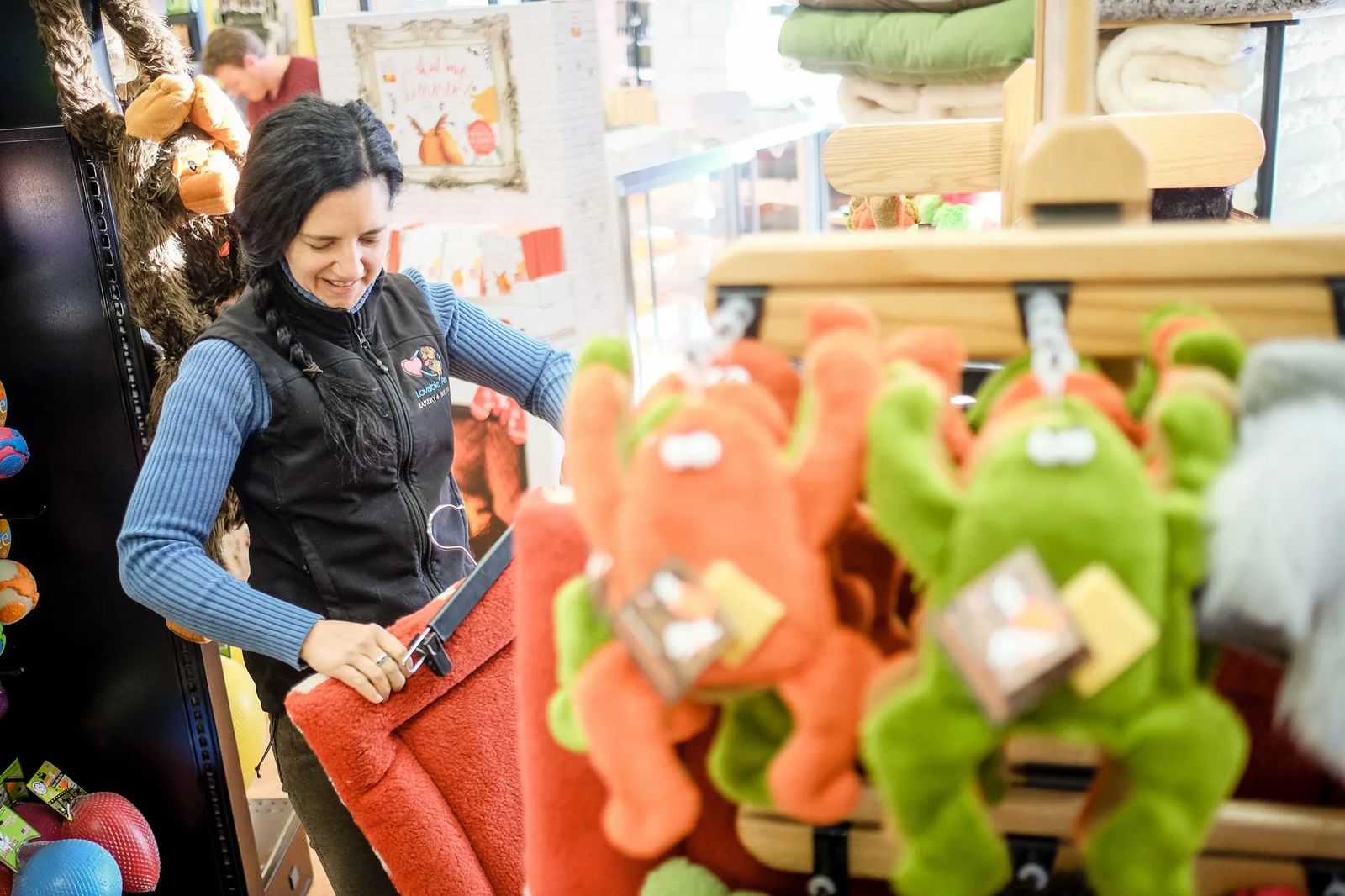 Ellie Hansen: President of Pet Happiness!
Her store Loveable Pets works to deliver a little T-L-C
At 32, Ellie Hansen knew she was done with the rat race. She was finished living in a big city, battling New Jersey traffic and withstanding a two-hour commute one way to her job as a grant writer. During one of those 12-hour days, the bumper to bumper traffic crawled along the interstate. Ellie's blood pressure climbed by the minute.
"I was sitting in this traffic jam and I was having an anxiety attack," Ellie says. "I called my sister, who was also sitting in traffic and I said, 'Do you want to move to Montana with me? She said, 'Yes!' It was just that quick. We both had enough. This was not how we wanted to live our lives." That was October of 2005.
She had no idea the new course she was about to chart in life would end up giving rise to Billings' first pet bakery and boutique, helping pets and their owners to live life with a healthy dose of happy.
"People thought I was crazy," she says. After all, she was making a good living and was rising up the ranks in her career. "I went from a job that paid very well, to working for $8 an hour," Ellie says today with a laugh. "It was just what I needed, the break that I needed." That minimum wage job was as a horse groom at a ranch west of town that raised Tennessee Walking Horses.
While she was busy mucking stalls and feeding animals, Ellie Hansen had more than enough time to think about her future, knowing this job was just temporary. "I did a lot of soul searching," she says. "In New Jersey, they had these little boutiques where I used to take my dog Tyee. We'd go get special bakery treats and special toys," she says. "When I got to Billings, I realized there was just nothing. I thought, I could do that!"
She wrote a business plan. "I actually worked with the Small Business Development Center. They were so helpful to me from day one and actually helped me to secure a loan," Ellie says. Within months, she found an 800-square-foot shop off Grand Avenue near 13th Street West. Her dream began to take shape.
This was the humble beginnings of Loveable Pets.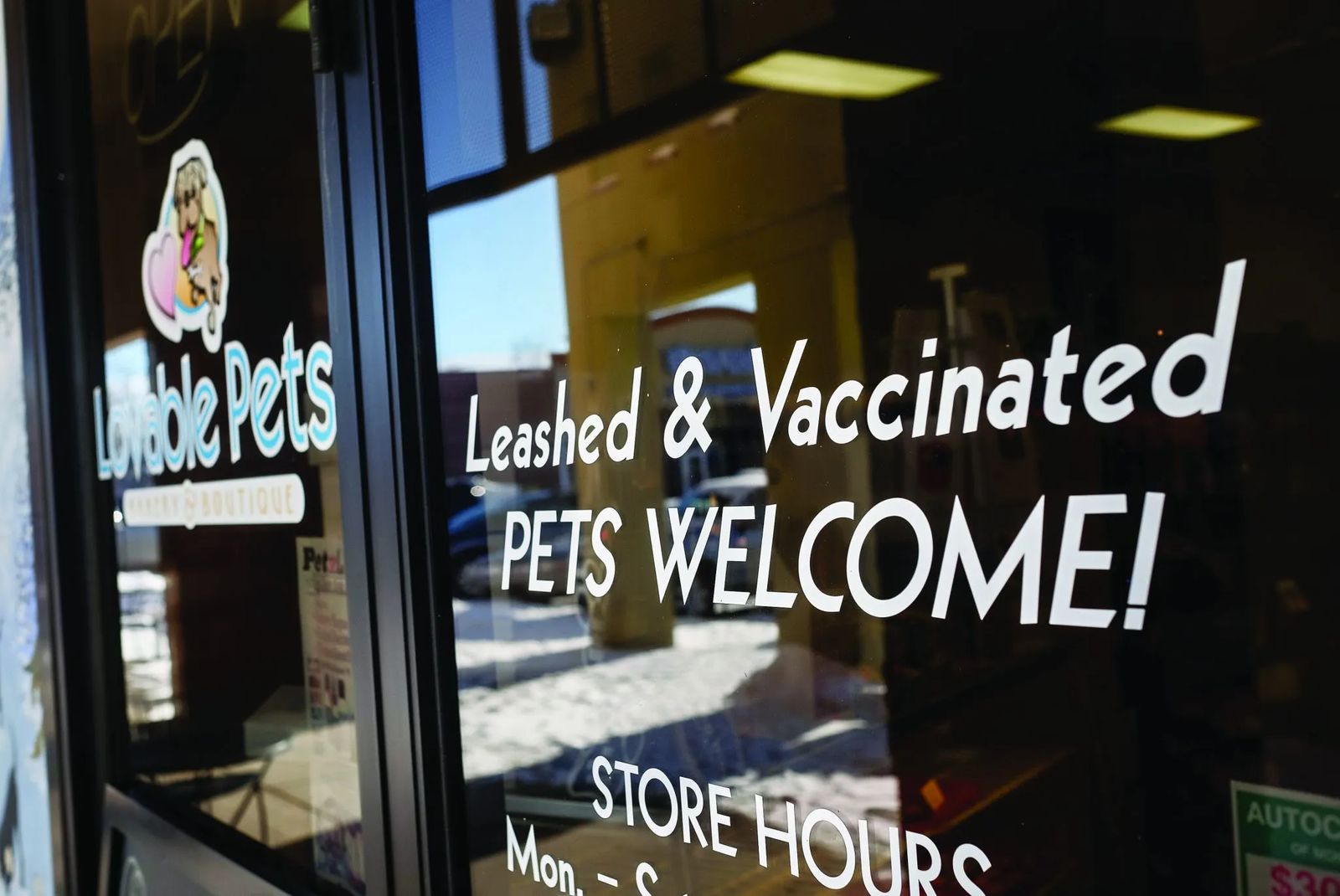 Before opening in December of 2006, one of her first purchases was a bakery case she planned to fill with the most exquisitely decorated dog snacks. "We've always had really special bakery treats," Ellie says. "It has always been the hallmark of Loveable Pets." The treats were a sure-fire hit. "We had long lines of people coming in that first day for those bakery treats. Just putting them in boxes with ribbons for their dogs, it made me so happy to provide those special things."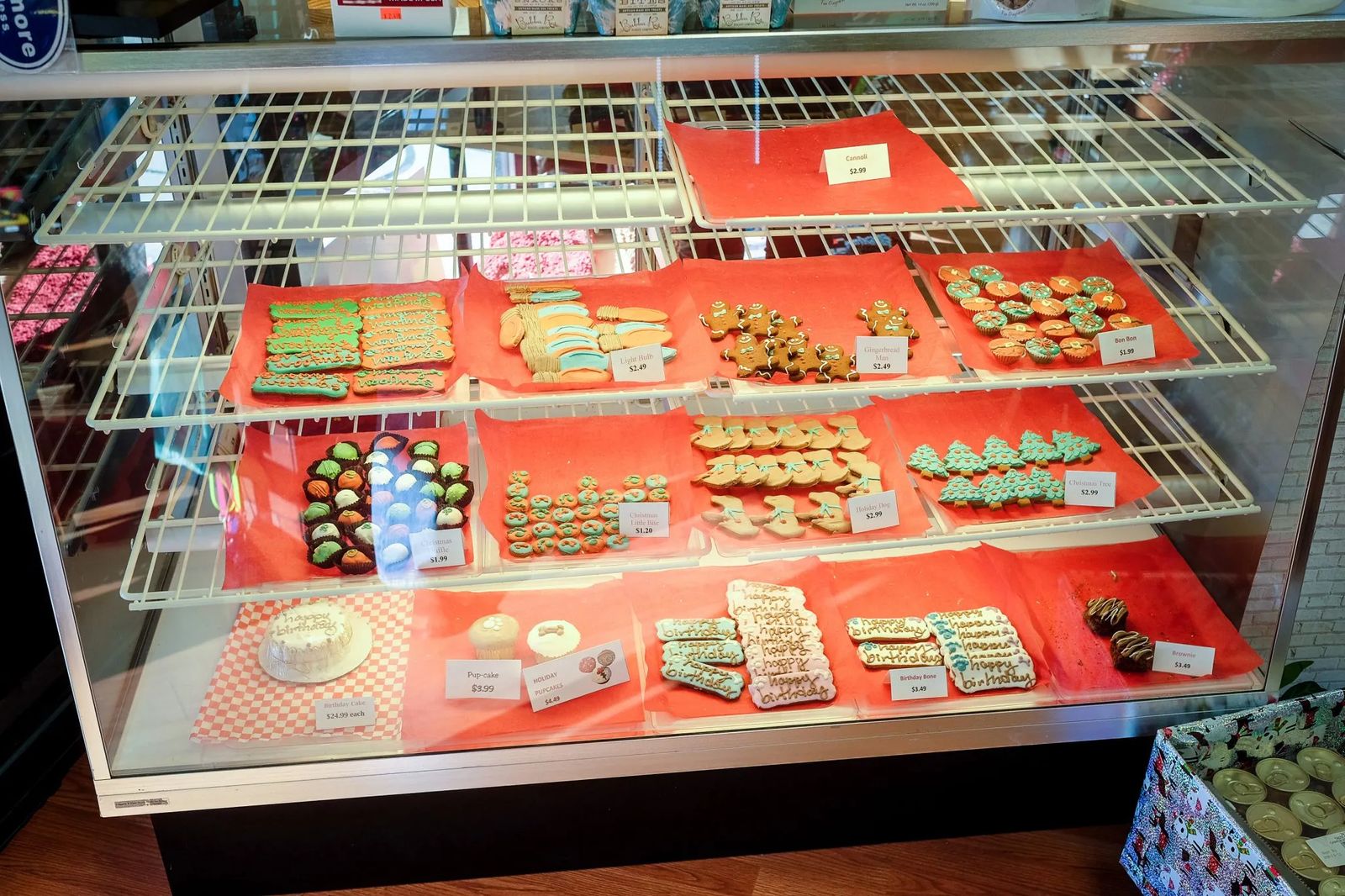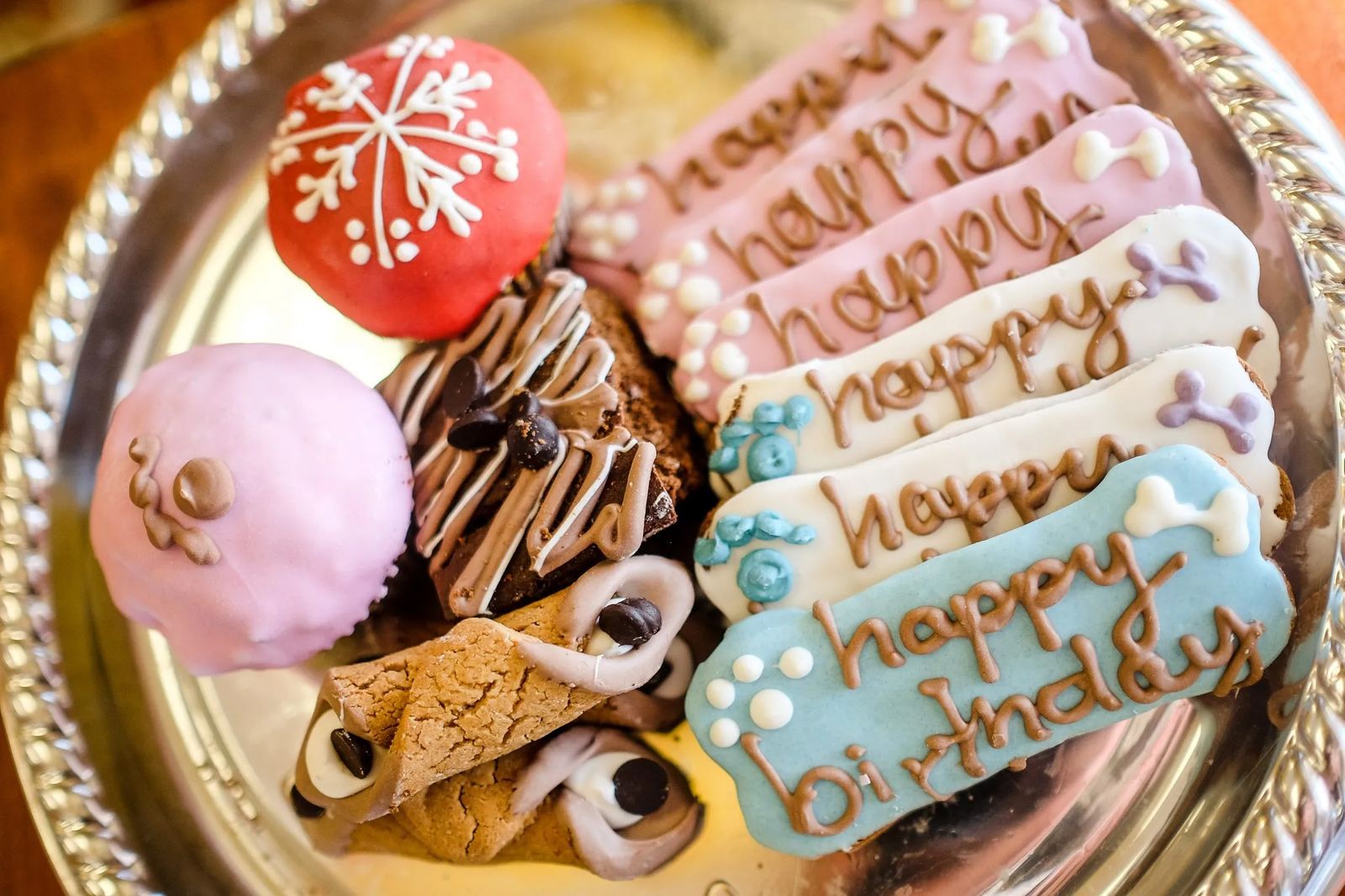 As time went on, however, Ellie Hansen started to feel the financial pinch.
"I am not going to lie, it was really hard. The first two years were really hard," she says. "I had days where the only transaction I had was a return. I cried my eyes out behind the scenes. I didn't want to give up. I still had hope."
Knowing something had to give for her to succeed and make it through her second full year of business, Ellie sought help. "I went to the bank to have them analyze my financial statements. A banker looked at them briefly and then looked at me and said, 'You should just cut your losses now and go bankrupt.' I remember that day like it was yesterday."
She called her then boyfriend, Jeremy Hansen, who is now her husband. He was in school at Montana State University Billings earning a business finance degree. Ellie says, "Being an entrepreneur was always a dream of his." She laughs as she says, "Business finance is not my area of expertise. I am more of your big idea, public relations/product specialist. He is extremely skilled at the numbers." She adds, "I said, 'Jeremy, what can we do?'"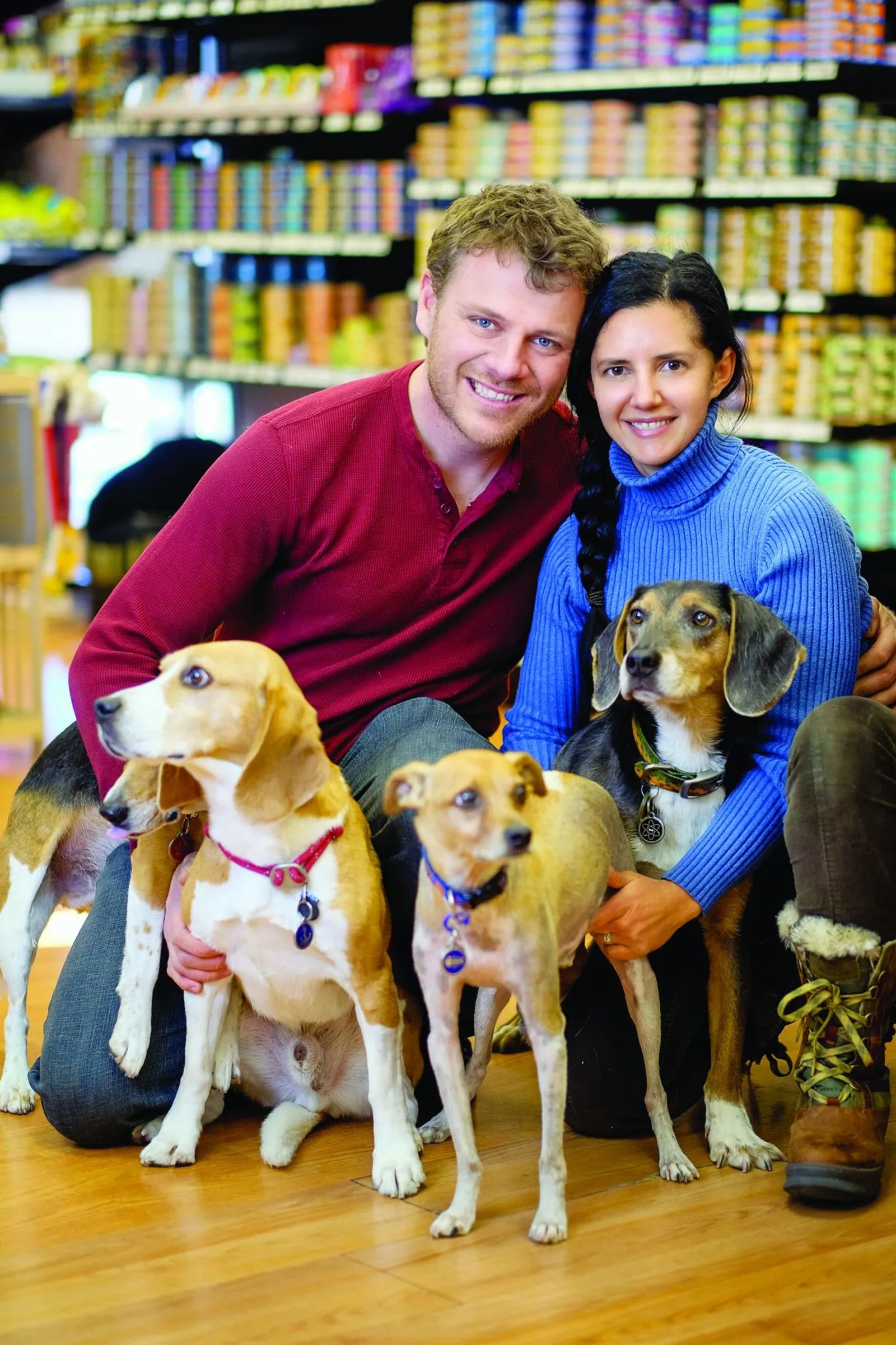 Jeremy offered what many would consider some risky advice.
"We got a pretty big line of credit on a credit card, which you are not supposed to do. He told me, 'Take this credit card and go shopping. Fill your store with as much inventory as you can buy. Without inventory, you have nothing to sell and you will never make money.'"
She did. Thirty-five thousand dollars later, her store was jam packed with toys, practical pet clothes and a new line of natural pet food. Ellie did her research and brought in items that you just couldn't find anywhere else in town. "When I started advertising that we had the best food to keep your dogs the healthiest they can be, people wanted to give it a try."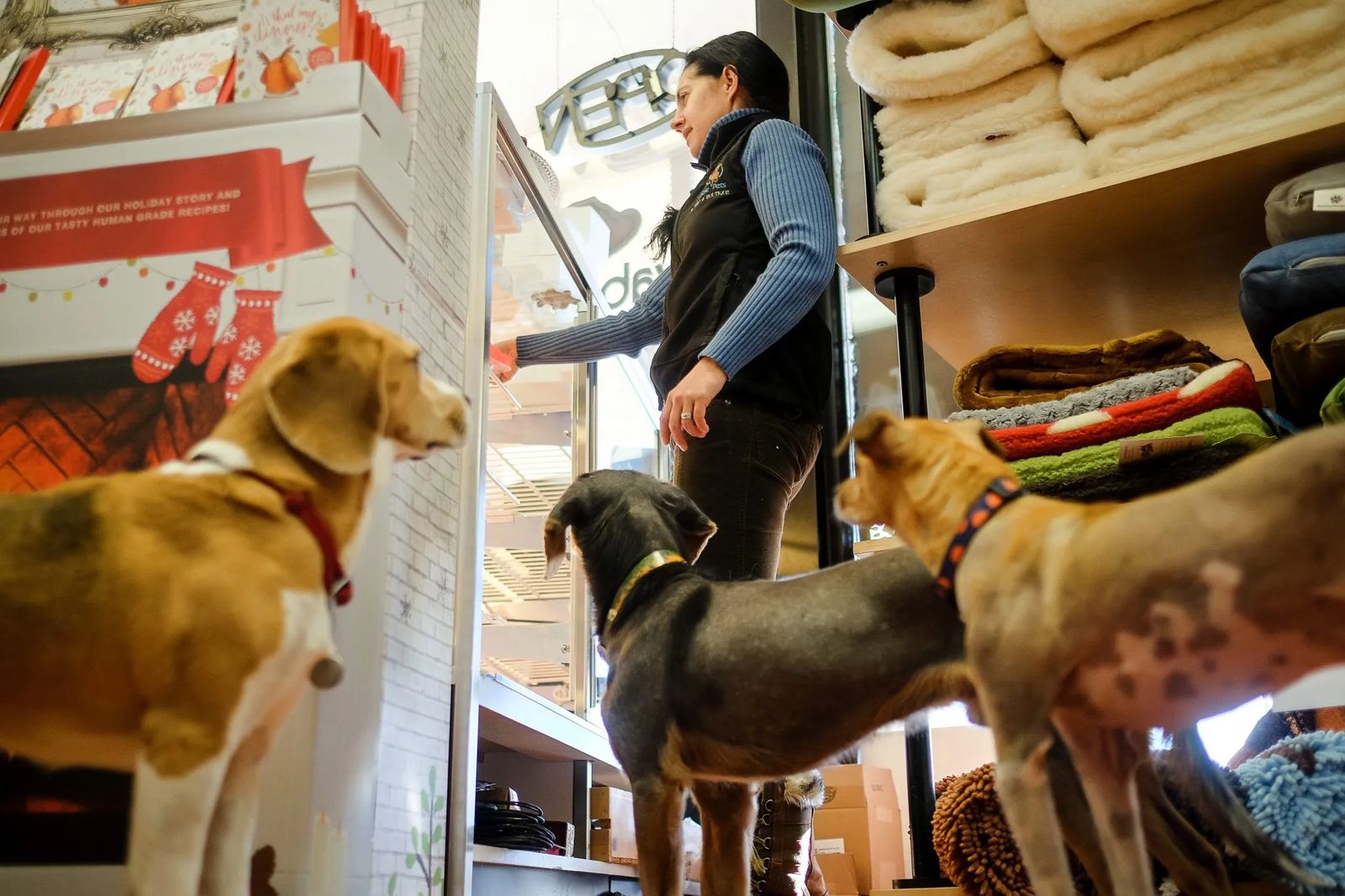 A year later, the next financial crisis started to rear its ugly head. Not having all the line of credit paid off, Ellie says, "The interest on those loans was ridiculous." But instead of worrying, the Hansens took another risk. "We had an opportunity to move the store to the front of the building to get better visibility." The couple presented a business plan to their bank and was granted a consolidation loan to mark a fresh start in a new 2800-square-foot retail space.
"It was an amazing feeling," Ellie says. "That day, we knew that we were going to be okay."
Since then, the company has added a self-serve grooming station, a whole host of grooming services, additional lines of natural pet foods and the latest addition, Loveable Pets Canine Cleanup, an affordable pooper scooper service. Eight employees now help Jeremy and Ellie Hansen get the job done each day. "We were just able to offer all of our staff awesome health insurance. It's been something that we have wanted to provide. I am just so happy to be able to do that," Ellie says with pride. And, another bonus? Workers are encouraged to bring their animals to work with them. Many days, the four-legged types far outnumber their human counterparts in the store.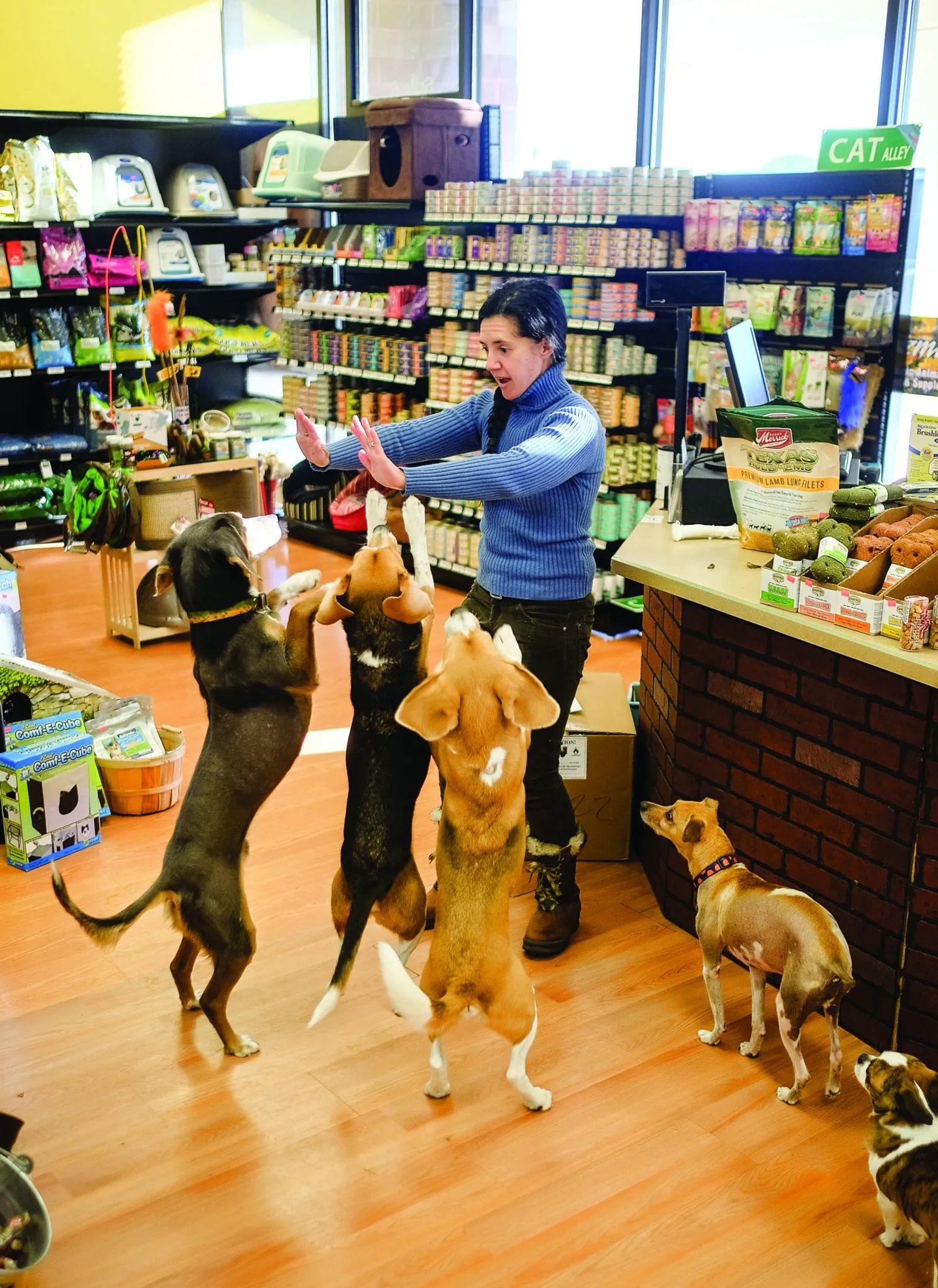 If you walk into Loveable Pets today, you're likely to be met by the adorable and charming Marty. This beagle is the company's 'Director of Customer Relations.' He's Ellie Hansen's right hand pup. "He will greet people and people just love him," she says.
Marty is one of Ellie's more recent "projects." When she first set her sights on him, he was anti-social and terrified of people. He had spent the first six years of his life in a lab, where workers used him to study various drugs as they made their way through his system to see what effect they had on his body. It was the only life he had ever known.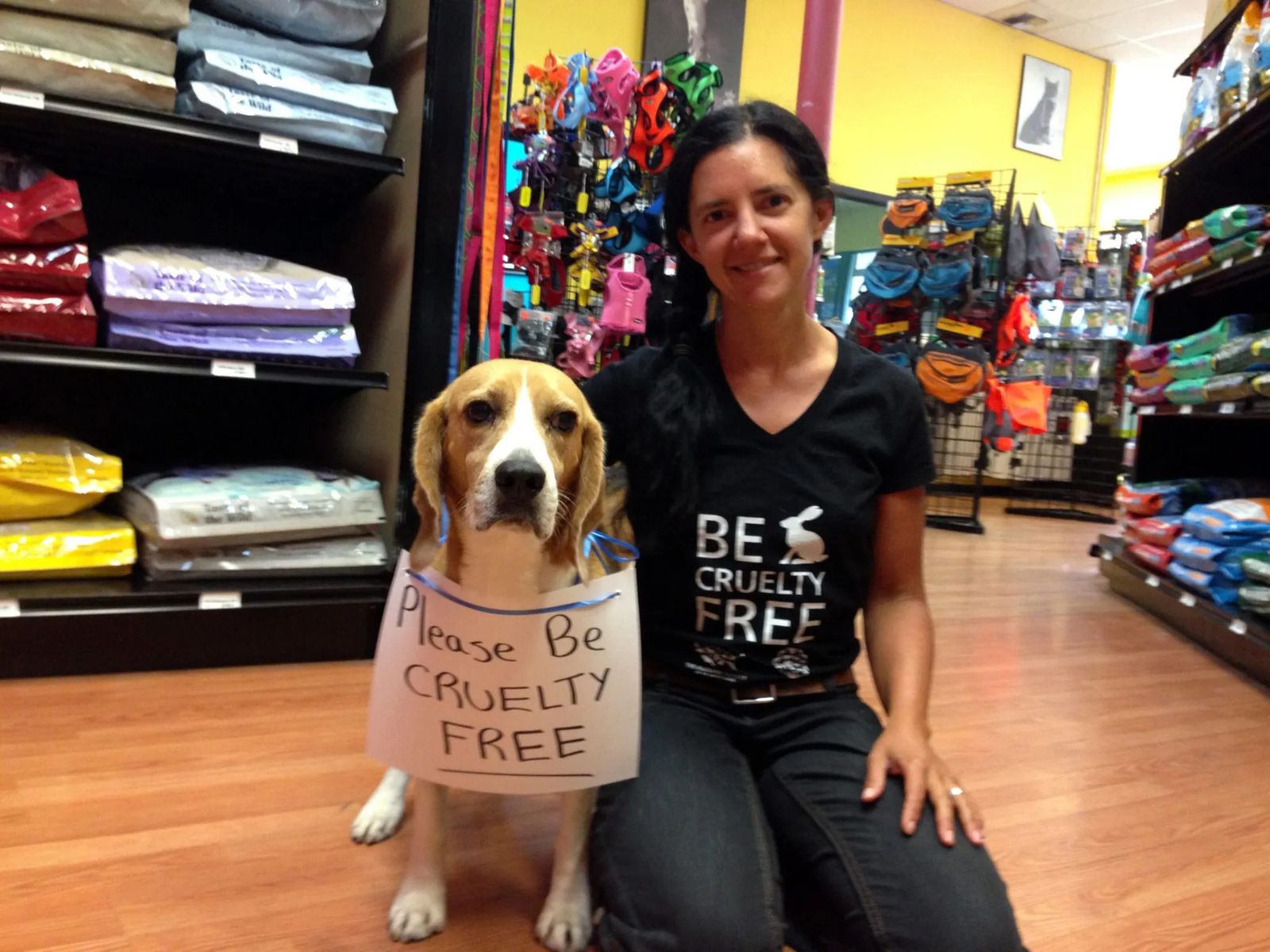 Ellie found out about dogs like Marty after watching an undercover video posted on social media trying to draw attention to the animal testing done for cosmetic and industrial cleaning products. In the video, a beagle much like Marty was on a table surrounded by lab workers. "They put the beagle on the table, euthanized him and then threw him into this basket," Ellie says with emotion. "That moment changed my life forever. I thought, how is this even legal? How could anyone do that?"
Surprisingly, not long after Ellie watched that video, a customer came in with her beagle that she adopted through an animal rescue sanctuary in Wyoming called The Kindness Ranch. Within a month, Ellie and her husband made the trek to Wyoming to pick out one of the ranch's beagles. They planned to just foster a dog, but realized soon after they just didn't want to let this one go.
"Marty wanted nothing to do with me and was terrified to come close to me, to anyone pretty much," Ellie says. "I decided that I wasn't going to do this one by the book. I was just going to do it with my heart."
It took about a year to break through Marty's thick shell but Ellie now says, "You'd never guess in a million years where he came from." Since then, the couple added Eddie, a beagle rescued from a food toxicity lab. These two joined the two dogs the couple already had, Tyee, the rat terrier and Max, another beagle. When asked if there is ever a dull moment in life, Ellie laughs and says, "No, they keep me pretty busy!"
And because of Ellie's own loveable pets, she's used their stories to open up a dialogue on the topic of animal testing. "There are thousands and thousands of animals that are experimented on and killed because of makeup," Ellie says. She's set up information tables at her store and even took signatures in support of The Humane Cosmetics Act, which would prohibit animal testing for cosmetics made or sold in the U.S. The legislation was introduced in June and has sat in a House Subcommittee since.
"I know the only way that there will be an end to animal testing is if someone passes a law and I want to be a part of that," Ellie says. Last year, she became a district leader for the Humane Society of the United States and says, "I started a dialogue. It's a step."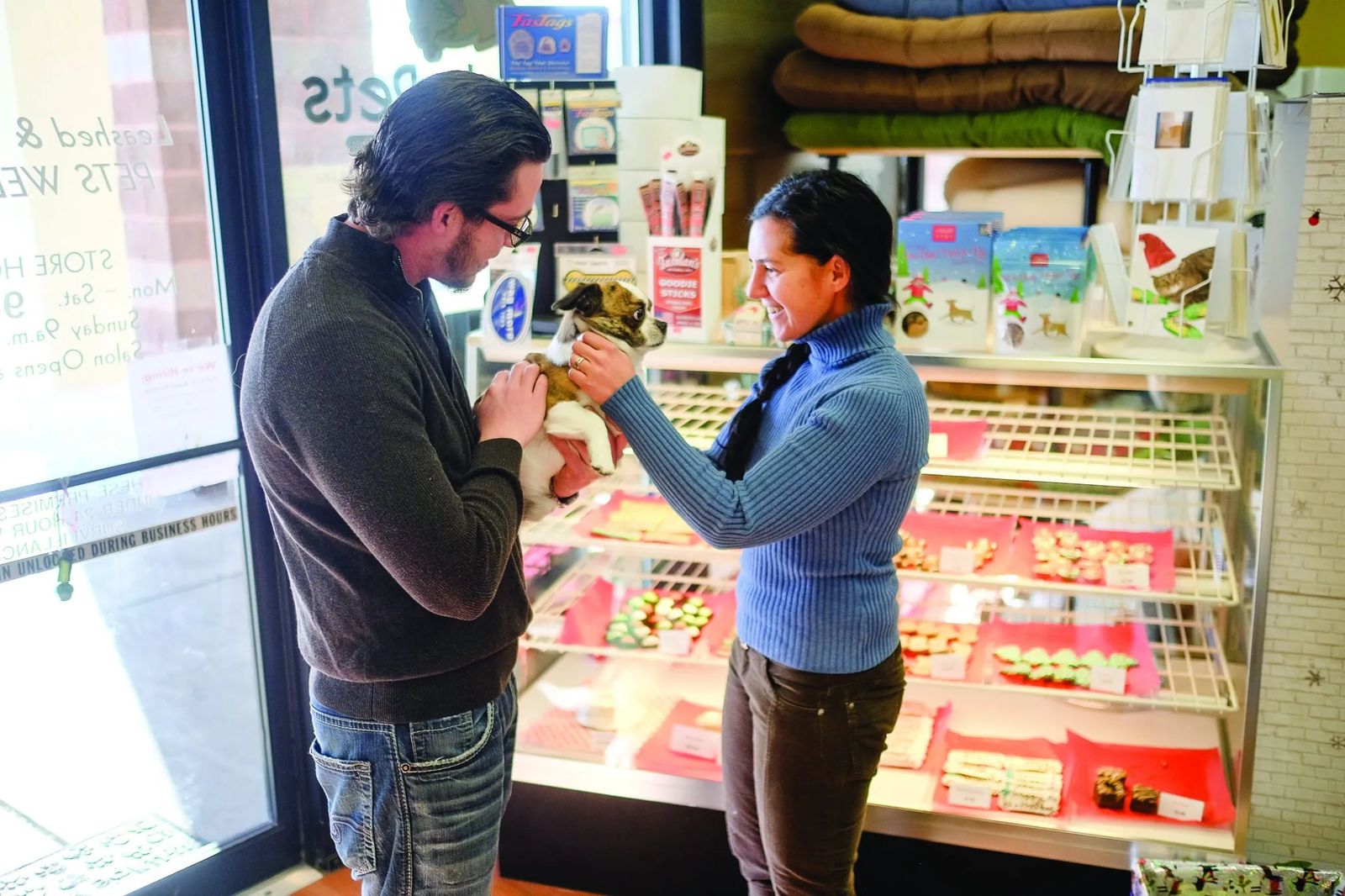 Whether she's dreaming up new ways to make pets happy or sharing information to spark change, Ellie Hansen never regrets that one decision she made to leave the big city behind in search of something more pure and simple out west. She still dreams about how much more she can provide.
"From day one, I've loved it," she admits. So, with her four dogs, four chickens (all named after Star Wars characters), one horse and one husband, she's found her place in life. "Loveable Pets is my life. I can't separate it from my life. This has all helped me to become the person that I am supposed to be."
Editor's Note: Do you want to check on the products you use to see if animals have been used in testing? Visit leapingbunny.com for a full listing of cruelty-free products.