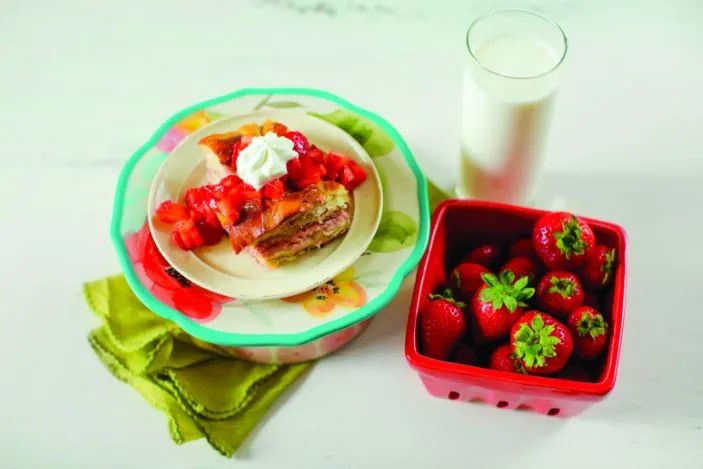 Family Friendly Faves: Strawberry Cream Cheese French Toast Bake
Overnight sensation is perfect for family get-togethers
For days when the average, everyday version of French toast just won't do, why not add a few extra ingredients and bake up some goodness for breakfast? This recipe couldn't be easier to prepare and because you create a whole pan of French toast in one fell swoop, it's a great recipe to have on hand for your holiday guests. The best part about this delicious breakfast offering is that it is made the night before, meaning, when morning rises, all you need to do is turn on the oven, pop it in and in a half hour, you'll have a tasty and filling morning feast to enjoy as a family.
STRAWBERRY CREAM CHEESE FRENCH TOAST BAKE

~from the kitchen of Tasha Mills
1 loaf French bread
1 8-ounce container strawberry cream cheese
4 eggs
1 c. milk
1/4 c. sugar
1/4 t. salt
1/4 t. cinnamon
2 T. butter, melted
TOPPING
1 quart (4 cups) fresh strawberries
1/2 c. sugar
DIRECTIONS
Spray 9" by 13" baking dish with nonstick cooking spray. Cut the French bread loaf in half, horizontally and spread the cream cheese evenly across the bottom half of the bread. Place top half on top to create a sandwich and then cut into 9 to 12 pieces. Place sandwiches in prepared baking dish. Beat eggs in medium bowl. Add milk, sugar, salt, and cinnamon and beat well.  Pour over bread in baking dish. Let stand at room temperature for 5 minutes. Turn bread slices over. Add additional sprinkling of cinnamon, if desired. Cover and refrigerate for 8 hours or overnight. At the same time, chop one cup of the strawberries, and combine with ½ cup of sugar. Refrigerate overnight. To serve, heat oven to 400. Uncover baking dish; drizzle bread slices with melted butter. Bake at 400 for 25 to 30 minutes or until golden brown. Meantime, slice the remaining strawberries and add to chilled strawberry mixture, mixing lightly. Serve French toast with strawberry topping, whipped cream and/or syrup, if desired.