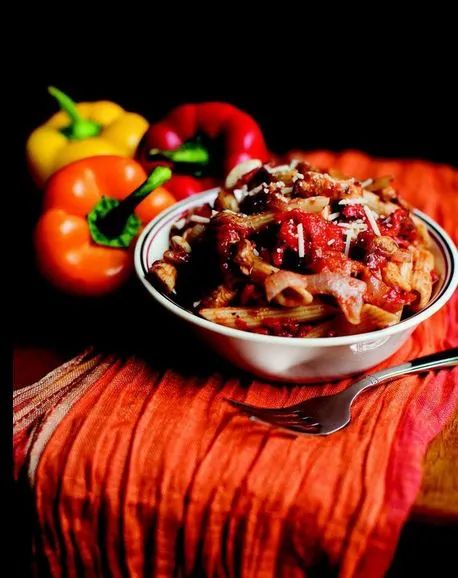 Family Friendly Faves: The Perfect Pasta
Roasted Pepper Chicken Penne

We eat a lot of pasta in my house. Part of the reason is, well, because I love pasta and since I do the majority of the meal planning and cooking for our family, it just ends up on our table a few times each week. Not only is pasta generally quick and easy to prepare, you can make a wide variety of meals using the same type of pasta. It also fits nicely into the grocery budget.
This particular dish is one of my favorites. When it's put together with garlic bread and a simple green salad, it looks like a meal served in a fancy Italian restaurant. The meal's colors are just beautiful and the garlic, balsamic vinegar and roasted pepper flavors, when combined, melt in your mouth. This is a hearty dish and the recipe makes 6 to 8 healthy servings, so there's typically plenty of leftovers, which are great served re-heated or cold.  Pair this up with Red Velvet Crinkle Cookies and you have a meal that will warm the hearts and bellies of your family. Made from a boxed cake mix with a few extra ingredients, these cookies can be made (and enjoyed) in a jiffy.
Roasted Pepper Chicken Penne
~Adapted from Taste of Home
INGREDIENTS
1 lb boneless chicken breasts, cut into strips
¼ c. balsamic vinegar
1 (16 oz) package of penne or rigatoni pasta
1 medium diced onion
3 cloves of minced garlic
¼ c. olive oil
1 (28 oz) can crushed Italian spiced tomatoes
1 c. julienned roasted sweet red peppers (See recipe below for roasted peppers)
1 c. chicken broth
3 t. Italian seasoning
¼ t. salt
1 c. shredded parmesan cheese
DIRECTIONS
Fully coat to marinate the chicken in balsamic vinegar in a gallon zip lock bag in the refrigerator for 15 to 30 minutes. Cook pasta according to directions. Meanwhile, in a large skillet, sauté onion and garlic in oil for 1 minute. Drain and discard vinegar. Add chicken to the skillet and cook for 4 to 5 minutes or until meat is no longer pink. Stir in the tomatoes, red peppers, broth, Italian seasoning, and salt. Bring to a boil over medium heat, cooking and stirring for 4 to 5 minutes or until heated through. Drain pasta and toss with chicken mixture. Sprinkle with cheese.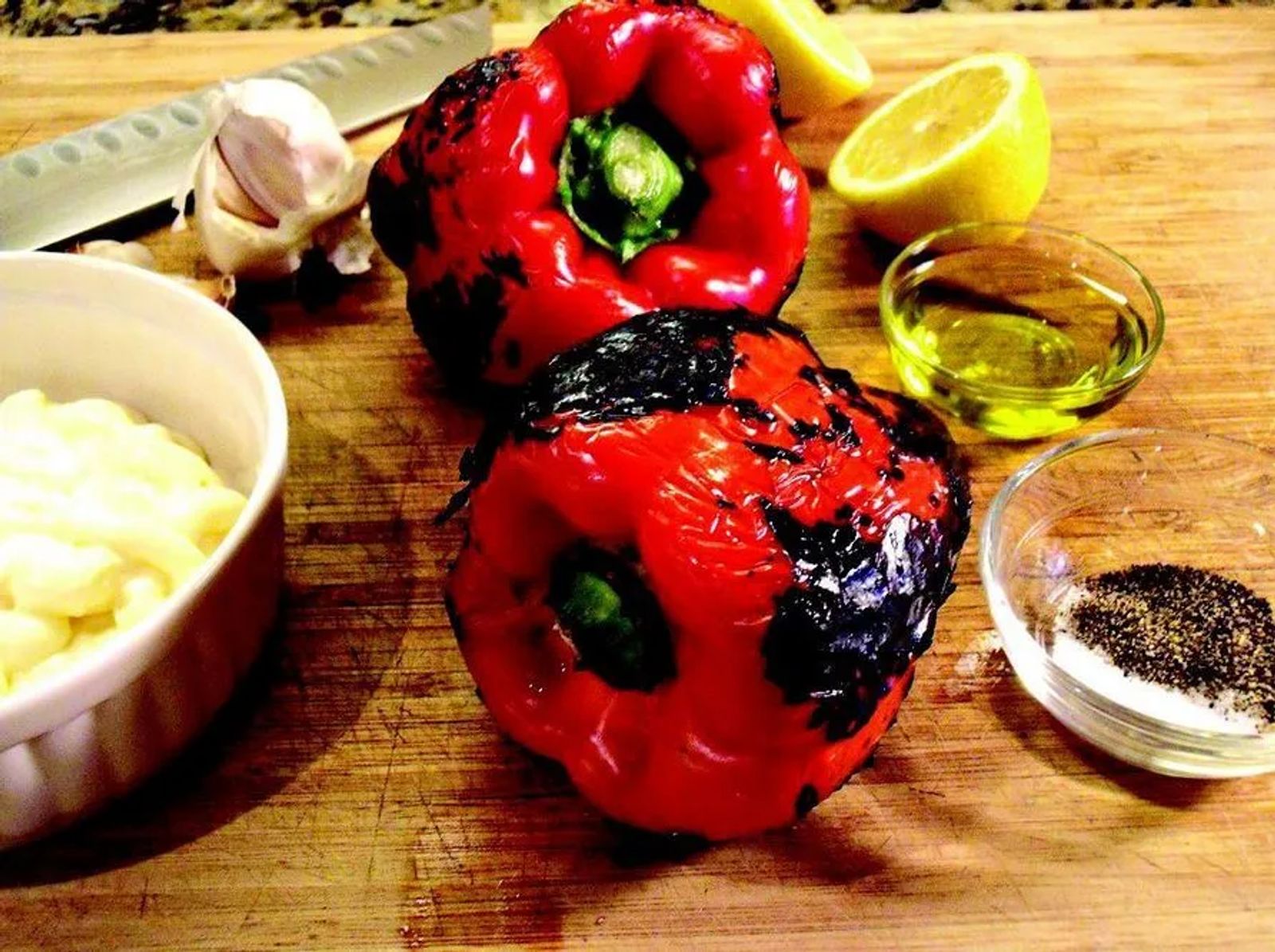 Roasted Red Peppers
~By Tasha Mills
INGREDIENTS
2 full size or 5 – 6 small red peppers
2 – 3 T. olive oil
1 - 2 cloves of garlic, minced
Sea Salt
Coarsely ground black pepper
Basil leaves
DIRECTIONS
Preheat oven to 500 degrees. Mix garlic and olive oil and spread in baking pan (try to use the smallest pan to accommodate the amount of peppers you have). Place red peppers on baking sheet. Mix together dry ingredients and season peppers. Roast peppers for 30 to 40 minutes until the skins are completely wrinkled and the peppers are charred, turning twice during the process. Cover with tin foil immediately after removing from the oven. After completely cooled, remove the stem, skin, and seeds, and cut into slices.

Red Velvet Crinkle Cookies
~Adapted from Duncan Hines
INGREDIENTS
1 c. powdered sugar
1 t. cornstarch
6 T. unsalted butter, melted and cooled
1 box red velvet cake mix
2 large eggs, beaten
DIRECTIONS
Preheat oven to 375. In a shallow bowl, mix together powdered sugar and cornstarch with a small whisk, set aside. In a mixing bowl, combine butter, cake mix, and eggs by hand using a wooden spoon. When combined, roll into 1 inch balls. Roll balls in powdered sugar mixture and transfer to baking sheet. Bake for 10 to 11 minutes. Cool 1 to 2 minutes on baking sheet before removing to cooking rack.