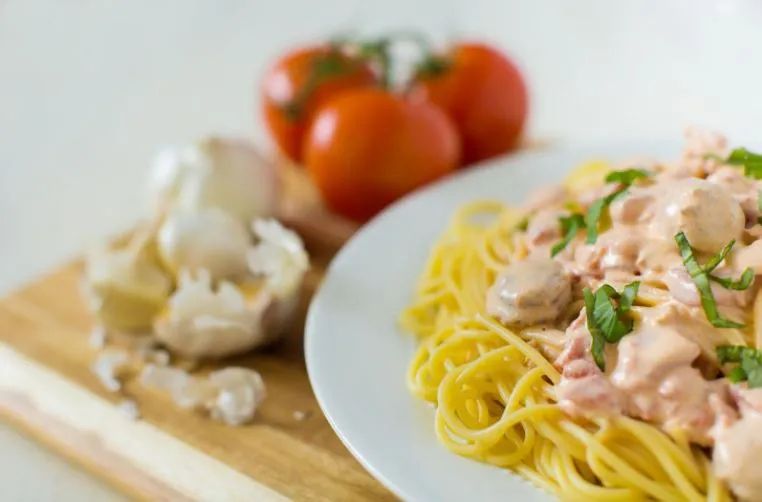 Family Treasured Comfort Food
Mix Italian Pasta with a delightful layered dessert
Few things are more comforting than sitting down to a family meal with a rich Italian pasta at the center of the table. When the cold weather hits, this hearty favorite is a wonderful meal to whip up. These rich flavors come from a recipe I nabbed from my cousin, Lisa Saline. While I've made a few changes, the overall delicious flavor remains. Pair this with your favorite vegetable and then top it off with another one of my family favorites — layered pudding dessert. I will always remember this meal ender as something my grandpa loved, which makes it even more special. So dig into your pantry and pull out these simple ingredients for another sure-fire family-friendly favorite.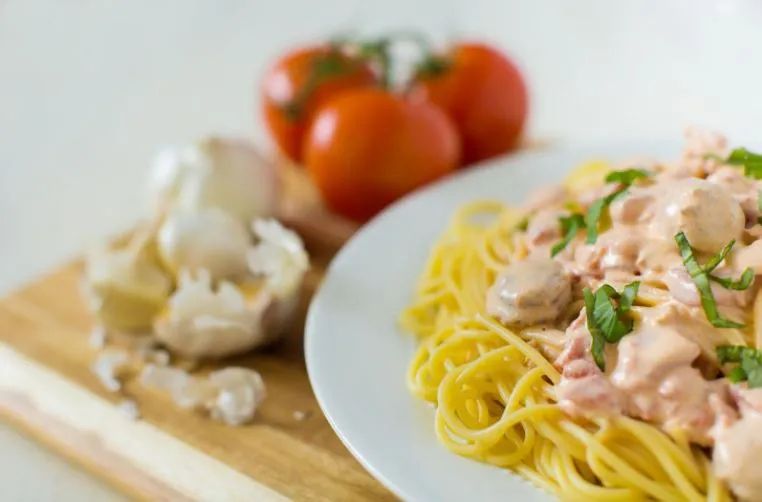 ITALIAN PASTA RECIPE
~From the kitchen of Lisa Saline
2 T. Olive oil
1 t. salt & pepper
1 T. minced garlic
3 cans of diced oregano & basil tomatoes
1/4 c. fresh diced basil
14-ounce can of chicken broth
1/2 c. white wine
3 T. butter
Parmesan cheese
1 quart container of whipping cream
1 pound of Italian Sausage, ½ pound mild, ½ pound hot
Box of spaghetti noodles
DIRECTIONS
Cook pasta, drain and toss with olive oil. Set aside. In the same pan, heat olive oil and sauté minced garlic, adding salt and pepper and cooking until golden brown. This is very quick. Add tomatoes, wine and chicken broth and bring to a boil. Turn down heat to a simmer. Add butter, sausage, pasta and ½ of the quart container of whipping cream. Let simmer until liquid thickens to a sauce consistency. Add basil to taste. If needed for added moisture and taste, add more whipping cream. Additional garlic and wine can be added for extra flavor. The beauty of this pasta dish is that it actually gets better if you let it sit and simmer for a while.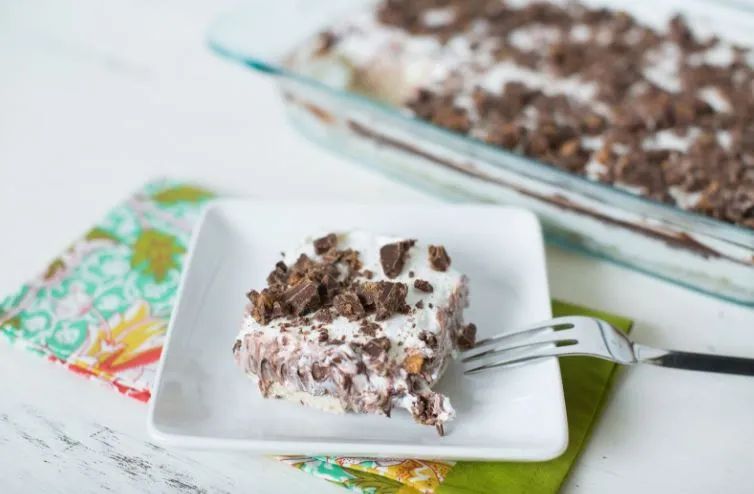 CRUST
1-1/2 c. All-purpose flour
1/2 c. packed brown sugar
3/4 t. kosher salt
1/3 c. finely chopped pecans
9 T. cold unsalted butter
CREAM CHEESE LAYER
12 ounces, cream cheese softened
1-1/2 c. powdered sugar
12 ounces Cool Whip divided (1-1/2 cups for cream cheese layer, remaining for Cool Whip layer)
CHOCOLATE PUDDING LAYER
2 boxes (3.9 ounce box) Chocolate Fudge Instant Pudding & Pie Filling (instant Vanilla also works)
4 cups Cold Whole Milk
COOL WHIP LAYER
Remaining Cool Whip
DIRECTIONS

Preheat oven to 325° F. In a medium bowl, combine flour, brown sugar, salt, and pecans. Cut in butter with a rigid pastry cutter or a fork until crumbly. Press mixture evenly onto the bottom of a 9" x 13" pan. Bake for 18–20 minutes, or until crust is set and slightly browned. It should smell nice and toasty, buttery and nutty. Remove to wire rack to cool completely.
With a blender, whip cream cheese and powdered sugar until completely smooth. With a rubber spatula, fold in 1-1/2 cups of Cool Whip from the 12-ounce container until combined. Spread mixture onto cooled crust. Refrigerate while preparing the next layer.
In a medium bowl, whisk pudding with milk for 2 minutes. Pudding will become increasingly thicker as you whisk. Spread pudding evenly over cream cheese layer. Top with remaining Cool Whip. NOTE: If using chocolate pudding, try sprinkling with shaved chocolate. For the vanilla variation, I like to smash a few vanilla wafers and sprinkle with crunched cookies.
Refrigerate for 4 to 6 hours or overnight before serving.